Welcome to my craft studio! Today I'm sharing a full craft room tour of the space where I run my business and make all of my Cricut, Glowforge, and sublimation crafts!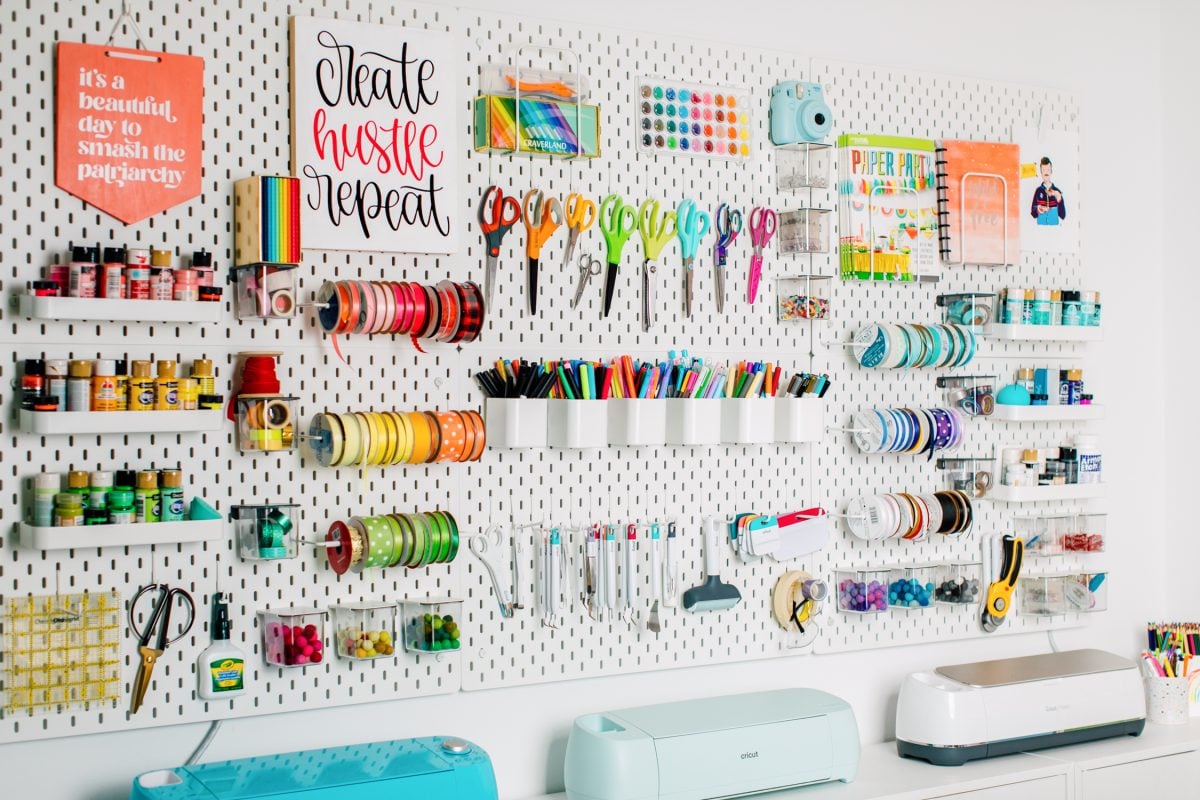 It's finally time! I've been planning to do a craft room tour since the day we moved into our new house here in Washington in 2020. When we were looking to move to Washington from California, we knew we wanted a separate craft space in our home so I could run my blog and business away from our day-to-day lives. Having that separation between work and home was really important to our family—it allows me to be at work when I'm working and present with our family when I'm not.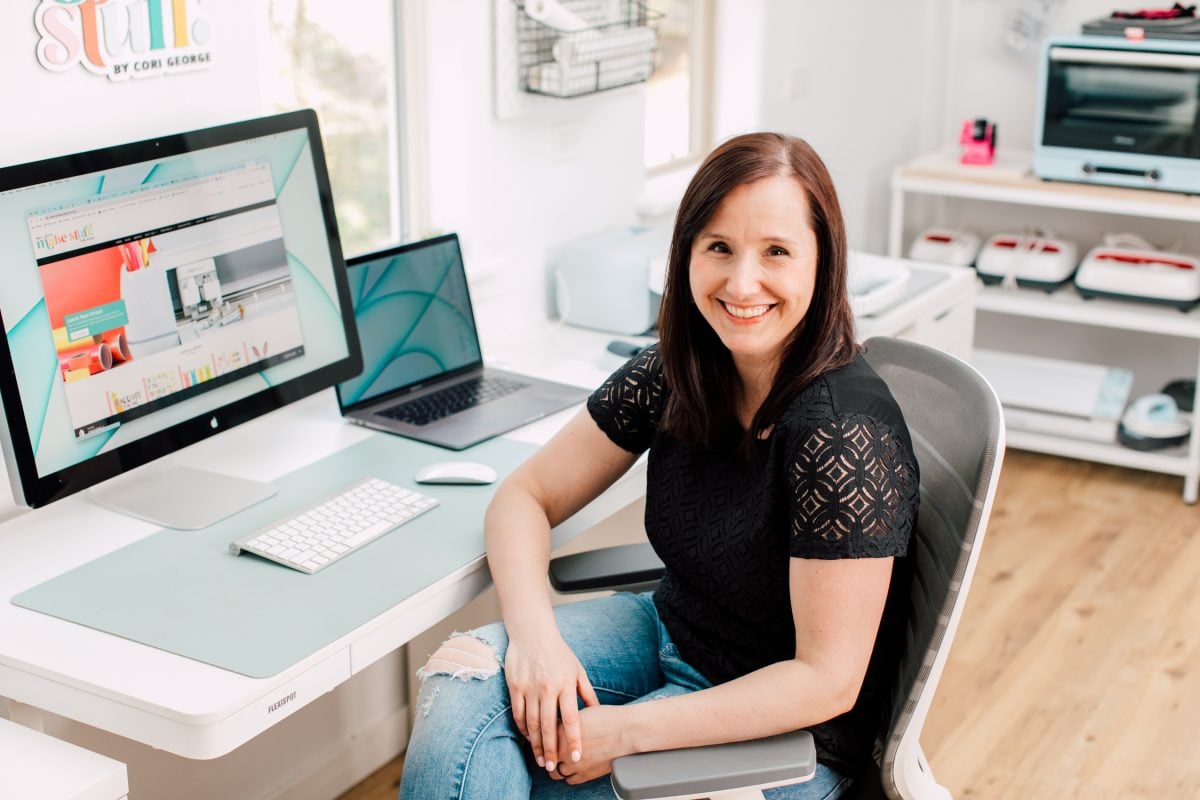 So when my friend Crystal from Hello Creative Family said her parents wanted to sell their house in the area we were looking to move—and that it had a 600+ sq ft space above the garage for a craft studio—we jumped on it! We now live in her childhood home (how fun is that?!) and before we moved in, we hired her dad, who originally built the house, to finish the space above the garage for me to use as my studio. Before we bought this house, the room was all studs and was used as a wood shop.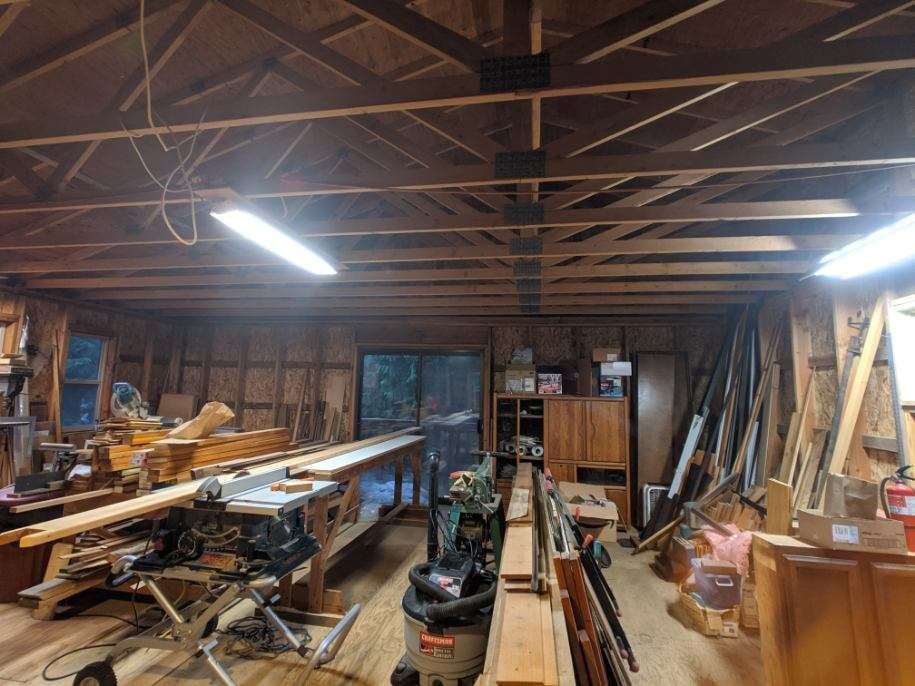 Now it's completely finished and I'm done putting everytihng in and decorating! What a difference! It truly is my happy place. I am very lucky to have this craft room. I've been blogging full time for nearly 10 years and through a combination of hard work and sheer luck and a lot of privilege, it's been a success. My business has allowed our family to live in our beautiful house with this wonderful space.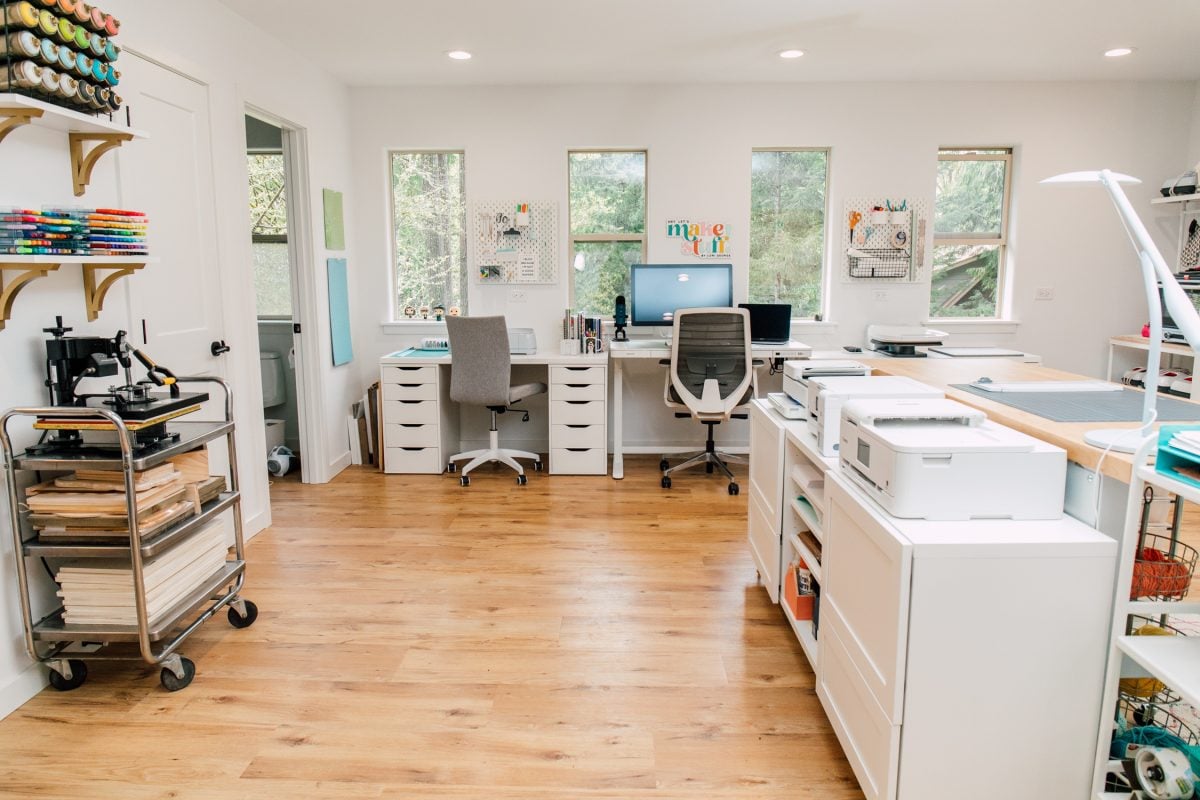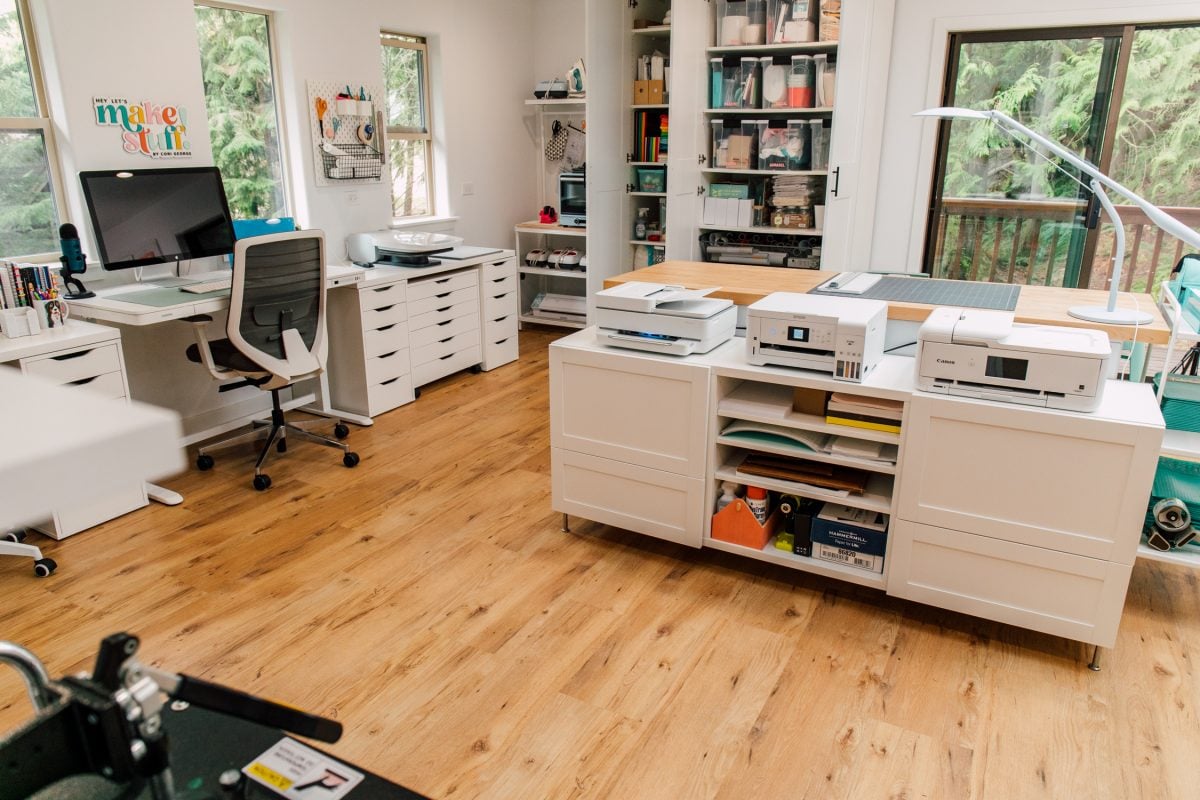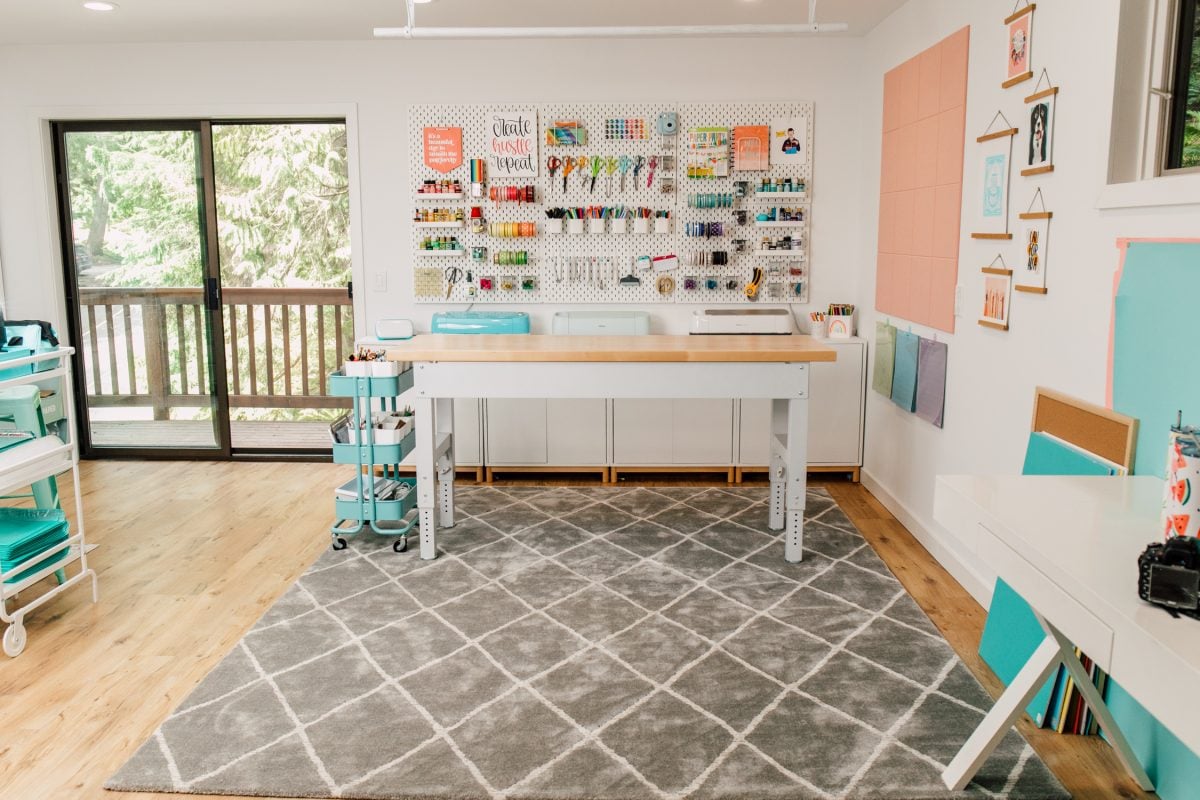 I know this is not a similar situation for most folks. I don't want this craft room tour to make you feel inadequate—I truly believe that crafting can be done in pretty much any space! I had a 10×10 room for several years, and before that I crafted at my dining room table. Hopefully you'll find ideas and inspiration here that can help you organize whatever craft space you have more efficiently, no matter the size.
Also, photos also show my craft room at its tidiest! Normally it's a hot mess with stuff everywhere. I try and tidy on Fridays, but it's hard to keep the mess under control when creativity is unleashed, as I'm sure you know! So don't think it always looks like this. It's looked like this once. For these photos. And that's it. Speaking of the photos, I have my amazing photographer Katy from Katherine Moran Photography to thank for all of these pics!
My craft room is broken out into sections—here's a tour through them all! I'll share different links throughout the post, but if you see something that's not linked that you want to know more about, leave me a comment! If you have ideas for your own craft room organization, I'd love to hear them!
Computer Workspace
Let's start with my computer workstation because that's where I'm sitting right now! You'd think I'd spend most of my time crafting, but I actually spend more time at my computer—editing photos, writing posts, answering emails, and designing files.
This part of my craft room overlooks the street in front of our house, but because it's set so high above the garage, my view is mostly our beautiful Pacific Northwest trees. Usually there are half a dozen discarded coffee cups and La Croix cans scattered about as well.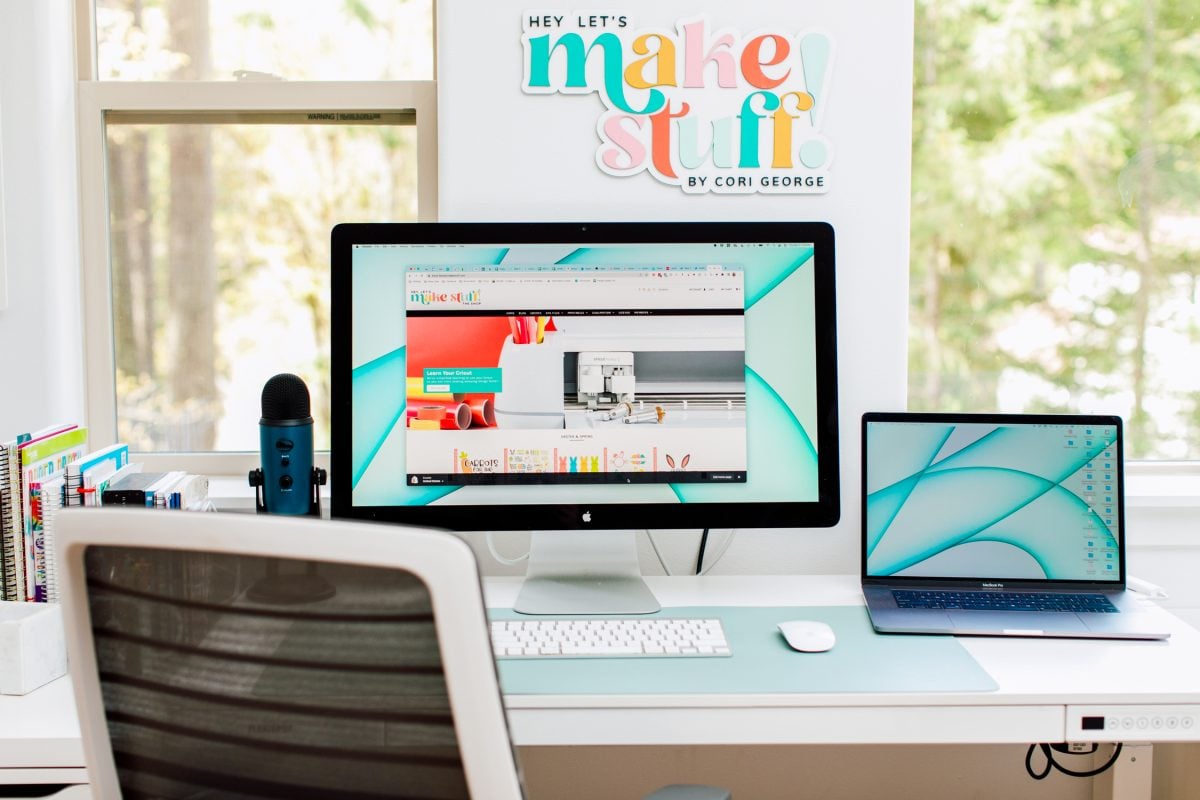 I have my MacBook Pro and a larger display screen connected to it, which I find much easier to work on. I have my Yeti microphone next to my computer (for recording voiceovers), plus a bunch of notebooks and other books I reference often. I made my logo sign using my Glowforge, which you'll see later in this post! My chair is from Branch Furniture and it's much more comfortable that the cheaper options I was using for years. They have lots of great "work from home" furniture.
I have an adjustable standing desk from Flexispot that I absolutely love. Earlier this year, my back was starting to bother me after sitting so much, and the standing desk has helped alleviate a lot of that pain. I usually try and stand for about two hours out of every full work day. It has programmable adjustments so I can set different heights, plus charging ports for my devices.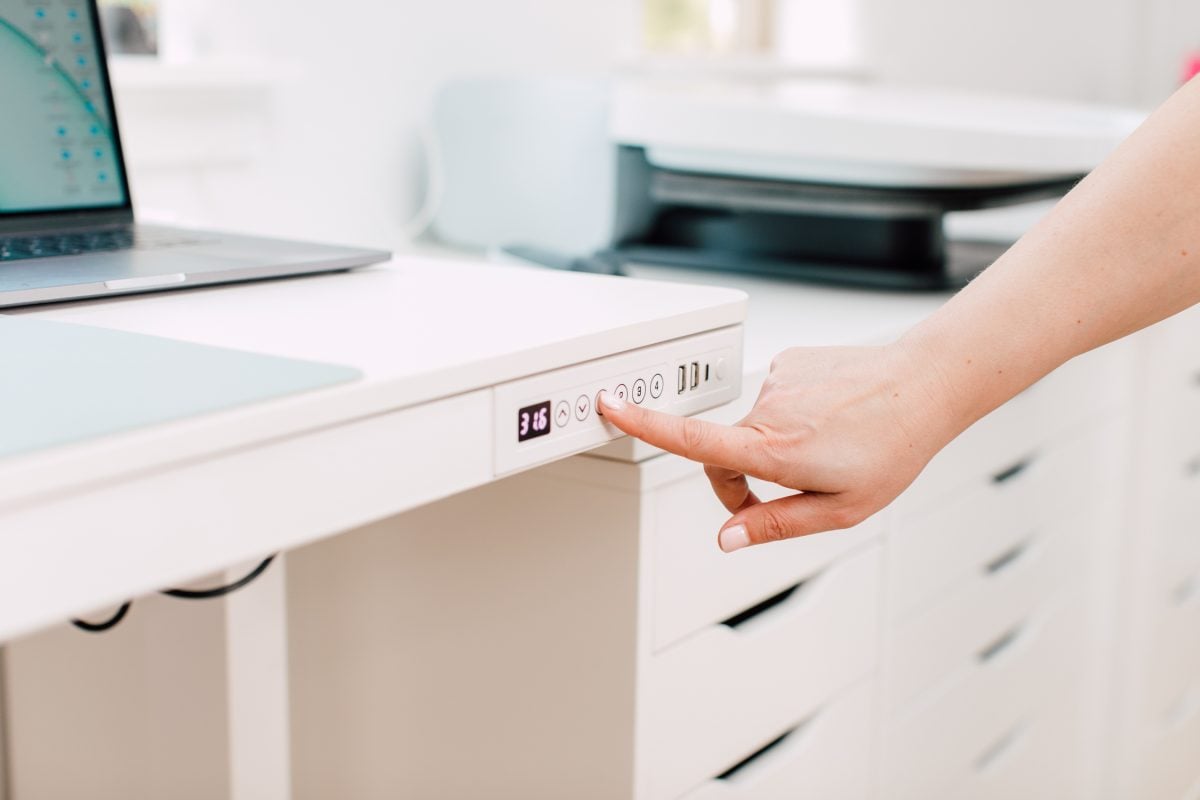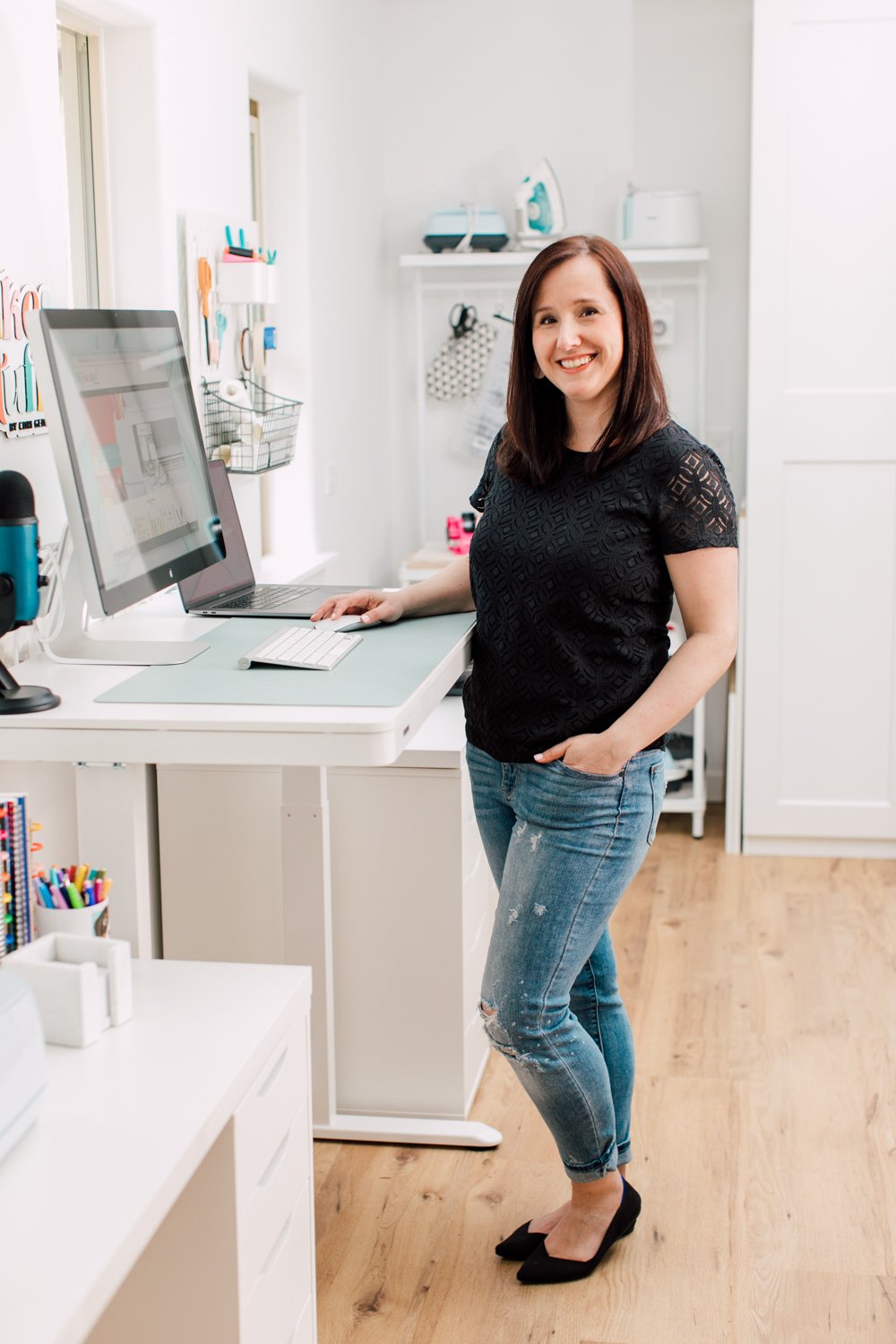 I also got a Flexispot desk bike to go with it! I don't use it for "fitness" as much as I use it to just keep my body moving during the long days of computer work. You'd think it might be hard to pedal and work at the same time, but I've found that my body knows what to do and often I'll slowly "ride" seven or eight miles in a sitting. Check out my Deals and Steals page—I try and keep all the current Flexispot deals listed there.
Cricut Workspace
I actually have two places in my craft room where I use a Cricut. I've been working with Cricut since 2014, so I have several Cricut machines and a lot of supplies, accessories, and materials. To the left of my computer, I have my Cricut Maker 3. I like having this Cricut right next to my computer—I don't have to get up to use it—I just roll my chair over a bit.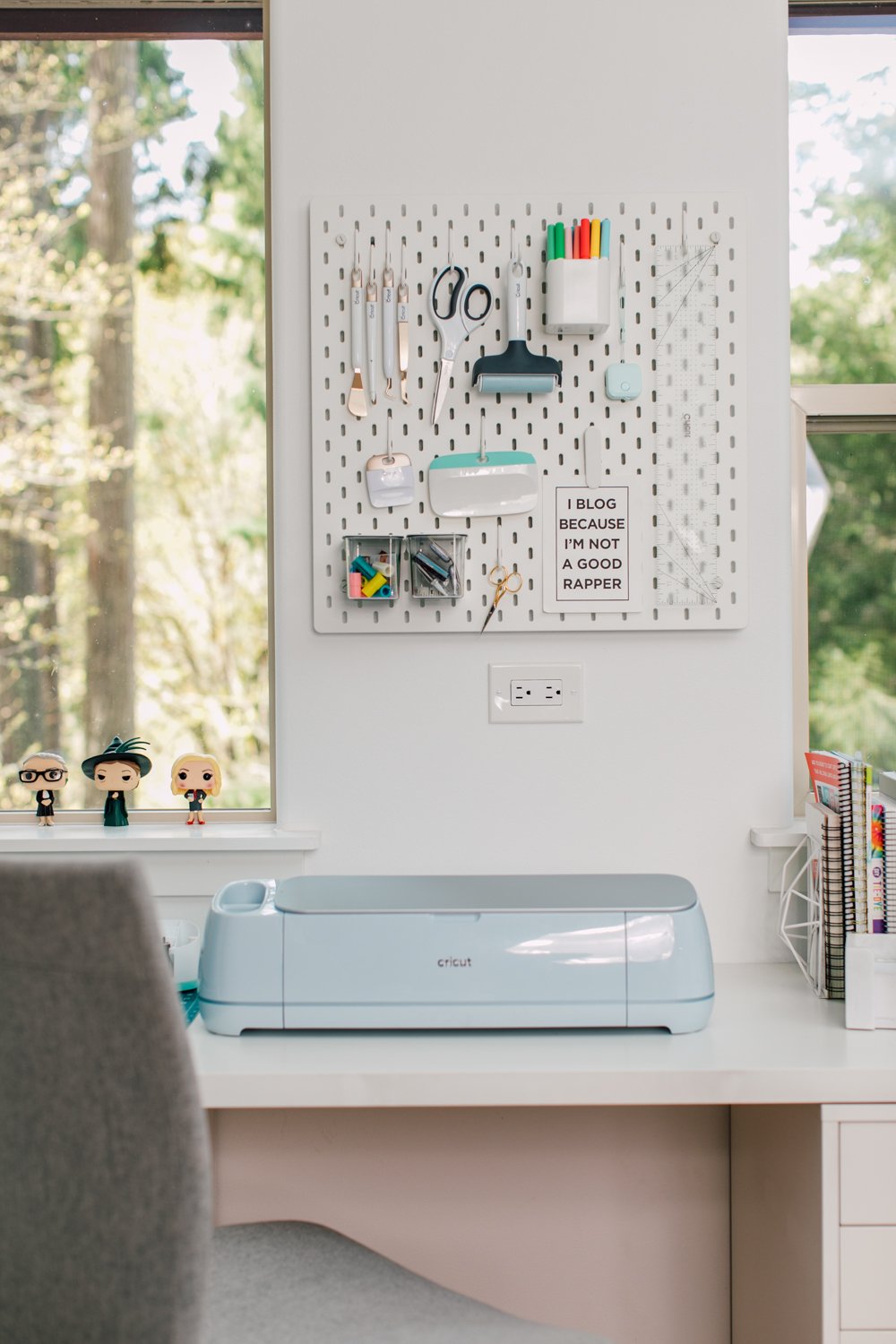 This is the machine I use most often for my personal Cricut crafting and for testing cut files. Basically, it's where I make stuff that doesn't have accompanying video or photographs (I do all that on the other side of my craft room in my "filming workspace").
You'll notice that all the plugs in my craft room are above desk height. I wanted to be able to switch things around and plug things in easily without having to crawl under desks and tables. This was a small design decision that makes working in my craft room a whole lot easier!
Above my machine I have a small IKEA pegboard with all the essential tools, and to the left I have mats hanging on the wall using 3D printed Cricut mat hangers. I also have a cutting mat, ruler, and my Uniquely Why Not Cricut blade holder.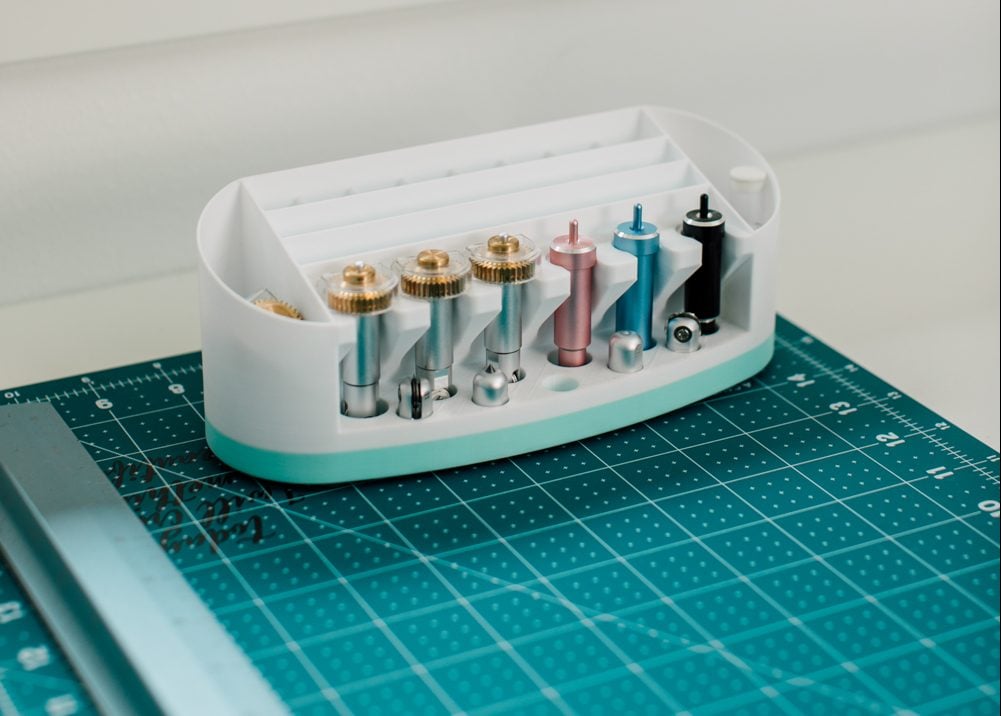 This desk is made from two IKEA Alex drawer units and a Linnmon tabletop. In these drawers I keep a lot of craft supplies (like glitter, wood beads, pom poms) and other notebooks and sticker books.
My little girl squad of Funko Pops live on the sill—they make me so happy. Bonus points if you can name them all in the comments!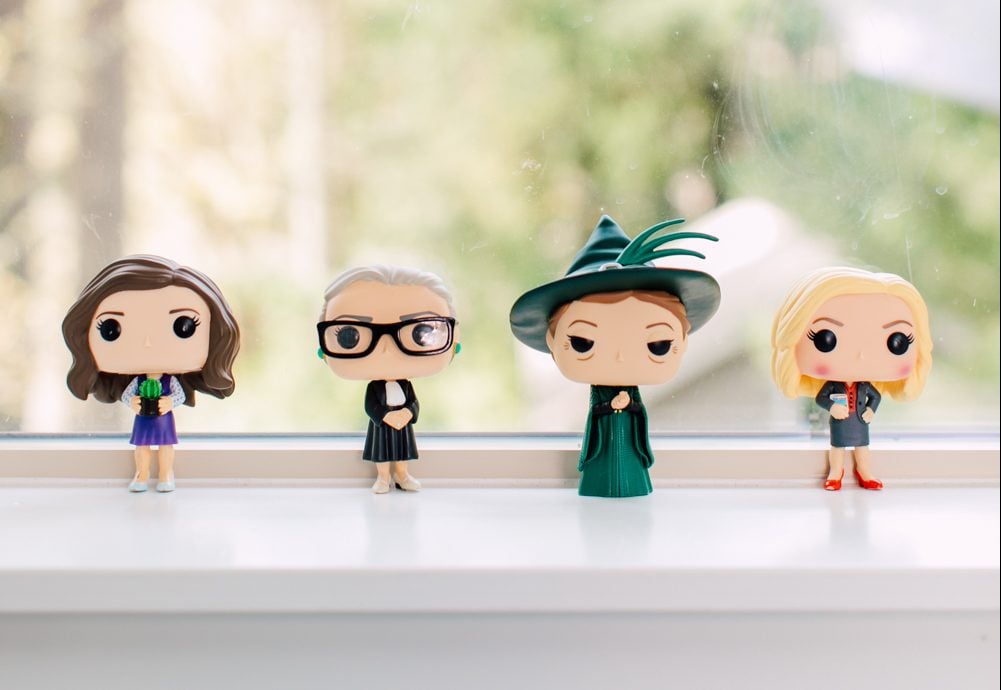 Heat Press Workspace
I have way more heat presses than the average crafter. Many years of working with Cricut and then getting into sublimation means that I have A LOT of options for apply heat to a blank. This area was the actually the last piece of this craft room puzzle I figured out. I had two rolling carts in this corner for the longest time, but it was messy.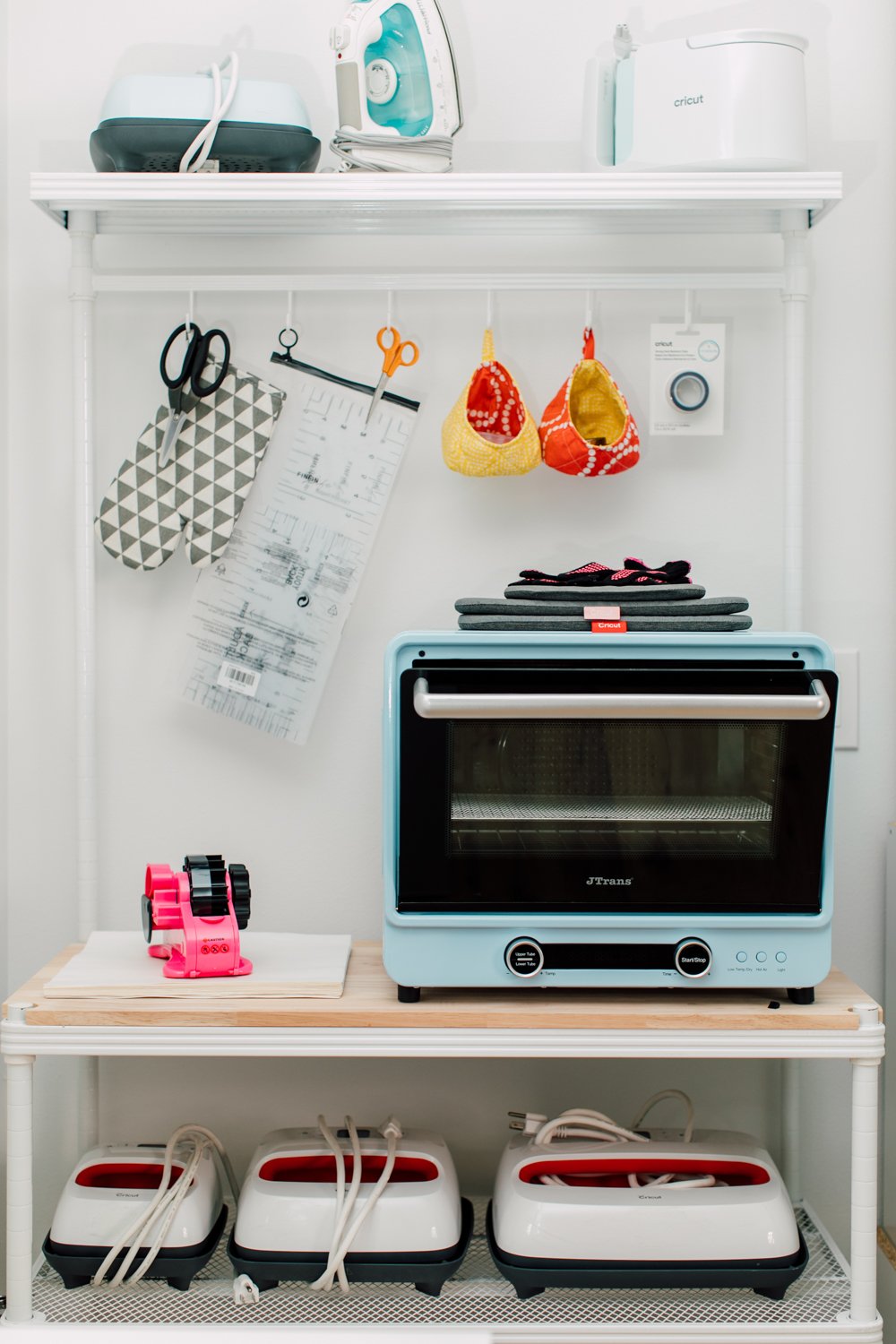 Then I got the brilliant idea to use a white baker's rack for all of my heat presses! This is great solution for me because it fits not only my big convection oven, but also all of my heat presses except for two others (which I'll share in a moment), including all four EasyPresses, my mug press, and my hat press. I like the hooks for hanging tools and supplies. It really was a great solution for me.
I also have my amazing Cricut AutoPress, right near the baker's rack. Learn more about the AutoPress in my Ultimate Guide to Cricut AutoPress! This is to the left of my computer (the Cricut above is to the right). It also has a pegboard above it, which has heat press tools, tape, and butcher paper. To the left of the AutoPress is a pressing mat where I can use all of my EasyPress machines.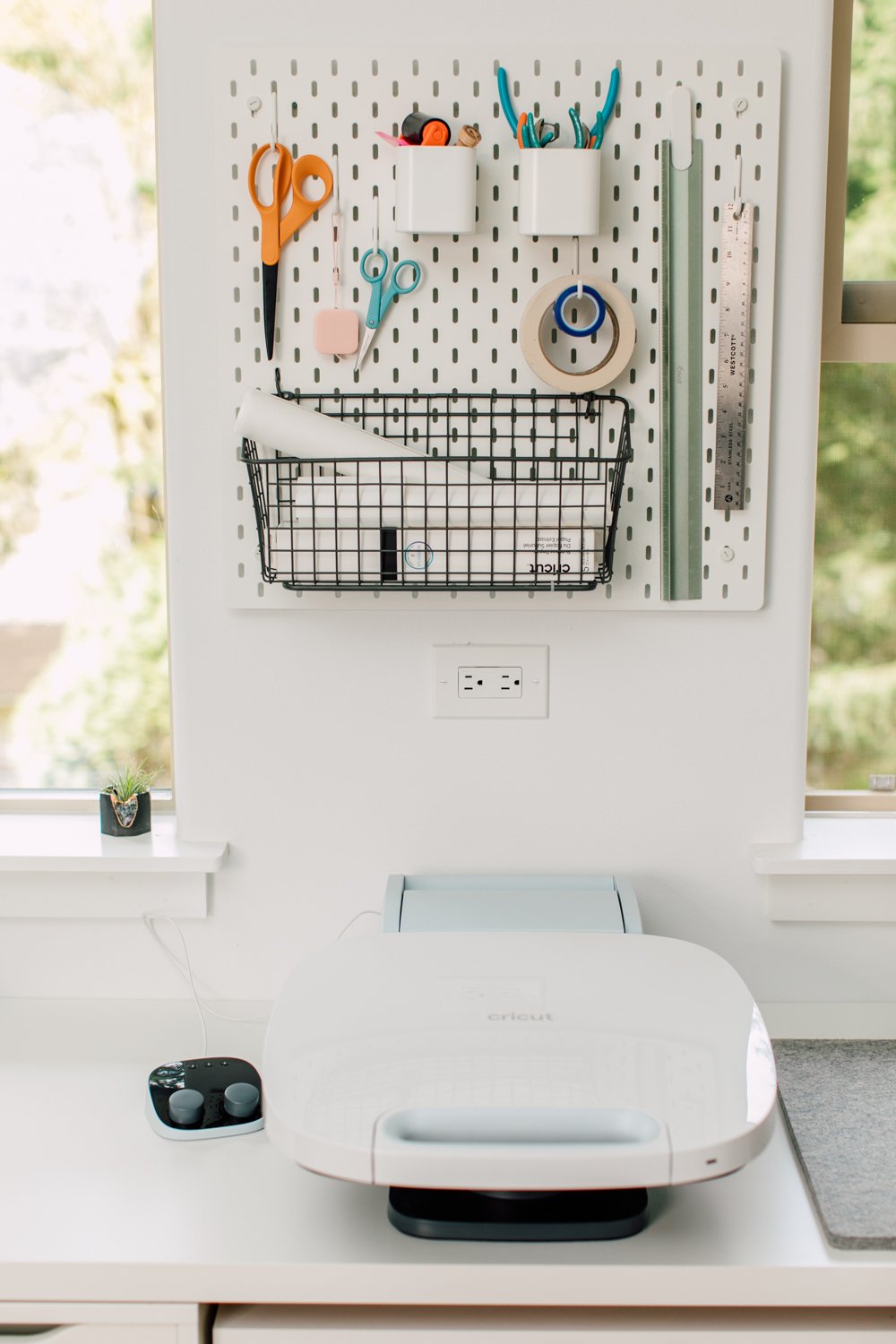 The Alex IKEA drawers below the AutoPress hold even more materials, plus things like office supplies and vendor samples.
I also still have a standard heat press that's across the room from this, on an antique cafeteria cart (love!). I really want to donate it because my AutoPress does 90% of what I do with this press, but I think my 5-in-1 better at projects that really need heavy pressure. I need to do some more testing with my AutoPress to see if increasing the time/temp might offset the heavy pressure needed for some blanks.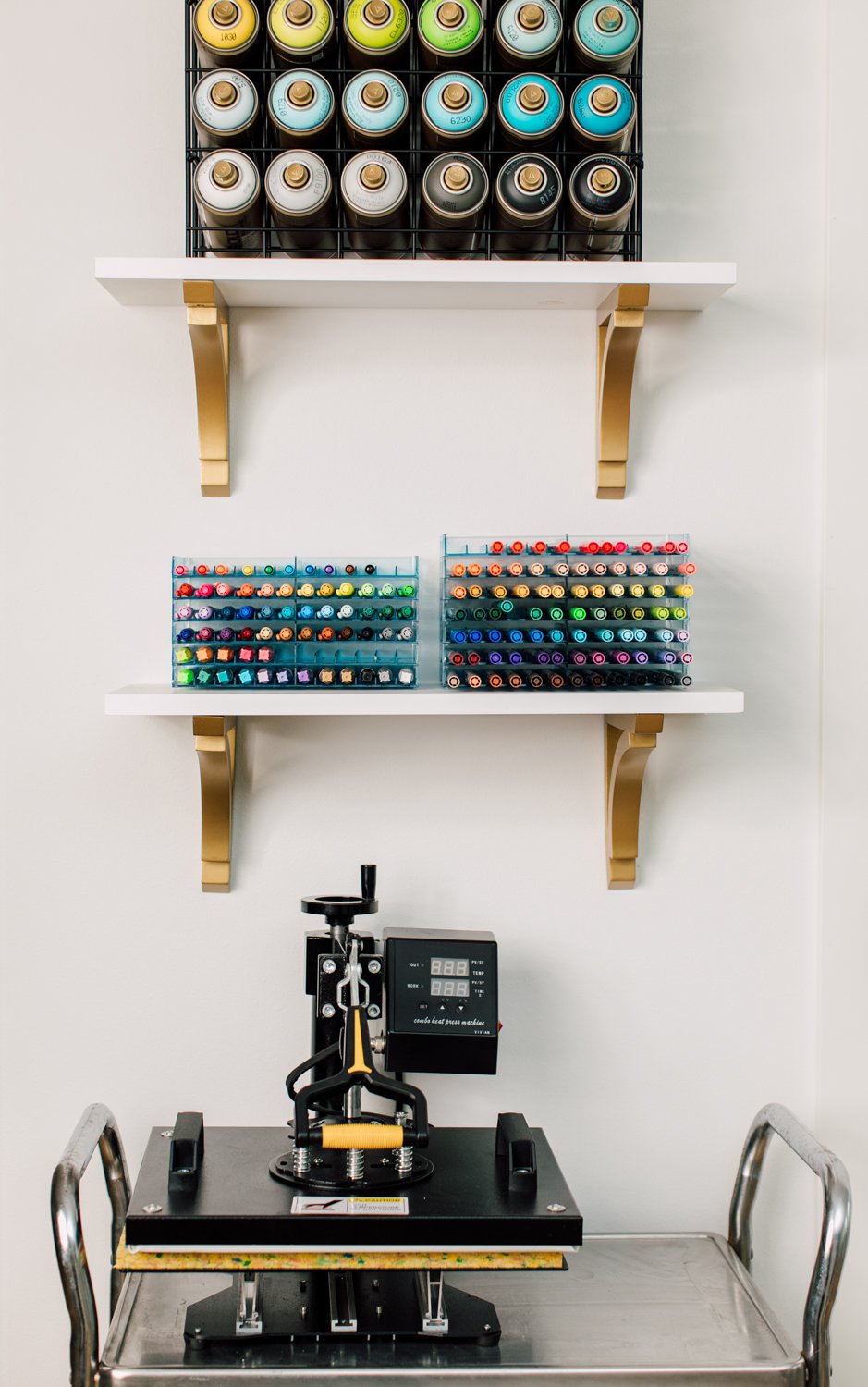 Below the heat press I keep all of my wood blanks, and above is storage for pens and a rack for my Montana spray paint.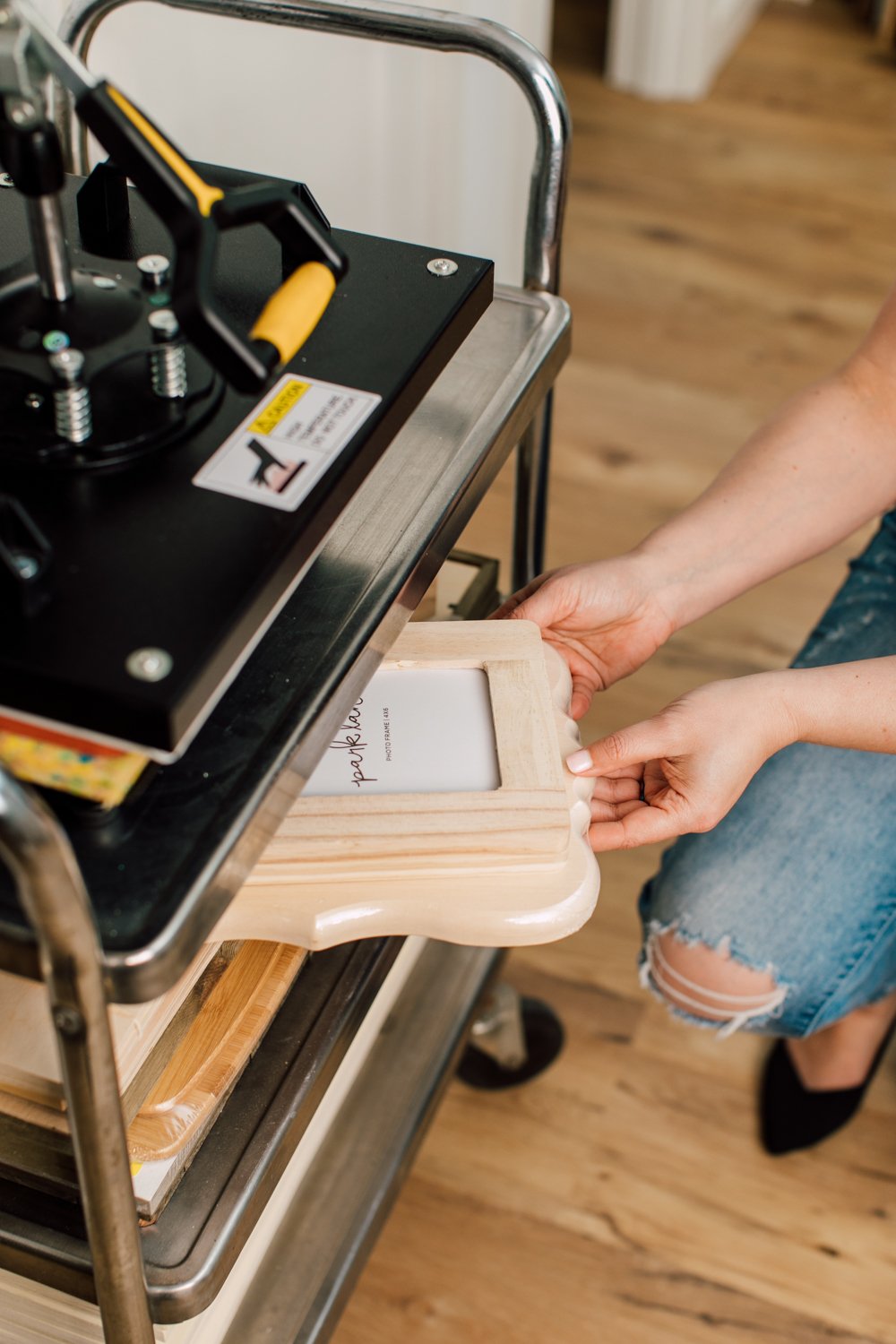 Central Workspace "Island"
In the middle of my craft space, I have a second 72″ Gladiator workbench that backs up to a 72″ IKEA entertainment center that I use as a printer station.
This is basically my worktable for all in-progress projects or for me to use any time I need a big flat space. I have a cutting mat and my Cricut Bright 360 table lamp. I use this space for weeding vinyl, assembling projects, unboxing materials, cooling projects that come out of the heat press, organizing future materials for posts, and, let's be real, as a catchall for everything else. This is sort of the "kitchen counter" of my craft room—everything ends up here and it's often a disaster. But it's a huge flat workspace that comes in really hand.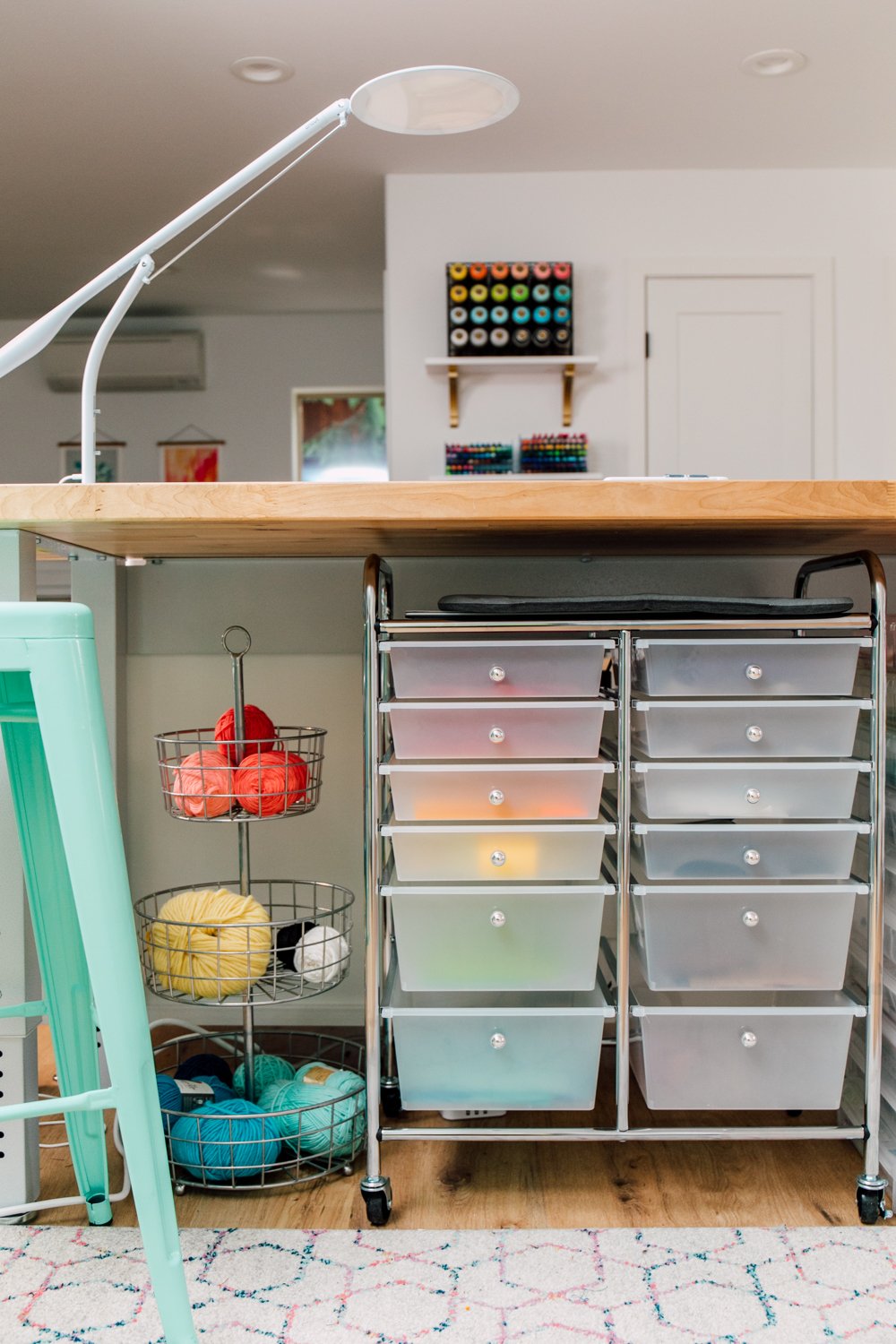 Underneath I have a rolling cart with drawers that has all of my vinyl scraps, as well as a fruit basket that worked in our old house but not in this one—so it's been repurposed for yarn. To the right of the rolling cart are stacked boxes of scrapbook paper, acetate, and printable materials (like Cricut Printable Vinyl).
On the other side of this table is my printer station. This is actually an IKEA "media console" but it worked perfectly for my needs. I have three printers—an HP Envy for everyday printing, an Epson EcoTank 2760 that I converted for sublimation, and a Canon TS9521C, which prints a full 12×12—perfect for making my own scrapbook paper.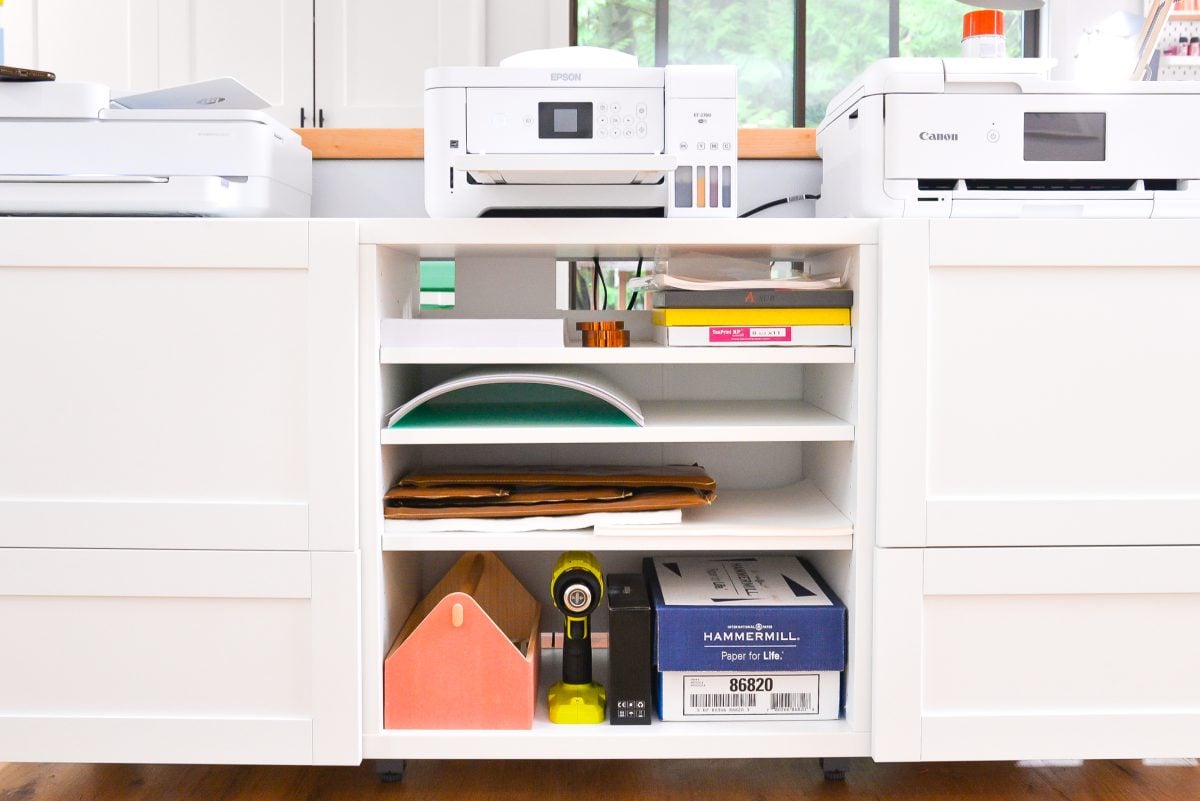 Below, I have printer and sublimation supplies. In the cabinets and drawers are all my sublimation blanks.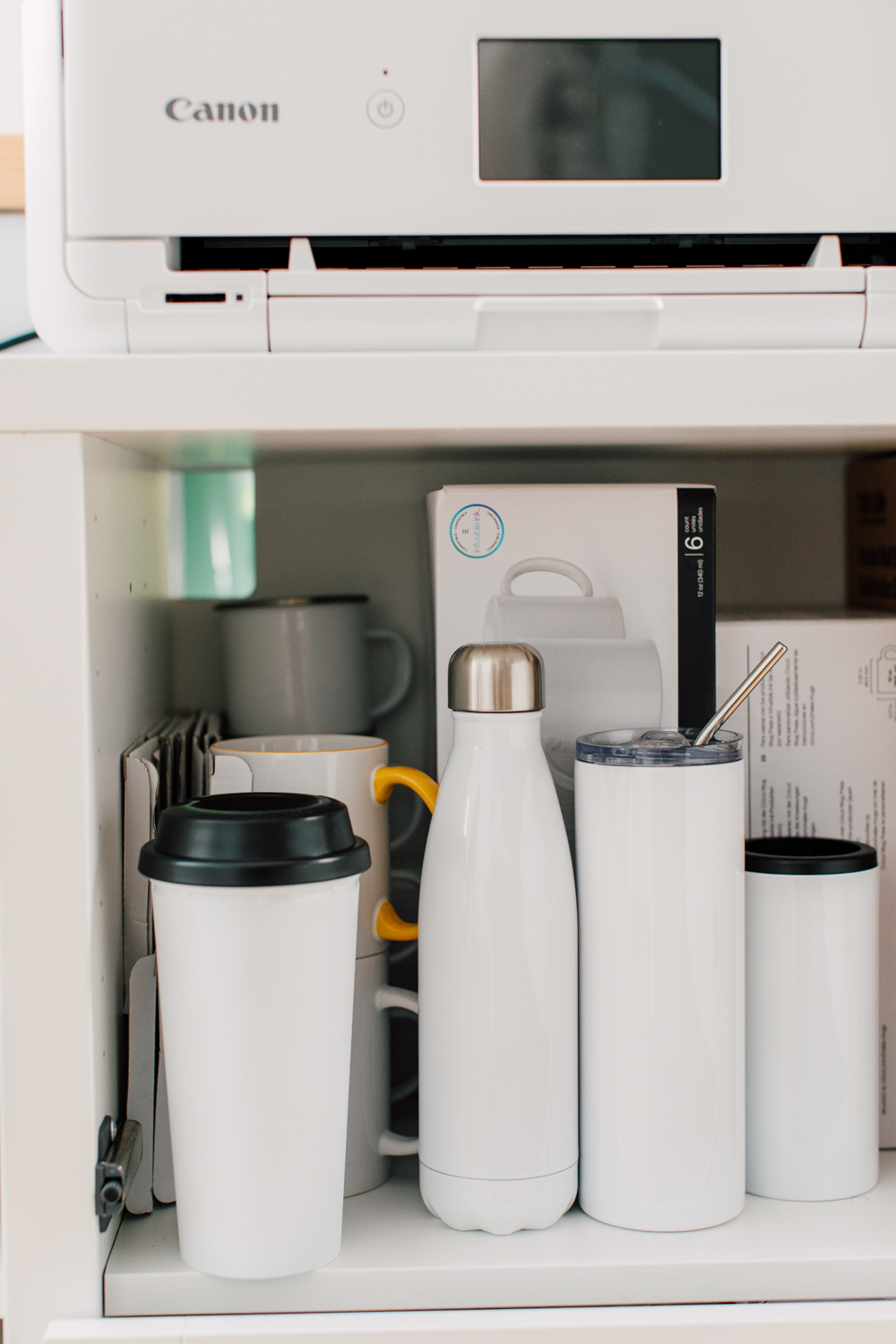 When we were designing this room, I put plugs in the center of the room in the floor—that way I can plug in all my printers and I'm not tripping over cords. If you're building your own space from scratch, I highly recommend this!
At the end of this island, I have yet another rolling cart that holds all of my shipping supplies and my small tool bag, which gives me easy access to hammers and screwdrivers, etc.
Glowforge Workspace
Next up in the craft room tour is my Glowforge workspace. This is less than a full workspace and more just a place where my Glowforge lives. I do most of my painting and assembling my Glowforge crafts on one of the two big worktables. I vent my Glowforge out the window to the left. Want to know more about the Glowforge. Check out my post Glowforge Overview: What to Know Before You Buy and save up to $500 on a machine!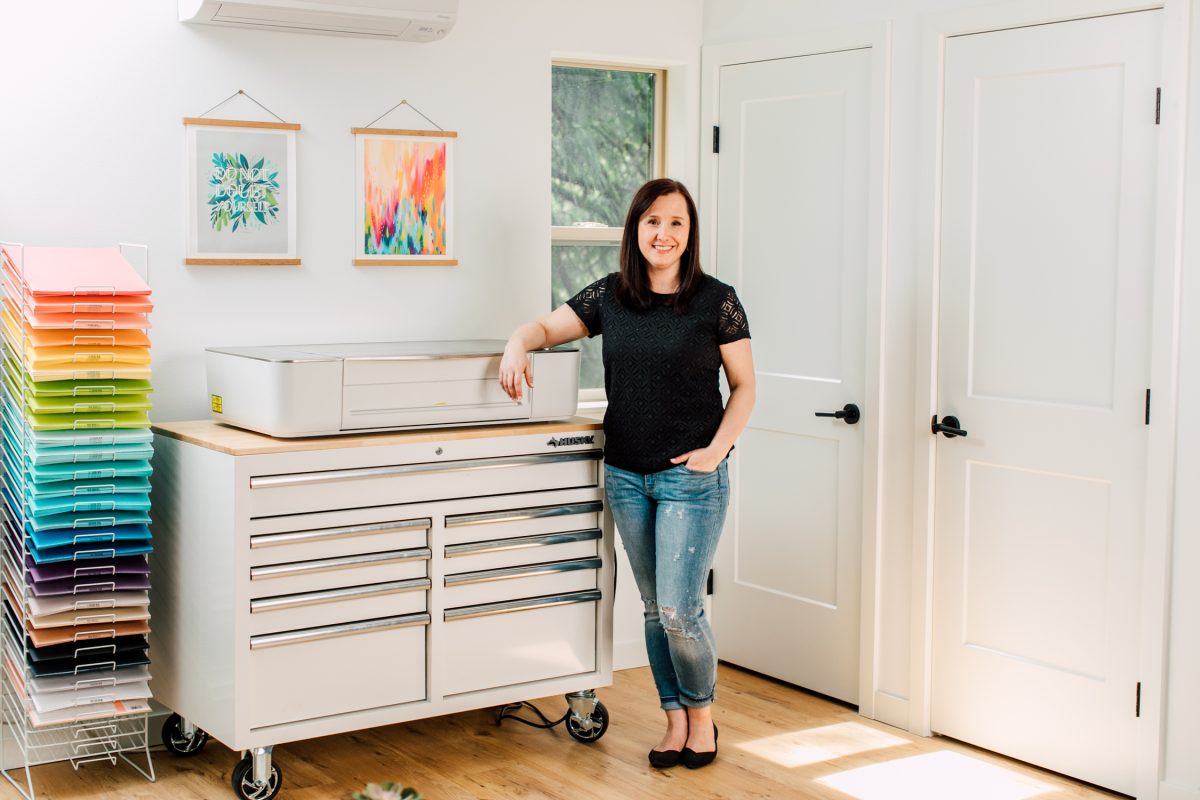 (I realized I don't have photos for those two closets you see above—the left one is the water heater and the other holds a mishmash of all my photography background rolls, my ironing board, and other…long and tall stuff. Hot mess in there. Don't open it.)
If you have a Glowforge, I couldn't recommend this Husky workbench more! It's incredibly sturdy and holds a ton of of flat materials in the standard Glowforge cutting size of 12″ x 20″ in all of the drawers.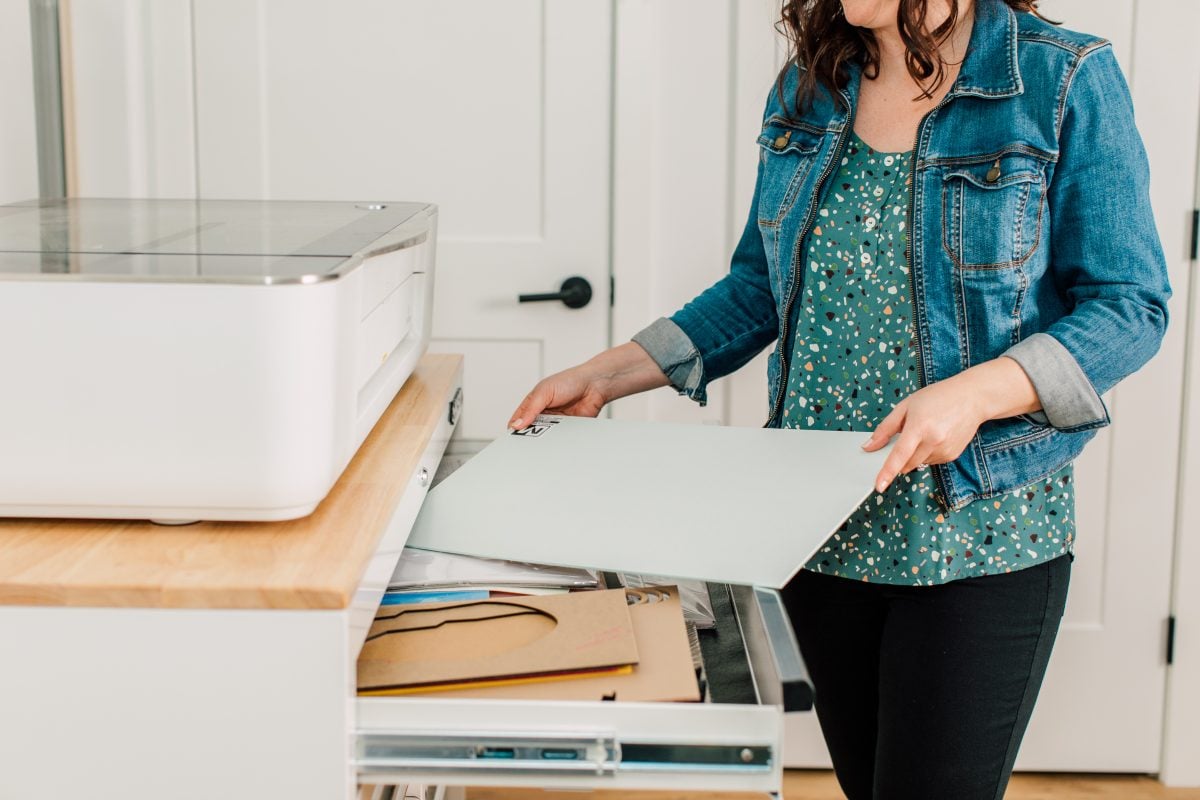 Next to my Glowforge I have a wire paper rack. Honestly, this isn't my favorite place for it (I'd rather it was closer to my actual Cricut crafting space), but it's the only place it fits right now! So I get a few extra steps in grabbing solid paper colors.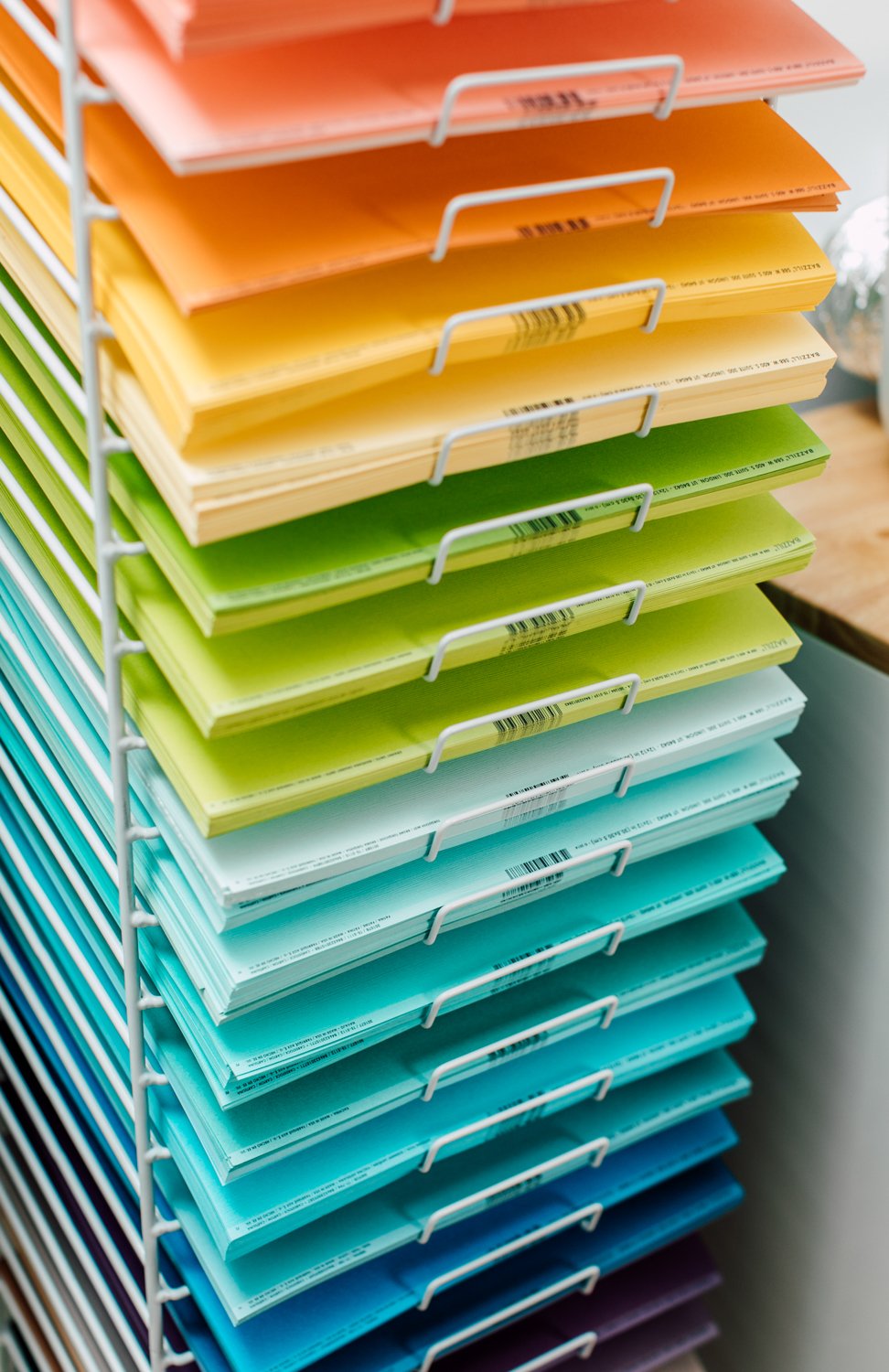 Storage
I have storage throughout my craft room, but the two biggest areas are a set of IKEA Pax cabinets, and a smaller built-in closet.
The Pax Cabinet is huge and holds a TON of stuff. On the right side of the cabinet, I have all my blanks on the top three shelves in labeled bins.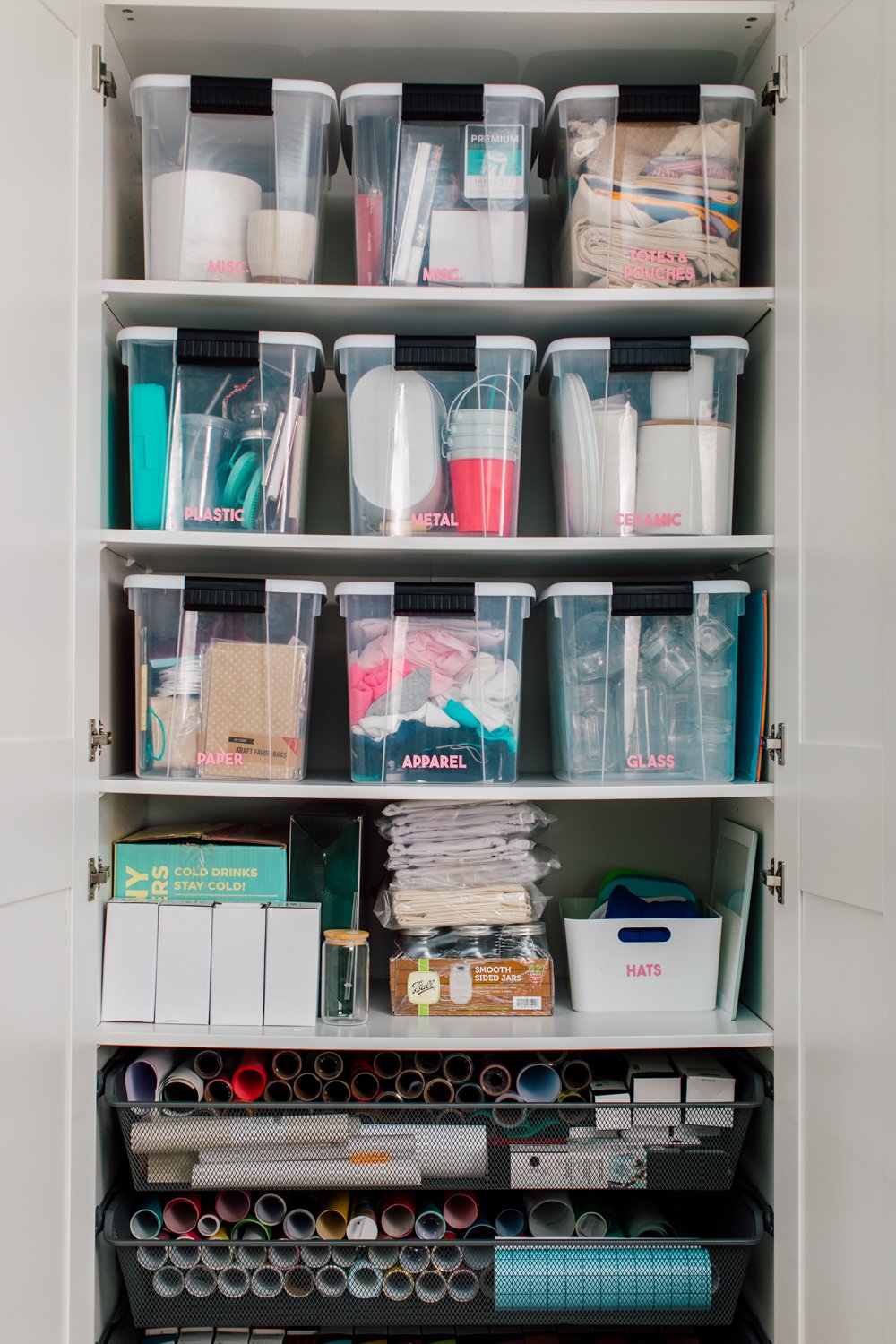 Then below there are mesh drawers for all of my rolled materials. I love this solution and it holds a ton! I don't actually have a lot of space for the hanging vinyl storage solutions that are so popular, so this is a great option.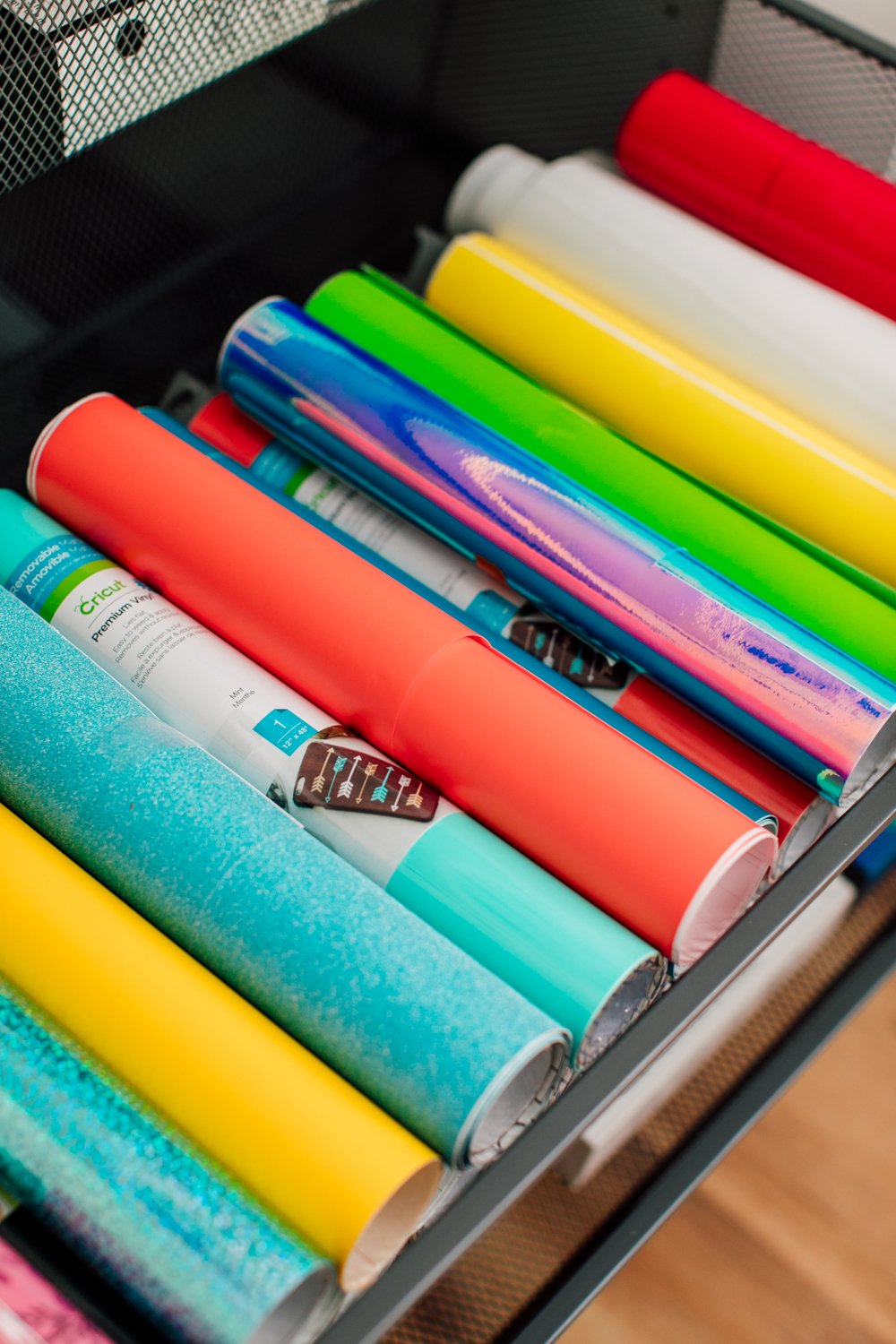 There's a smaller Pax cabinet to the right, and that is almost entirely sewing supplies. I used to do a lot more sewing than I do now, but I still break out my machine every once in a while for various projects. I usually move my single Cricut machine (see earlier in this post) and put my sewing machine there when using it. In this cabinet is fabric, sewing supplies, batting, felt, and more. Again, I try and label almost everything so I know where stuff lives!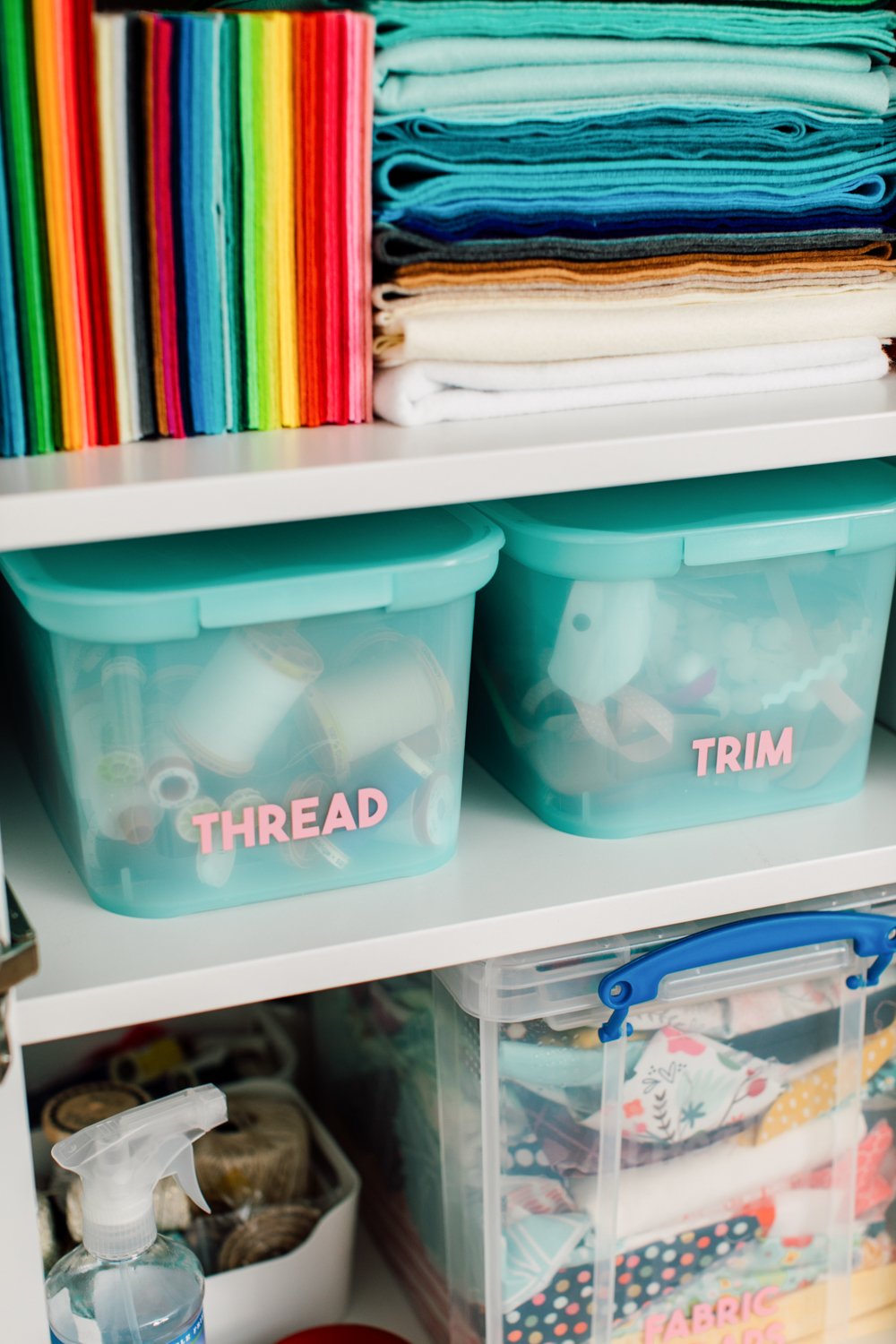 Then I also have a closet that was built into this room. It's not very deep and the shelves are built-in, so it took me a while to find some multi-purpose bins that made the most of this space. Thankfully they were on the less-expensive end of the spectrum, despite being from the Container Store!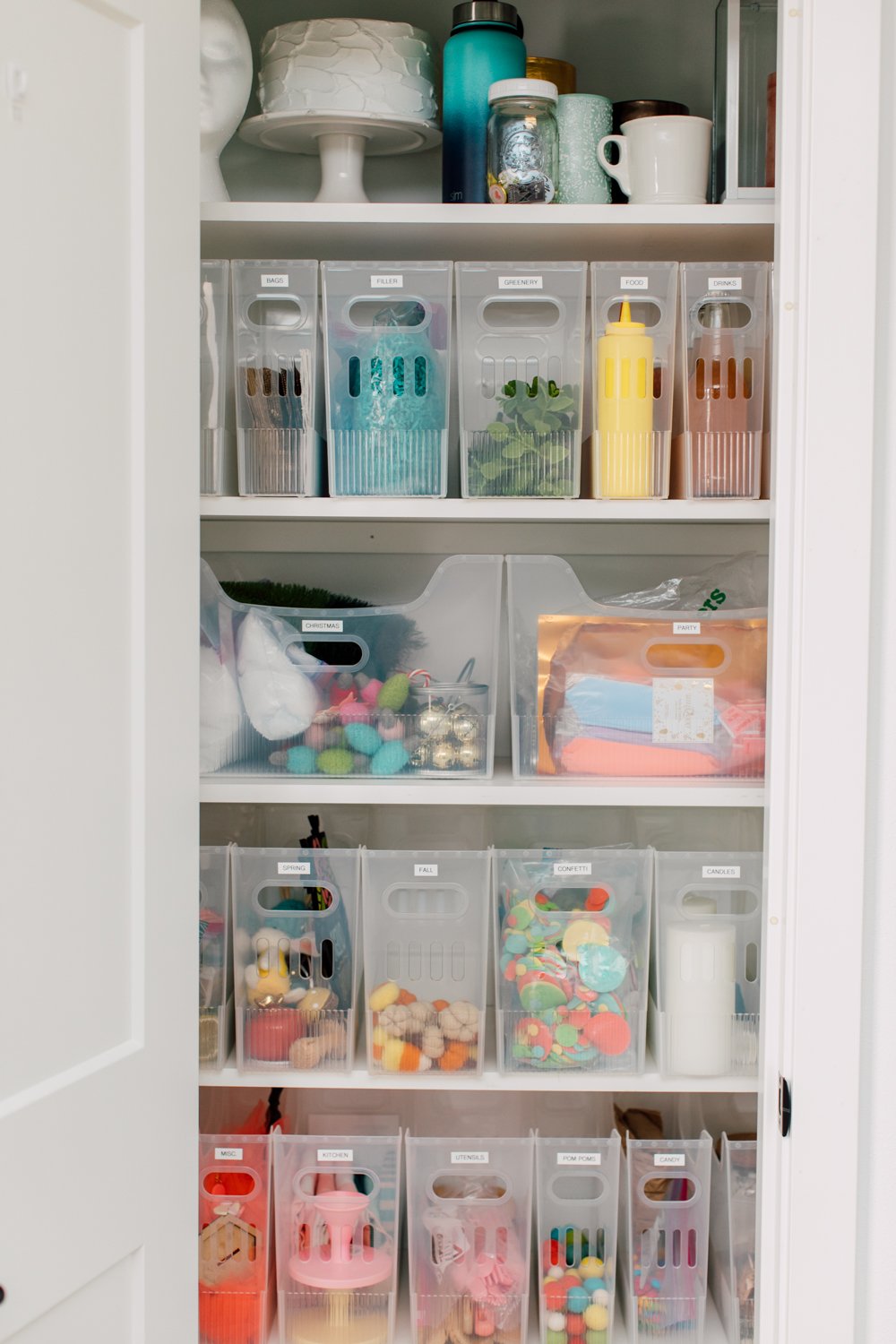 This is basically my prop closet. I keep all sorts of knick knacks and doodads in here that I use when taking photos. Yes, I've got a fake cake way up there. Doesn't everyone have a fake cake? And a styrofoam head?
I've got everything labeled in the Container Store bins using a simple label maker. Yes, I could've labeled with my Cricut, but the label maker worked perfectly in this instance.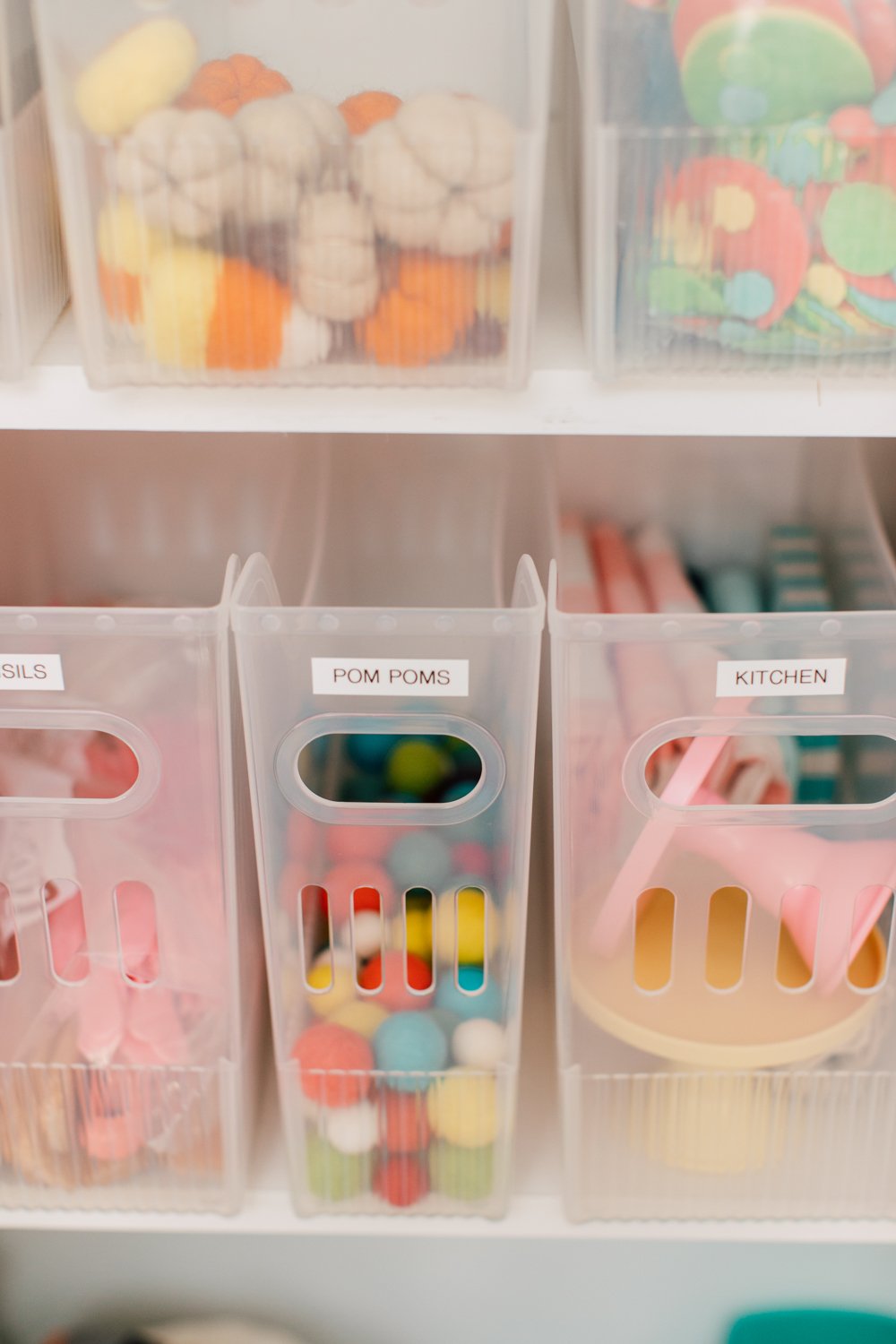 Filming Workspace (Pretty Version)
The next big space in my craft room tour is my filming workspace. This is where all of the rest of my Cricut machines and tools live. Here, I do all of my video filming as well as my "top down" process photography for blog posts.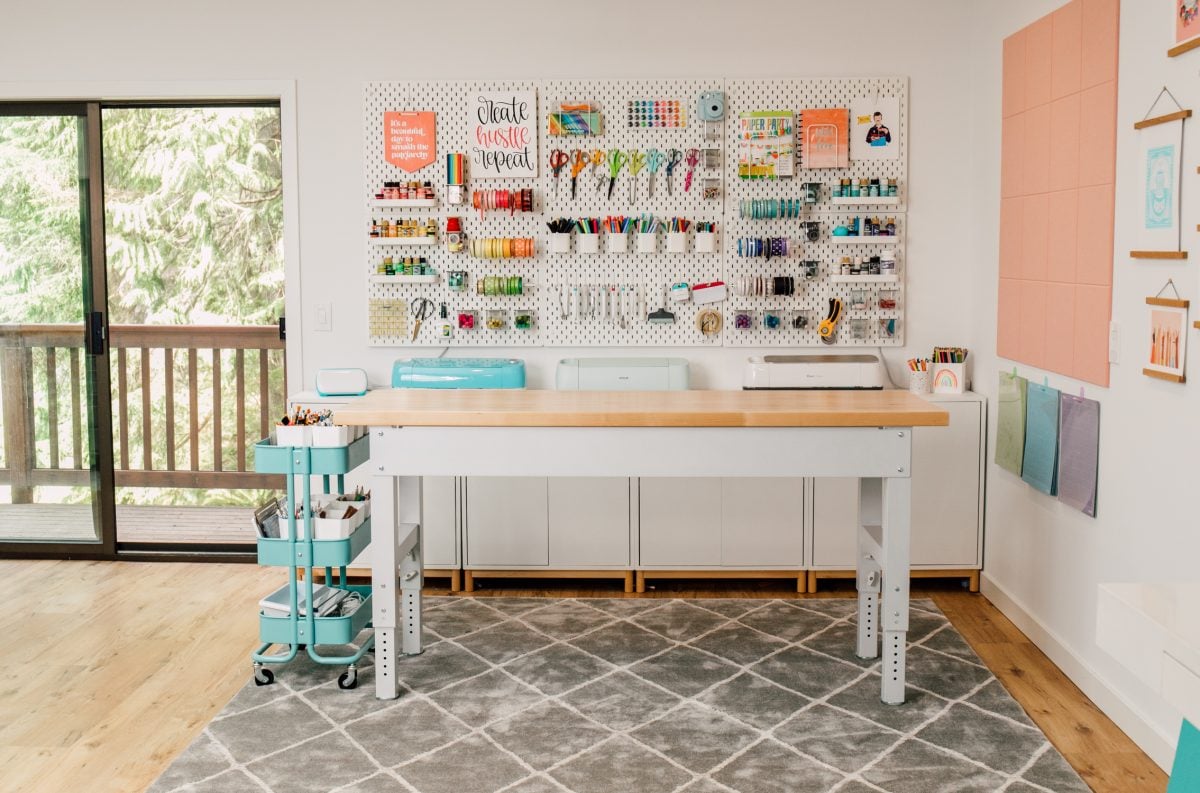 I have a huge IKEA peg board that serves as both the backdrop to my videos as well as a TON of storage for scissors, craft paint, pens, markers, washi tape, Cricut tools, ribbon, and more. It's actually six smaller pegboards installed right next to each other. I feel like a lot of pegboards are "decorative" but mine really does hold just about everything I need. I don't have my "real" scissors or ribbon or pens somewhere else—I use all of the stuff you see here.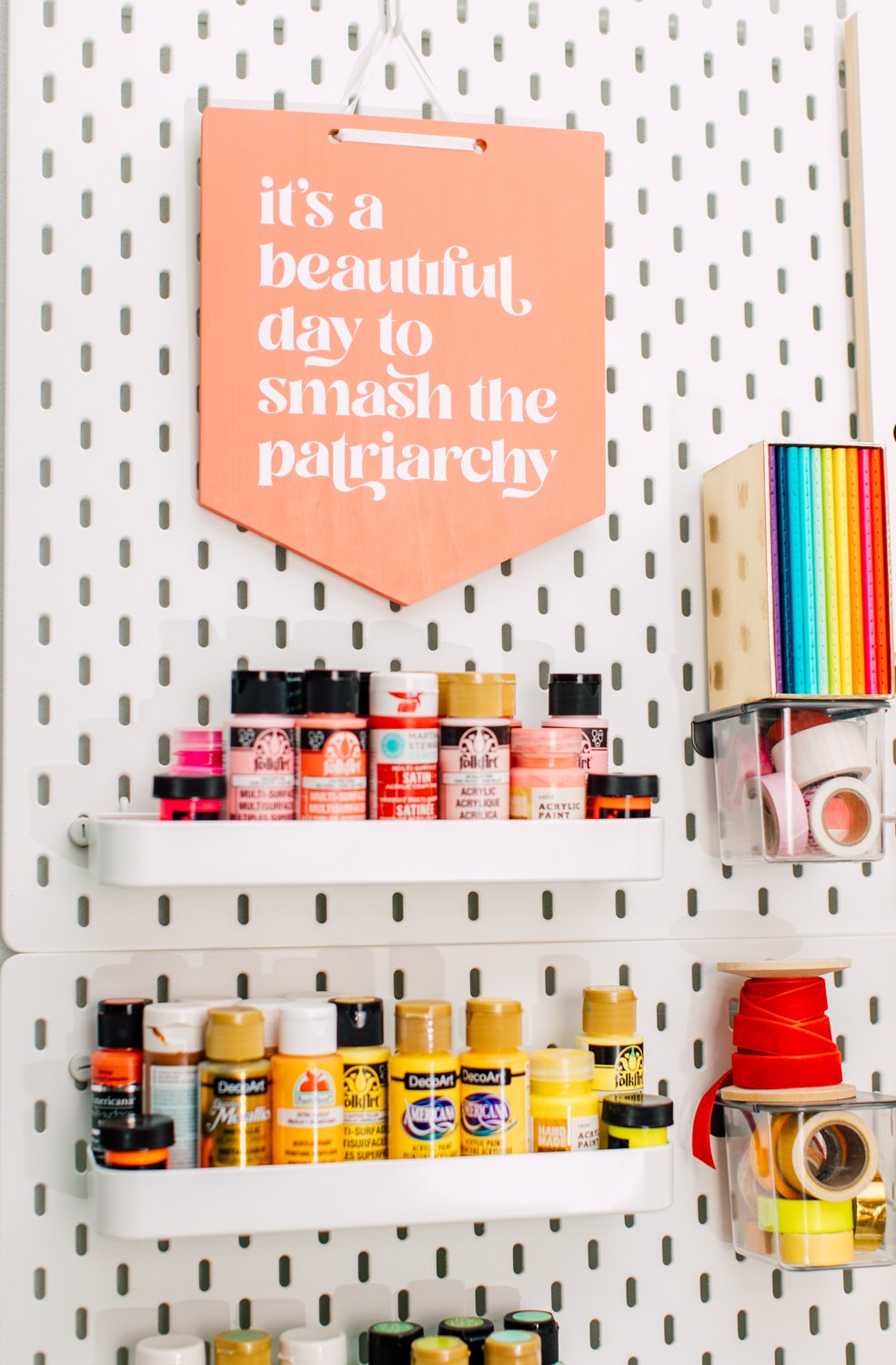 All of my supply colors coordinate because I niched down to just what I use so I could run a more profitable business. You can learn more about this in my books How to Make Money with Your Cricut and How to Make Money with Sublimation Crafting.
Below the pegboard I have a IKEA Eket cabinets, which store a ton of supplies, like glue, adhesives, tape, paper, spray paint, Xyron, and more. These white Amazon bins fit perfectly inside the cabinets.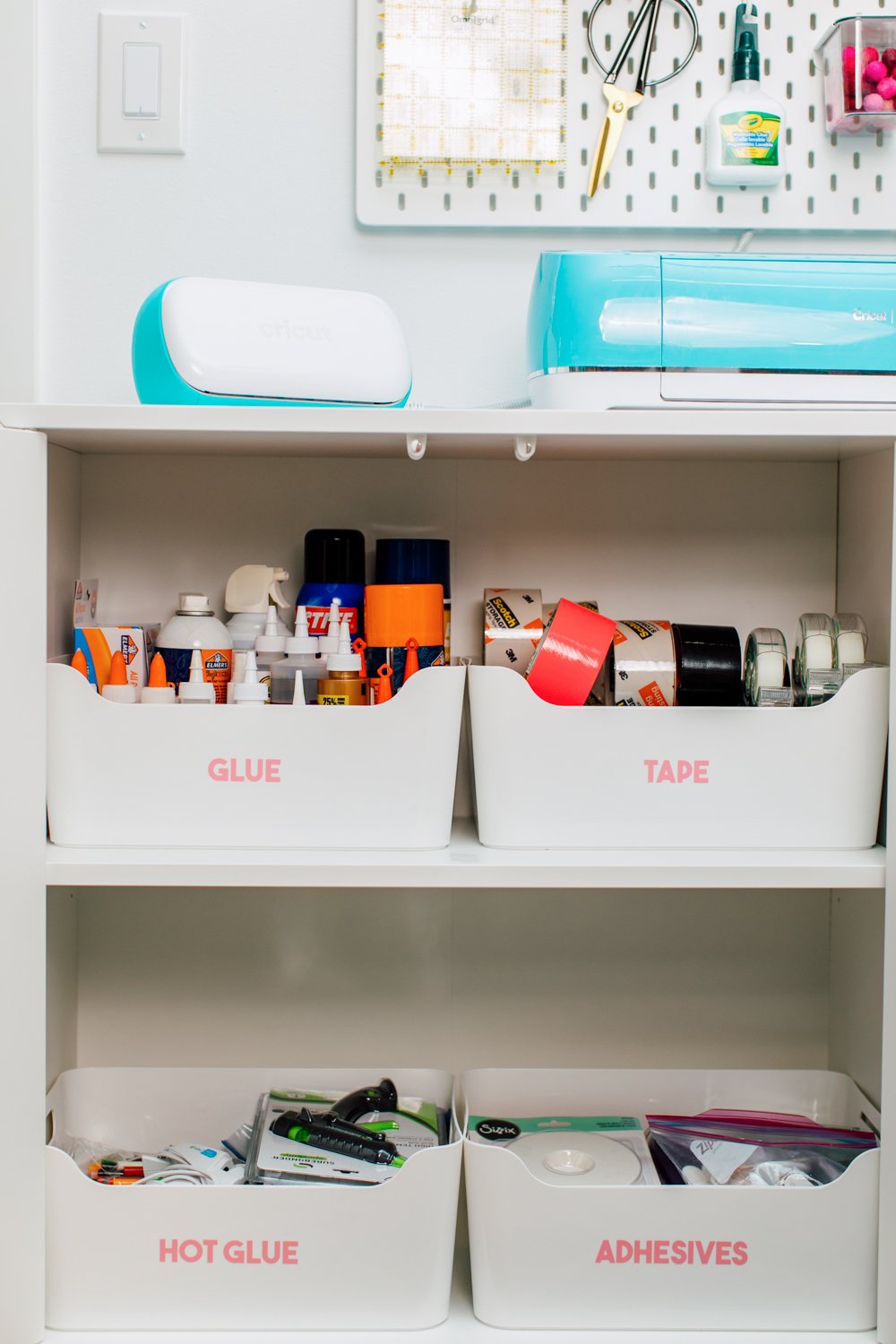 On top of the Eket cabinets, I have my other four Cricut machines. This means I can grab any one of them I need for a post or video, quickly and easily.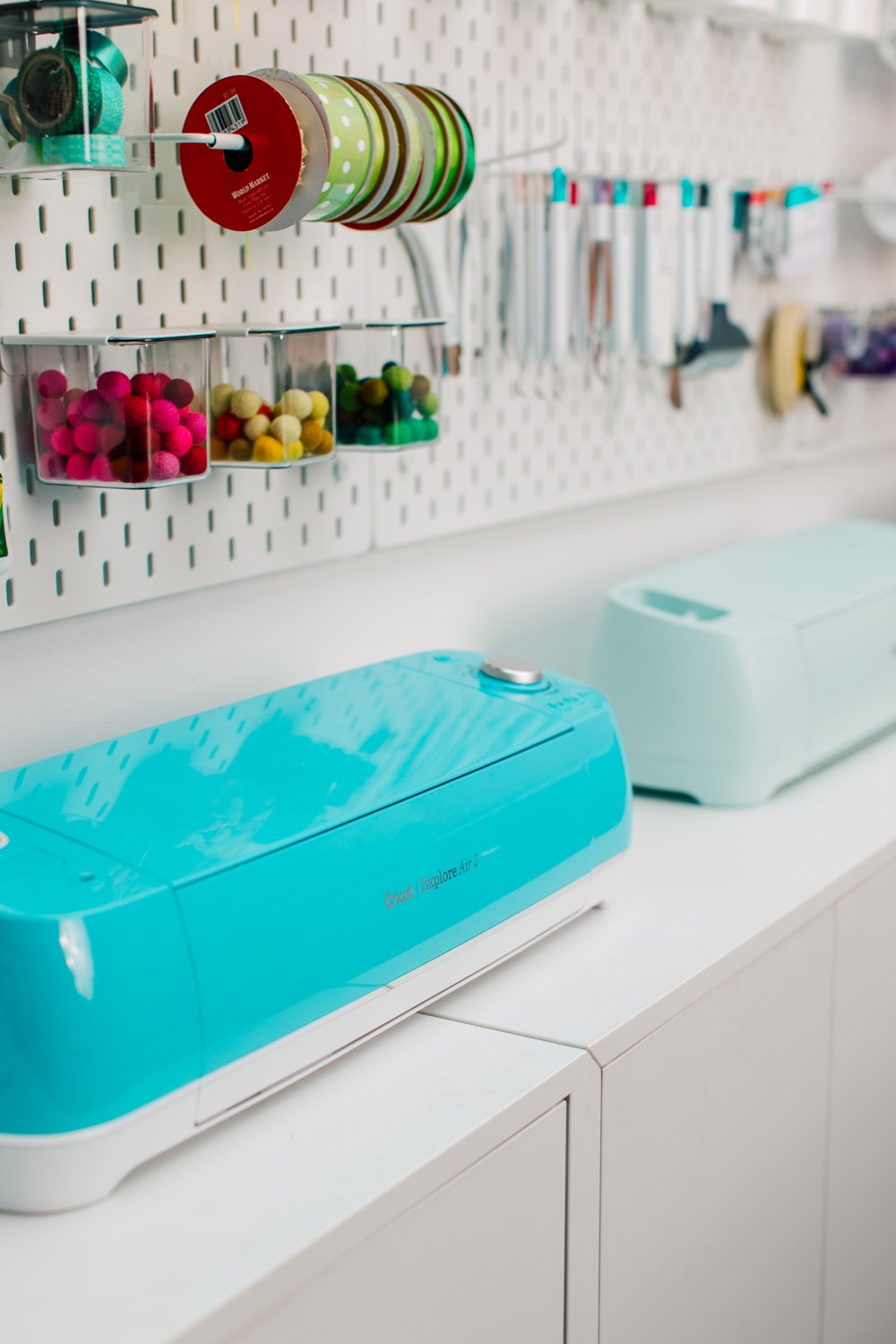 My actual worktable is the other 72″ Gladiator and I LOVE it. I. It's so solid so when I am recording video, I don't have to worry about the table shaking as I craft. The height is adjustable, making it good for folks of any height.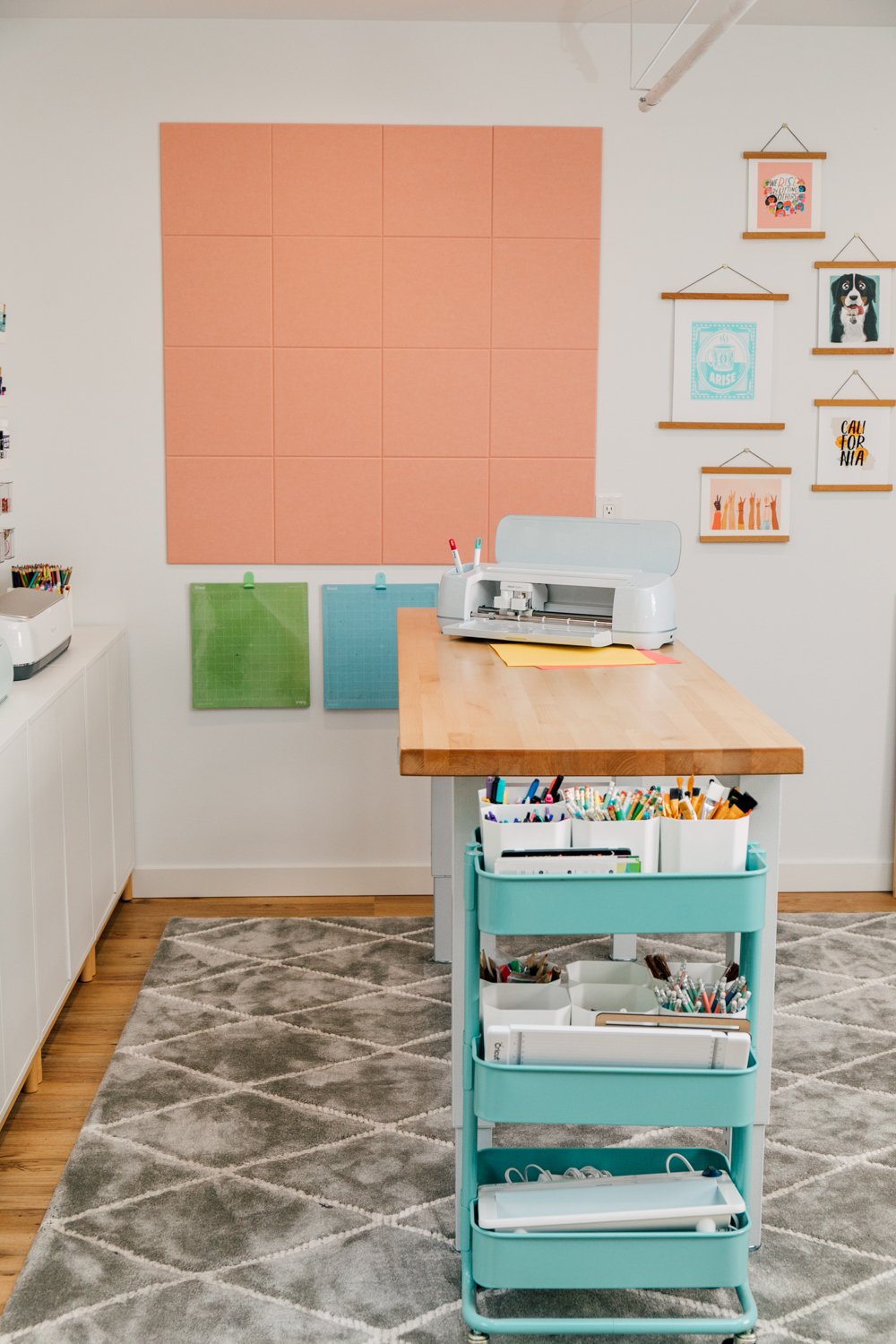 On the wall, I have Felt Right sound panels that help dampen the echo in this big square room. Below that, I have more Cricut mats. And at the end of my table I have a teal rolling cart with all sorts of pens, pencils, brushes, and more that doesn't fit on my pegboard. It took me a while to find big pencil holders, but I like how these big white cups fit in my cart. The rug is from IKEA and helps dampen the sound as well. The wood hangers for my artwork are from Amazon.
ACTUAL Filming Workspace
Okay, so that's what it looks like without any of my filming equipment—it never actually looks like this because it's covered in cameras and lights! This next section is more for bloggers or other folks who want to know how I set up everything for video and photography.
Here is my setup. From the ceiling, we hung a cheap curtain rod to make a DIY mounting rod. From the rod, I have my Sony A6000 camera (now sold out—the Sony A7 III is a great option!) hanging from an easily adjustable "magic arm." The camera has a cord running to the monitor so I can see what I'm filming, as well as a cord running to an outlet, so I don't have to worry about battery life. My monitor sits on another cart (carts are amazing in a craft room) with all my lenses and other camera accessories below.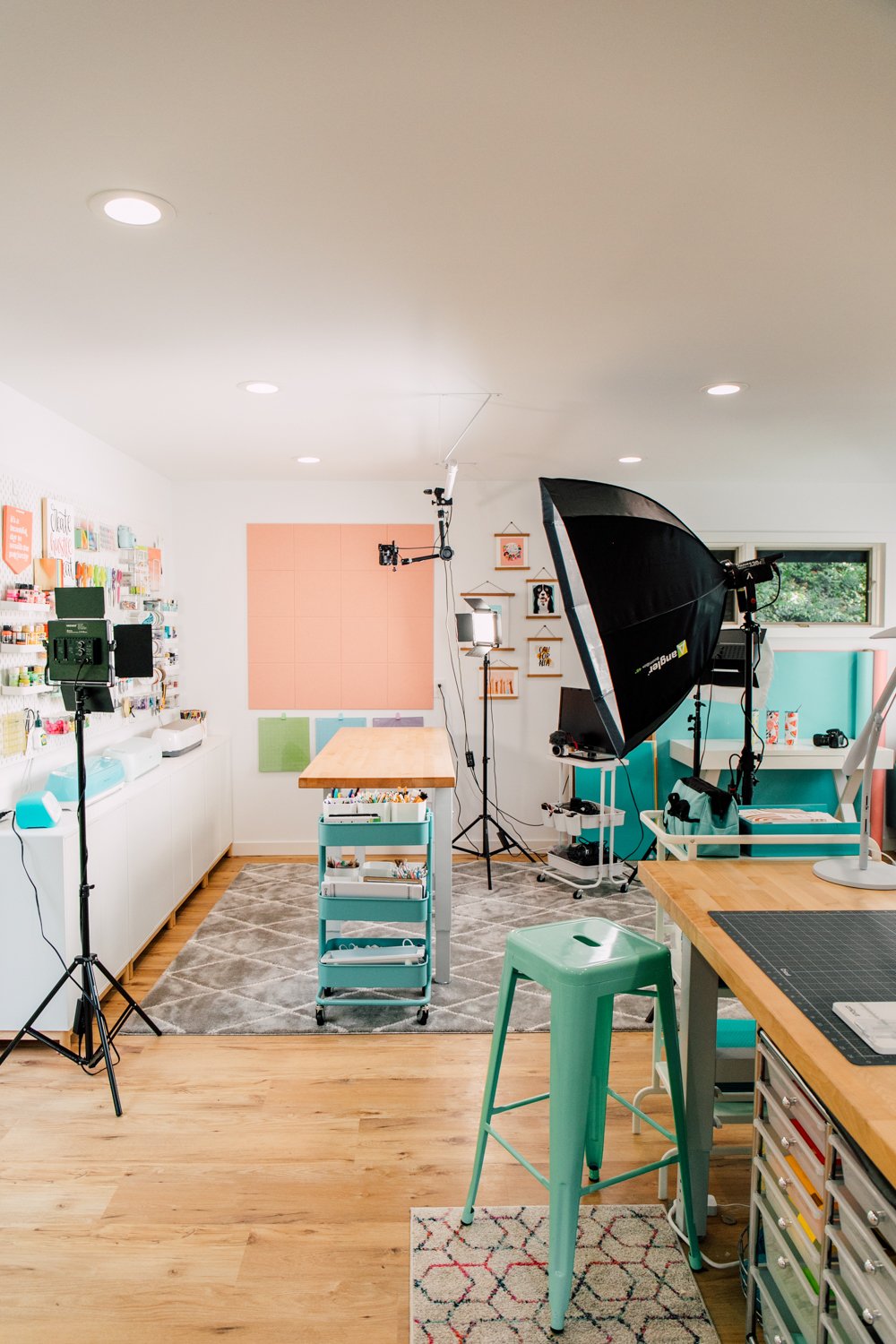 I have three lights I use for filming (I turn off all of the other regular can lights in the office because they make weird shadows). Two continuous LED lights—one that shines on me from the left, and one that is lit from the back. That back one helps create depth and helps decrease the shadow I create standing between the bigger light and the pegboard.
The big umbrella light is an Aperture LightStorm. This was not an inexpensive purchase, but it's basically like having the sun inside my office, which is great since we live in the land of no sun. It's fully adjustable and I love it more than someone should probably love a light.
I have a second camera facing me—a Sony ZV-1, which is meant for vlogging. It's a much cheaper option than the A7, but I've been really happy with it! It sits on a tripod facing directly at me. I have it on a Manfrotto "fluid ball" mount. You just grip the handle and squeeze and you can tilt the camera all around. This allows me to make adjustments more easily than trying to adjust the entire tripod.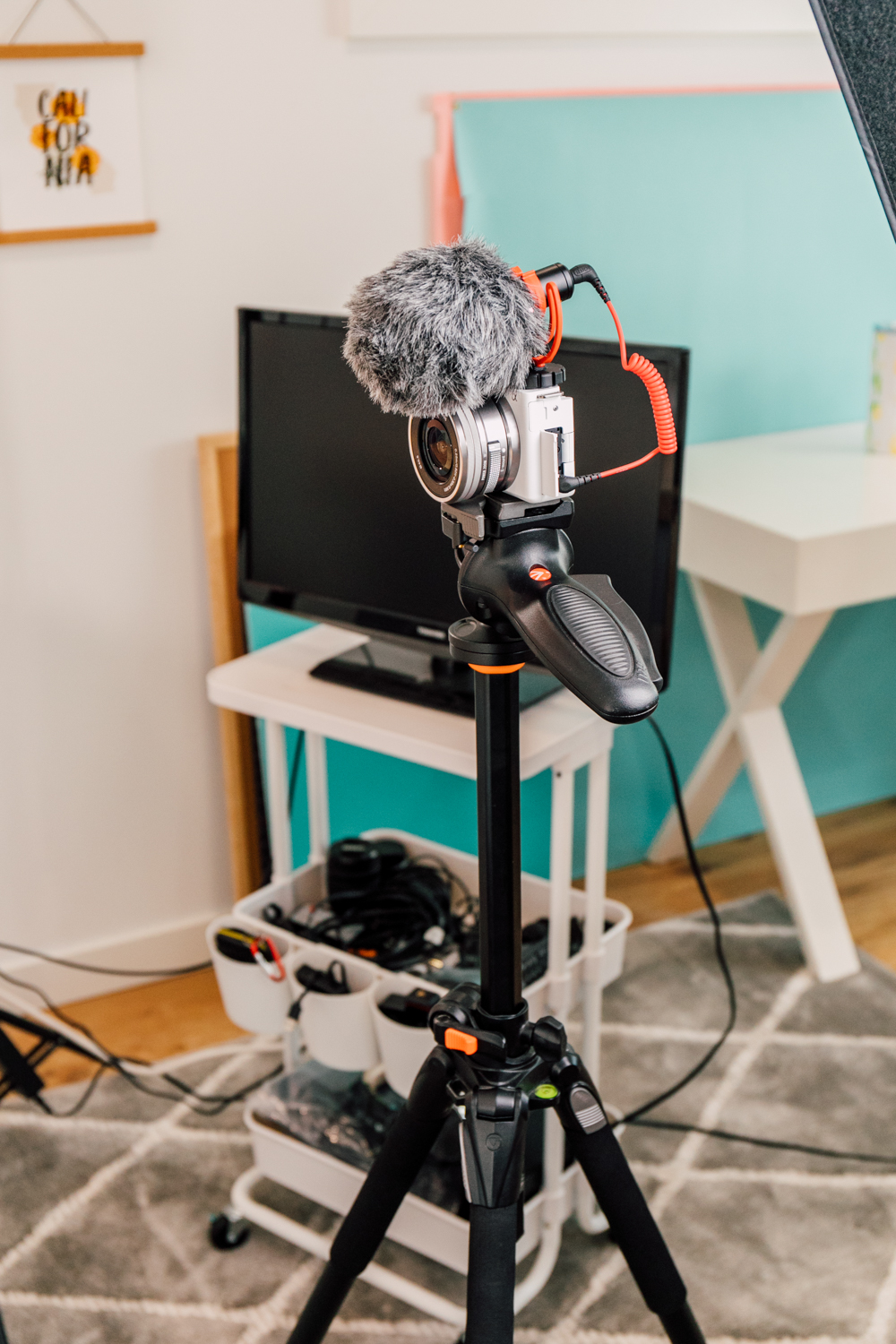 I have a Rode wireless on-camera microphone with a "dead cat" to dampen echos. I used to use a lapel mic (often called a "lavalier"), but I have found the camera mic much easier to work with because it doesn't require charging batteries (it runs off the camera's battery) and my hair doesn't hit the mic when I'm moving around.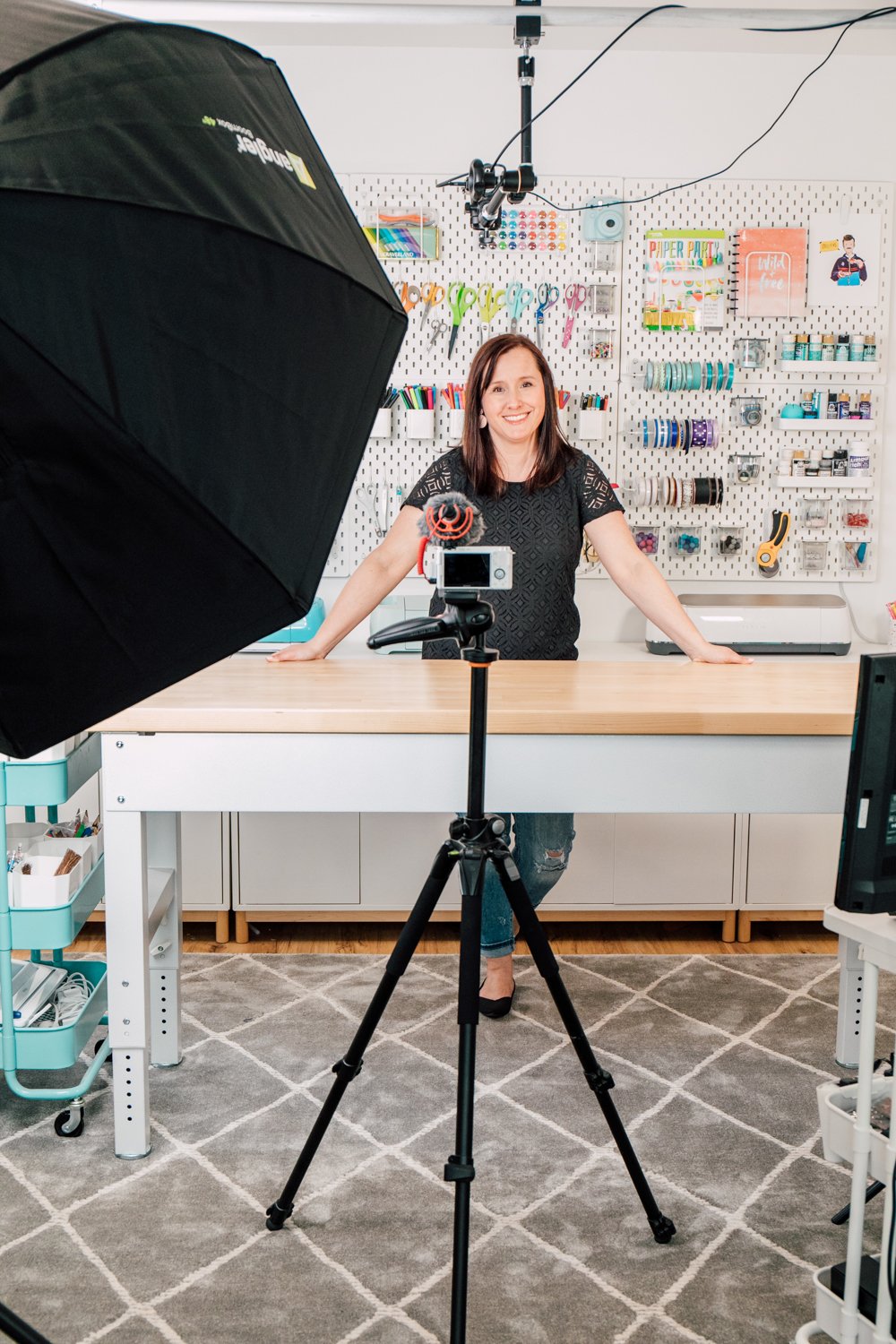 From this camera, you can't see any of the lights or the other hanging camera. (I'm such a nerd, ha!)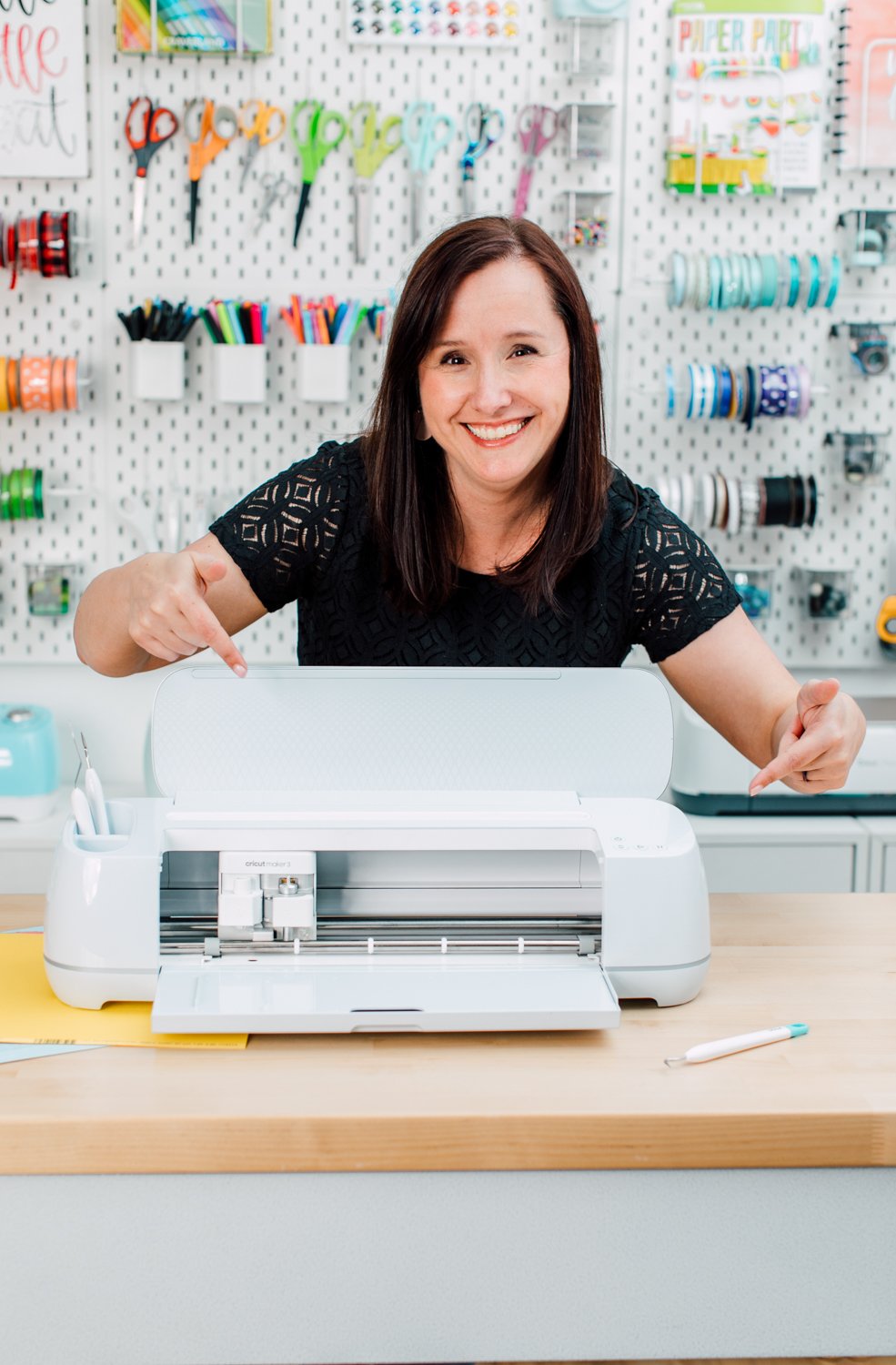 It took me a long time to get a video set up I'm happy with. Don't be afraid to move things around and try different options. I gave that lapel mic a shot for a long while before I realized I just could not make it work for my setup. I used to use my old big Nikon DSLR on the tripod until I got frustrated that I couldn't tell if it was filming or not, so I got the Sony ZV-1, which is awesome. Next on my list is a second AC charger for my camera on my tripod so I don't have to worry about batteries there, either. It's all an evolution to find what works best for you!
Photography Space
Next to my filming area, I have a small table that I use for photography under a long window (you can see where it is in the photo of my entire filming area above). This is where I take most of my "final" photos for my blog (as opposed to the top-down process photos I take on the workbench in the previous section).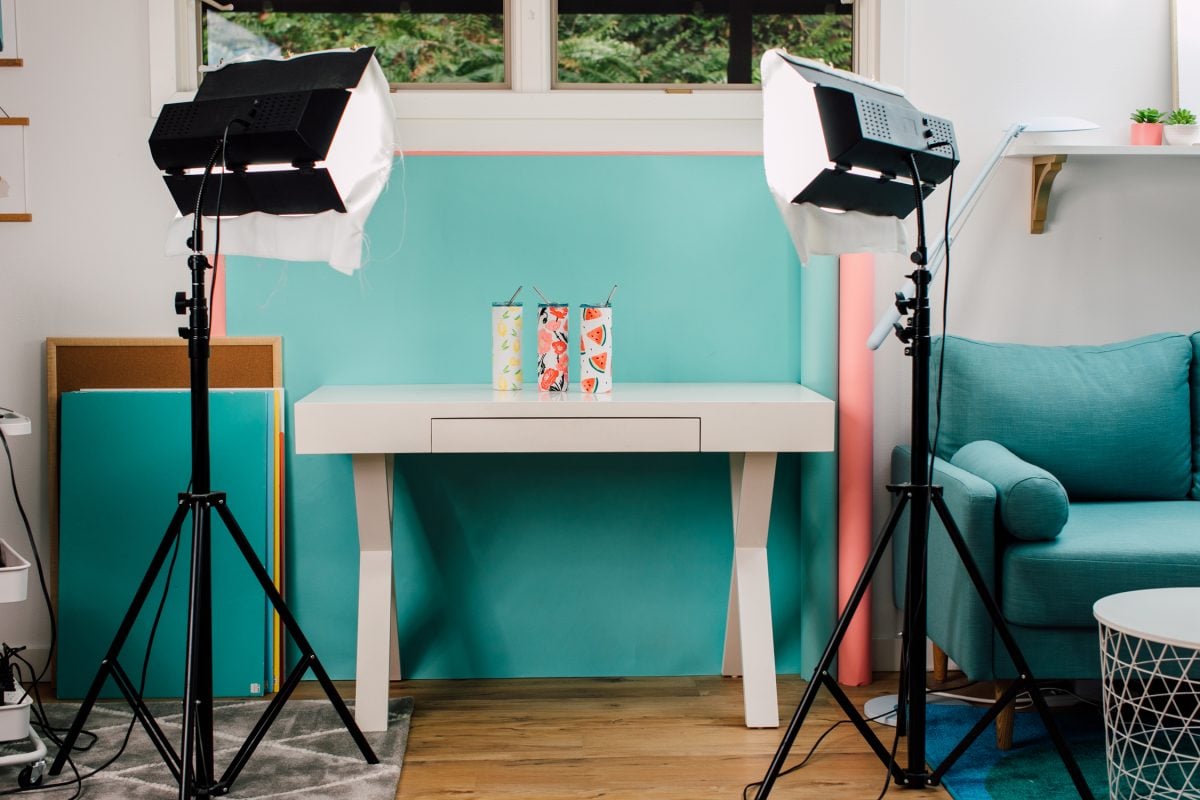 I've got two more lights set up here (the kind I use are a bit old—the same continuous LED lights from above would work too!) and rolls of paper and pieces of foam core that I use for backdrops. Tip: the closer you can get your lights to your subject, the fewer harsh shadows you'll have. I'll often have the two lights practically touching my shoulders while I take photos! For these photos, I use my older Nikon DSLR with a Sigma Art Series lens. The camera is nearly 10 years old but it still takes fabulous photos and it's all muscle memory so it's easy to use.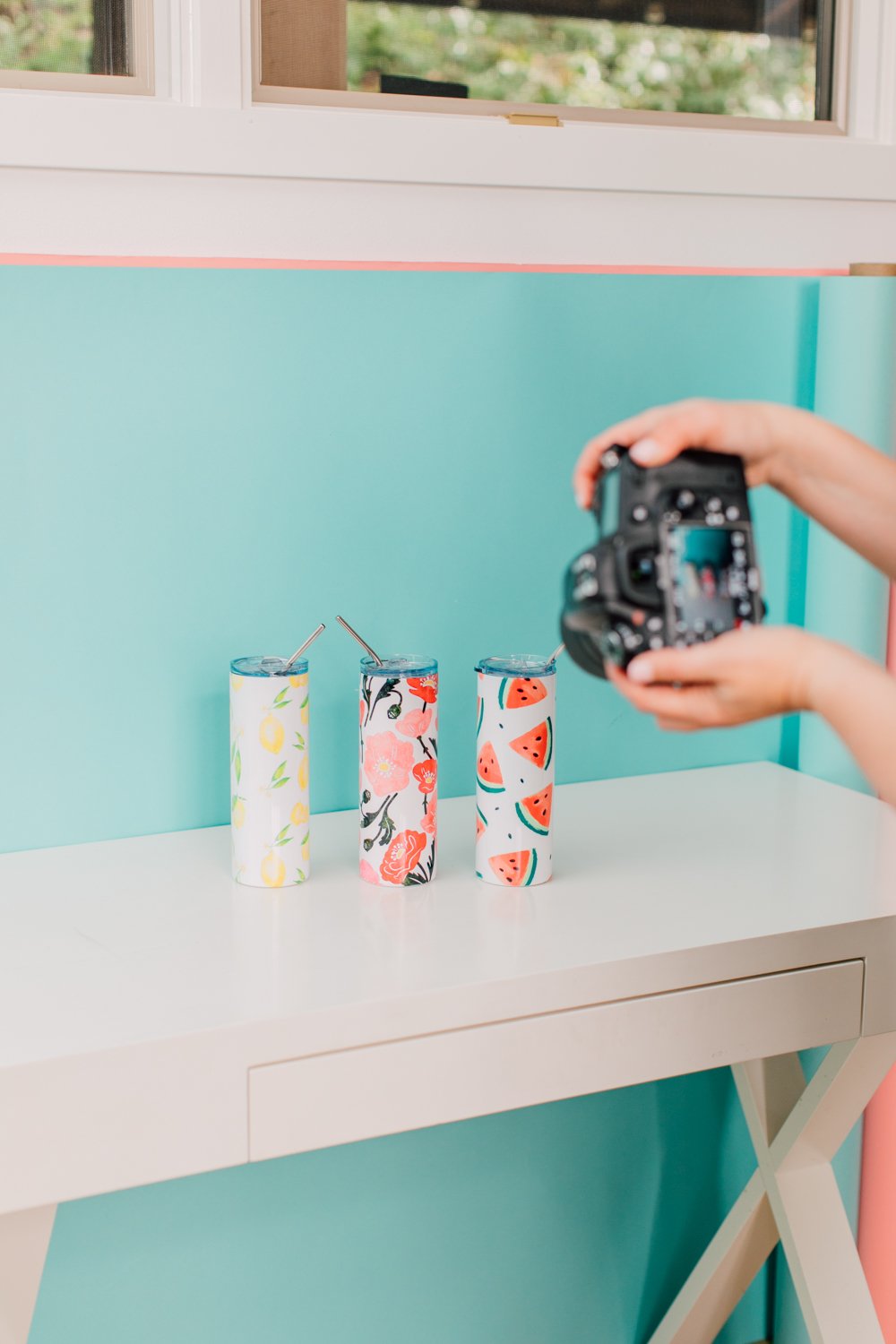 And then I lighten and brighten in Lightroom A LOT. You can see here a before and after photo within Lightroom (using a pink background).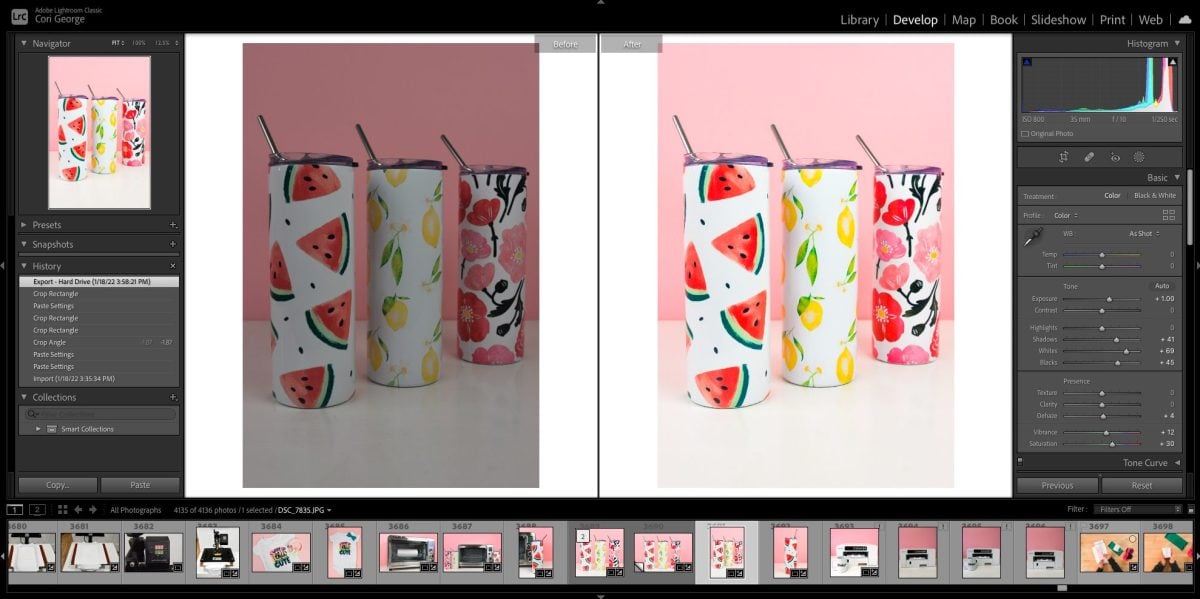 Chill Area
I wanted to have a place in my craft room that was comfortable for chilling out. So I got a couch from Inside Weather, an IKEA wire basket as a coffee table, an IKEA rug from the kids' department, and a shelf above. I recently added my Cricut Bright 360 standing light to this area.
I wanted a place where I could work if I wanted to step away from my desk, a more comfortable spot to attend a Zoom meeting, or a place to read if inside the house got too crazy (I've got twin boys, after all). I also wanted a place where I could take photographs of "home" stuff I make—basically a place for staging.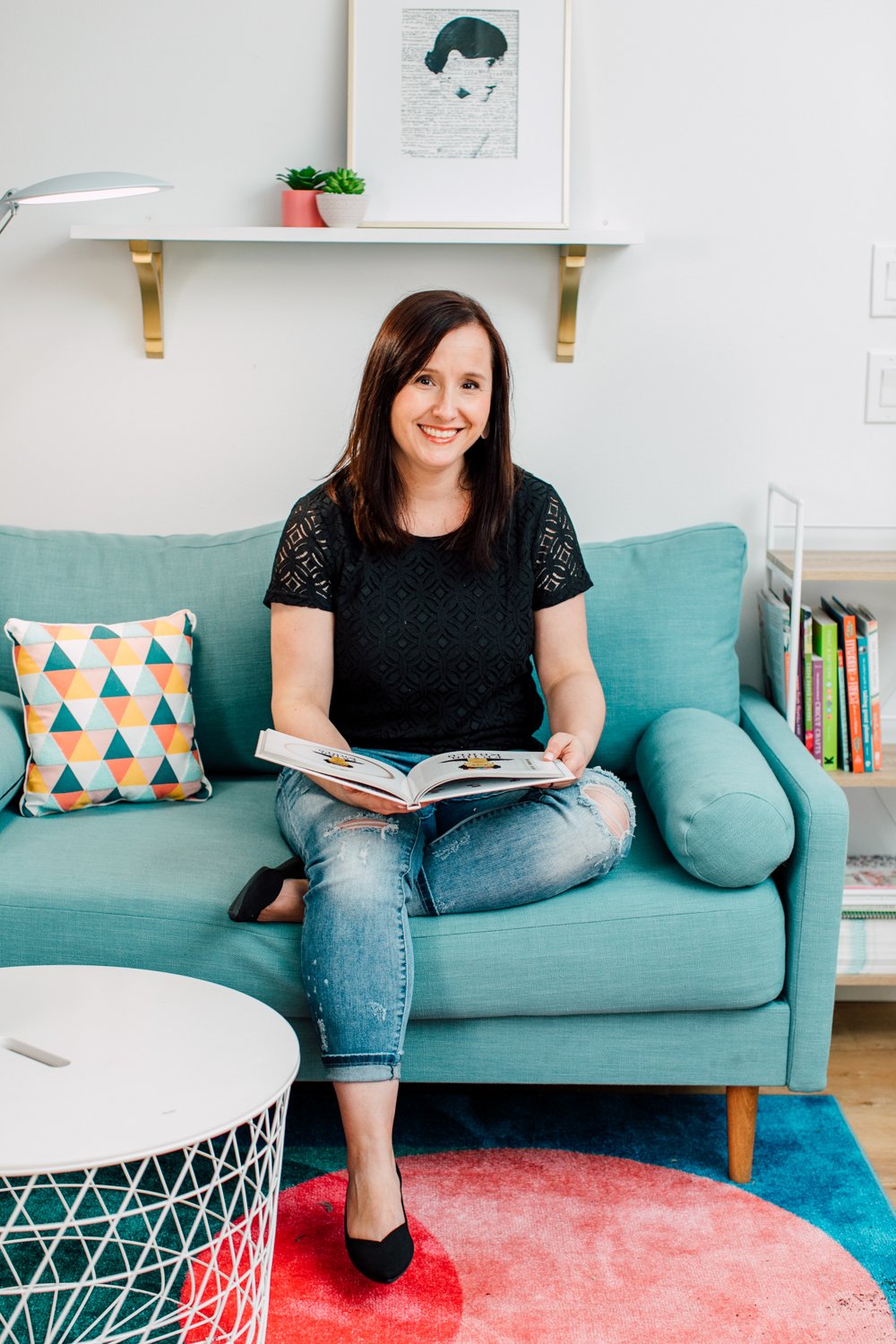 This area looks lovely but I'm still not 100% set on it. The couch is adorable but not as comfortable as I was hoping, so I don't find myself sitting there as much as I thought I would. I've photographed a few things with the couch, but not many. I do Zoom here quite a bit and I do use the shelf over the couch for photography.
I have ideas of replacing this area with a faux mantel, which I think I would use more often for photography. This couch could easily go in our loft inside—my boys can probably wear it in faster than I can with all their bouncing! We'll see what happens in this space as it evolves in the next few years! I'm sure I'll do another craft room tour at some point.
Bathroom
Finally, I've got to give a little shout out to the world's cutest little bathroom in my craft room! Love having a bathroom out here so I don't need to go into the house during my work day, where I get distracted with laundry and dishes and the TV. I made the art on the walls, and the shower curtain is artwork from Morgan Harper Nichols. Behind that shower curtain is a DISASTER. Basically everything I don't know what to do with in my craft room. Pull back the curtain at your own risk!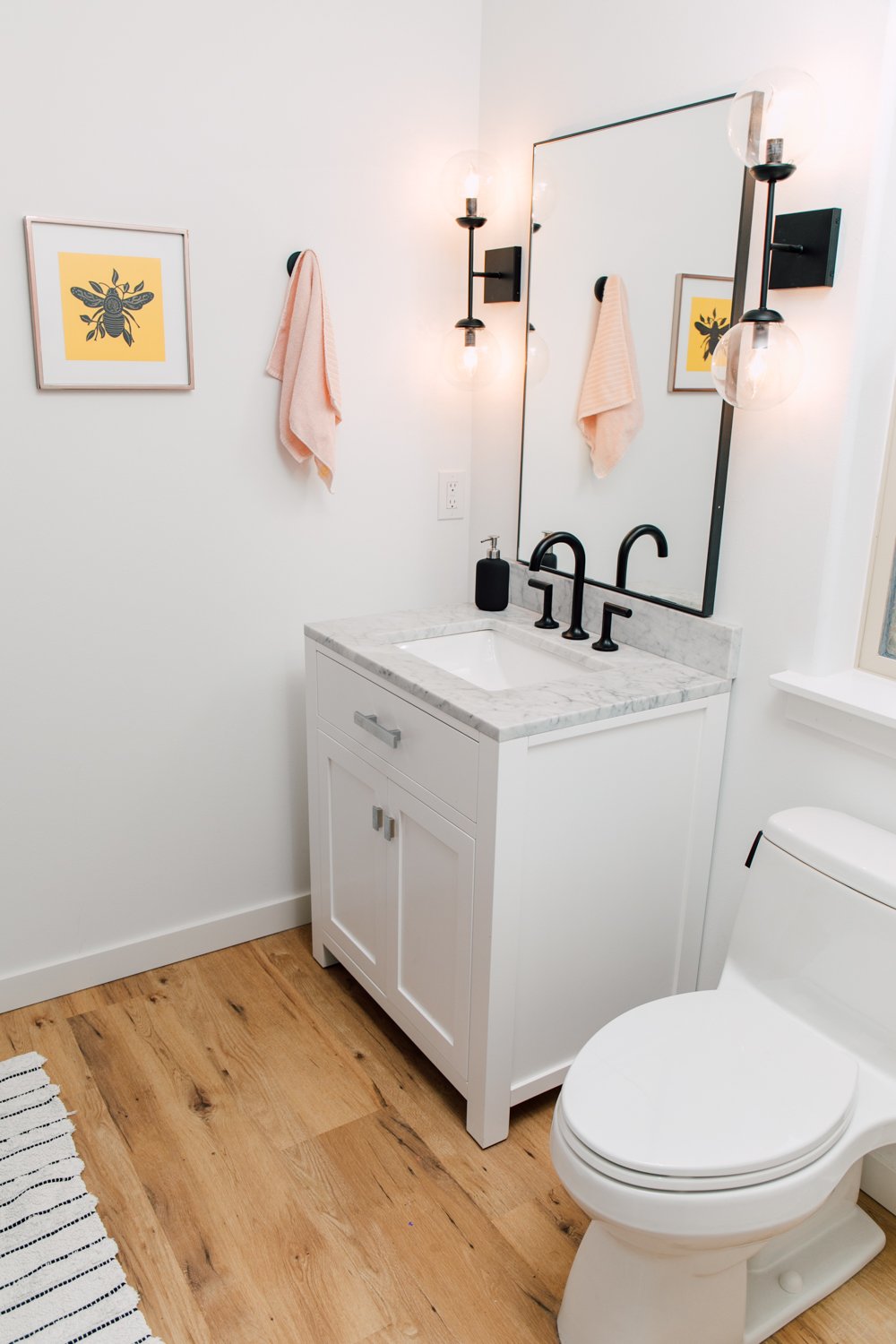 I hope you enjoyed this tour of my craft room! I think I've covered everything, but if you have any questions, I'd be happy to answer them!