If you're looking to make your craft room more functional and more fun—but you don't want to spend a fortune—check out these awesome Amazon craft room organization ideas!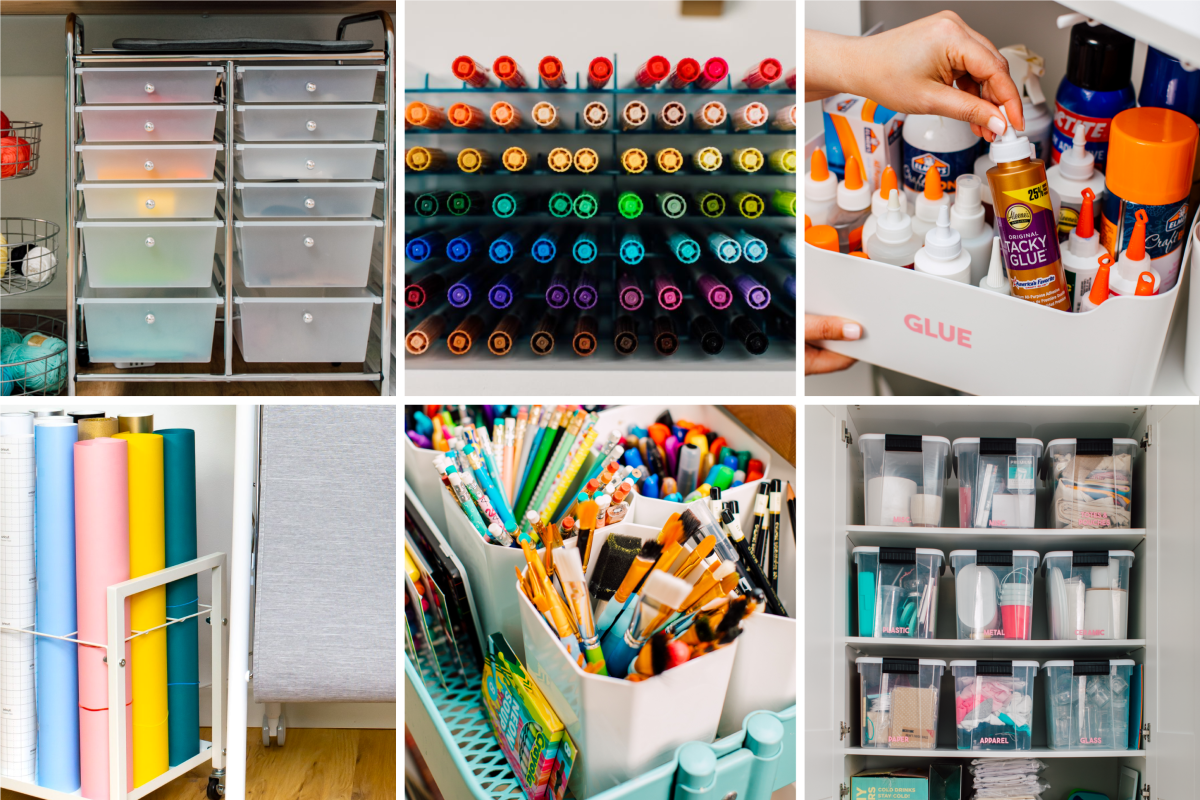 I'm not sure there's anyone out there who doesn't want to be more organized in their craft space! Being organized in my studio is the only way to keep myself sane while running my little crafty business, and over the years I've come up with so many ways to keep me more organized.
In today's post, I'm going to share 10 things I actually own and have used for a long time in my craft room that you can buy on Amazon. That was I can tell you with honesty that all of these storage solutions work well for me, instead of just providing you a list and saying "good luck, hope they work!"
I will also be honest and say that many of the storage solutions I have in my studio can't be found on Amazon and a few of them were somewhat expensive. I love my CreateRoom Cubbies, for instance, as well as my two Husky toolchests where I keep my lasers. I also have two Gladiator worktables and a fair amount of IKEA furniture. If there's anything you see in the photos below that you want to know more about that isn't on my Amazon list, just let me know in the comments!
But for this post, I wanted to focus on less expensive storage solutions from an easily accessible source that might make it easier for you to get organized in your craft space. Whether you have a lot of workspace or just a small corner of a room, hopefully some of these Amazon storage solutions will make sense in your space!
Watch the Video
Want a video of all of the Amazon storage solutions I mention in this video? Click play below! Or keep on reading for more information about each item.
Before We Get Organized
Before you go off and buy anything for storage, I am a huge proponent of purging and culling your things. The longer you have a hobby, the more…stuff you end up with. Let's be real. We all have tons of stuff that we never use in our craft spaces. I was going through a cabinet the other day and found three blank phone cases for an iPhone 6.
How long have those been sitting in my cabinet?!
The more stuff you have, the harder it is to work, since you're constantly having to dig through things to find what you actually need. So go through your workspace occasionally and purge things you don't need. If they are usable items, donate them. If not, recycle or trash.
You KNOW what you're going to need in the future. Keeping items that are old, outdated, expired, or that you're never going to use only serves to make your craft space more cramped and less inspiring. Get rid of it. You'll feel so much lighter.
Amazon Craft Room Organization Ideas
Let's take a look at all of these Amazon craft room organization ideas in the real world—my studio! We're going to work from bigger to smaller, so if you're just looking for some small ideas, head to the bottom of this post. Also, as a giant caveat, my craft room is never as neat and tidy as it appears in these photos, taken by my professional photographer. I am organized, but I also know how to create a MESS. The difference is that pretty much everything has a home in my craft studio—so when it does come time to clean up, it's actually not too difficult.
You can view all the items in one place on my Craft Room Organization Amazon Idea List!
Flexispot Standing Desk
While this doesn't have a ton of organization built into it, I have found my Flexispot Standing Desk to be one of my favorite things in my craft room. I can go from sitting to standing so easily and it really helps with my back and joint pain (shout out to all my fellow chronic pain warriors!).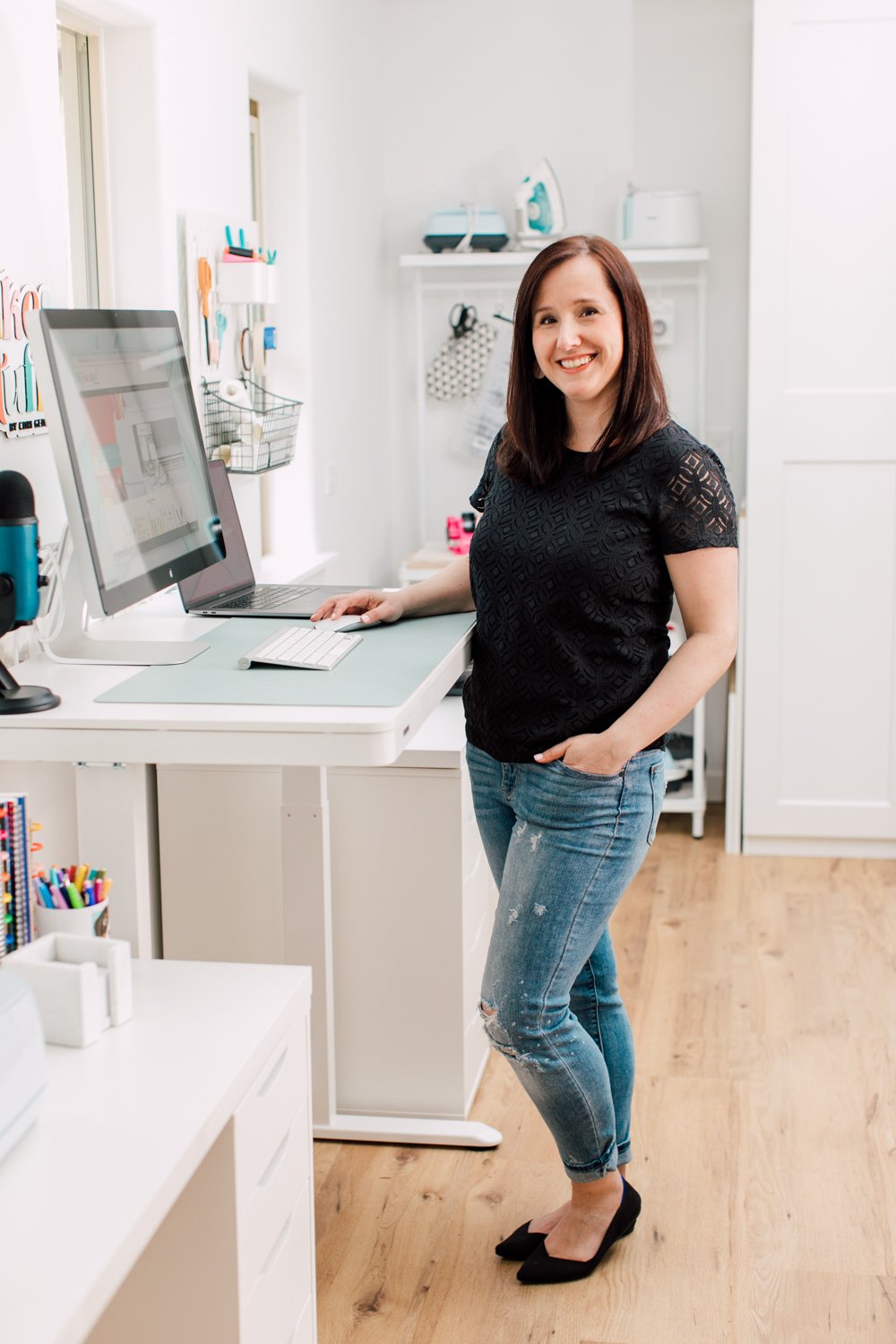 There is a drawer at the front of the desk where I mostly keep charging cables of all things. And that's because this desk has some USB ports on the front. This is SO handy for me for charging my phone, my iPad, my microphone, my earbuds, my mouse, and I'm sure half a dozen other things I'm forgetting about right now. Having these ports right where I work has been a game changer for me—no more crawling down on the floor to plug stuff in to charge it.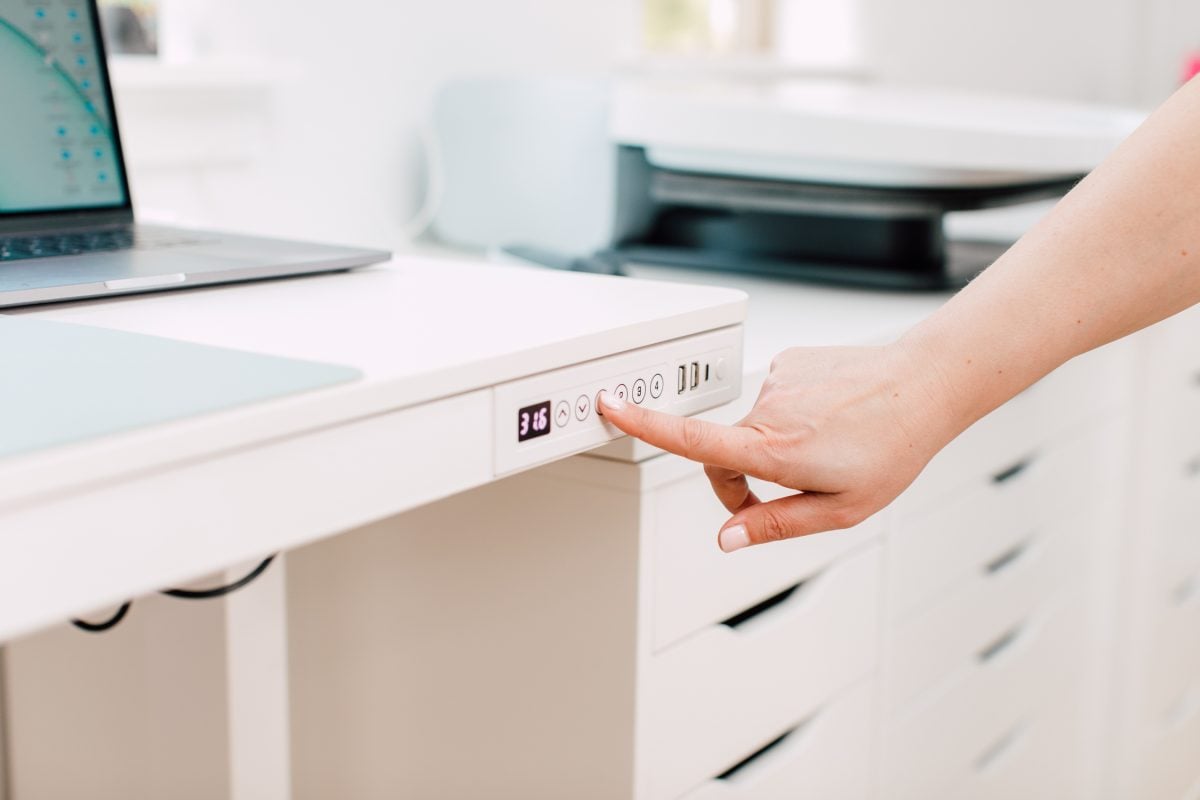 You can buy this desk on Amazon, but also check out the Flexispot website. They often have sales!
Baker's Rack
Another larger piece of furniture I have is a baker's rack! I actually keep most of my heat presses on the baker's rack (my WALApress and my Cricut Autopress are on another table), which feels like a nice bit of symmetry to me. I love that I can store so much on this piece of furniture and access everything really easily. I actually have added even more heat presses on my rack since this photo, including a tumbler press, a hat press, and a mini mug press.
Not sure which heat press is for you? Check out our e-course Heat Press Roadmap! This extensive course is designed to guide you on your journey to deciding on the best heat press for your needs, space, and budget. Check out all the details about Heat Press Roadmap here!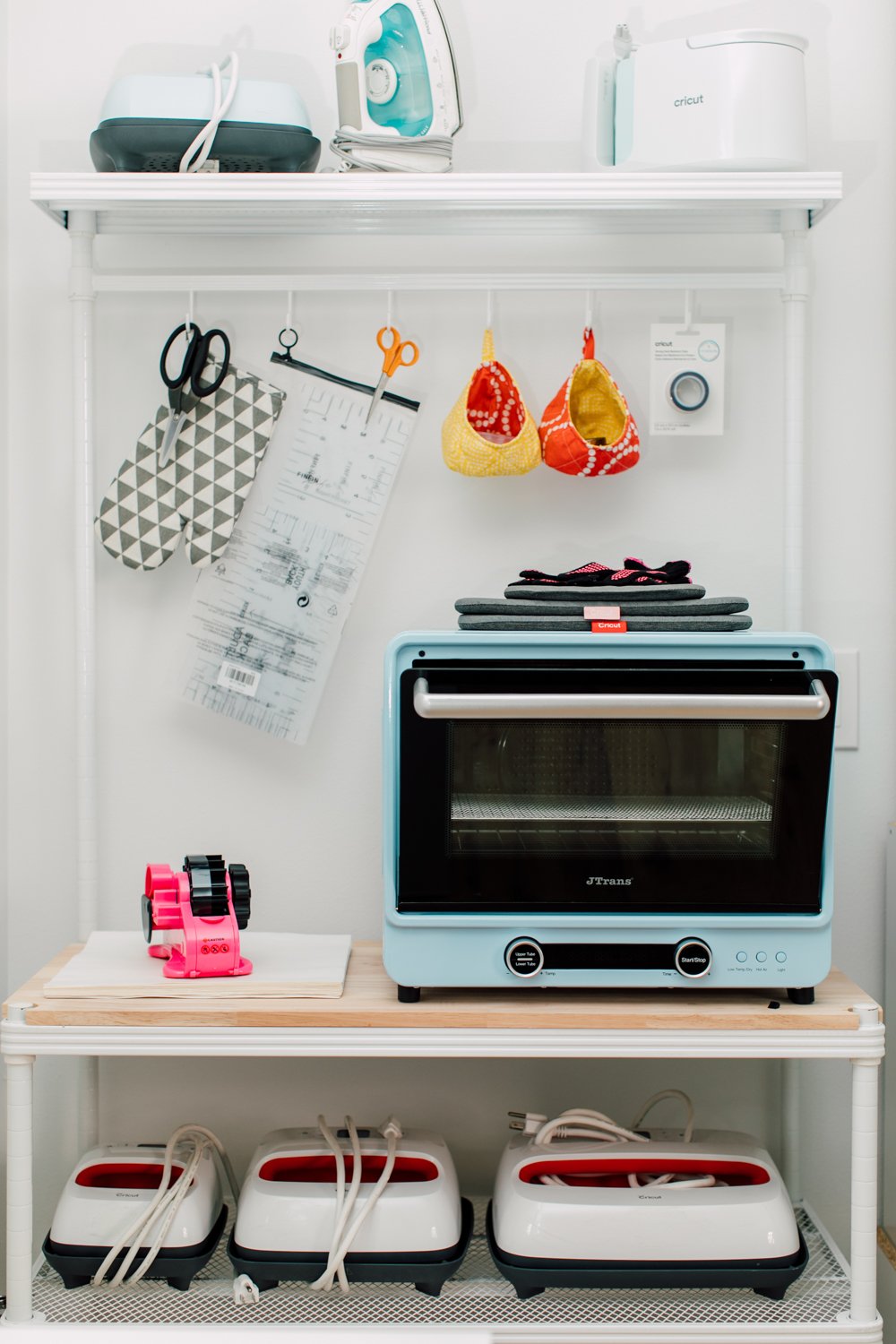 The exact baker's rack I have is no longer available on Amazon, but that's fine—I found you one that's even better because it has a built in plug with a long extension cord!! That means you can plug in whatever you'd like more conveniently (clearly I am a huge fan of convenient plugs!), including heat presses, printers, cutting machines, or a coffee maker for your workspace.
Speaking of coffee maker…I definitely need to get one out here.
Rolling Cart with Drawers
Next up is my favorite way to store all of my vinyl scraps, but you could use this rolling cart in so many other ways too. I like this cart because it's light and easy to move around my craft room—and it holds a ton!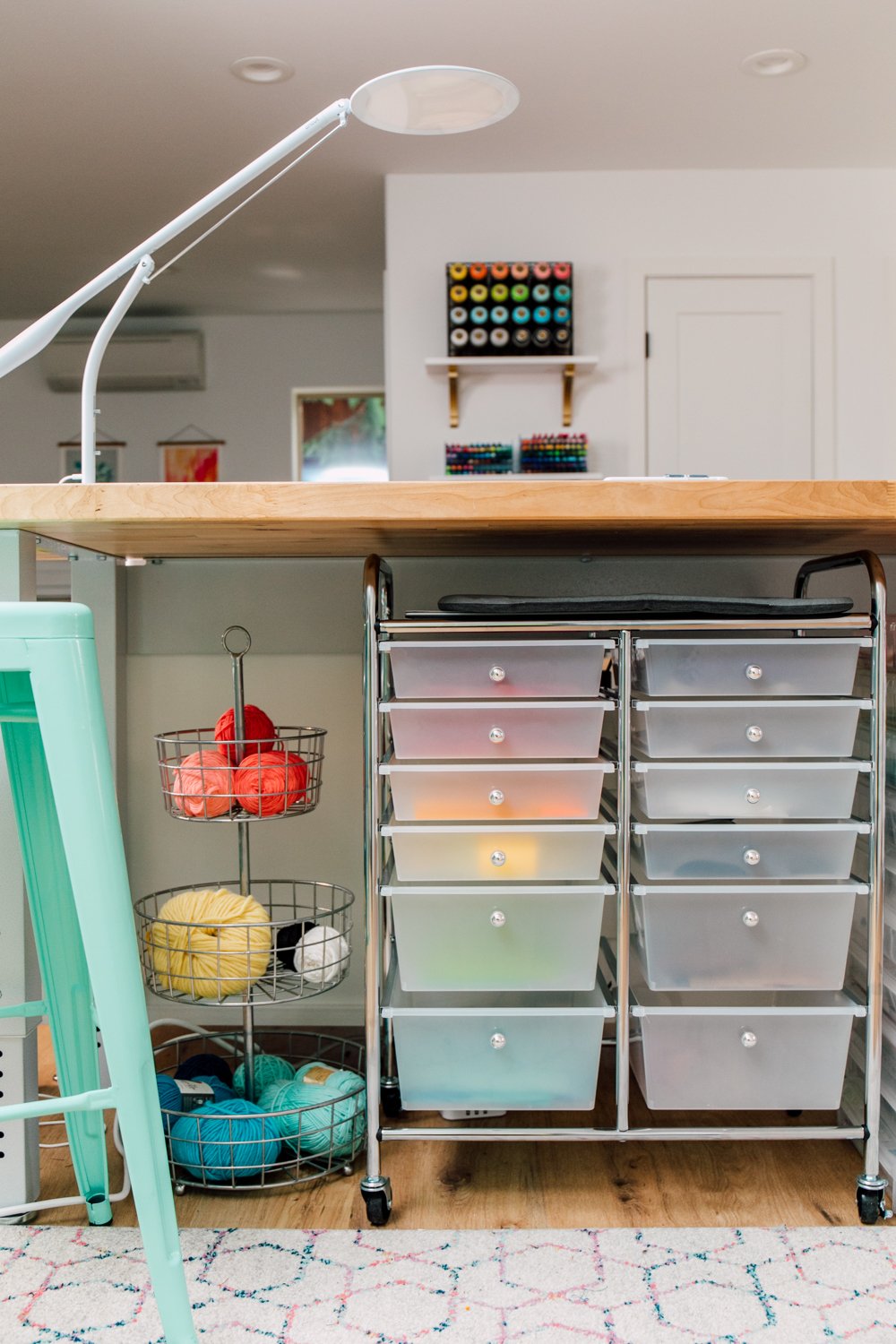 I go through a ton of vinyl and having my scraps organized in these drawers makes it so easy for me to just pop over and pull out scraps for projects. But you could also store pens, rolls of vinyl (yes the drawers are deep enough), blanks, adhesives, paper scraps, and more in this rolling cart.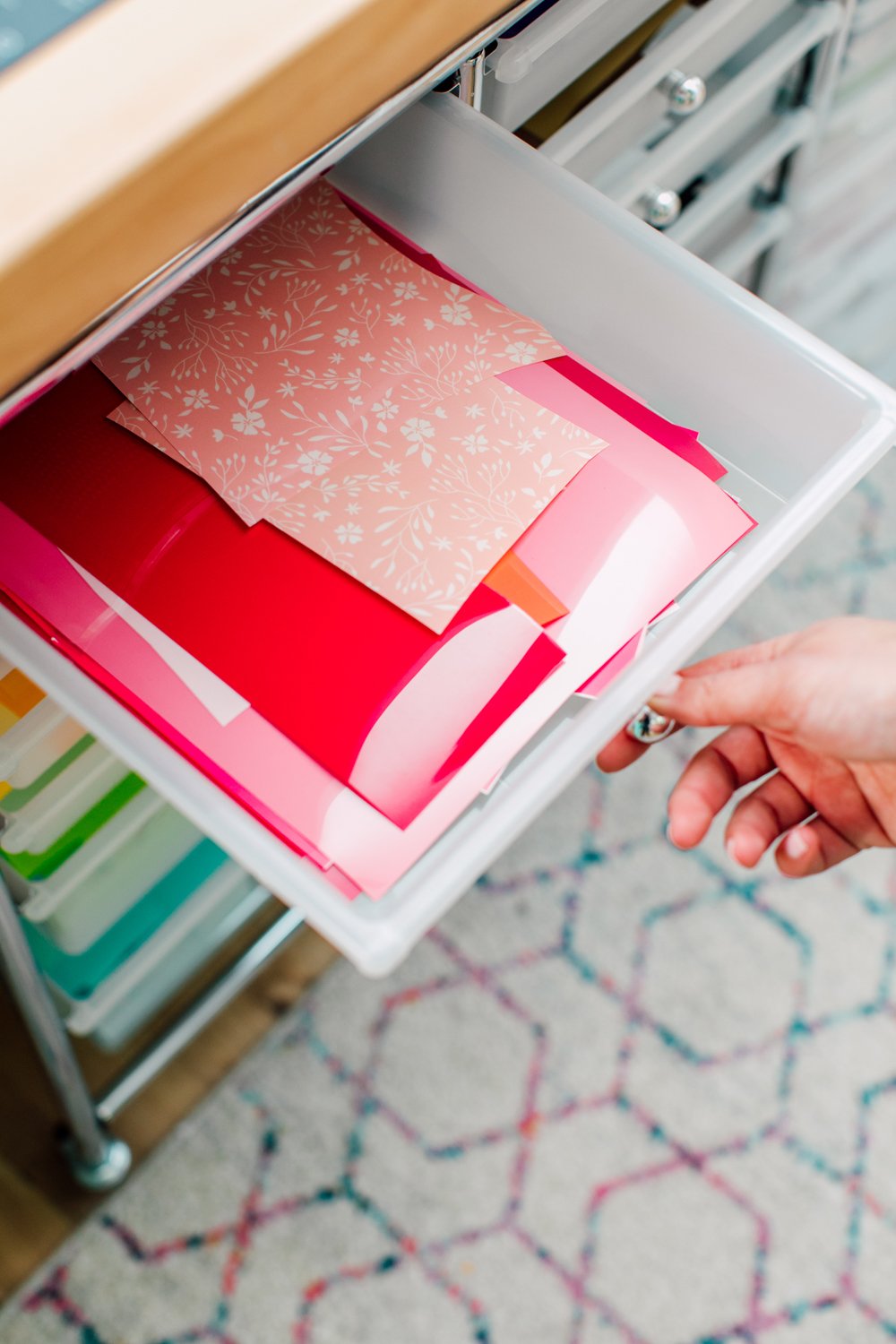 Three-Tier Rolling Cart
Next up is another rolling cart! I swear, this teal rolling cart is ubiquitous in craft rooms, but for good reason. It can hold so much stuff! I use mine to store pens, pencils, and paint brushes in the top and middle tray, and all my Cricut cords in the bottom tray. I've seen people store fabric, vinyl, ribbon, notebooks, stamping supplies, and more.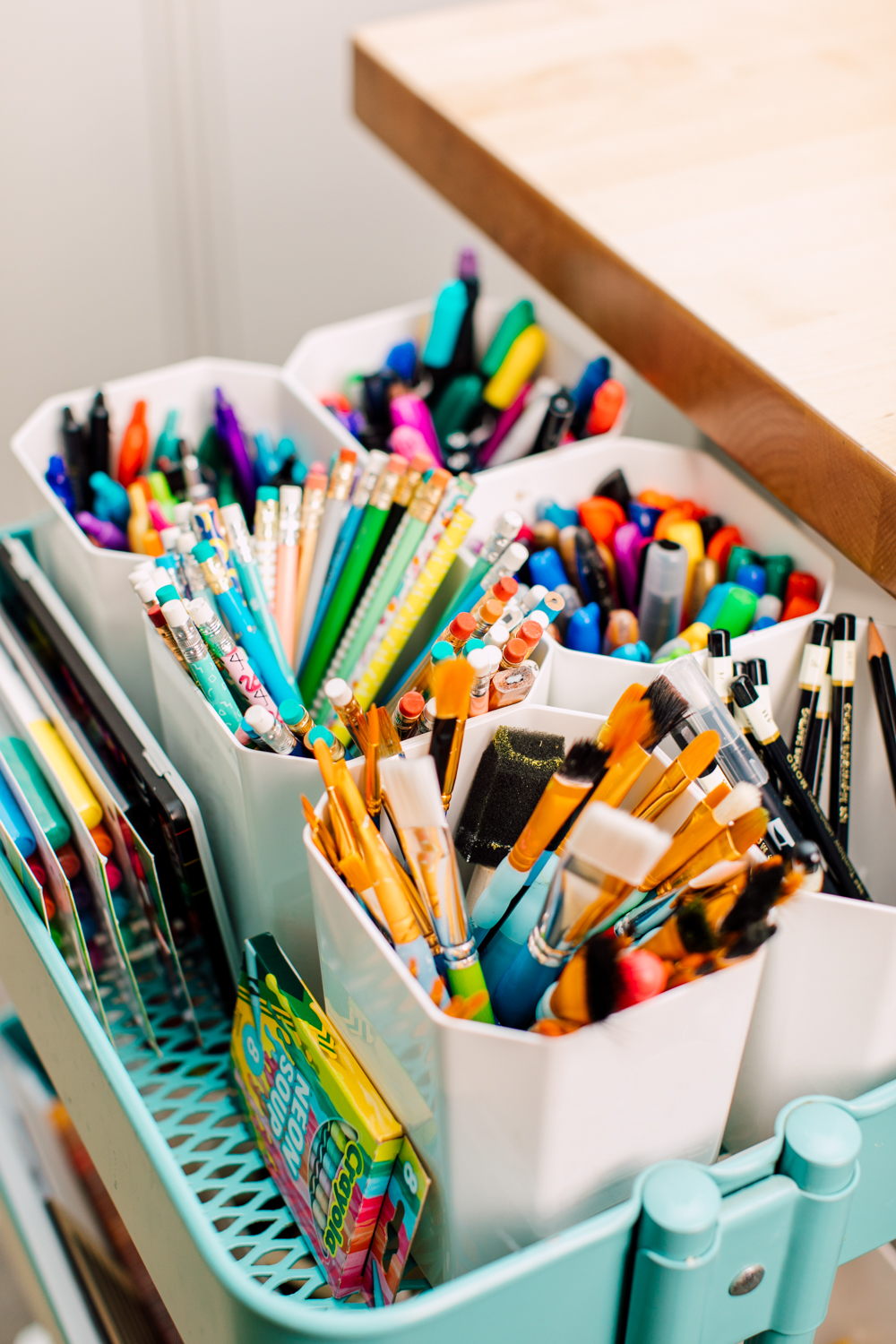 Blueprint Storage Cart
The most recent addition to my craft organization from Amazon is this rolling blueprint cart! I needed a way to store some of my large materials I got with my Cricut Venture. But it could also be used for big rolls of paper, backdrops for photography, wrapping paper, and more.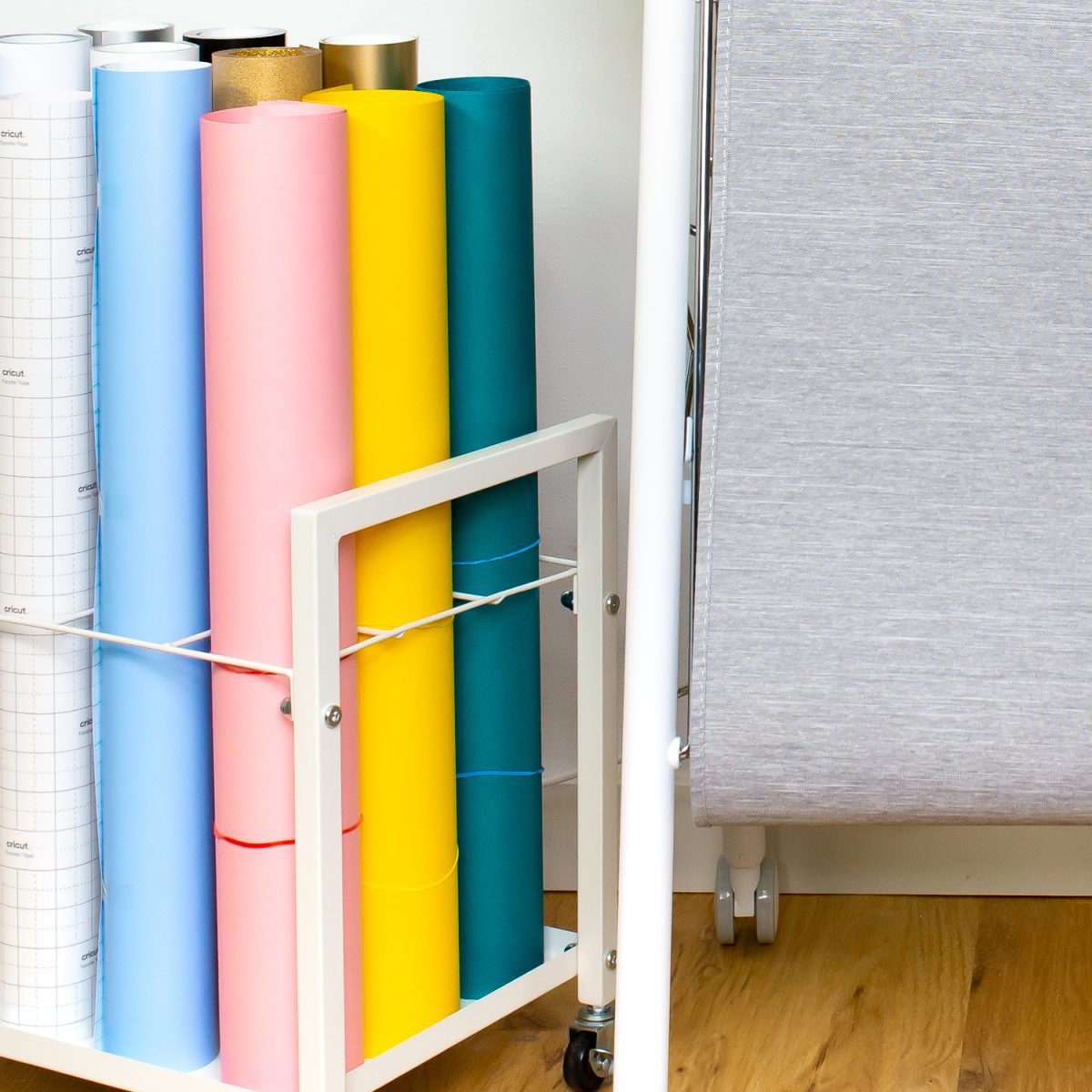 Plastic Bins
Y'all, I am a huge fan of plastic bins. I think they probably get a bad rap from influencers that care more than I do about what their spaces look like (and clearly I care—my craft room is so cute!). But nothing really beats a good plastic bin for storage, especially for larger items. I have an IKEA cabinet full of plastic bins for most of my crafting blanks, all nicely labeled with vinyl I cut on my Cricut.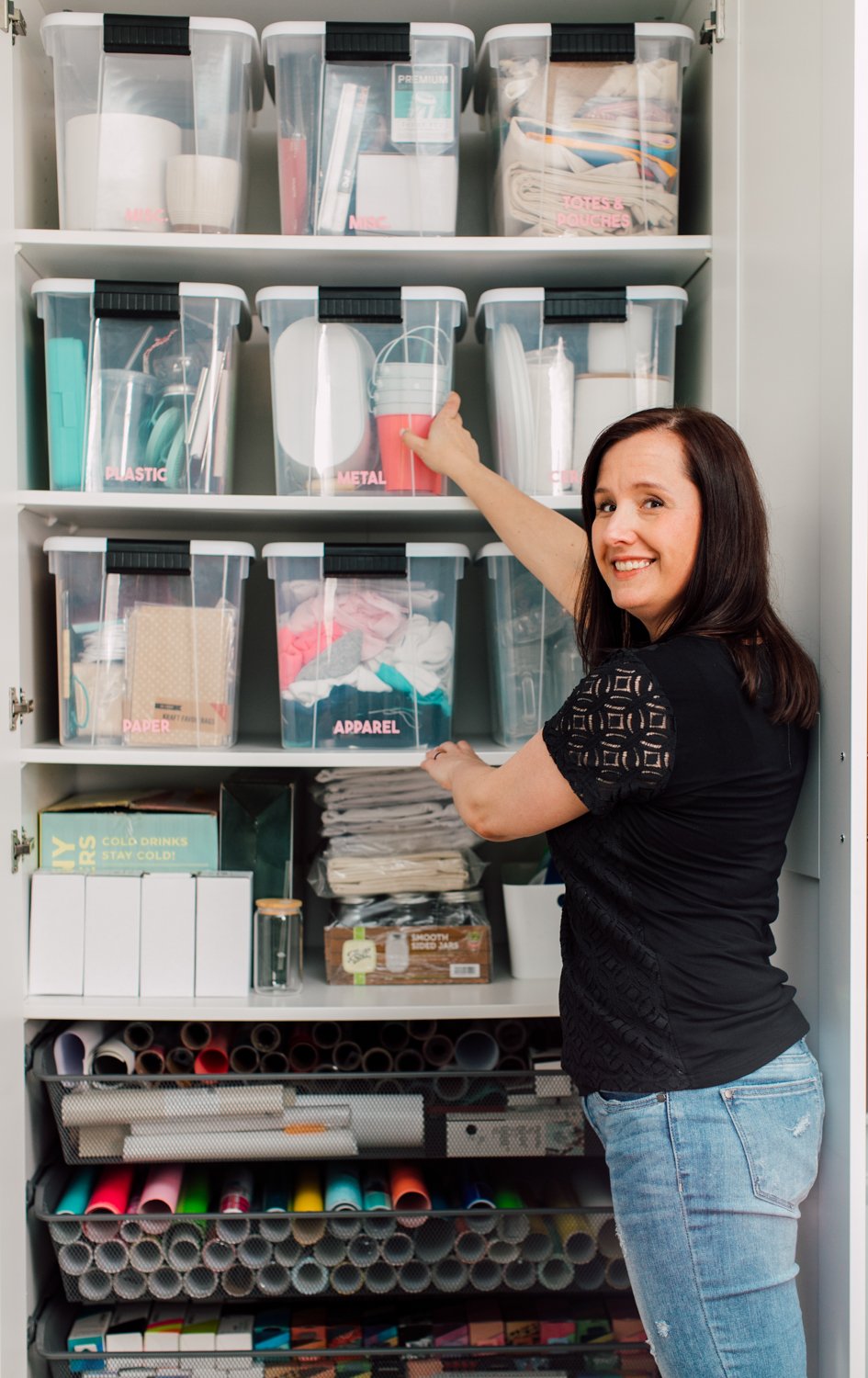 Having these bins makes it so easy for me to know exactly what I have. I do go through these bins regularly and clean them out so I have enough storage for the things I'll actually use.
Not pictured, I also have plastic bins stuffed under a couple of my work tables and in my craft room's bathroom shower. There is absolutely no shame to plastic bins if that's what works for your space and budget. Don't let my photos or anyone else's photos make you feel bad about using plastic boxes!
Scrapbook Paper Totes
Another type of plastic bin I like are scrapbook paper boxes! I have a wire paper rack for most of my paper (which is, sadly, not available anywhere at a reasonable price anymore), but I store patterned paper and all my cardstock and paper scraps in these scrapbook paper bins. They just stack up right next to the rolling cart I mentioned earlier in this post.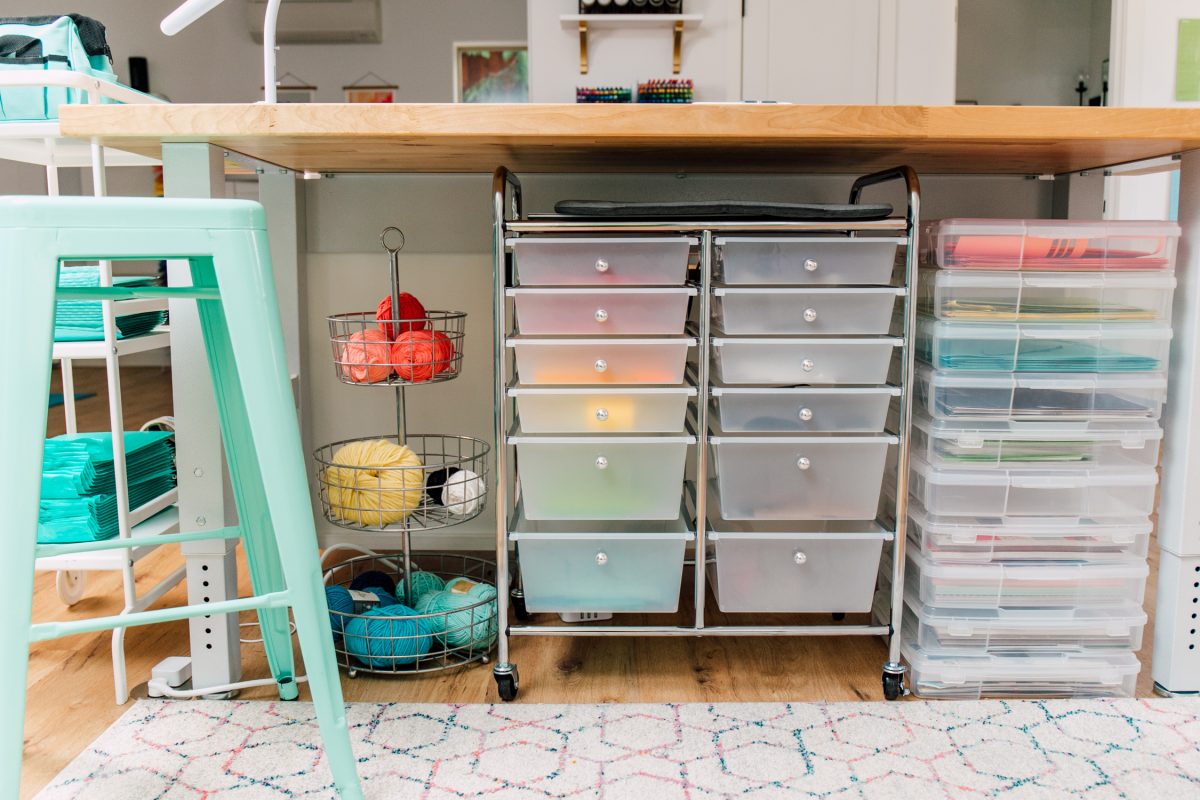 This is not only a good solution for paper and paper scraps, but vinyl and iron-on rolls, vinyl scraps, fabric scraps (that's what was in there to start for me, actually!), and other supplies.
The biggest drawback to these bins is that they are a little cumbersome to pull in and out to get what you want. Drawers are easier, but these are significantly less expensive than any drawers that fit 12″ x 12″ cardstock.
Pen Storage
Got a lot of pens? I love these pen organizers! I actually have so many more since this photo was taken because I've gotten a ton of paint pens and other markers. I like these pen holders because they store pens on their sides, keeping the ink flowing toward the front of the pen, vs. storing them upright. And you can stack them as high as you want!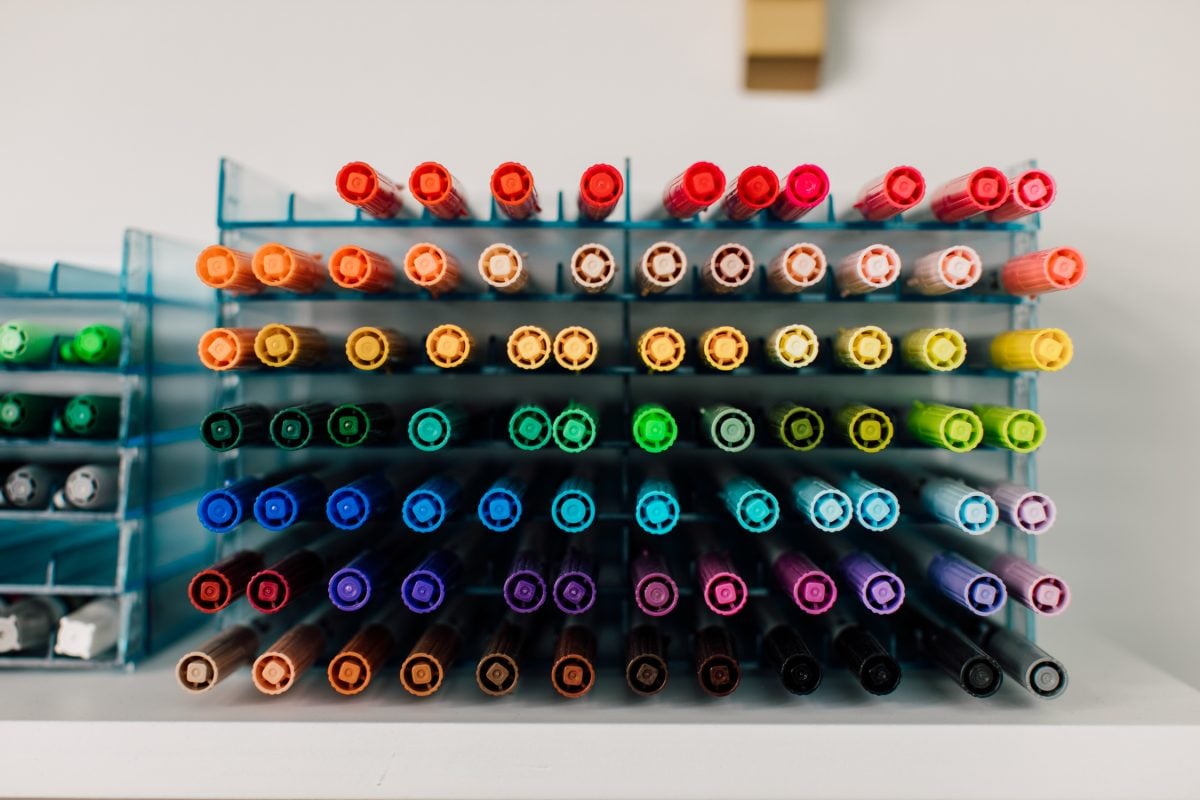 White Plastic Bins
More plastic bins for the win! I have SO MANY of these smaller white plastic bins in my craft room. They hold everything from glue and tape to a ton of my Cricut supplies to thread and twine and trim in my sewing cabinet. I have labeled all mine in the same way I did the other plastic bins above, with some vinyl cut on my Cricut. Having my bins labeled helps me keep things way more organized than I would keep them without the labels.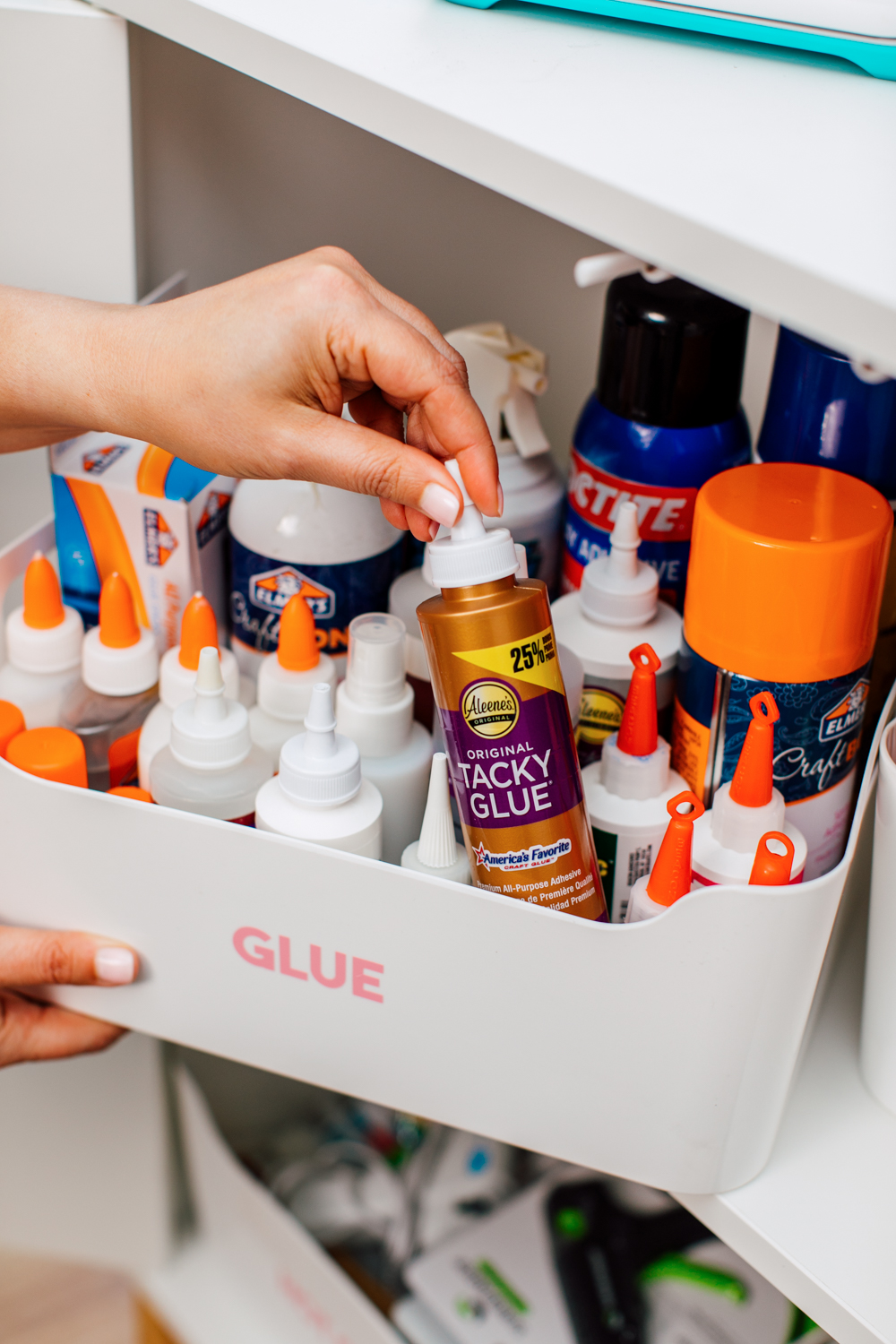 I think these bins work best inside a cabinet or even a deep drawer.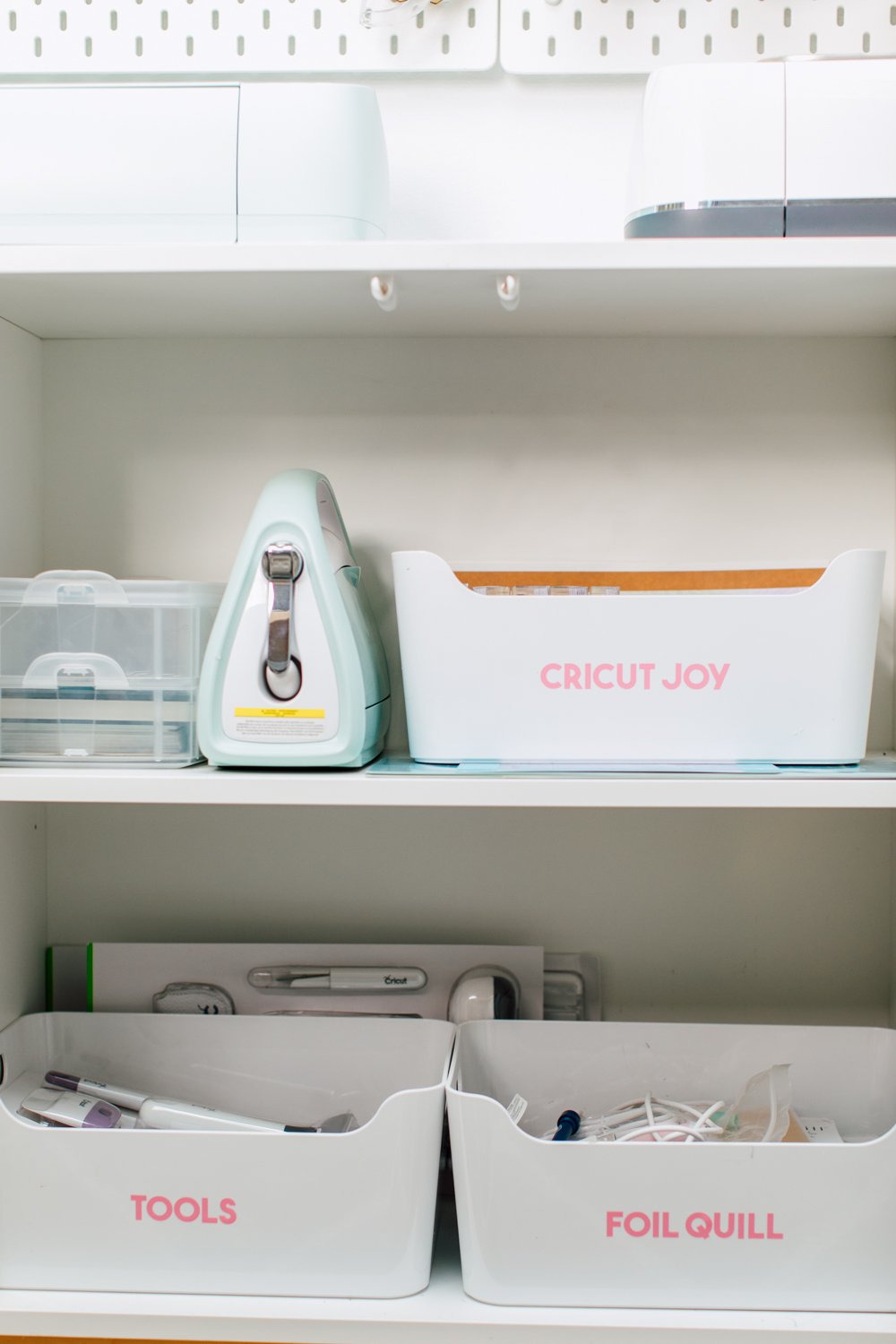 Cricut Mat Holders
Finally, one of my favorite finds have been these Cricut mat holders! I have most of my mats at the end of my long table where I film and work most often, making them easily accessible.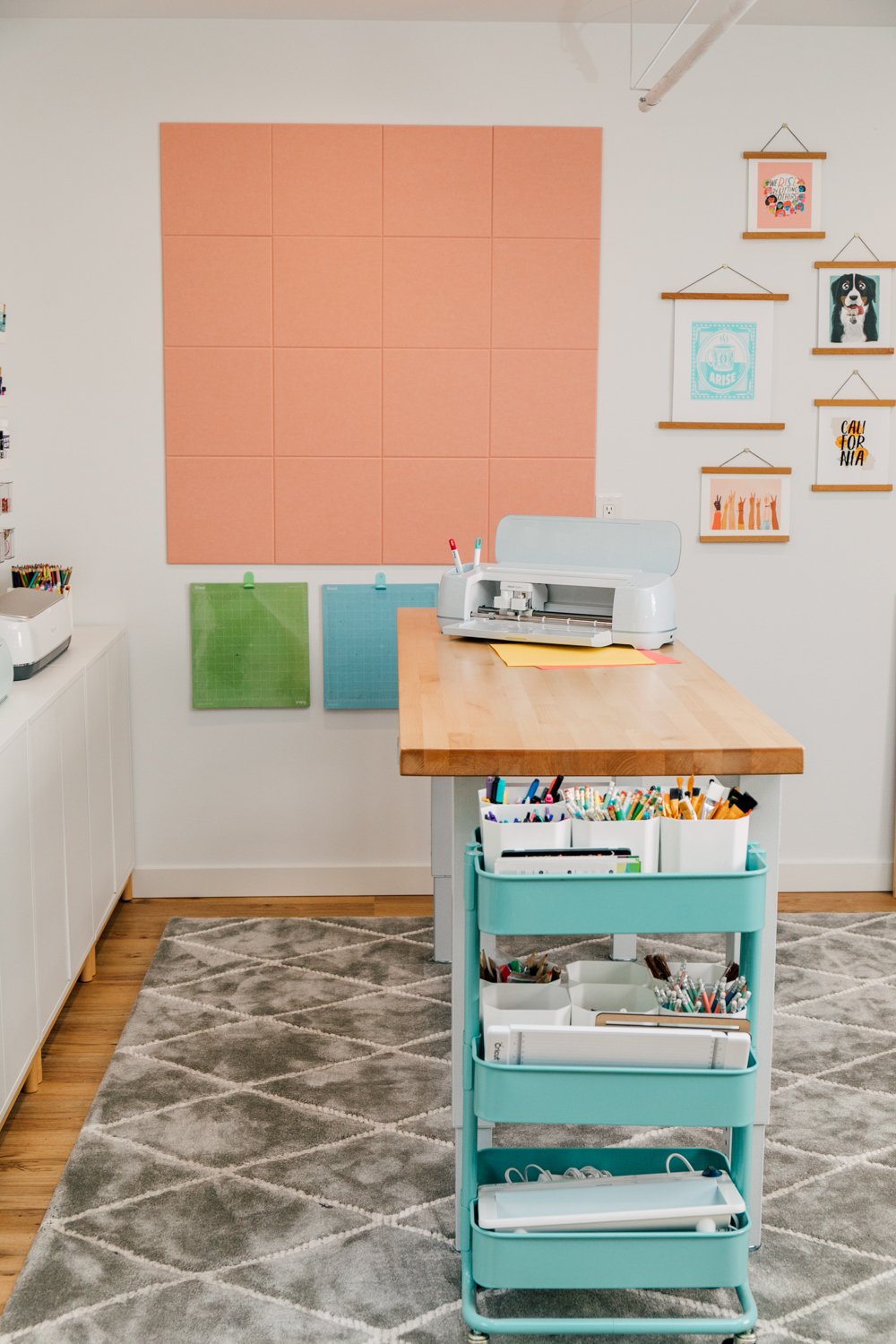 I love that they have a triangular hook—designed specifically for Cricut mats. This means they always hang evenly and are easy to access!
---
I hope you found these Amazon craft room organization ideas helpful! Getting organized (and staying organized!) in your craft room can be easier than you think!