Let's take a look at two popular craft lasers on the market: the Glowforge Aura vs. the xTool M1. Which of these crafting lasers is better for your particular needs and budget?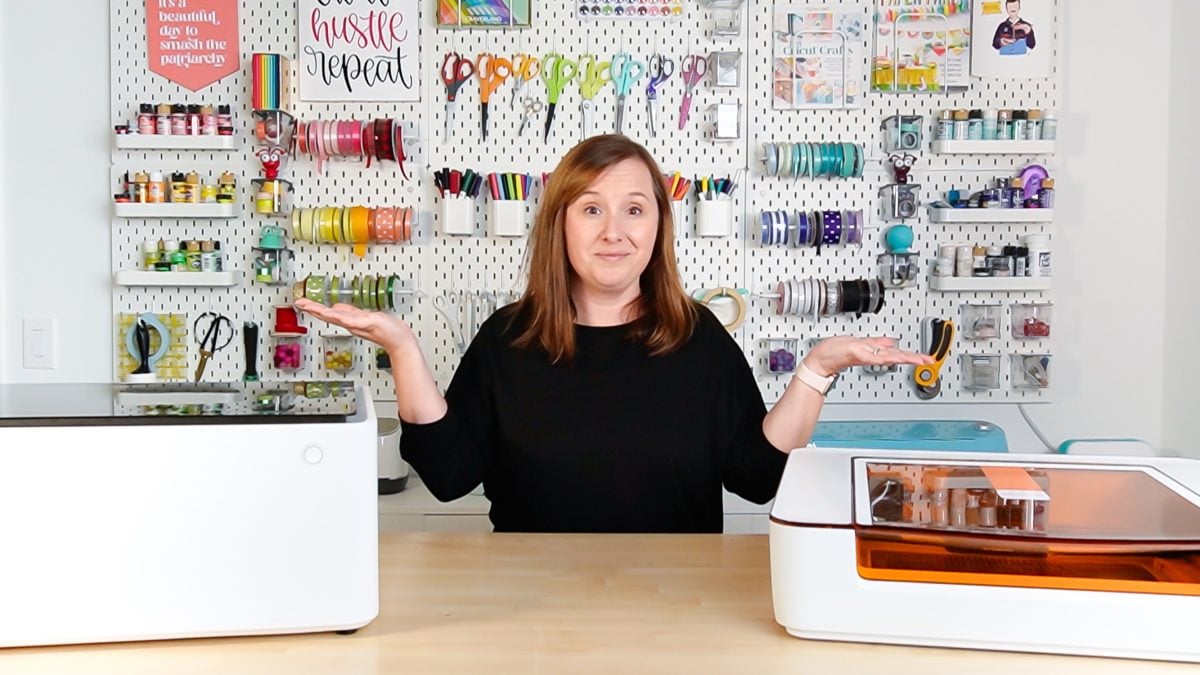 With the recent launch of the Glowforge Aura, I've gotten so many questions about how it compares to the xTool M1. I have both craft laser cutters so in this post, I'm going to break down the differences so you can make the best choice for your needs.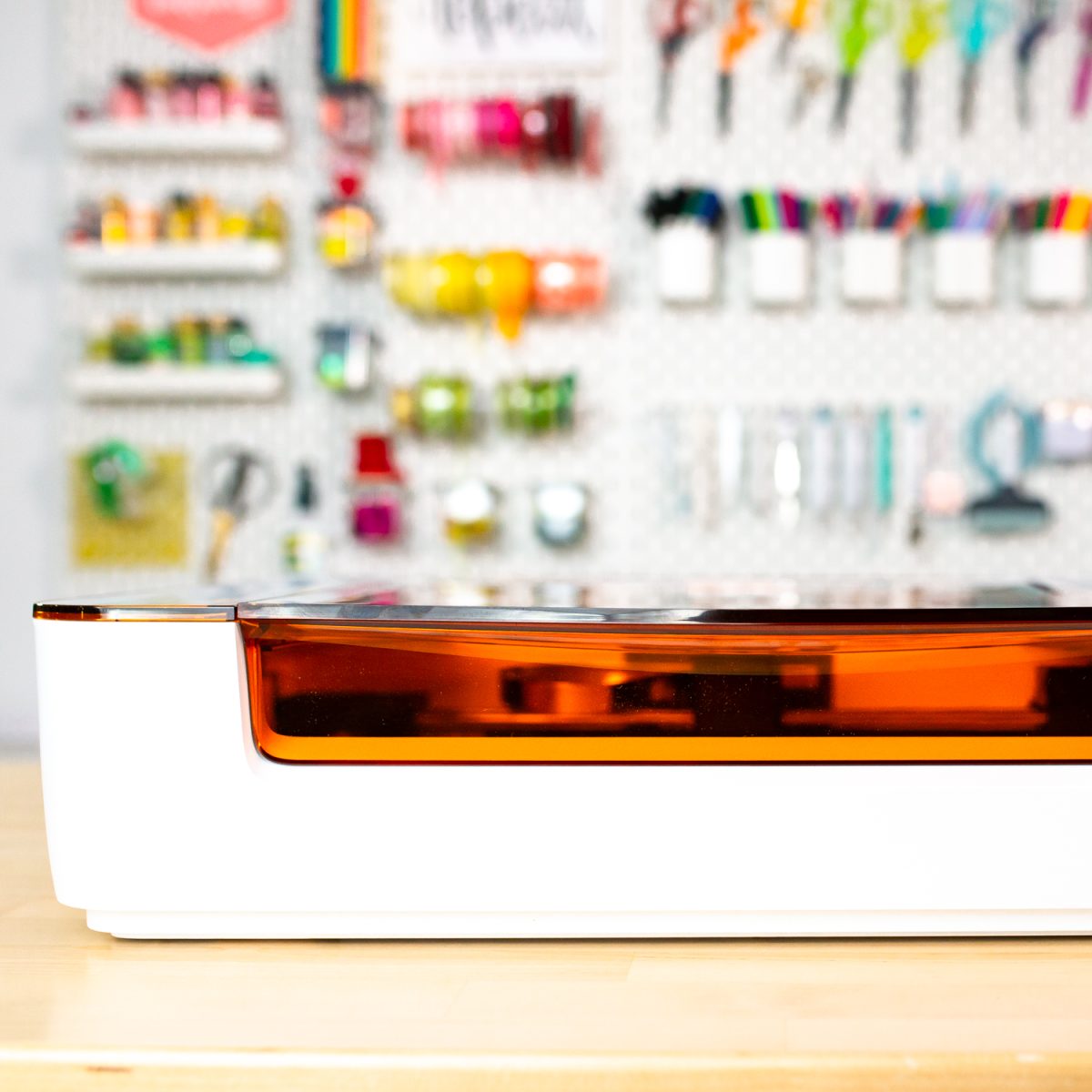 Choosing a laser cutter can be overwhelming with all of the different specs, features, and technical information. I'm hoping this post will help demystify the decision for you.
If you want an in-depth overview of each machine, check out my Beginner's Guide to the xTool M1 and my Beginner's Guide to the Glowforge Aura.
Ready to get started? Check out my must-have laser supplies Amazon shopping list!
Watch the Video
Hit play to watch a video of the differences between these two machines! If you prefer to read, keep scrolling down!
Laser Type
Both the Glowforge Aura and the xTool M1 are diode lasers. I won't go into the science of lasers, but this means these lasers are less powerful and less precise than larger CO2 lasers like the Glowforge Plus/Pro or xTool P2 machines.
But it also means they are much more affordable for everyday crafters and hobbyists! They also last longer and are easier to maintain. No need to invest several thousand dollars into a laser, especially if you don't want to turn your hobby into a business. While these lasers aren't as powerful as their CO2 counterparts, they are powerful enough to create amazing projects.
(PS, if you're looking for a CO2 laser, check out my overview of the CO2 Glowforge I have!)
Winner: Tie
Laser Power
Laser power is measured in watts and it affects how fast and deep your laser can cut. The Glowforge Aura is a 6W laser. The xTool M1 comes in both a 5W and a 10W version.
For this post, I'm going to be talking specifically about the 10W xTool M1, which is what I currently have. I actually had the 5W for a while. But with the price difference, I found the 10W is a much better value when it comes to speed and power than the 5W and I would without hesitation say to choose the 10W over the 5W if you decide to go with an xTool laser.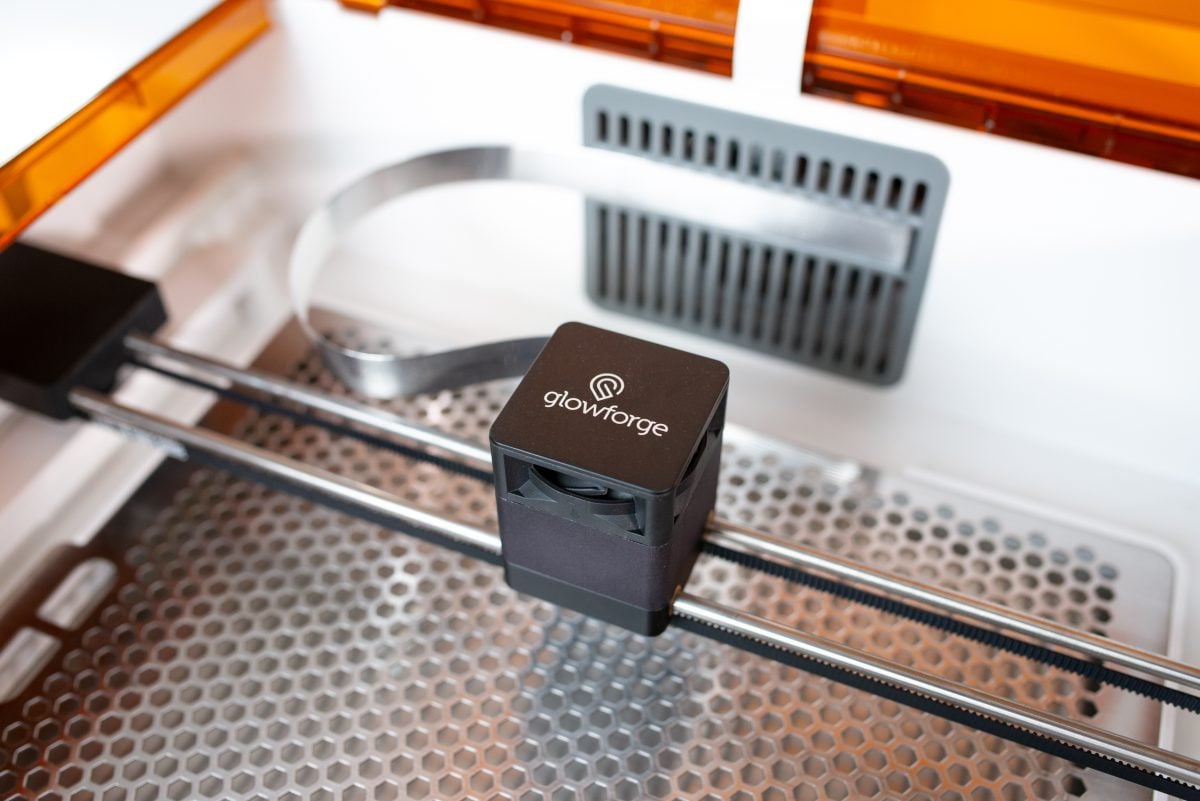 Overall, the xTool 10W laser should perform slightly better and faster than the Glowforge Aura 6W laser.
For reference, a CO2 Glowforge Pro is 45W and the CO2 xTool P2 is 55W.
Winner: xTool M1 10W
Blade Cutting Capabilities
The xTool M1 has an advantage over the Glowforge Aura in that it can also cut using a blade, like a Cricut or Silhouette machine. When I was testing this feature, though, I found it to be slow and clunky overall compared to a purpose-built electronic cutter. There's no way that the xTool M1's blade feature will replace my Cricut machines, but if you don't have a cutting machine, you may value the blade cutting of the xTool for vinyl, HTV, and cardstock.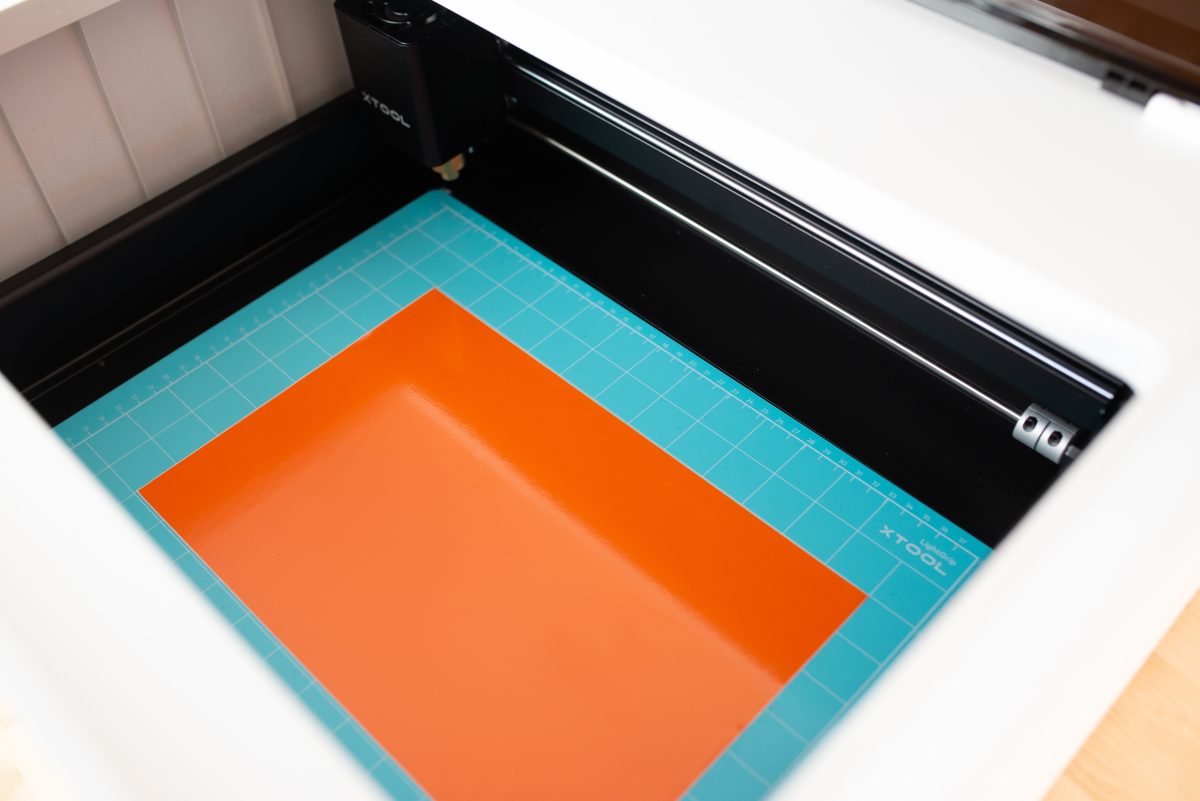 That being said…both the xTool M1 and the Glowforge Aura can cut many of those materials with a laser! You just want to make sure your materials are laser safe (Glowforge has some options as do other brands). You're more limited in what you can make, but you can definitely get some of that "blade capability" with just the laser.
Winner: xTool M1
Dimensions
The Glowforge Aura is about 20″ wide x 20.5″ deep x 5″ high. You'll need about 20″ above the machine to open the lid. It weighs about 19lbs, which makes it easy to move around.
The xTool M1 is about 22″ wide x 18″ deep x 9″ high. You need about 18″ above the machine to open the lid. You can also add an additional riser to the base that adds 4.7″ to the height. I'll talk a bit more about why you might want the riser later in this post. It's difficult to move the laser while it's on the riser, however, so I would suggest if you want to use the riser to have a permanent place for your xTool to live. The machine itself weighs about 20lbs, making it easy to move around.
For both machines, you'll also need an extra 6″ or so of space behind the machine to account for the vent pipe, which I'll talk about below.
Both machines are small, light, and perfect for smaller craft spaces.
Winner: Tie
Cut and Engrave Size
The usable area for the Glowforge Aura is 11.5″ x 11.5″ but there is a passthrough on either side that allows you to cut unlimited length side to side. You can engrave items up to 3/4″ thick.
The usable area for the xTool M1 is 15″ x 11.75″ with no passthrough. But with the way the machine is built, you can remove the base and use the riser to engrave very thick projects, like wood boxes or mugs and tumblers. You can even build your own riser to engrave projects of unlimited thickness. You can also use the machine as an "open plane" allowing you to engrave virtually any size. xTool is definitely the winner here.
Winner: xTool M1
Venting
Both machines are enclosed systems and need to be vented. Laser cutting and engraving creates smoke and debris and you need a way to remove that from the machine and not have it go directly out into your workspace. There are two options that work for both machines using a vent pipe off the back of the machines.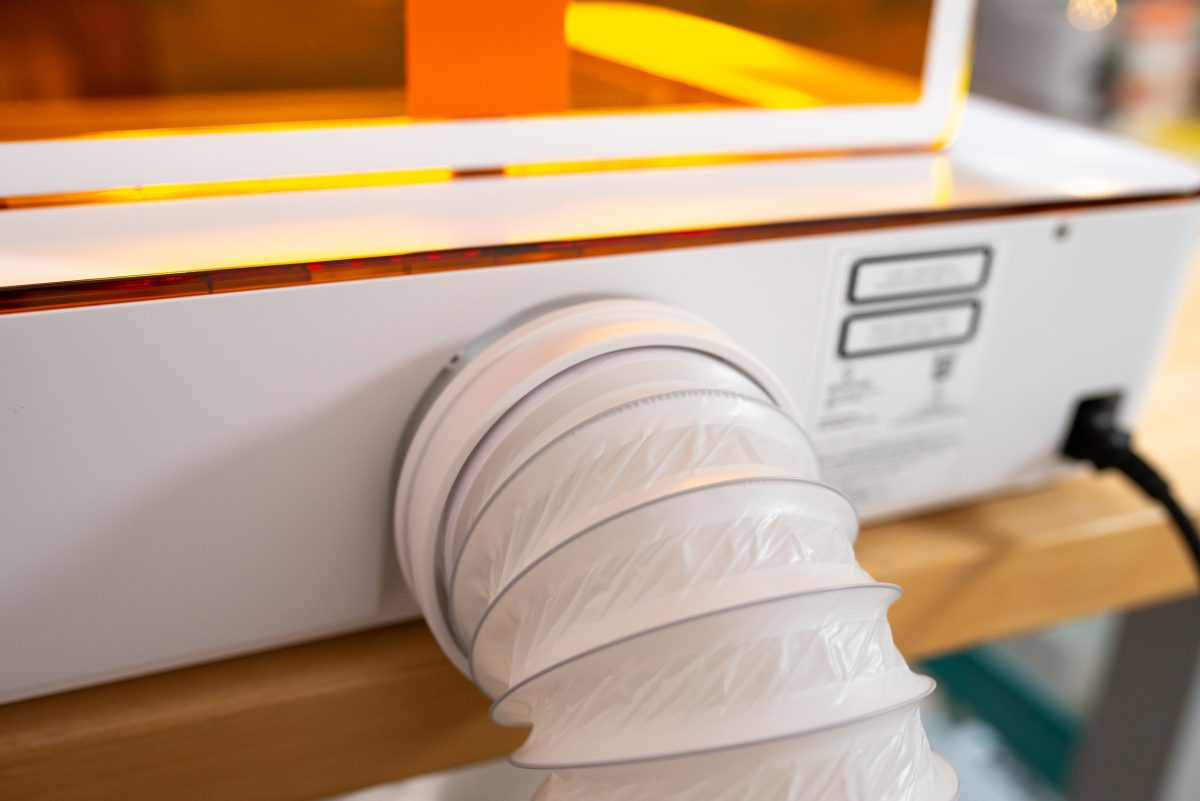 The first is using an air filter. The air filter for the Glowforge Aura retails at $399 and the air filter for the xTool M1 retails at $999 but is often on sale. The xTool filter is significantly heavier at 34lbs (it's on wheels) while the Glowforge Aura filter is 19lbs (no wheels).
The Glowforge Aura filter is Bluetooth connected to the machine, so it only runs while the machine is cutting. The xTool filter is turned on and off with a switch. Personally I prefer the Glowforge filter, based on price, size, weight, and the fact it's connected to the machine. It's just easier to use and move around my space.
The other option is to vent your machine out of a window. Just make sure you seal around the vent so that the smoke and debris doesn't make its way back into your workspace.
Winner: Glowforge Aura
Air Assist
In addition to venting, an air assist can help reduce char marks on your projects and keeps your lens cleaner by blowing debris away from the project as it cuts or engraves.
The Glowforge Aura comes with a built-in air assist, while the xTool M1 has it as an additional accessory. I found the xTool air assist to be a bit fussy to install and the motor for it sits outside the machine with some tubes to connect it to the laser head. It's also pretty loud. While it works, I definitely prefer the integrated air assist in the Glowforge Aura.
Winner: Glowforge Aura
Honeycomb Tray
This is a small but meaningful part of a laser cutter. Basically, you need airflow below anything you're cutting to help reduce charring and help prevent flare ups and fires.
The Glowforge Aura has a built-in honeycomb tray that comes with the machine.
The xTool M1 comes with "triangle prisms" which are basically triangular rods that you set in the bed of the machine. Put your material on top of them and that allows for the airflow below your project. They are a bit finicky to use and they kinda go all over the place when you set down your material if you're not careful. I'm not a huge fan, but they do work okay.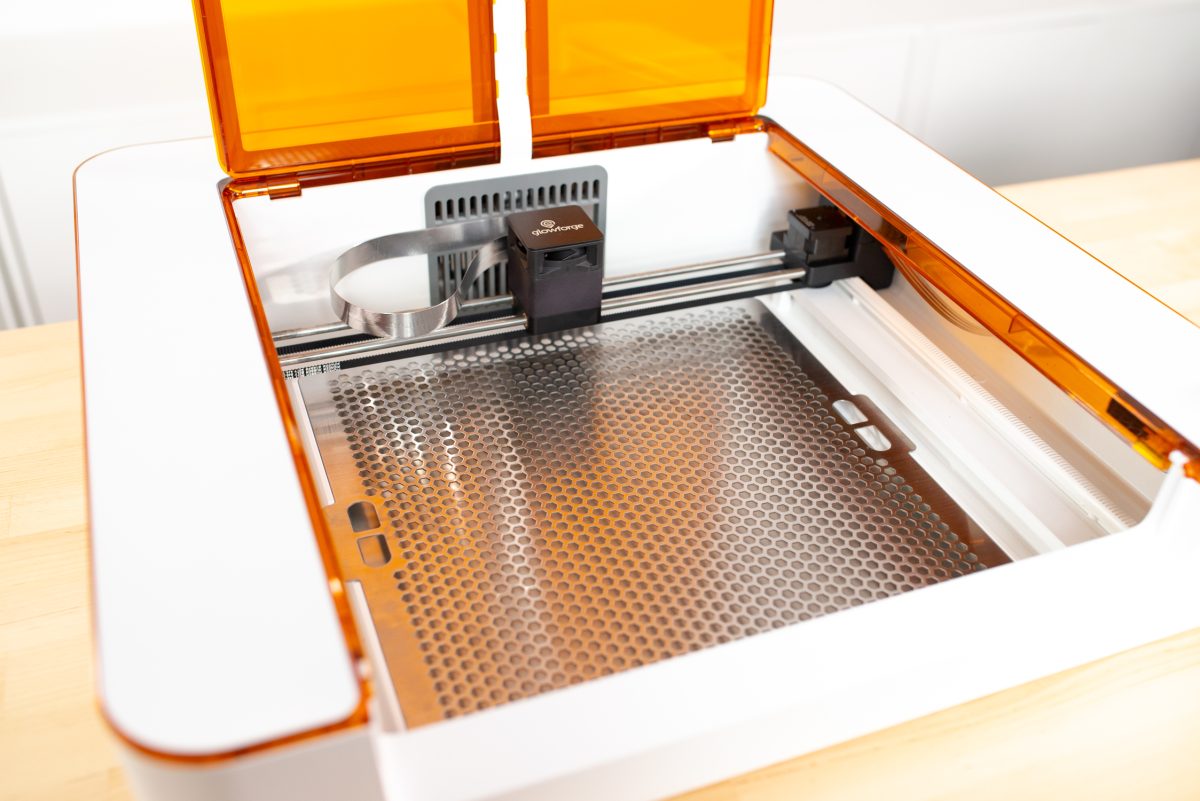 If you want, you can upgrade to the honeycomb tray with the xTool M1, which also comes with the riser. But it's a bit expensive. I wish the M1 came with a honeycomb tray instead of the prisms.
Winner: Glowforge Aura
Materials
The two machines can cut a range of similar materials, including wood and acrylic (some colors, not including clear and some other lighter or transparent colors), as well as laser-ready leather, HTV, vinyl, and cardstock. You can make some awesome projects with a diode laser!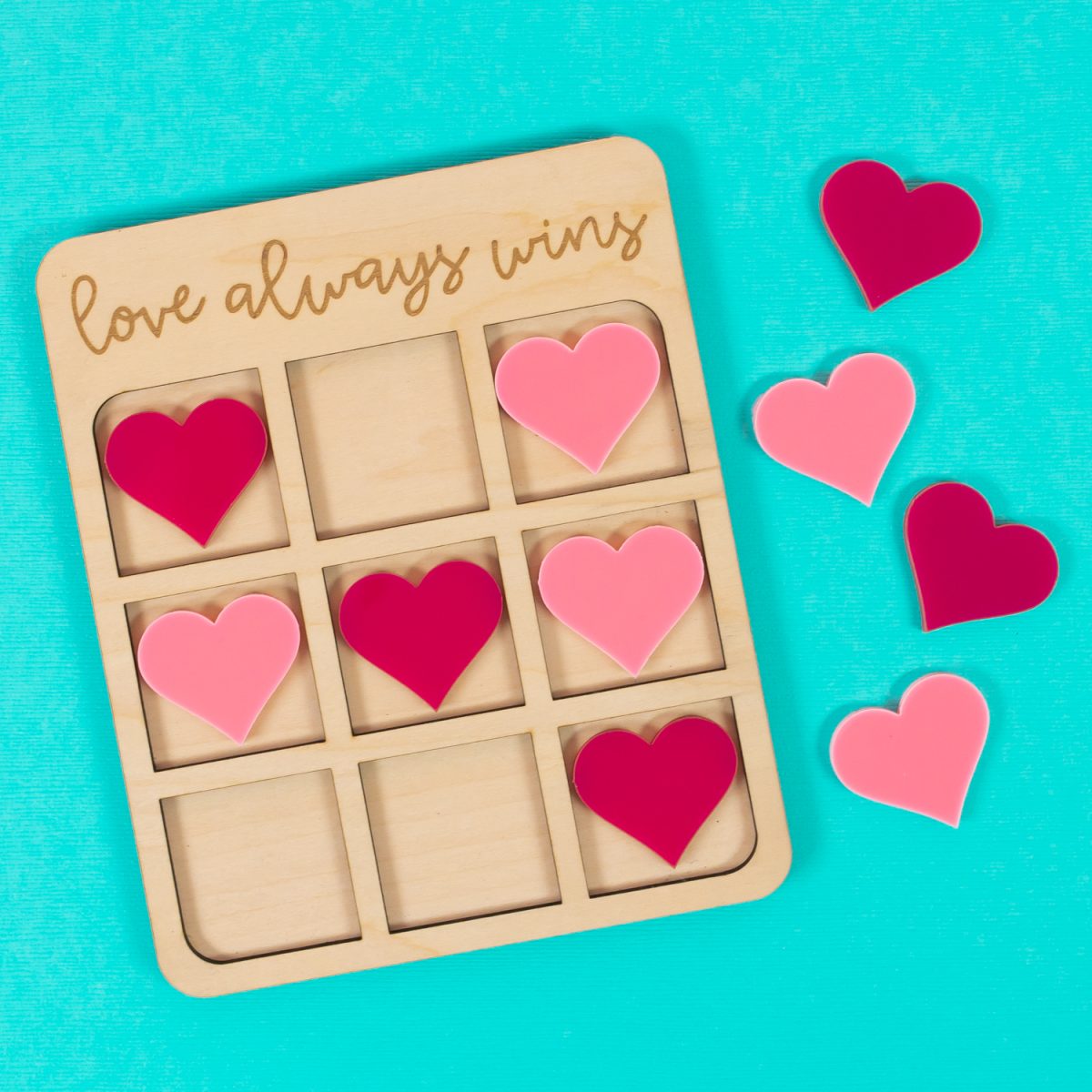 You can also engrave laser-ready materials like wood (think cutting boards and coasters) and metal with an engraving coating (like anodized aluminum).
The Glowforge Aura can cut wood up to 6.35mm thick and acrylic up to 3mm thick and the xTool M1 10 can cut wood up to 8mm thick and acrylic up to 3mm thick.
Most materials made for these machines, however, are thinner than the maximum cut depth. For me, I found that one some of the thicker materials that needed more passes with the xTool, my edges were a bit rough because of the multiple passes. So I generally stick to thinner materials anyway. If you want to cut thicker materials, I'd check out at CO2 laser instead.
Both Glowforge and xTool also have their own materials. I find that Glowforge Proofgrade materials are really high quality and cut beautifully with the settings in the Glowforge app—I've never had to play around with the settings. Their materials also come pre-masked, which is nice.
xTool has their own materials but I find the quality to be a bit lower than the Glowforge materials and you have to add your own masking. I've had sheets of material with slight bows or warping in them, which actually makes a big difference in cut quality in a diode laser and making the difference on whether or not the laser cuts all the way through the material.
That being said, you can use Glowforge materials in your xTool or xTool materials in your Glowforge. You can also use non-qualified materials from other distributors if you'd like, but you'll need to do some testing to make sure your machine can cut it.
Winner: xTool for material thickness, Glowforge for material quality
Circular Object Processing
If you want to engrave tumblers, mugs, bracelets and other circular objects, then the xTool is the only machine that will work for you. You'll need the additional riser base and the rotary tool, but you can engrave all sorts of drinkware and other circular objects using the xTool M1.
The Glowforge Aura doesn't have any capabilities close to this—you can only do flat objects up to 3/4″ thick.
Winner: xTool M1
Software
Each machine has their own proprietary software, the Glowforge App (desktop and mobile) and xTool Creative Space (desktop and mobile). Both have a free version, and Glowforge has a Premium version that is very expensive ($50 a month) and that contains features that I really think should be free, like using text (which doesn't even include your own fonts, just Glowforge's fonts). You can use text (including your own fonts) in the xTool software.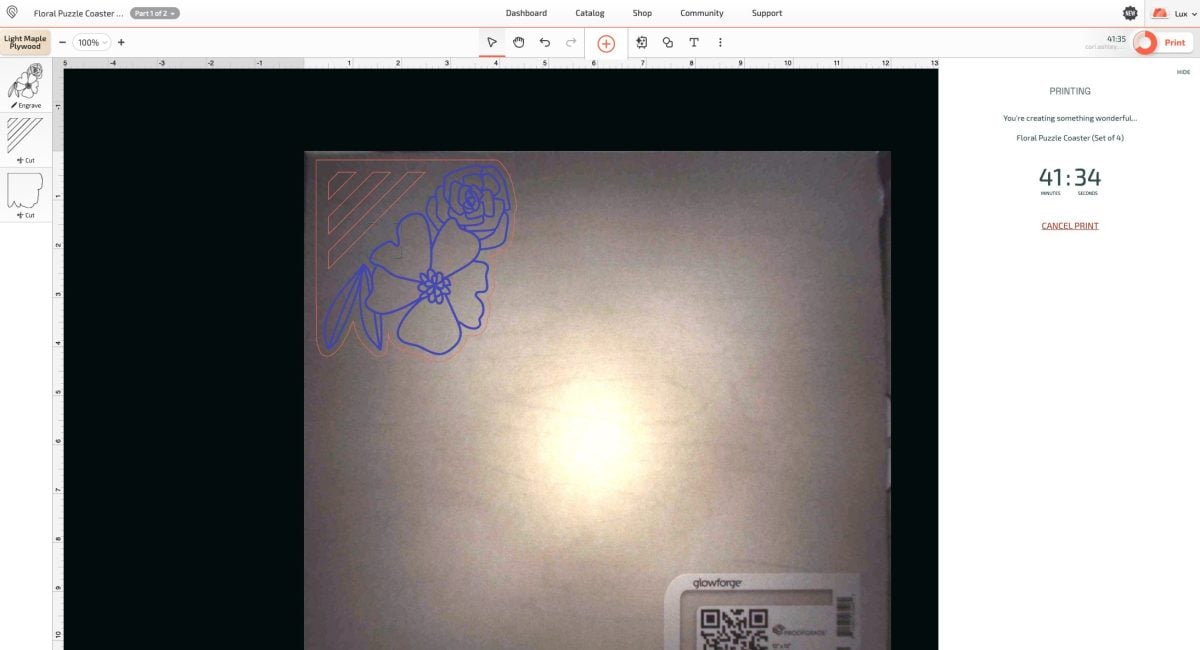 Both are very limited in what they can do as far as design goes. Most users will likely create designs in an outside program like Illustrator or Inkscape (or buy from a designer) and upload the designs to the software to cut. It's just so much better and easier to do it that way. Both software programs allow for a wide range of file type uploads and should be able to handle any files you may purchase to use with your machine.
Winner: xTool for the fonts, but honestly use a different software for actual design
Internet Connection
If you want to use your Glowforge Aura when you have no internet, you're out of luck. You must have internet to run the Glowforge app software in an internet browser.
If you want to use your xTool M1 when you h ave no internet, you can! Creative Space is a program that you download to your computer and you can use your machine offline. Note that there are some features in the software that might need internet, but generally you can upload your own file to the software and cut it without needing an internet connection.
Winner: xTool M1
Safety
Both machines are "closed systems" meaning that they should contain most of the smoke and debris associated with cutting and engraving. Personally, I find that the Glowforge contains the "smell" (and therefore probably the smoke) a bit better than the xTool M1, even with each machine using the air filter. I think this is because the riser I use is not as air tight as the Glowforge Aura (it only contains 90% of the smoke) and some of that smoke and smell leaches out into my workspace.
Both machines have orange lids, which protect your eyes from the light of the laser, much like a welder's helmet.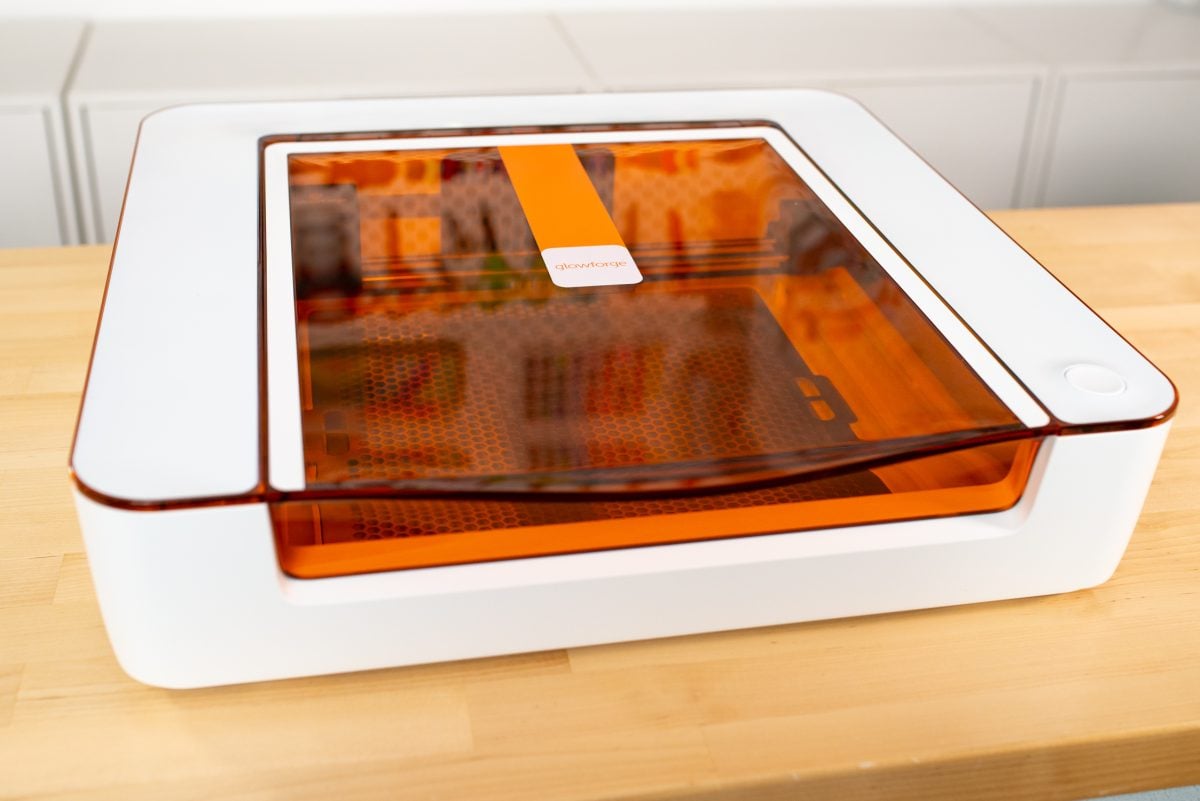 And finally, the xTool M1 has an optional Fire Safety set that can automatically detect fires and turn off the machine if one is detected. This is awesome and I wish this was a standard feature on all lasers (come on laser industry, let's get on that!). Laser fires can be really scary and having that as an option is great.
I talk more about fire safety in my post Must-Have Laser Supplies for Beginners.
Winner: xTool M1
Support
Both Glowforge and xTool have been known to be slow in resolving issues with their tech departments. That being said, both have robust user communities (the Glowforge Community and the xTool M1 Facebook Group). Often you can get help with any issues more quickly in the groups than you can than by directly contacting their support teams.
These communities also often have free files and other bonuses in addition to their helpful users. I would definitely recommend joining the community for whichever machine you decide to buy.
Winner: Tie
Accessories and Add Ons
The Glowforge Aura only has one add-on at this time.
The xTool M1 has a variety of add-ons that can increase the utility of your machine. Below are MSRP prices but they are often on sale.
Winner: xTool M1
Total Cost
The base cost of the machine is:
Then you'll want to factor in whether or not you want a personal filter or any of the accessories for the xTool M1. So the xTool M1 usually starts out less expensive, but quickly surpasses the Glowforge Aura in price as you start adding other pieces to it.
Note that Glowforge almost never has sales except on shipping, whereas xTool is constantly having sales on both their machines and accessories. Definitely wait for those sales before purchasing.
Winner: Glowforge Aura
Overall Ease of Use
I was already familiar with laser cutters when I got both my Glowforge Aura and my xTool M1 (I'd had my Glowforge Pro for a few years at that point). I actually really struggled with my xTool M1 at first and that surprised me since I was already a laser user. I mentioned above that I've had some bowed and warped materials from them and that included my test materials that came with my machine. It took me testing and some frustration to be able to make my first project—I tried several times to cut through that material before I got it to work.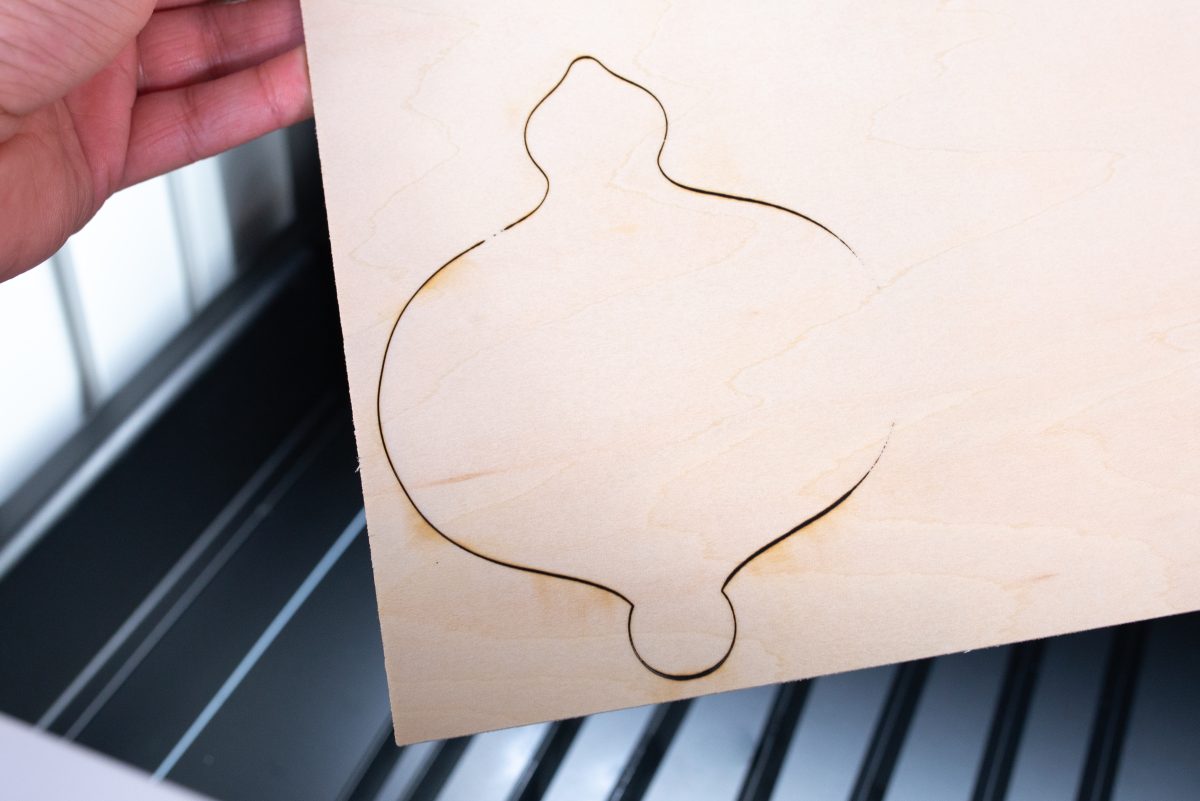 I didn't have the best first impression of the xTool M1 but as I used it more, I was able to get it to work on the first try most of the time. I definitely do test cuts and engraves with my xTool M1 than I do with my Glowforge Aura.
The Glowforge Aura cut perfectly on my first cut and has easily cut and engraved basically everything I've put in there so far.
So if you're a true beginner and you're worried about ease of use, despite all of the extra features of the xTool, I might recommend the Glowforge. First you don't have all the add-ons that can be overwhelming for beginners, and second because it'll have you making projects with Proofgrade materials right out of the box without testing. It's just a more simple, straightforward laser experience in my opinion.
Winner: Glowforge Aura
---
Glowforge Aura vs. xTool M1: Which Machine is the Winner?
So which machine wins overall? The xTool M1 is clearly the winner when it comes to features and capabilities and it would be my recommendation for most users. There is so much more you can do with the xTool M1 using features like the riser base and the rotary tool.
That being said, if you're a beginner and you are completely overwhelmed by all of the things the xTool M1 can do, you may be better off with the Glowforge Aura. You'll be more limited in the types of projects you can make, but if it gets you crafting faster—versus staring at the xTool and its accessories in the box—then it might be the better option for you.
For me, I have found that I go to my Glowforge Aura more often, just because I find it easier to use overall. When I want to make projects that are thicker or use the rotary tool, then I'll break out my xTool M1.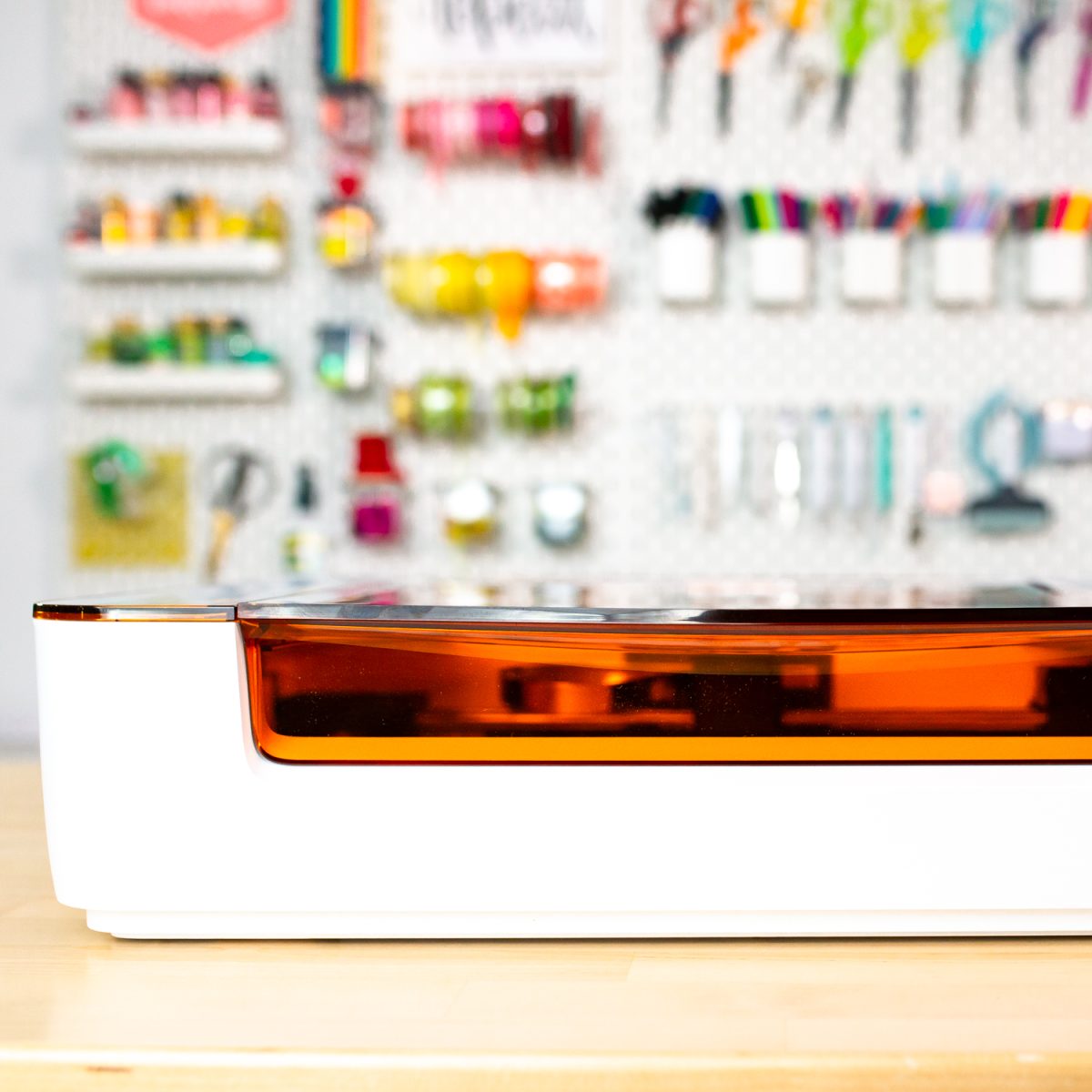 ---
I hope you found this review of the Glowforge Aura vs. the xTool M1 helpful! There's no "correct" answer as to the machine that's best for everyone. It will depend on your needs, your skill level, and what you want to make. I'd love to know which diode laser you chose down in the comments!