Come and take a tour of my craft room! I love my crafty space — I sew, craft, DIY, and do all sorts of making in my happy space.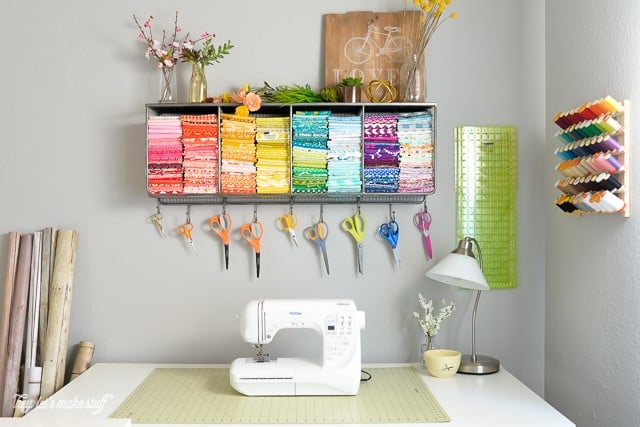 Update: check out my newest craft studio in our house in Washington!
Let's set the record straight before I get into my craft room tour. My craft room, literally, NEVER looks like this. It's so much messier, with half-done projects on all the surfaces and three or four empty coffee cups littering the desk. The trash is overflowing and there's thread and paper scraps all over the floor. I thought I'd clean and purge (I got rid of so much!) and, oh goodness, it feels good to have a clean craft room!
…for the next fifteen minutes. Because after I finish this post, I'm breaking out another project. Crafting doesn't happen in a vacuum, yo.
My craft room isn't large, but I am thankful to have it. I know a lot of bloggers and crafters don't have a space of their own, so I truly value my little 10′ x 10′ box. When we moved in, it was a bedroom for two little girls and was PINK. Bright pink on the bottom and light pink on the top with a colorful flower border in the center.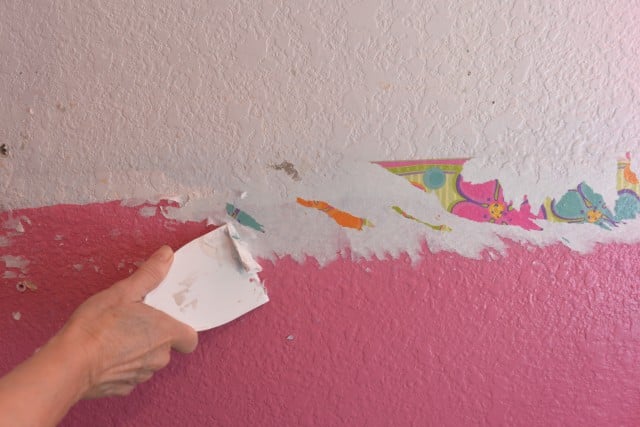 Not exactly what I wanted in my craft space. So we stripped the walls and painted them my favorite gray, Mud Pots by Kelly Moore. I painted the trim Swiss Coffee white and managed to remove all of the stickers on the walls and closet doors. The room has high ceilings and now that I've gotten it the way I want it, I love this space. It's my happy place!
Someday this will probably be a bedroom for one of the boys when they no longer want to share their nursery. That's when I plan to build a "she shed" out in our backyard!
Craft Room Tour
My main workspace is in the shape of an L. I have my sewing machine and cutting mat on the IKEA worktable against the wall, and my laptop on the IKEA worktable. (Remember, these surfaces never look like this. Seriously. Imagine a mess.)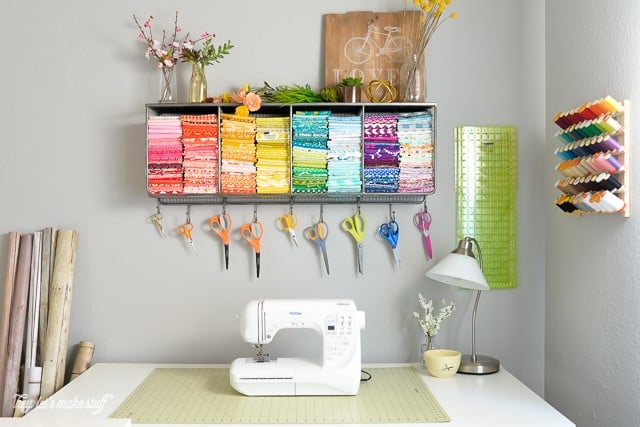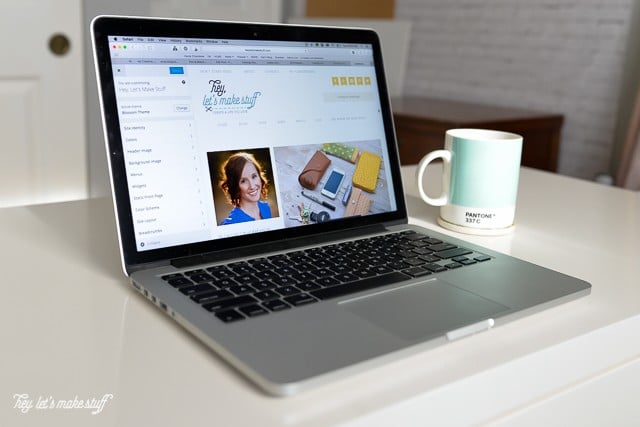 I have a mid-mod World Market chair that I move back and forth, and the rug is also from World Market.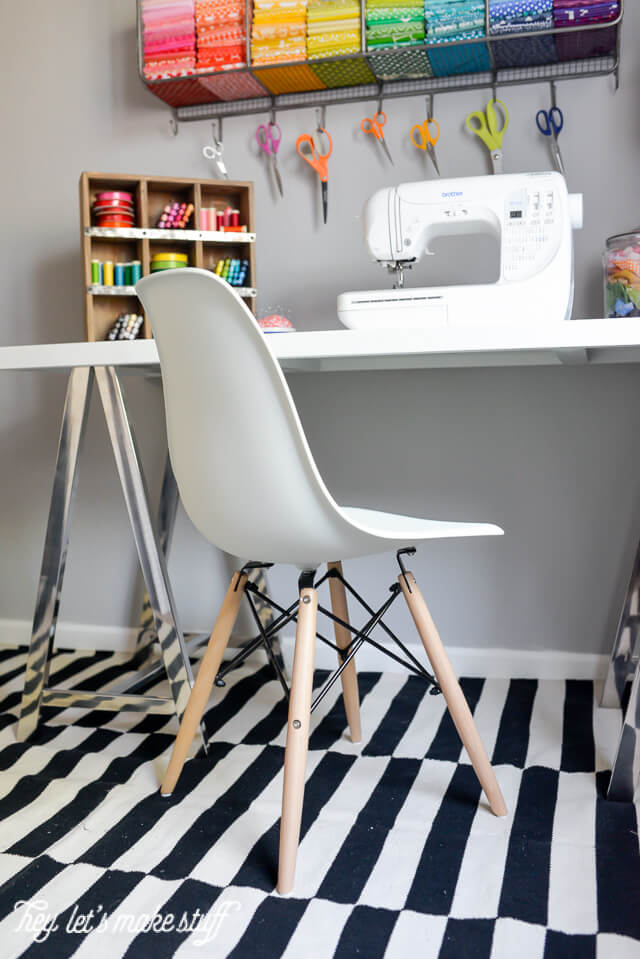 Over my worktable is one of my favorite things, the wire and wood shelf from World Market (I'm a World Market ambassador — that's why I have all this fun stuff from World Market!!). It holds all of my colored fabric fat quarters and half yards and it SO happy. My scissors hang below it, and on top is a bunch of faux flowers and other stuff for staging photos. (Do you have a pair of purple Havel scissors yet? Why not? They are amazing!!)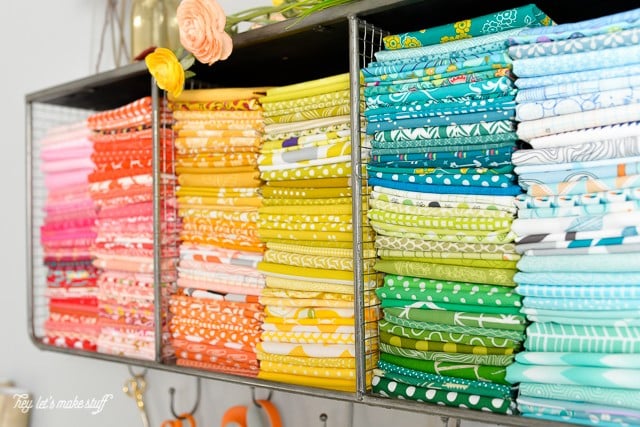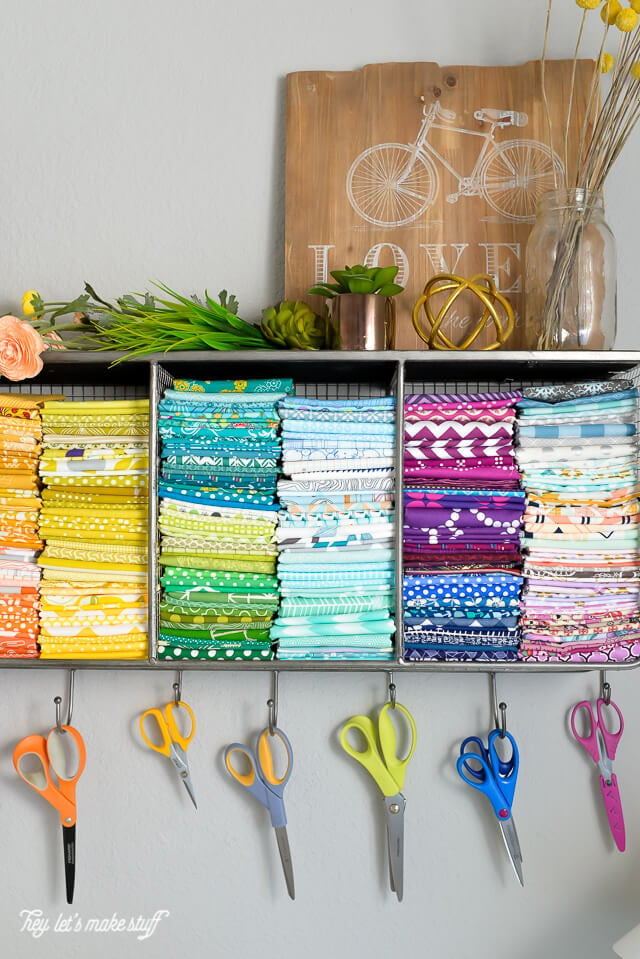 On the wall to the right of my worktable is my thread rack. I need to get a second one since I'm out of room on this one! I hung it using Command Hooks.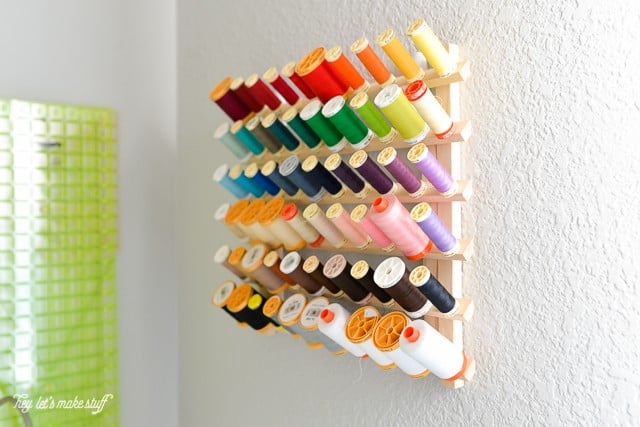 On the wall opposite my worktable are some large IKEA Hemnes bookshelves (which I updated with Wallternatives decals) and my pegboard, with my Cricut and printer below. You can kind of get an idea of the height of the ceilings in my room in this photo.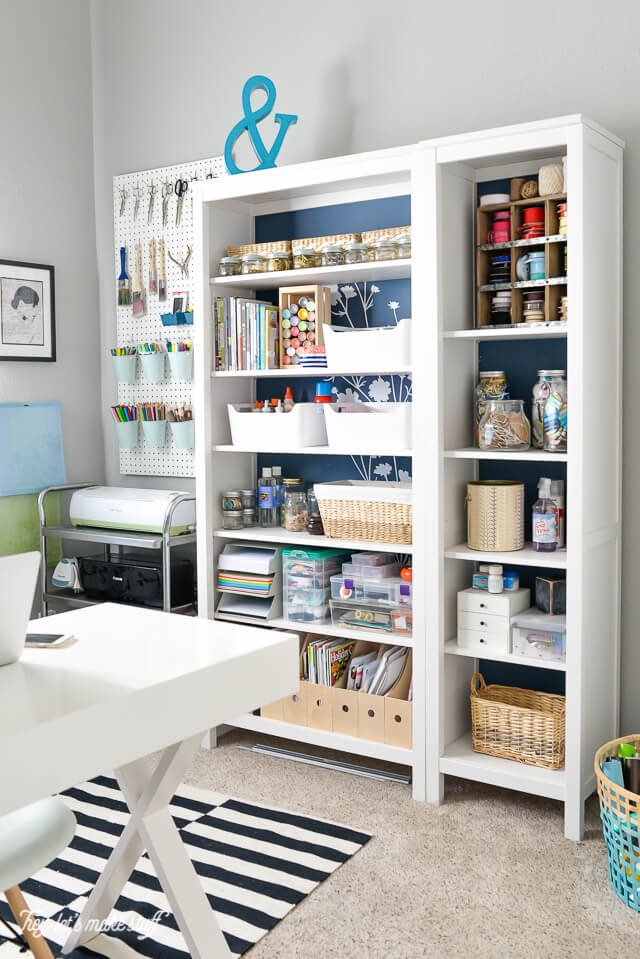 The shelves hold many of my craft supplies (the majority of the rest are in my closet). Things you'll find here include ribbon in my World Market cubby box: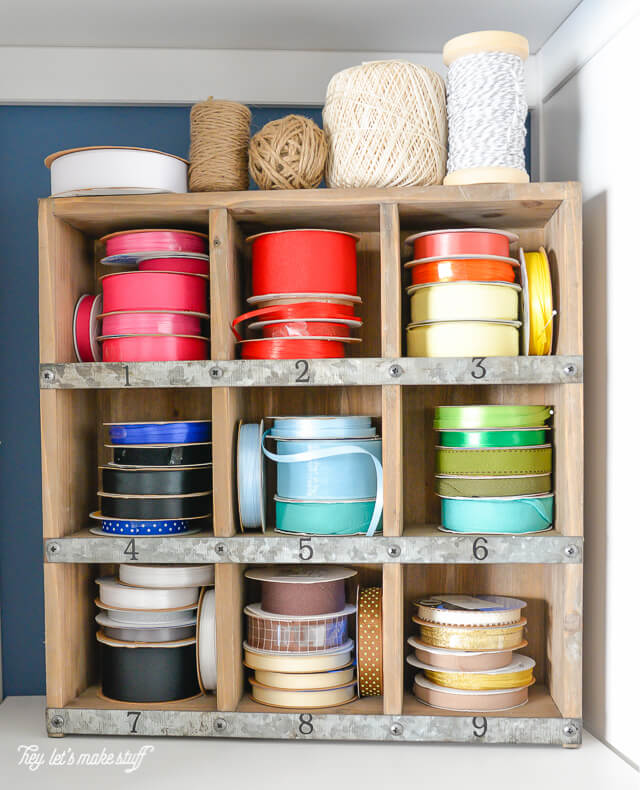 Craft paint and quilting, sewing, and craft books: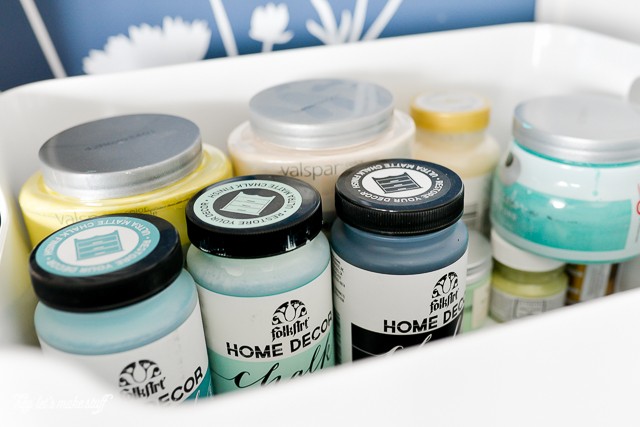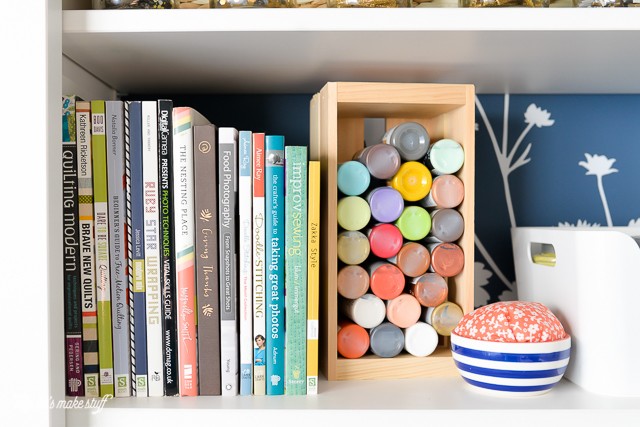 And glue. Lots of glue. That's what happens when you're on Elmer's Craft it Crew!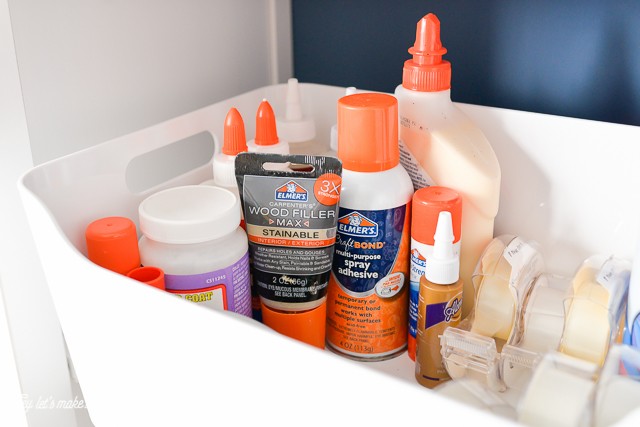 The way I use my pegboard has changed since I did my Sharpie pegboard, so I recently painted over the outlines. I might have to add new ones soon! The row of scissors at the top is actually a bunch of antiques — I have a craft project in mind for them.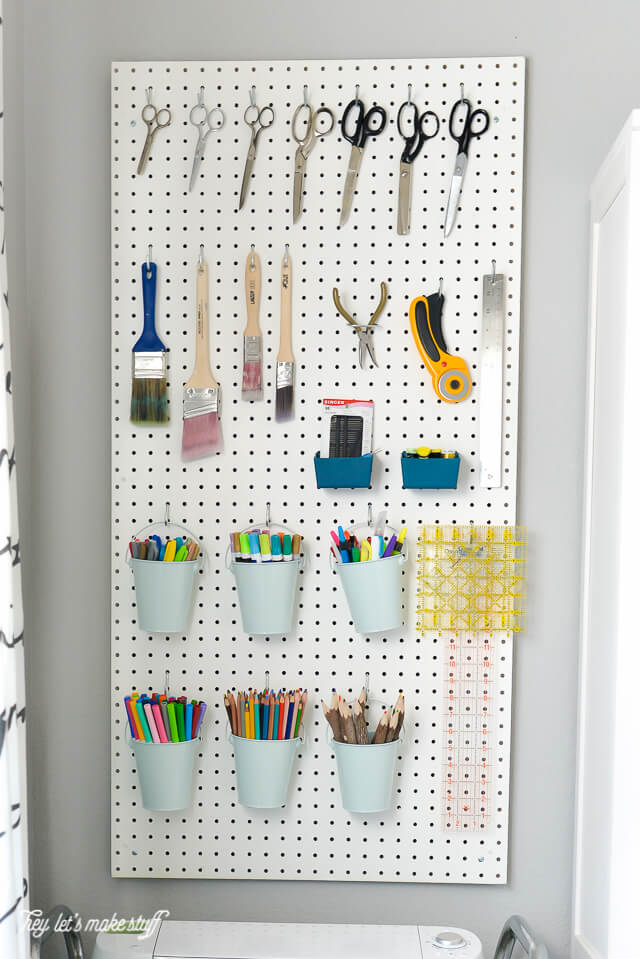 I used some minty Target Dollar Spot buckets to hold my pens, pencils, and such.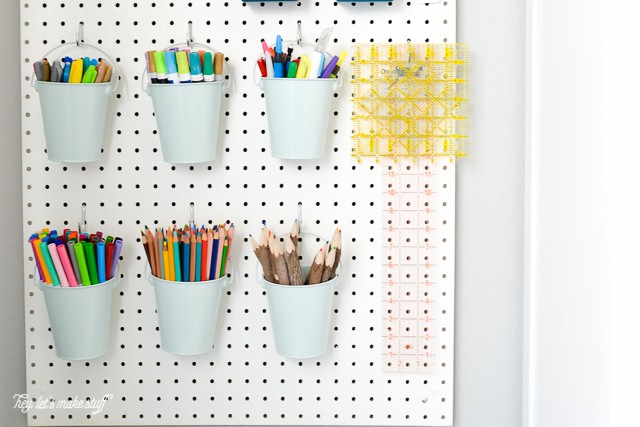 And below the pegboard is my Cricut, printer, iron, and some other odds and ends, all sitting on this vintage cafeteria cart. I had every intention of making it over before my craft room tour, but life got in the way. My Cricut mats hang on a nail on the wall next to the machine. You can also see my DIY easy-sew curtains to the left.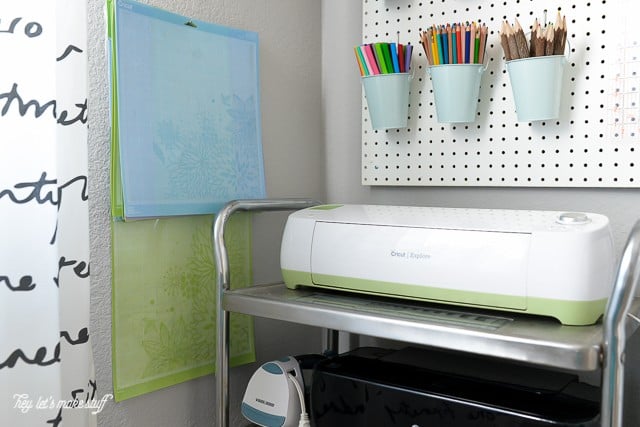 On the opposite side of the bookcase from the pegboard is this weird 2′-wide 45-degree wall. It's here where I have my IKEA Trones Shoe holder hack. But it doesn't hold shoes — it holds paper! It's my favorite storage solution in the whole room.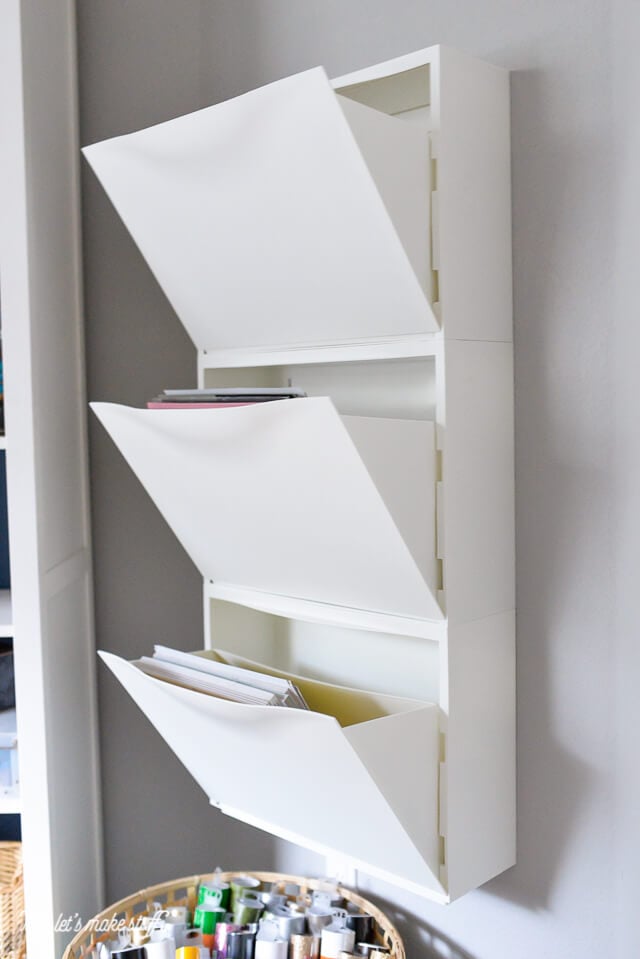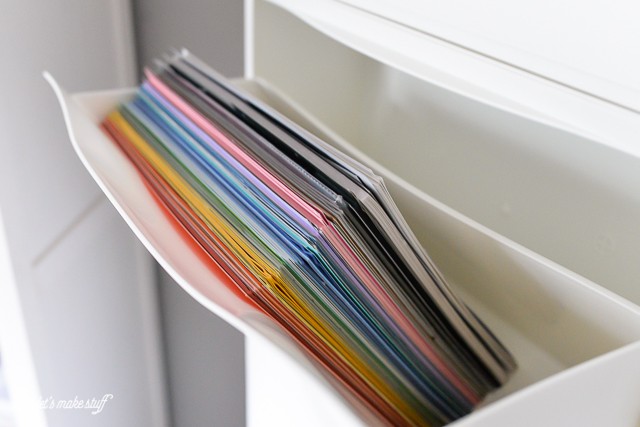 And below the shoe holder is all of my vinyl for my Cricut. This IKEA basket works for now, but I think I need to look at finding a better solution because my basket is almost full.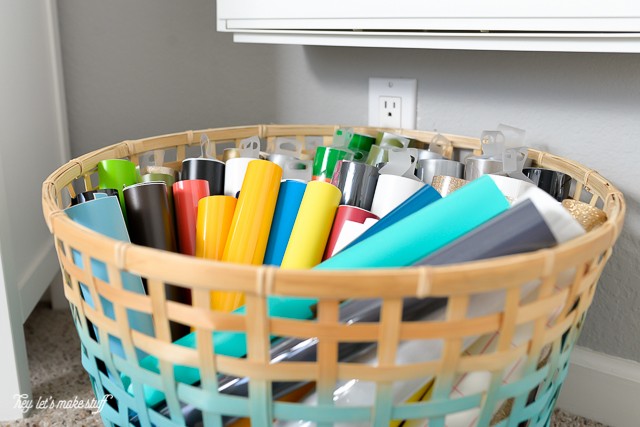 Near the door to the room is my staging area. I have my "brick" wall and a small sewing table for staging smaller projects (you can see my vintage teal sewing machine peeking below!). I keep my paper and vinyl backgrounds in this tall basket from World Market. Other backgrounds, like the plywood and foam core on the left, actually sit behind the open door.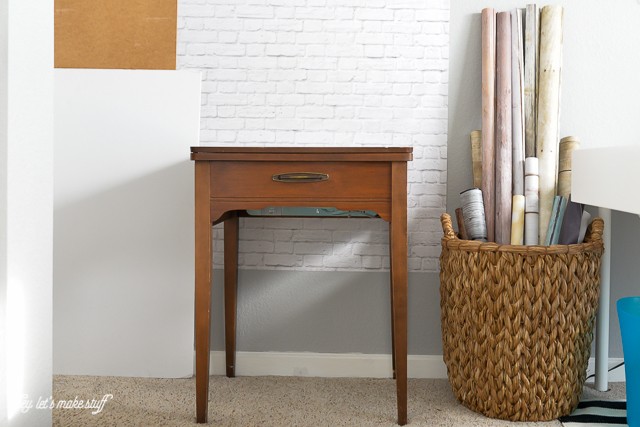 I use the brick wall most often. Neat, eh? And that's how you get a pretty white brick wall in a 1980's tract home.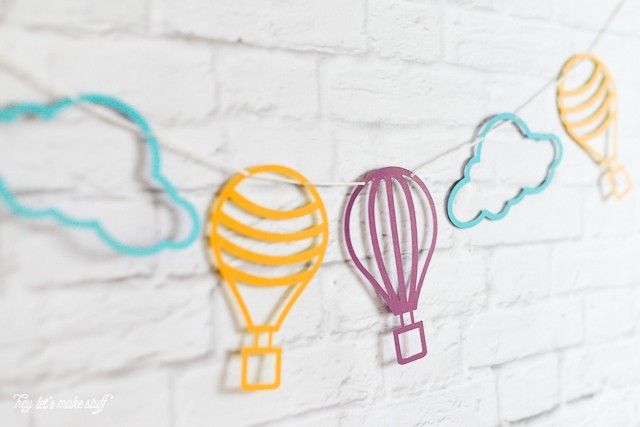 Then there is the room's closet. This is the neatest this closet will ever be, I can almost guarantee it.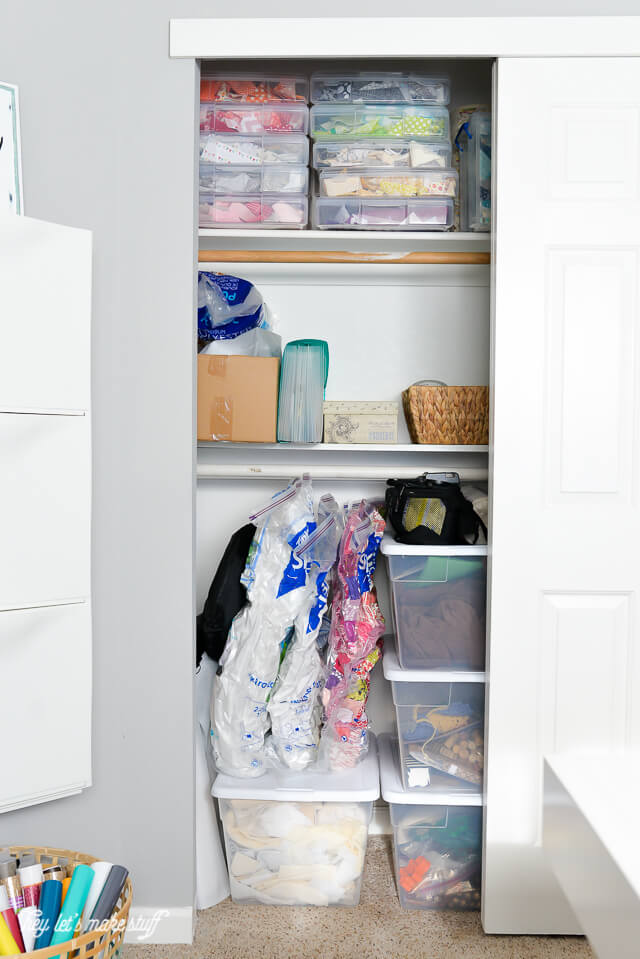 I have all sorts of things stored in here. The plastic bins on the bottom hold scraps of batting and interfacing, holiday supplies, party supplies, and big pieces of fabric. The vacuum space bags hold a ton of pillow forms. Above that is my serger, and some other random stuff. And up top are my scrapbooking boxes of fabric scraps.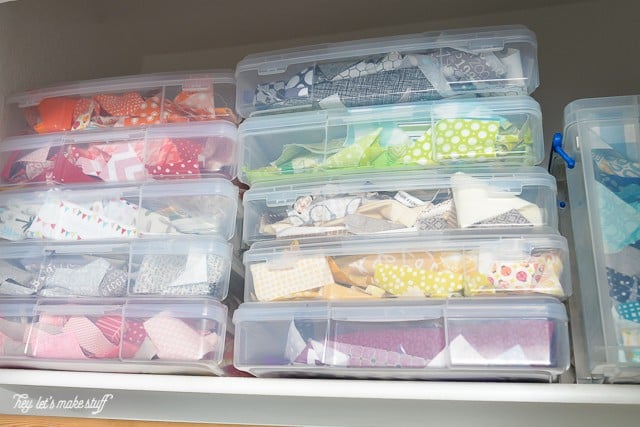 On the other side of the closet are some built-in shelves. The IKEA wire baskets (only $2.50 each!!) fit perfectly and hold more fabric, works-in-progress, felt, and a whole bunch of other crafting supplies.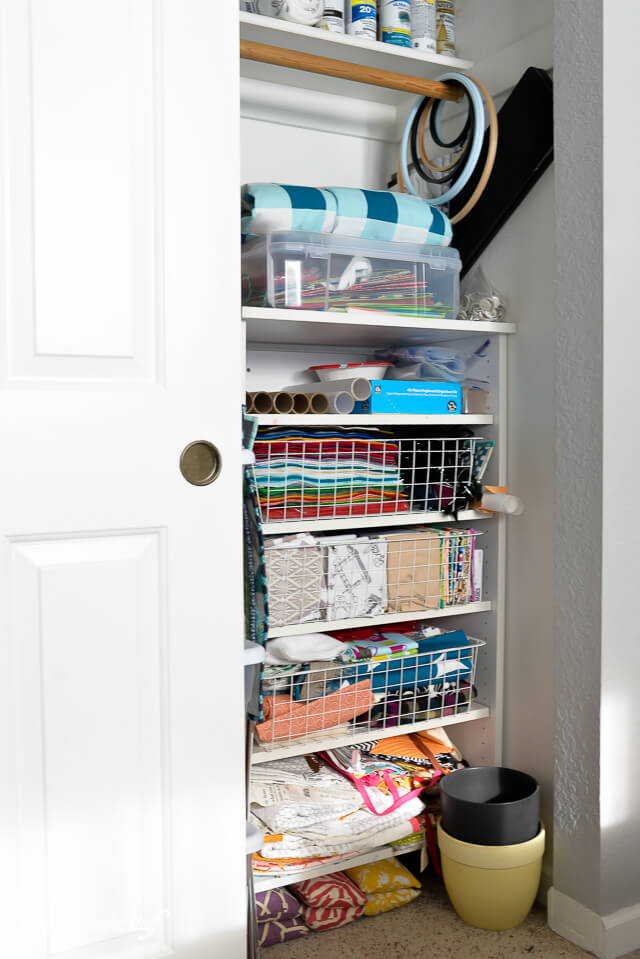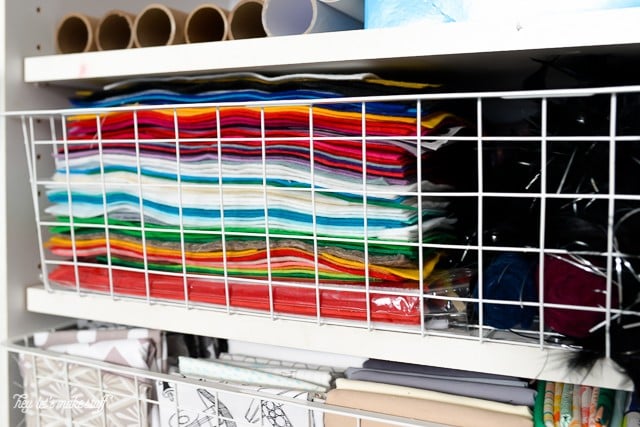 And to finish, here are a few of my favorite things. I love my Pantone mug. It's a special design nerd mug.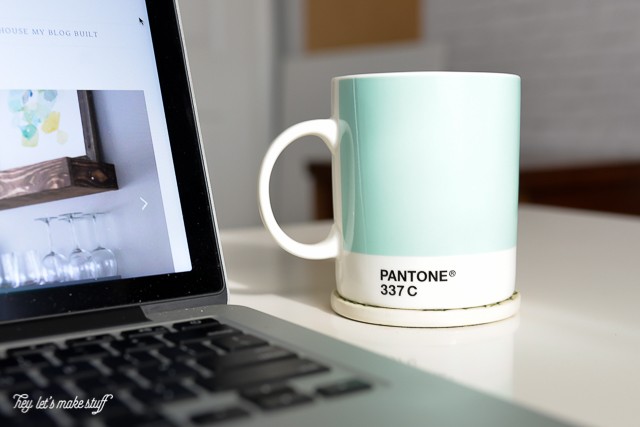 And my scissors thread dish. I picked this up in a little boutique in Chicago and it's probably my favorite thing in the whole room. AND BONUS: I figured out the maker! Circa Ceramics has an Etsy shop and you can get a bunch of their cool bowls there, including one similar to mine. Plus it looks like the take custom orders, so WIN FOR EVERYONE!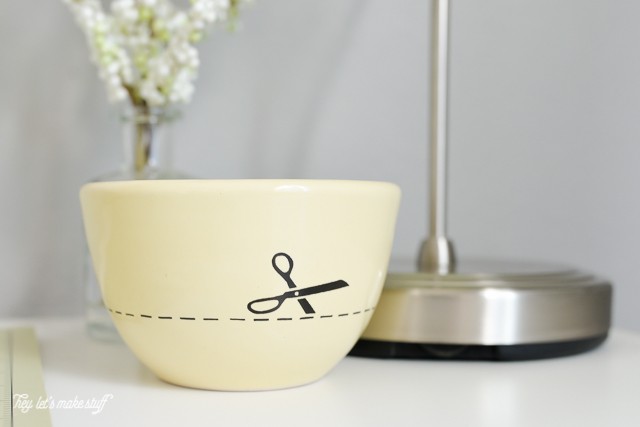 And that's my craft room! If you have any questions about anything in my room, ask away in the comments. And if you'd like to continue on the craft room tour, visit Holly from Ribbons and Glue! She's next on the tour and I know you'll love her space.