Everyone that loves donuts knows that sprinkles are just glitter for food! Get this cute free donut printable and hang it in your kitchen or nursery for some sweet decor!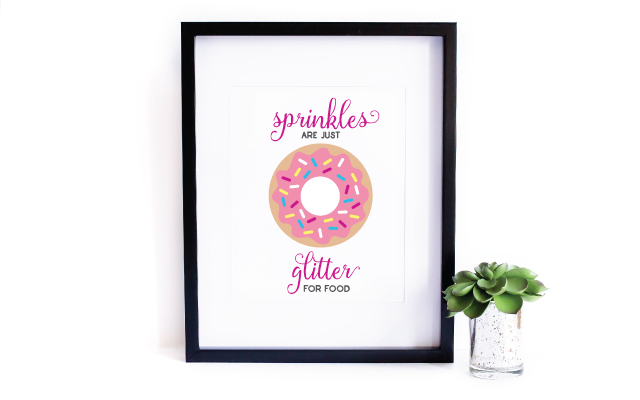 Ryan and I were heading to Christmas brunch with his family, and were in charge of grabbing donuts. As we stopped to pick them up, I told him to get the box with sprinkles, and he said, "Sprinkles are just glitter for food, right?"
It struck me as quite funny that morning, and I've been meaning to turn it into a donut printable that can be used as wall art for a while now.
Today is that day! I could seriously play around with designing donuts until the end of time. They are so fun to look at and so delicious to eat!
I love this little quote, although I do think sprinkles are way easier to clean up than glitter! Sprinkles are allowed in my house. Glitter is rarely allowed and closely monitored (twin toddlers live here!).
I think it would be super cute in a kitchen, nursery, or craft space. Who doesn't love donuts? Or sprinkles? Or printables?
Download the Free Donut Printable under PRINTABLES P6
This file can be found in my Free Craft Resource Library. The file number is: P9.
Want access to this free file? Join my FREE resource library! All you need is the password to get in, which you can get by filling out the form below!
Enjoy hanging this free printable up somewhere in your house to remember to always add sprinkles! I think it would look so cute in the kitchen or even in a baby's nursery.
It would also look adorable in a craft room, especially if you're the glitter-lovin' type!