Rock the vote—and your right to do so—with these voting SVG files. Stick these on a hoodie, hat, or tote and get ready for this year's Election Day!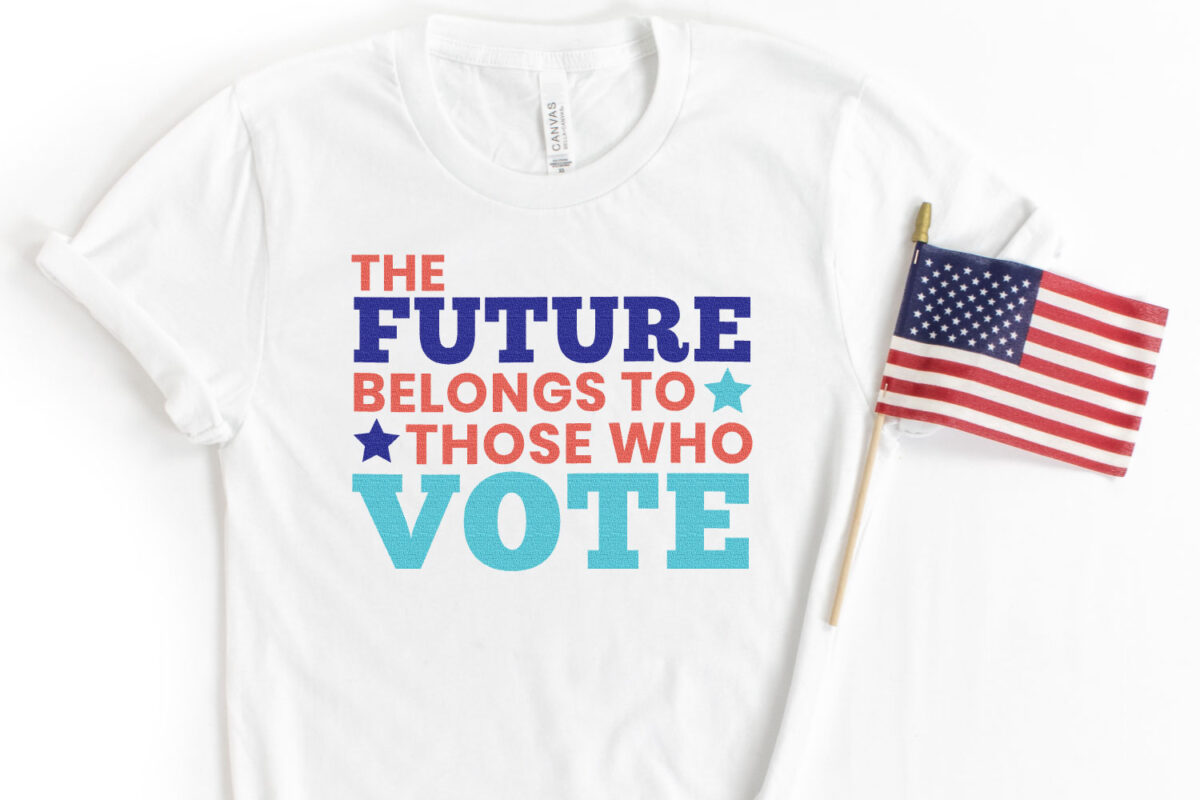 As a (former) Californian, I voted by absentee ballot for years. Several years ago I made myself an I Voted sticker to proudly wear on Election Day since I had sent in my absentee ballot well before the election.
Now that we're here in Washington, everyone votes by mail (voting by mail is safe and reliable!). So this year I kicked up my crafting skills and made these Voting SVG files—I've come a long way from that handmade sticker!
Now, in addition to rocking your I Voted sticker, you can make a shirt, hat, sign, or tote bag to encourage people to go out and vote, even before Election Day if your state has early voting. Because of the unrest in the election this year, I encourage you to vote early if it's possible. Check your voter registration.
If you are younger and able-bodied, I also encourage you to volunteer to be a poll worker—I did! Poll working has historically been done by the older segment of our population, but with COVID cases back on the rise, let's protect that vulnerable population—pick up their mantle and volunteer at the polls.
We also need to fight voter suppression where it exists. It is your constitutional right to vote and politicians are making it harder and harder. Call, write, and implore your representatives to make voting easier for everyone—including the elderly, disabled people, students, and more.
Additionally, in 2016 only 58% of the United States population voted. That percentage was down from 2012 and 2008. We have got to get that number up—the future belongs to those who vote.
So one way I'm doing my small part I'm doing my small part in encouraging you to go and vote with these voting SVGs. Make something with them and wear it in the month of October or early November to encourage people to participate in heading to the polls.
Download the Free Voting File under SVGs C328
This file can be found in my Free Craft Resource Library. The file number is: C328.
Want access to this free file? Join my FREE resource library! All you need is the password to get in, which you can get by filling out the form below!
Buy The Voting SVG Bundle Here
Grab our set of four voting SVG files in our shop! You can make Election day shirts, banners, and more to encourage others to vote!
You get these four voting SVG files in the bundle:
The Future Belongs to Those Who Vote
Vote (Circle Design)
Vote (Rectangle Design)
Your Vote Matters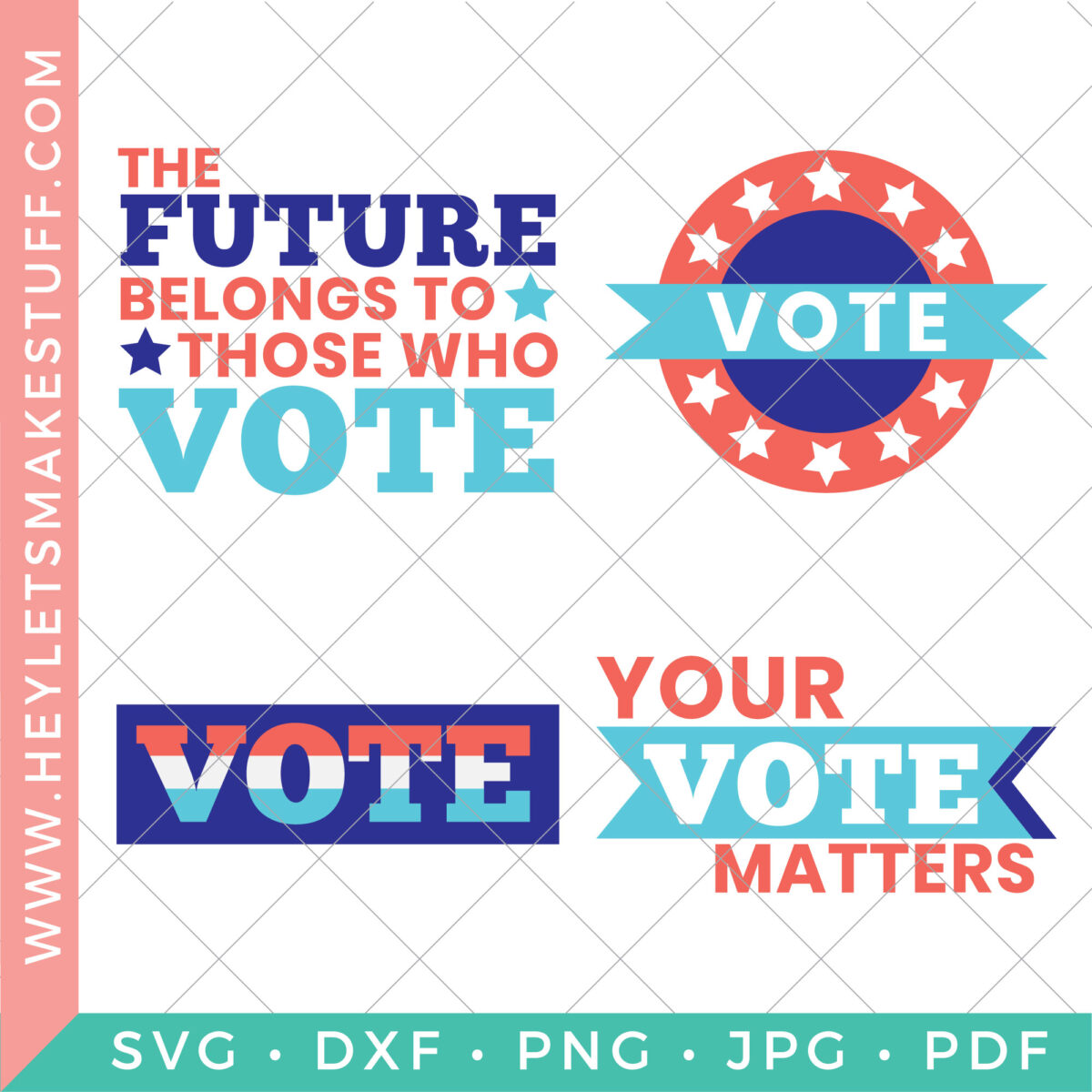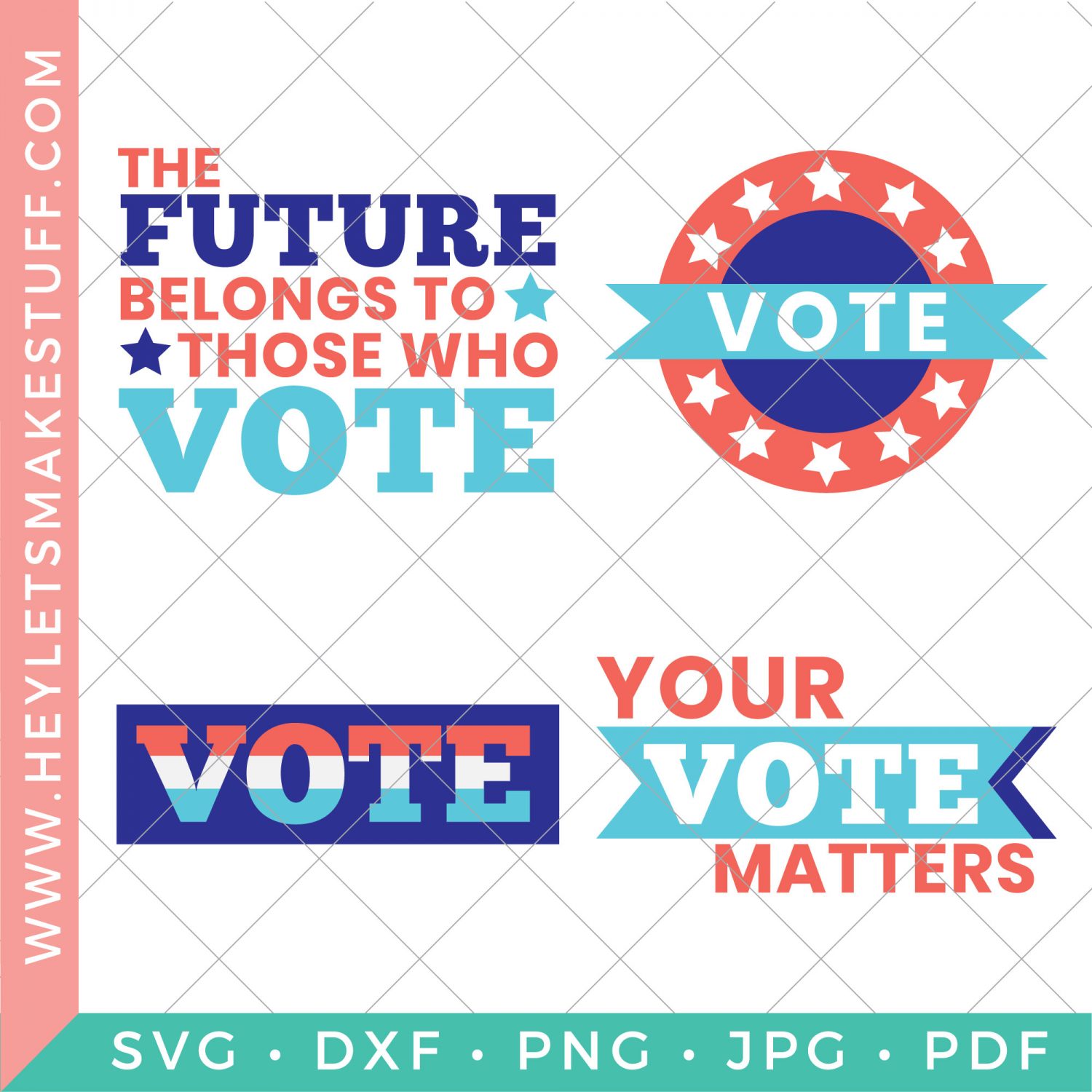 How to Use These Files
You can cut these files on a Cricut Maker 3, Cricut Maker, Cricut Explore 3, Cricut Explore Air 2, Cricut Joy, Silhouette, Glowforge, or other cutting machine! Here are detailed tutorials that will help you use these SVG files in your crafting:
Iron On Vinyl (also called Heat-Transfer Vinyl or HTV)
Adhesive Vinyl
Cardstock
Other
So make sure to get out and vote this year! Election Day is November 3!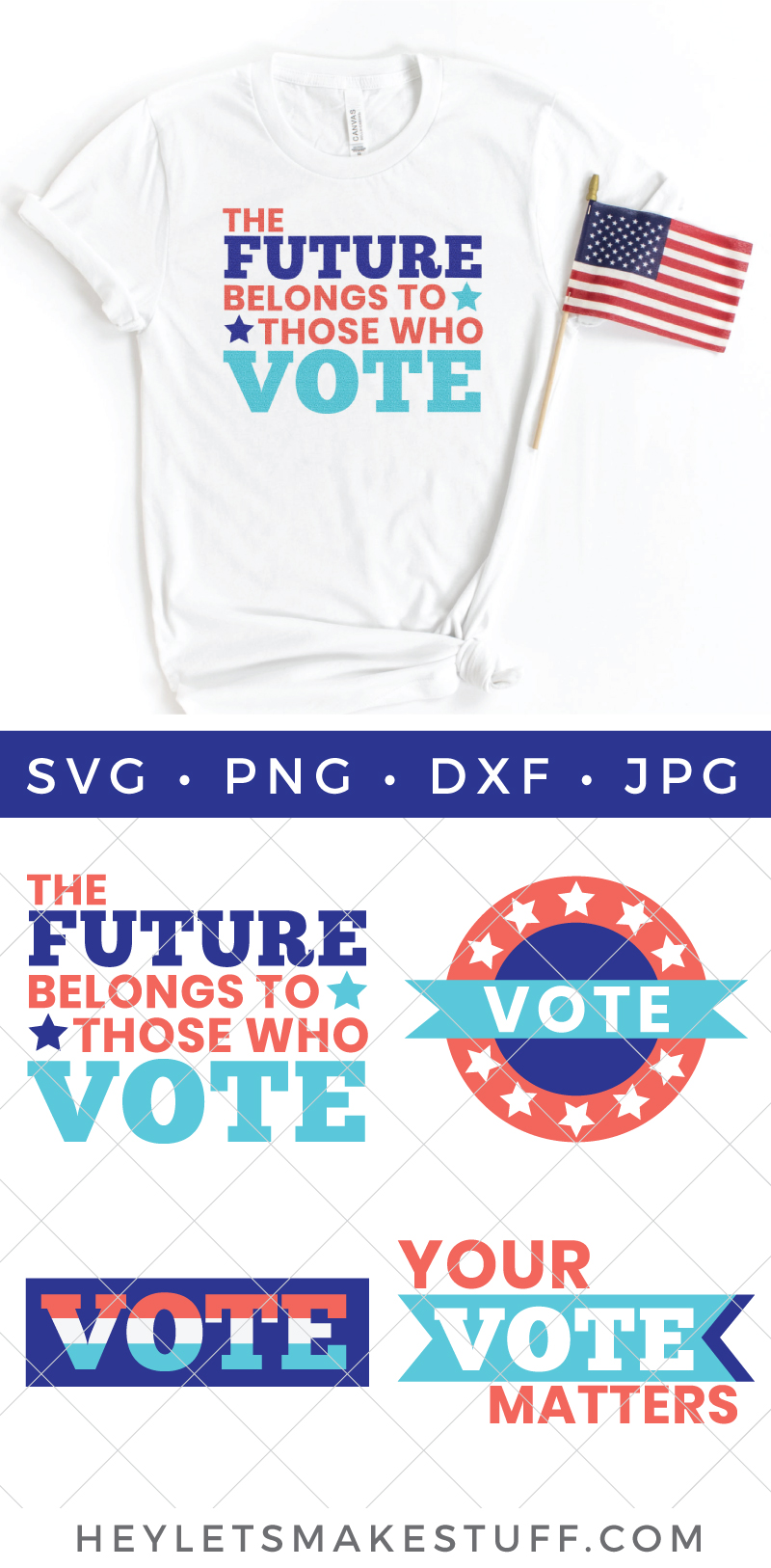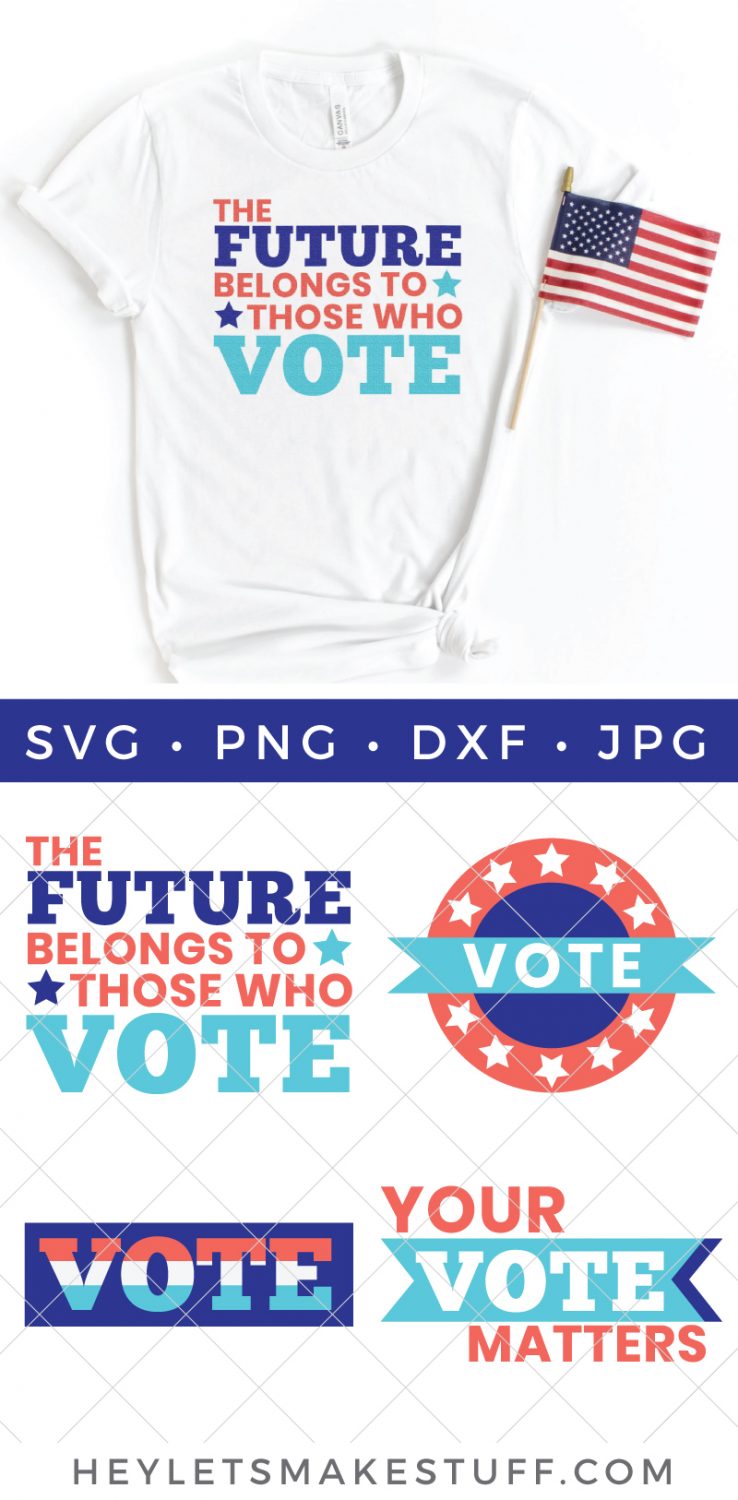 Cricut Supplies to Use with Our SVGs: