How well do you know your American history? This printable 4th of July trivia is not only fun for history buffs, but makes a great game for patriotic parties and barbecues! Includes both questions and answers.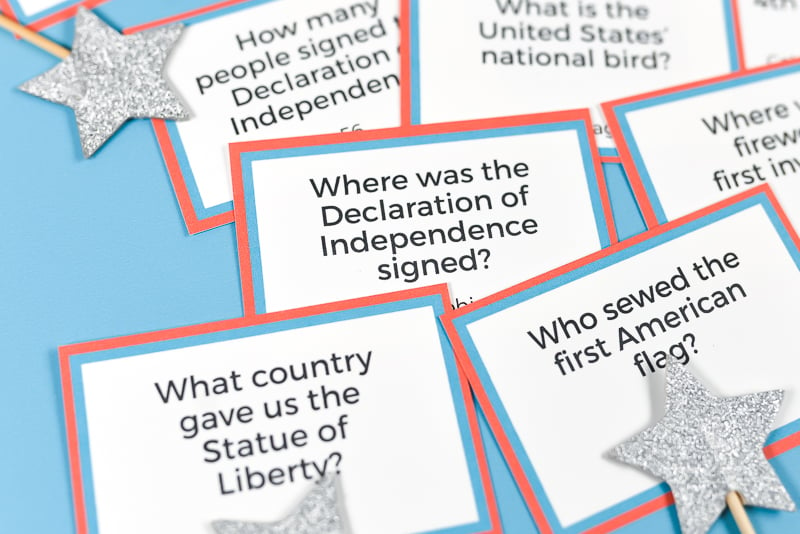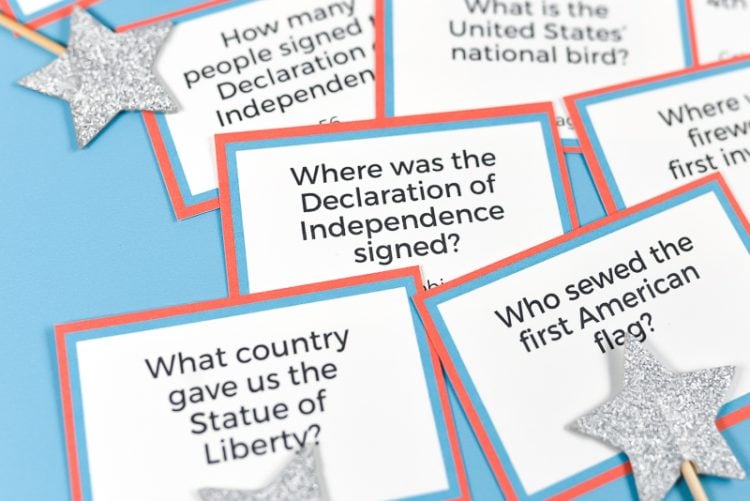 What do you know about the 4th of July in the United States of America? This printable 4th of July trivia game gives you 20 patriotic fun facts! Some things you might know (What is America's national anthem?) and some are much harder (What president was born on the Fourth of July?).
You're sure to have a ton of fun and learn something new answering these 4th of July trivia questions with your significant other, coworkers, family members, and friends as you celebrate Independence Day! It's the perfect game to play while waiting for night to fall so the fireworks celebration can start!
Print out a set for a July 4th barbecue and turn them into a drinking game while you barbecue hot dogs and burgers, with a side of apple pie! The perfect way to enjoy a lazy day in the sun being thankful for our freedom, or a perfect boredom buster as you wait for your neighborhood parade to start.
These trivia questions are great for adults and some teens, but are probably too tricky for kids (unless they are really good at knowing their Revolutiony War history, ha!). Have the host hold the cards in their hands and read the quiz questions for the partygoers to answer.
Don't worry—all of the below answers are visible in the PDF download! Just wanted you to be able to see the questions without giving away all the answers! Good luck!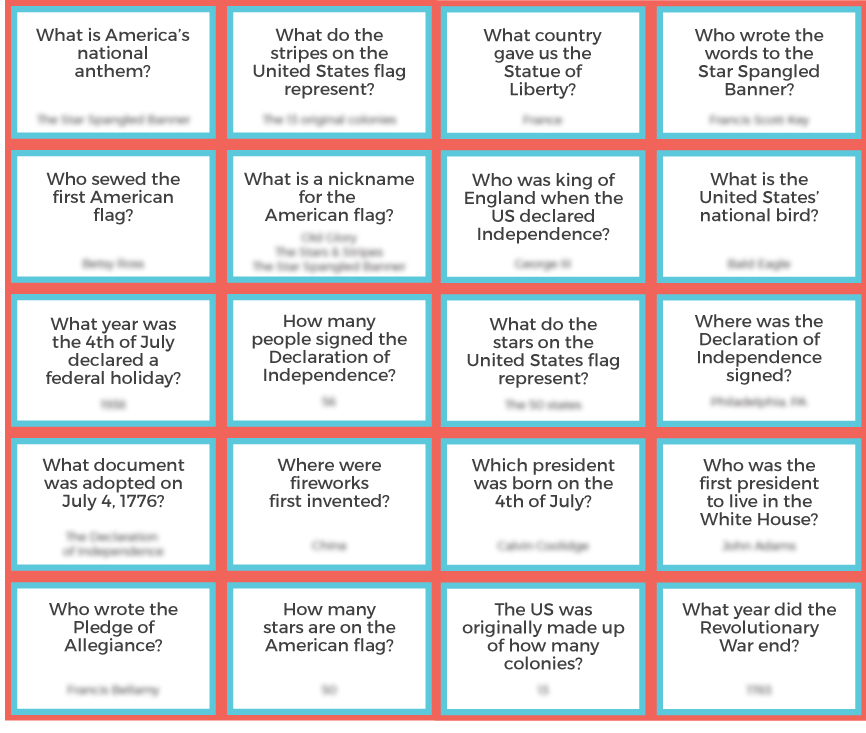 To download this Fourth of July trivia, just enter your name in the box below! You'll receive an email to confirm your subscription and the download should start automatically when you click the button.
Love American history and the musical Hamilton? Check out my Young, Scrappy and Hungry SVG file. (Might make Alexander Hamilton smile and Thomas Jefferson roll his eyes!)
Download the Printable 4th of July Trivia Here
Enter your first name and email address in the box below for access to this freebie, along with other fun free files in our email newsletter! If you have already received a freebie from my site, just enter your information again—you won't be added to any additional lists.
This freebie is for personal use only. You can learn more about our commercial license.
Grab our Fourth of July Printable Games Bundle
Our printable 4th of July party games bundle has six additional games that kids can play to celebrate America's independence on this fun state holiday!
Make sure to print these on a slightly heavier paper stock—you don't want people to read the answers through the paper! If you print on regular paper, make sure you hold each card in your hand to keep your partner from cheating. Want to know all the questions beforehand? Here you go:
What is America's national anthem?
The Star Spangled Banner
What do the stars on the United States flag represent?
The 13 original states / colonies.
Who sewed the first American flag?
Betsy Ross
What is a nickname for the American flag?
Old Glory, the Stars and Stripes, the Star Spangled Banner
What year was the 4th of July declared a federal holiday?
1938
How many people signed the Declaration of Independence?
56
What document was adopted on July 4th, 1776?
The Declaration of Independence
Where were fireworks first invented?
China
Who wrote the Pledge of Allegiance?
Francis Bellamy
How many stars are on the American flag?
50
What country gave us the Statue of Liberty?
France
Who wrote the words to the Star Spangled Banner?
Francis Scott Key
Who was king of England when the US declared independence?
King George III
What is the national bird of the United States?
The Bald Eagle
What do the stars on the United States flag represent?
The 50 states.
Where was the Declaration of Independence signed?
Philadelphia, PA
Which president was born on the 4th of July
Calvin Coolidge
Who was the first president to live in the White House?
John Adams
The US was originally made up of how many colonies?
13
What year did the Revolutionary War end?
1783