This fun quilt-as-you-go block uses foundation piecing to create flying geese. Give it a try!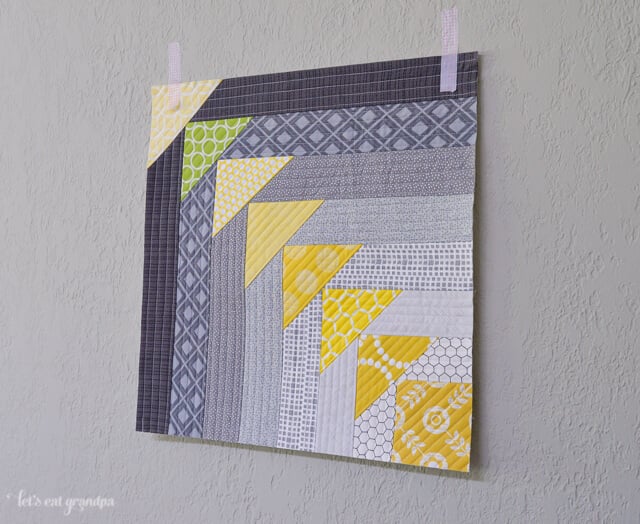 I've said it before, but I think quilt-as-you-go (QAYG) gets a bad rap. People tend to think it's only for log-cabin style blocks (which can be amazing in their own right), but I've been playing around with other techniques. I've written two tutorials so far, the Bloomin' Quilt-As-You-Go Panel Tutorial and the Easy Big Stripes Quilt-As-You-Go Panel Tutorial. If you've never done QAYG, I recommend starting with the Easy Big Stripes tutorial before attempting either the Bloomin' or North West tutorials.
This technique creates sort of a flying-geese effect without the normal piecing required. If you have any questions about my tutorial, just leave them in the comments and I'll try and help you out and/or modify the tutorial so it makes more sense.
Supply List: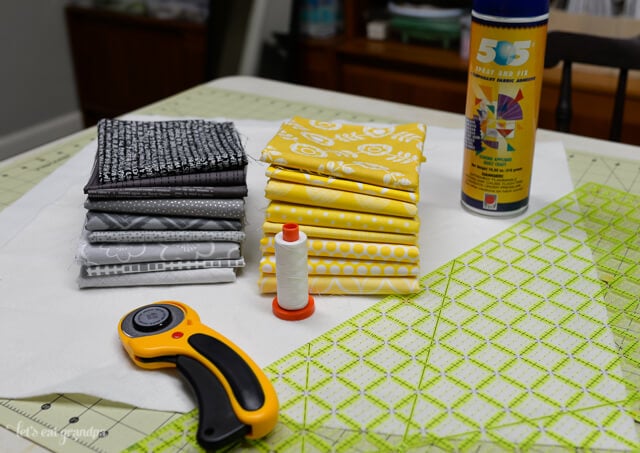 Note about supplies: You can make this in whatever size and whatever colors you'd like. I had to choose one size and a set of colors for the sake of this tutorial. But the options are endless — be creative!
Directions:
There will be three layers to the North West quilt block panel. A backing fabric, the batting, and the top with the two colors of fabric. Unlike a normal quilt sandwich, the back of your panel will be not so pretty because of the QAYG quilting. So it's perfect for making things with a lining — pouches, bags, pillows, etc. It doesn't work so well for an actual quilt.
I find it handy to have my cutting mat, rotary cutter, and ruler, as well as my iron close by so I don't have to get up between each step.
Step 1: Cut Your Fabric, Backing Fabric, and Batting
For this tutorial, I am making an 18″ x 18″ panel. Because QAYG tends to go a little wonky, I'm starting with 20″ x 20″ pieces of batting and backing fabric, giving me plenty of room to trim if it gets a little shifty.
For Color A (gray in my tutorial), cut 2.5″ wide strips. For Color B (yellow), cut rectangles 4″ tall by 7″ wide. The number of scraps depends on the size you are making. Your longest Color A strips should be the length of your batting (in this case, 20″).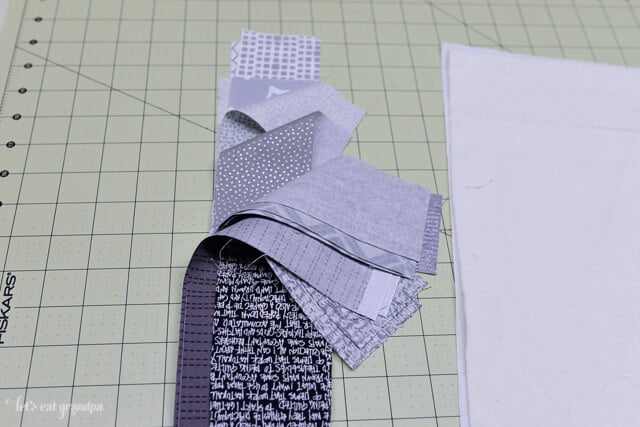 Step 2: Make a Quilt Sandwich
Spray baste the back of your batting and press the backing fabric to the batting. Spray basting should help the fabric shift less.
Step 3: Start Quilting
Set up your machine to quilt. Lengthen your stitch a bit, and use high-quality thread like Aurifil because it can get linty up in here. This is a thread-intensive project, so you might want to wind an extra bobbin or two.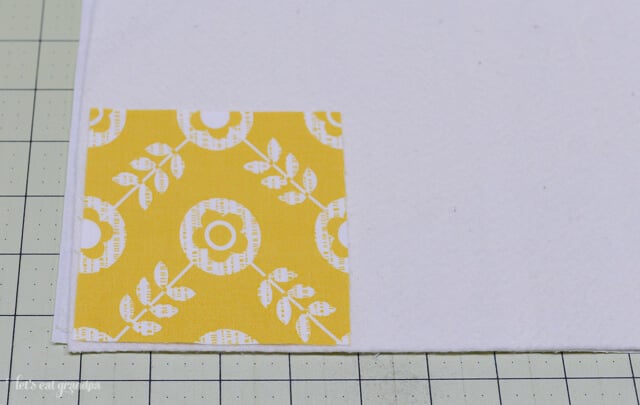 This may go against your instincts, but quilt a 4″ x 4″ square of Color B to the corner of your batting right side up. I use simple straight-line quilting at a 45 degree angle to the piece, but you could do some FMQ if you're so inclined. I find using some spray basting helps keep things from shifting.
To save thread, when I come to the end of the fabric, I turn the panel, stitch three stiches down, and then stitch back the other way across the fabric. It actually goes pretty quickly once you get the hang of it.
Here's a quick video I made of how to do the turning: QAYG Video Tutorial. You will get to see my seriously mad video-making skillz here (BAH!). This is from the Bloomin' panel, but you get the effect.
Here is what you should have when you're done: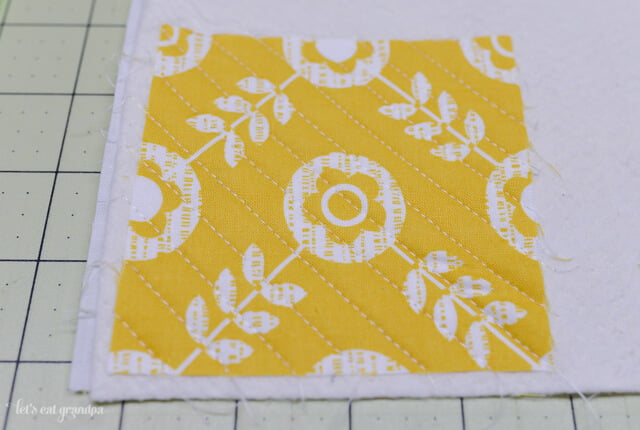 Step 4: Add Your Second Color
Add a strip of Color A to each side of the first square of Color B. To do this, lay a piece of Color A down on top of Color B, lining up the edges.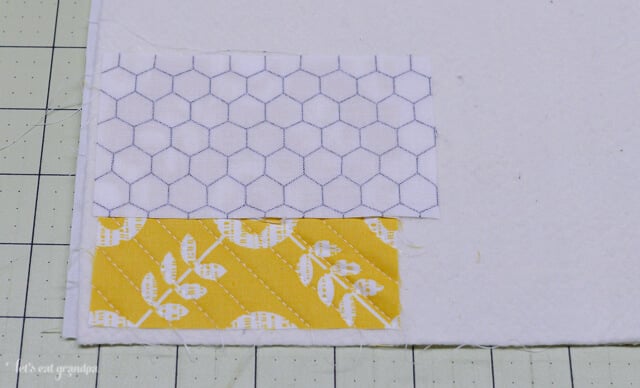 Stitch close to the edge of the fabrics (I use a 1/8″ seam allowance). Open up the two pieces and press the Color B piece away from the Color A piece. If you'd like, us a little spray basting to keep the piece from shifting.
Quilt the new Color B piece using the same technique you used on the Color A piece, but quilt along the length of the strip instead of at an angle.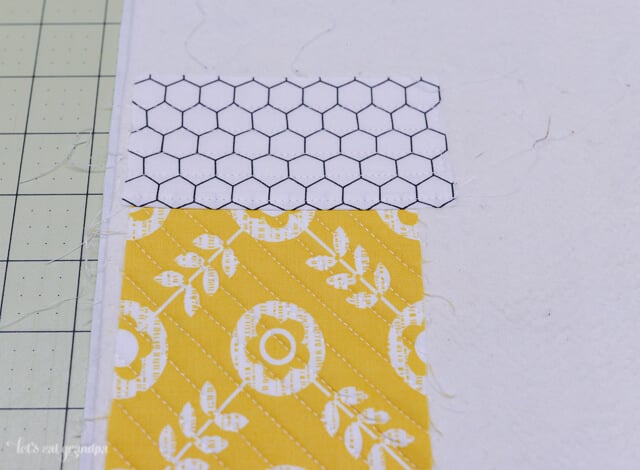 Repeat on the other side of the first block, quilting along the length of the strip: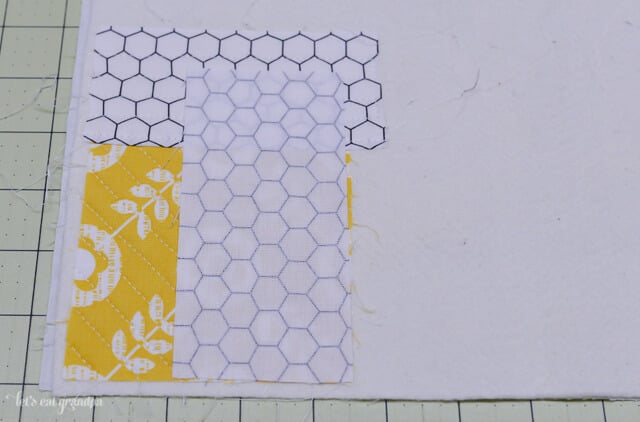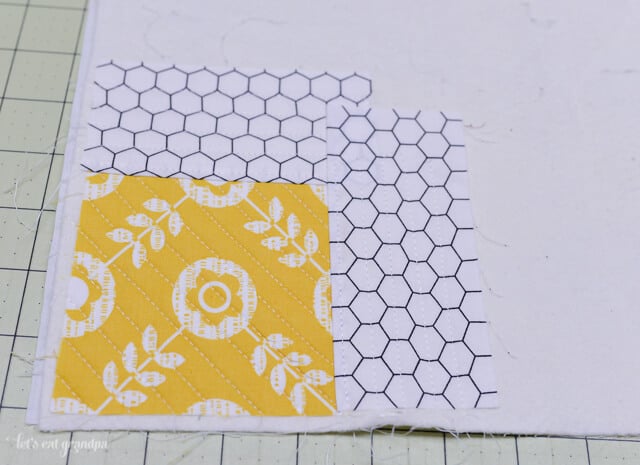 Helpful Tip: If you find that your presser foot is a little sticky because of the spray basting, stick a scrap of fabric behind your foot — it will keep everything moving smoothly. Just make sure you don't quilt it to your batting!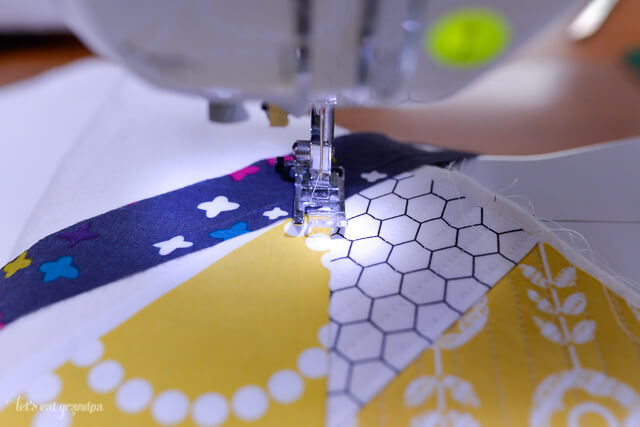 Step 5: Start Your Triangles
Place your next Color A strip at a 45 degree angle across the edges of the two Color B strips. I place it right-side up just to see where I'm going.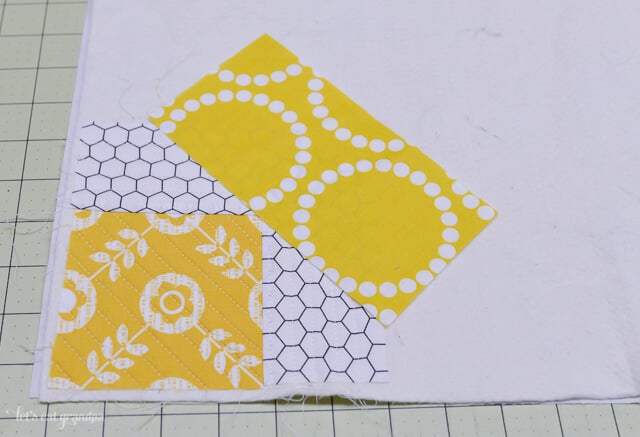 To save yourself some extra quilting, you can trim off the corners of the rectangle to create a square. I'm not too precise here — the edges will be covered by the next strips.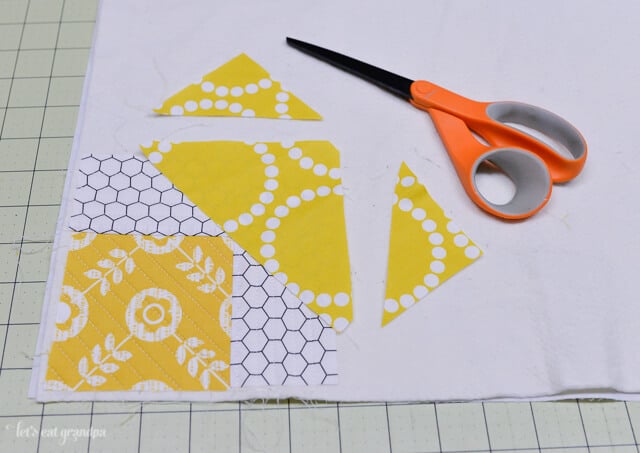 Place the triangle face down and stitch along the long edge (the hypotenuse, thank-you-very-much-high-school-math-class). You'll want to position it so that your seam hits right at the top right corner of the first Color B square. Stitch along the long edge of the triangle.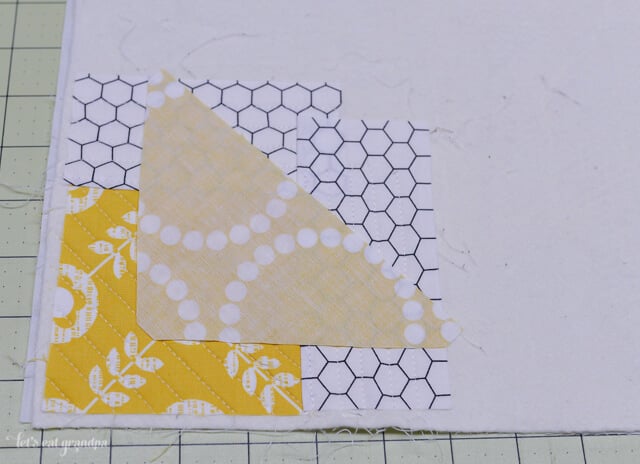 Open up the new piece and press it away from the others.
You can see how the corner of the square is right up against the bottom of the triangle. Hope that explains it well enough!
Helpful Tip: If your Color A fabric is light (you can see the honeycomb hexies through the yellow triangle above), put a piece (or two!) of white fabric underneath it when you quilt it down, so that the Color B fabric doesn't show through.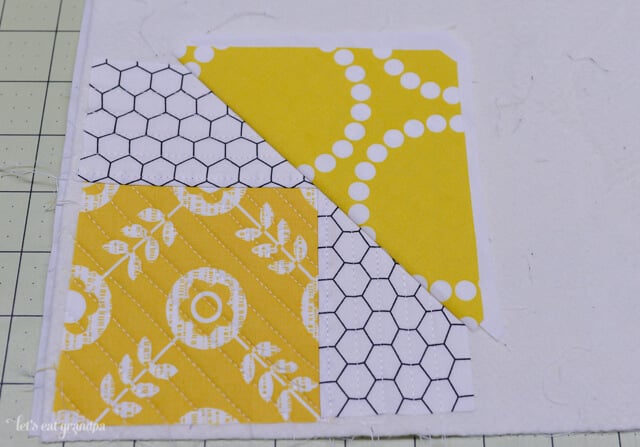 Quilt that piece using the same technique you used before on the square. You should end up with this: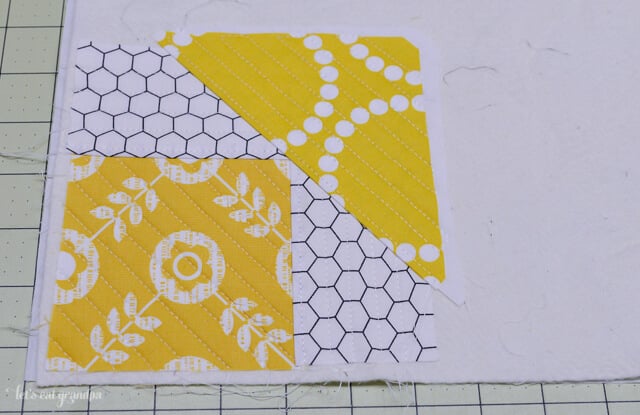 Step 6: Keep going!
Using the same technique, add two more Color B strips and quilt them down.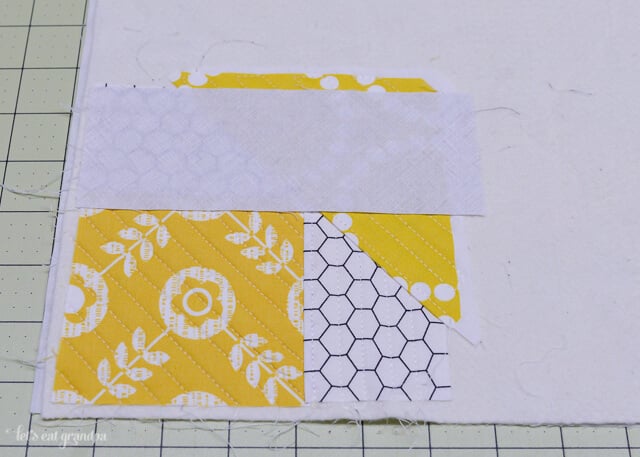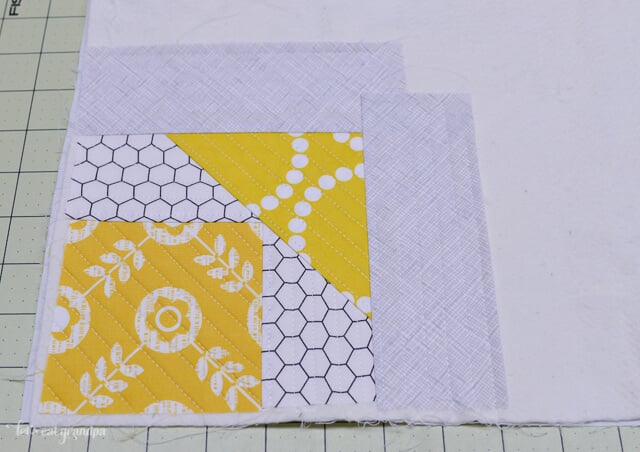 Then add a Color A piece and quilt it down.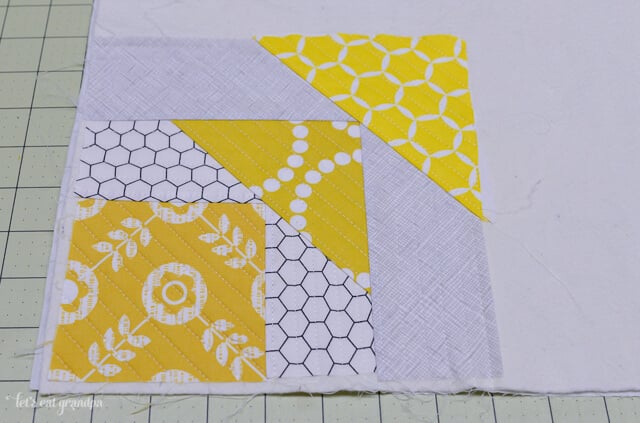 You can see how you'll be quilting the strips perpendicular to each other, and the triangles at a diagonal: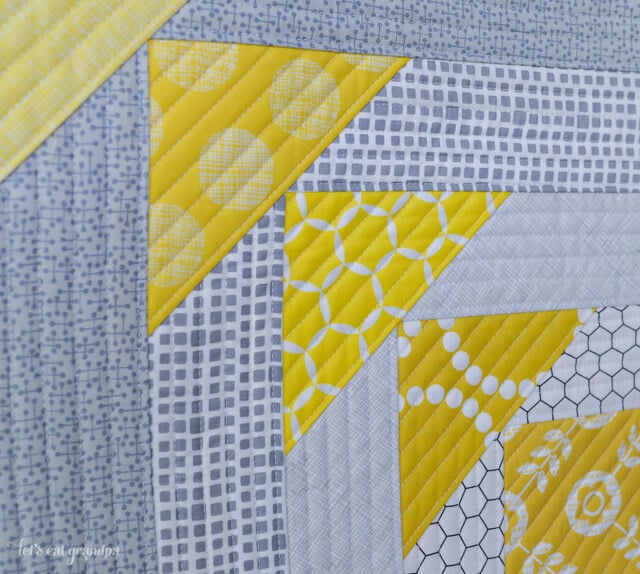 And then keep going!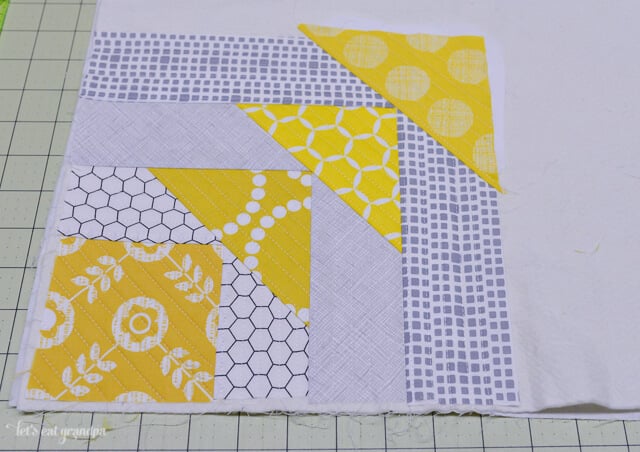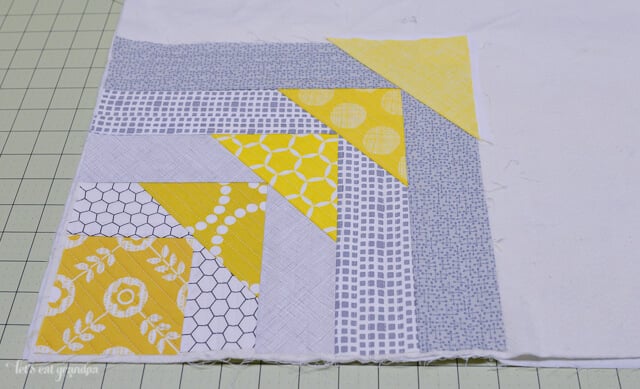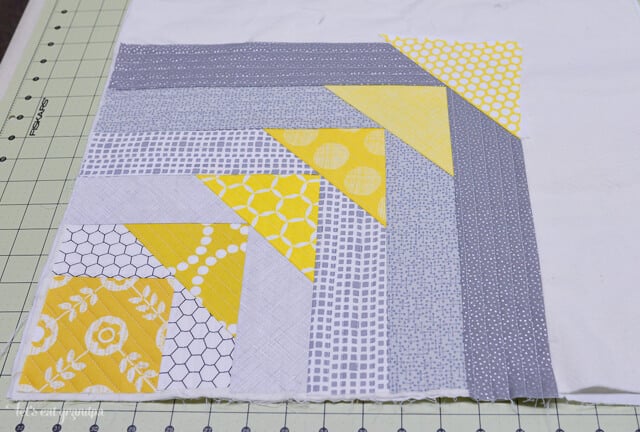 Maybe try a pop of color (thanks Instagram friends for the lime inspiration!)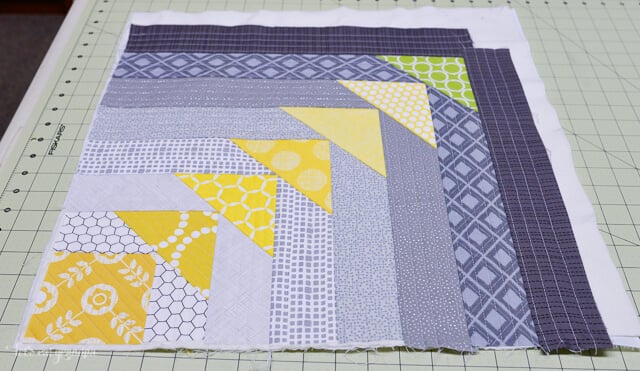 Repeat until you get to the size you'd like! You'll notice I had more fabrics chosen in the beginning, but I didn't use them all. Because I'm not so great at the maths (other than remembering the word "hypotenuse") and I chose too many.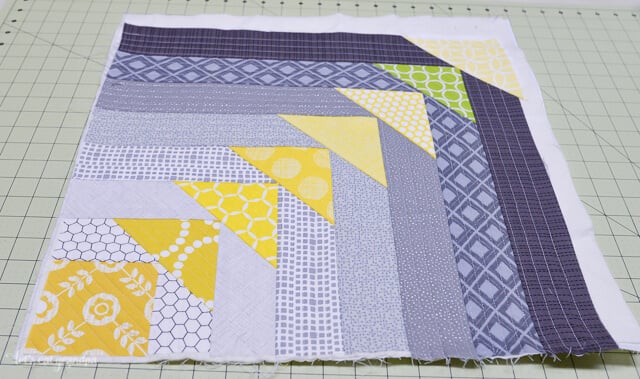 As you go, you'll find that your batting and fabric may start to shift — that's why I always make my batting and backing fabric a bit bigger than the finished panel size.
Trim down your edges and square up your block. You're ready to use this panel when you make a bag or pillow!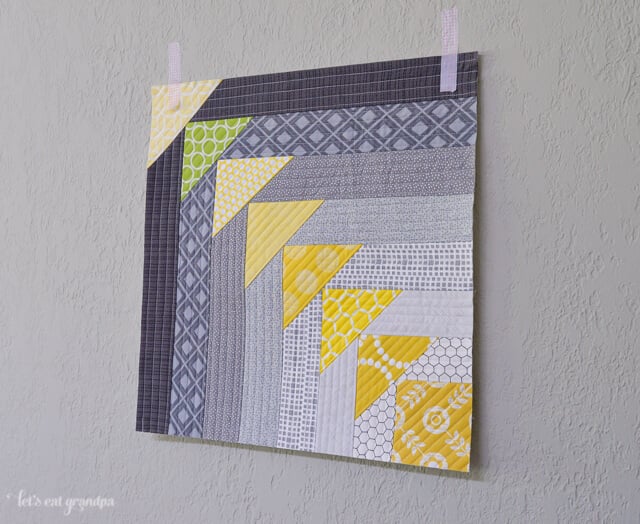 Let me know if you give this North West Quilt-As-You-Go Panel a shot — I'd really like to see what you create with it!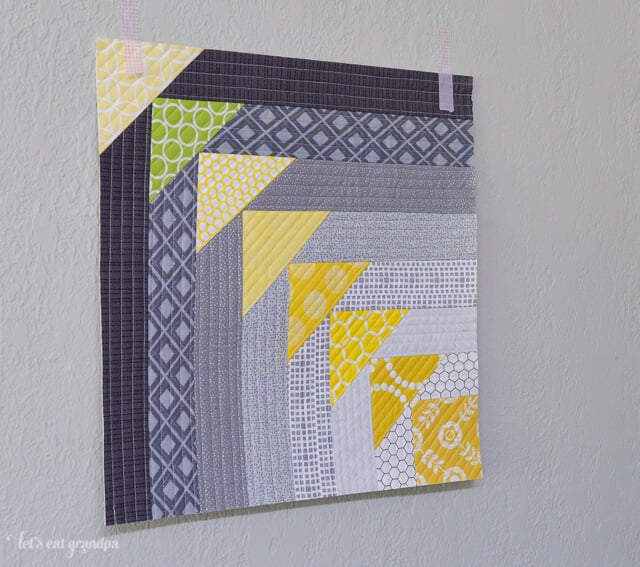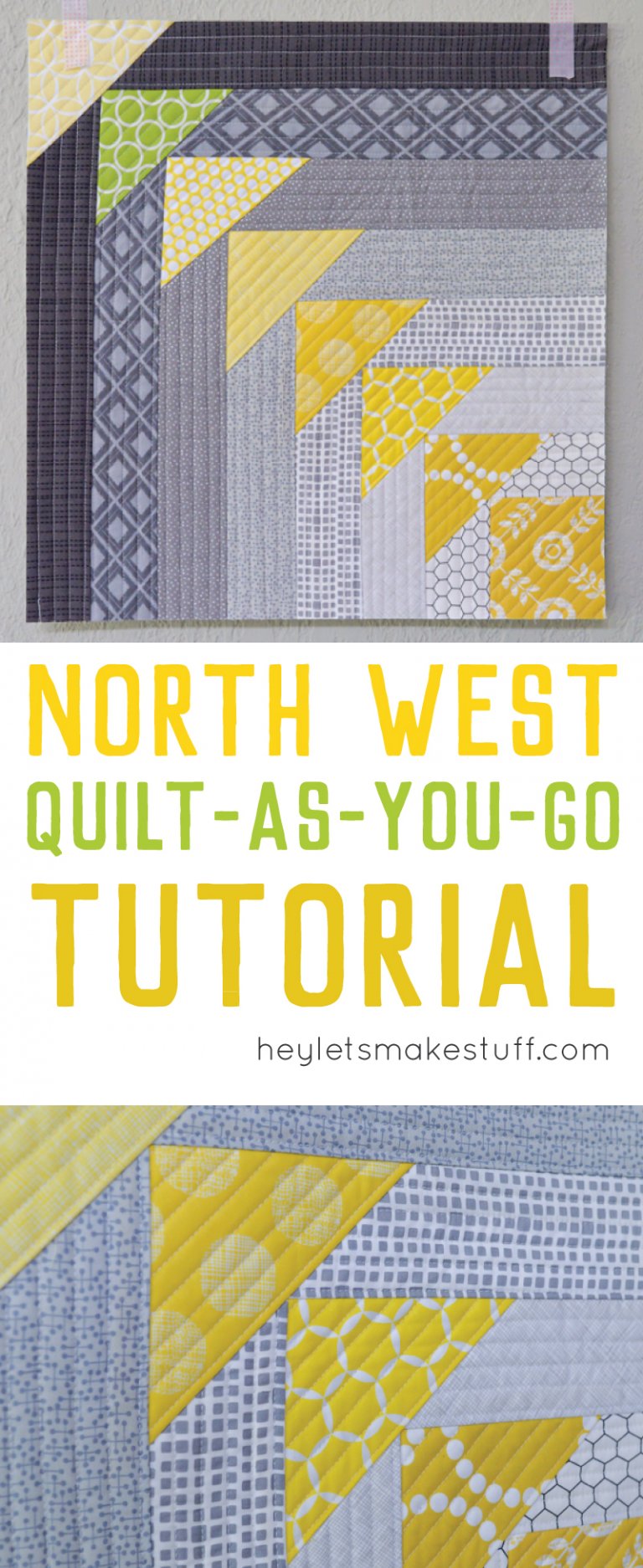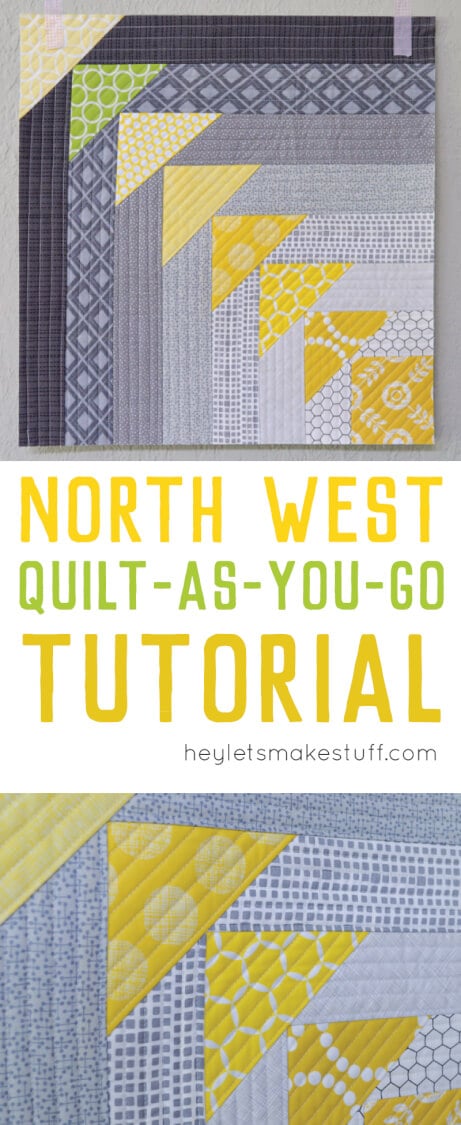 Try these other QAYG tutorials