This adorable Hullo Buffalo art print is a fun addition to a wild west baby nursery or a laid back living room. Download the free buffalo printable to adorn your room with this roaming wall art!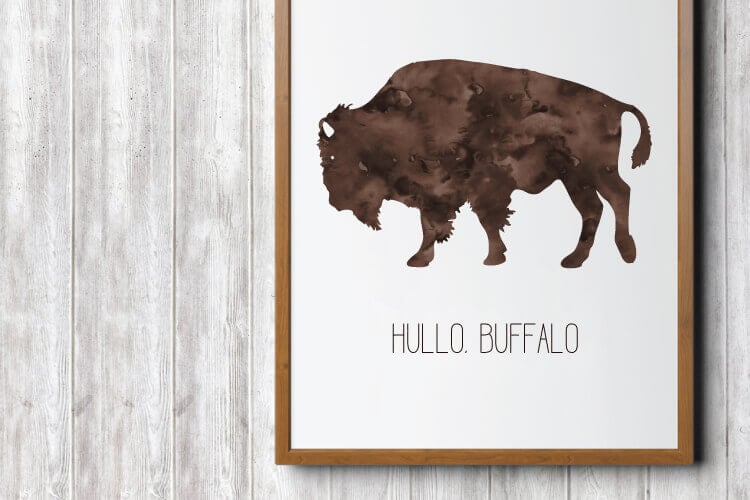 Happy Friday, loves! It's time for another Freebie Friday! My bloggy friends and I are always looking out for what's trending. A friend mentioned that she thought buffalo were going to be the next faux taxidermy deer head (I love dear heads, but lord, they are everywhere).
I actually love the idea of a buffalo, so I designed this free buffalo art print for you! I think he's wonderful for fall and winter — paired with some big cozy plaids, a warm fire, and a cup of hot cocoa. Perfection.
You can print this Buffalo art print at home or using a service like Persnickety Prints. Print it out on cardstock and stick it in a frame for easy wall art that is simply adorable!
Download the Free Hullo Buffalo Art Print under PRINTABLES P5
This file can be found in my Free Craft Resource Library. The file number is: P5.
Want access to this free file? Join my FREE resource library! All you need is the password to get in, which you can get by filling out the form below!
Who knew that buffalo could be so adorable? This print is perfect for a nursery, as holiday decor, or with a lumberjack or outdoorsy themed birthday party, and so much more! There's a winery not too far from us that is all buffalo themed and it is the perfect blend of rustic outdoors and chic!
These awesome animals are really diverse as decor and so is this print. Pair it with colorful buffalo plaid pennants for an upbeat party or keep it cozy with black and red elements for your holiday decor.