Warm their hearts by warming their hands! These DIY hand warmers are made using your Cricut Maker and iron on. The perfect stocking stuffers for the whole family.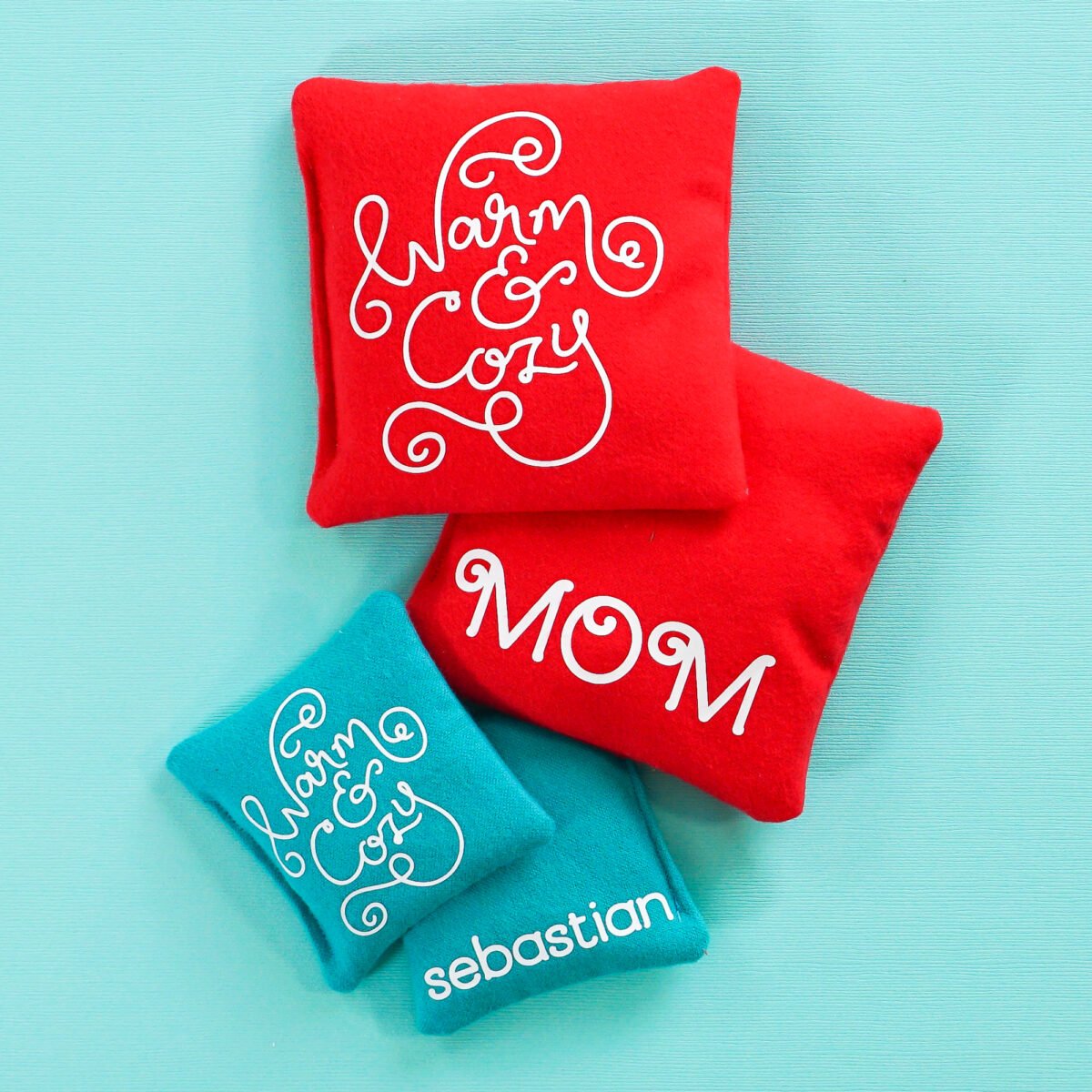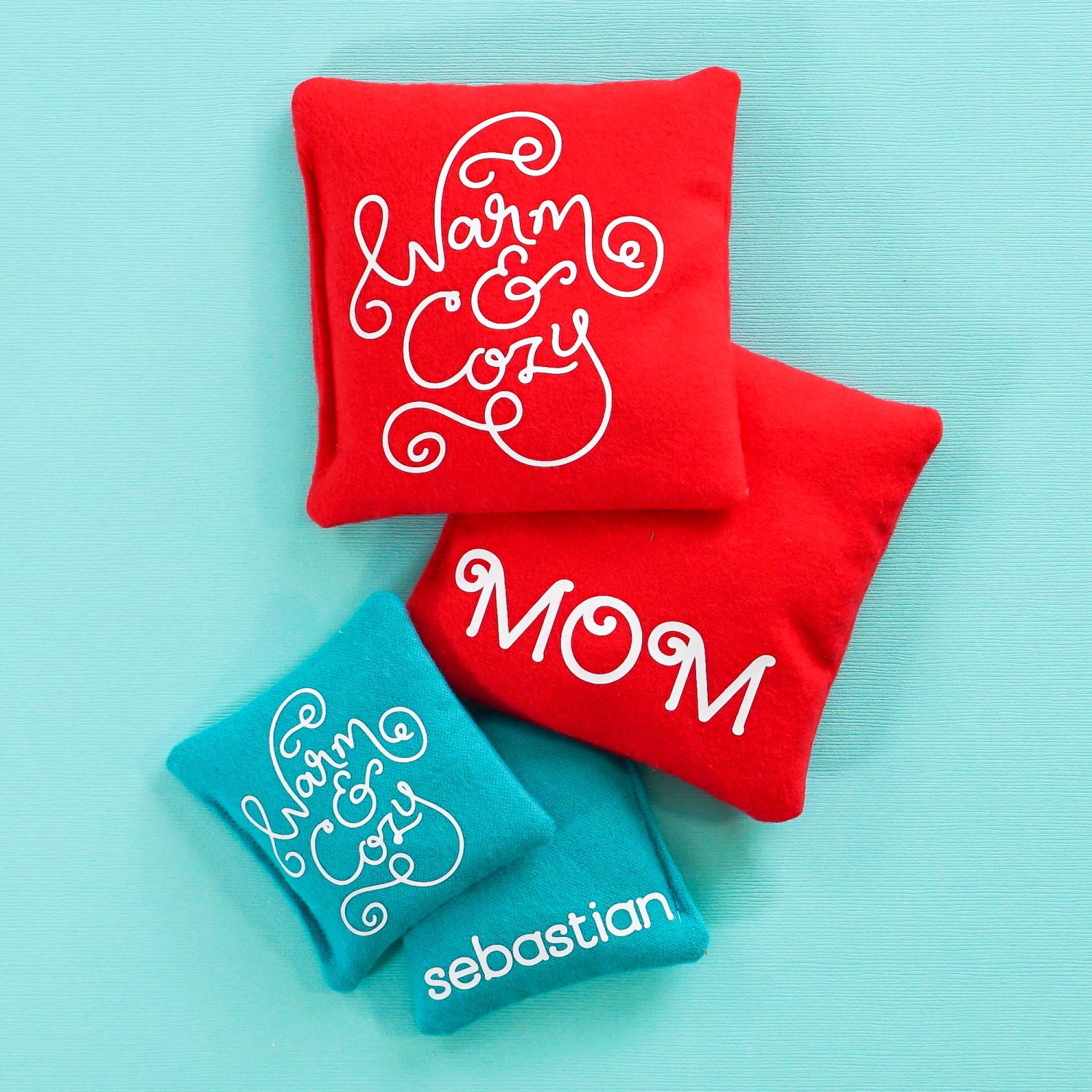 This post is sponsored by Cricut.
With our recent move from California to Washington, we are getting a quick education on what winter is like outside the Golden State! We've always been outdoorsy people, and that hasn't stopped as the temperatures have started to drop.
The other day, our family walked around a small lake that's near our house. It was misty and cold, but we wore our coats and stayed relatively warm—except for our hands! All four of us had icy hands by the time we got back to our house.
So I decided to make us some rice-filled hand warmers that we could stick in our pockets while we do walks like that in the future. We can also use them after coming in from playing outside in the rain or cleaning up after a big storm. The cold weather isn't reason to keep us inside all winter!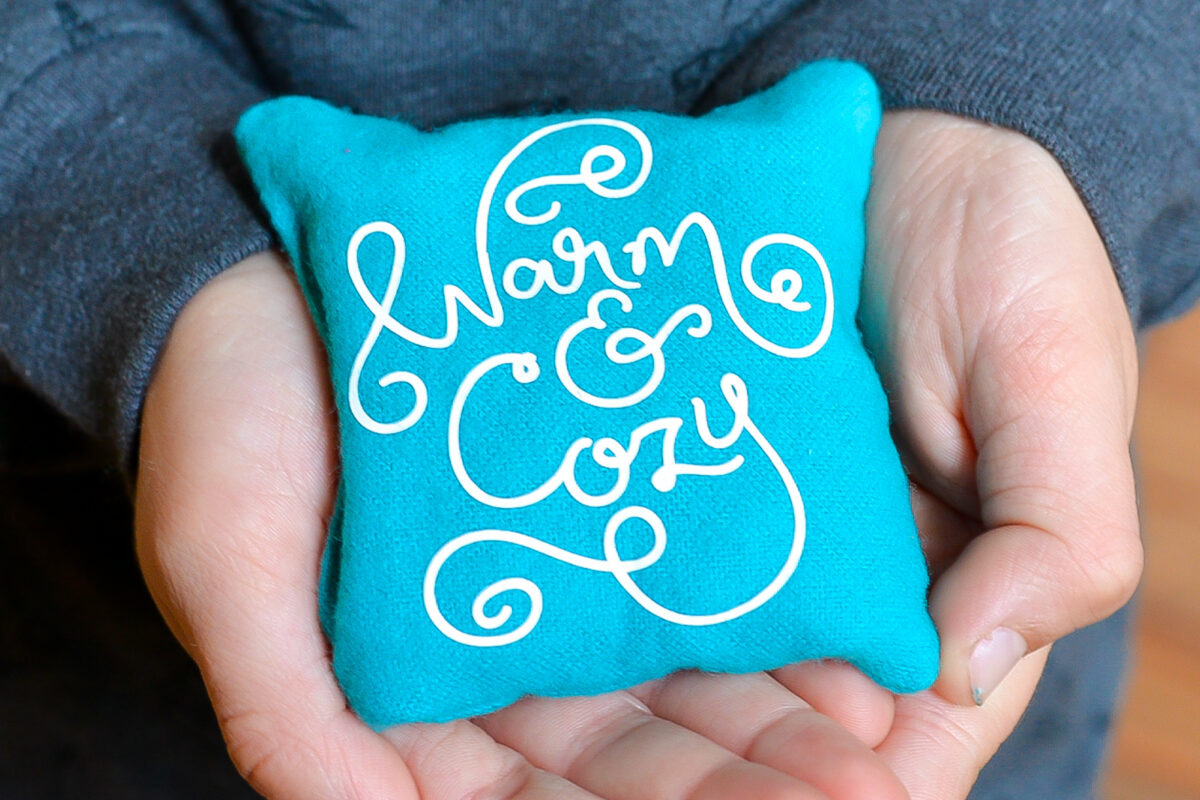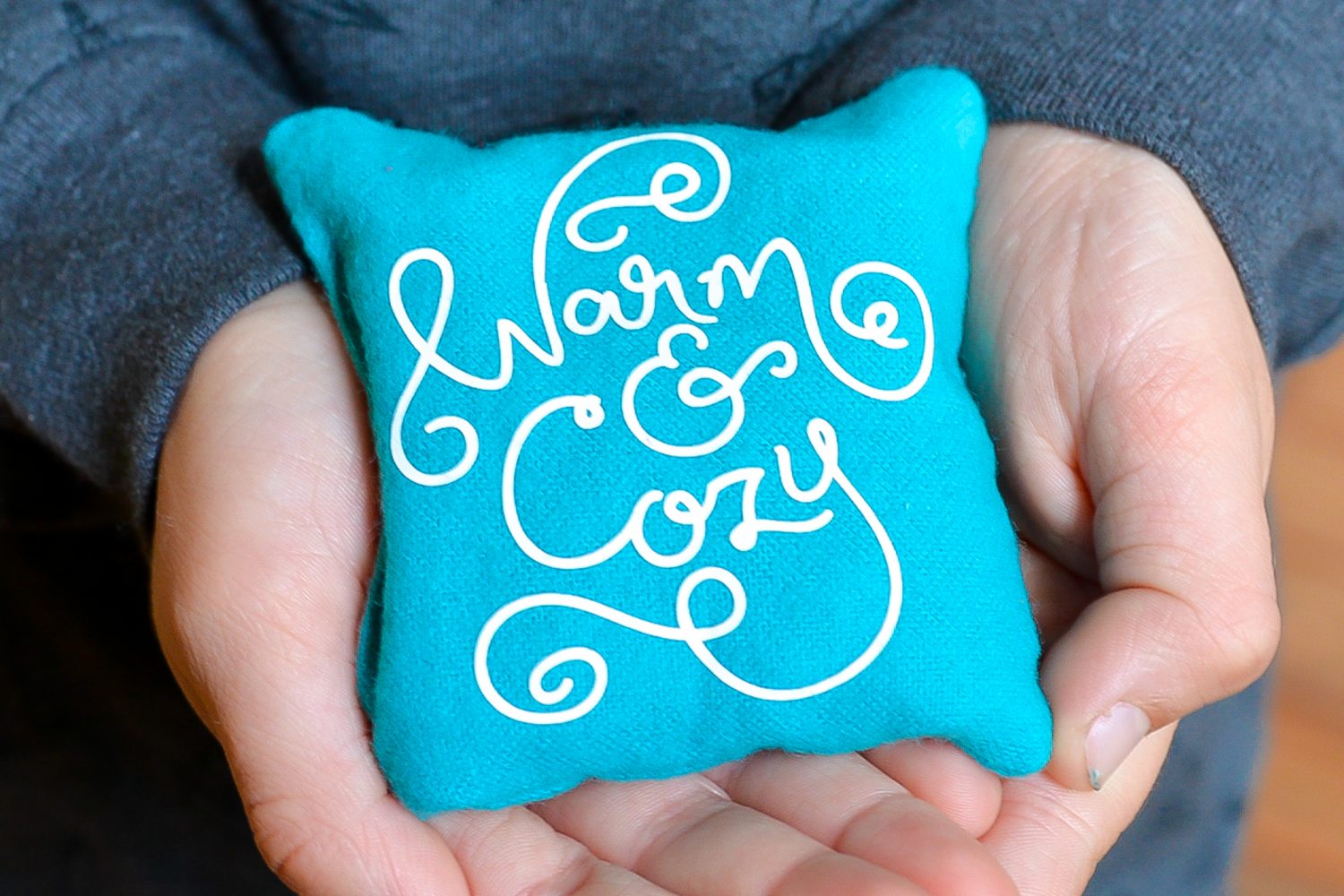 For this project I am using my Cricut Maker to cut the fabric. You can also cut the fabric squares by hand (I give dimensions below) and use your Cricut Explore or Cricut Joy to cut the iron on to personalize them.
Stop pulling your hair out and start creating confidently with your Cricut! Finally understand how to use your Cricut with my Learn Your Cricut eBooks!
DIY Hand Warmers: Supplies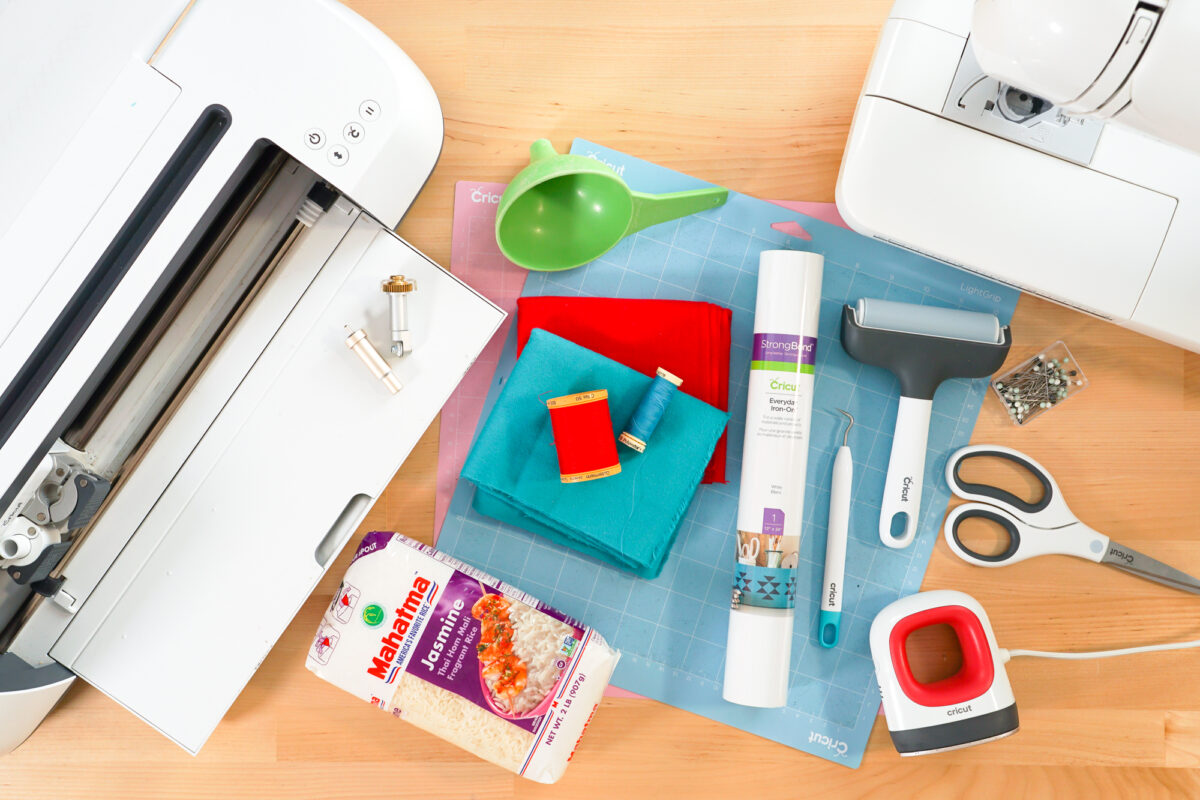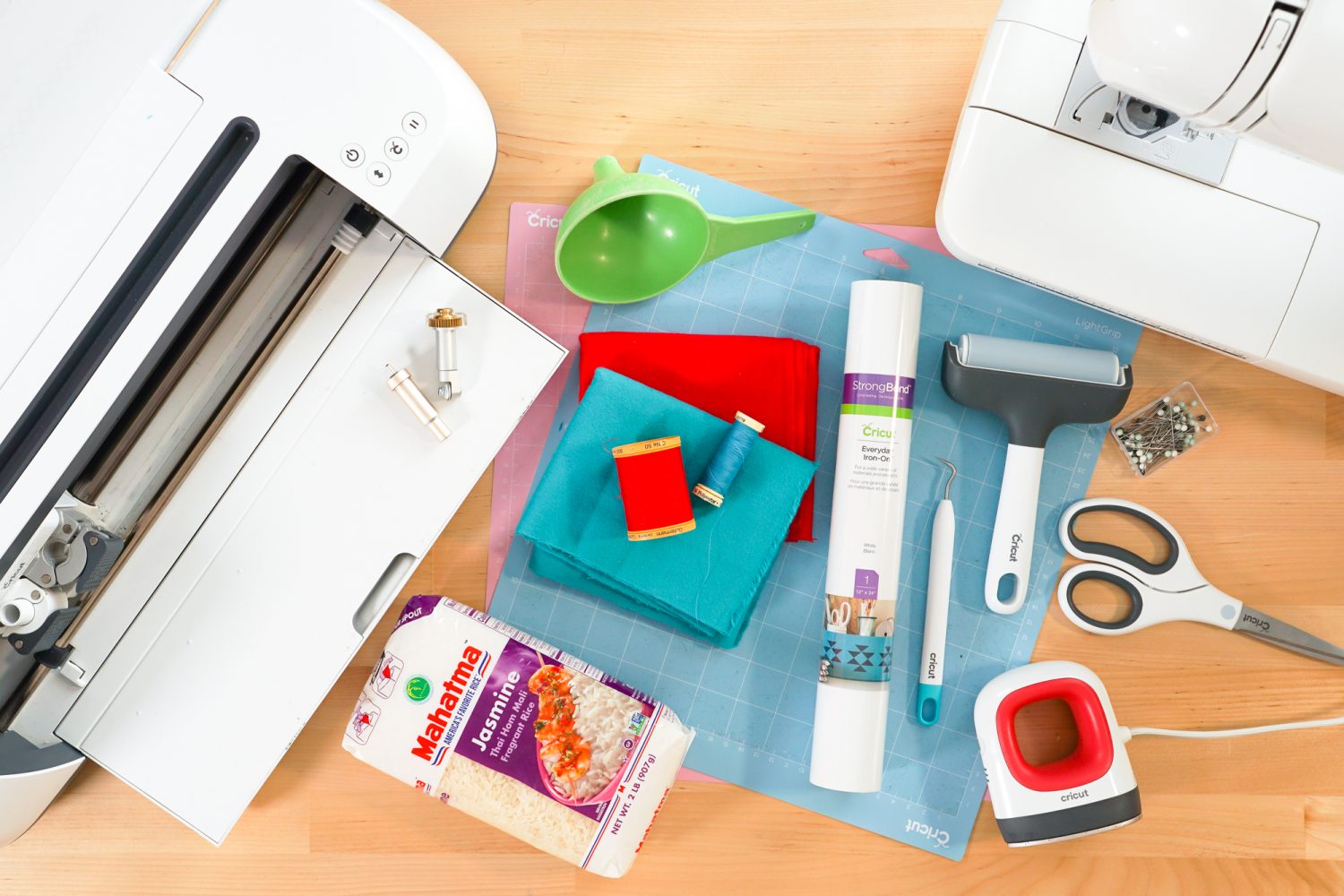 One 6″x12″ piece of fabric (per hand warmer)
Brayer (optional)
Funnel
Pins
The seam allowance for this project is 1/4″.
Note about fabric: when making hand warmers, you'll want to choose a fabric that retains heat. The best options for heat retention are fleece and flannel. Cricut Maker can cut both!
DIY Hand Warmers: Directions
Open and Customize the Hand Warmers in Cricut Design Space
Start by opening the Cricut Design Space file I've created for you. You'll see there are two sizes of hand warmers—5″ for adults and 3.5″ for kids. You can resize these if you'd like.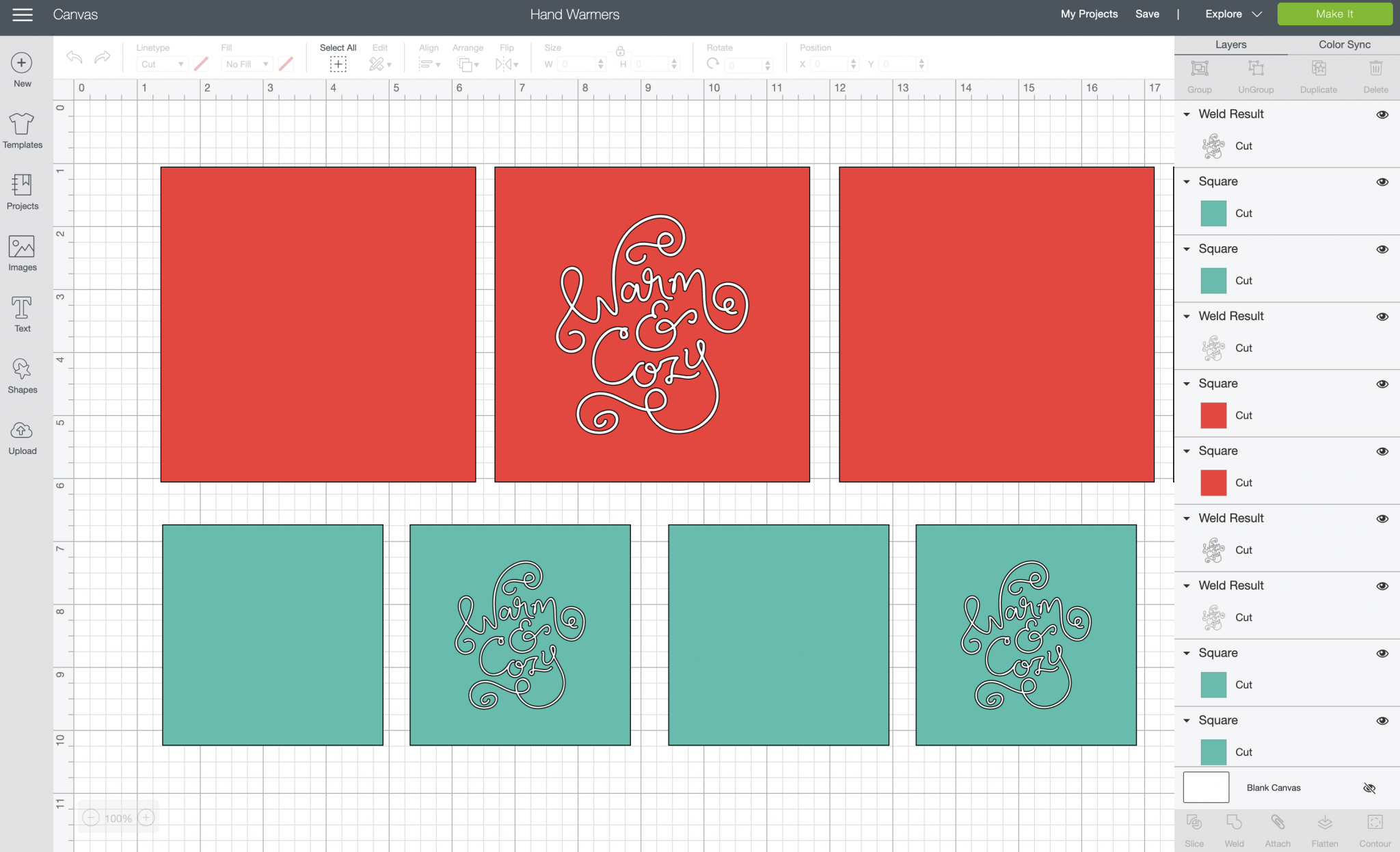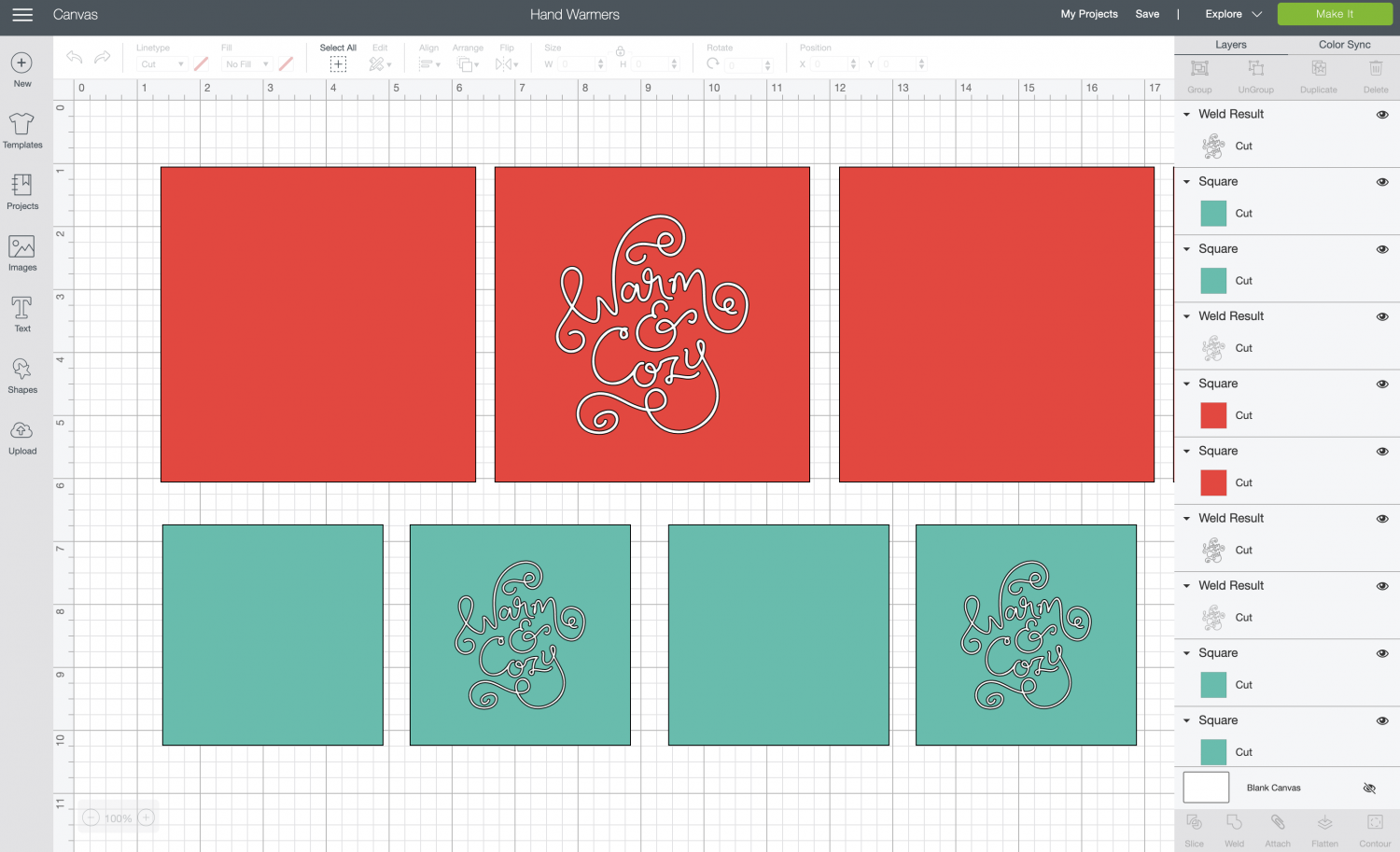 If you'd like to choose a different design for your hand warmers, click Images on the left and search for "warm"—a bunch of cute designs come up in the results!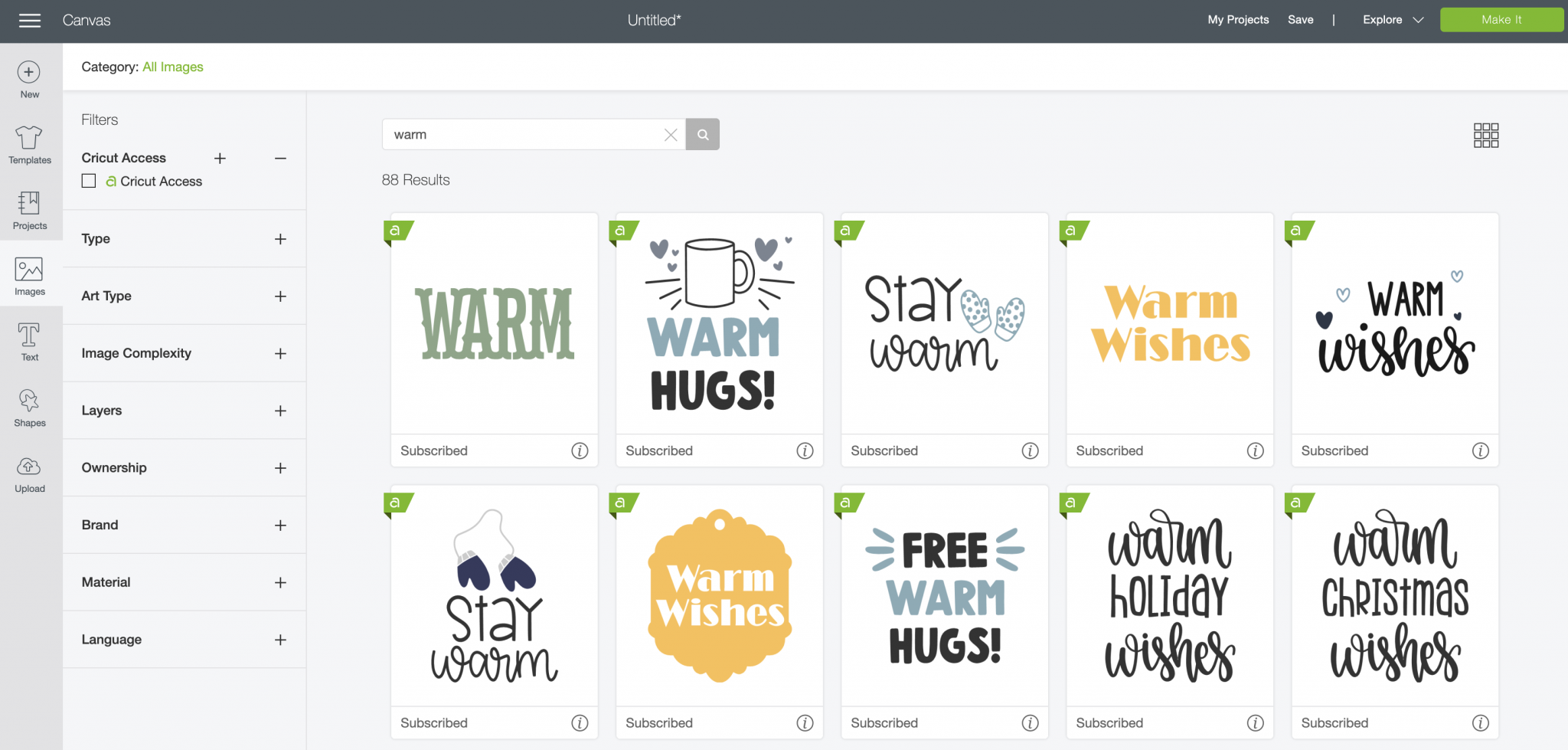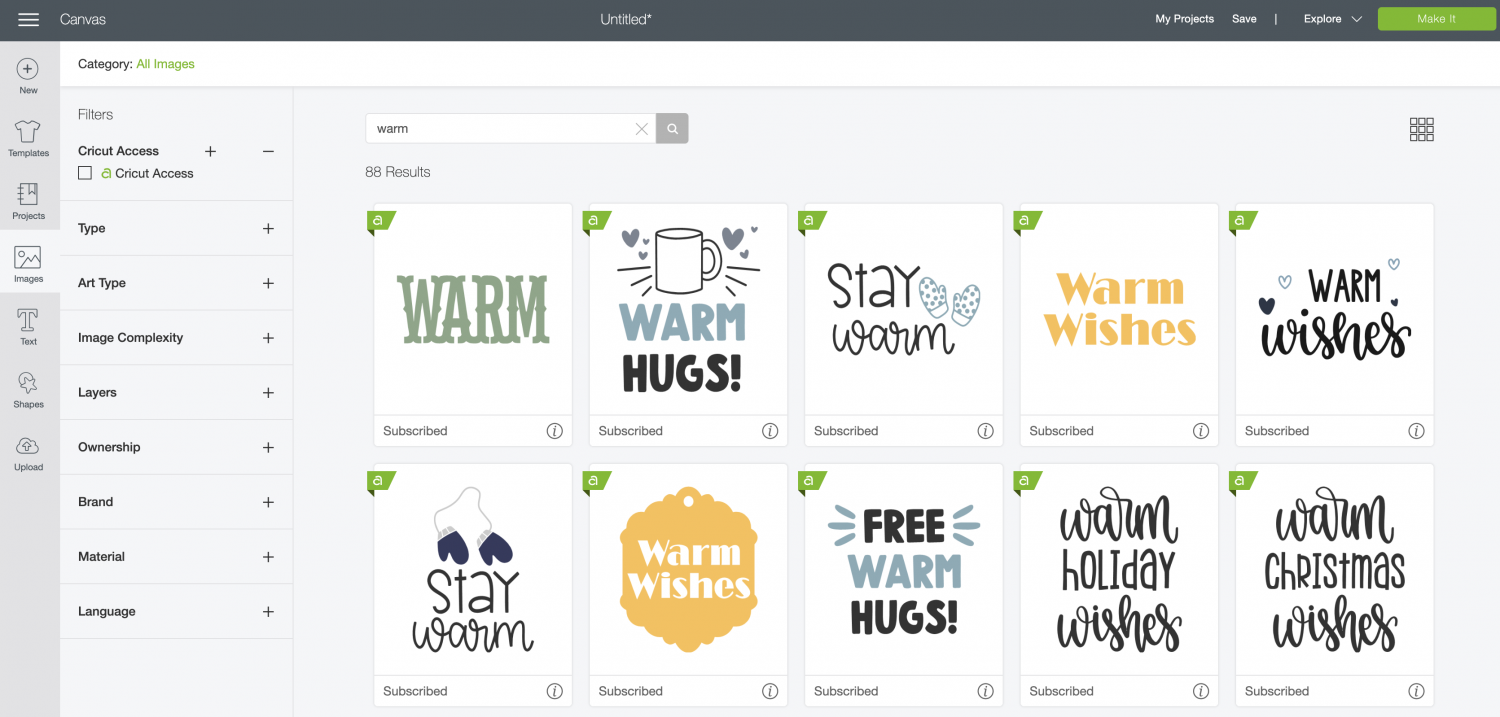 Next, you can personalize your hand warmers. As a kid who never was able to find the spelling of her name in stores, I always loved when someone tool the time to personalize something for me!
For this project, I just typed the names for our family using the font Close to My Heart – Artfully Sent. I resized the names and colored them white. When you're sizing the names, make sure you take into account the 1/4″ seam allowance.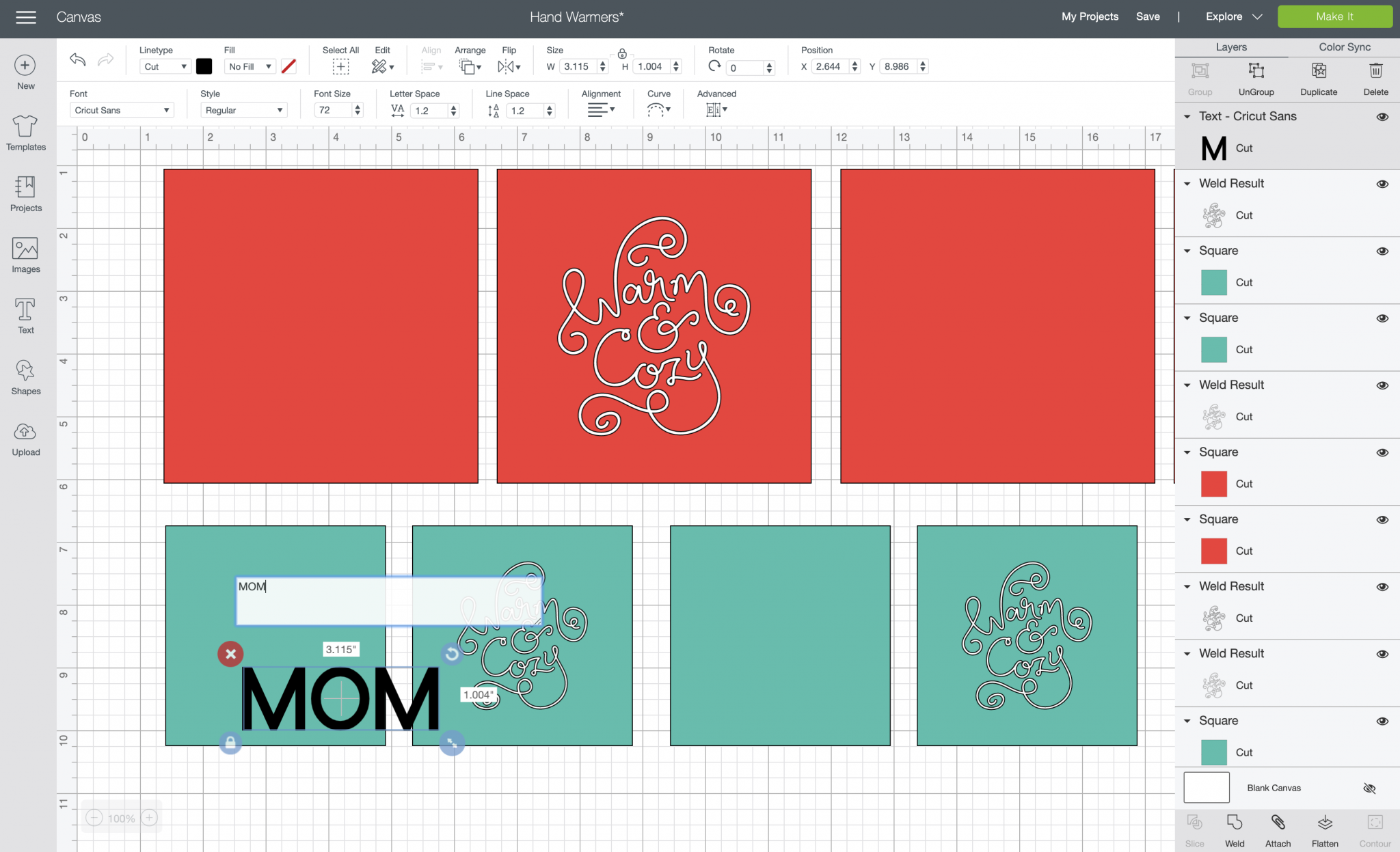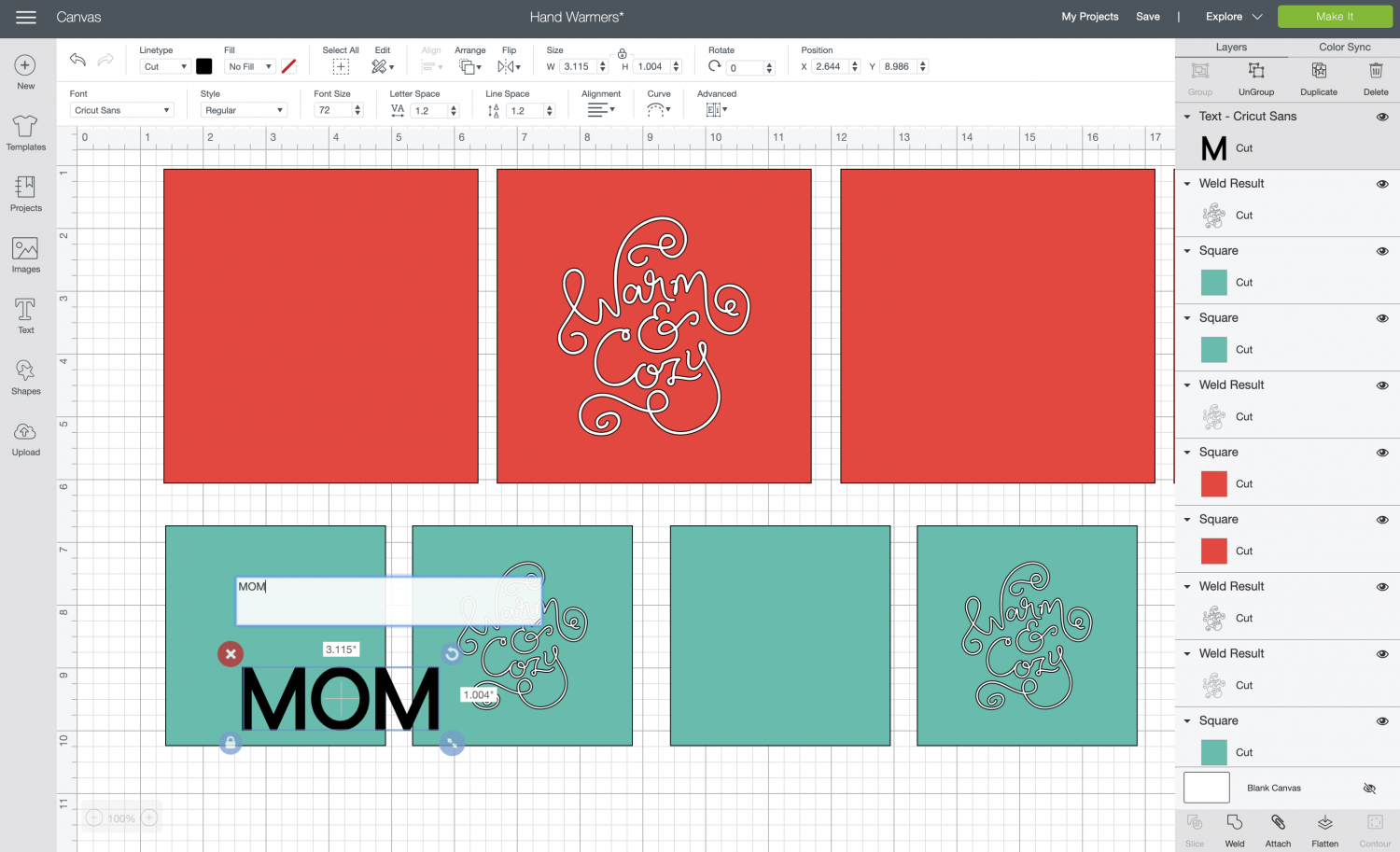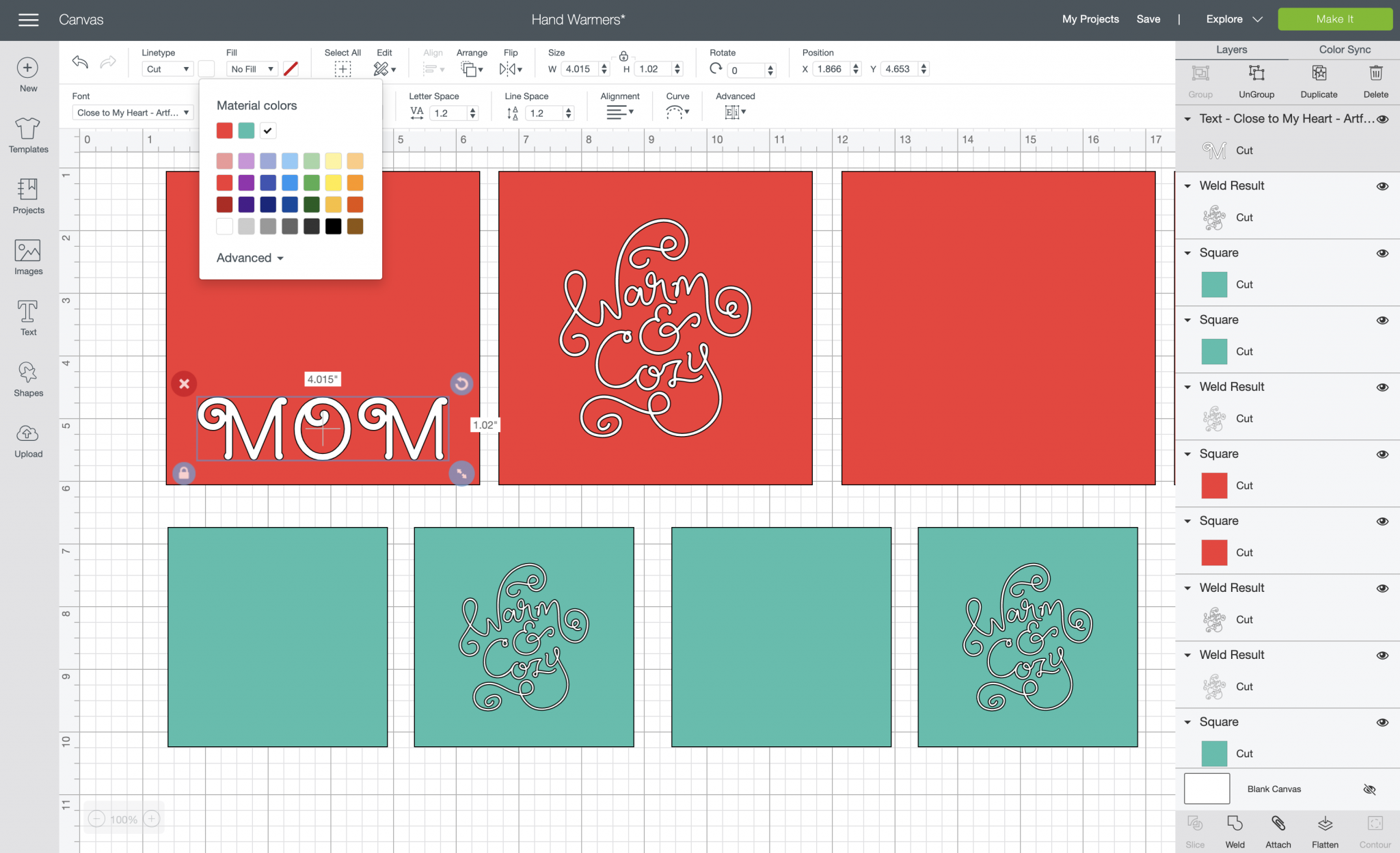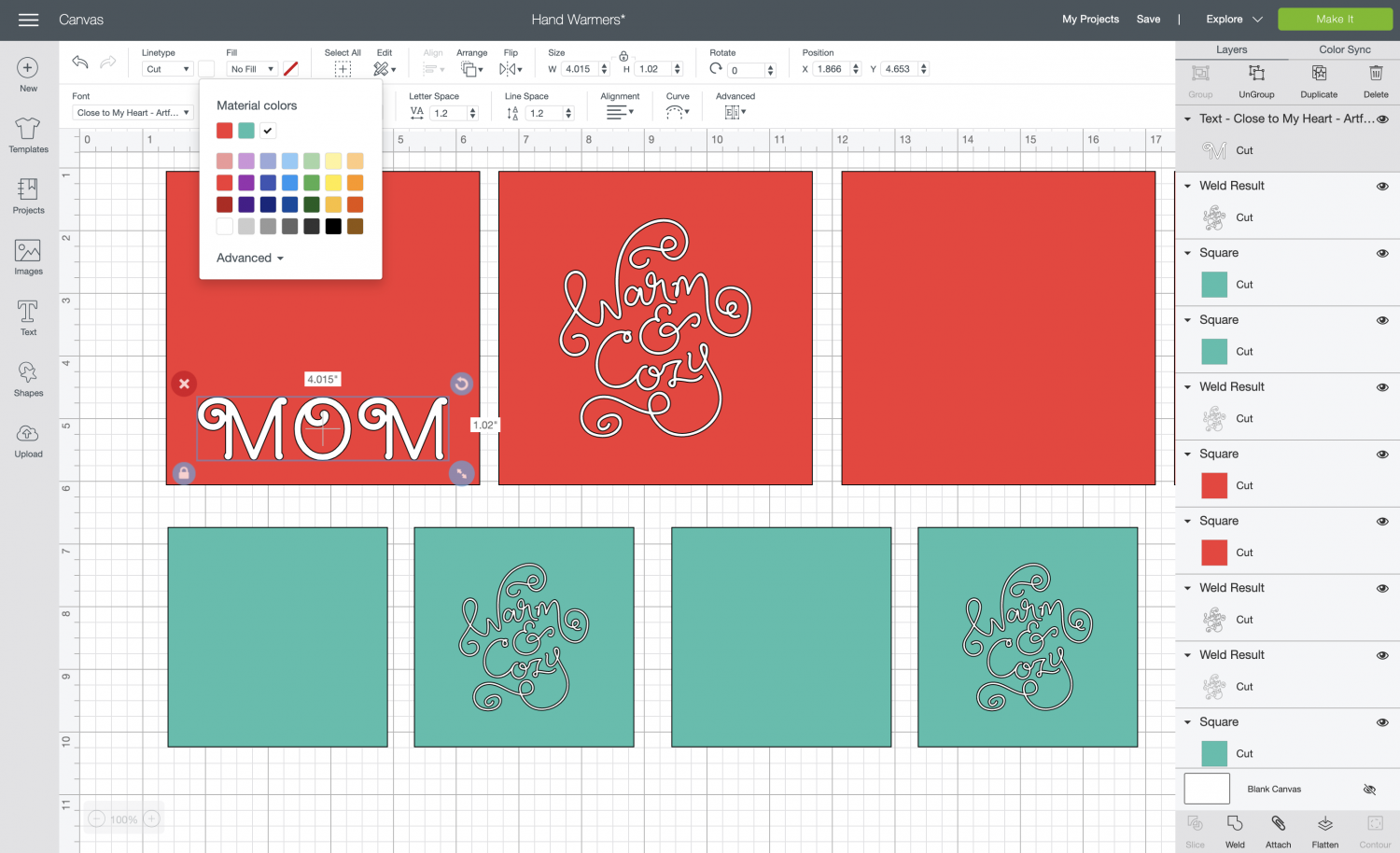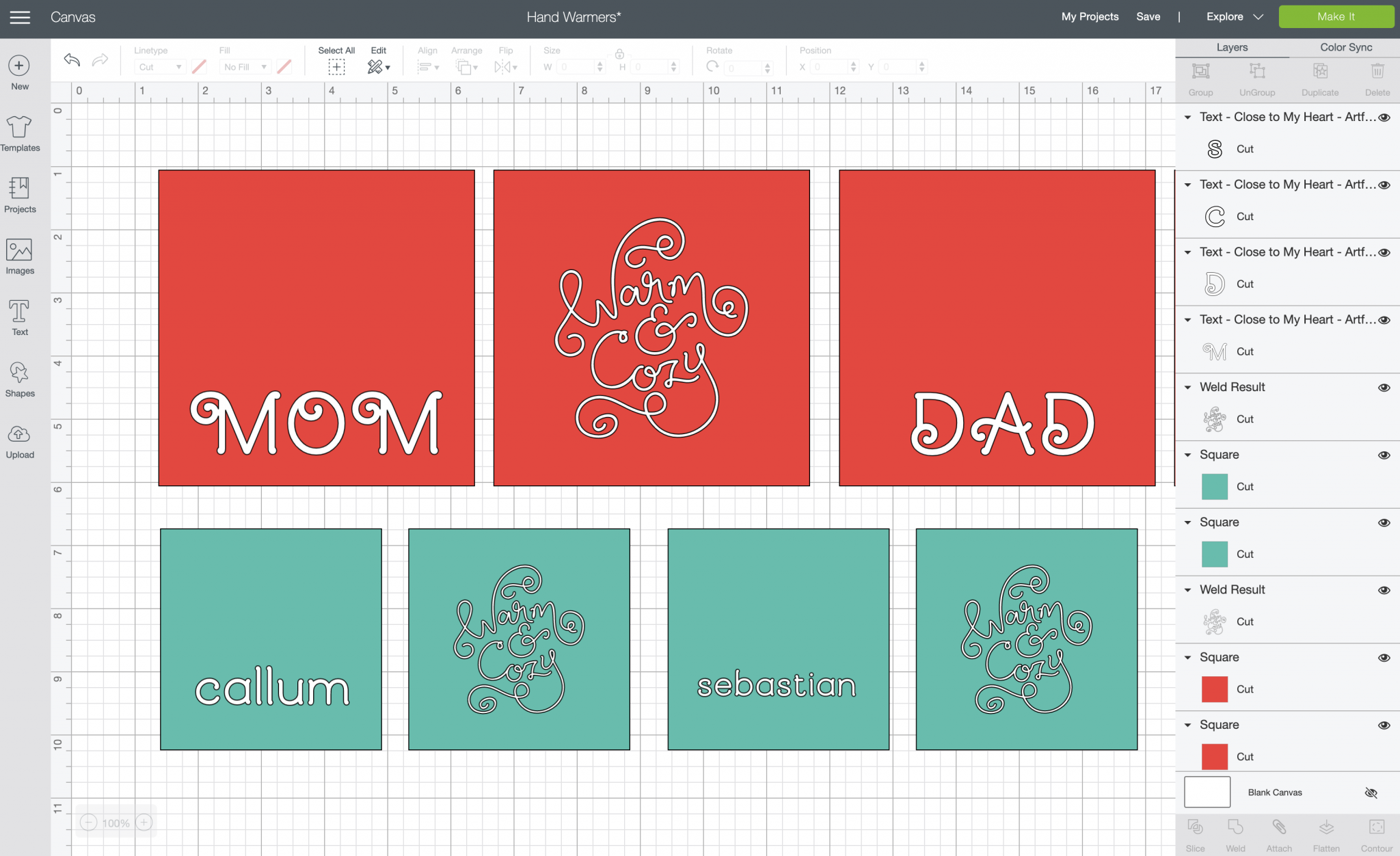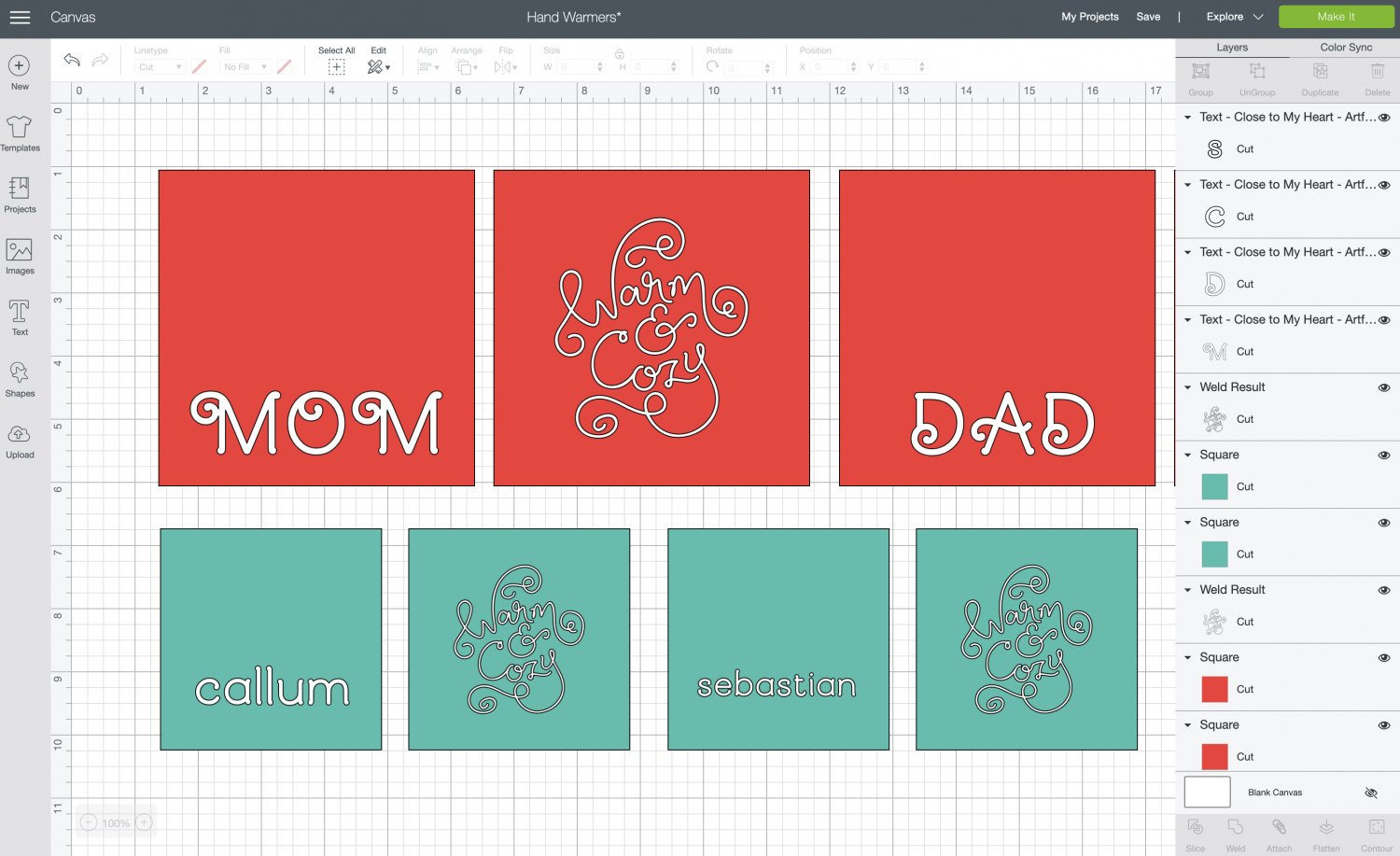 Once you have everything ready to cut, hit Make It in the upper right. Click Make It in the upper right and you'll be taken to the Prepare Screen.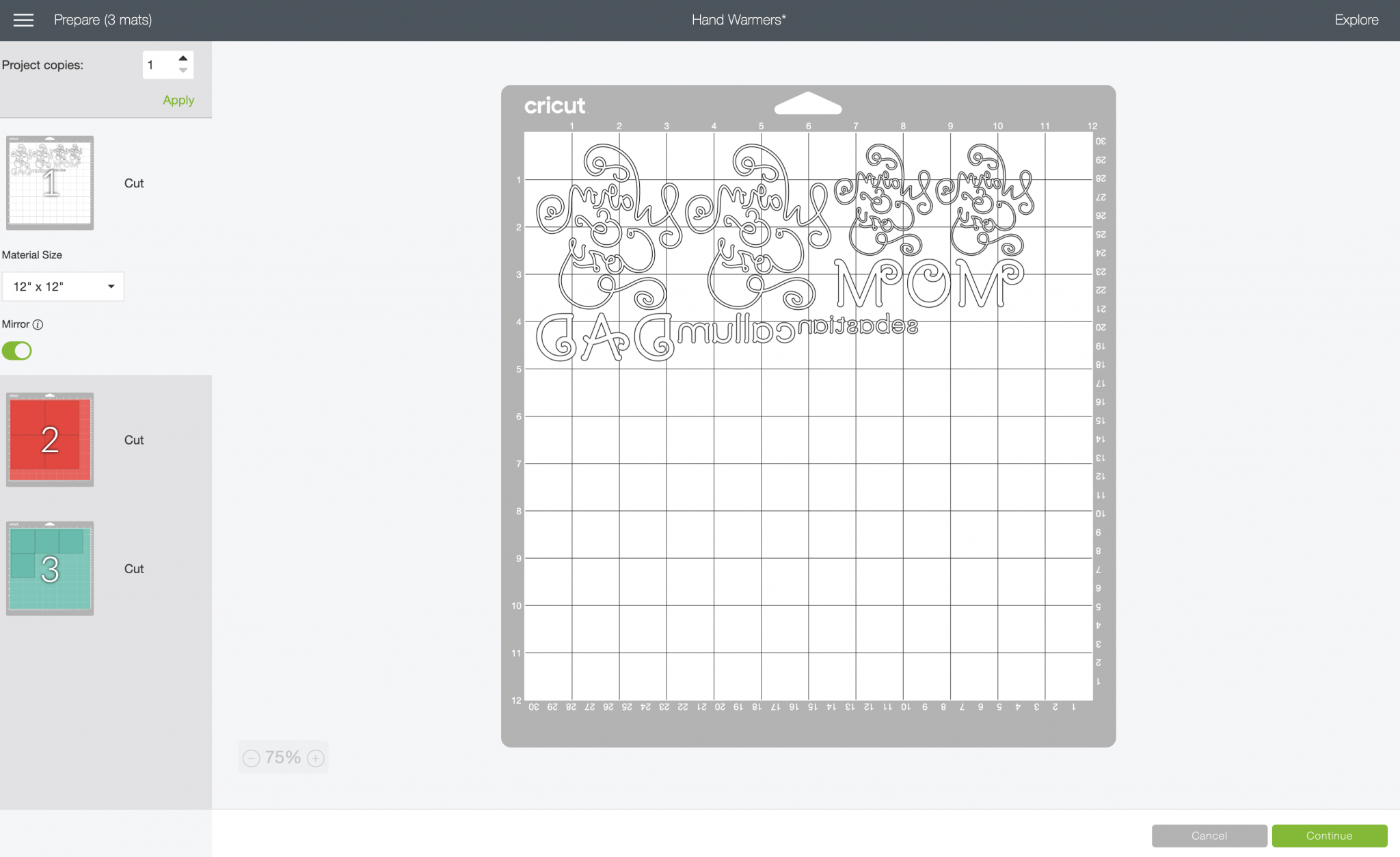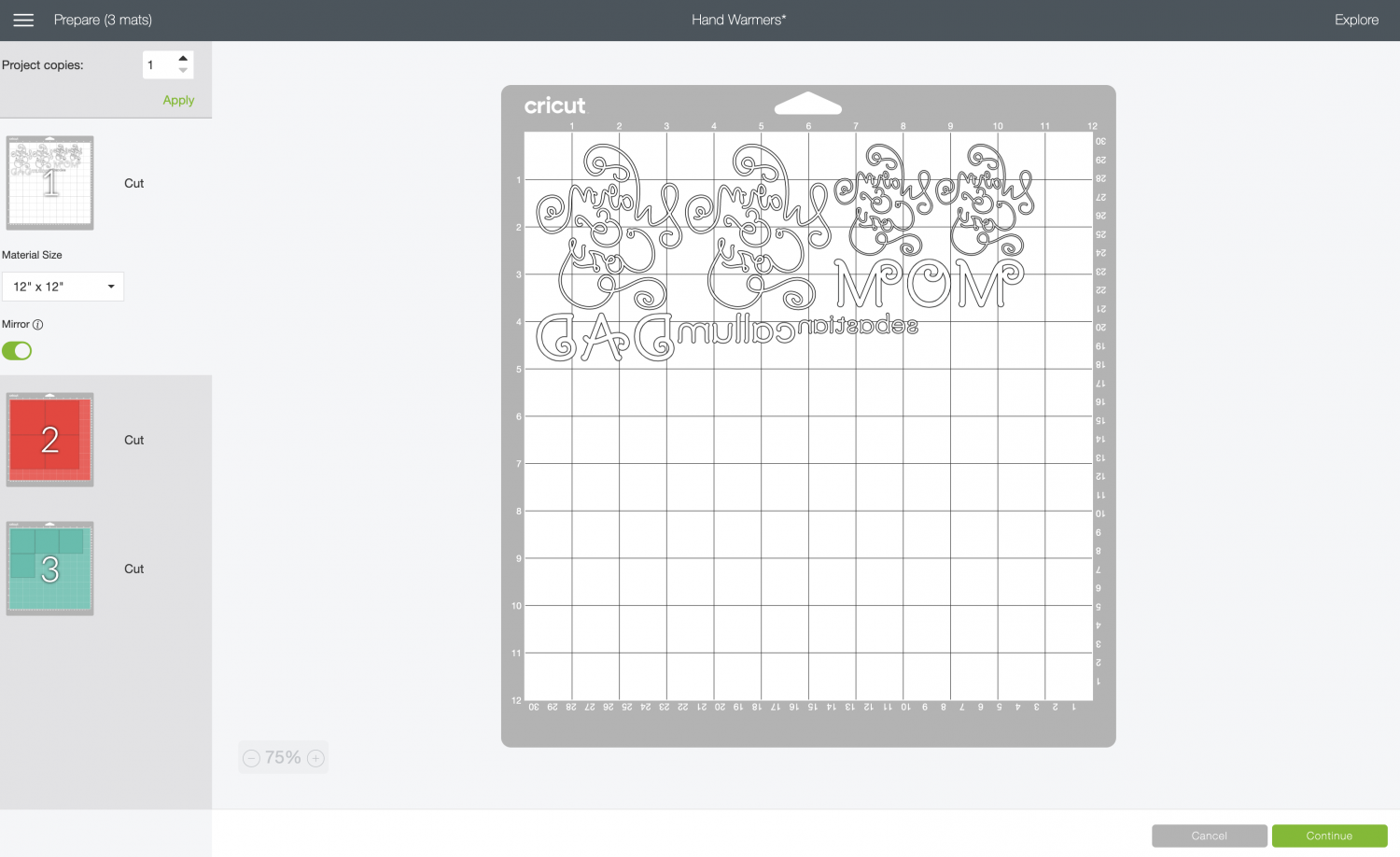 Now you'll want to click the "mirror" slider for the white iron on layer. This will ensure that our decals face the correct direction when ironed onto the hand warmers.
Then click Continue!
Cut Your Iron On and Fabric
On the Make Screen, you'll set your material. Depending on which layer pops up first, you'll either:
Put your iron on shiny side down on the LightGrip cutting mat, set your material to iron on, and insert the Fine Point Blade
Put your fabric right-side down on the FabricGrip cutting mat (using the brayer to smooth it down if needed, set your material to the fabric you are using, and insert the Rotary Blade
Make sure that you change the blade and material between cuts!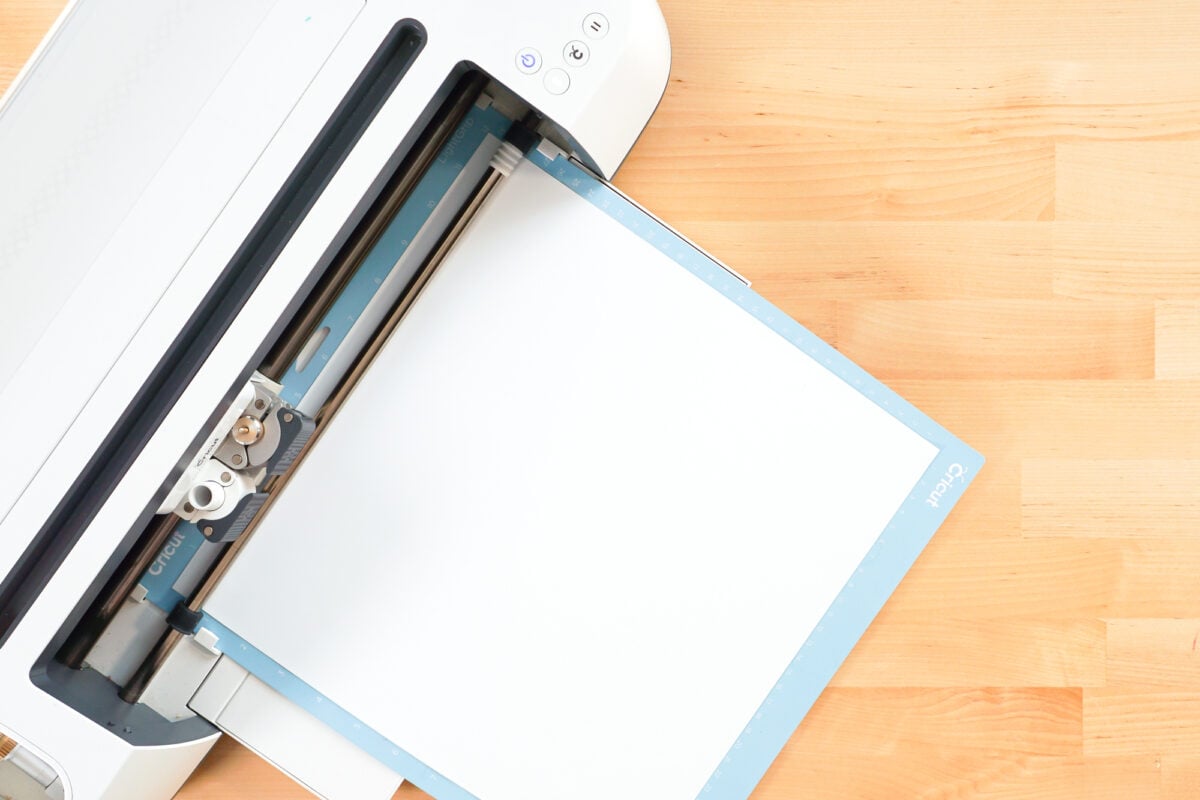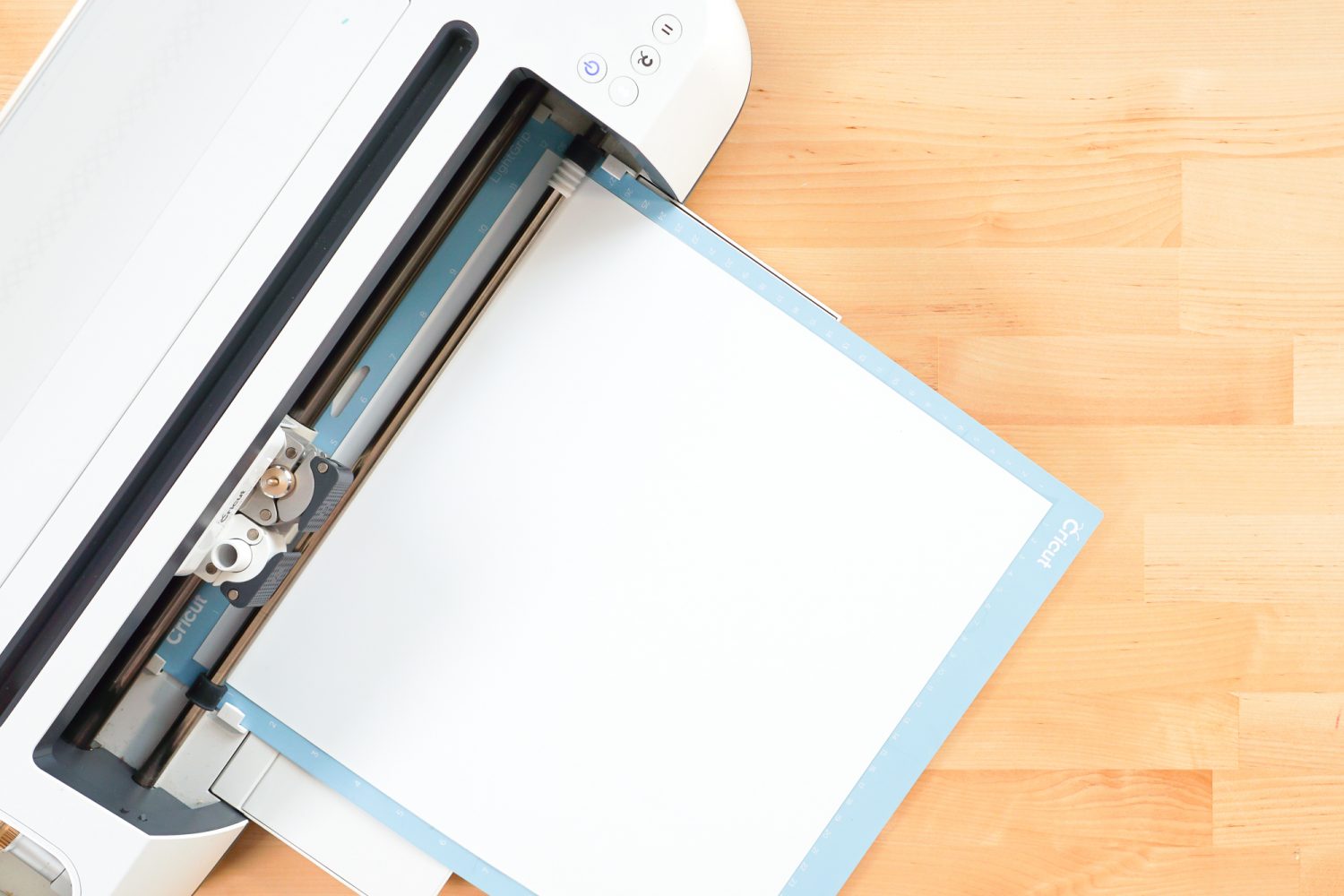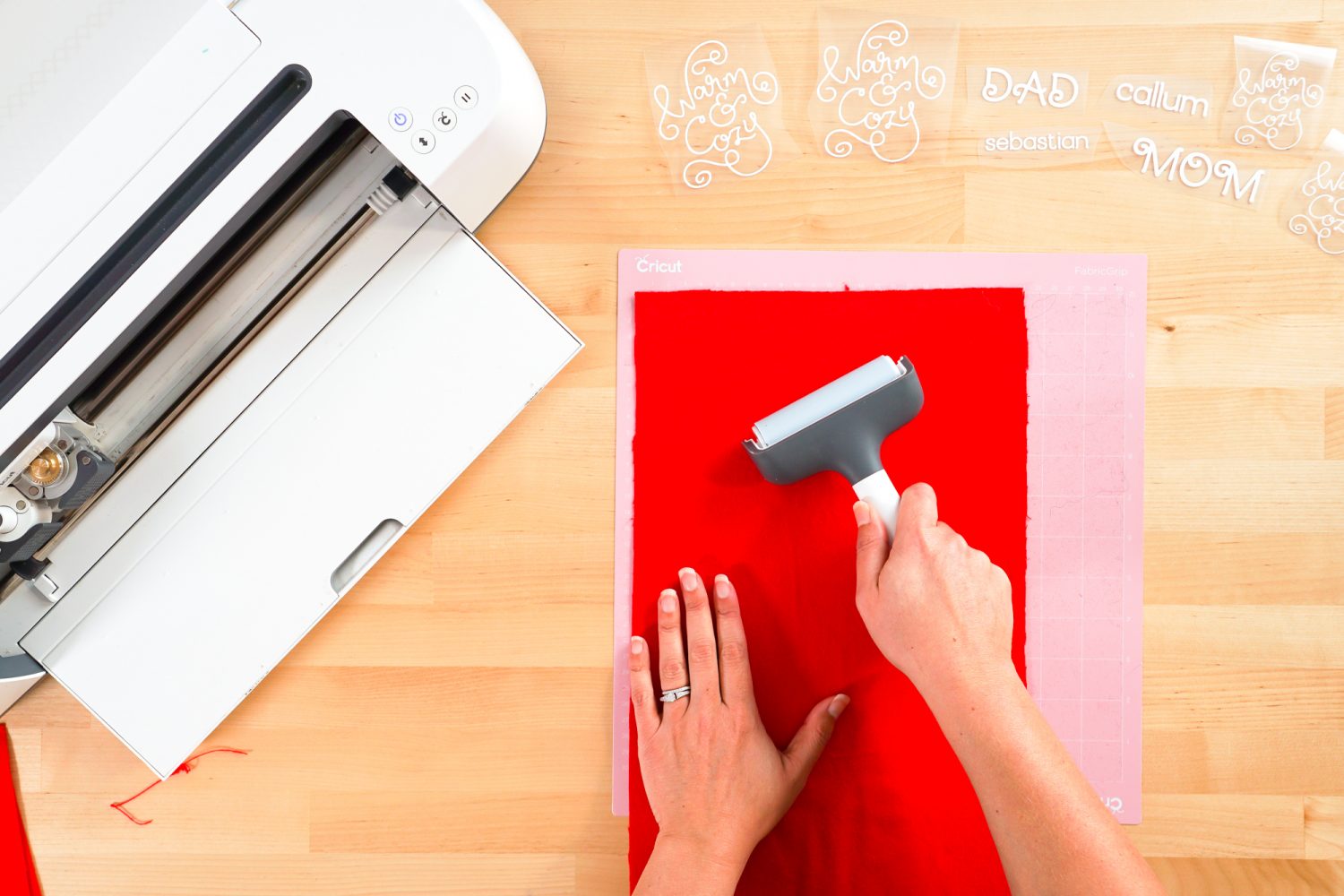 Weed Your Iron On Vinyl
Next we're going to "weed" the negative space from around our iron on images. I have an extensive post about Weeding Iron On Vinyl, which you'll want to read—tons of tips and tricks to making it easier.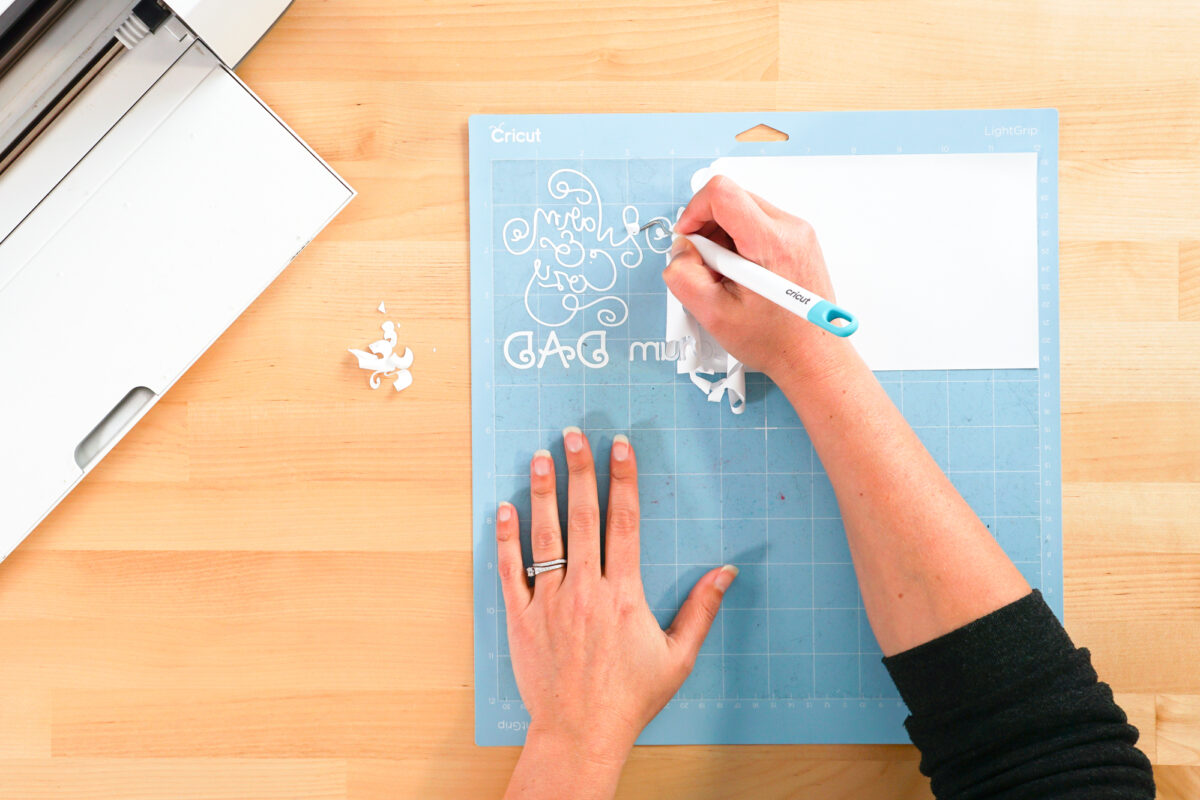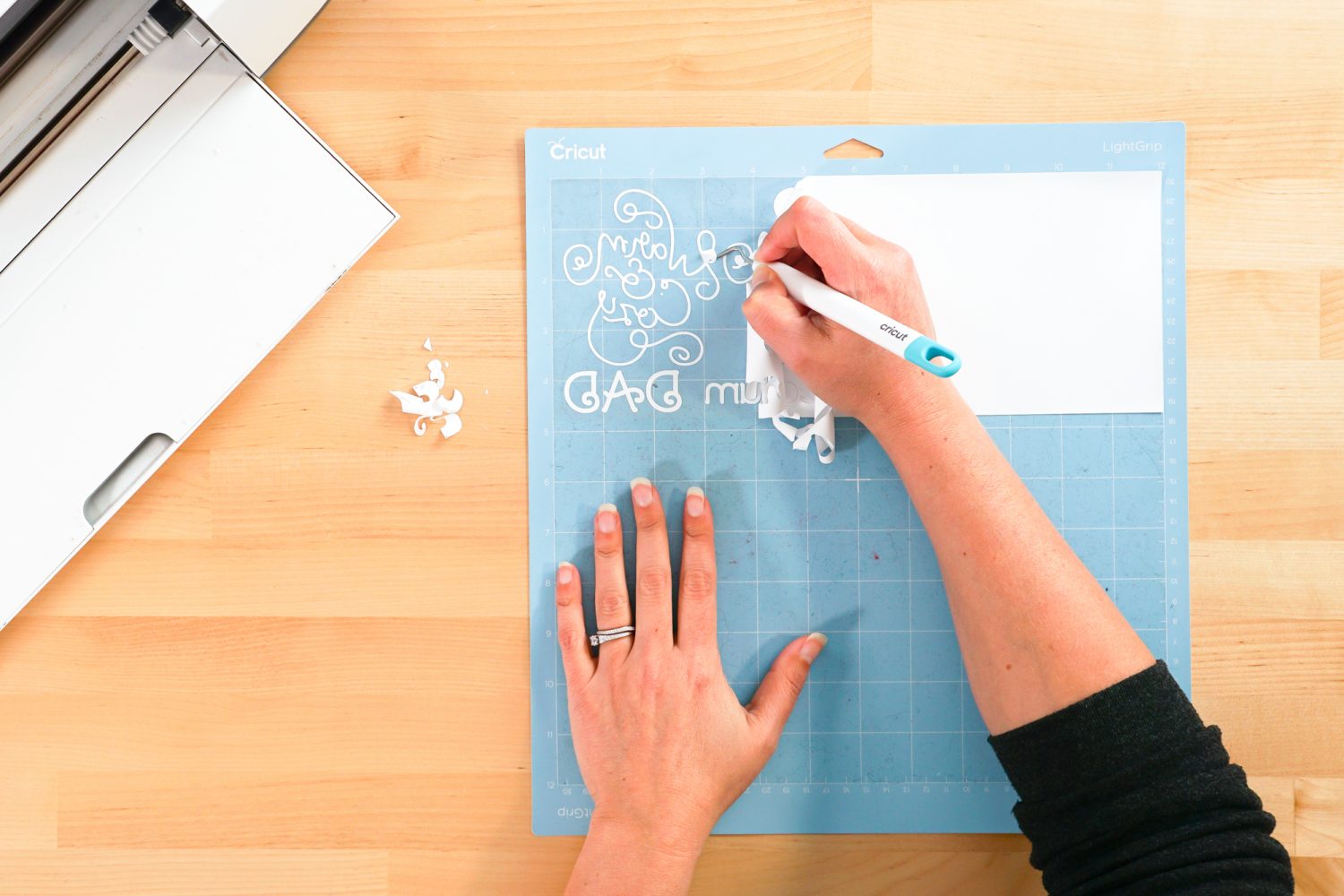 You'll also want to use a pair of scissors to separate the individual iron on decals.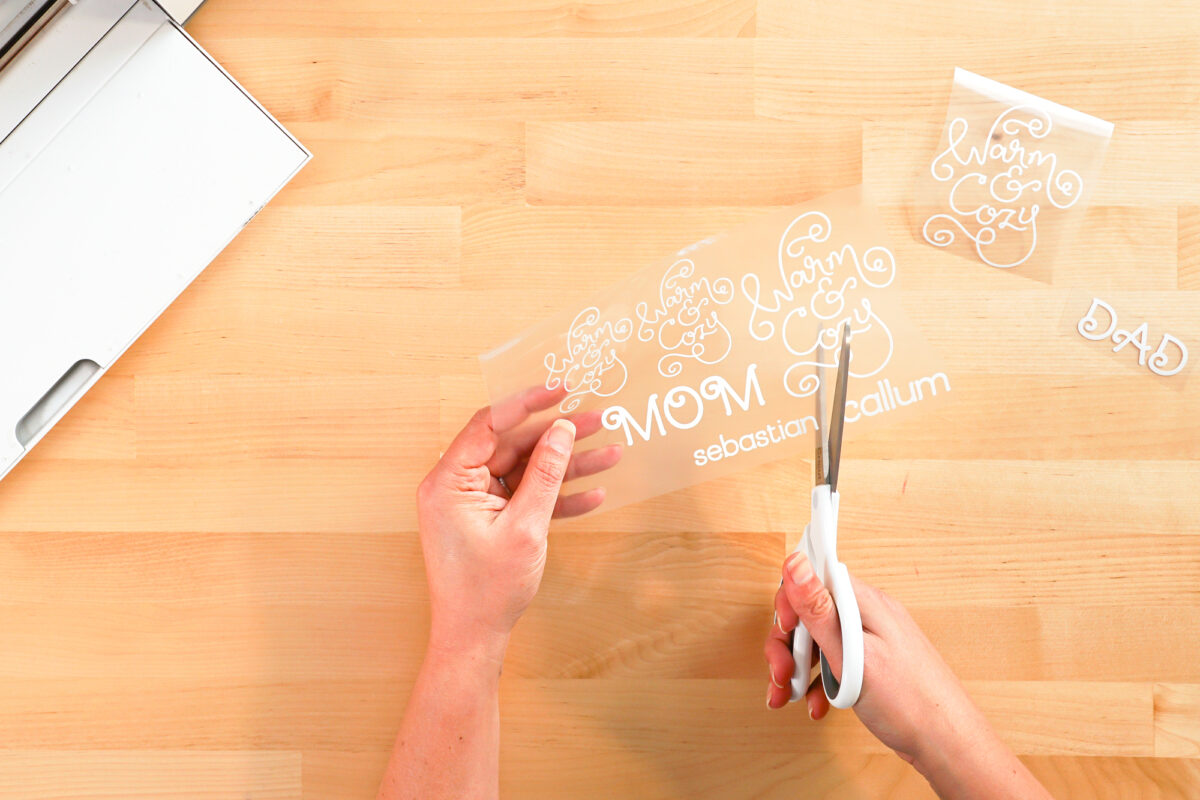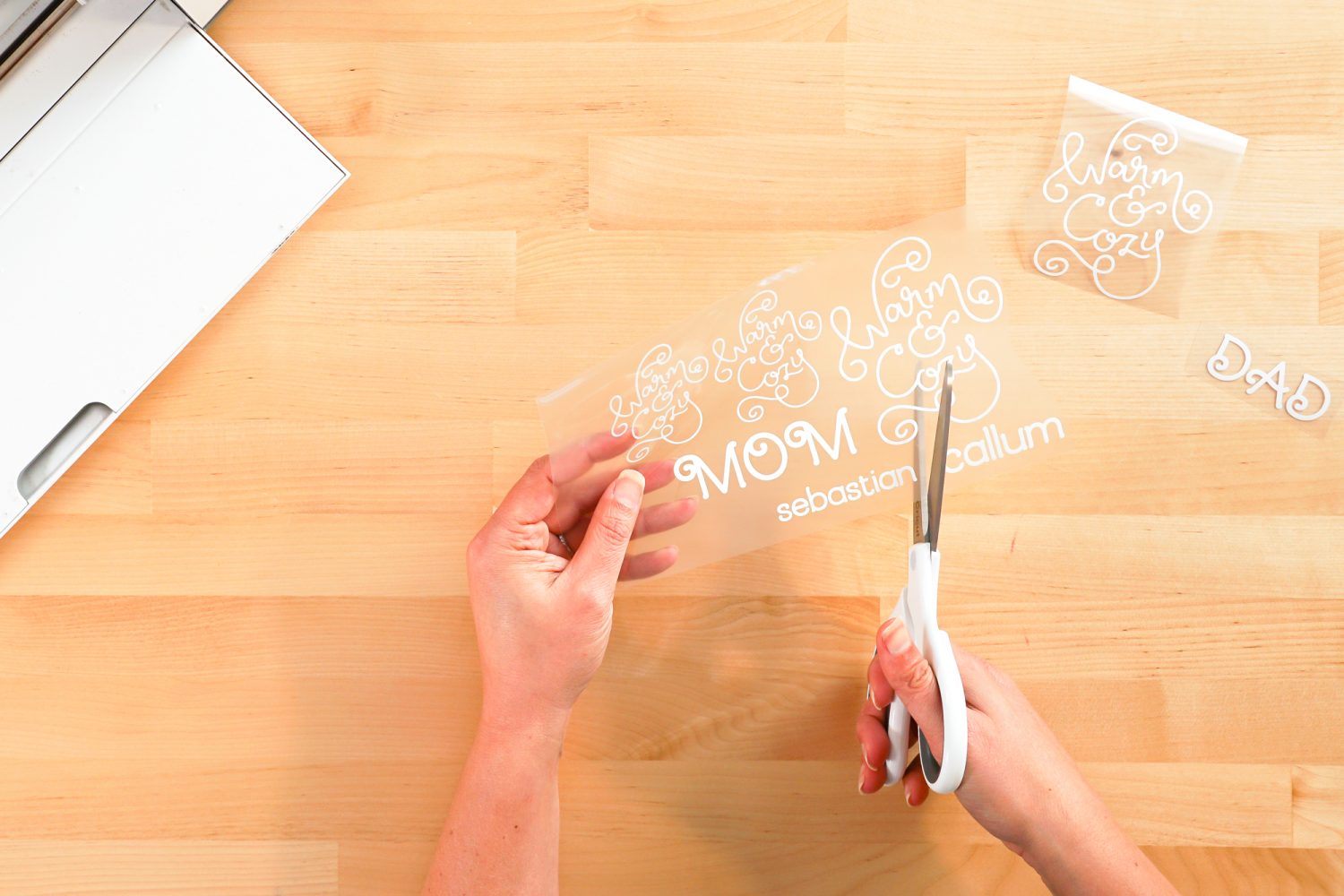 Adhere Your Iron On Vinyl
I think it's easier to adhere the iron on vinyl before you sew your project. Place your image down on your piece of fabric, and use your EasyPress or EasyPress Mini to adhere the iron on to the fabric. Make sure you remember there is a 1/4″ seam allowance.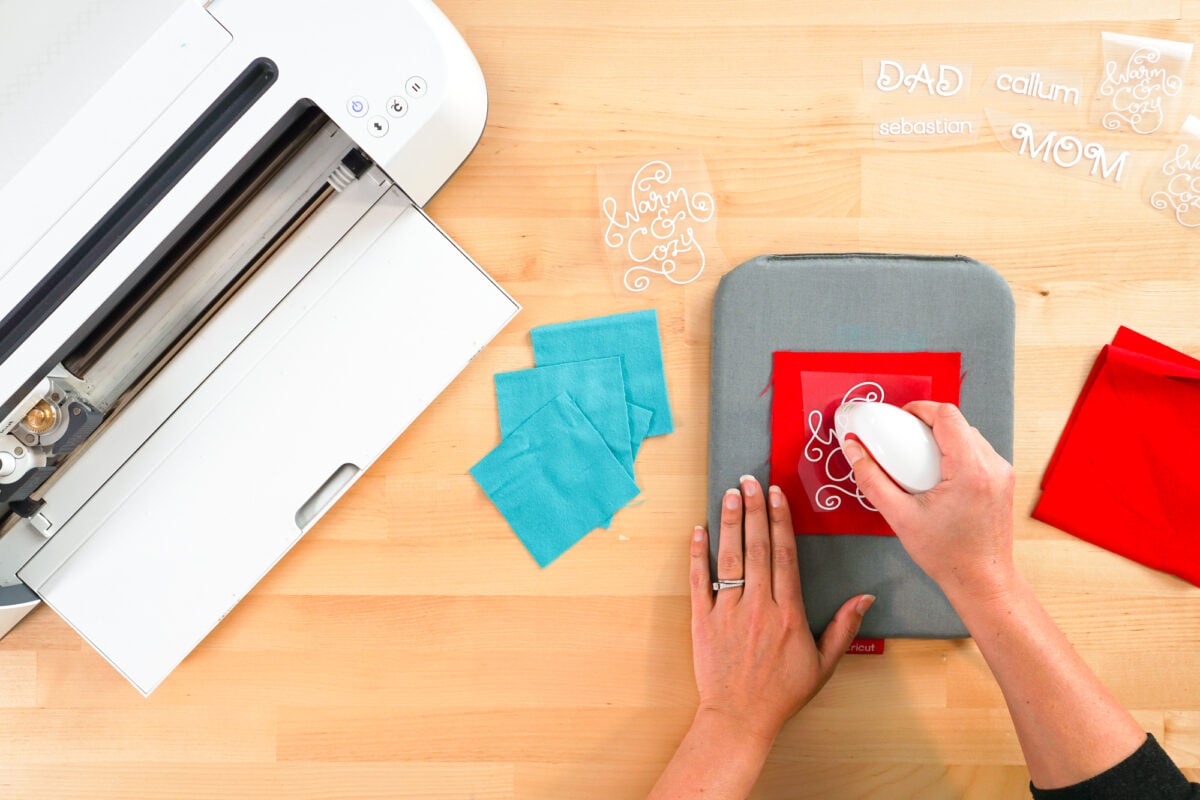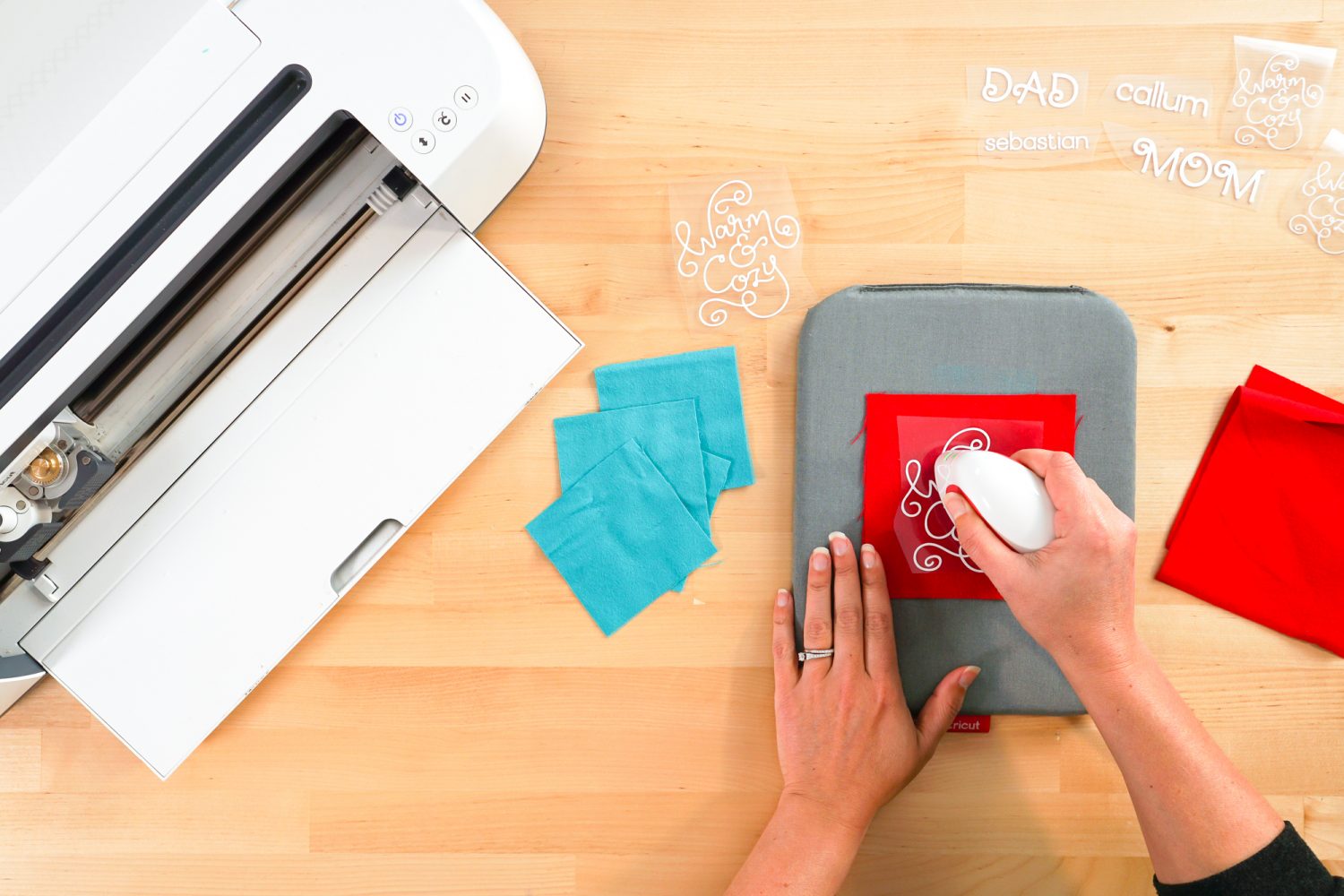 Learn more about Using Iron On Vinyl.
Sew Your Hand Warmers
Time to break out the sewing machine! Place your two pieces of fabric right sides together, sewing around all all four edges, leaving a gap of about 1.5″ on one side for turning and filling your hand warmer.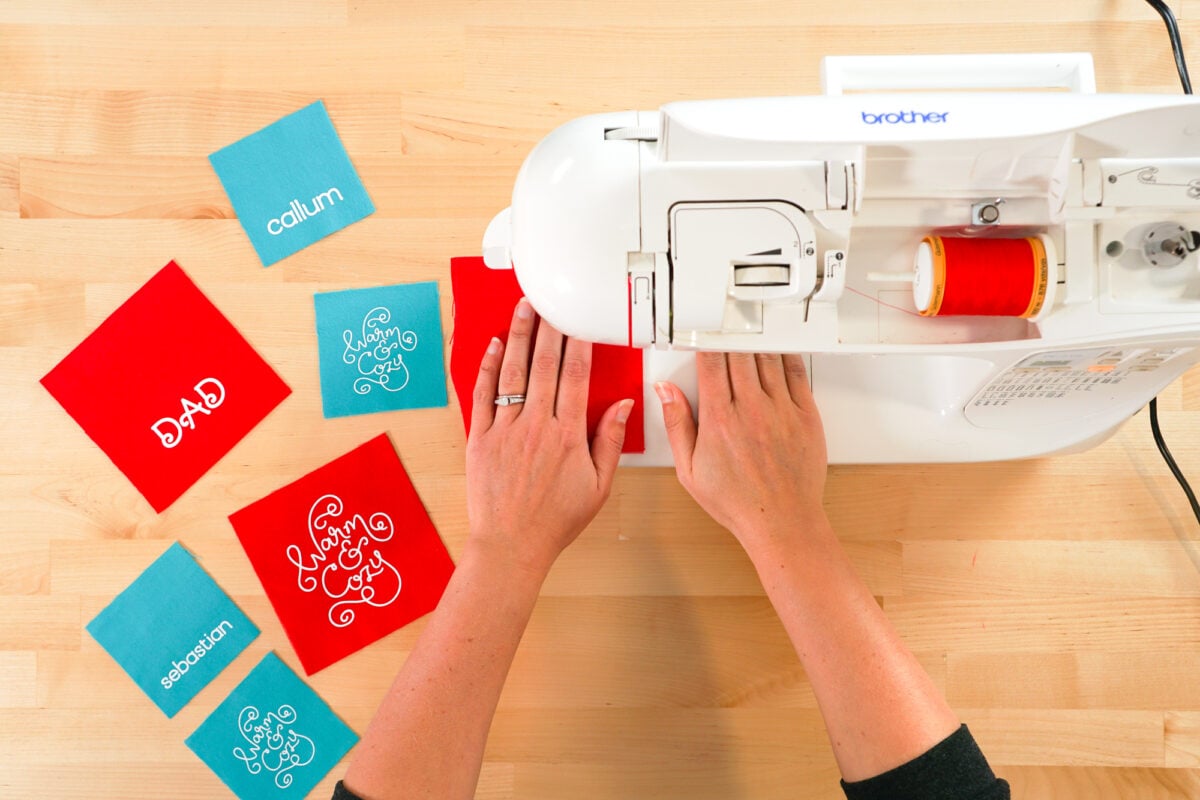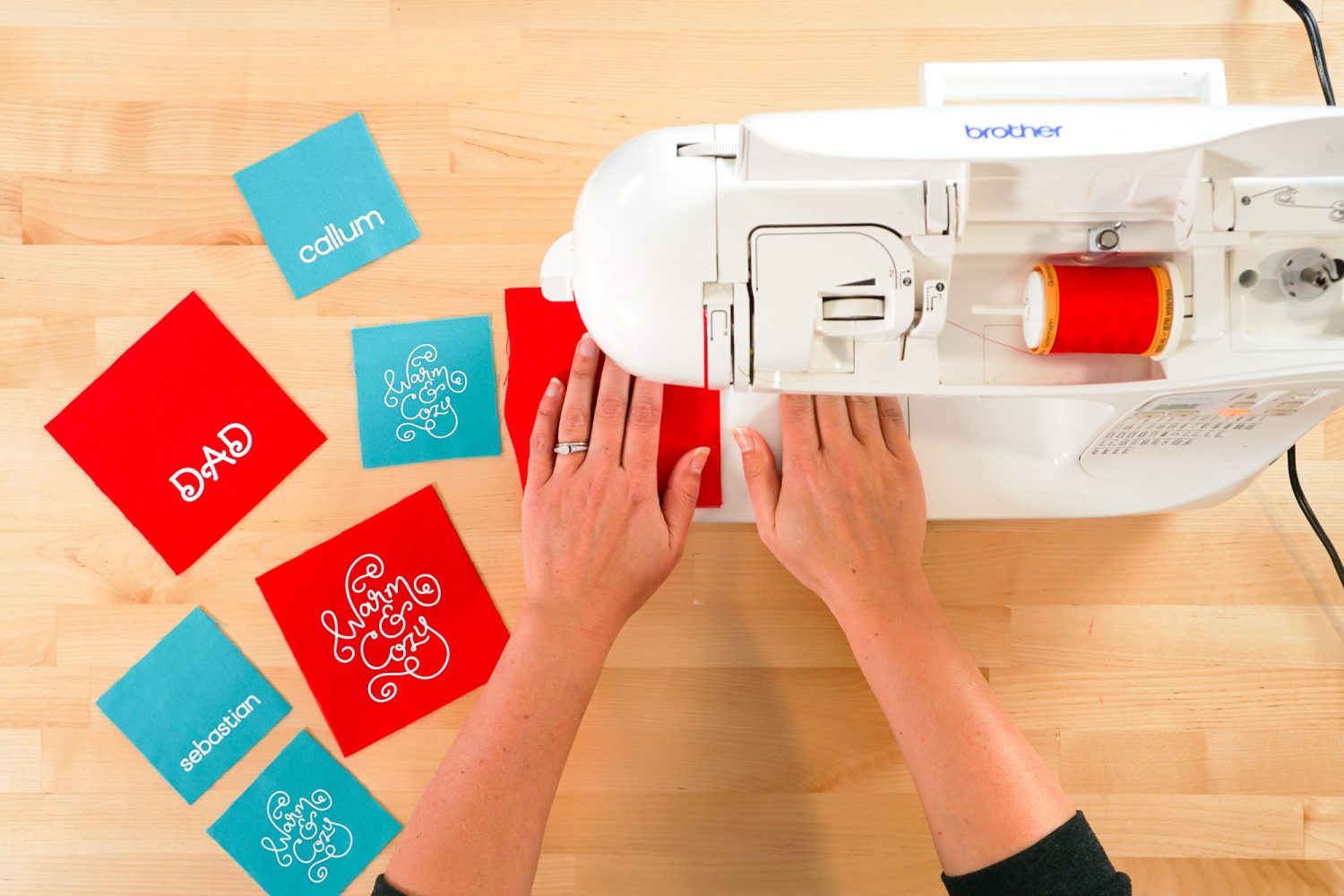 Clip the corners.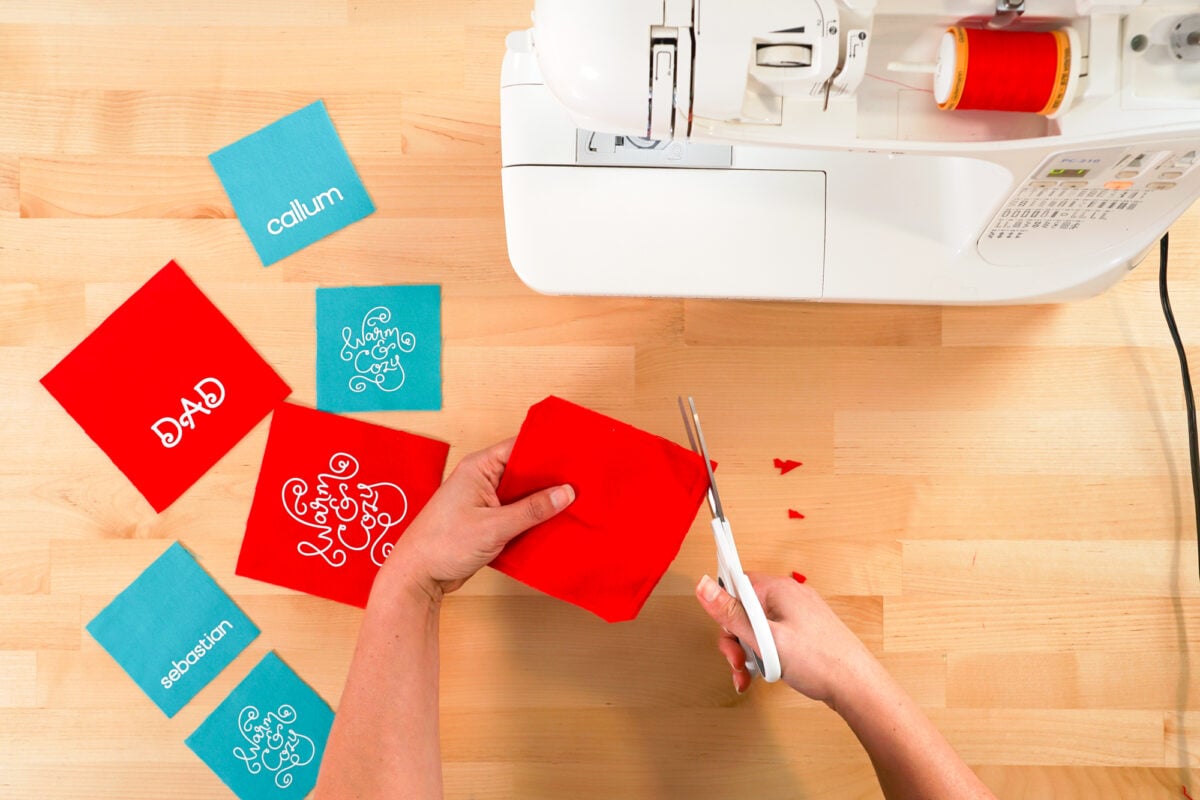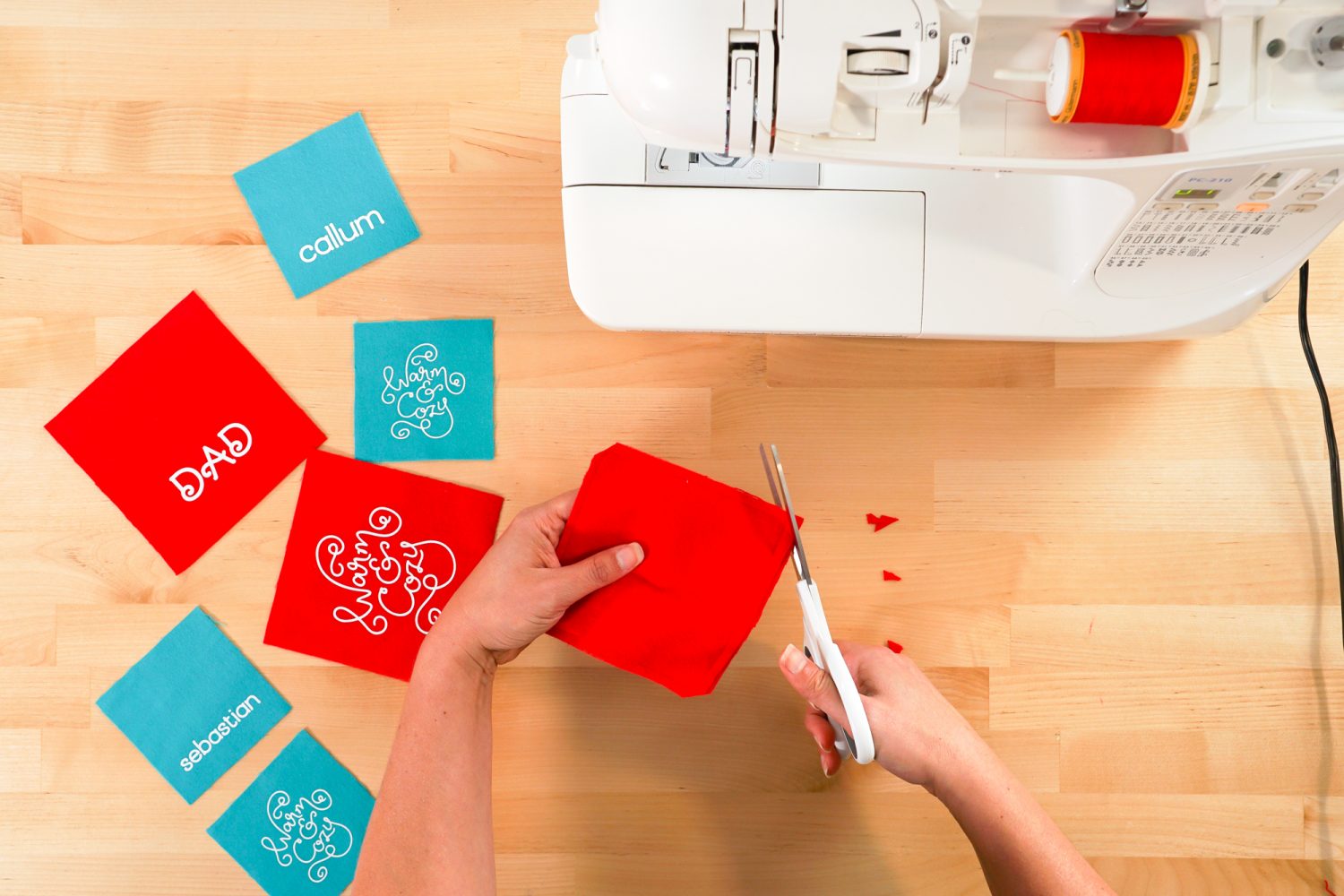 Turn your hand warmer right side out and press (the Cricut EasyPress Mini works so well for this!). You may want to cover the hand warmer with a piece of cotton fabric to protect the iron on vinyl.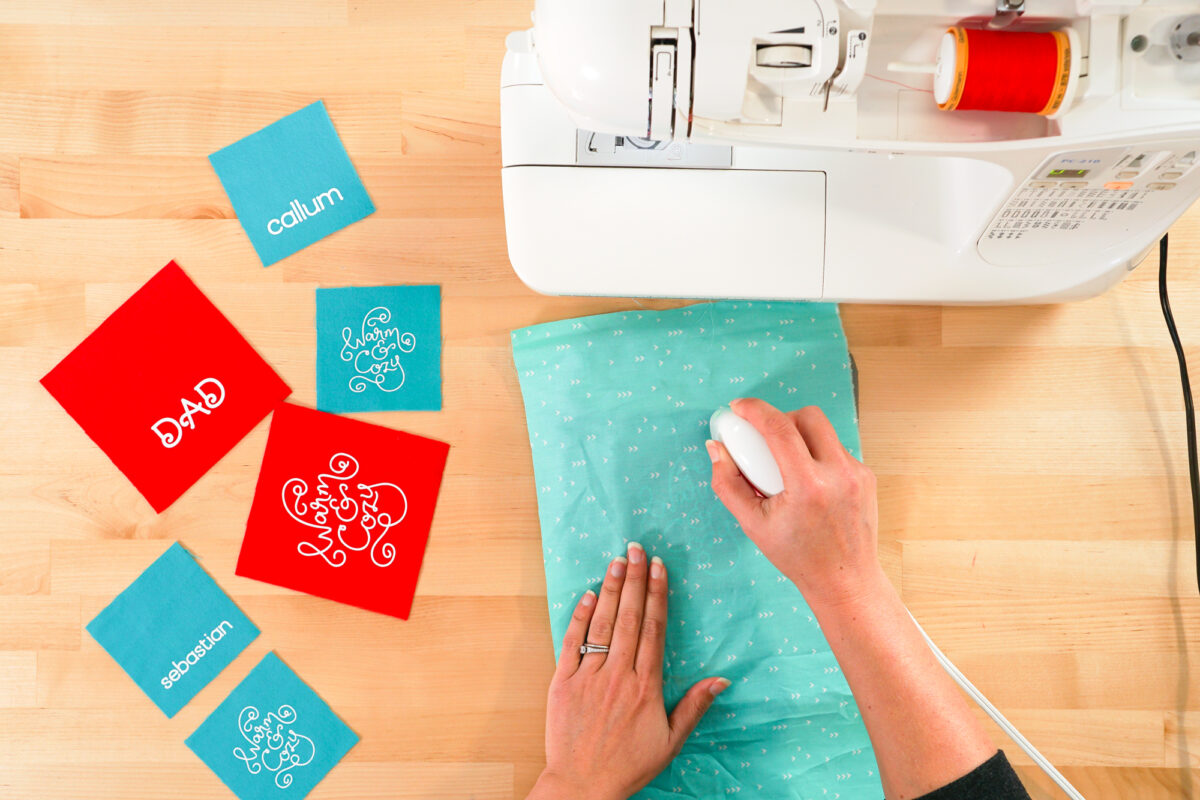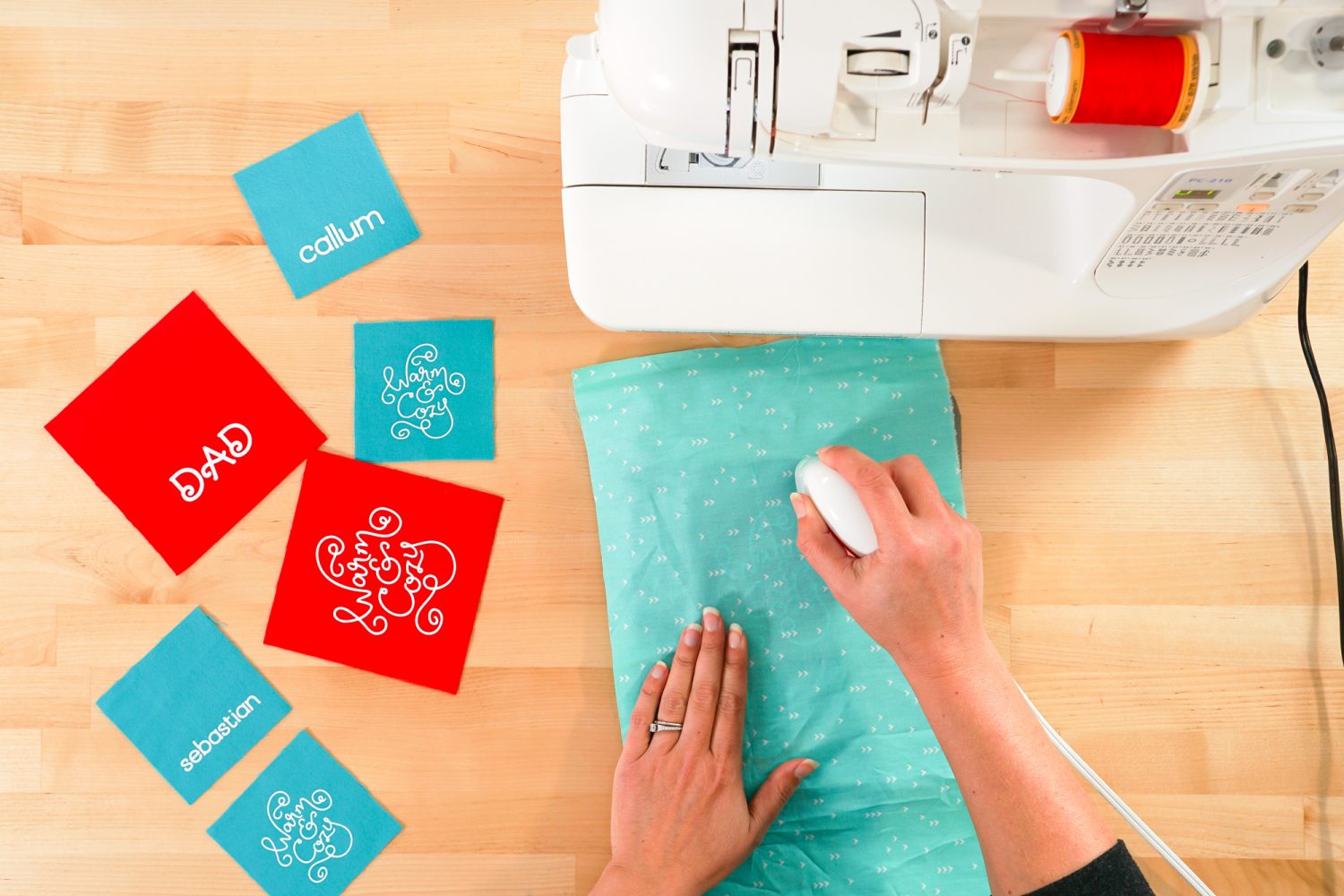 Using a funnel, fill the hand warmer with rice.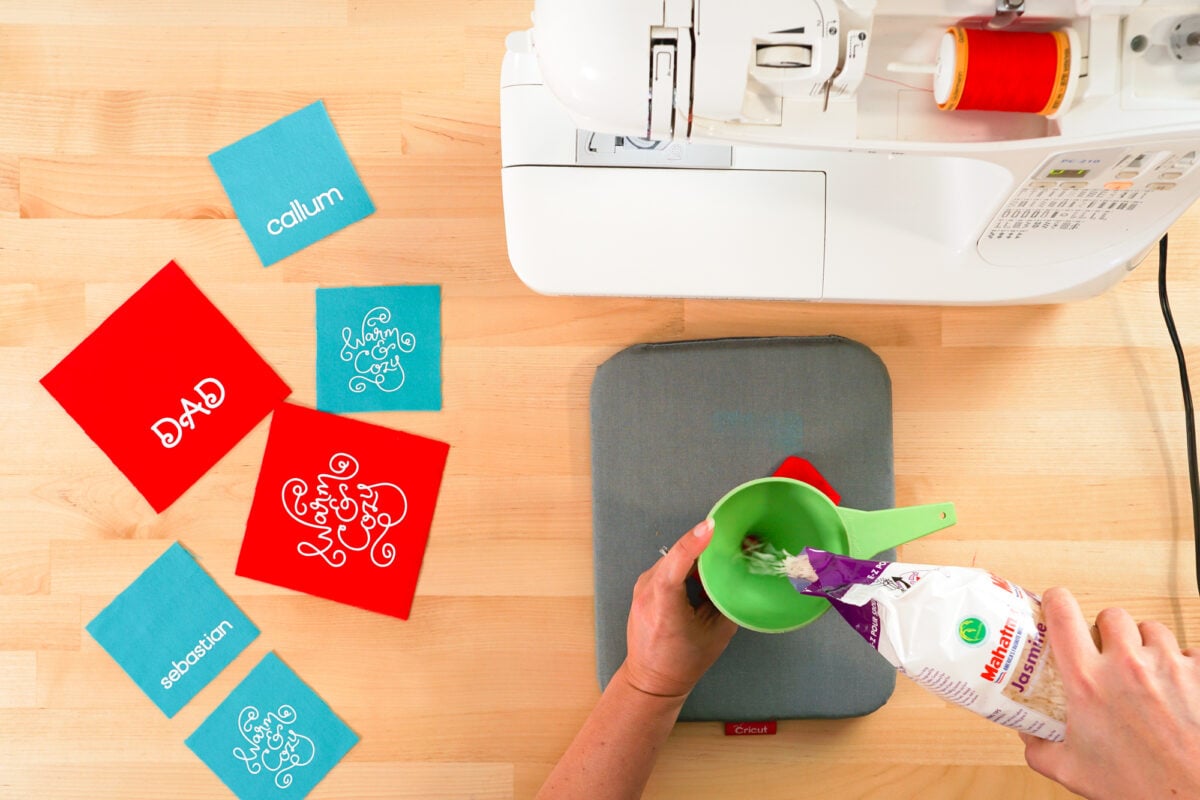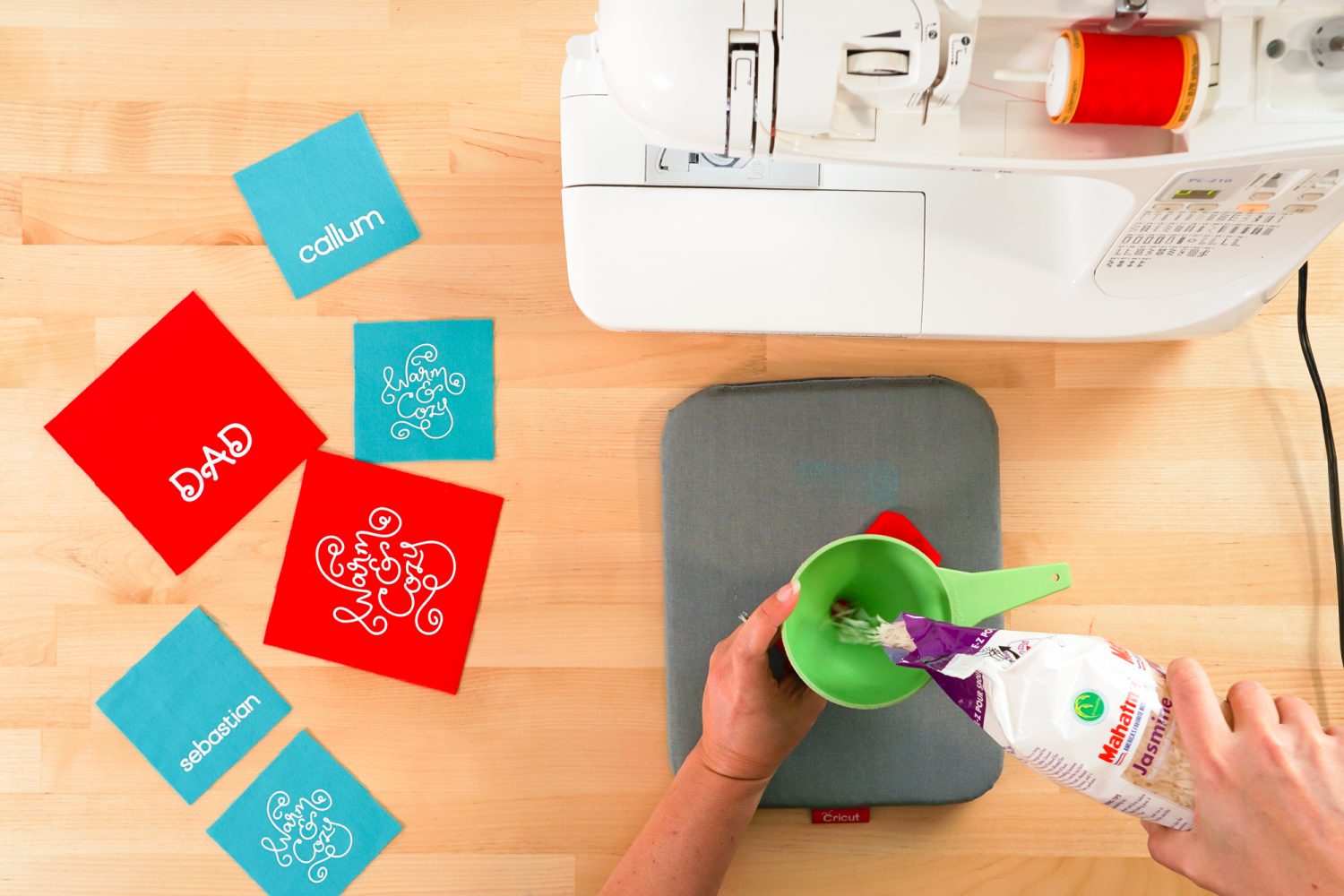 Then tuck the edges in and pin the hole closed.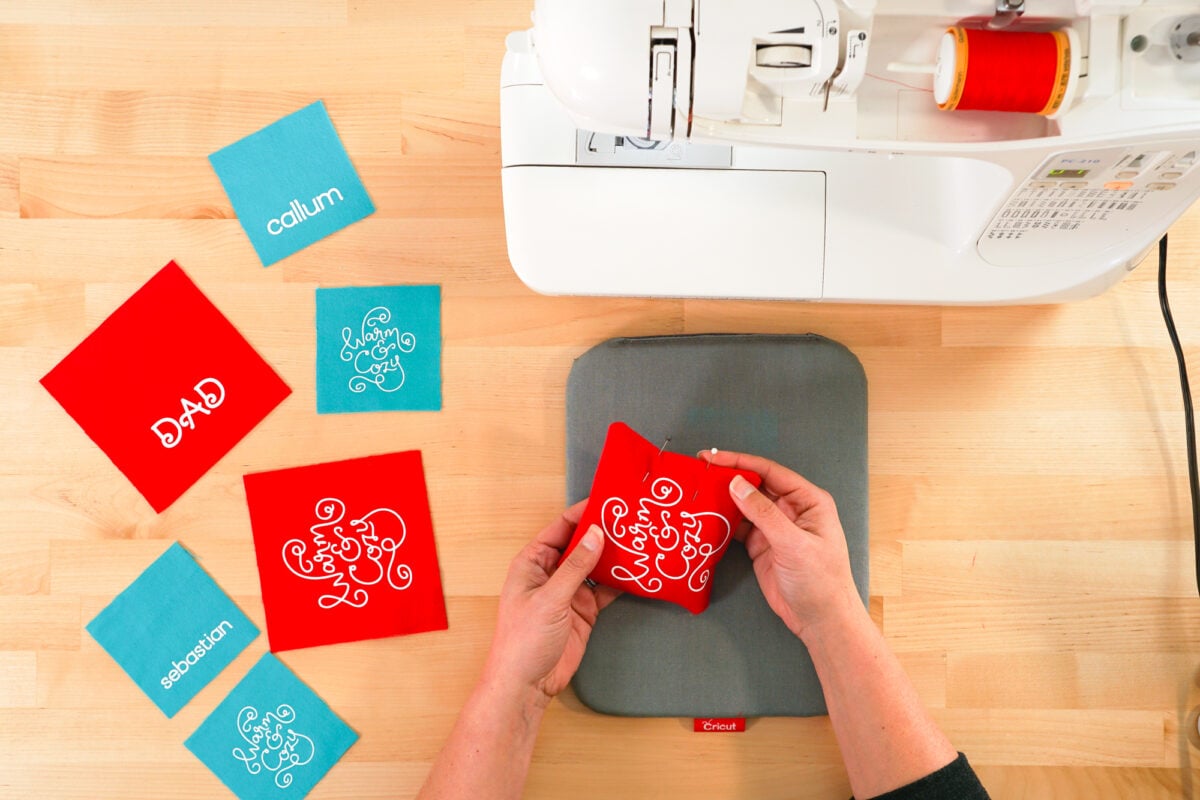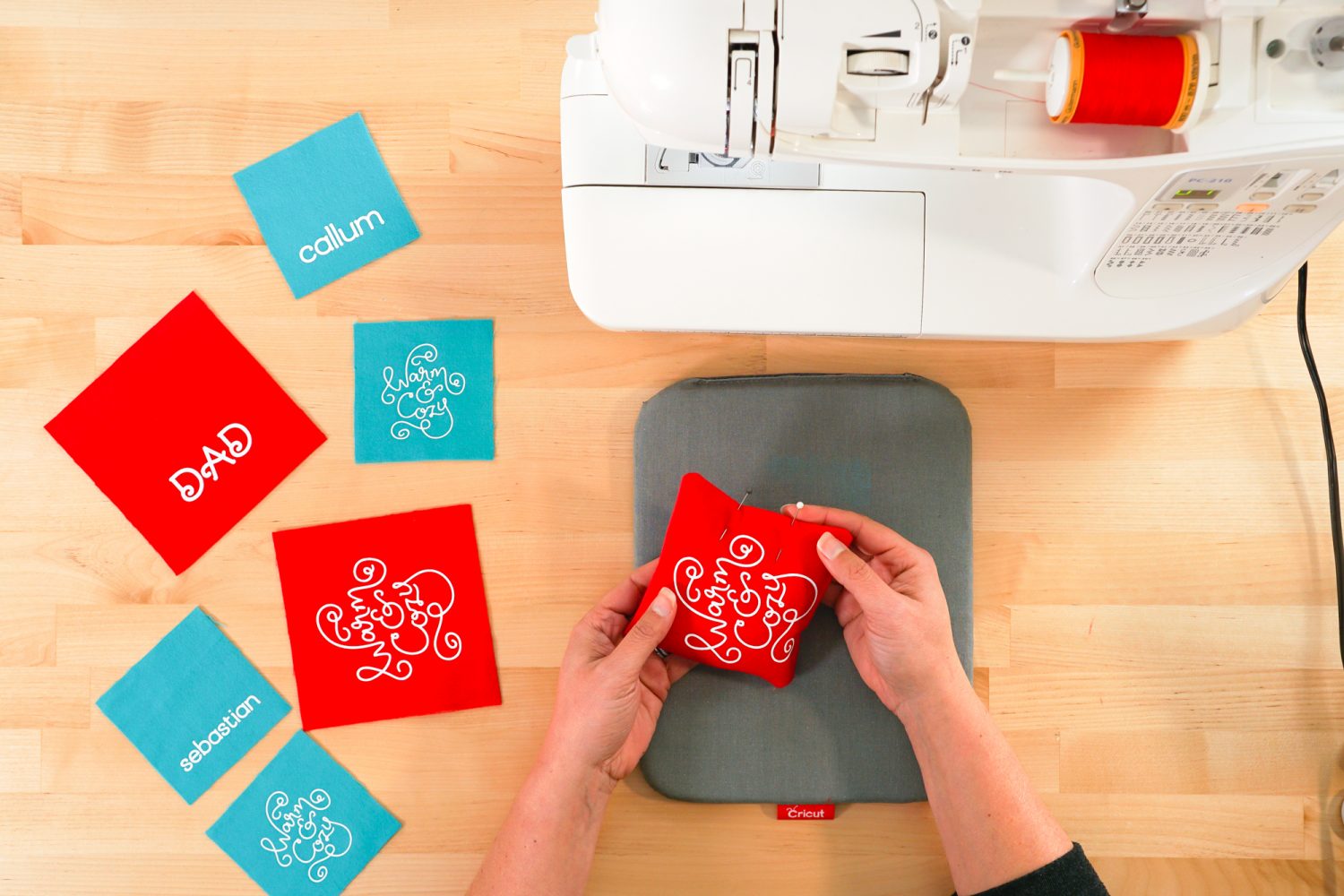 Sew a 1/8″ seam to close the hole.
I have found that 60 seconds in the microwave gets these hand warmers up to the perfect temperature for cold hands! Tuck in a coat pocket for a walk, or use to warm up after being outside in the cold. We've heated them up dozens of times and that iron on vinyl is still perfectly adhered! I'm really impressed.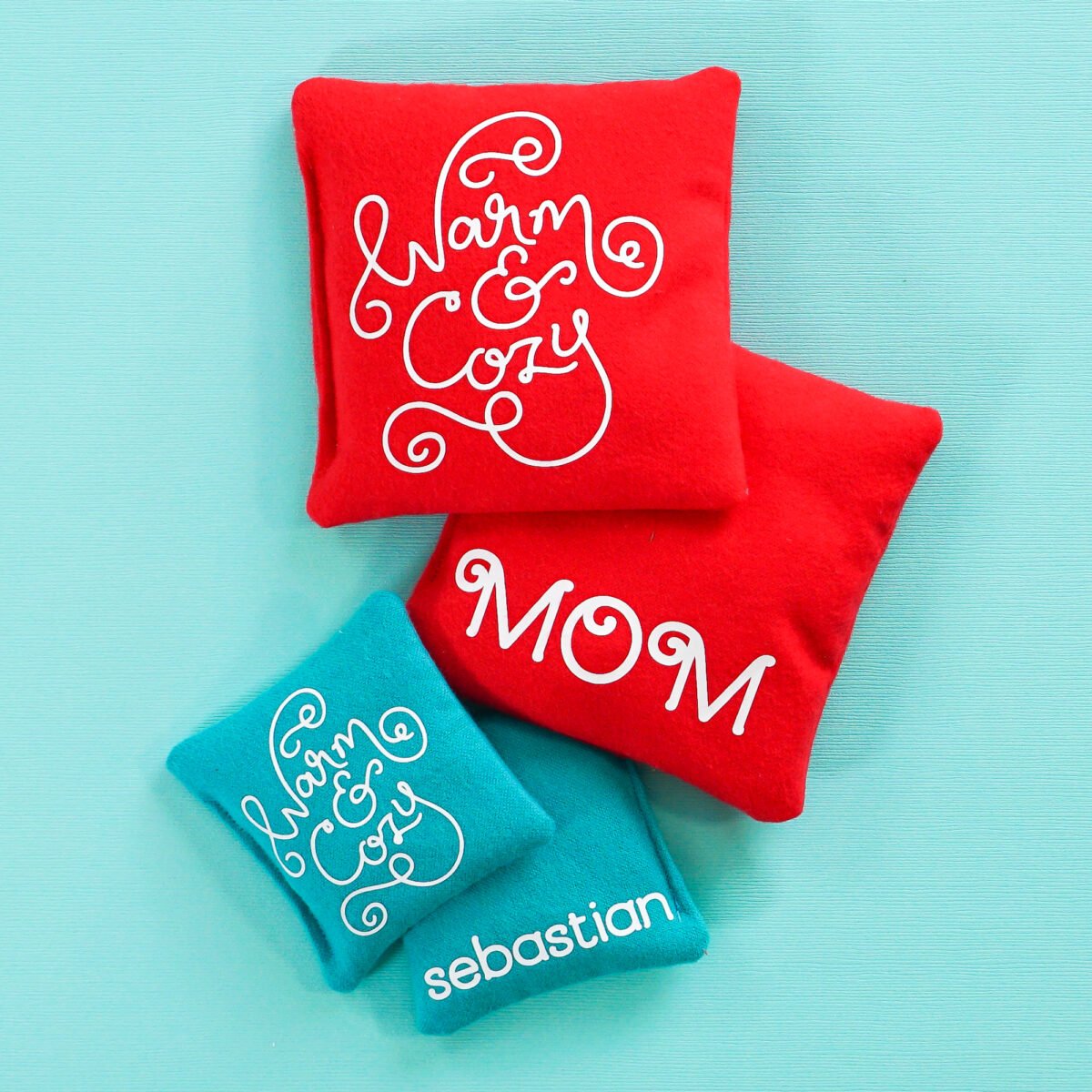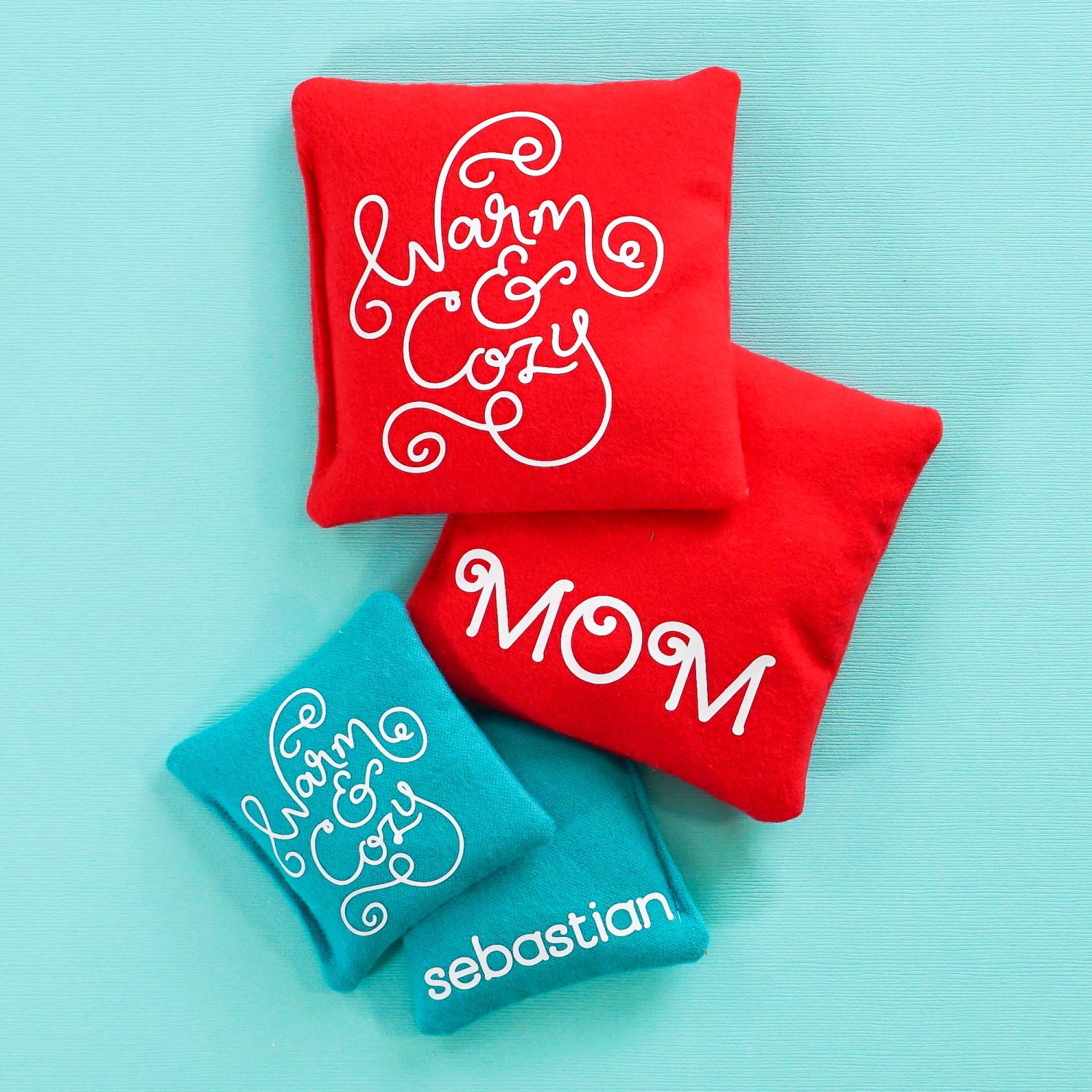 These DIY hand warmers also make a perfect stocking stuffer. Make one for each member of your family and show that Santa cares about warm hearts AND warm hands!