Bring this free printable camping scavenger hunt with you on your next camping adventure! It will give the kids something to do as you pitch the tent and helps increase their vocabulary of camp-related words!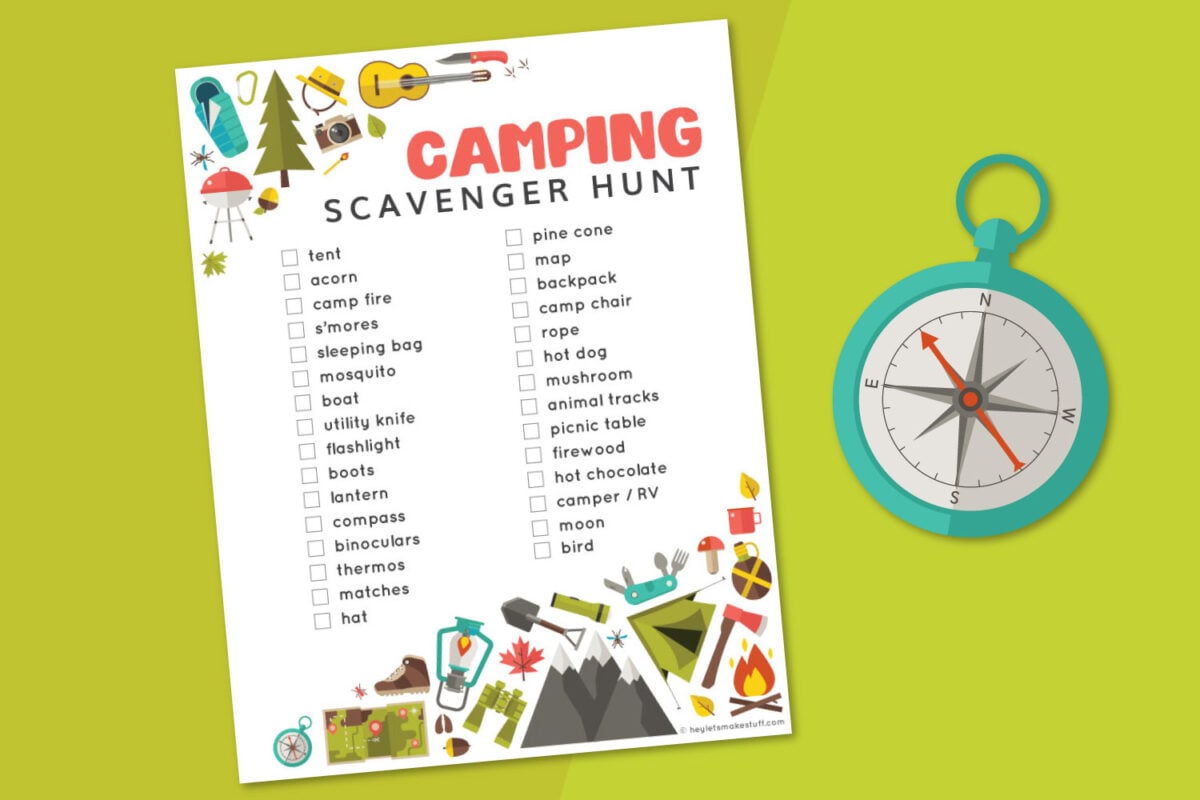 I grew up going camping with our family. I've tent camped, tent-trailer camped, and 5th-wheel camped. I swear I've been to half the campgrounds in the American southwest!
I have so many fond memories of setting up the campsite, hiking with my family, playing cribbage with my dad at the picnic table, and making s'mores around the campfire at night. We played in the forest and swam in the lake. We got incredibly dirty, which is one of the best parts of being a kid!
Now that our boys are a little older, we can't wait to take them on a family camping trip!
We love to get outside as a family and get away from it all. But the idea of sleeping with two in a tent has been a bit much. We love camping though, and had a camp-themed birthday party for them one year and even had s'mores at our wedding instead of cake! The boys just turned 5, so camping will definitely be in our near future as a family!
Right now, most of our furniture is packed away for our move to Washington State. So Ryan was thinking about pitching a tent in the backyard and doing a mini camping trip with them right outside our house. I think it would be a good introduction to camping. And I bet they would get a kick out of snuggling up in a sleeping bag in a tent with dad by their side!
Free Printable Camping Scavenger Hunt
Headed on a camping trip with your littles? Print this free camping scavenger hunt to bring with you to your camping trip! This fun camping scavenger hunt has a list of dozens of items to find while you're off camping. Cross off each scavenger hunt list item with a crayon or marker. Once they've found everything, you can hand out small prizes like tiny magnifying glasses or a little bug jar.
Have your kids look for things like pinecones, animal tracks, and firewood while you cook dinner or pitch the tent. There are also a ton of camping supplies on the list, like a flashlight, rope, and matches.
Your kids will be more aware of their surroundings doing this campground scavenger hunt. This is great for both younger kids and older children, though the littlest ones may need some supervision. They'll find all sorts of camping goodies on this treasure hunt for all things camping-related!
You can also use it as a packing list! Your kids can help you gather all the necessary camp supplies for your next camping trip. Create a little friendly competition to see which of your kids can get packed up the fastest!
Download the Free Camping Scavenger Hunt under PRINTABLES P115
This file can be found in my Free Craft Resource Library. The file number is: P115.
Want access to this free file? Join my FREE resource library! All you need is the password to get in, which you can get by filling out the form below!
Enjoy this printable camping scavenger hunt and making memories outside with your family this summer! Looking for more outdoor scavenger hunt ideas? Check out my Free Printable Back Yard Scavenger Hunt and my Free Printable Summer Scavenger Hunt! Both are so much fun for kiddos and the adults who love them!
More Free Camping Printables!
Check out all of these fun camping printables from my blogging friends, including games, coloring pages, and more! There's something for everyone from toddlers to older kids to adults. These fun activities are sure to keep everyone happy around the picnic table.
Head to each blog below and download them from each blogger! If you have any questions or issues, reach out to the blogger individually.