Keep your utensils organized at a picnic or other gathering with this DIY utensil caddy and your Cricut Joy or other Cricut machine! One color of vinyl, one cut, one type of application. A perfect beginner Cricut project.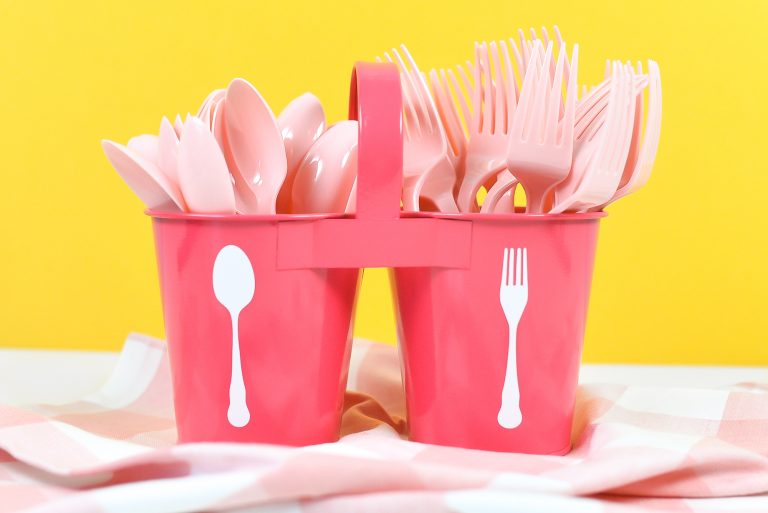 I had a request from a new Cricut user for more tutorials that are SERIOUSLY for beginners. I know how overwhelming using a Cricut can be, so I'm going to try and share some easy and fun projects that any Cricut beginner can do.
Let's start with this adorable utensil caddy! The weather is turning nicer but we're still under a shelter-in-place order so we're basically living in our backyard these days. Gotta take advantage of this lovely weather before it gets too darn hot outside this summer!
[adthrive-in-post-video-player video-id="4Zv0ymXX" upload-date="2022-05-29T19:48:00.000Z" name="Adhesive Vinyl Projects to Make with a Cricut" description="Make all sorts of amazing adhesive vinyl projects using your Cricut, including tumblers, signs, mugs, ornaments, and more. " player-type="default" override-embed="default"]
I usually tote a handful of silverware outside, but this DIY utensil caddy makes it easy for me to get our spoons and forks to the patio!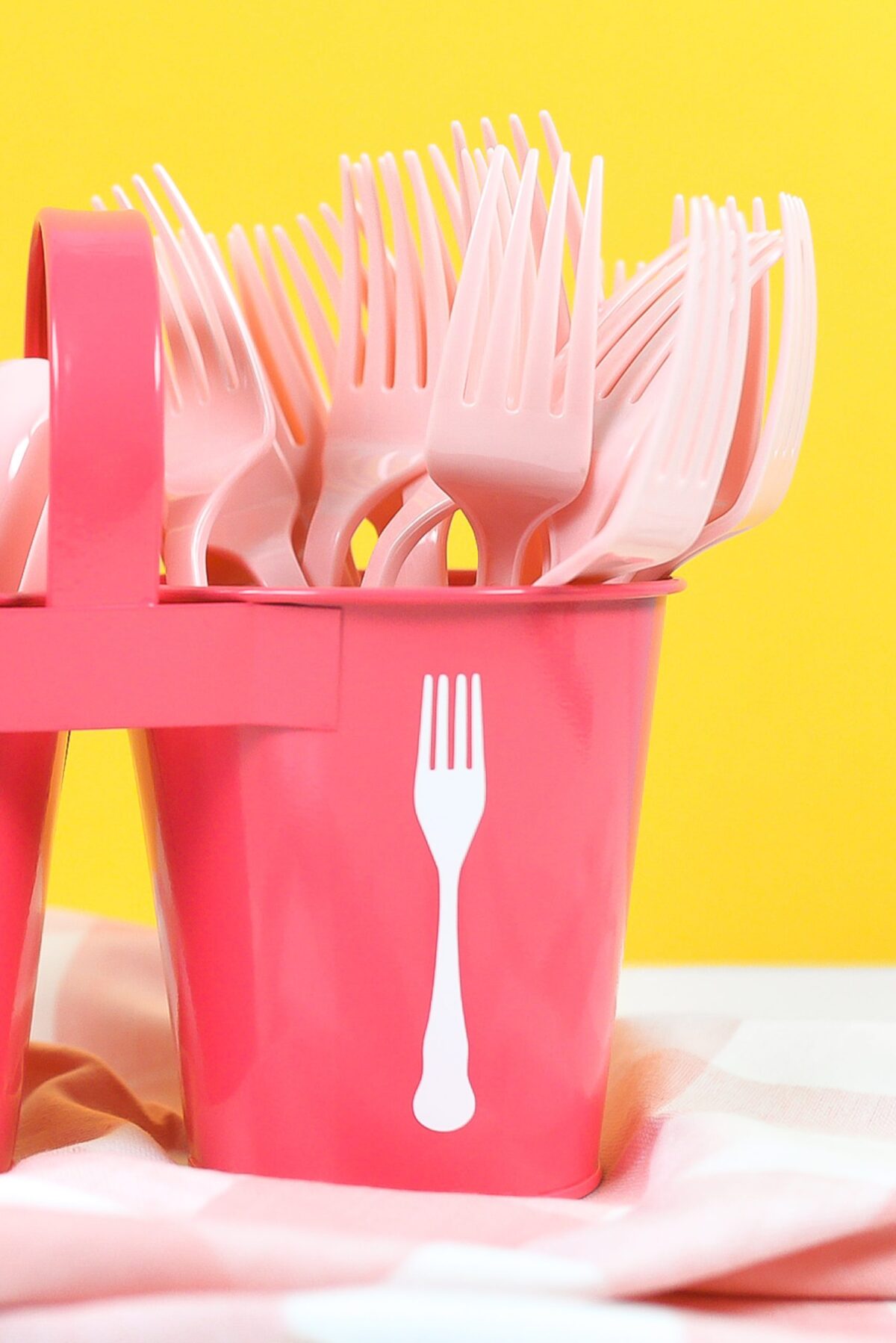 To make this project, I used a caddy that I found in the Target Dollar Spot last summer. This particular caddy is no longer available, but check to see if your Target, Dollar Tree, or other local store has something similar in stock. You could also make your own caddy or use single metal buckets.
DIY Utensil Caddy Supplies
I've created this project using my Cricut Joy and the supply list reflects that, but you can easily make it using your Cricut Explore or Cricut Maker. Just make sure you're grabbing the right size mat and vinyl for your project.
DIY Utensil Caddy Instructions
Before you begin, make sure you have the correct machine selected in the upper right of Cricut Design Space. I am using my Cricut Joy for this project, so I selected Joy.
Start by opening the Cricut Design Space file. You'll see the spoon and fork image. You can search for other utensil images as well if you like a different style of utensils better.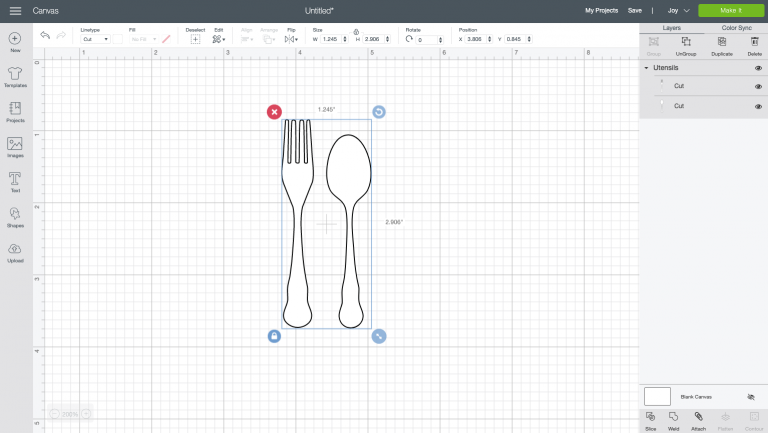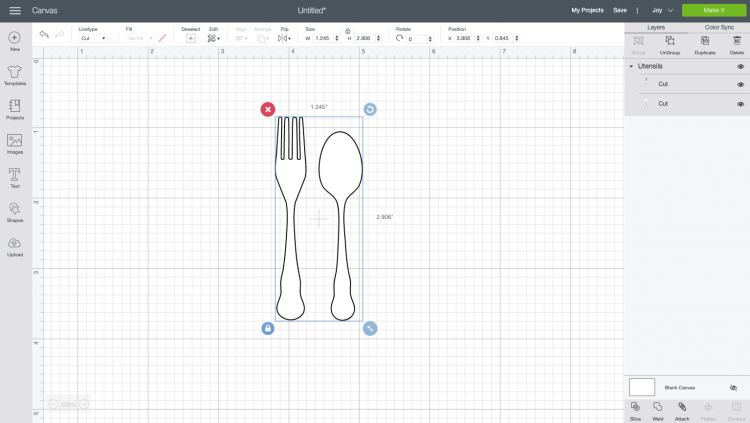 From there, re-size your utensils to fit on your utensil caddy using the Size tool in the edit bar at the top. Mine ended up being 3″ tall.

Then hit Make It in the upper right! From there, you'll be taken to the Prepare screen.
If you are cutting this on your Cricut Joy, you will see a pop-up screen that asks for your mat selection. You can cut regular vinyl on a mat, or you can use Smart Vinyl, which doesn't require a mat (this is what I used).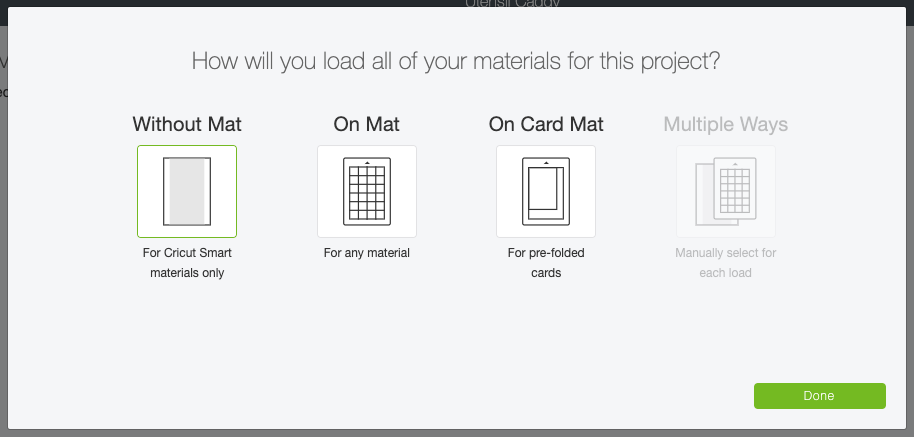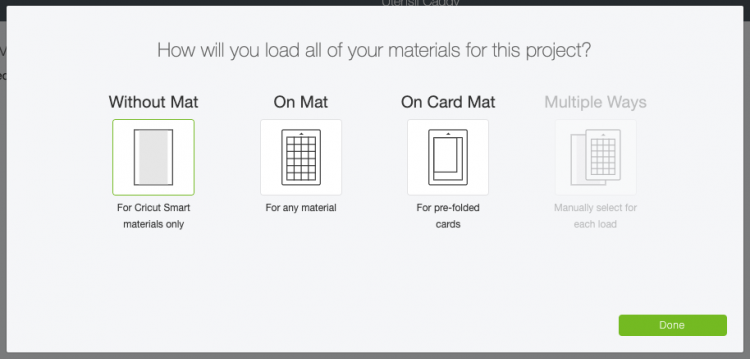 If you are cutting this on Cricut Explore or Cricut Maker, you'll go straight to the Prepare screen.
From here, you can rearrange and rotate your images to fit on your vinyl better. All you have to do is click on one of the images and use the little rotate icon to rotate the image. If you hold down the shift key it will rotate it at fixed intervals. I rotated both my fork and my spoon 90° and moved them to the very edge of the vinyl by clicking and dragging on each image.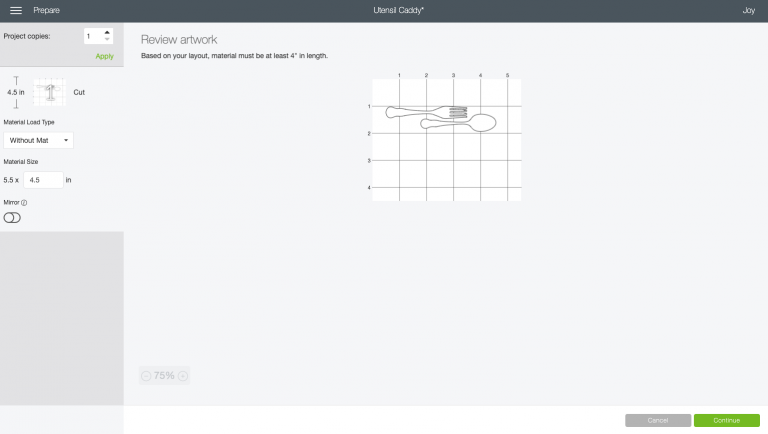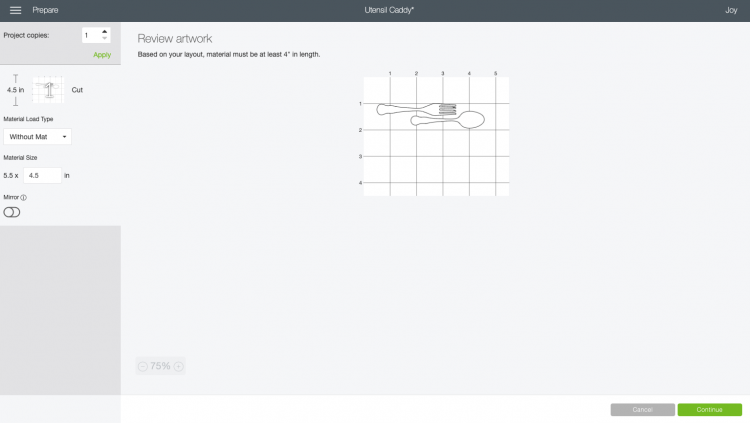 Once you have your images where you want them on your material, click Continue to go to the Make screen.
In the Make Screen, your Cricut machine will connect to your device. Then you will select your material. I'm using Removable Smart Vinyl, but make sure you select whichever material you are using.

Once you select your material, you will be prompted to insert your blade into your machine if it's not there already.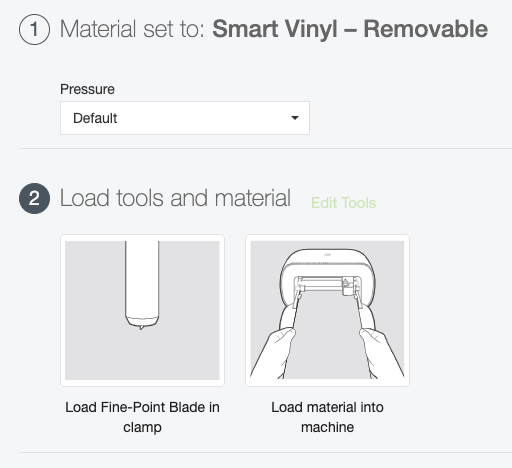 Insert your material or mat into your Cricut. The Joy will automatically feed the material/mat into the machine, but you will need to press the arrow button on Cricut Explore or Maker.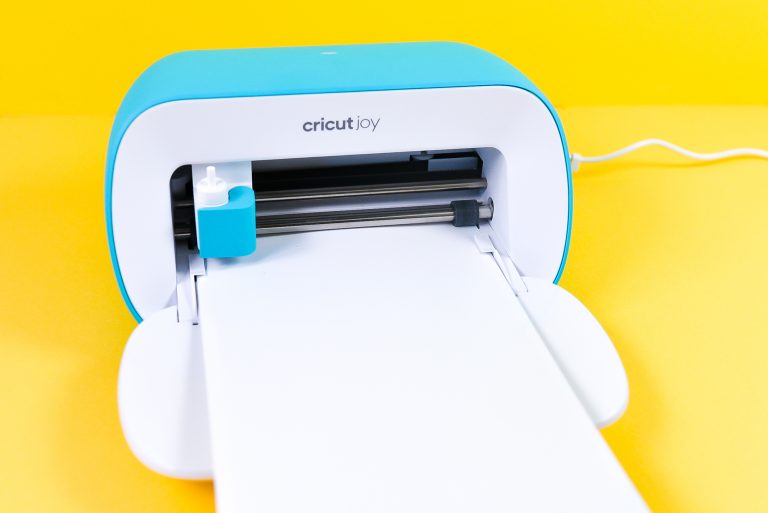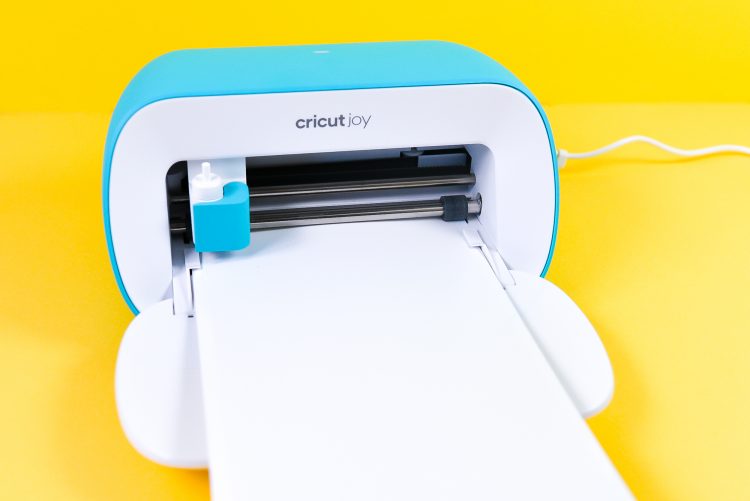 Then either click Go in Cricut Design Space (Cricut Joy) or the blinking C (Explore or Maker). Your Cricut will quickly cut your material!
Now it's time to put those newly cut decals on your caddy. First you will weed away the extra vinyl around your fork and spoon (sorry that it's difficult to see here—white on white doesn't photograph well!). Read Weeding Adhesive Vinyl for tips and tricks.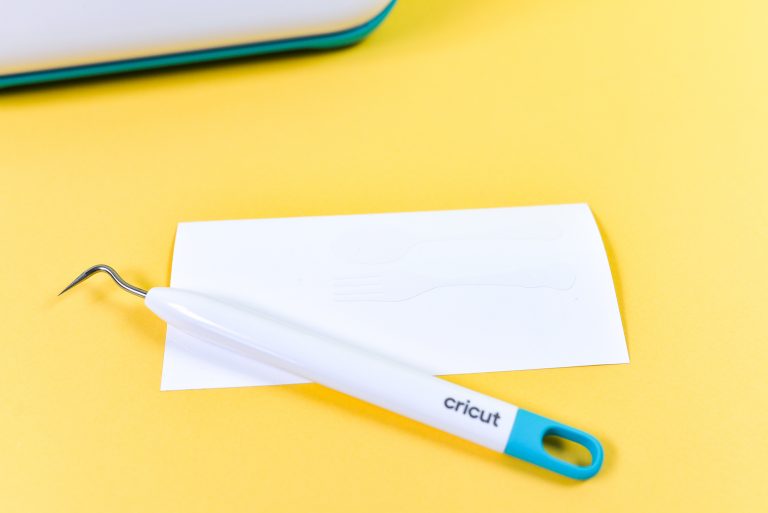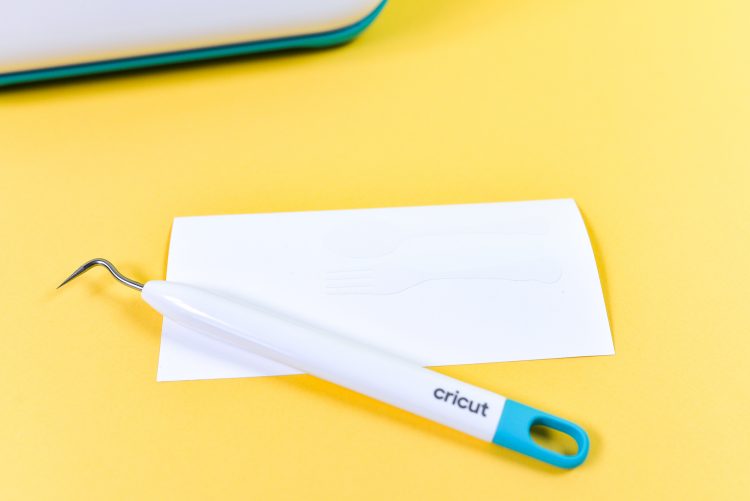 If you have a steady hand these decals are large enough that you can probably peel and stick them on like stickers. But for most projects I prefer using transfer tape—I find that it makes it easier to keep my projects straight.
Cut a piece of transfer tape slightly larger than your decals and peel off the backing paper. Then place it sticky-side down on top of your decals. Use a scraper to burnish the transfer tape to your decals.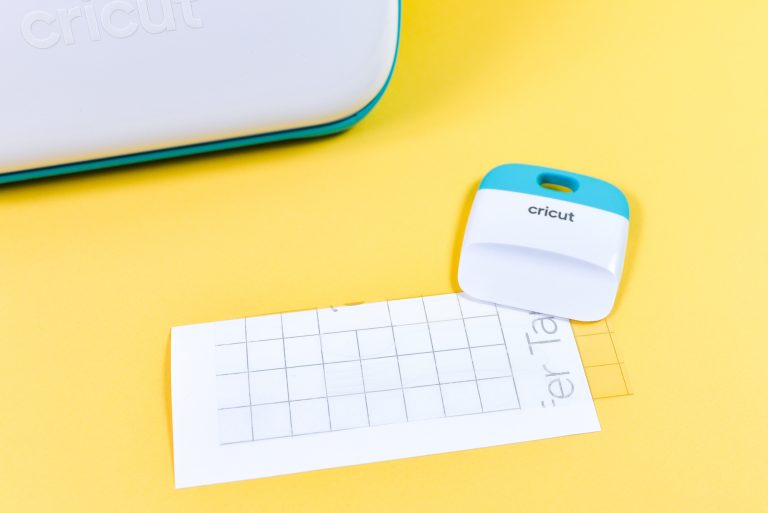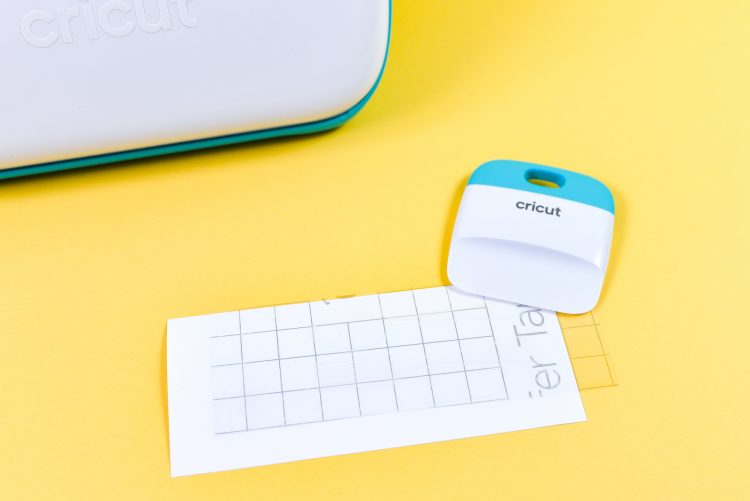 Then peel the vinyl backing sheet off the transfer tape and the decals should stick to the transfer tape. Read Using Transfer Tape for tips if you find your vinyl is not sticking.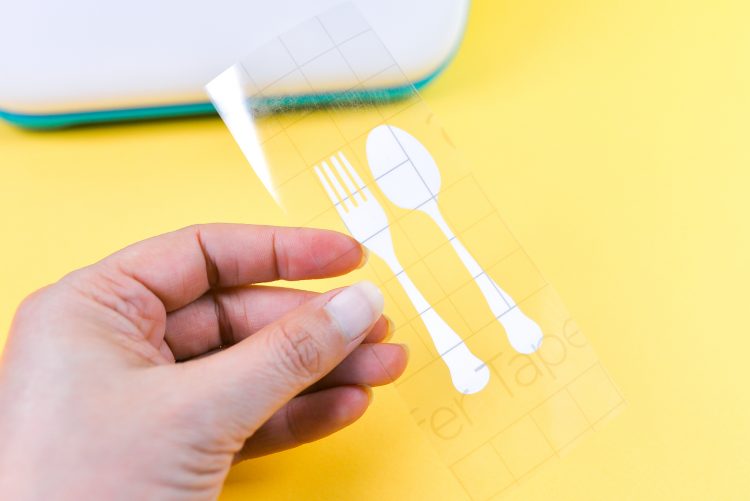 Then cut the two pieces apart. Place the decals on your utensil caddy, making sure they are centered and straight. Press down on the vinyl to burnish it.
Then peel back the transfer tape. The decals should stick to your caddy—and you're done!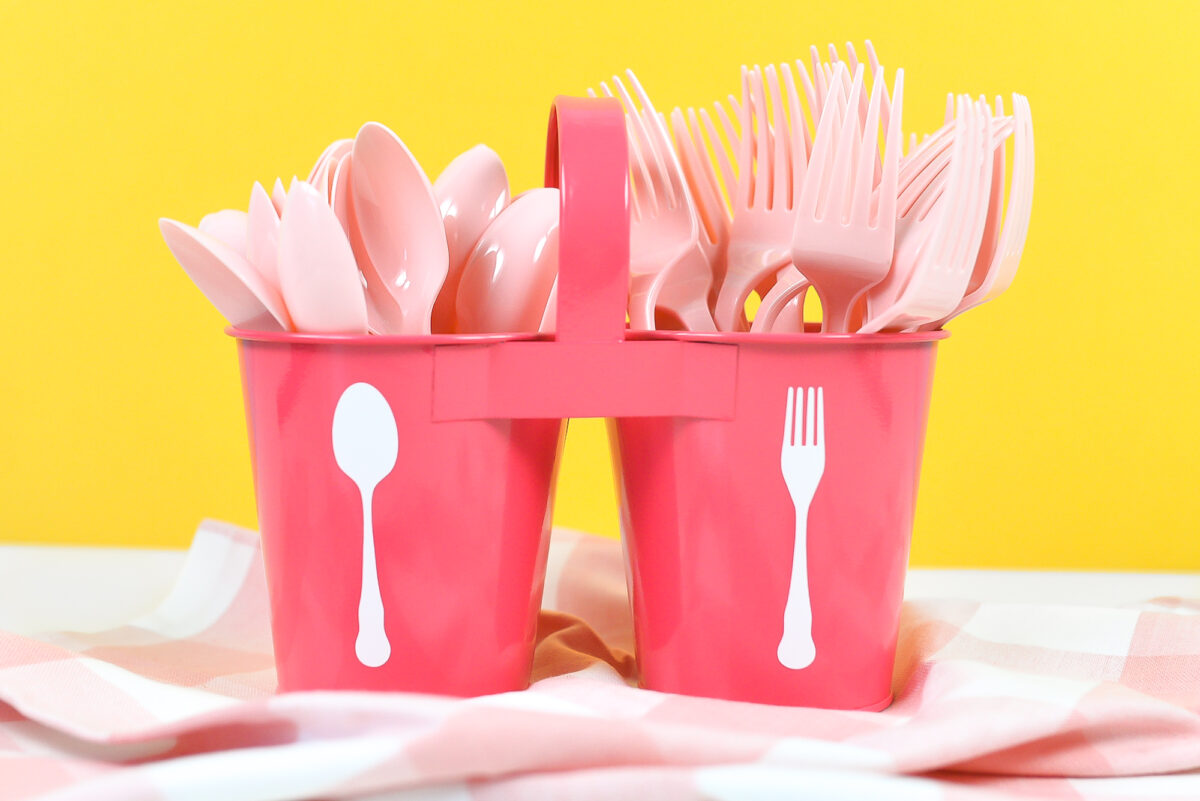 If you have questions about making this utensil caddy project or other easy Cricut projects, let me know in the comments!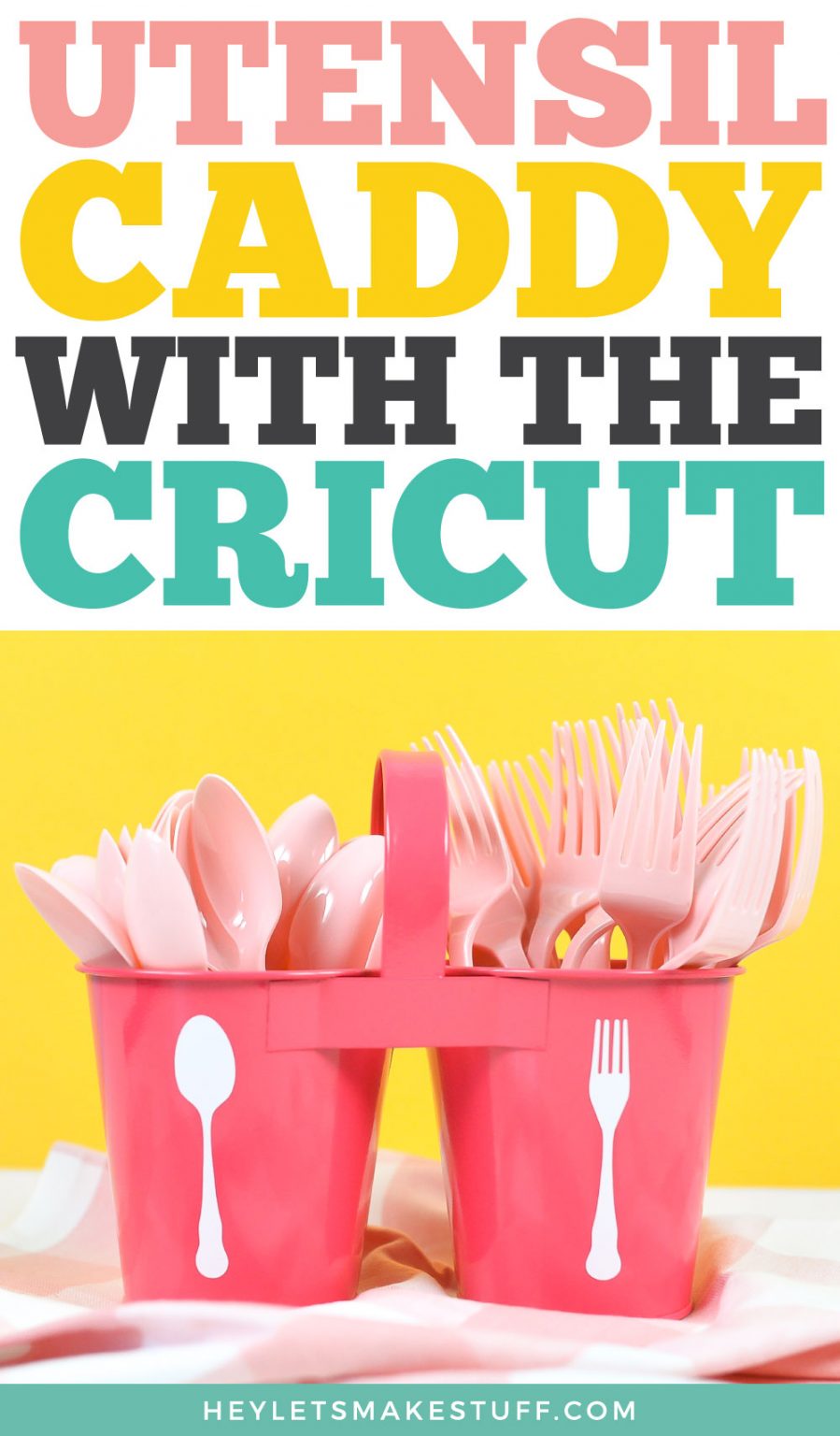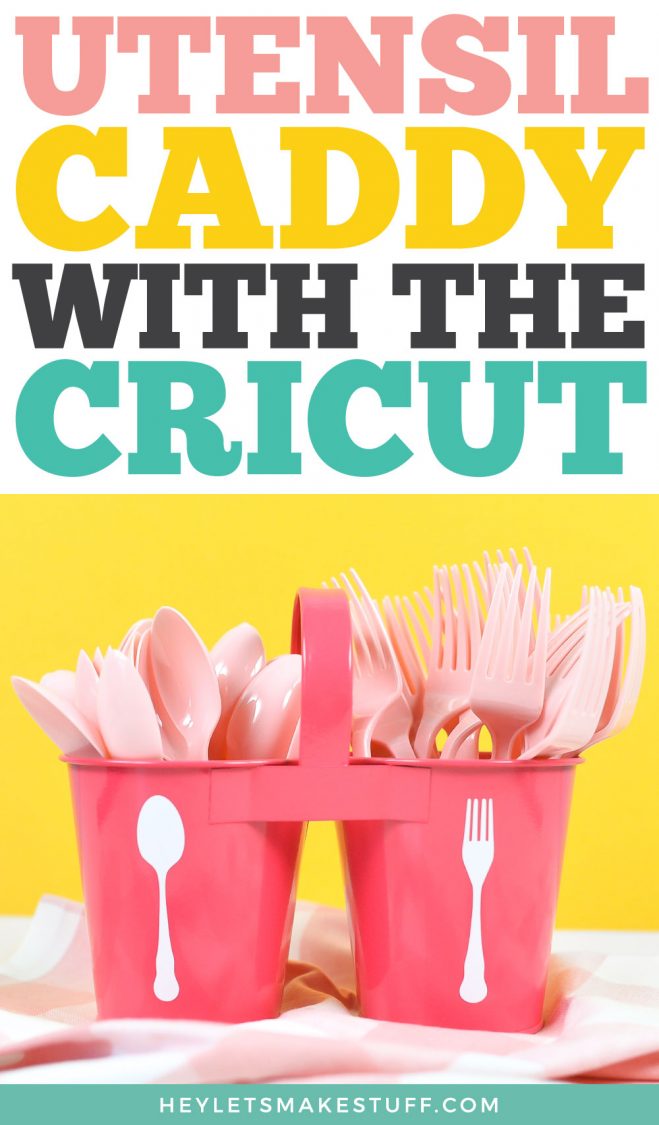 Get a Cricut Joy!