Sublimate on cotton or dark fabrics with Siser EasySubli! This material is designed to work with EasySubli Inks in a Sawgrass Printer. Here's a detailed tutorial on how to use it.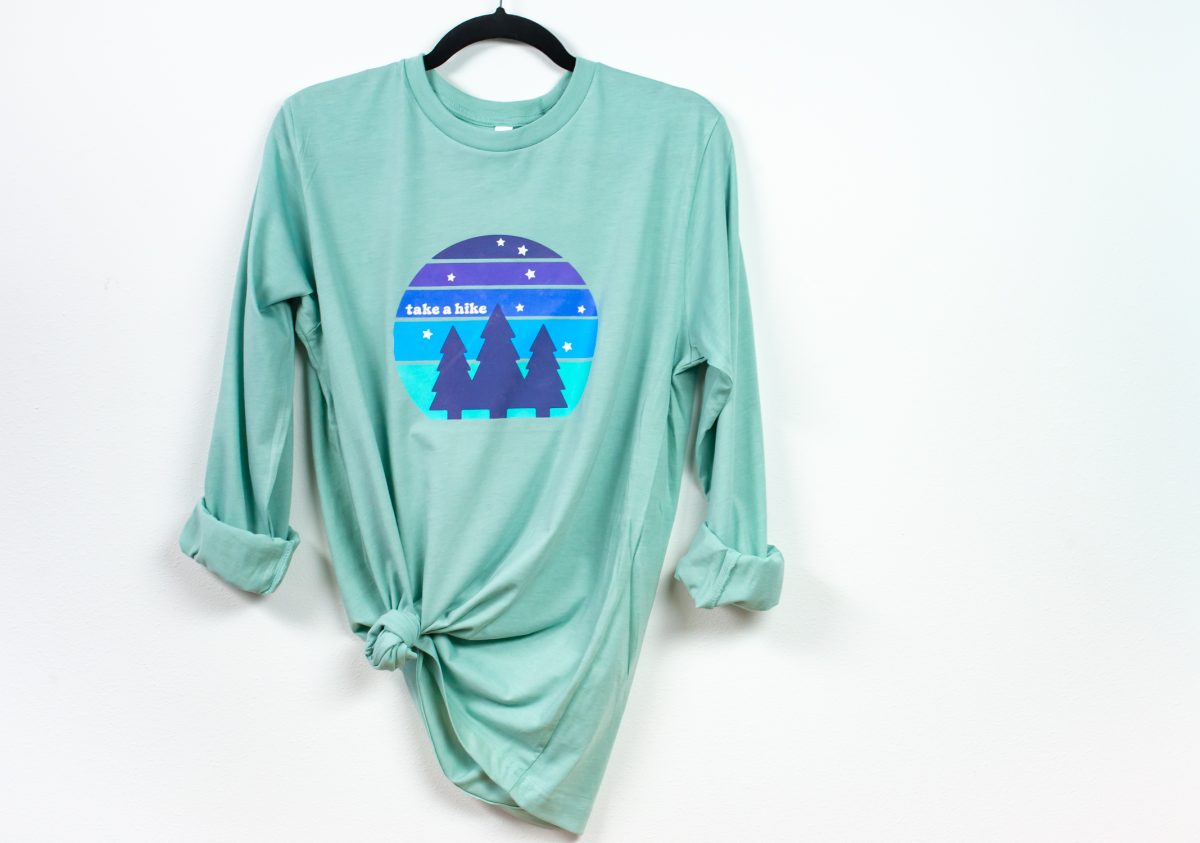 This post is sponsored by my favorite apparel brand, BELLA+CANVAS.
I'm always getting asked how to sublimate on cotton or colored fabrics instead of white polyester garments. It makes sense—who wants all of their clothes to be white polyester? No thank you—I want a nice, high-quality shirt that feels good to wear and holds up well in the wash.
Problem is, the sublimation process needs two things. First, it needs a primarily polyester material for the ink to bond with the fabric. It's just a part of the chemistry of using sublimation. And second, it needs a light colored fabric because the ink itself is transparent. If you put transparent ink on, say, a black shirt, you won't be able to see it at all.
So to be able to sublimate or cotton or colored fabrics, you'll need a workaround. Enter, Siser EasySubli.
What is Siser EasySubli?
I already shared the Glitter HTV sublimation hack, and today I'm sharing another method for sublimating on these non-poly / non-white fabrics: Siser EasySubli. Siser EasySubli is basically a polyester heat transfer vinyl that you can sublimate on.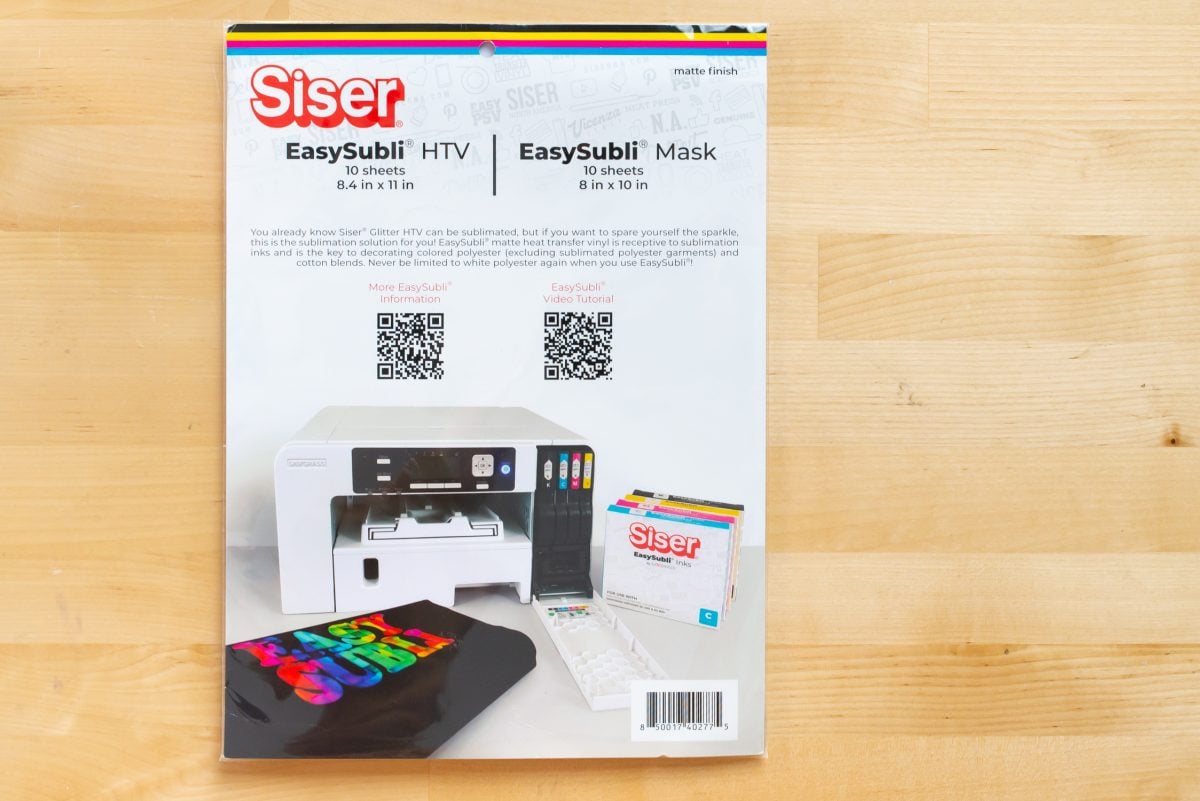 Note that you are sublimating ONTO the EasySubli, and the EasySubli sits on top of the fabric like heat transfer vinyl. The ink does not become one with the fabric like it would if you sublimated straight onto the shirt. So the wash and wear of EasySubli is more like heat transfer vinyl than it is straight sublimation.
This post is specifically for Sawgrass printers with EasySubli inks. EasySubli inks were designed specifically for these EasySubli transfers. There is a special drying agent within the EasySubli inks that allows it to dry on the EasySubli material.
EasySubli comes in packs with and without a masking sheet (see below for more information on masking). You'll want to print on the the rough side of the material—the smooth side is the carrier sheet.
What if I have I have a Different Sublimation Printer or Sublimation Ink?
Using a different sublimation ink on the EasySubli material can be tricky and requires a workaround. If you want to use EasySubli with another sublimation printer that does not have EasySubli Ink, like a converted Epson printer or even a Sawgrass with Sublijet (not EasySubli) inks, stay tuned for an upcoming post on how to do that.
Do I Need to Mask Siser EasySubli?
A mask is basically transfer tape for heat transfer vinyl. You use it to get your design off the carrier sheet and onto your garment before you press.
If you have a simple EasySubli project, you can actually place it by hand onto your garment without using a mask. If you have a more complicated design with cutouts, you'll need a mask to move all of the pieces to your garment.
You can purchase Siser EasySubli with a mask, but I have found their mask difficult to use. When I was looking for alternative masks for Siser DTV, I discovered KTM mask, which is still a little fussy, but a definite improvement. You can still use the Siser EasySubli mask, just know that it's a bit of a pain getting all the pieces onto the mask.
What are the Heat Press Settings for EasySubli?
Siser EasySubli should be pressed for 10-15 seconds at 310° using medium pressure.
What Garments Work Best for Siser EasySubli?
EasySubli is designed for colored and non-polyester fabrics, and I find higher quality garments work better. They just hold up better in the wash.
For this post, I'm using a BELLA+CANVAS 3501 long-sleeve t-shirt in one of their 16 new colors for this silhouette, Dusty Blue. Siser EasySubli makes it easy to sublimate on colors like this, which wouldn't work as well with a basic sublimation print.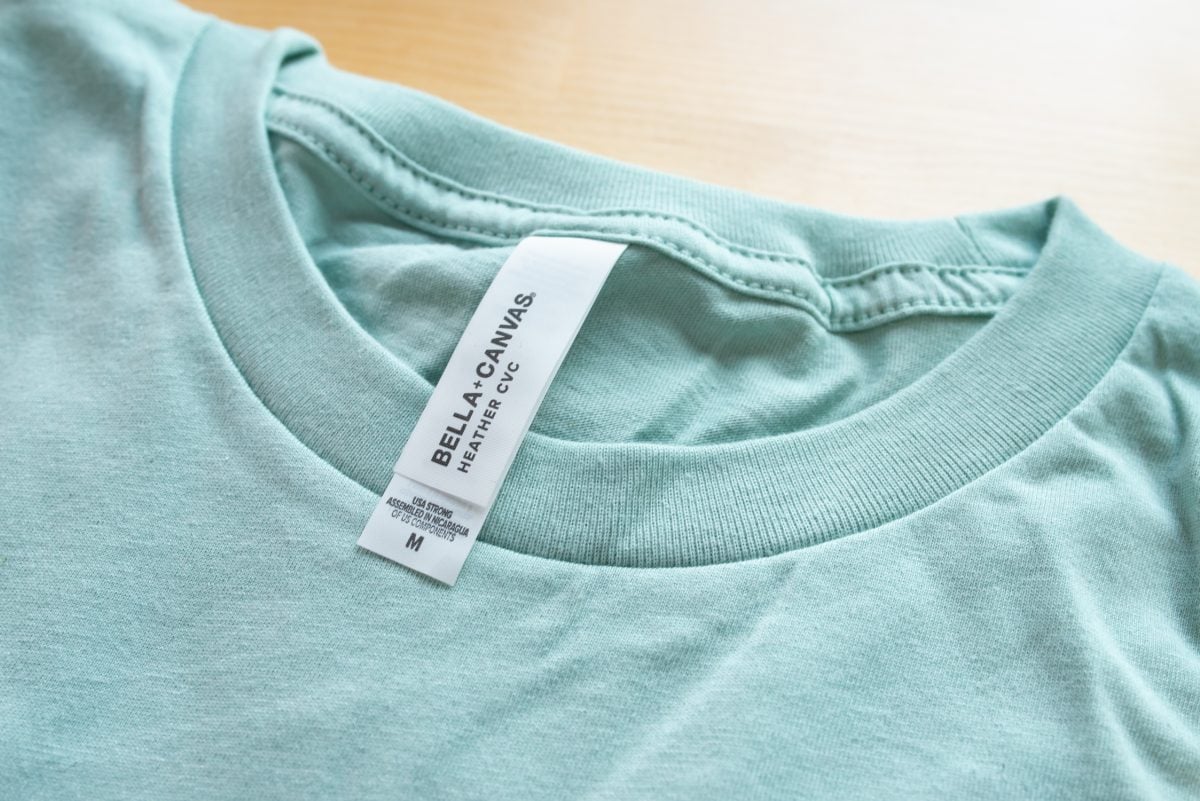 I love BELLA+CANVAS shirts for all sorts of crafting—they have more than 300 color choices across their various styles, their clothes are incredibly soft, and they fit well. Not to mention they are really eco-friendly and recycle 100% of their scraps, plus they are third-party certified to ensure safe and fair labor conditions (two things that are super important to me!).
BELLA+CANVAS garments are Airlume cotton or Airlume cotton blends, so Siser EasySubli is a great sublimation solution for using their garments for sublimation.
Additionally, you can get access to near-wholesale pricing at BELLA+CANVAS without a reseller license! Check out their Maker's Account, which allows you to bulk order garments at a much lower price than buying retail. Check out the third link on the right here to set up your account!
I suggest pre-washing all garments before using EasySubli, just in case they shrink a bit in the wash.
Do I need a Cutting Machine?
You can use Siser EasySubli without a cutting machine if your design is relatively simple and you want to cut it by hand, but most designs will need a cutting machine like a Cricut, Silhouette, or Siser. I'm using my Cricut Explore 3 for this project, but any machine with print-then-cut capabilities will work.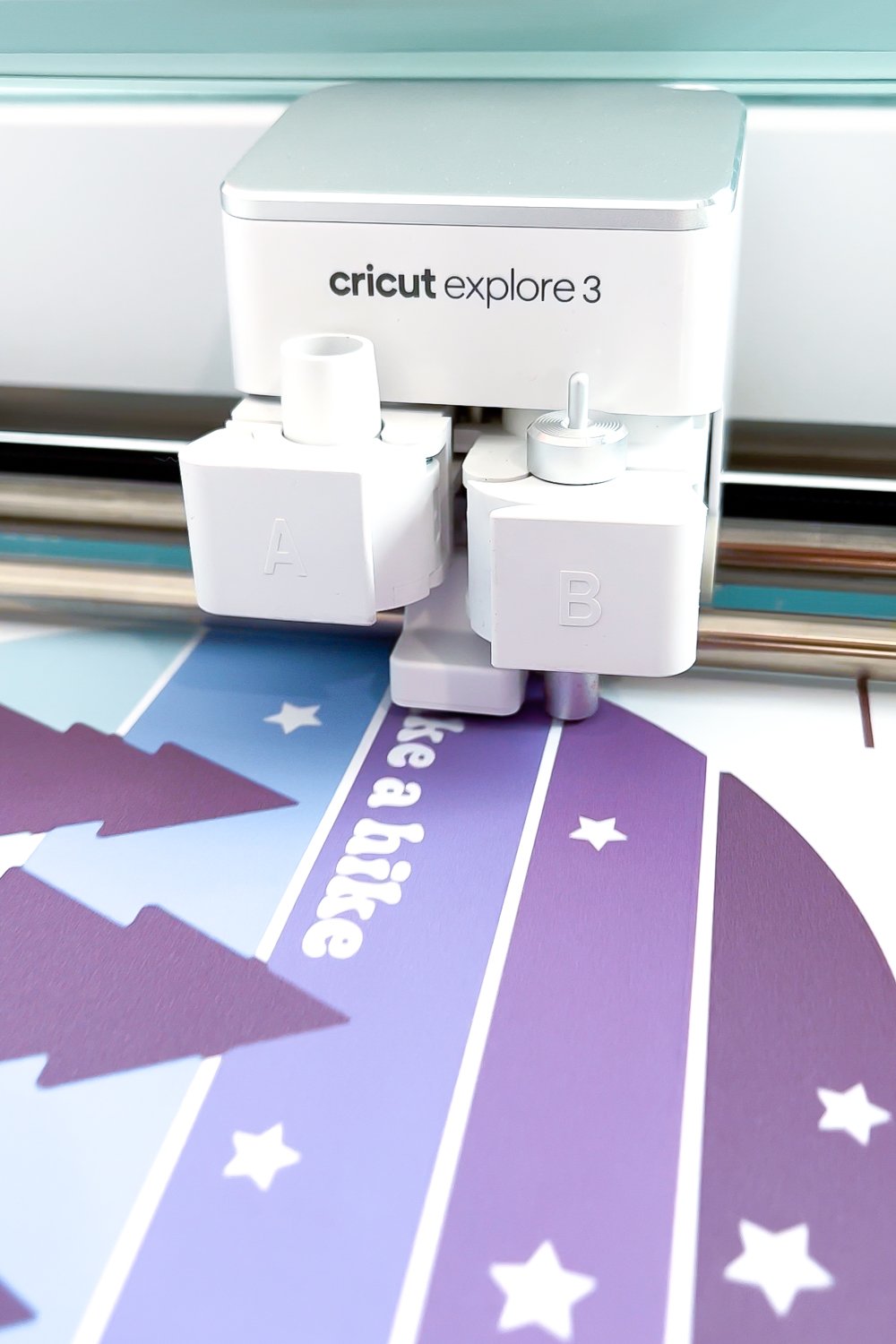 Note that because this is cutting project (by hand or by machine), you do want to find an image that is, well, easily cuttable. For example, we're using a cute Take a Hike PNG, but the image edges are very simple and smooth so it makes it easy to cut out. If you used an image like this Take a Hike PNG from Etsy, it would be impossible for your machine (or your scissors!) to cut out all of those intricate grungy details. Images like this are much better with regular sublimation OR if you add simple shape behind them and flatten them together in your design software.
Supplies for Using EasySubli
Get everything you need for this project on my Amazon shopping list! Get your BELLA+CANVAS garments below.
Shirt (I'm using one from BELLA+CANVAS)
Sublimation File (download for free below)
Download the Free Take a Hike File under SUBLIMATION S13
This file can be found in my Free Craft Resource Library. The file number is: S13.
Want access to this free file? Join my FREE resource library! All you need is the password to get in, which you can get by filling out the form below!
How to Use Siser EasySubli
No Cutting Machine—Print Your Image
If you are using a simple image and are not planning on using a cutting machine to cut around the edge, you can upload your file to Sawgrass Creative Studio or Sawgrass Print Manager. Then resize to fit your garment. You want to make sure the Mirror is turned OFF. This is one of the few instances where you do not want to reverse your image for a heat transfer project. Then print your project.
Then skip to the Cure Your Image section below.
Cutting Machine—Set Up Your File
If you are using a cutting machine, upload your image to your cutting machine software. I used the PNG version of the file from the download above. And because I'm cutting with my Cricut, I uploaded my image to Cricut Design Space. I like to choose Complex in the first Image Type screen.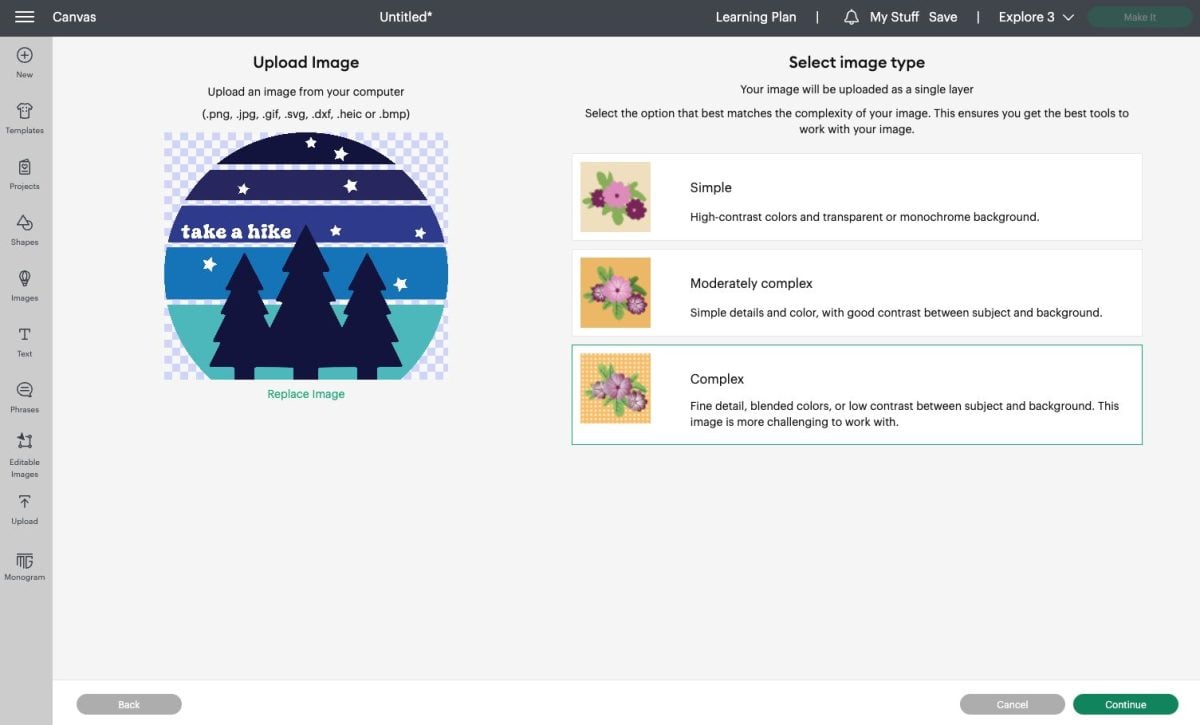 Then in the next screen, you'll remove the background. If you've uploaded a PNG, most likely the background will already be transparent. But if you do have a background on your image, you can remove it using these tools.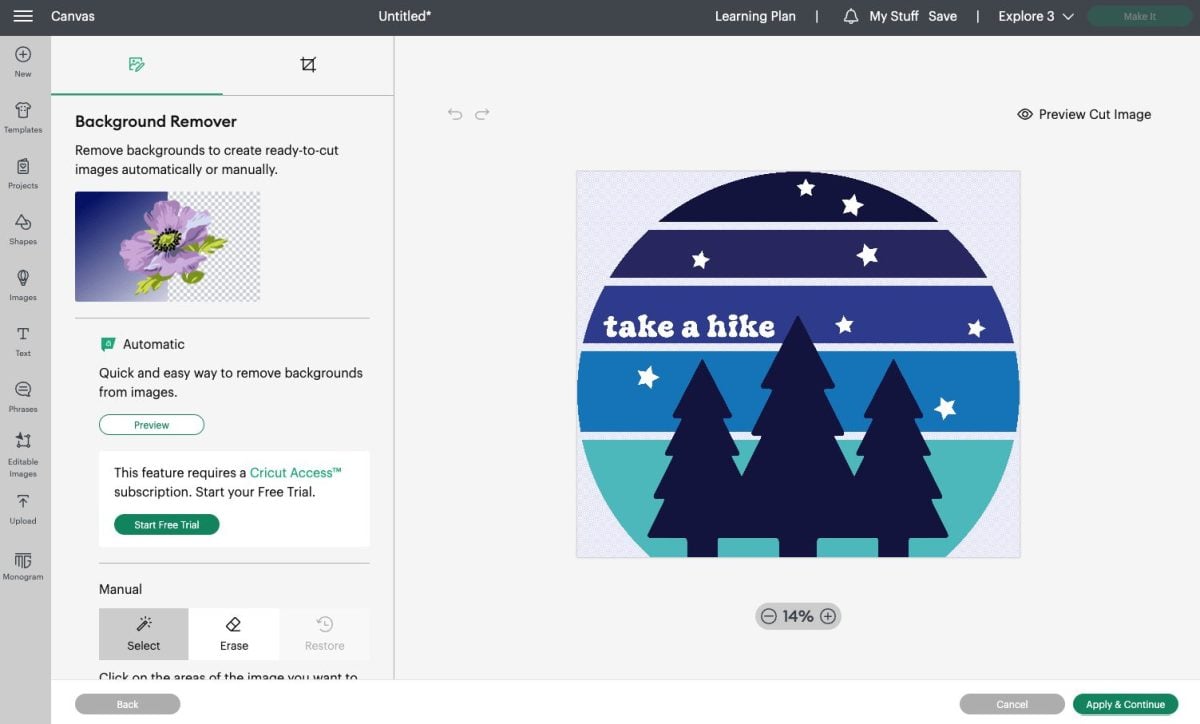 Click Apply & Continue and in the next screen, choose Print then Cut as your upload type.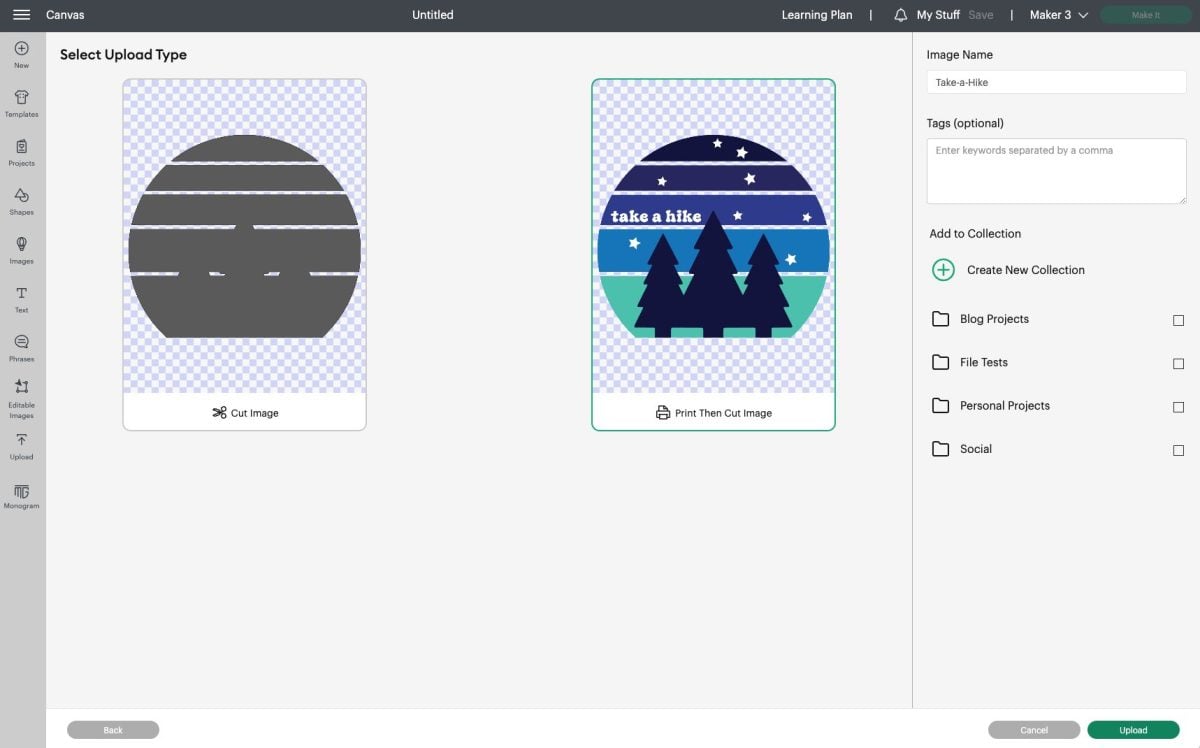 Once my image was on my Canvas, I rotated it and then maxed out the print then cut size, making my height 6.82″ to take advantage of the largest print then cut size. (Depending on your version of Cricut Design Space, you may be limited to 6.75″ until a recent update rolls out to everyone.) If you are using another cutting machine, you may have a bigger cutting area.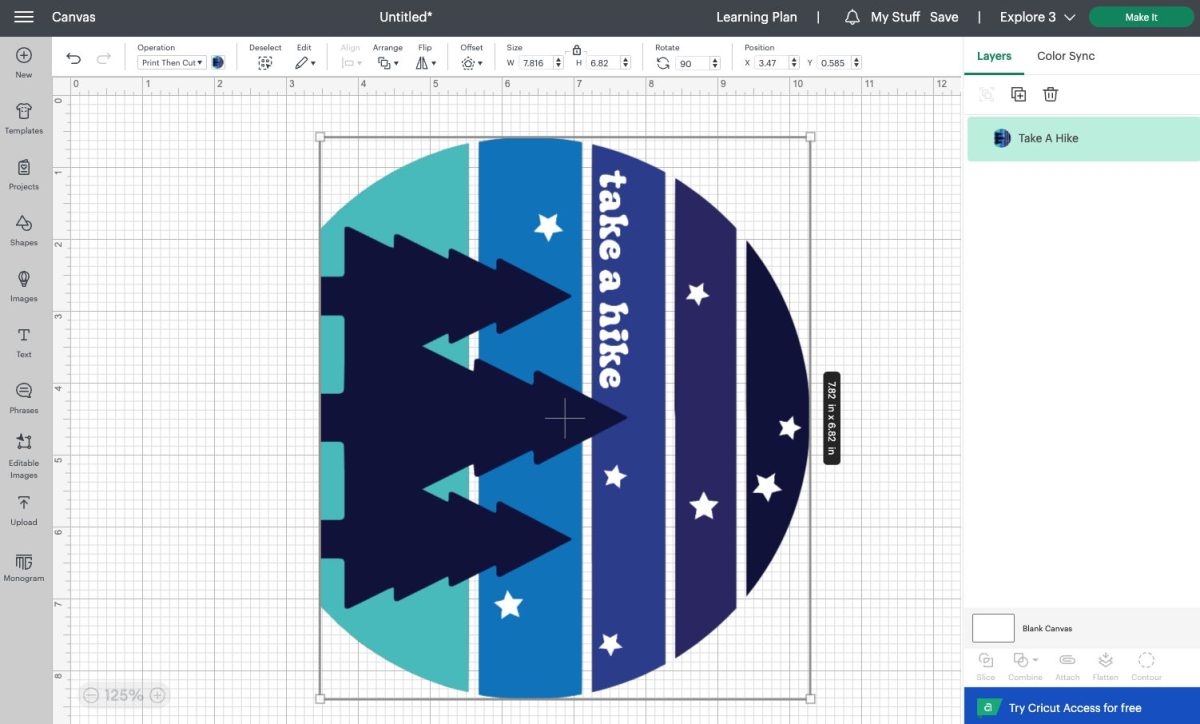 Once you have your image ready to go, click Make It. You'll see your project on a piece of paper on a Cricut mat. Unlike other heat transfer projects you want to make sure mirror is OFF. This is one of the few instances where you don't want to mirror an iron on project.
Print Your Image
Place your EasySubli in your Sawgrass printer with the shiny side UP. The image will print on the back rough side.
Click Continue and Design Space will prompt you to print your project. For projects cut with a cutting machine, I suggest leaving the bleed ON. This will ensure there is no white space around the edge of your image if your cut is slightly off. Also check the "Use System Dialog Box" because this will allow you to use Sawgrass Print Manager with your file.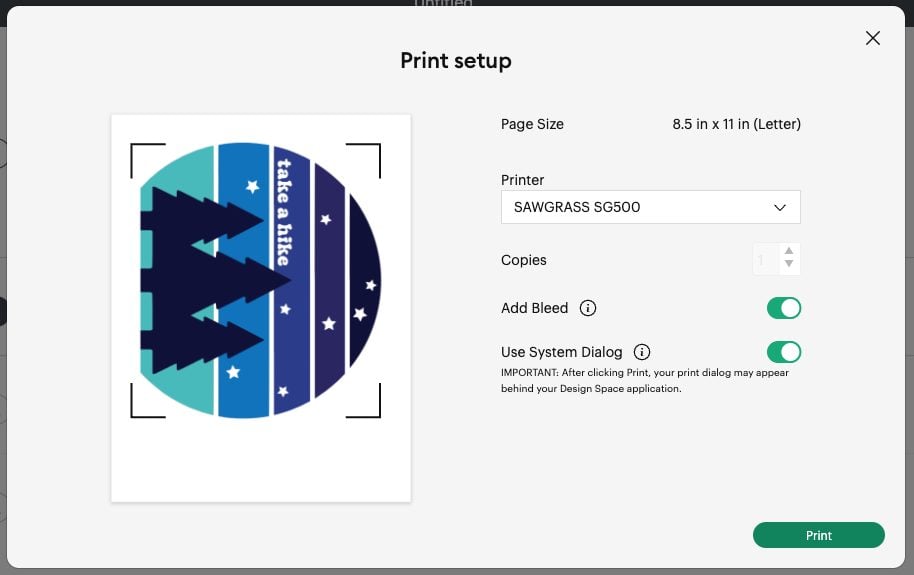 The System Dialog Box will most likely open BEHIND your Design Space screen, so you may need to move Design Space to see it. From here, instead of selecting a printer and hitting print, go down to the bottom and select Sawgrass Print Manager. (Note: if you are on a PC, you may select Sawgrass Print Manager where you select the printer instead.)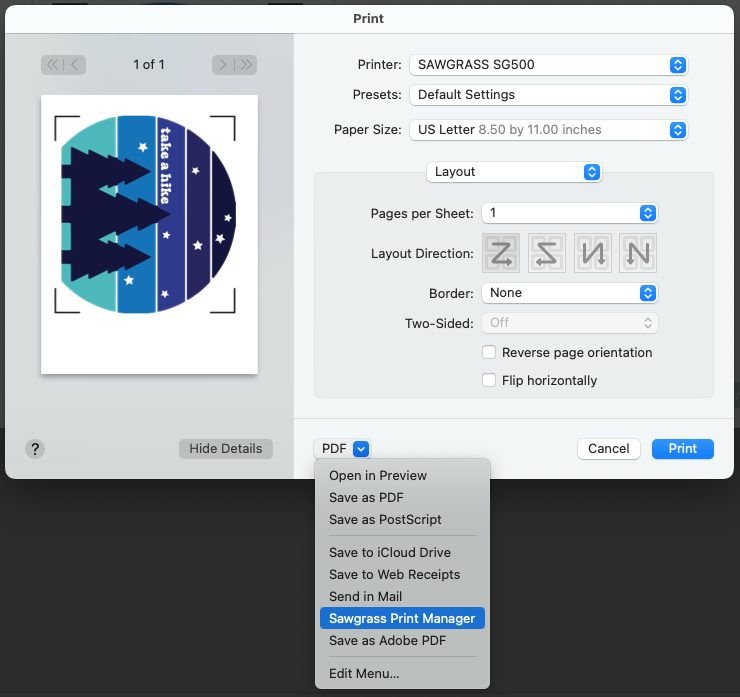 This will open up the Sawgrass Print Manager. From here, change some of the settings. Change the both the Substrate and the Paper to Siser EasySubli Vinyl. Then make sure mirror is OFF.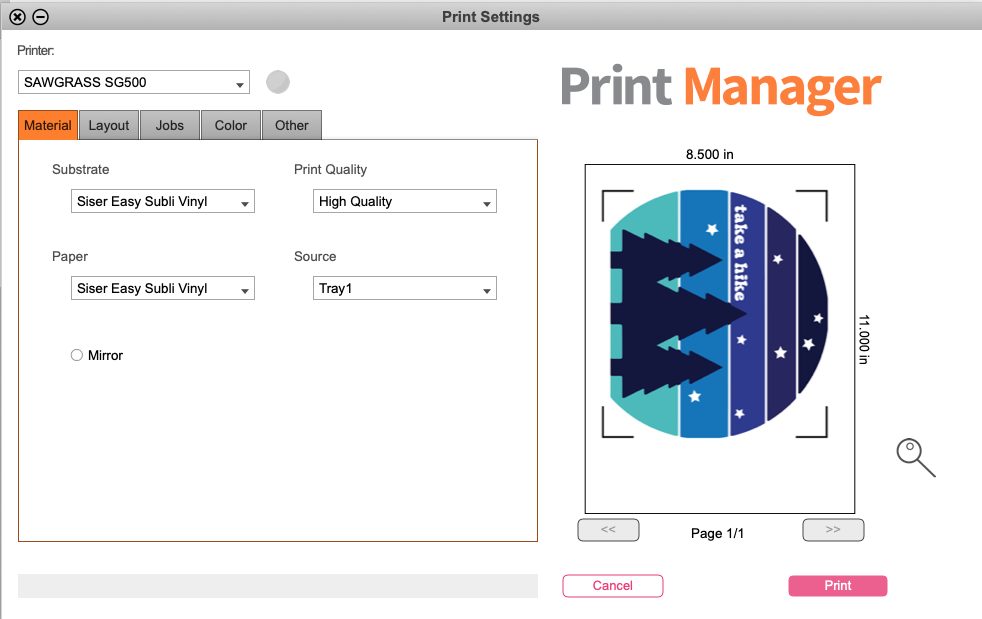 In the Layout Tab, make sure that "Preserve Layout from Designer" is checked.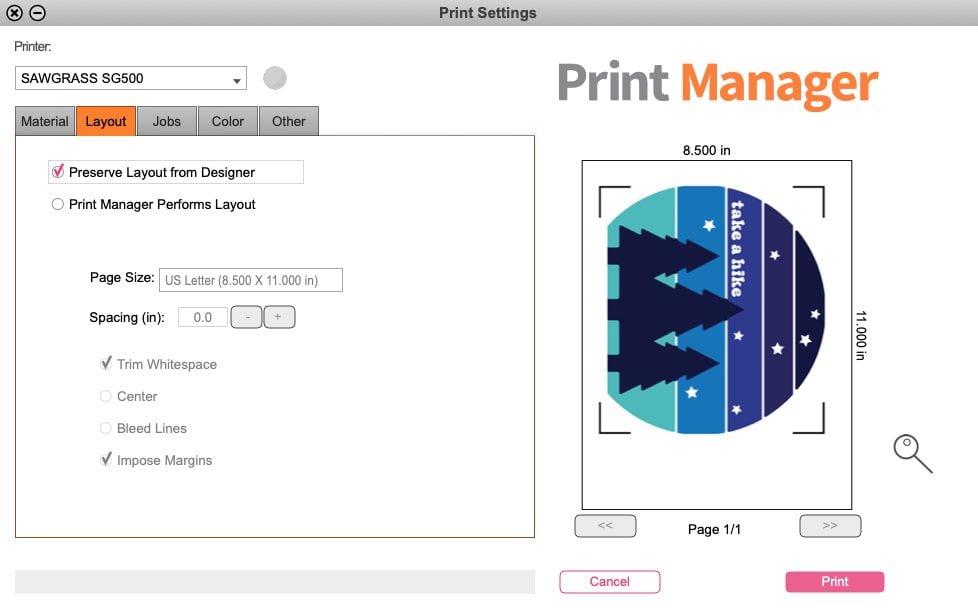 Then click Print! Your Sawgrass printer will print both your image and the registration marks on the EasySubli material.
Remember, sublimation colors will look washed out when printed—you'll get the brightest colors when you press! If you're having issues with the color of your Sawgrass prints, reach out to their customer service folks for help.
Cure Your Image
Although EasySubli inks are designed to dry on EasySubli, you do need to make sure the ink is dry before you press. You can leave the printed sheet to dry on its own overnight, or you can place under a heat press set to 315° for 30 seconds or so to dry the ink. Do NOT close the press—just hover the press over the top to evaporate any moisture still left in the ink.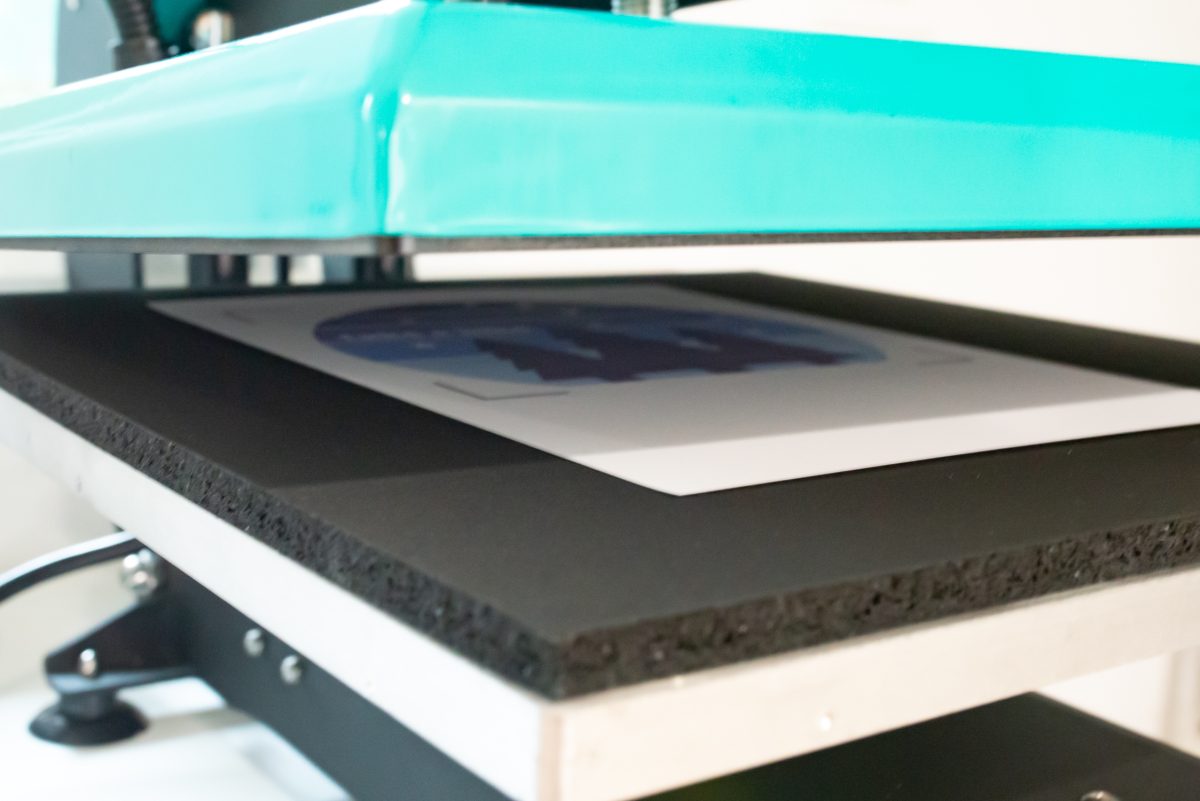 Double check that it's dry (if not, hover again), and you're ready to cut your image.
Cut Your Image
Next you'll place your dry image on a Cricut cutting mat, in the upper left corner, with the image facing up and the shiny side on the mat.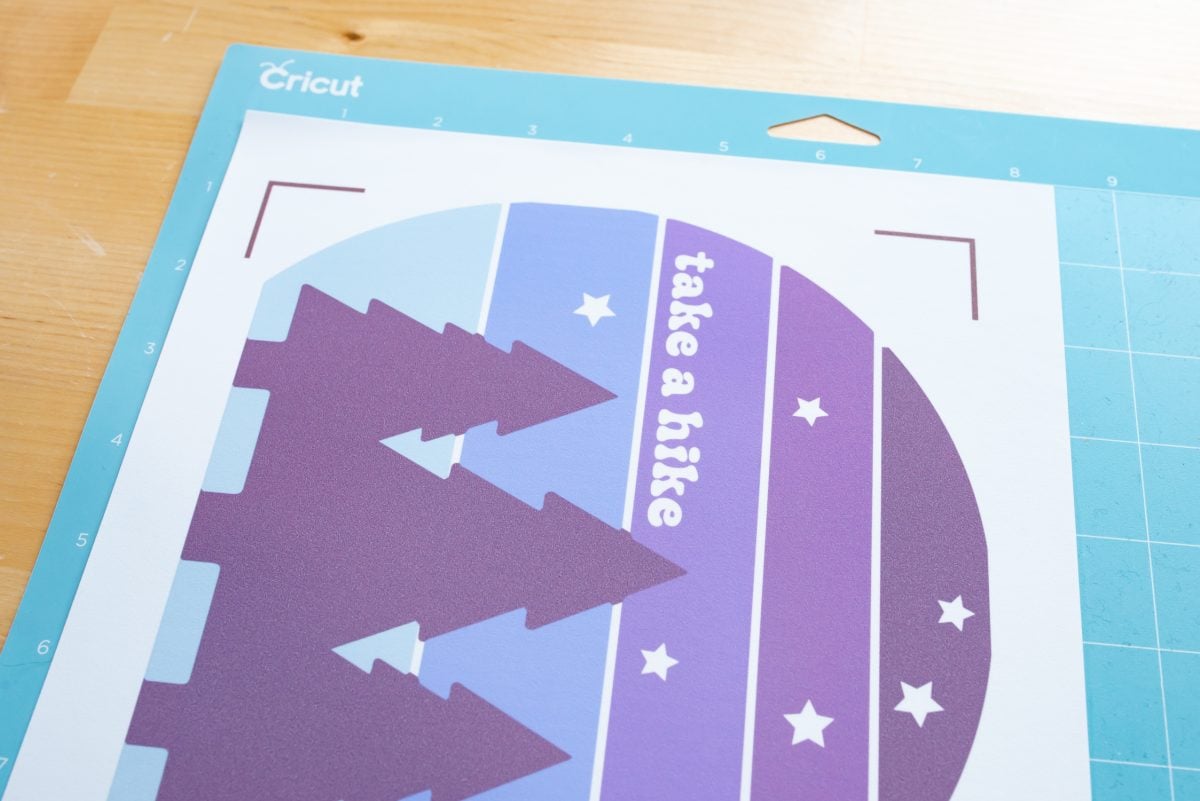 Move the white star wheels on your machine's rollers to the right so they don't imprint your material.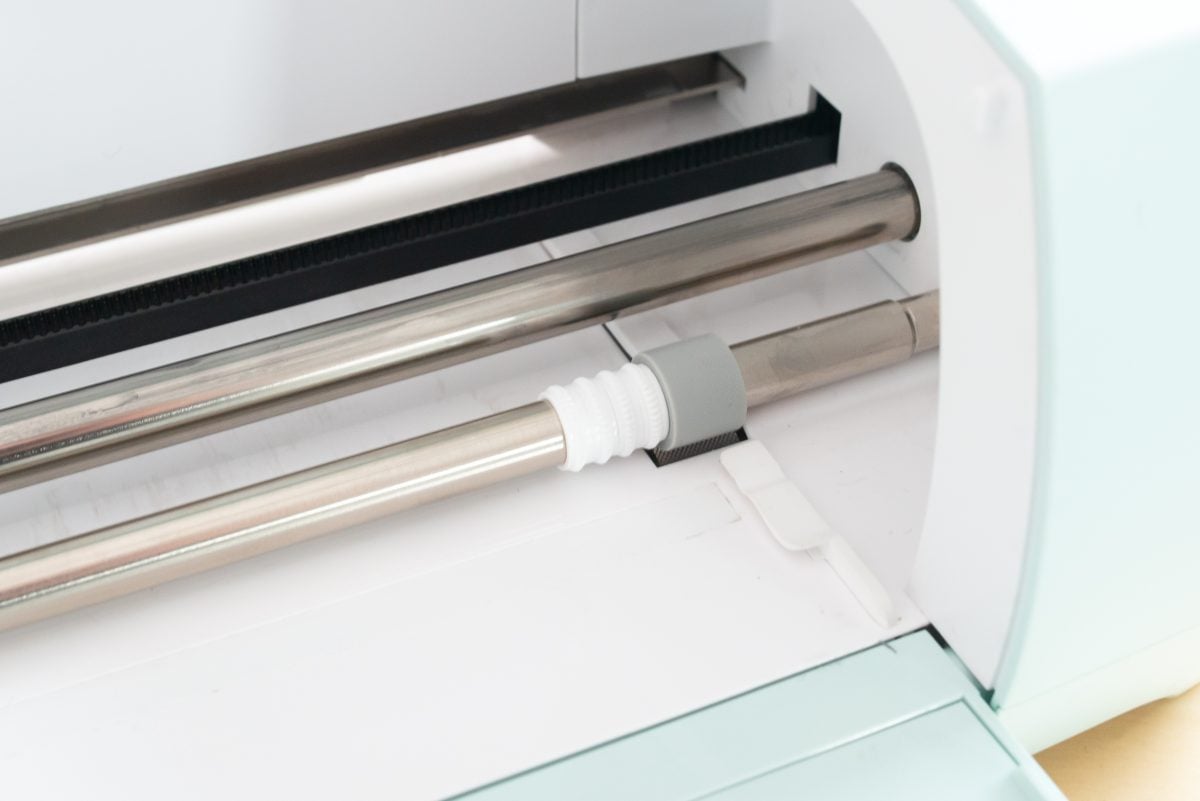 In Cricut Design Space, set your material to Everyday Iron-On, but ignore the warning about the mirror being turned on.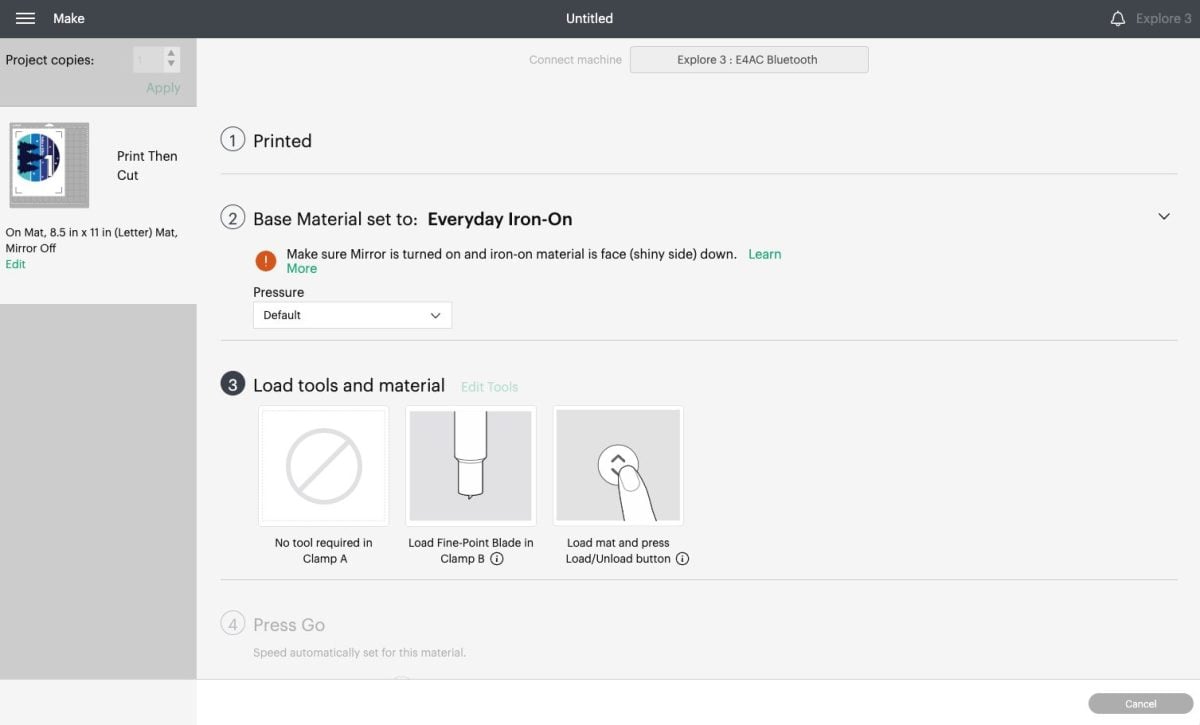 Insert your mat your machine, following the prompts in Cricut Design Space. Your machine will read the registration marks and cut around the edges and any cutouts.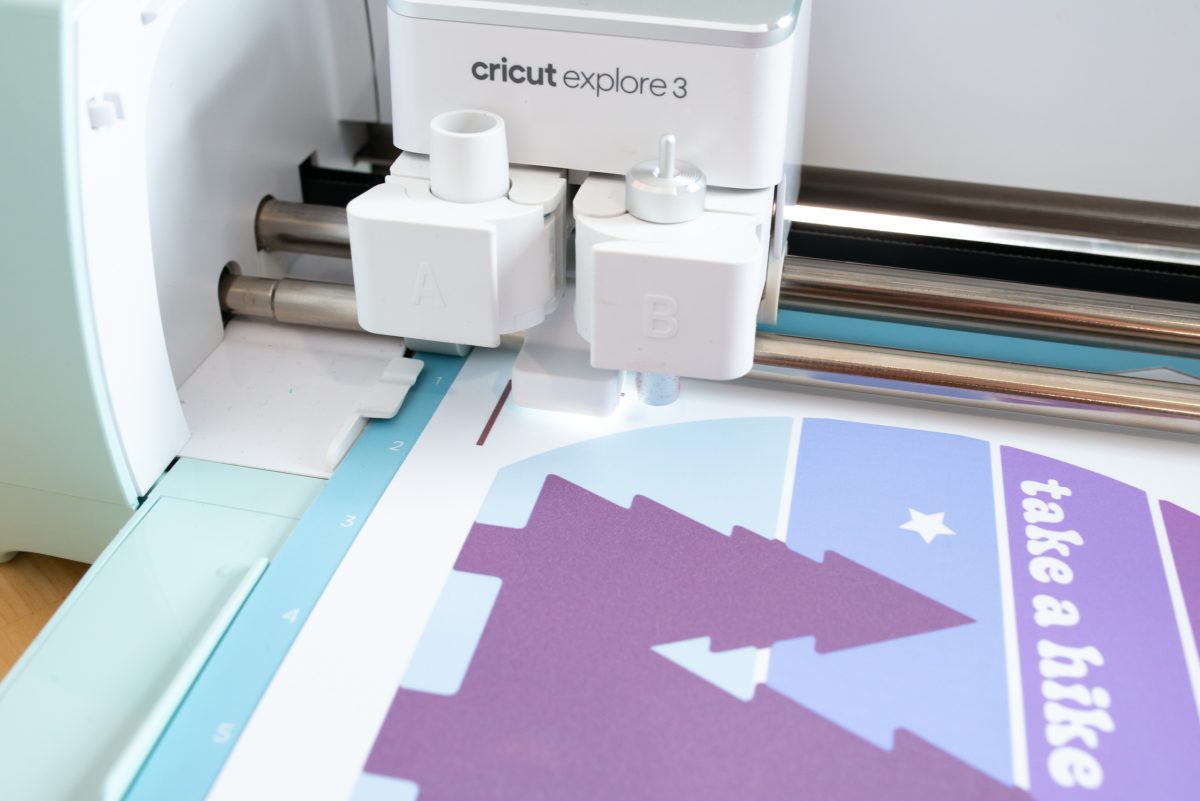 If you are having an issue with your cut, make sure you are using a new mat and a new blade. Mat and blade condition can make a big difference in clean cuts.
Weed Your Image
Now it's time to remove any part of the material that is not your image. This includes the area around your image and any cutouts. Use a weeding hook to carefully pull up unwanted material, like you would any other heat transfer vinyl product.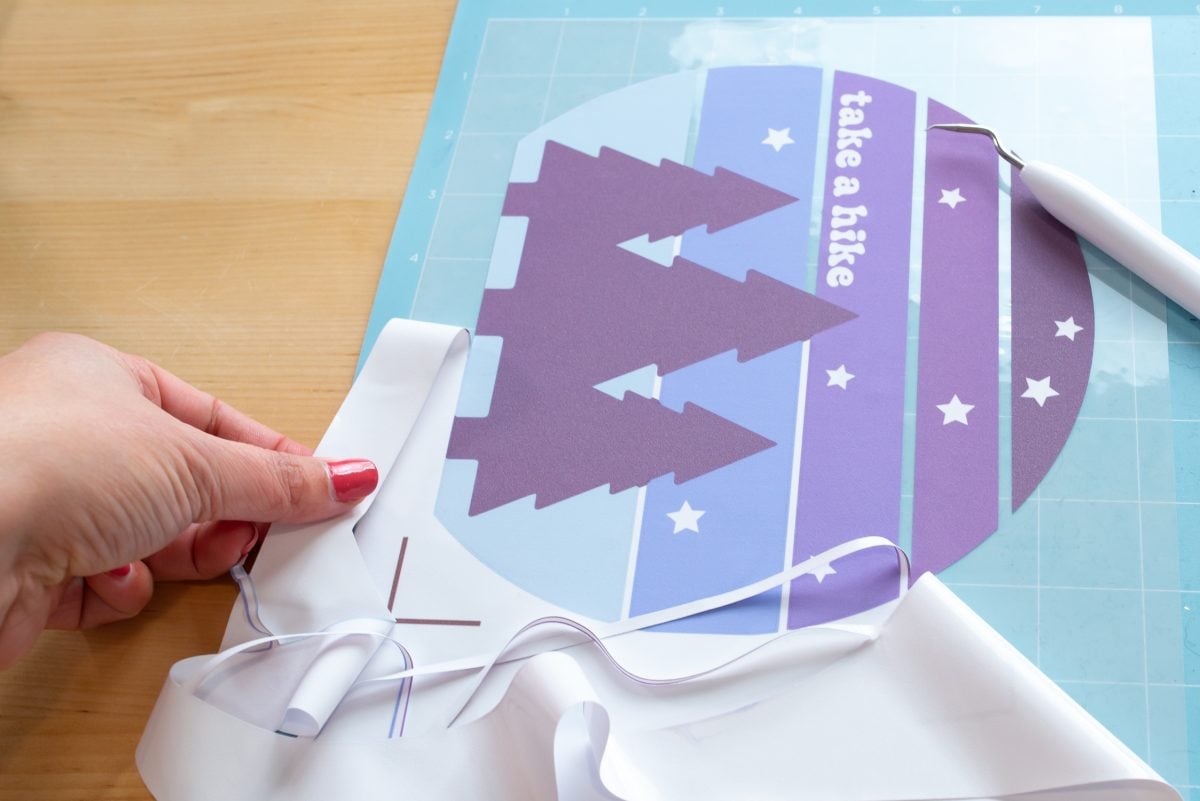 Mask Your Image to Transfer It
Like I mentioned before, if you have a simple design, you can just pick it up off the carrier sheet and put it on your garment. But if you have a more complex design, use a mask. The KTM mask works so much better for me than the Siser mask, but you can try either (or another HTV mask if you have one!).
Cut a piece of masking slightly larger than your image. Peel back the protective sheet on the masking and place it sticky-side down on the image.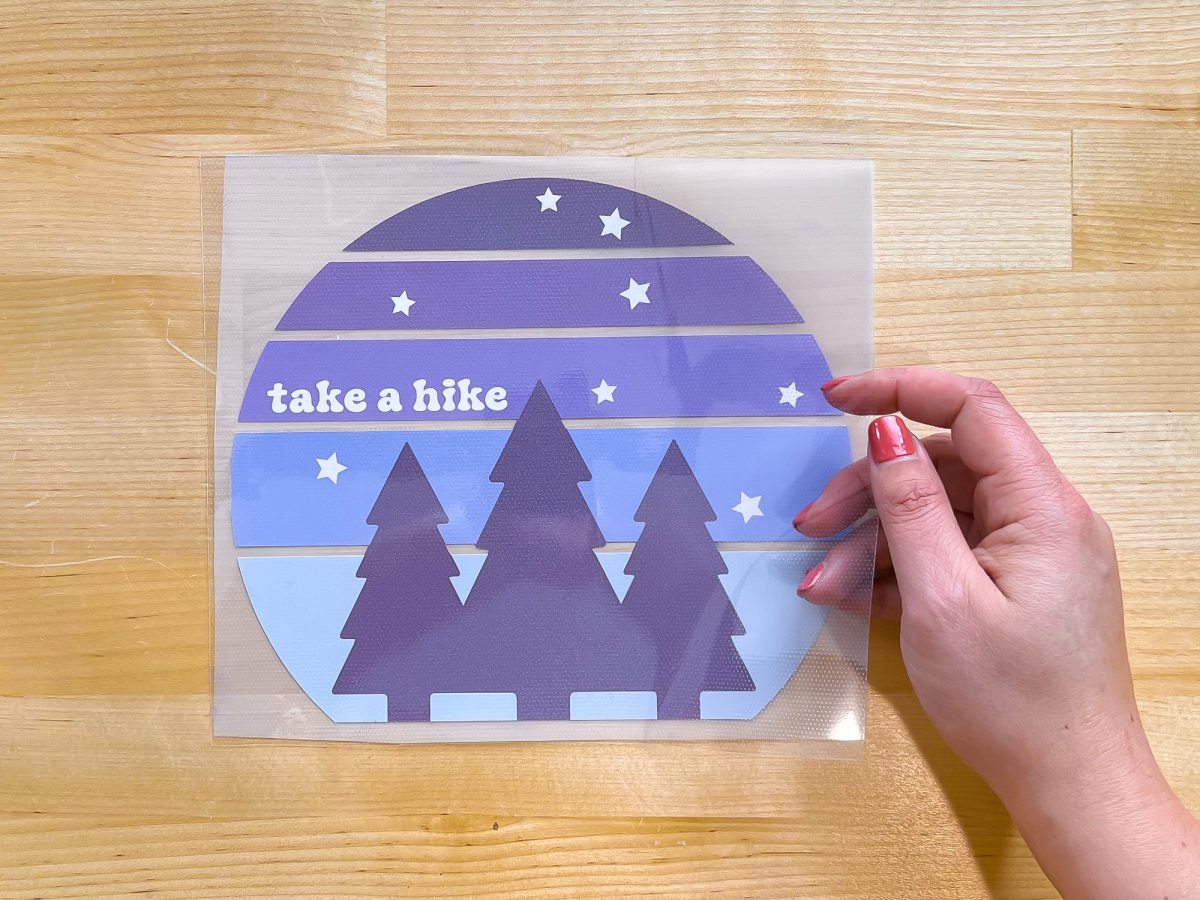 Use a scraper or squeegee to burnish the mask onto the transfer from both the front and the back.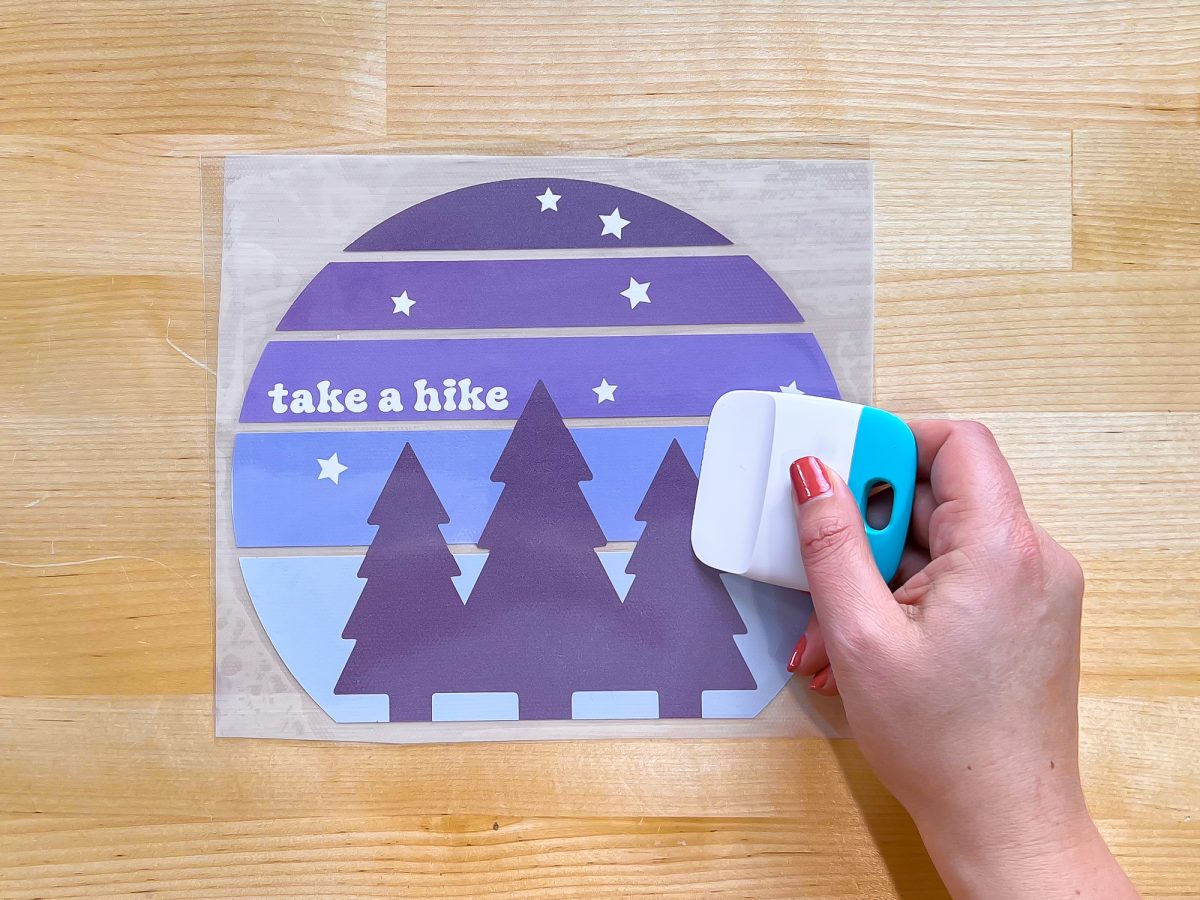 Then peel back the carrier sheet (the one at the back of your image), leaving the image on the mask. Not gonna lie, this can be really difficult. The EasySubli just does not like to stick to the mask. So go slowly, using your hands to keep the material down on the mask. You can see in my photo how the edges like to pop up and not stick.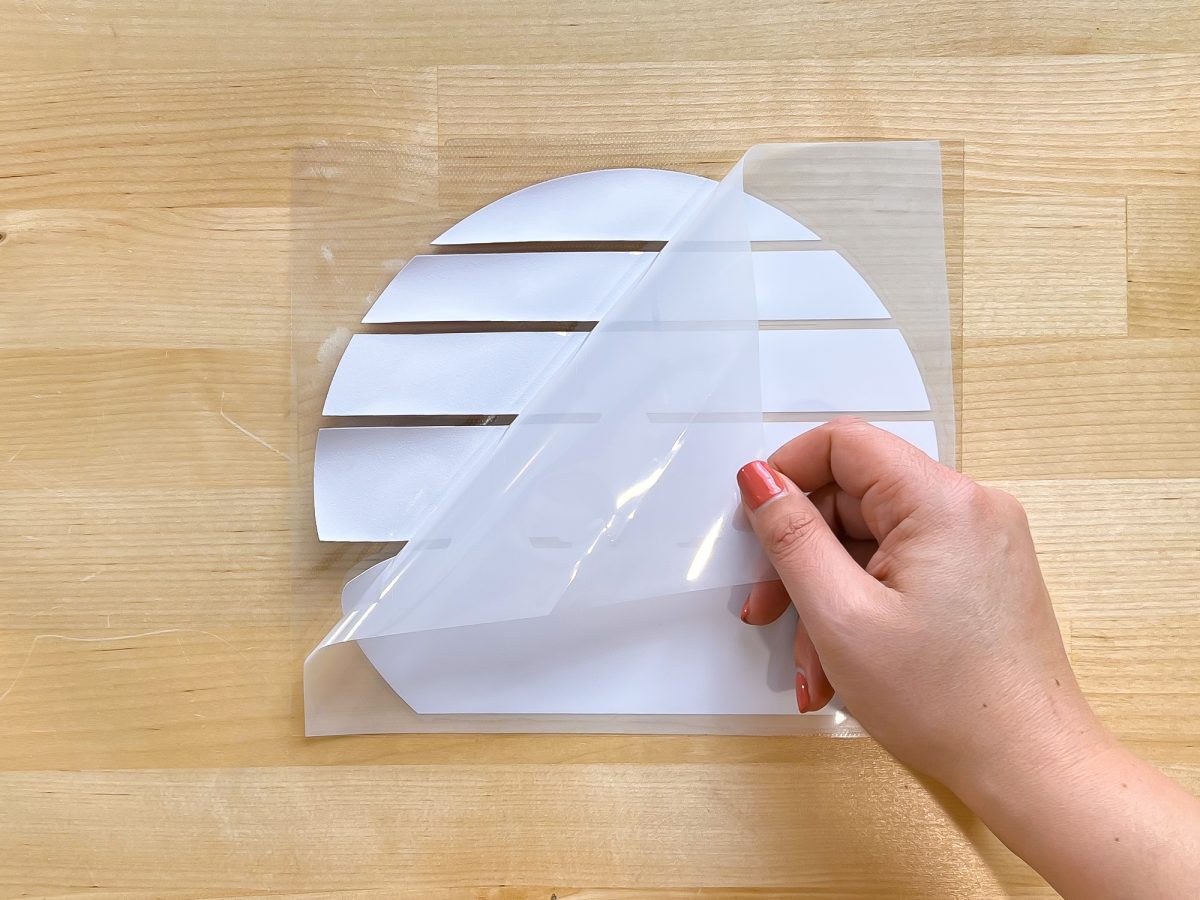 If parts fall off, that's okay, you can easily just put them back into place. This is the biggest reason I mentioned keeping your images fairly simple above—too many small pieces can be difficult with this material.
Preheat Your Garment
Place your garment int your heat press. Press your garment at 311° for 4-5 seconds to help flatten it and remove any moisture.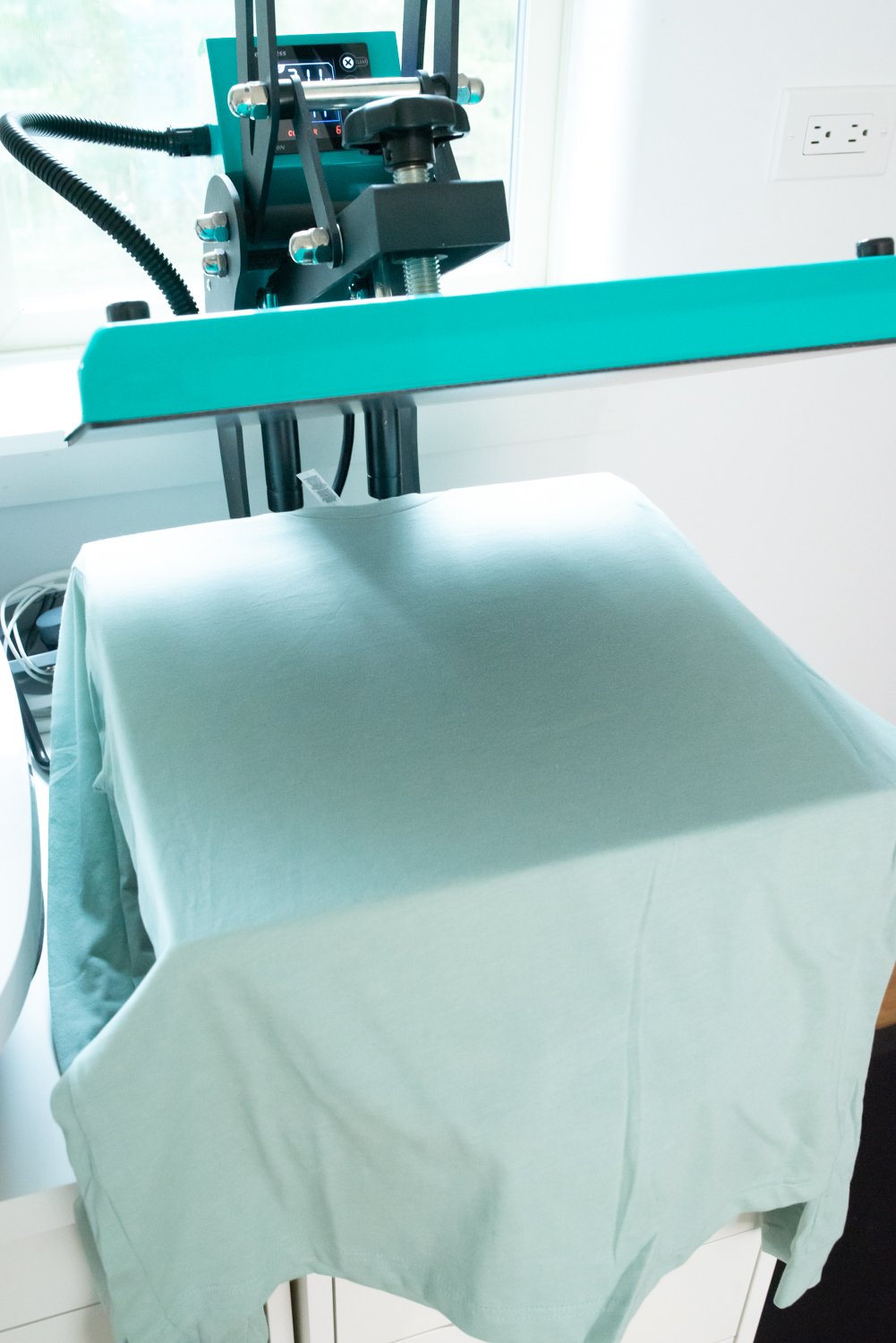 Apply Your EasySubli Transfer
Place your transfer with the mask up on your pre-heated garment. I like to use a t-shirt guide to help with placement.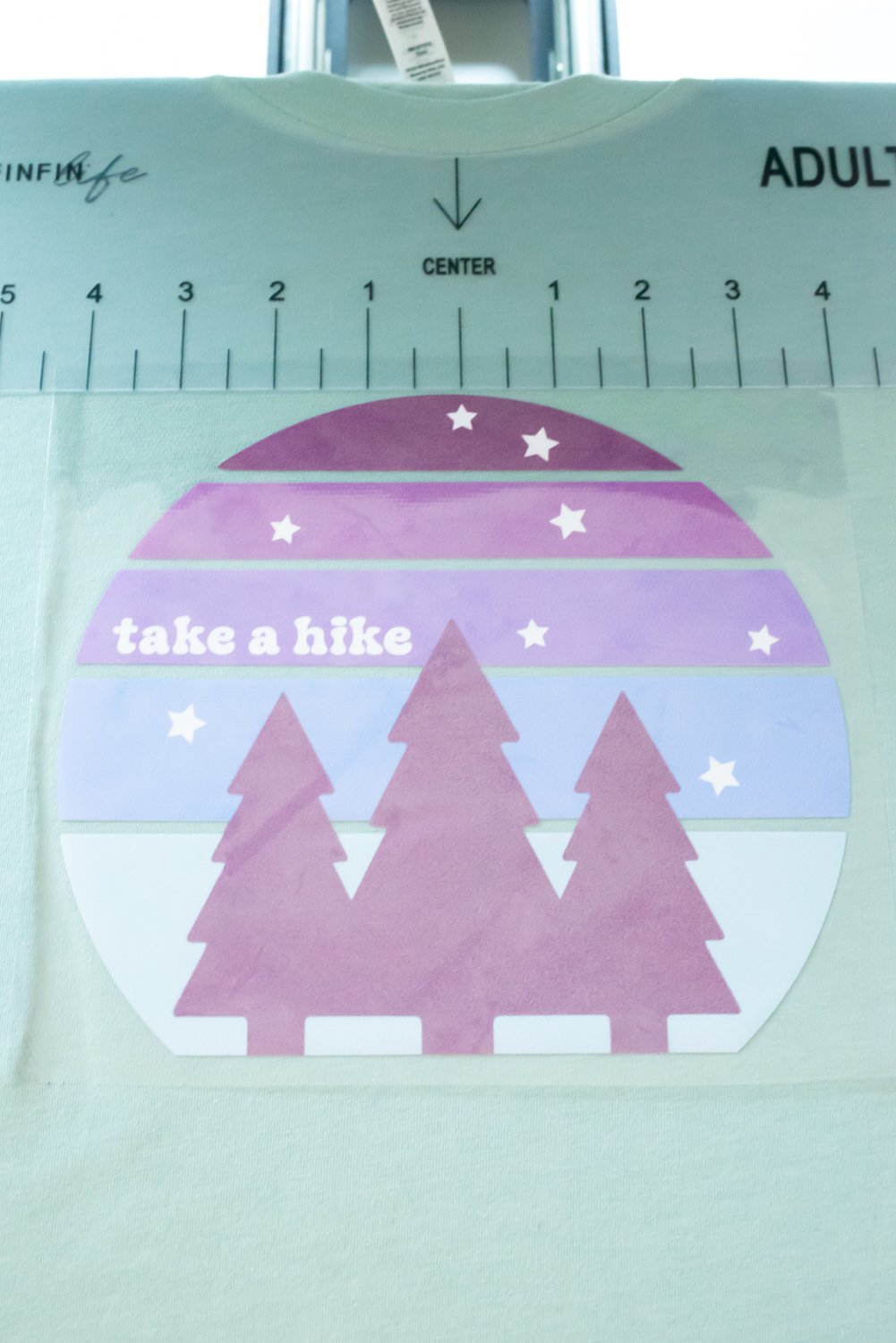 Place a piece of butcher paper over your entire image (use more than one piece if necessary).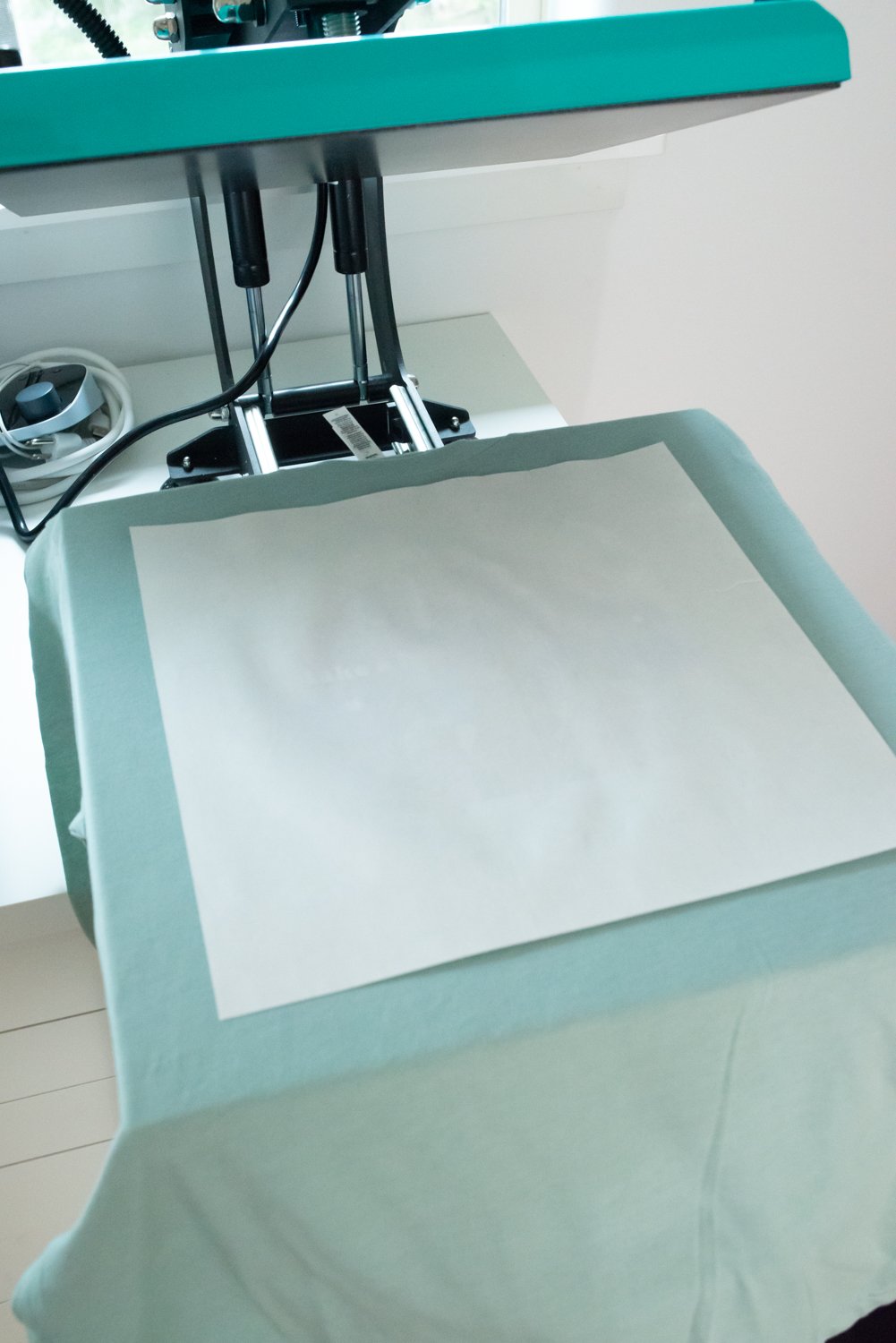 Apply EasySubli with a heat press at 311º for 15 seconds using medium pressure.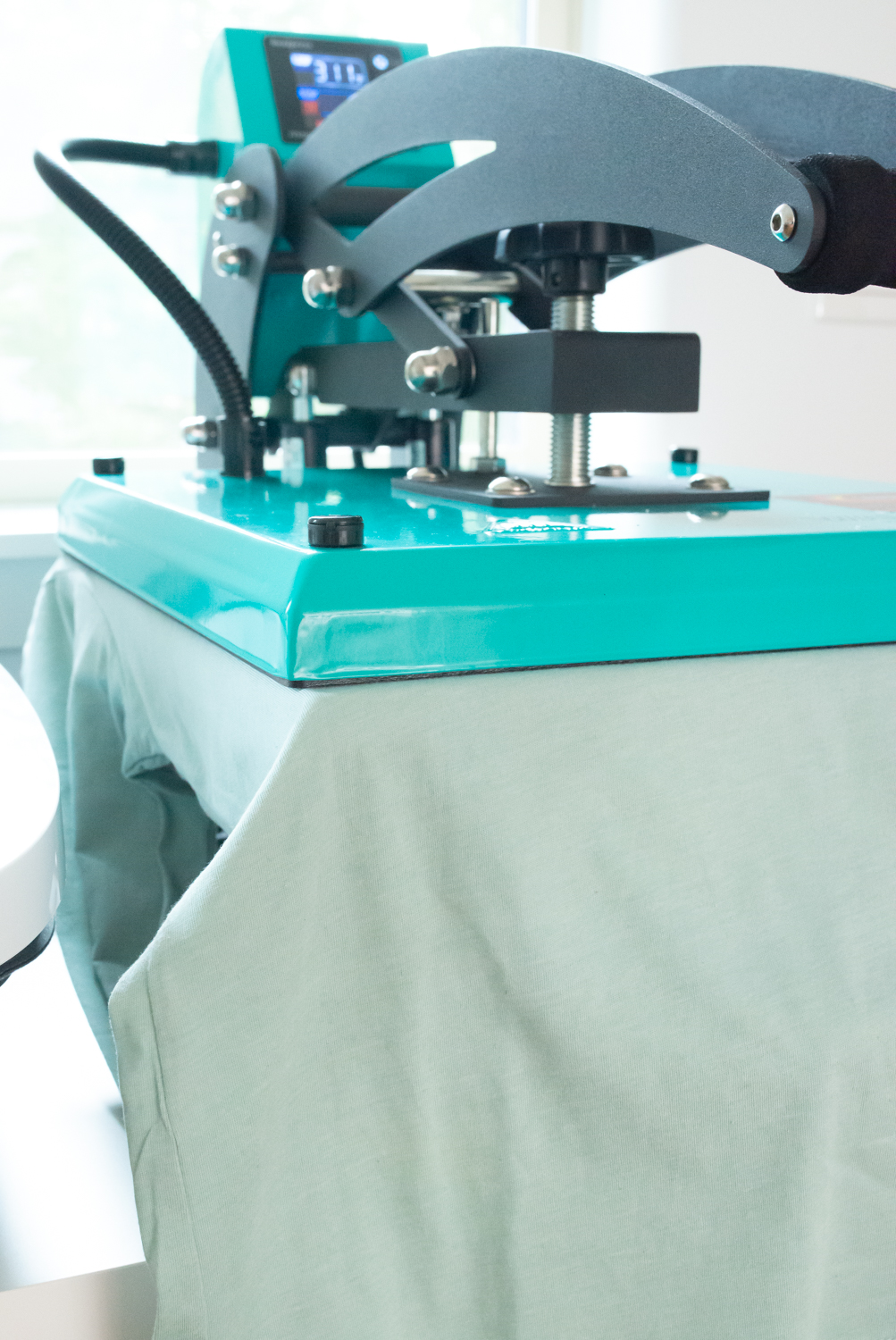 Peel off the mask while the image is still warm, revealing your final project! If you are finding pieces are still lifting, you can press for an additional 5 seconds. Flip your garment over and press for 10 seconds from the back.
You can also use an EasyPress set to 325° for 30 seconds on one side and then an additional 30 seconds from the back.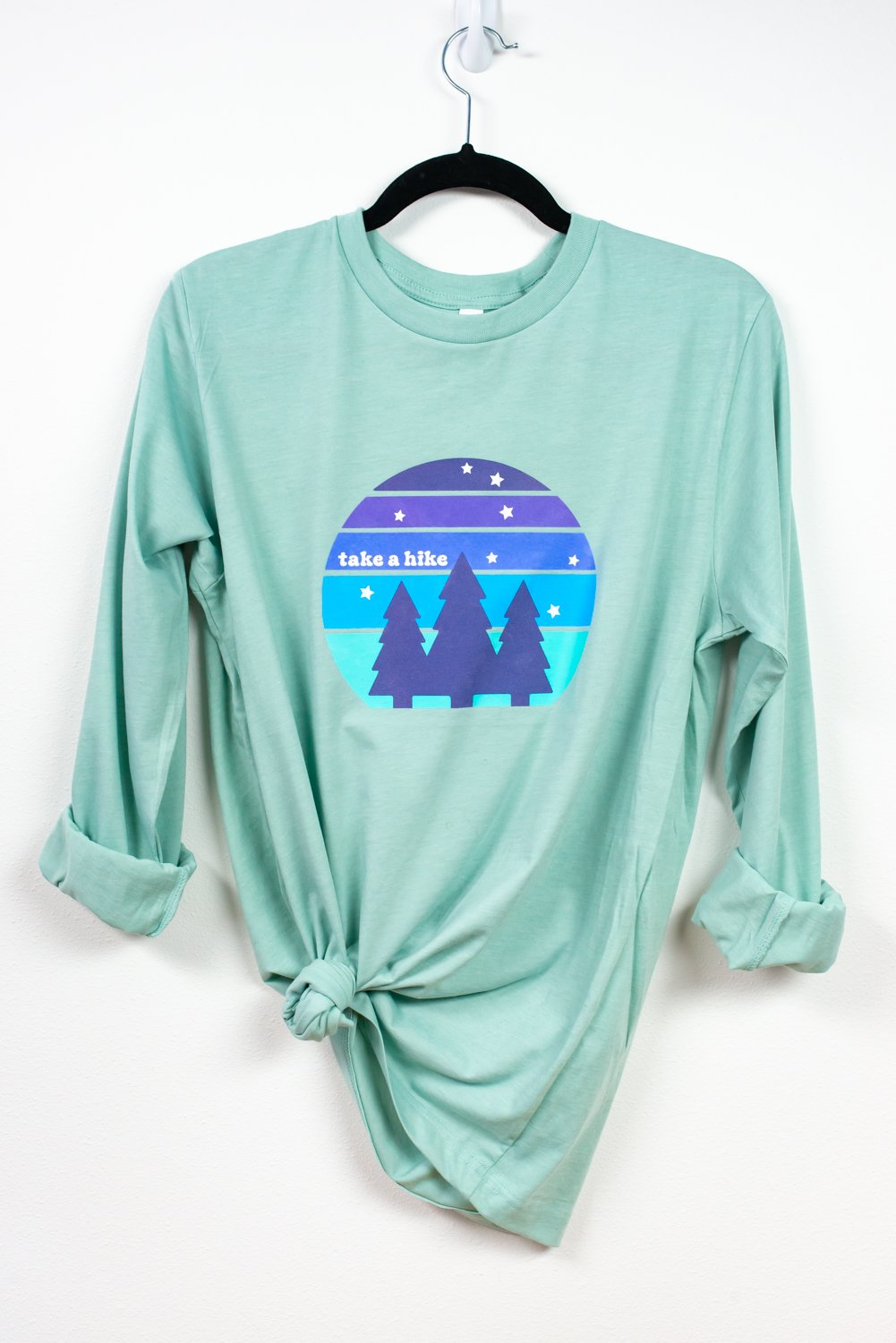 Caring For Siser EasySubli Garments
Because this type of sublimation isn't sublimating directly into the shirt fibers, there is a point where you'll start to see cracking or peeling. Making sure your project is preheated and pressed correctly, and then cared for properly, can help extend the life of your garment. Wait 24 hours before washing your garment inside out. I prefer line drying, but you can also tumble dry low.
---
I hope you found this tutorial for using Siser EasySubli helpful! It's a good solution for sublimating on non-polyester or colored fabrics like those found at BELLA+CANVAS! If you have any questions or need help troubleshooting anything, feel free to drop a comment below!