These cut paper ornaments are made with an array of cute papers and cut on the Cricut Maker or other electronic cutting machine! Get the free SVG cut files and learn how to assemble these beautiful 3D paper ornaments.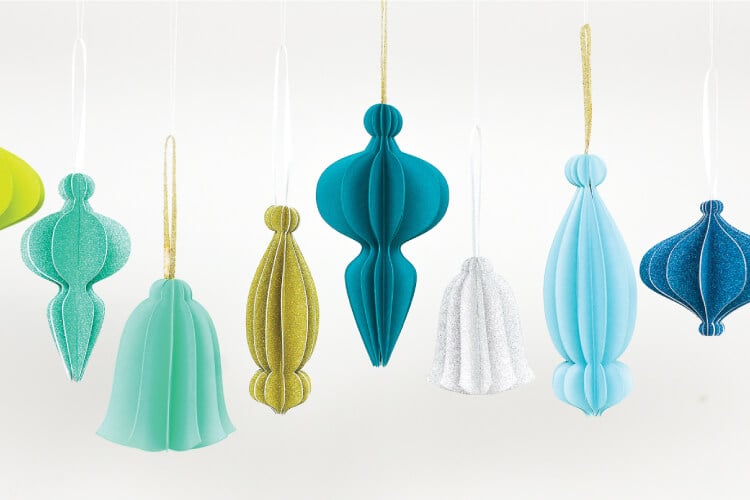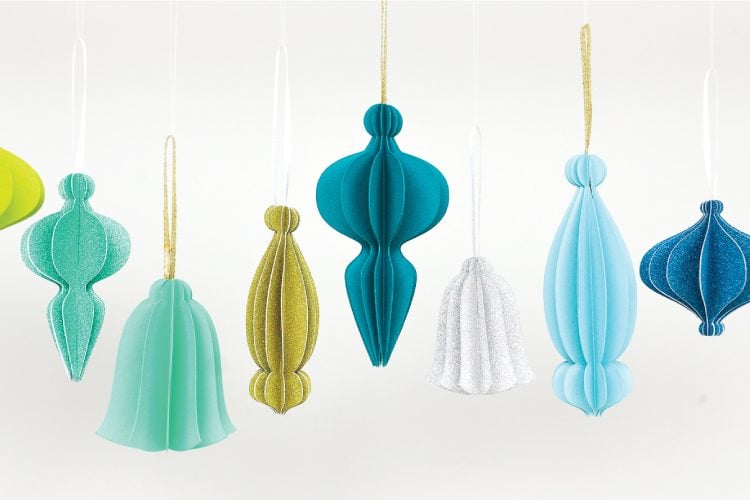 This post was sponsored by JOANN.
This is the first time in a long time when I've been truly ready for the holidays. My boys are finally old enough that the Christmas season will mean something to them, and I'm so excited to see all it through their joyful eyes. We saw the first house on our block decorated with lights a few nights ago, and they were totally beside themselves, shouting "Light! Kees-mas light!" I can't wait to see what happens when the entire neighborhood is alight in red and green!
This will also be the first year that they can help decorate our tree. We're going with 100% non-breakable ornaments for that very reason. Most of my ornaments are blown glass, so I'm on a mission to DIY ornaments for our tree this year. To start, I thought I'd craft some cardstock ornaments using my Cricut Maker! I headed to JOANN to find the perfect papers for this project. I came home with a huge stack of different options—glitter, shimmer, printed, sparkle, matte, thin, thick—in an array of blues, greens, golds, silvers, and whites. I actually used some of the paper on my recent treat boxes—I am in love with that BAZILL dotted swiss paper!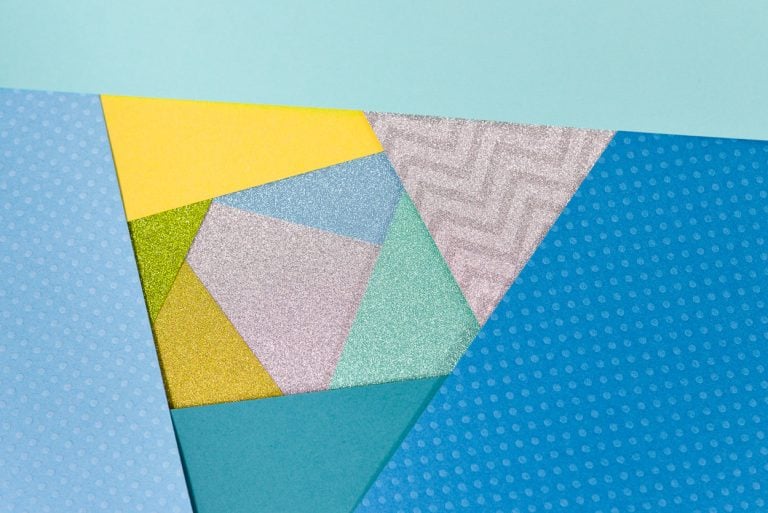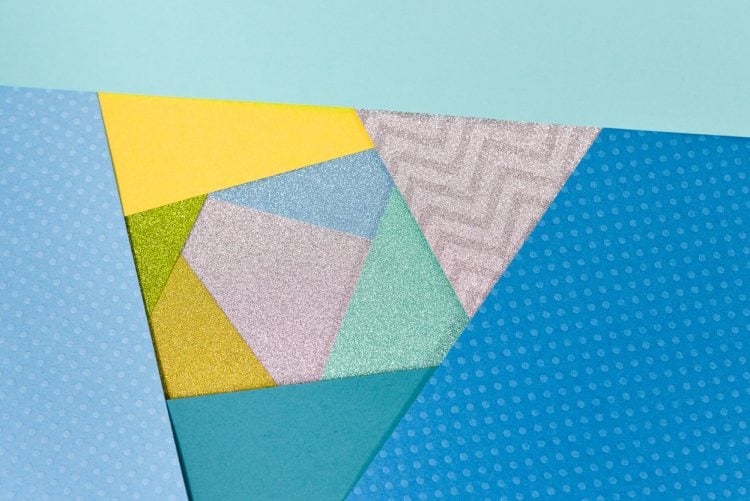 Let's make some ornaments!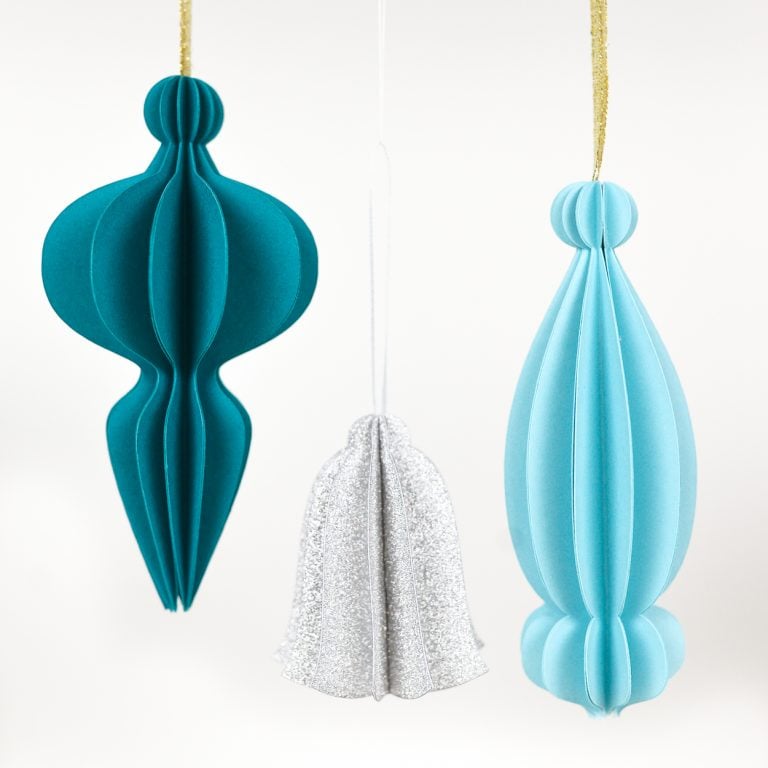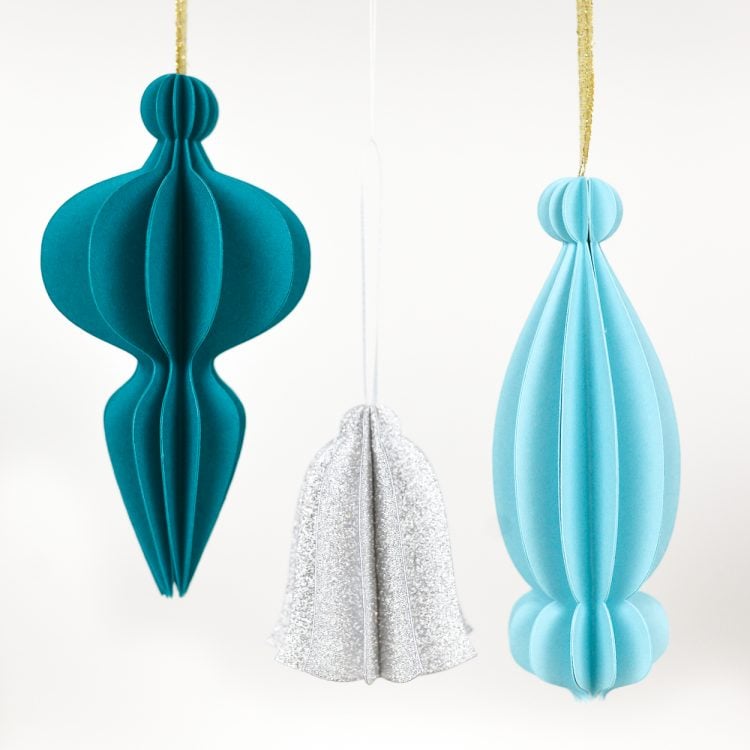 Stop pulling your hair out and start creating confidently with your Cricut! Finally understand how to use your Cricut with my Learn Your Cricut eBooks!
Paper Ornaments Supplies
Light Cardstock (see notes at the end of this post for my best tips for choosing cardstock for these paper ornaments)
SVG Below
Download the Free Paper Ornaments File under SVGs C78
This file can be found in my Free Craft Resource Library. The file number is: C78.
Want access to this free file? Join my FREE resource library! All you need is the password to get in, which you can get by filling out the form below!
Paper Ornaments Instructions
These are directions to craft your ornaments using a Cricut machine. You may need to modify this project for other machines.
Start by downloading the files above and uploading them to the Cricut Design Space. You'll see five ornaments, each with a line down the center. In the right-hand panel, change each of those lines from a cut line to a score line.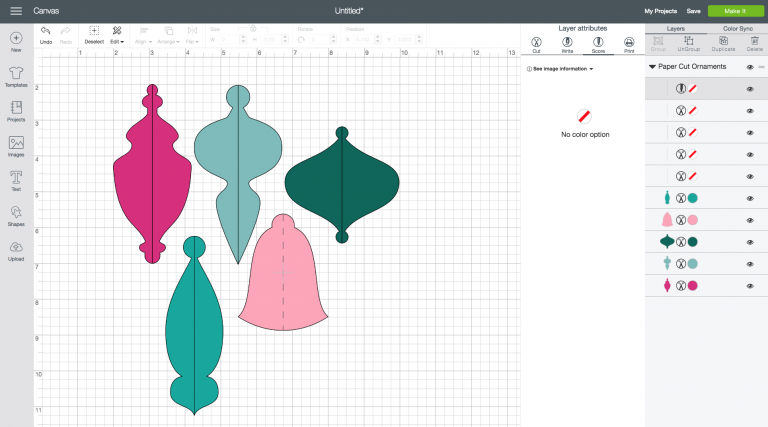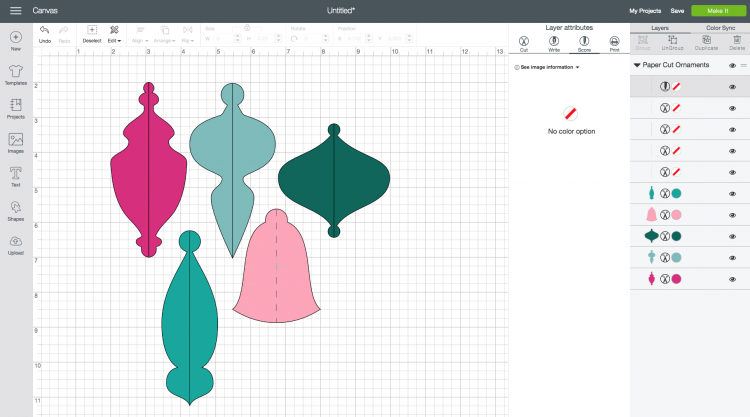 Then "ungroup" all of your files so there are ten separate pieces (five ornaments, five score lines). Then use the "attach" button in the bottom left to attach each score line to each ornament. This way, your score line will score in the correct place for your ornaments. You can also re-size your ornaments if you'd like. I cut one set at the size in which it imports, and one at about 66% of that. I imagine that these would be absolutely gorgeous made big as well! I think giant 11″ x 11″ ornaments would be amazing!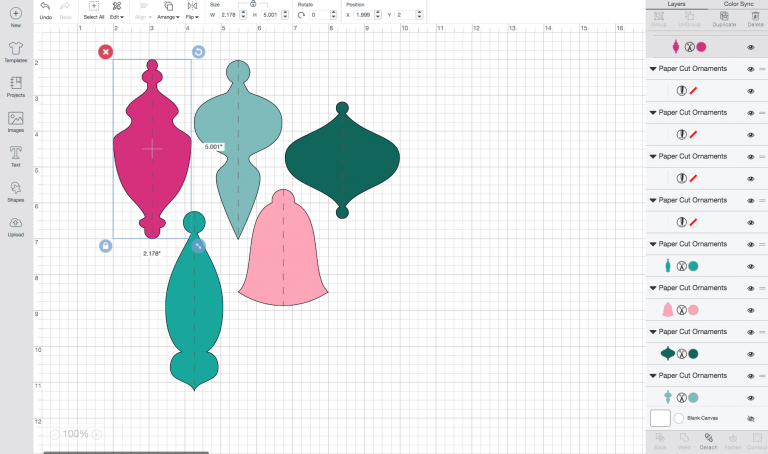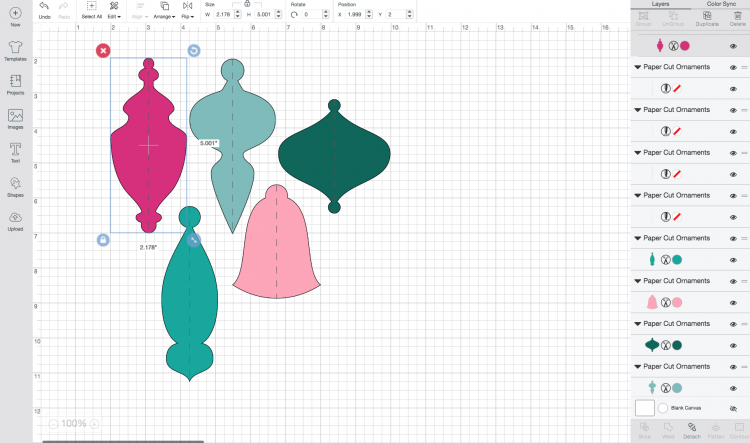 Once all your ornaments are attached to your score lines, hit "Make It" in the upper right. You'll want to change the quantity to at least 10. That's what I used, but if you are making them at a larger size, you might want to use more pieces. Make sure to insert your scoring stylus into your Cricut so that it scores the line down the center of each piece.
Once your pieces are cut, fold them in half. The "inside" of your fold will be the part that shows on your ornament, so make sure that's the "pretty" side.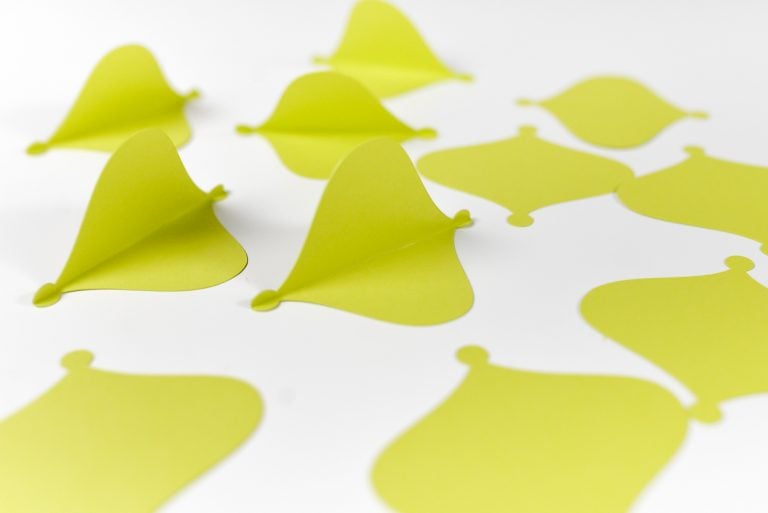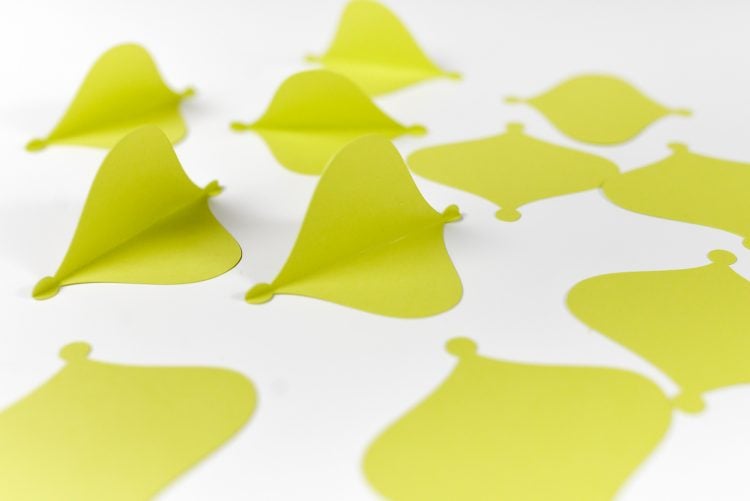 I put the pieces, face down, in a cardboard box and used some spray adhesive on the backs.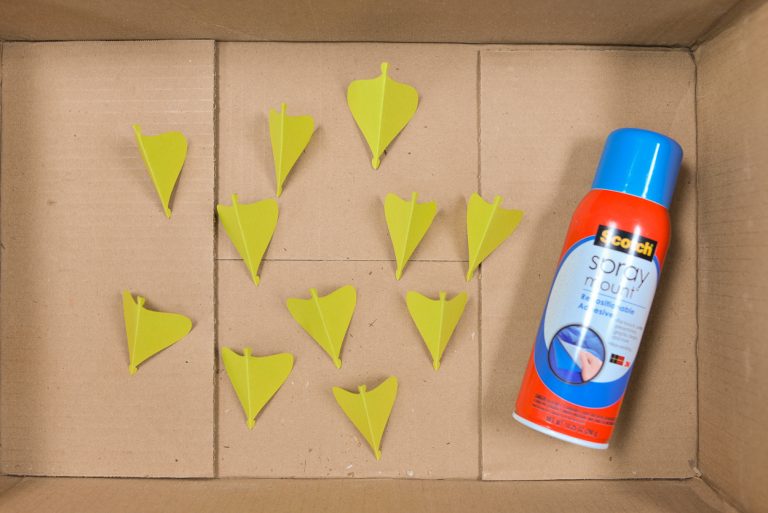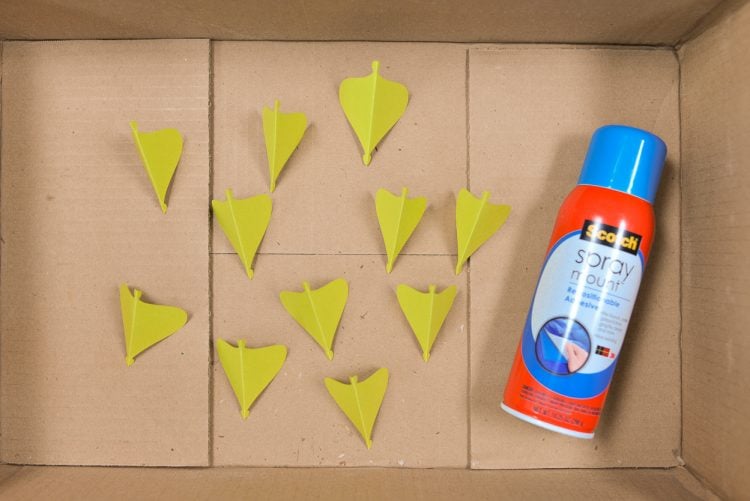 Then just line up each of your pieces and glue the backs together — you'll immediately start to see the shape of your ornament form.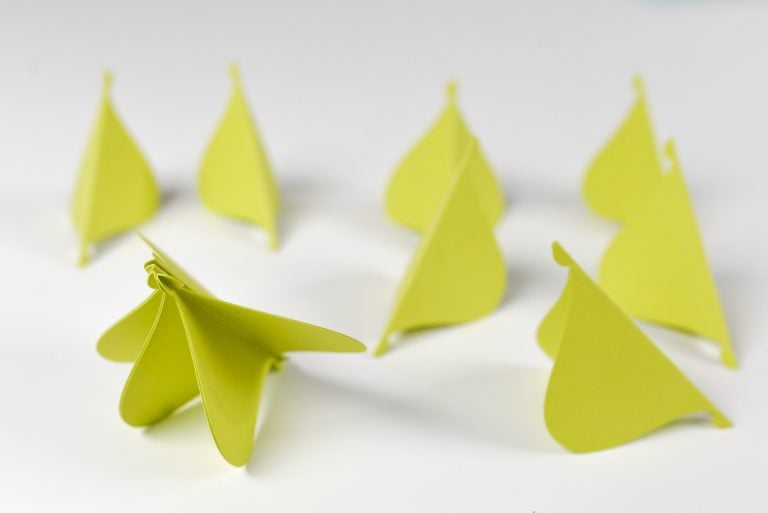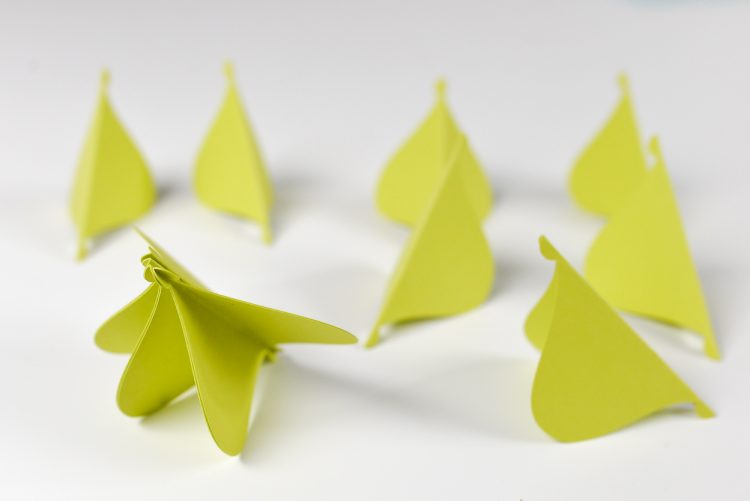 Before gluing your final two pieces, use a little quick-dry tacky glue to hang a piece of ribbon. Then glue the final two pieces together to finish the ornament. Make sure the glue dries completely before hanging!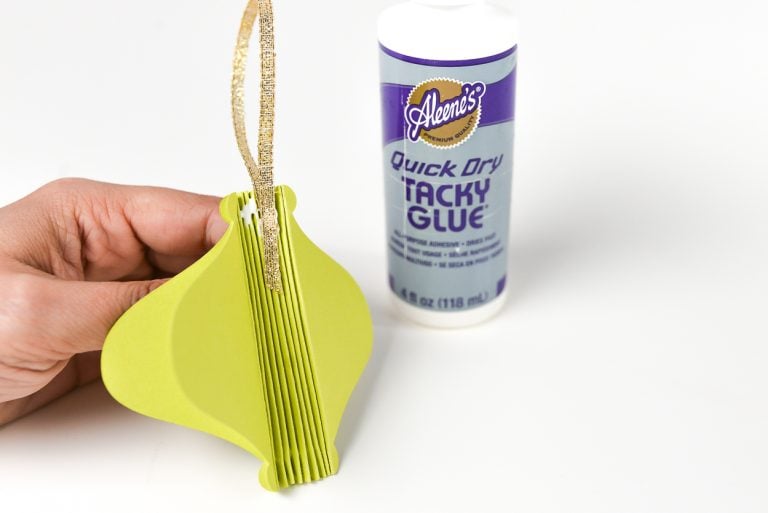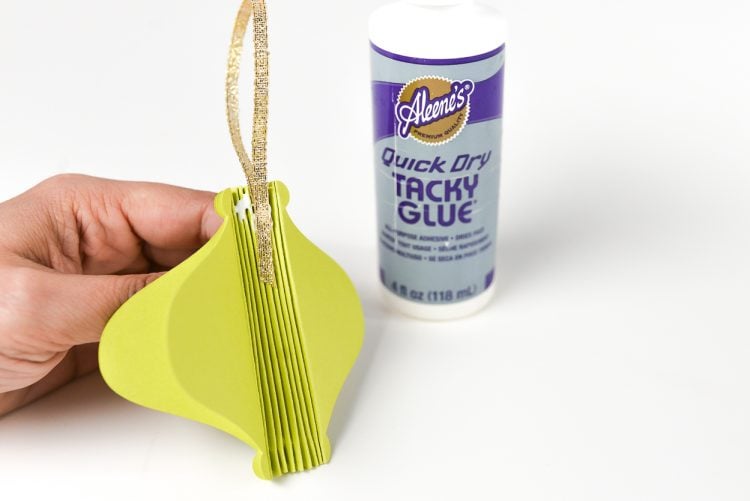 I love how these turned out! When I designed these files, I studied vintage retro ornaments and I love the shapes!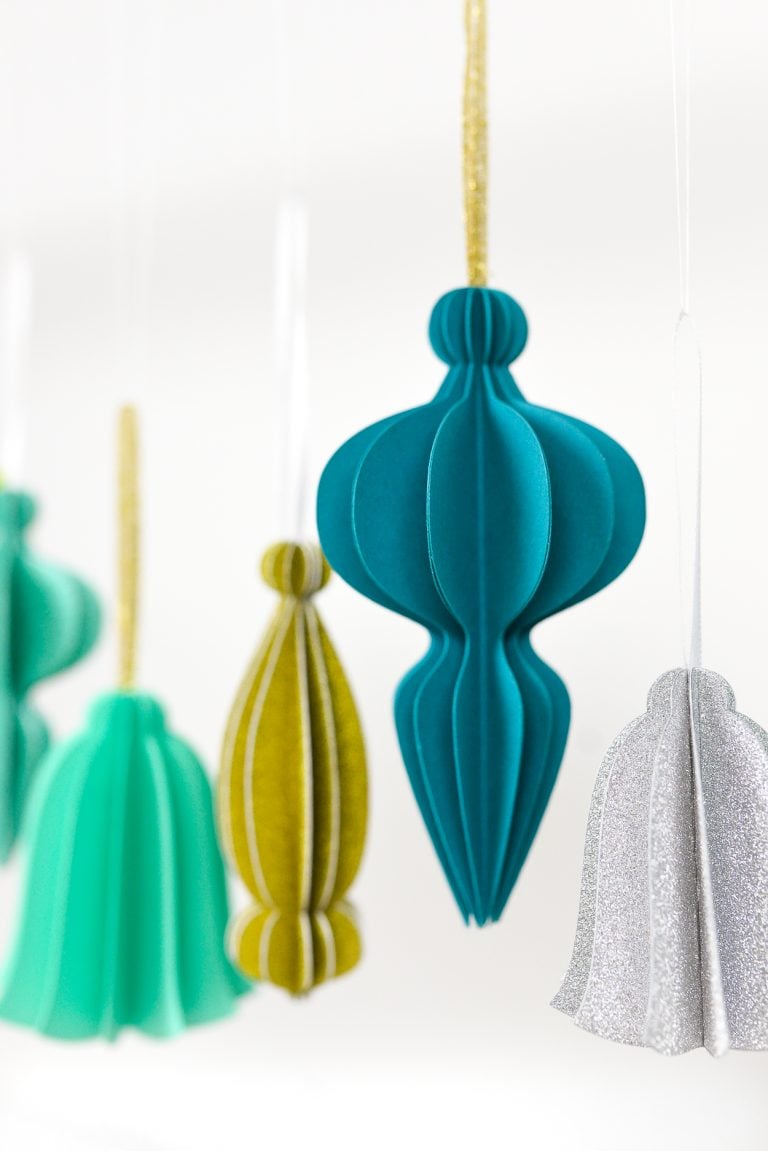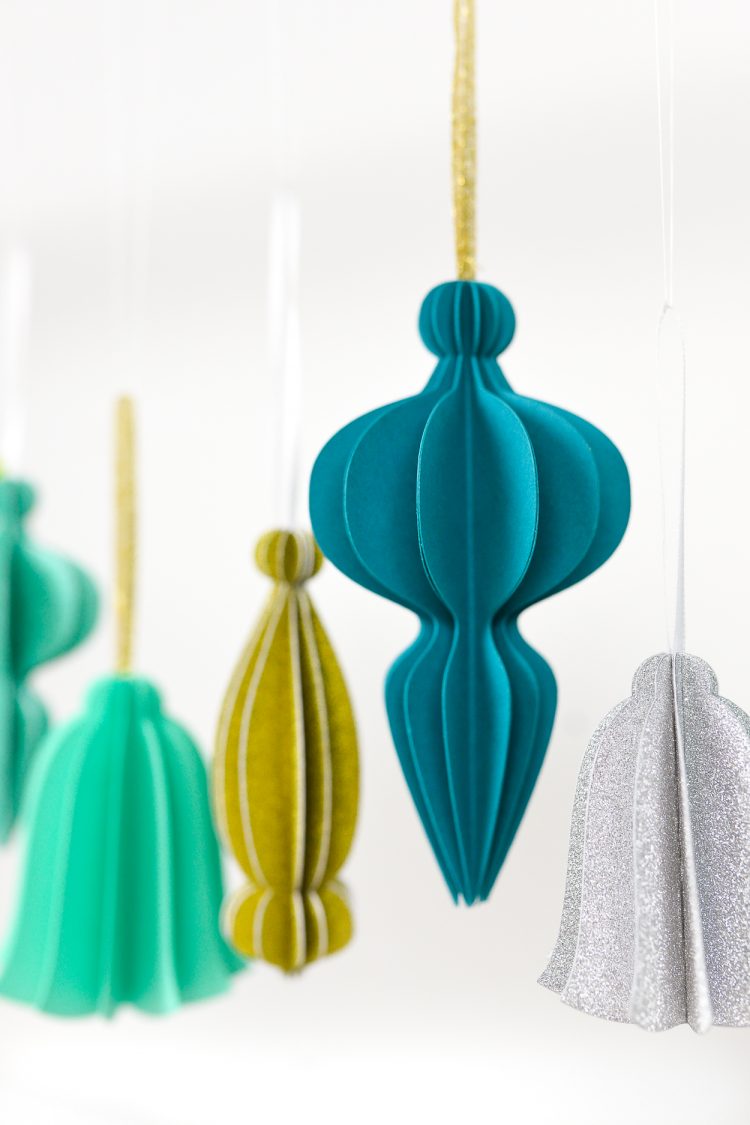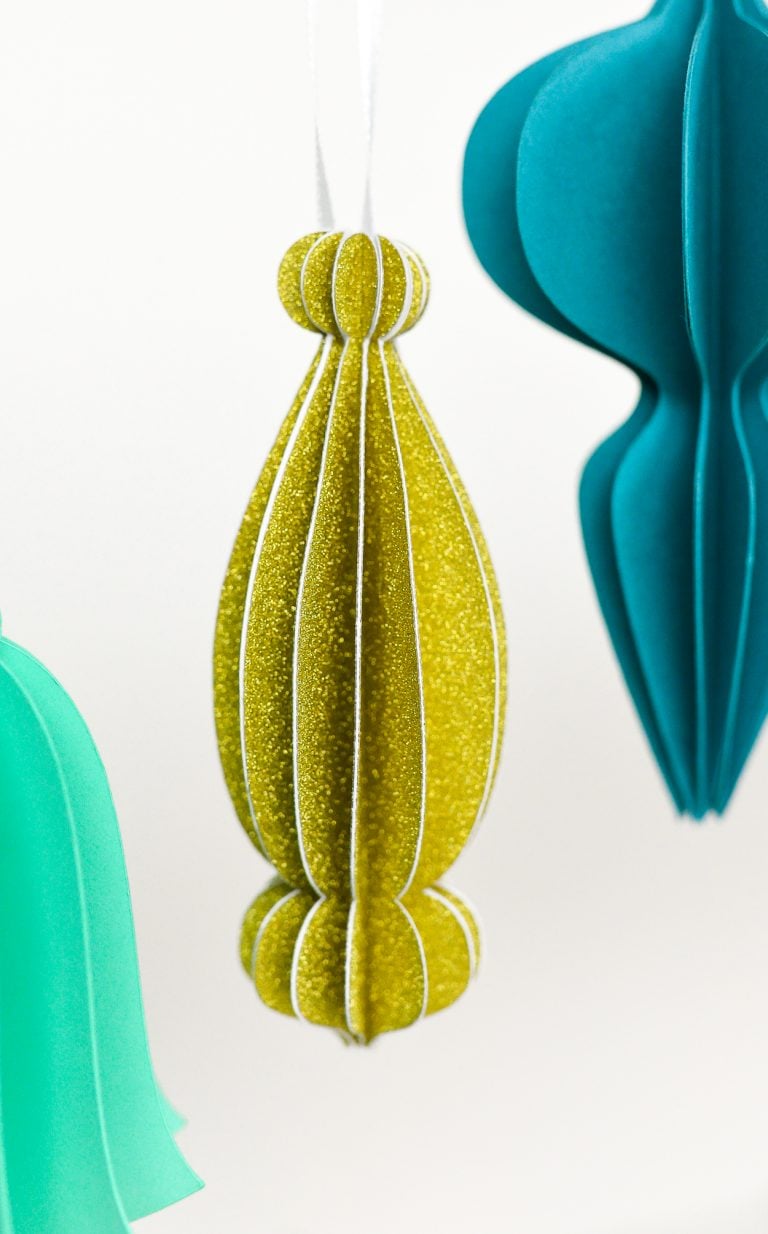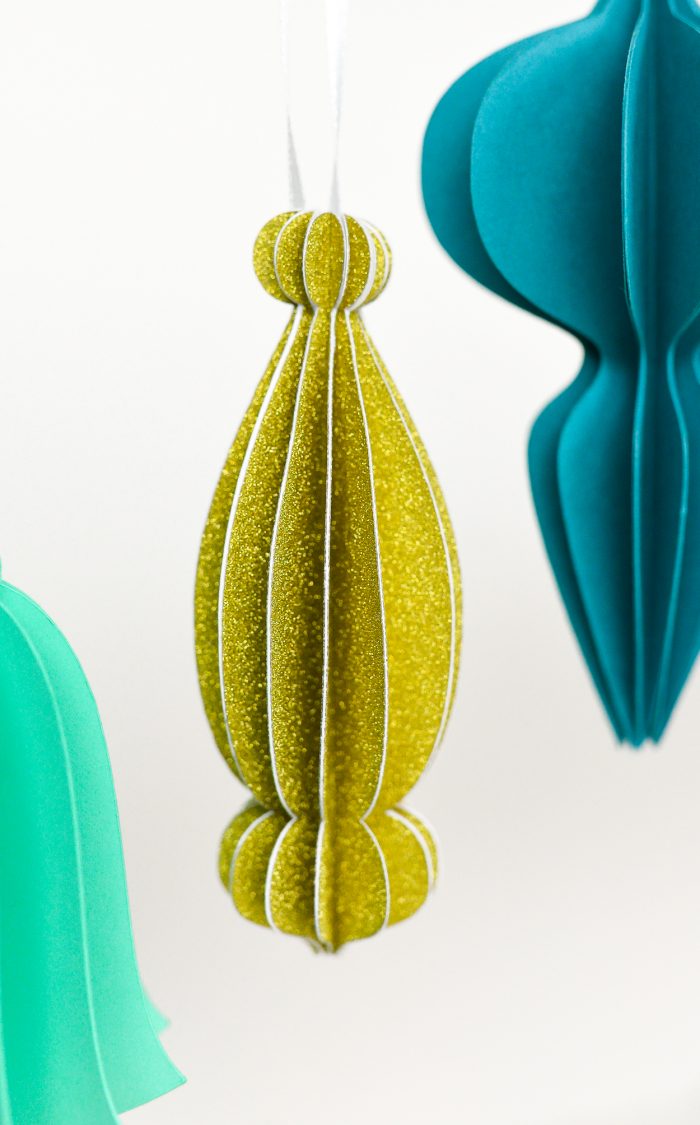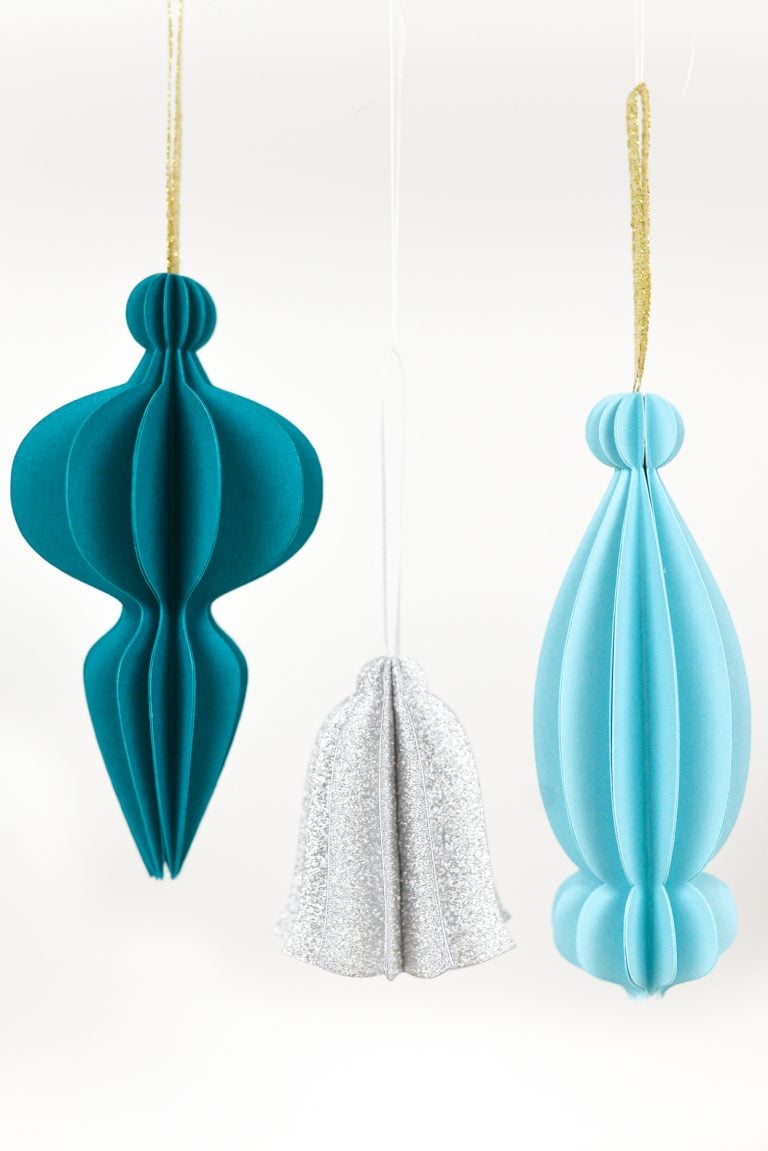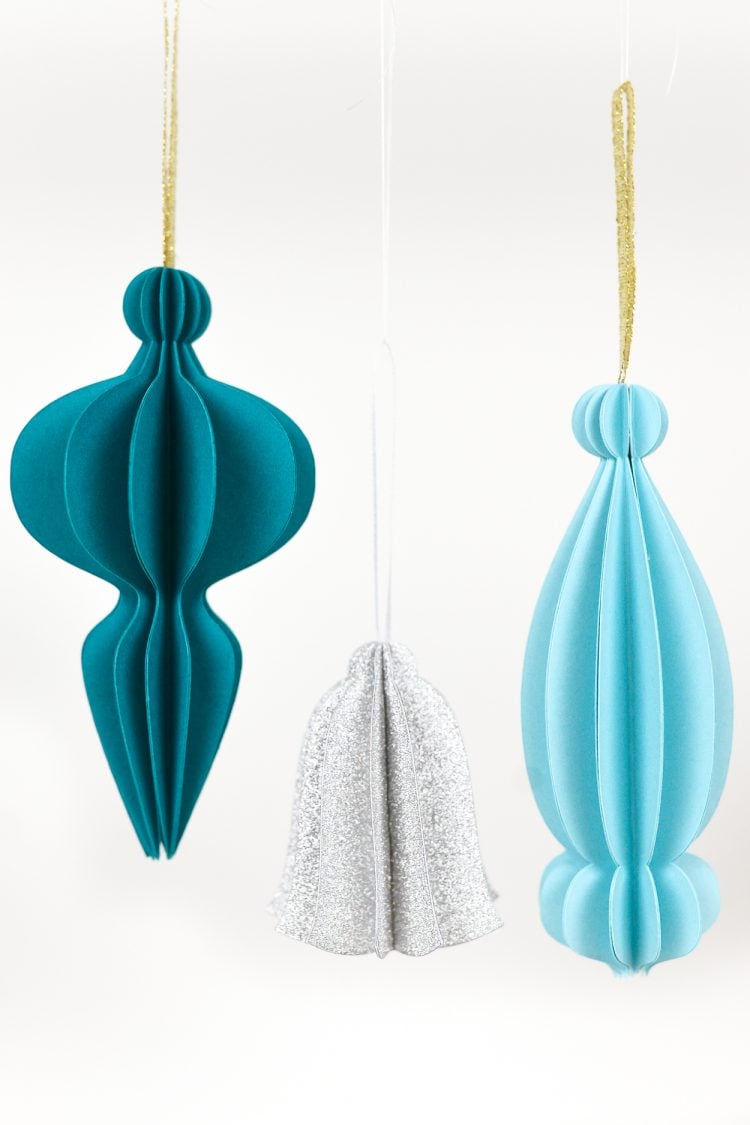 Paper Ornaments: Best Paper
For these retro-style paper ornaments, I tried a bunch of different papers and cardstocks from JOANN and came up with a couple qualities that I think make for the best ornaments.
Light cardstock: The light cardstock (that is, heavier than paper and lighter than thick cardstock) was the easiest to work with. Heavier cardstock tended to "force" itself apart while paper got a little ripply with the glue.
Smooth: the smoother the back of the paper (the part that was glued together), the better the glue adhered.
Colored core: I preferred cardstock that was dyed all the way through, so the edges of my paper were the same color as the rest of the ornament. Those with a white or coordinating core made it a little easier to see where my gluing wasn't perfect (see the glitter ornaments vs. the solid ornaments).
Glitter: I love love how the glitter paper looked but it was harder to fold, even with the score. Still, it was worth it — gorgeous!
Love making ornaments with your Cricut? Check out my round up of DIY Christmas Ornaments with the Cricut!