Use your Cricut Explore or other cutting machine to easily cut your newborn's footprints out of vinyl to make sweet keepsake footprint ornaments.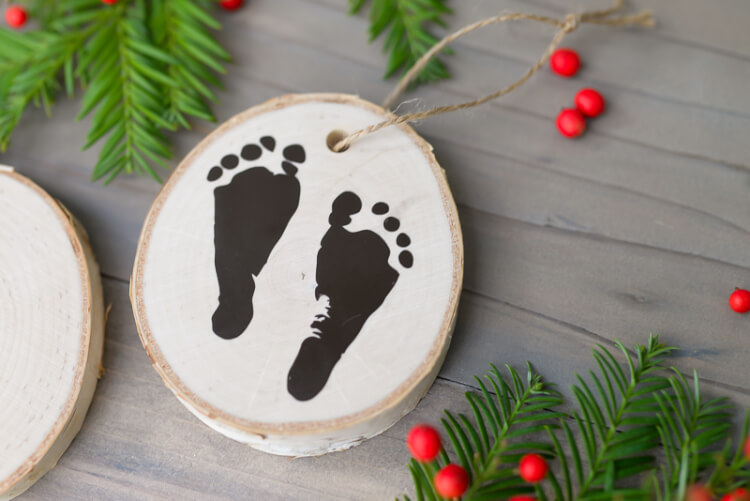 I am not the typical blogger with the Christmas tree that looks like it's straight out of a catalog. I don't have matching ornaments or intricately woven ribbons or perfectly placed tinsel. I don't have six trees all themed differently.
I have one big mishmash of a tree with ornaments from everywhere.
And I love it.
One commonality of our ornaments, however, is that we have a lot of fragile glass. We are low on ornaments that won't shatter, and with twin toddlers, that's a problem. So I've been making a few to help fill in our small tree this year, starting with these footprint ornaments. I made one for each boy, with their footprints on one side and their name on the back.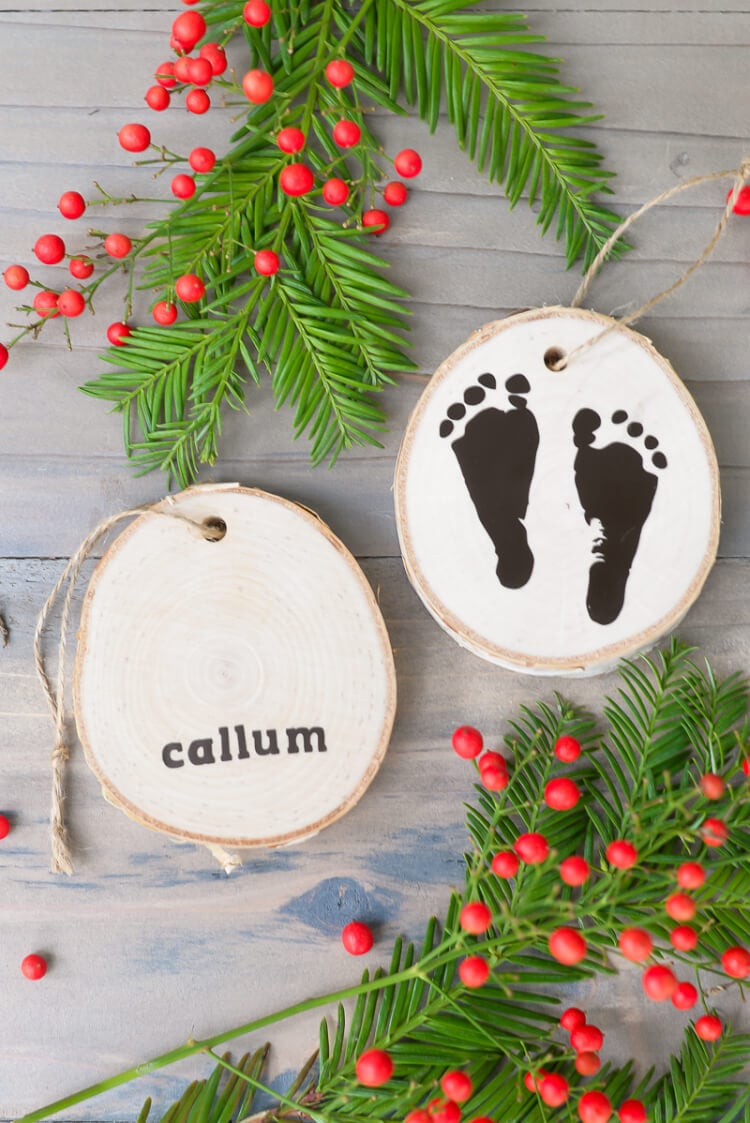 I made these footprint ornaments using my trusty Cricut Explore Air 2. I know I'm always raving about it, but seriously, it's my favorite crafting tool and I use it all the time. If you have a crafty person on your Christmas list this year, you totally can't go wrong with getting them a Cricut Explore! And even better, you don't need any graphic design skills to make these ornaments — you can do everything quickly and easily in the Cricut Design Space!
Footprint Ornaments Supplies
Wood slice ornaments Cricut Explore Cutting Mat Weeding Tool (optional but helpful) Vinyl (I used brown) Transfer Tape Photograph of your baby's hospital footprints
Footprint Ornaments Directions
Start by taking a photograph of your baby's footprints. A phone photo should be fine, as long as it's bright and clear. Open the Cricut Design Space in your browser and log in to create a new workspace. Go to Upload Images on the left. Click Upload Image.

Navigate to your image and open it. You can see what my original photo looked like.

The Cricut Design Space will ask you what type of image it is. Choose Simple Image.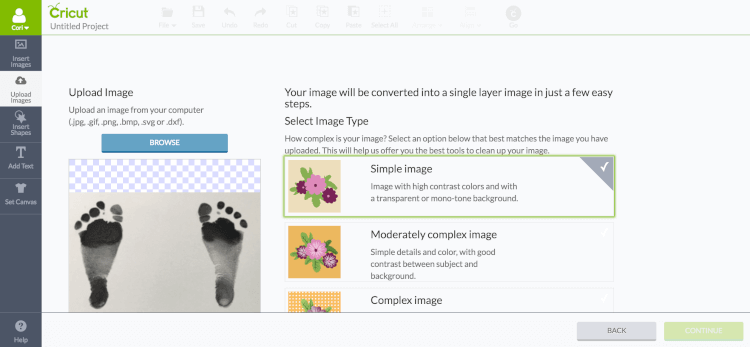 Then you can select and erase the background from your image. Just click on the white background of your photo and the Cricut Design Space will replace it with a transparent background.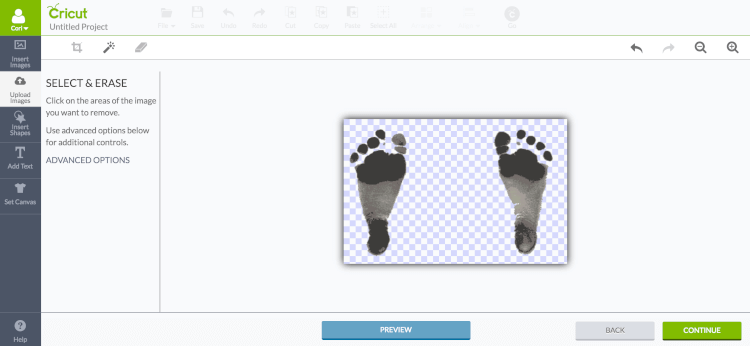 Click continue. Two images will pop up. A more complex image, and a simple one-color image. Choose the simple image.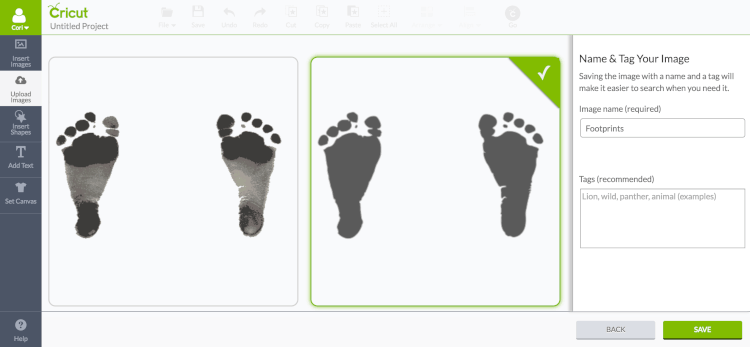 And then hit Save and you can load that simplified image in the Cricut Design Space to cut!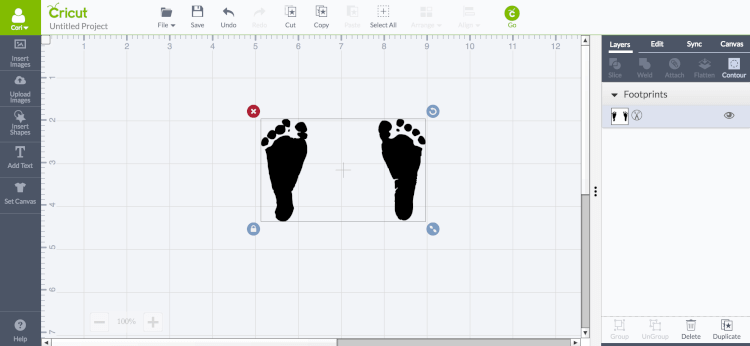 I also cut out their names in vinyl to put on the back of the ornaments, but I don't have a shot of that. I think you can figure out the Add Text feature. You're smart! Once you have the file, resize it to fit on your woodcut ornament. Then cut in your choice of vinyl color, weed off the excess vinyl, and use transfer tape to transfer the vinyl from the backing to your ornament! (You can see a tutorial of how I use transfer paper here.) I did find that it took a little patience to get the vinyl to release from the transfer tape and adhere to the wood ornament. The wood isn't the best medium for vinyl, so I just used my fingernail to help pry off the vinyl from the transfer tape and onto the wood. A little time consuming, but worth it! Same goes for the name on the back.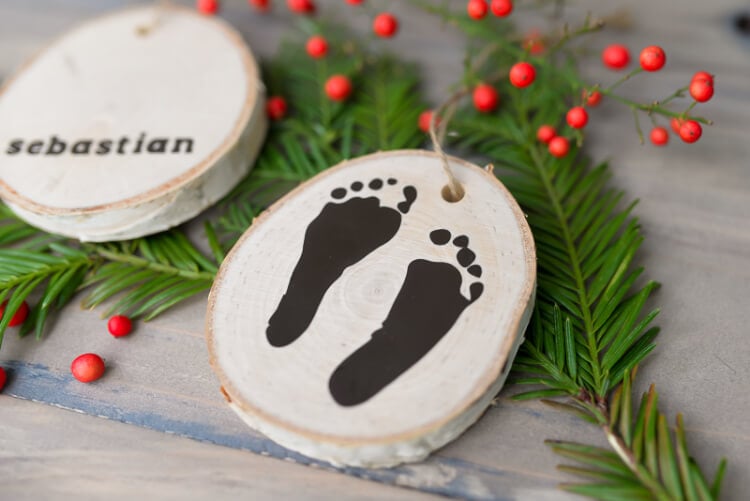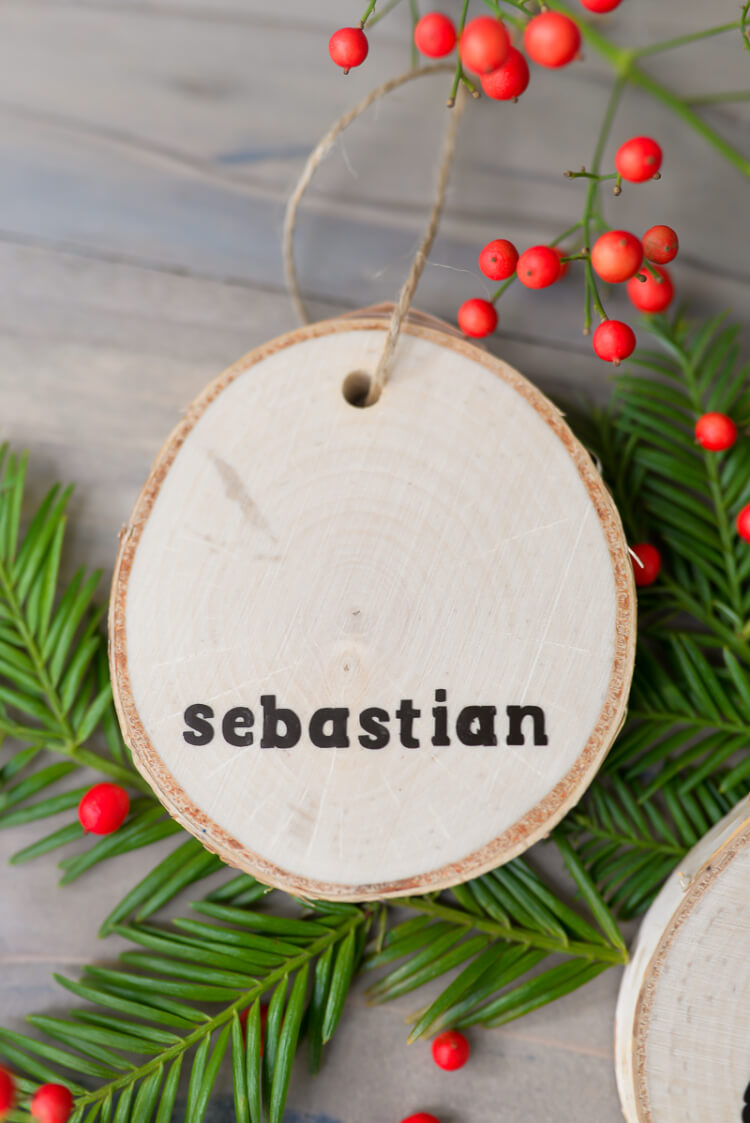 This is one of those projects that would be so nice to give new parents. Who doesn't want a reminder of their precious little newborn hanging from the branches of their tree?
More Ornaments to make:
Latest posts by Cori George
(see all)