Countdown the days until December 25 with this DIY Christmas countdown calendar! Use your Cricut Explore or Maker to craft this cute magnetic advent calendar!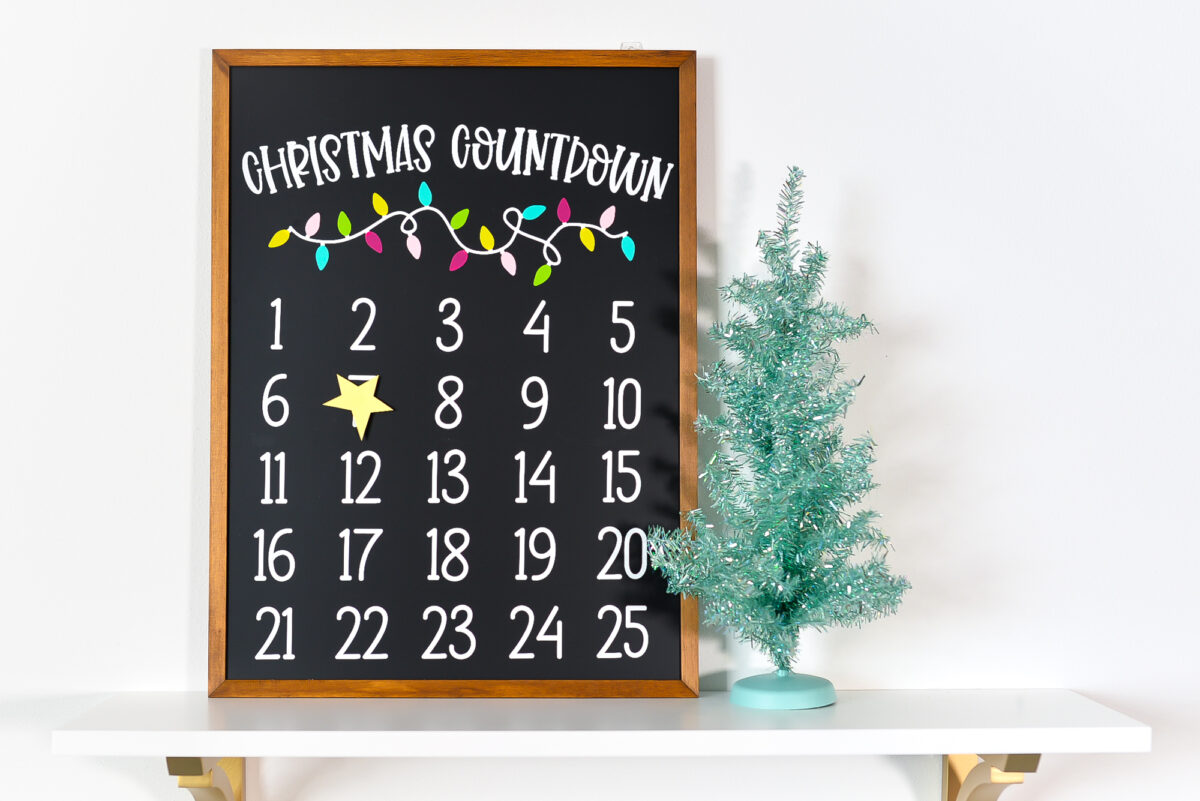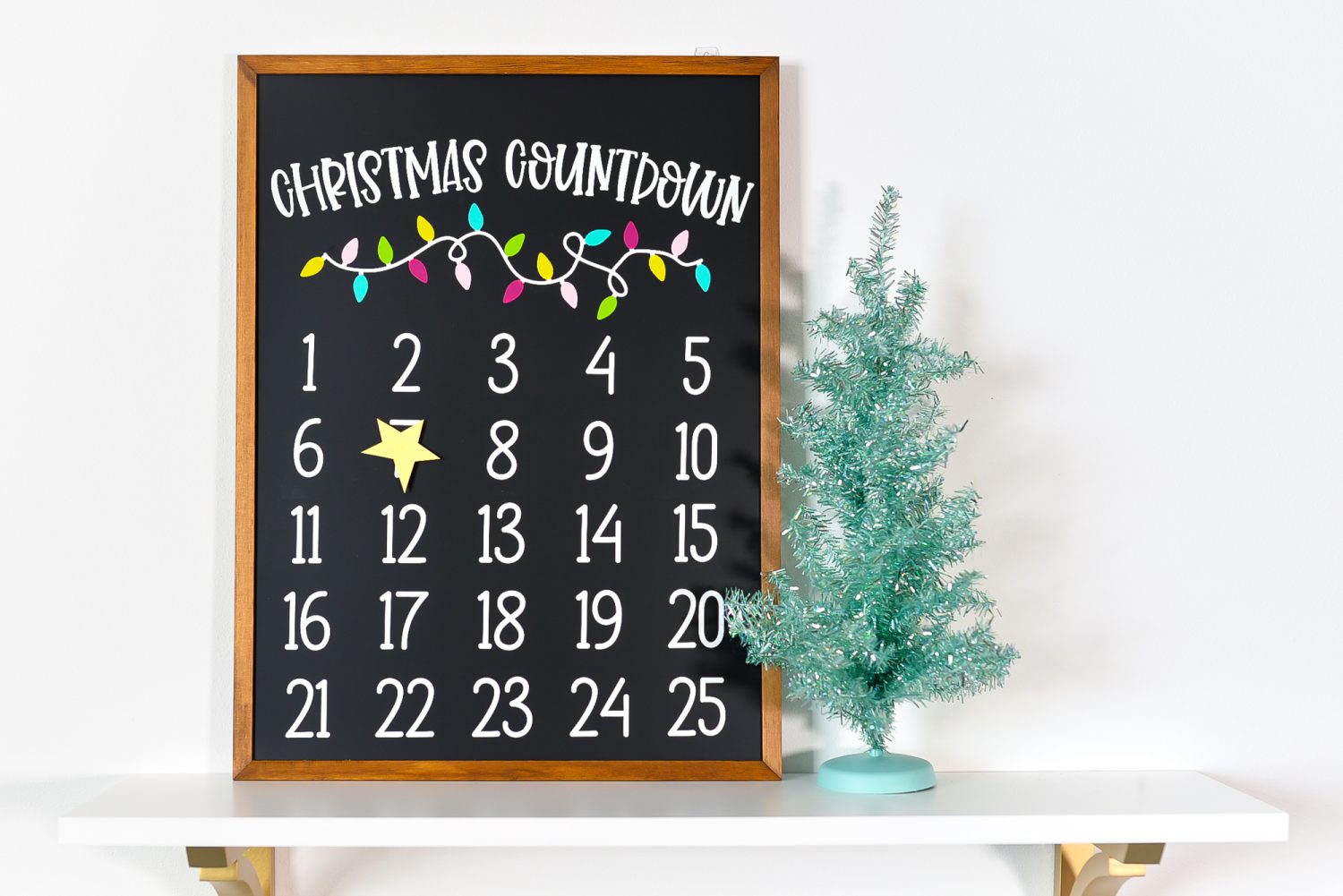 Welcome to day one of the 25 Days of Cricut Christmas!
This year, we are counting down to Christmas with 25 holiday crafts you can make with your Cricut. From gift ideas to home decor, this series of posts is here to give you a ton of ideas for crafting this holiday season. With everyone spending way more time at home, it's the perfect time to make the most of your Cricut machine!
If you'd like to get this series in an ebook format PLUS all of the SVGs needed to make all 25 projects check out the 25 Days of Cricut Christmas eBook Bundle!
And what a better way to start 25 days of Christmas than with a Christmas countdown calendar? This advent calendar is made using a magnetic chalkboard and adhesive vinyl. It can be used year after year to count down from December 1 to Christmas Day on December 25.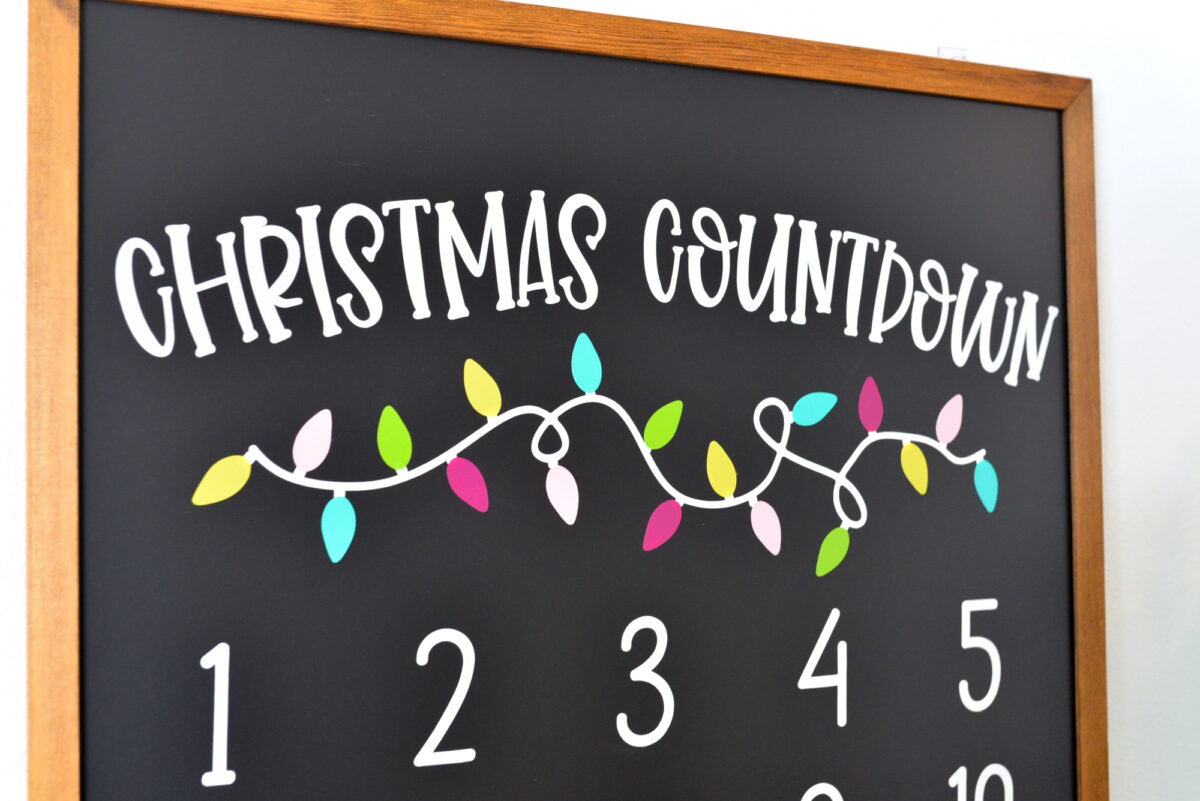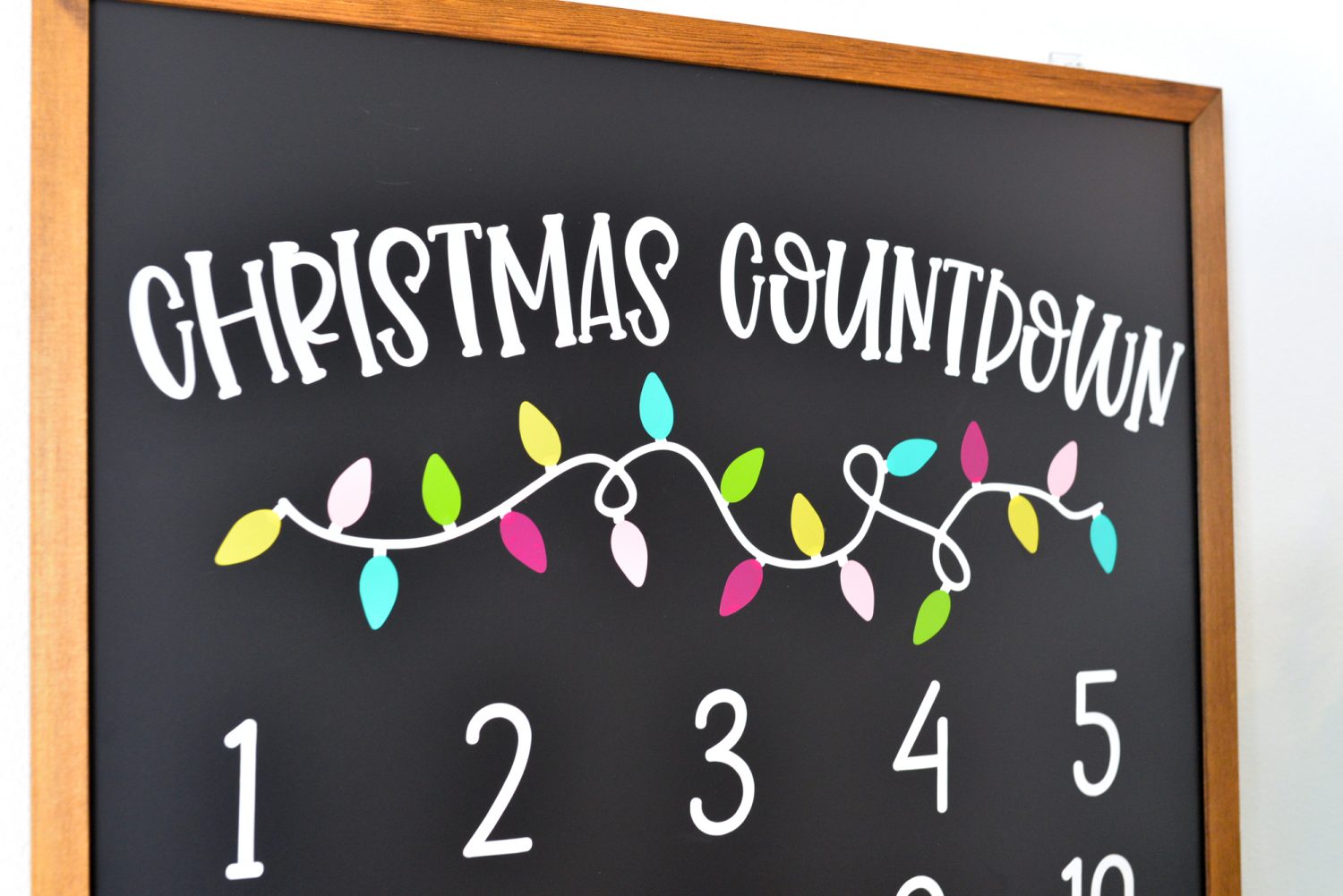 Christmas Countdown Calendar Supplies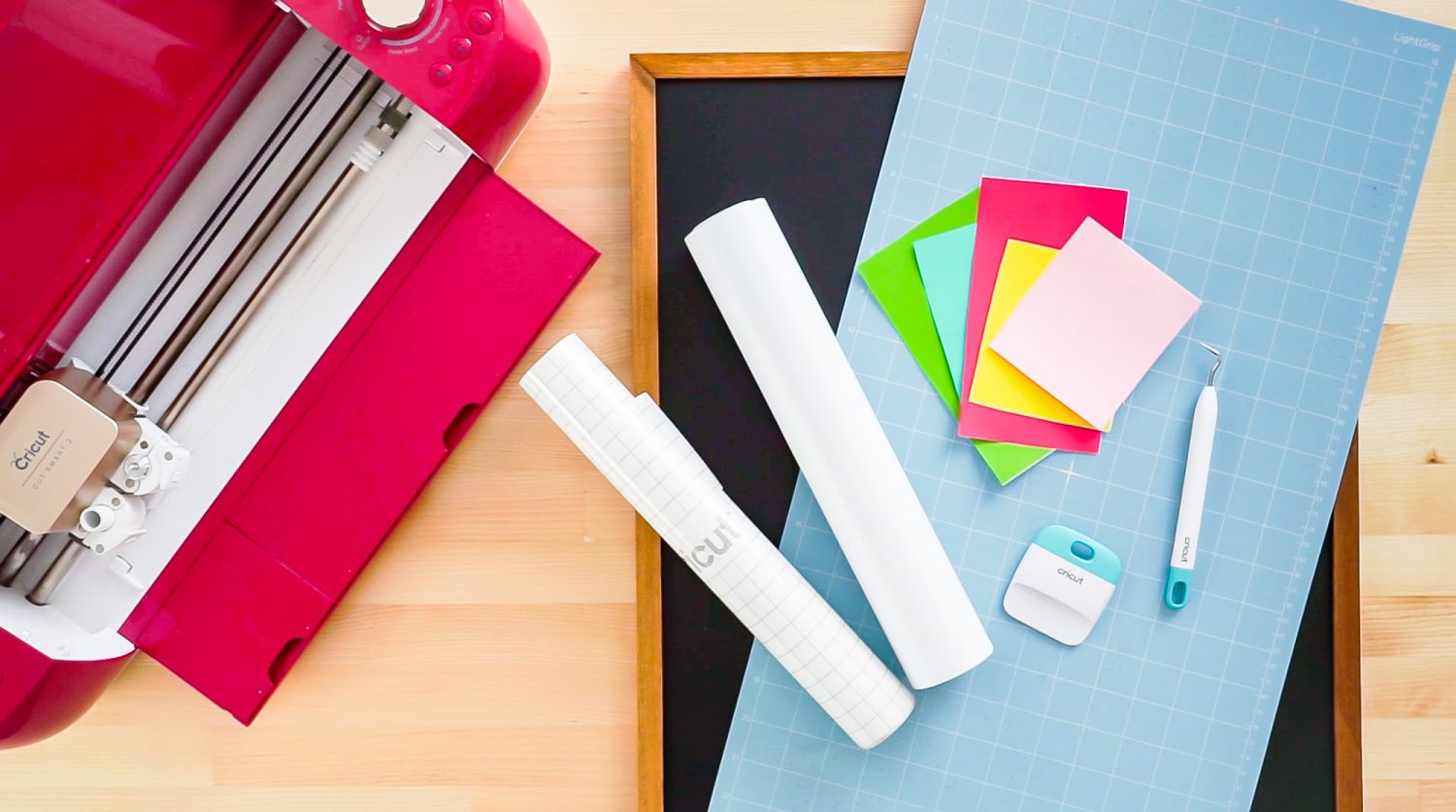 Grab The SVG For This Project
Christmas Countdown Calendar Instructions
Upload the Christmas Calendar File to Cricut Design Space
We will start by uploading the Christmas Countdown Calendar file to Cricut Design Space (see Uploading SVG Files to Cricut Design Space if you need help).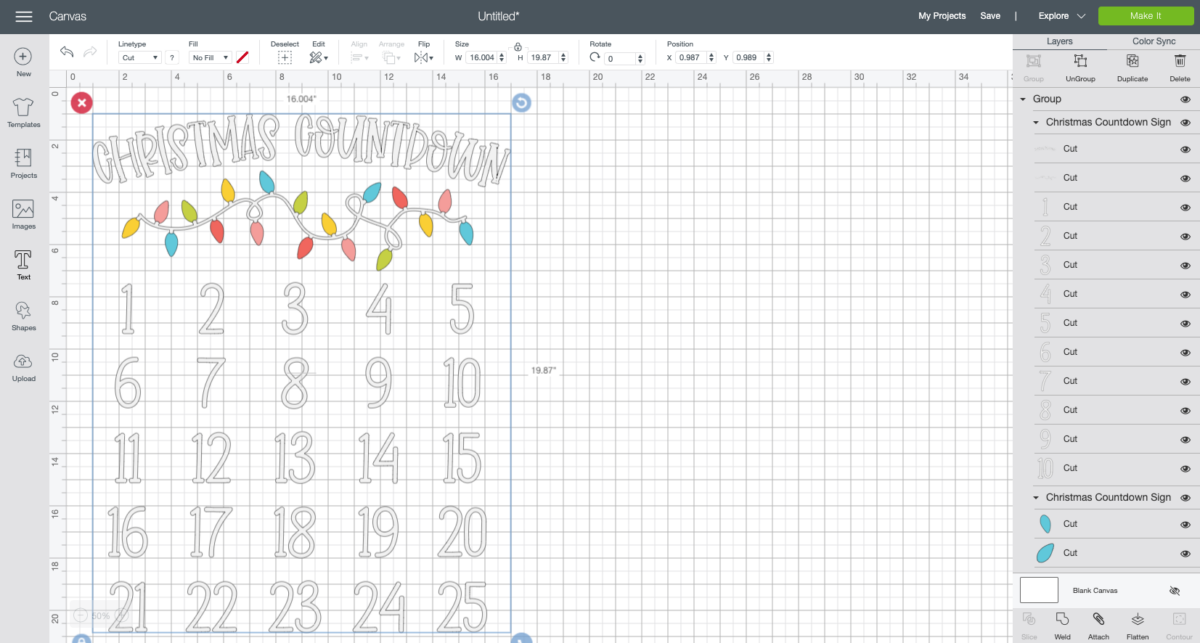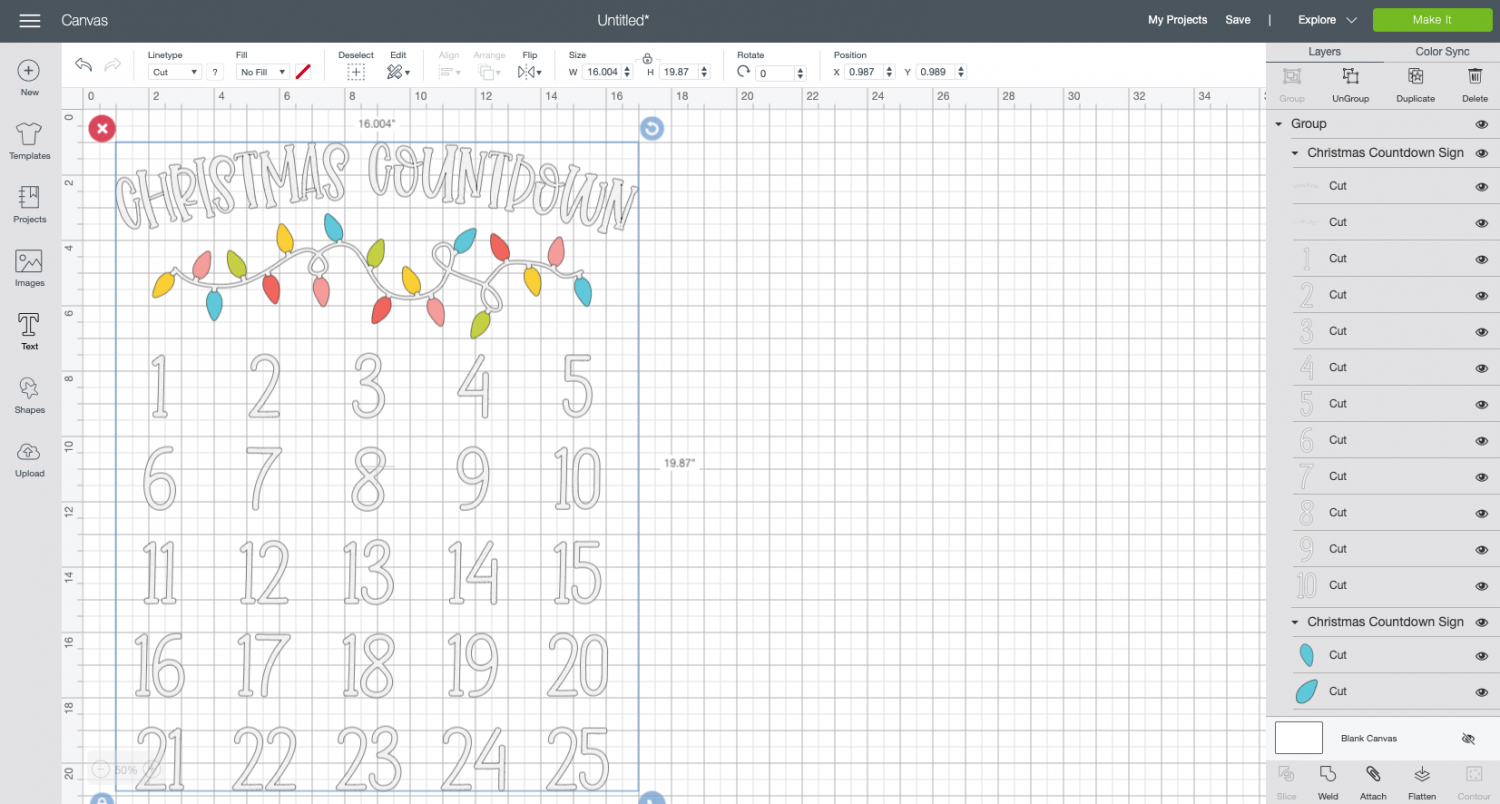 I've kept this file relatively "separate" (meaning I didn't weld together all of the numbers or the lights) because I thought it made it more versatile to work with. To make our 18″ x 24″ sign, follow these instructions. If you are using a smaller sign, you may be able to cut it all at once.
Start by ungrouping all of the pieces of the file. This will allow us to work with each piece separately.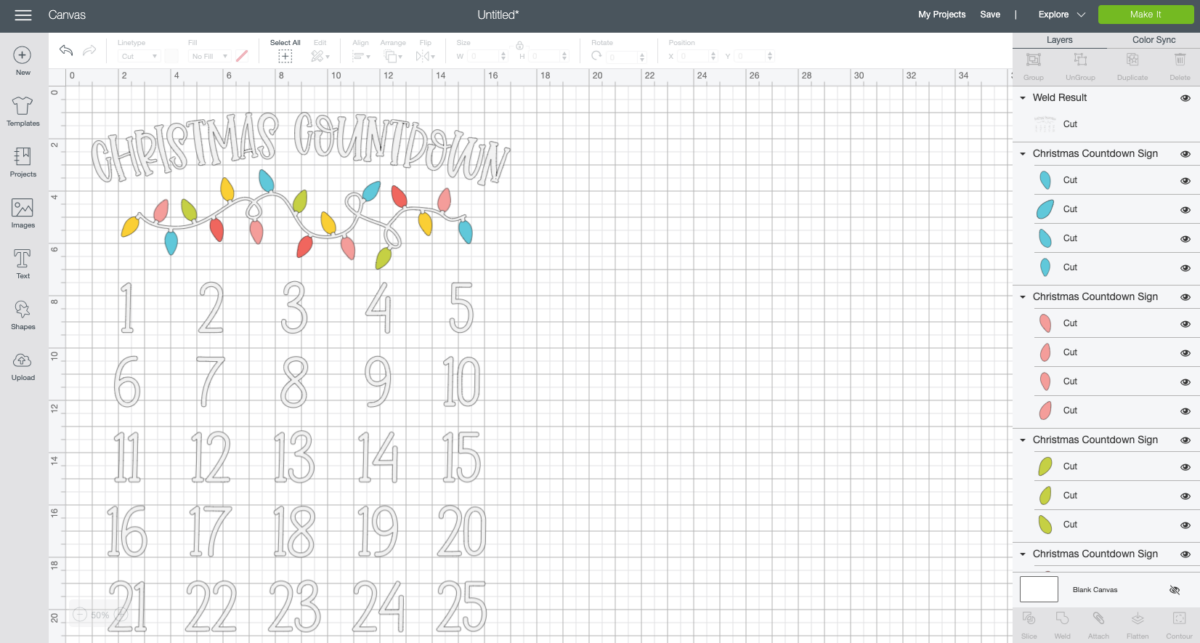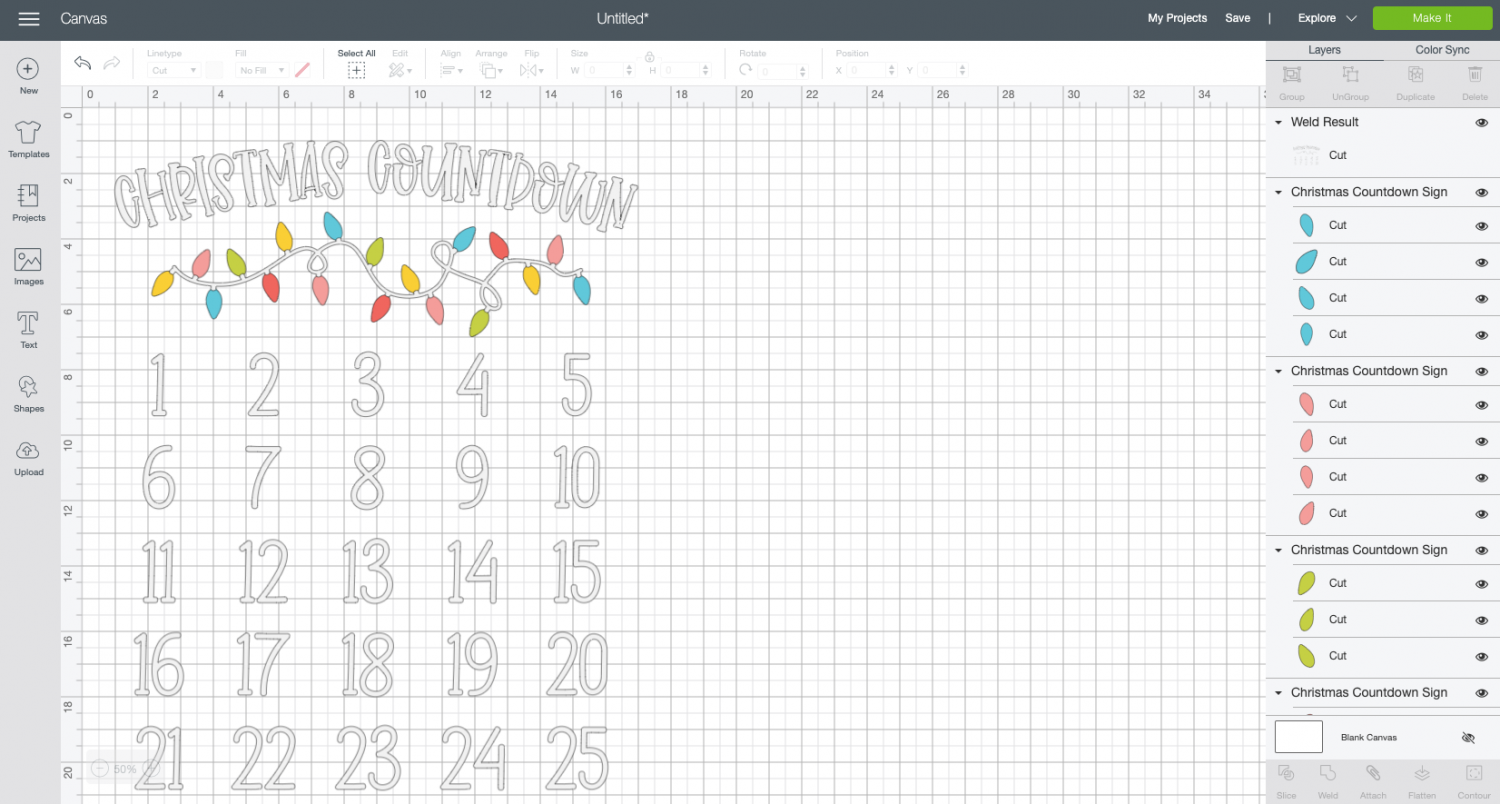 Then select the words Christmas Countdown, the white string of lights (but not the actual colored lights), and the numbers 1-10 and click Weld, so they all cut together as one piece. Learn more about Welding in Cricut Design Space. You will see all of those parts nested under a heading called Weld Result in the Layers Panel on the right.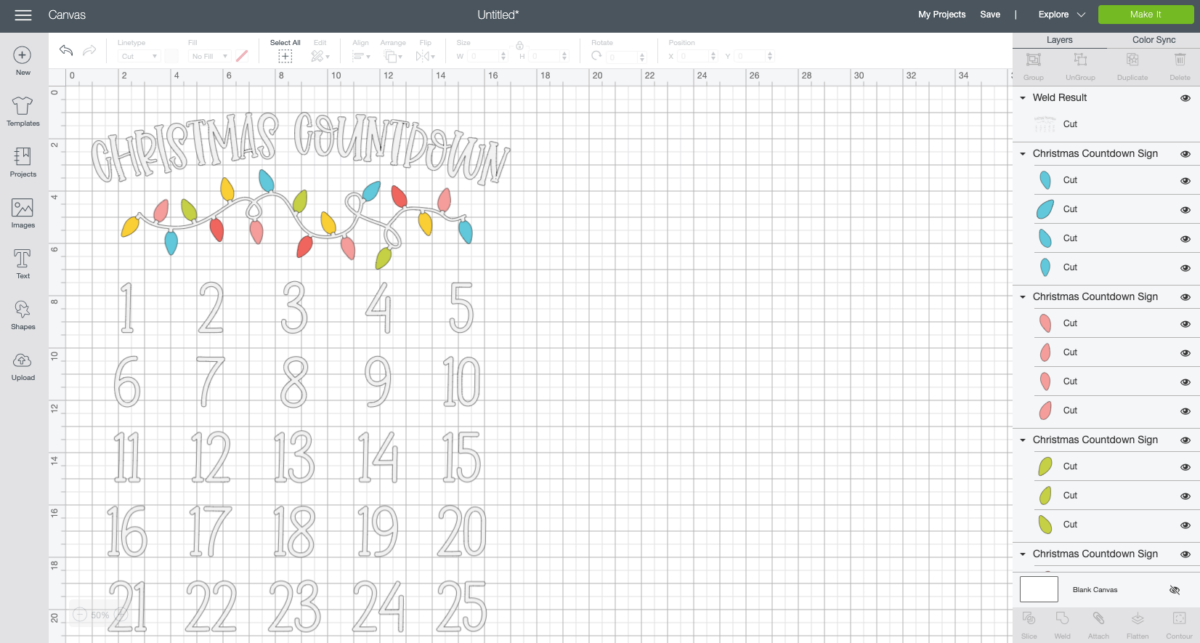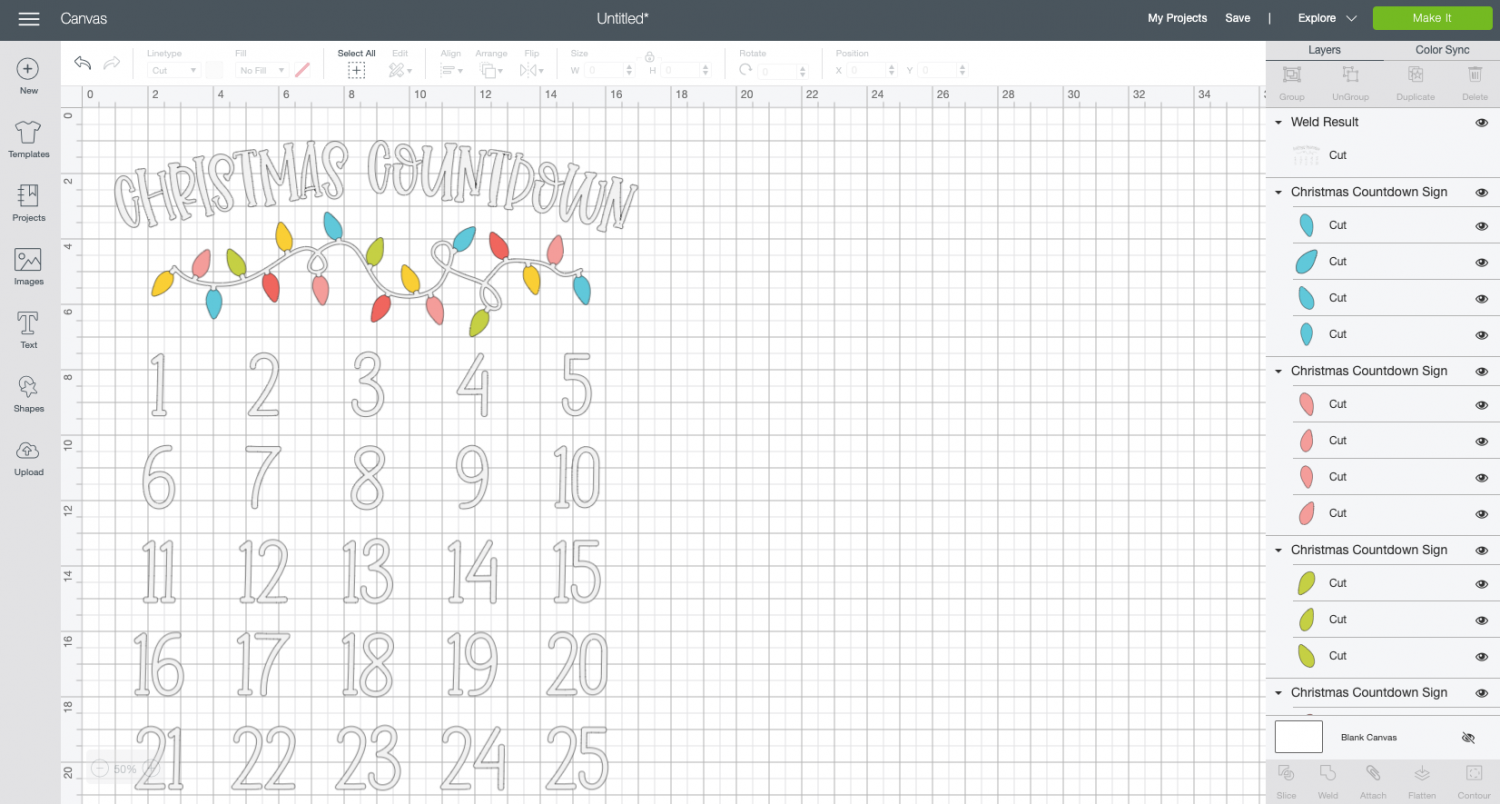 Then select the numbers 16-25 and click Weld so they also cut together as one piece. Note we did not weld the lights themselves—we're actually going to skip the transfer tape for those and just place them by hand like stickers!
You're ready to click Make It in the upper right!
At the top of the Prepare Screen, you're going to get a warning that says that your project is too big to fit on a regular 12″ x 12″ mat. Click OK to proceed.

You won't need to do anything in the Prepare Screen to your file—it's regular vinyl so there's no need to mirror the image.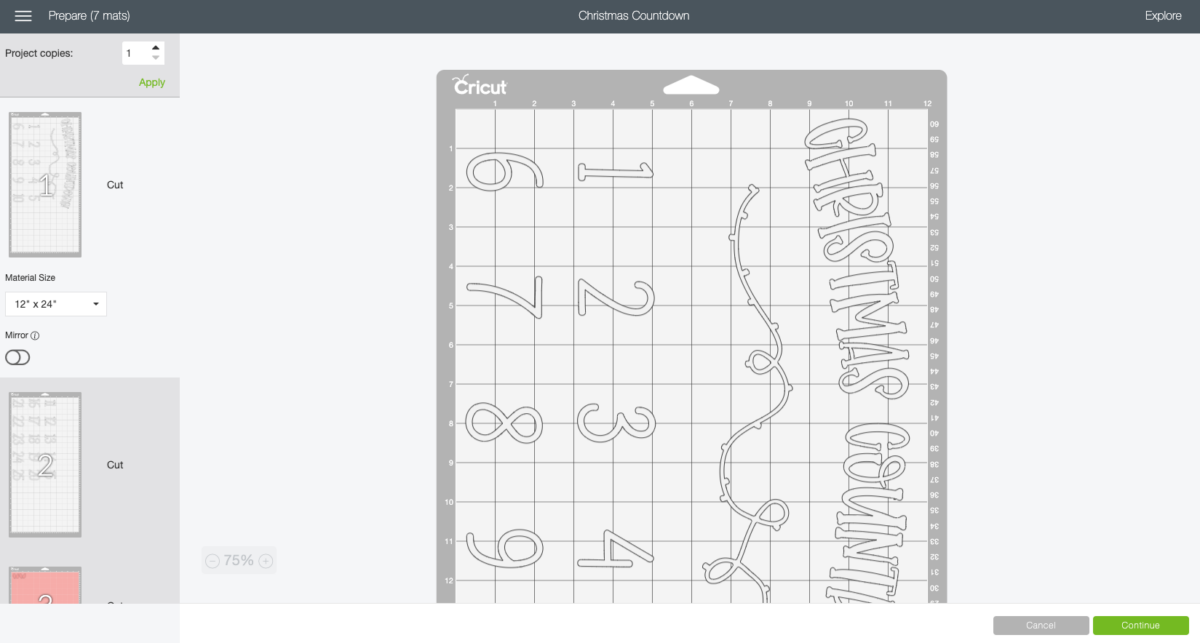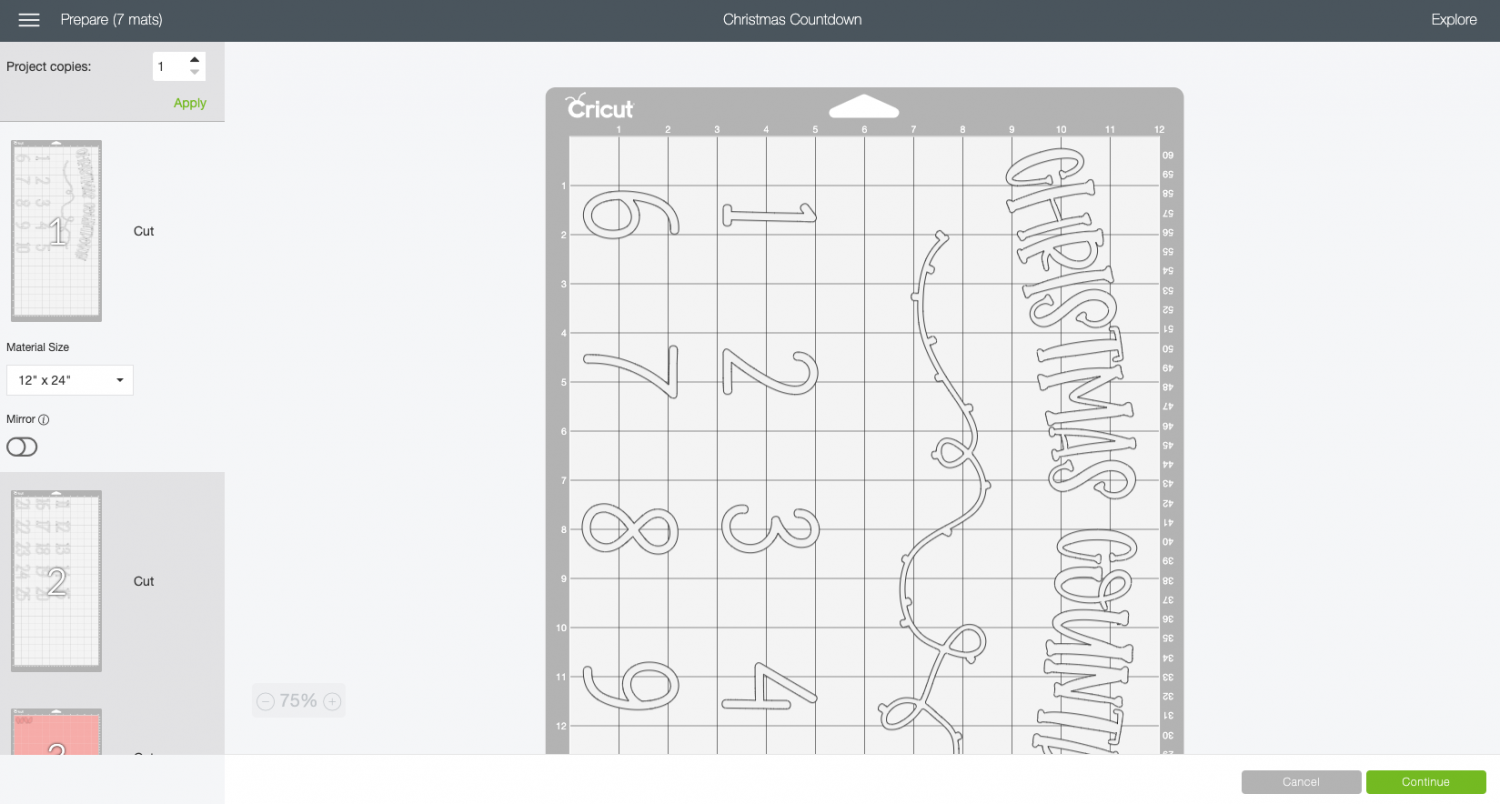 Click Continue and you're ready to cut!
Cut Your Adhesive Vinyl for Your Christmas Countdown Calendar
On the Make Screen, you'll set your material (I am using a few different brands of adhesive vinyl for this, but the vinyl setting works for them all). Make sure you have your fine point blade in your machine, insert your mat, and your Cricut will cut your project!
Cut all seven mats for your project—the two 12″ x 24″ white mats and the five colors of lights.
Weed Your Adhesive Vinyl
Next we're going to "weed" the negative space from around each image. I have an extensive post about Weeding Adhesive Vinyl, which you'll want to read—tons of tips and tricks to making it easier.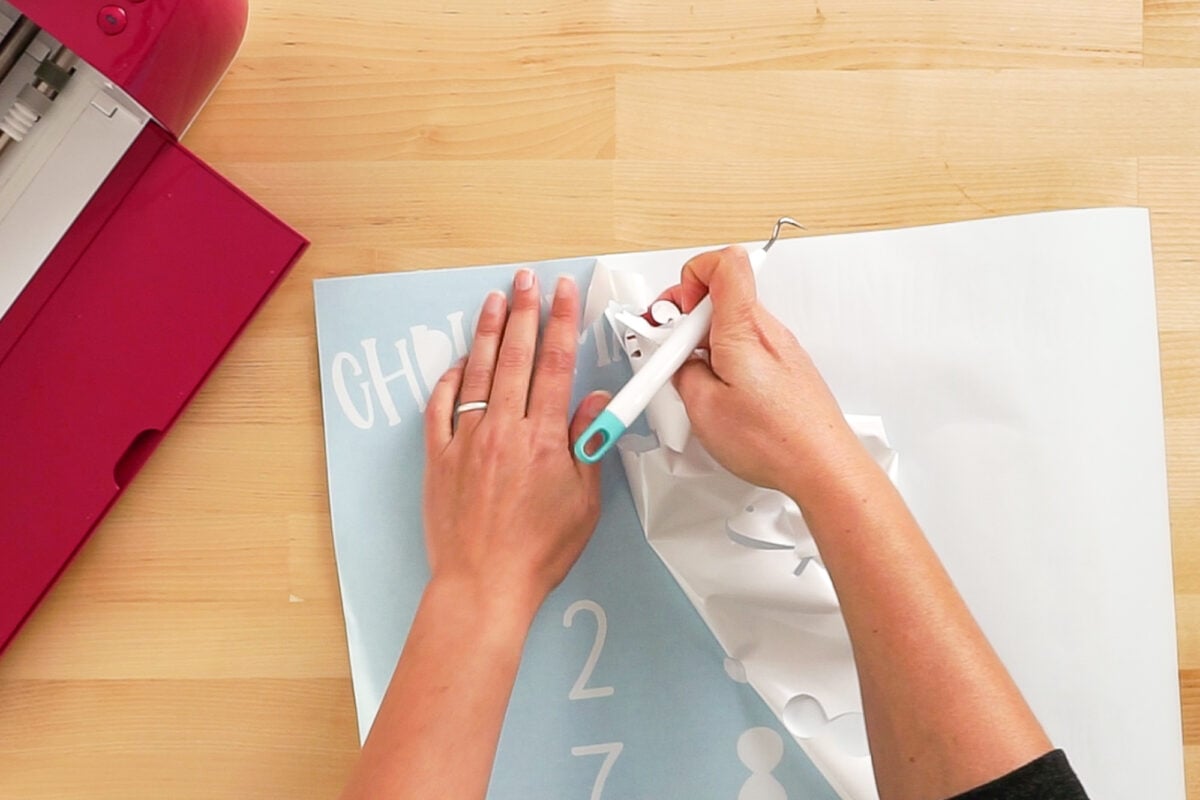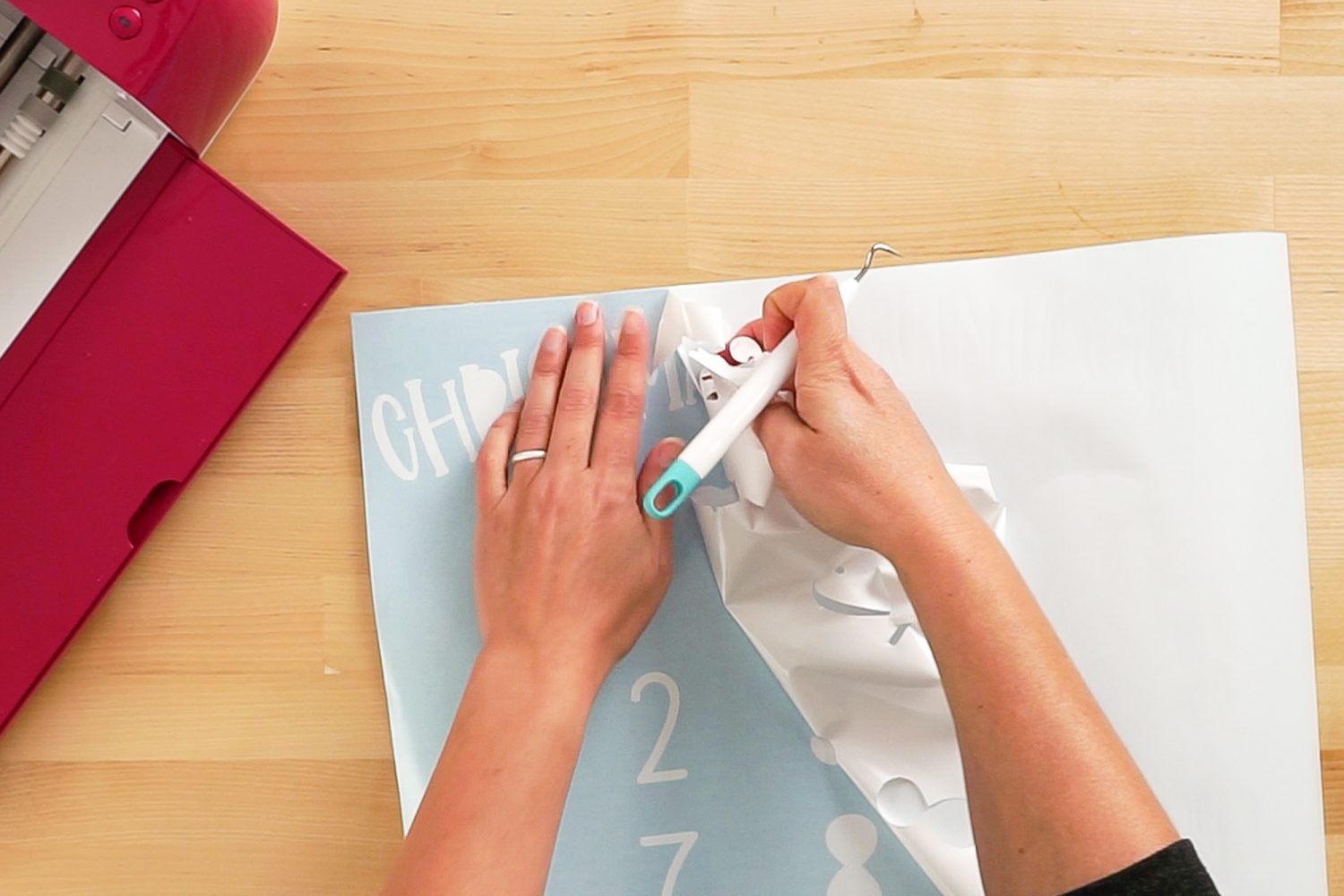 Adhere Your Adhesive Vinyl
Once all of your adhesive vinyl is weeded, it's time to use transfer tape to adhere it to your chalkboard. You can see an in-depth tutorial about Using Transfer Tape if you need it (plus troubleshooting tips if you're struggling!).
Start by cutting a piece of transfer tape the same size as your decal. Peel the backing sheet off the transfer tape and place the sticky side of the transfer tape down on your project. I like to start at one end and work my way to the other, to avoid bubbles.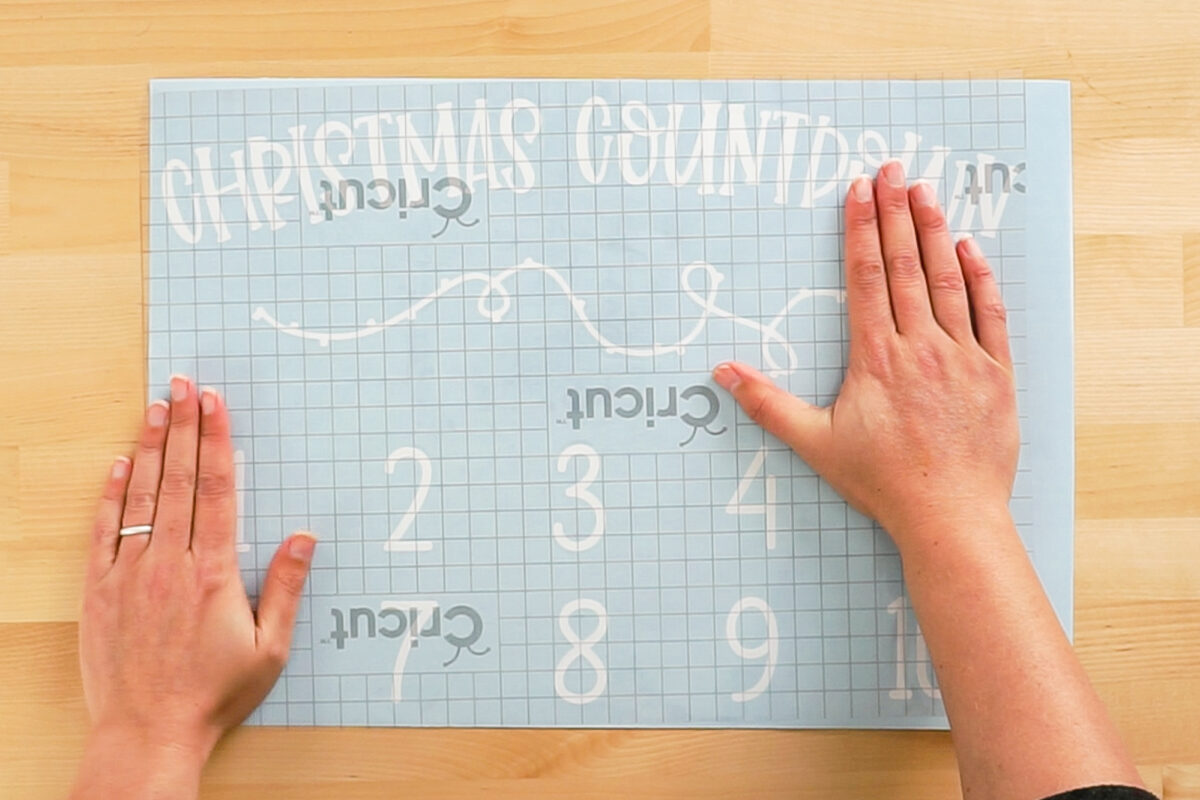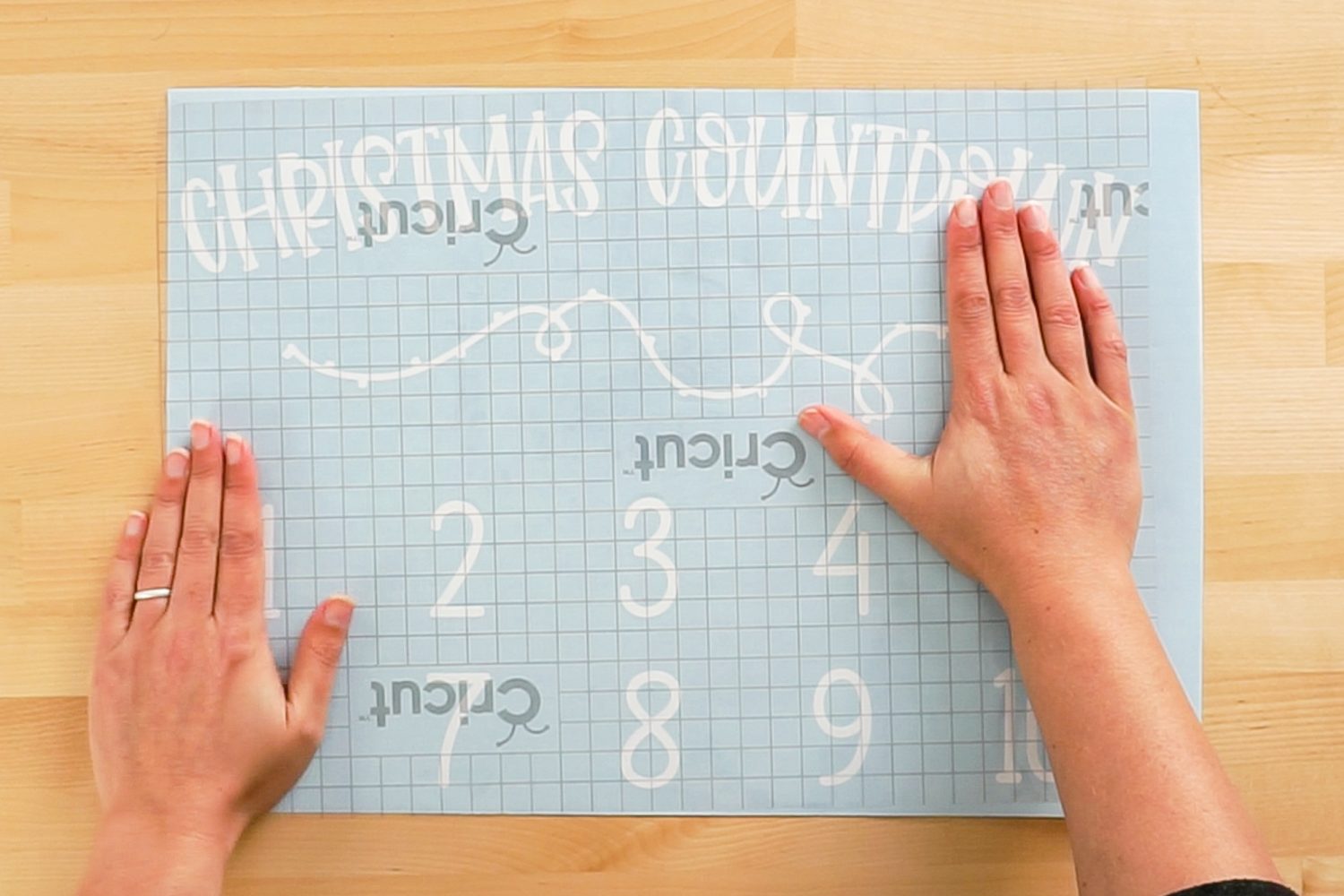 You can use your hands or a scraper to burnish the transfer tape down on top of the vinyl. Then flip it over, and peel the backing sheet away from the transfer tape. Your decal should stick to the transfer tape—you can use your fingernail to catch anything that isn't sticking cleanly.
Then flip it over and press it onto your chalkboard! Use the scraper to burnish the vinyl into the chalkboard. Then peel back the transfer tape and your vinyl should stick!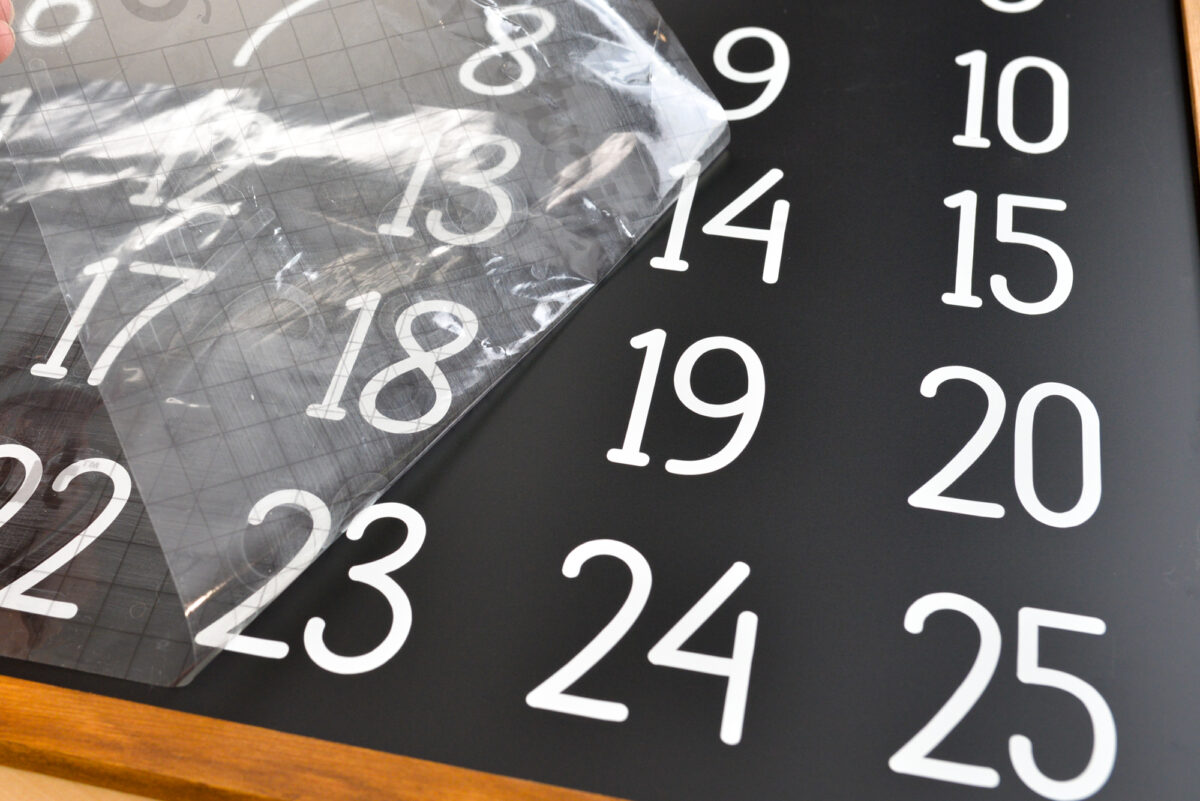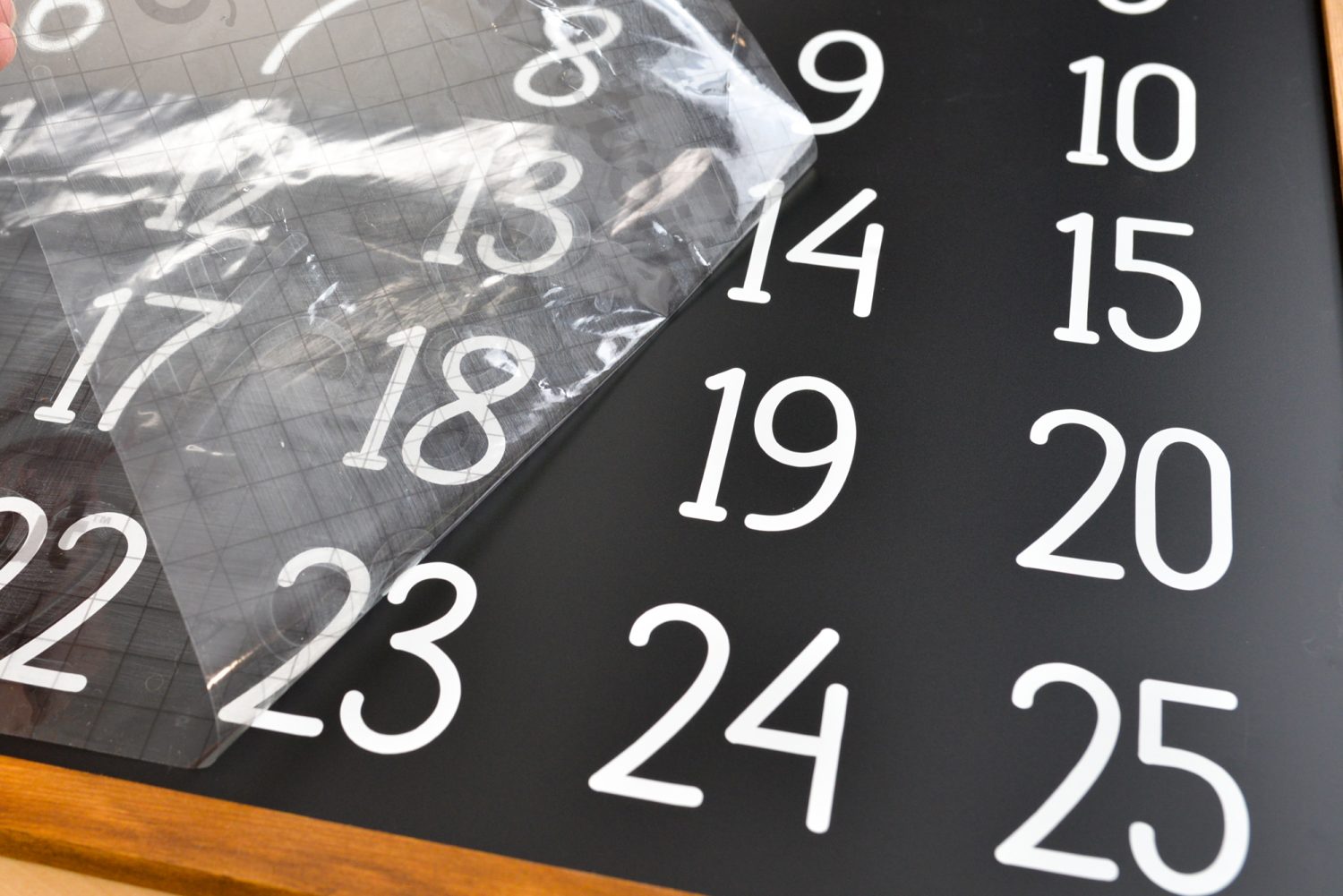 Then instead of using transfer tape for the lights, just place those on by hand as though they were stickers. Press with your finger to adhere.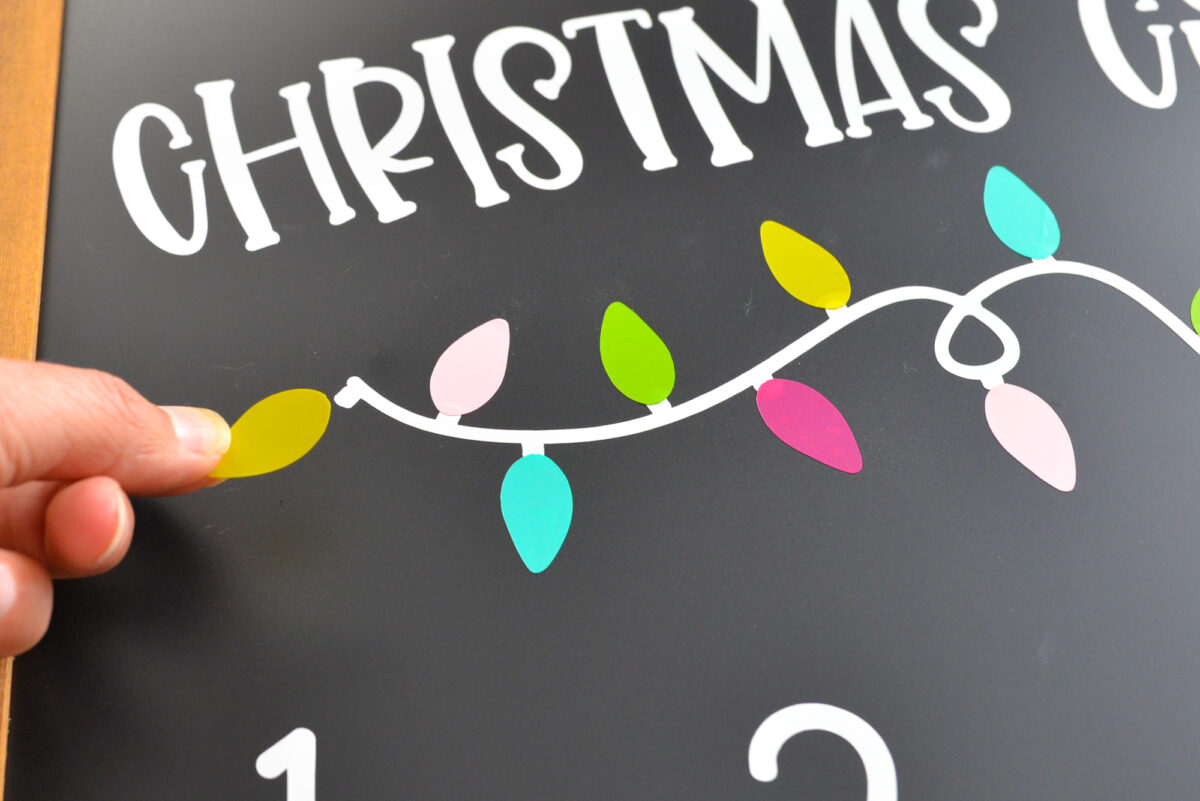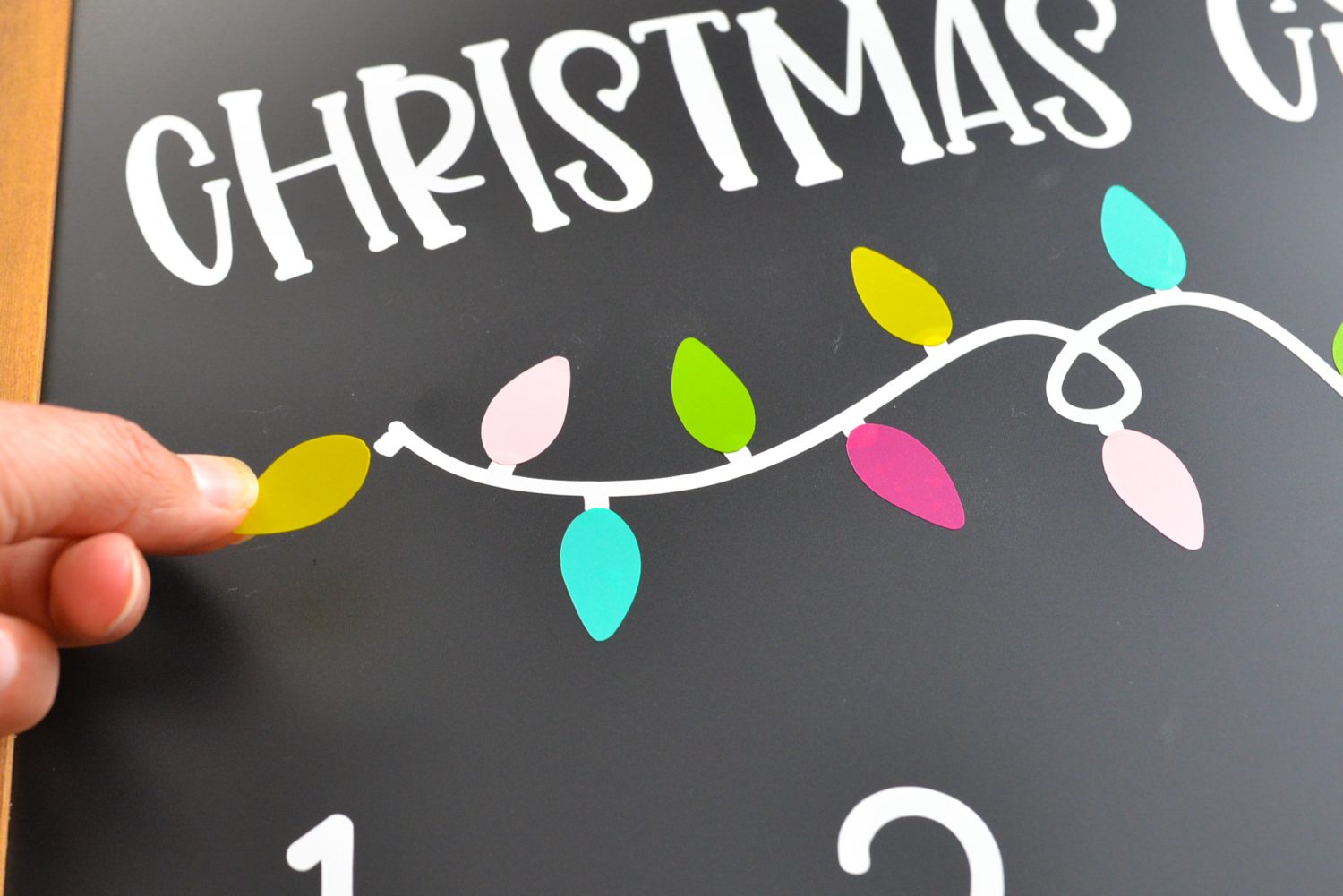 All done! For the magnet, I just glued a kitchen magnet to the back of a yellow cardstock star, but you can use any magnet you have or want to make!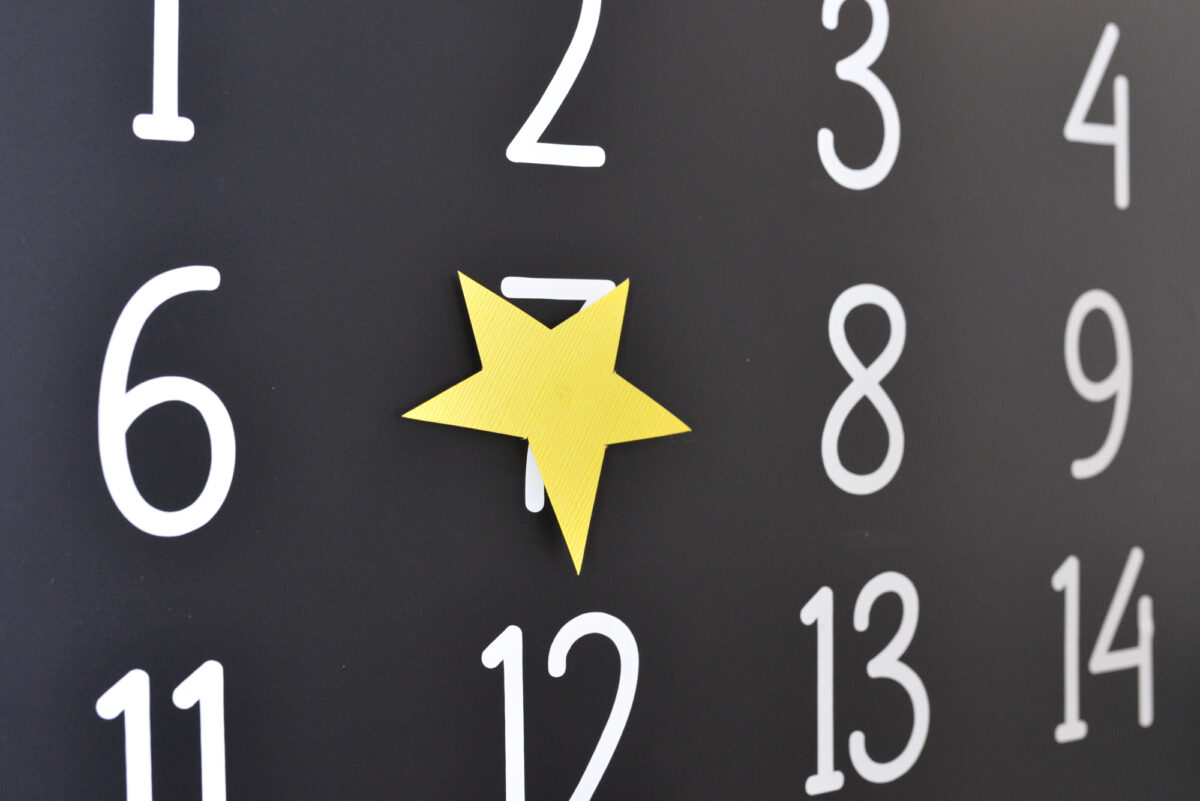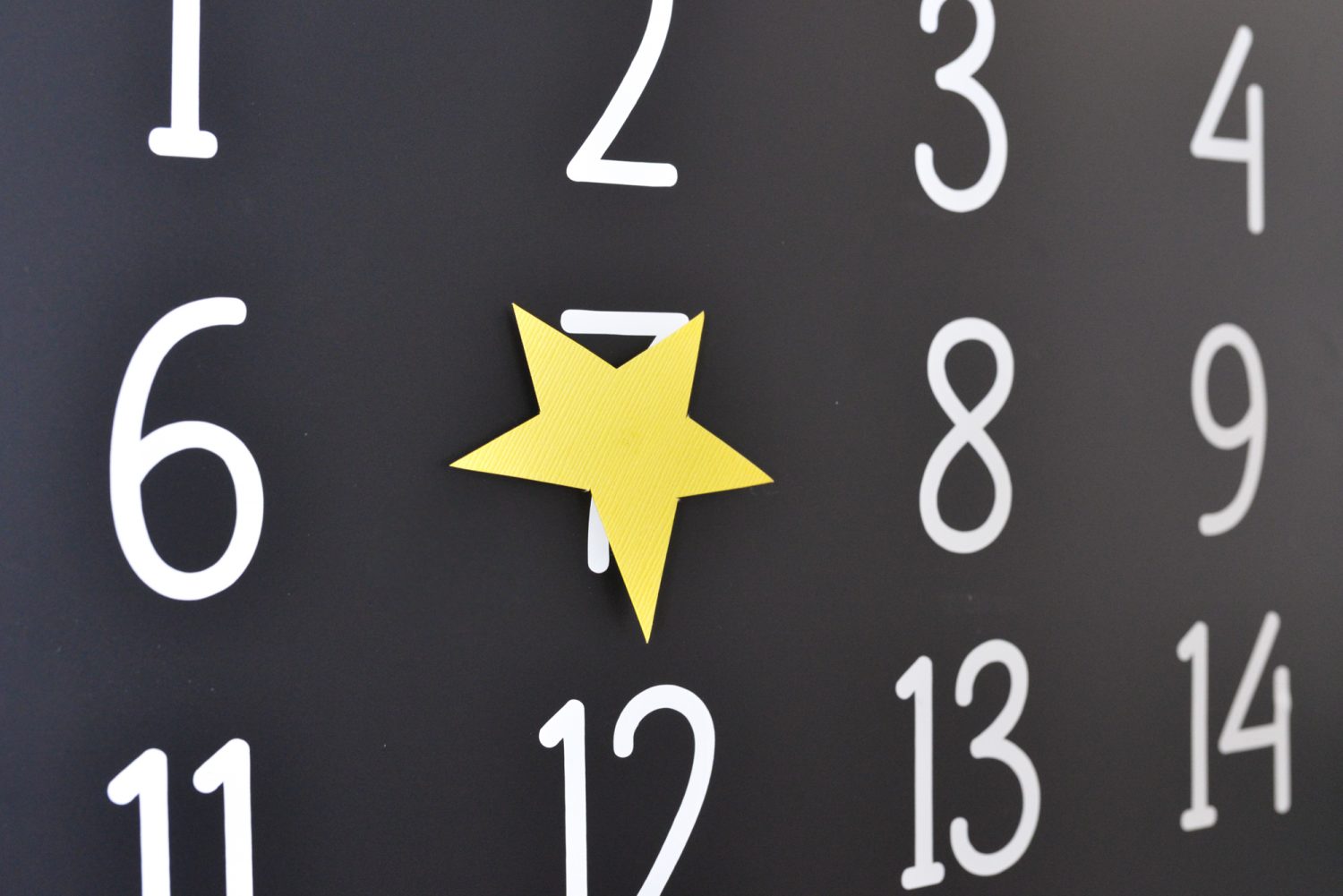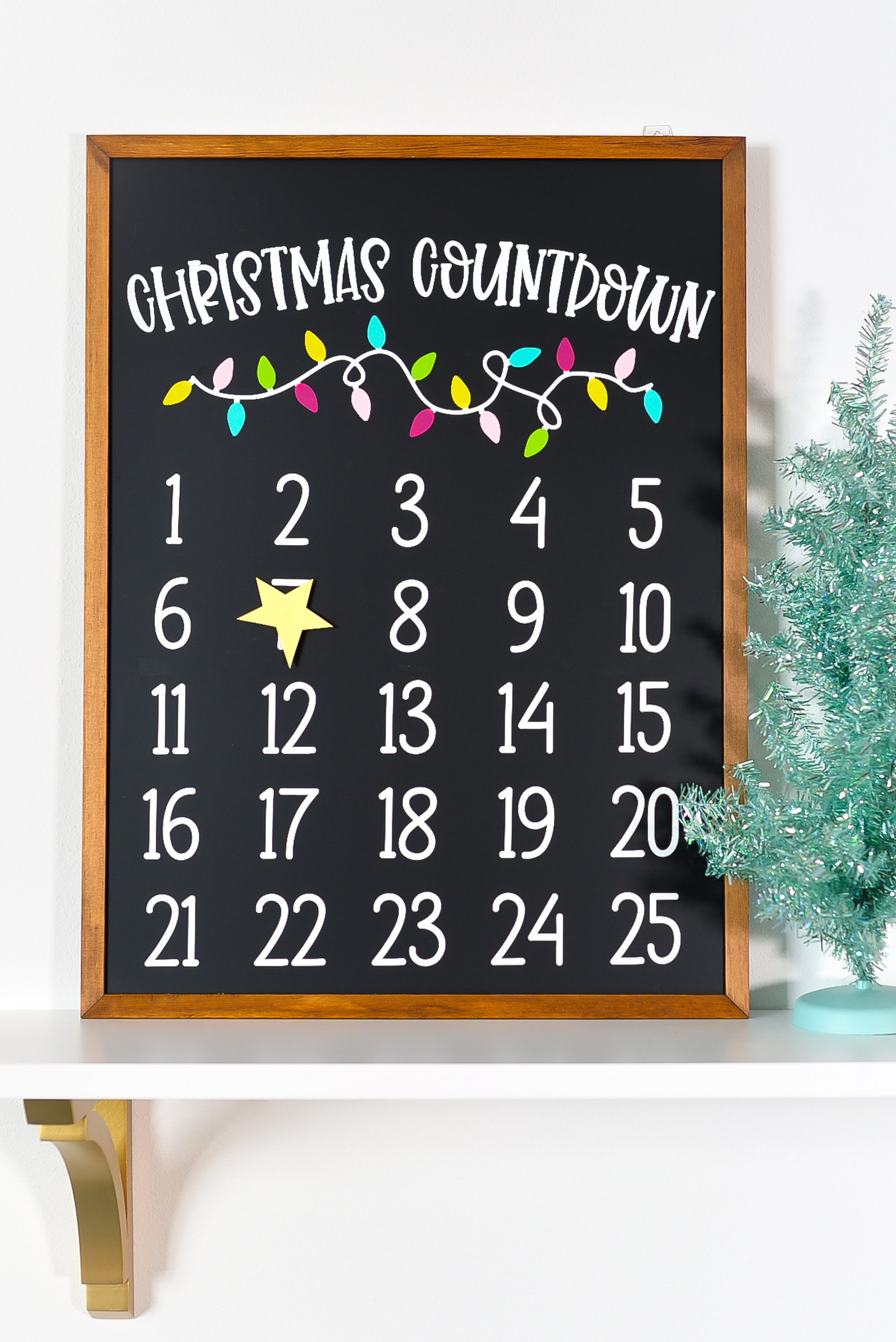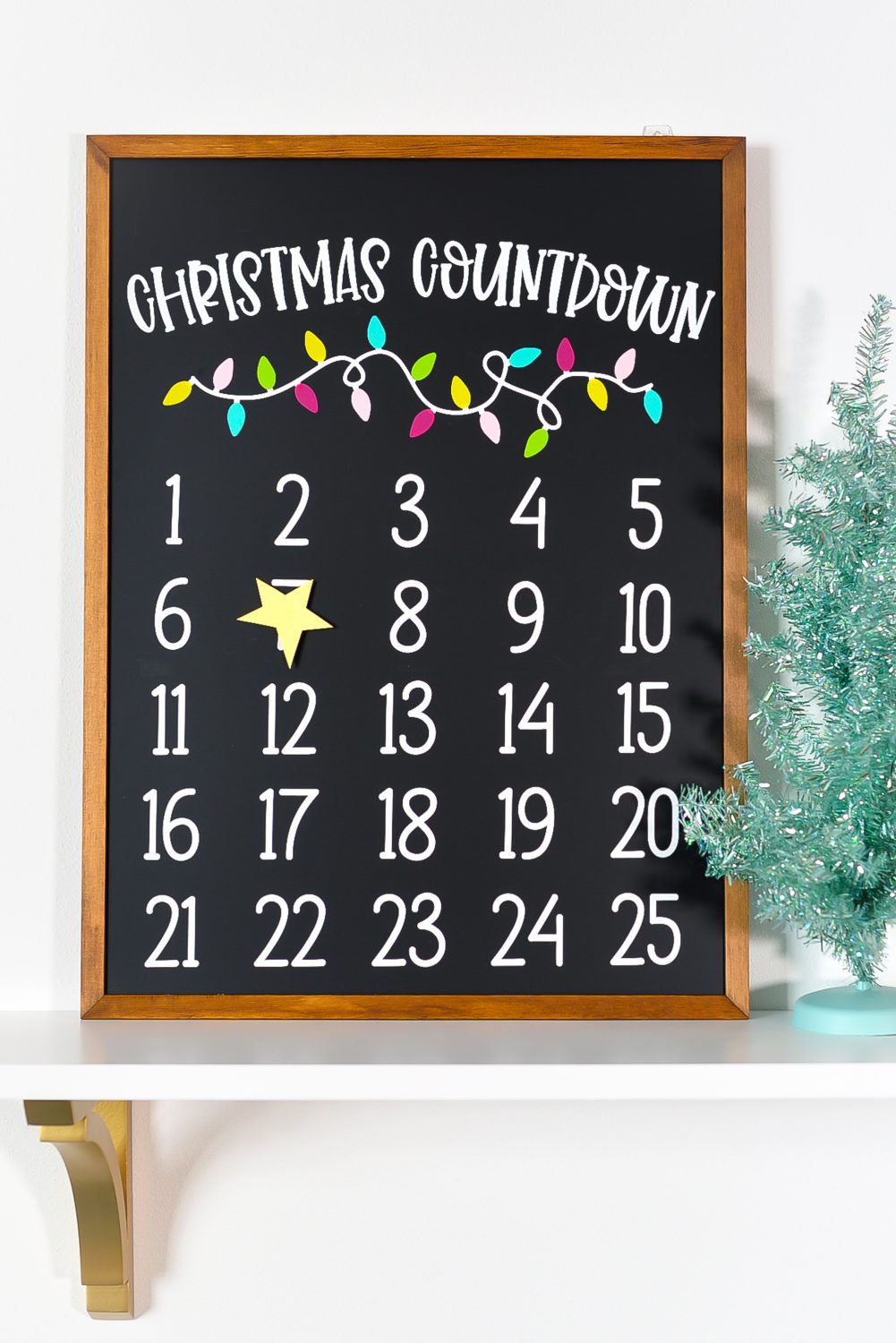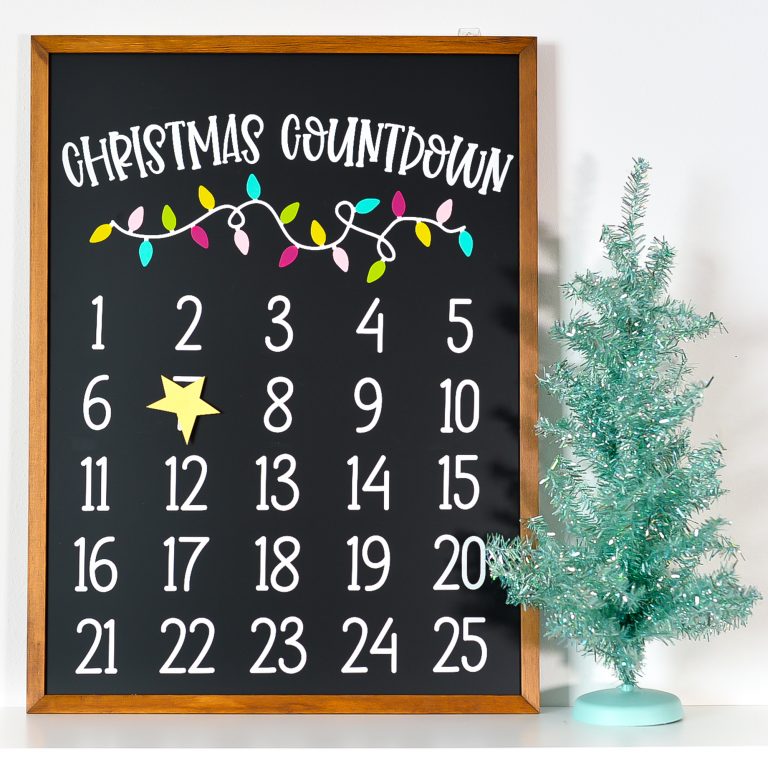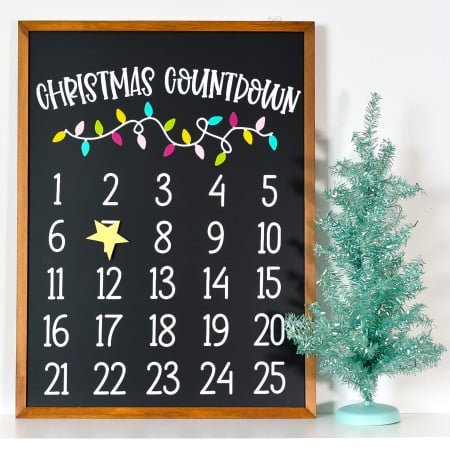 CHRISTMAS COUNTDOWN CALENDAR
Mark the days until December 25 with this DIY Christmas countdown calendar! Use your Cricut Explore or Maker to craft this cute magnetic advent calendar!
Supplies
Magnetic Chalkboard

Adhesive Vinyl

White, dark pink, light pink, yellow, green, blue

Transfer Tape
Instructions
Upload the file to Cricut Design Space and weld pieces for cutting.

Cut the pieces from adhesive vinyl.

Weed your adhesive vinyl pieces.

Use transfer tape to adhere the larger pieces to the chalkboard.

Hand-place the smaller vinyl lights on the chalkboard like stickers.
Did you create this?
Share it with me on Instagram and make sure to follow me on Pinterest for more stuff!
Make All the 25 Days of Cricut Christmas Projects!
We'll be adding links as each day goes live! Grab the full bundle with all of the projects and SVGs in our 25 Days of Cricut Christmas eBook!