Cricut recently released the beta version of it's new Cricut Design Space V3! Here are some of the best changes in the new version and why you'll love it even more.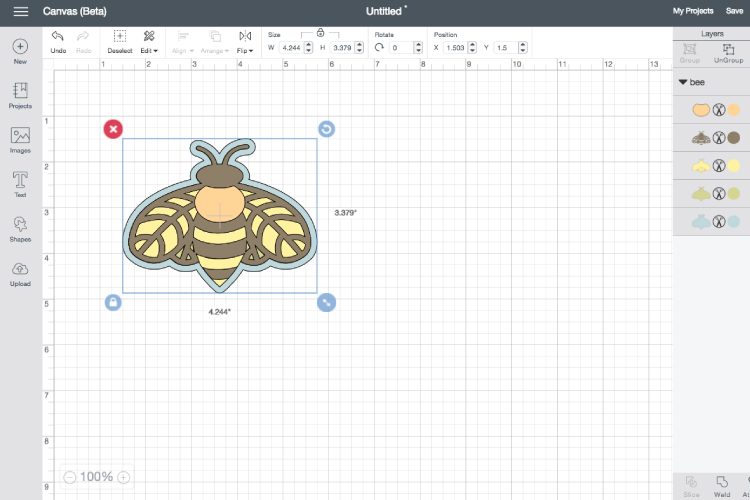 I am so excited that Cricut has released the beta version of the new Cricut Design Space V3. I'll be honest — the old Cricut Design Space could be a little finicky to use sometimes. It was still a great program that offered a ton of functionality, but it wasn't without its frustrations. For my friends who have used the Silhouette Cameo and the Silhouette Studio (the Silhouette is a similar cutting machine), their main gripe with the Cricut was that the CDS didn't work as seamlessly as the Silhouette Studio. They said the Cricut itself is a superior machine, but CDS could be difficult in comparison. I can't speak to that personally since I don't have a Silhouette, but I can say that the Cricut Design Space could definitely be a little temperamental at times.
Other Posts in this Series:
That being said, I absolutely love the updates made in the new Cricut Design Space v3. A few of the things that I found the most cumbersome are reworked and, in particular, the actual cutting process is much smoother. Now that I've played around in it a bit, here are my favorite updates to the Cricut Design Space!
No More Flash
By far the most difficulty I ever had with the Cricut Design Space was with the Flash installation. The old CDS runs on Flash and often there would be Flash updates or CDS updates and I felt like I was often waiting for these updates (or restarting my browser) to get past the update screen. The new CDS isn't built in Flash, so no more updates! Let's all do a happy dance!
It's Faster
Because it's not running on Flash anymore, it's much faster than it used to be. Menus pop up faster, shapes resize faster, the cut process is faster. It's all faster, which means more projects in less time!
No More Tabs
In the old Cricut Design Space, the different edition tools were on separate tabs in the right-side panel. This wasn't a flaw, per se, but it did make editing a little slow and clunky. In the new design space, all of the editing tools are visible at all times, with the addition of the bar across the top of the canvas. I tend to do a lot of re-sizing in my projects, so this is particularly handy for me.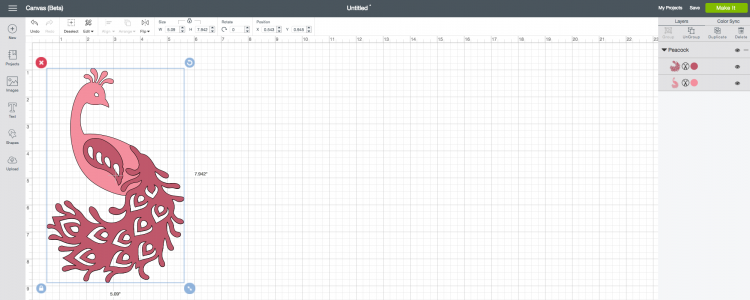 Text Improvements
There are several small text improvements that make things just a little easier. For example, you can now edit text after ungrouping it, which you couldn't do before. My favorite thing they've done with the text is they've created an enormous font menu, so you can really see the fonts for your project. I wish every single program I worked in had this giant menu! It would make choosing fonts so much easier.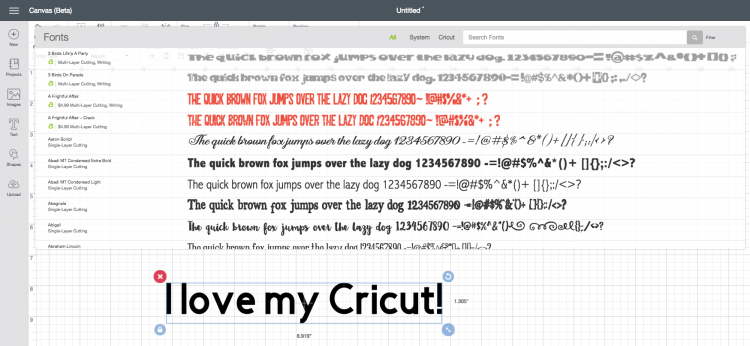 UPDATE: I know that some people using smaller devices are having trouble with this larger menu. I believe the Cricut team is aware of this issue and hopefully they will find a workaround.
Color Sync Panel
If you want to quickly and easily change the colors in your project, you can easily do this in the new Color Sync panel (in the right-hand menu). Just drag and drop your color choices over the item you want changed and voila! It's changed. So much easier than clicking on each individual item and changing the color. I wrote specifically about this function here.
Make It Now Project Search
The old Cricut Design Space had all of the same Make It Now projects, but I found them much harder to search. The new search tool for Make It Now projects is definitely improved. Instead of just being able to search by category, you can now plug in a term in the search box and find all the matching projects. The other day, I was looking for a project to make for my friend's new baby. Her nursery theme is foxes, so I went looking to see if there was a Make It Now project I'd like to do. Eleven great results popped up — I am going to make the Layered Fox Wall Art for her new baby's nursery!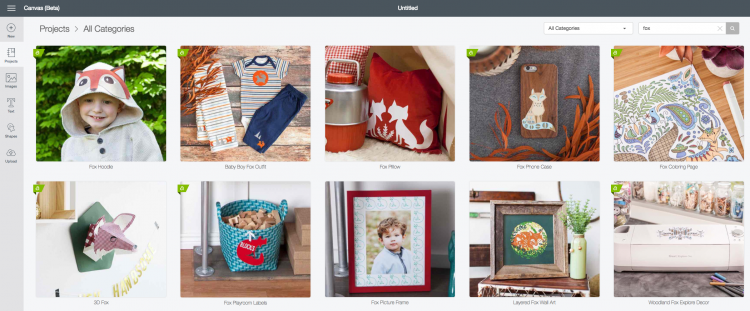 Streamlined Cutting Process
The old cutting process had one major flaw, in my opinion. If you wanted to move your project to a different location on your cutting mat, you had to do this in the preview screen. Not difficult, but sometimes I wouldn't realize that, for instance, my fourth layer needed to be moved until I was actually cutting that layer. Moving it meant that I had to cancel the cut, move the project in the preview screen, and cut again. Now you can edit your mat within the final cutting stage (on the right-side panel), without having to cancel everything to go back to the preview. A nice update!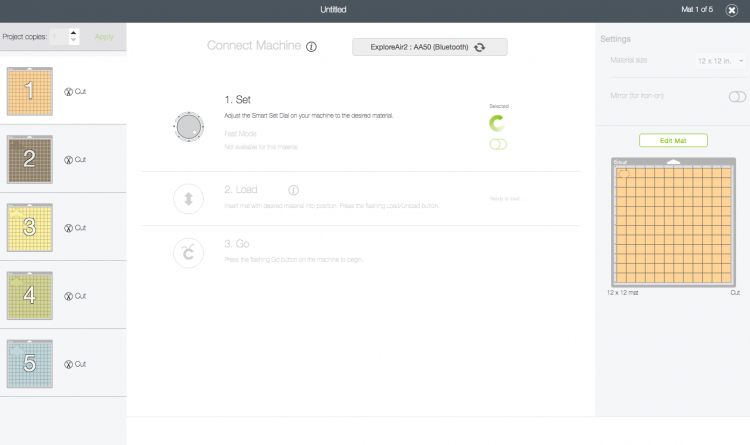 Canvas/Template Feature
When I originally wrote this post, I neglected to mention that the new DS does not have the Canvas/Template feature. I didn't know it didn't have it because I've never actually used this feature before! Thankfully they have returned this feature to Design Space, and all the templates can now be accessed in the left-hand menu under Templates. Hooray!
Have you used the new Cricut Design Space v3? If you haven't you can access it here.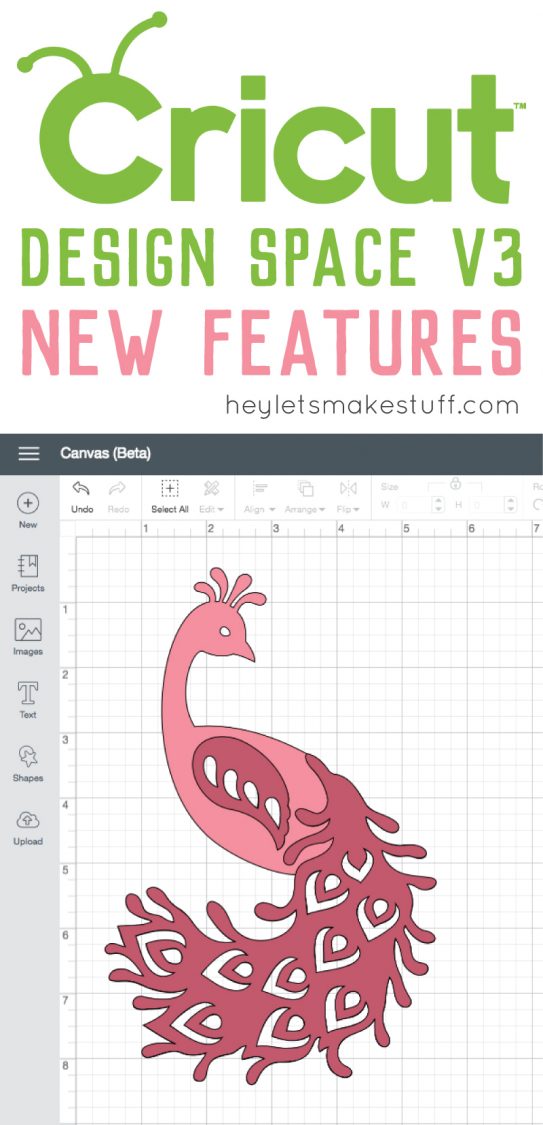 Latest posts by Cori George
(see all)