No glue is necessary with Cricut's Adhesive Backed Paper! Here's how to cut Adhesive Backed Paper using your Cricut Joy—and it works with Cricut Explore and Cricut Maker, too!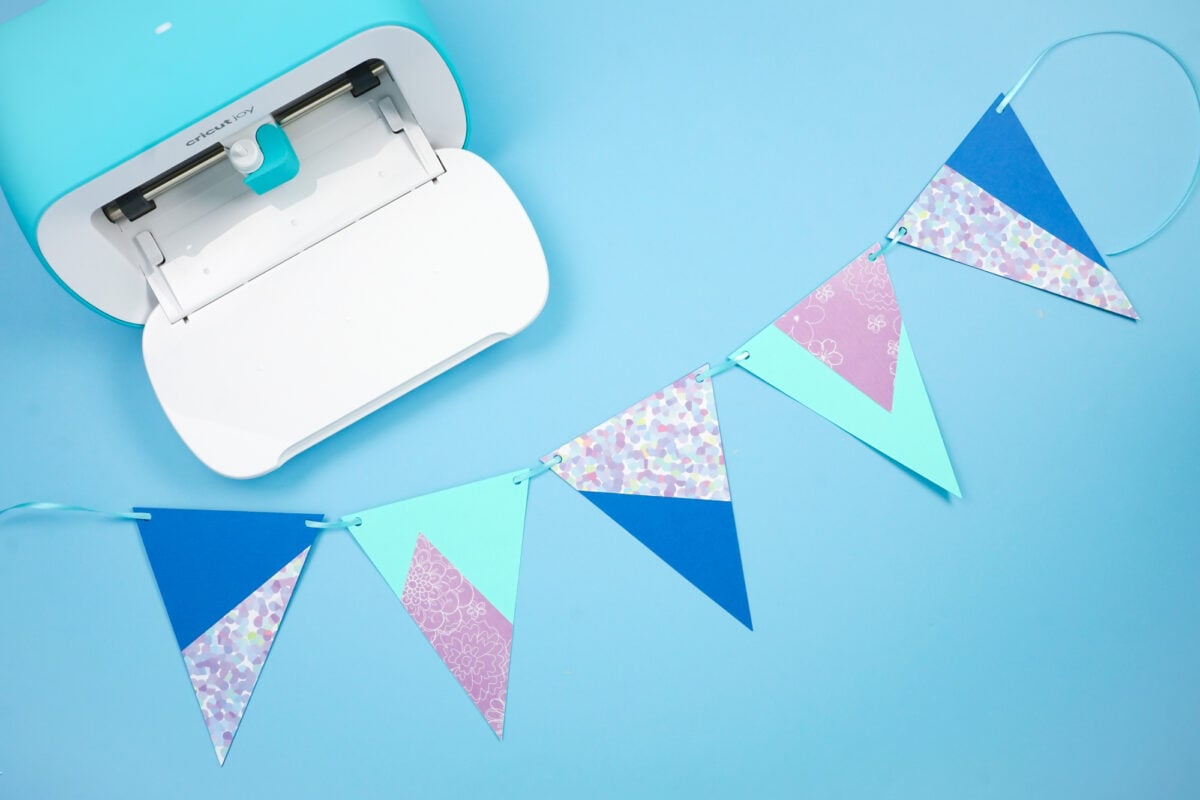 With the launch of Cricut Joy, Cricut also launched a handful of new materials. One of these new materials, Adhesive Backed Paper, is not just for Cricut Joy—it can be used in any Cricut machine!
Just getting your Cricut Joy out of the box? Check out my FREE Cricut Joy Basics course! Also check out these other Cricut Joy posts if you're curious about Cricut's tiniest cutting machine!
Now let's take a look at this fun new material and then make a set of party pennants!
What is Adhesive Backed Paper?
Adhesive Backed Paper is basically sticker paper. You cut your shape and peel it off the backing paper like a sticker—no glue required (can I get a "woo!"). It comes in a range of patterns and colors. There are even solid versions that you can easily write on using the Cricut pen.
What Can I Make With Adhesive Backed Paper?
Here are a few ideas for using this material:
How to Use Adhesive Backed Paper
To show how it works, I'm going to pair this sticky paper with regular cardstock to make fun set of party pennants! Here's what you'll need.
Party Pennants Supplies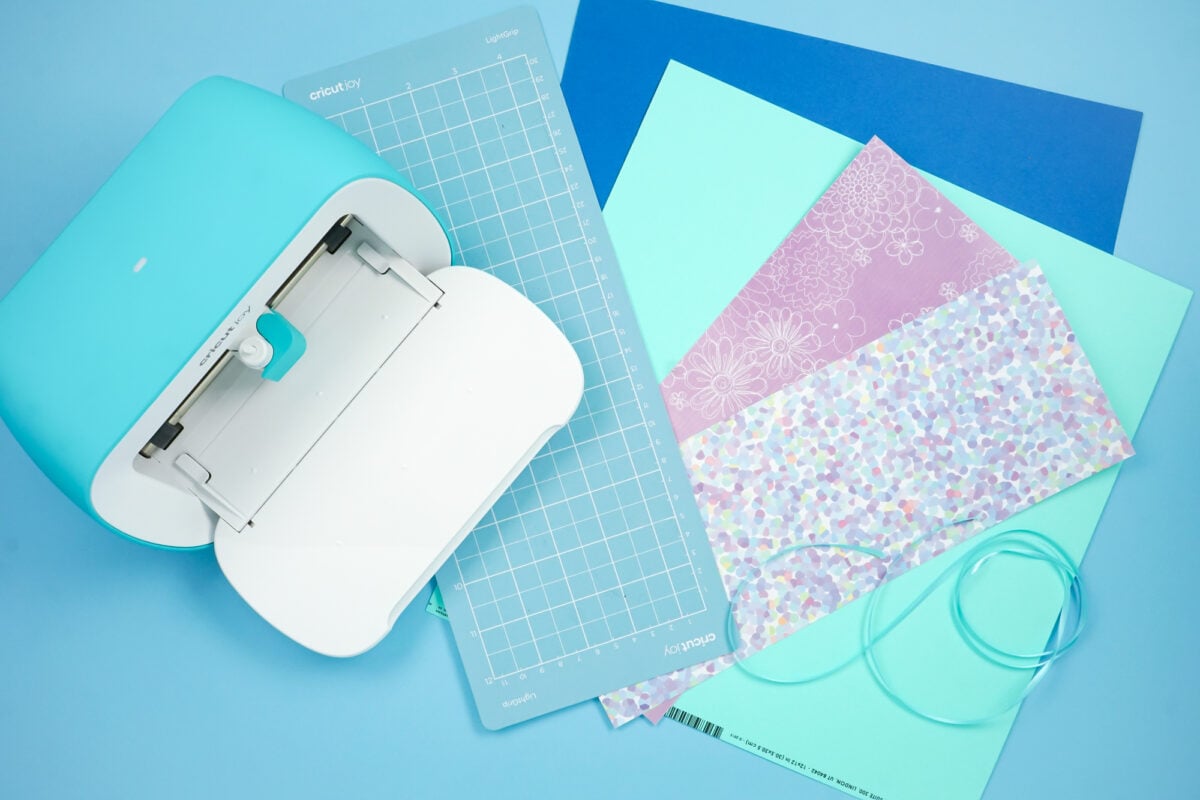 Party Pennants Directions
Open Cricut Design Space and navigate to the party pennant file I've designed for you.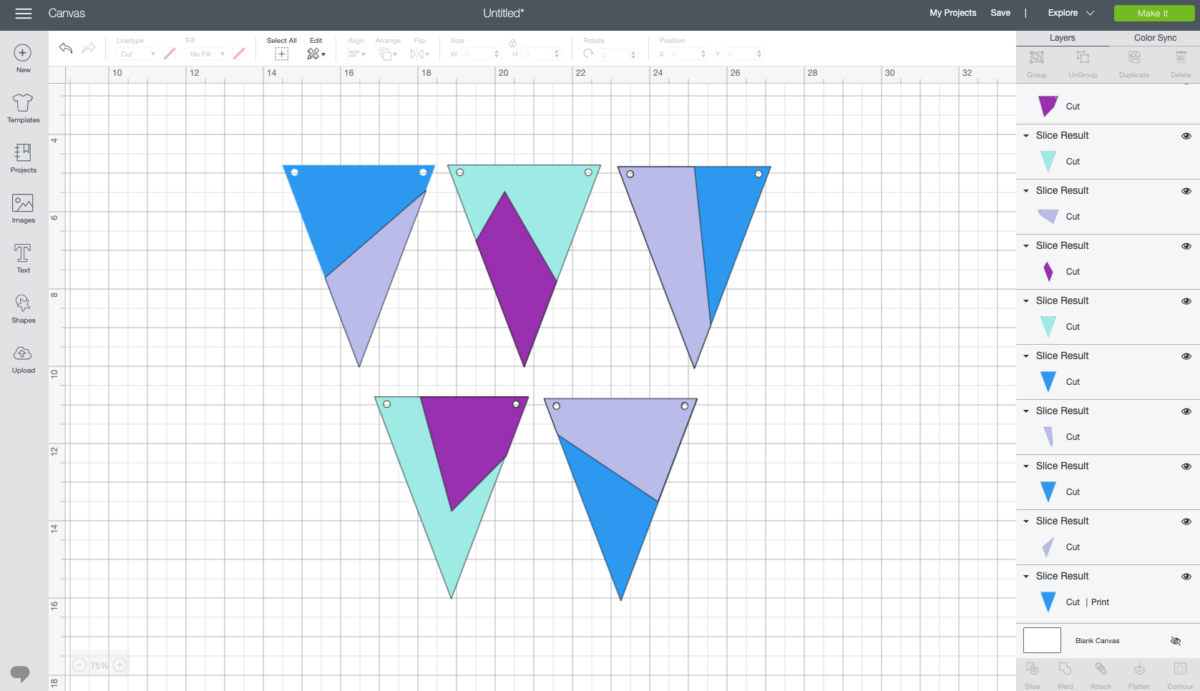 If you'd like, recolor the project. I'm using my fabulous friend Jen Goode's Adhesive Backed Paper collection. I always love when my friends do amazing things (and Jen is always doing amazing things!).
I used two different shades of purple in the Cricut Design Space image to stand in for the patterned paper.
Once you've got your file ready to go, hit Make It in the upper right. You'll be asked to choose a type of mat—both cardstock and adhesive-backed paper require a Cricut Mat, so choose On Mat. I have the longer 4.5″ x 12″ mat, but this project will also fit on the smaller 4.5″ x 6″ mat that comes with Cricut Joy. You can also cut these on a Cricut Explore or Maker!
To fit my cardstock on my sheet, I find a quick way to trim it down is to stick it to the mat and then use my rotary cutter and acrylic ruler to cut it straight down the edge of the mat surface.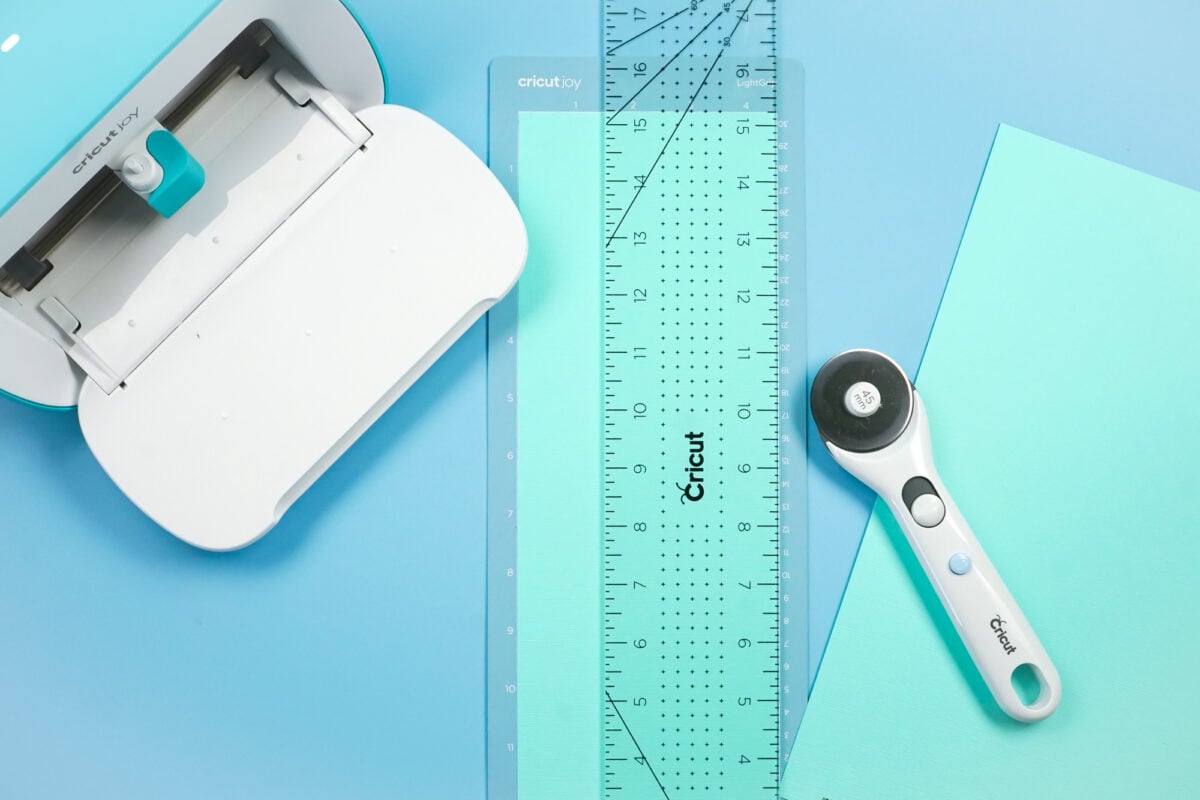 Choose Medium Cardstock as your material and Design Space will prompt you to insert your mat. Click Go and it will cut your pennants! Continue with the other pennant mats and the adhesive paper (place it grid-side down on the mat), making sure to change your material type before cutting the adhesive paper.
Once you're done, simply pick up the adhesive-backed paper pieces and apply them to your pennants like a sticker!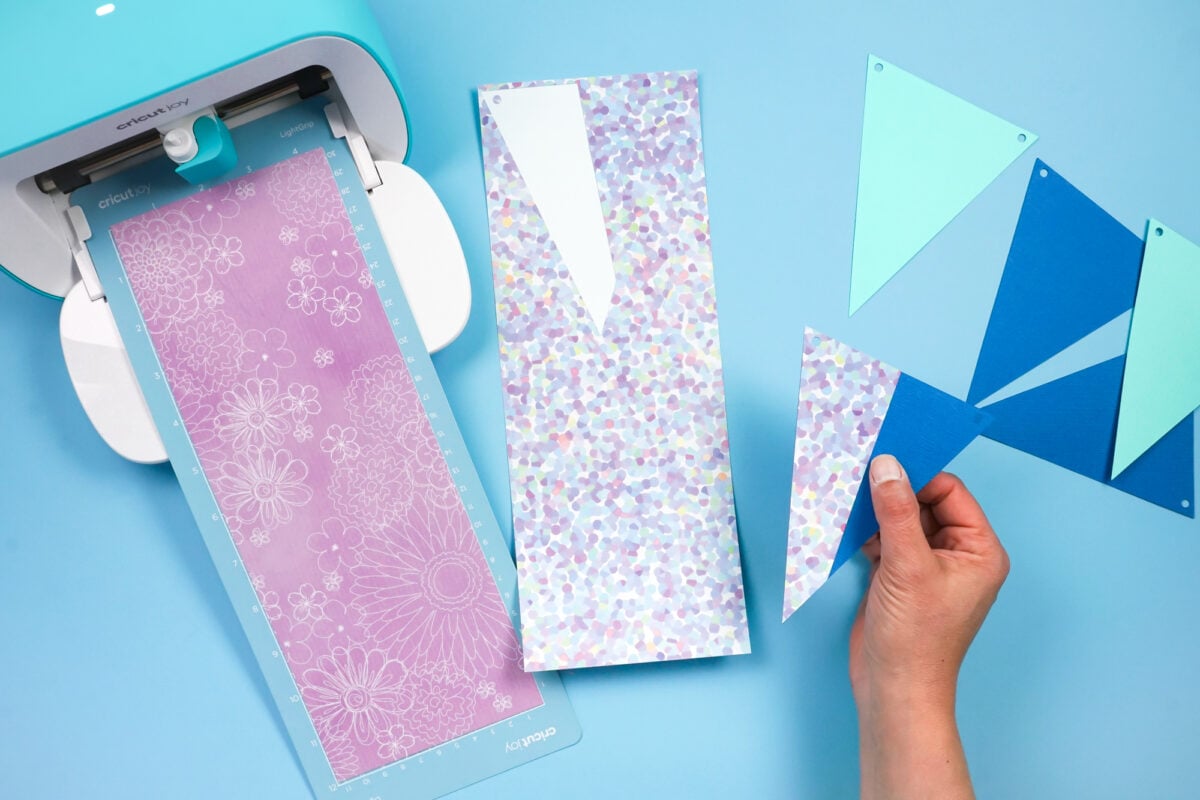 Then string together with ribbon, using the pre-cut holes in the pennants. Super easy! You can make a bunch of these paper pennants using all sorts of colors and patterns for any party you might have!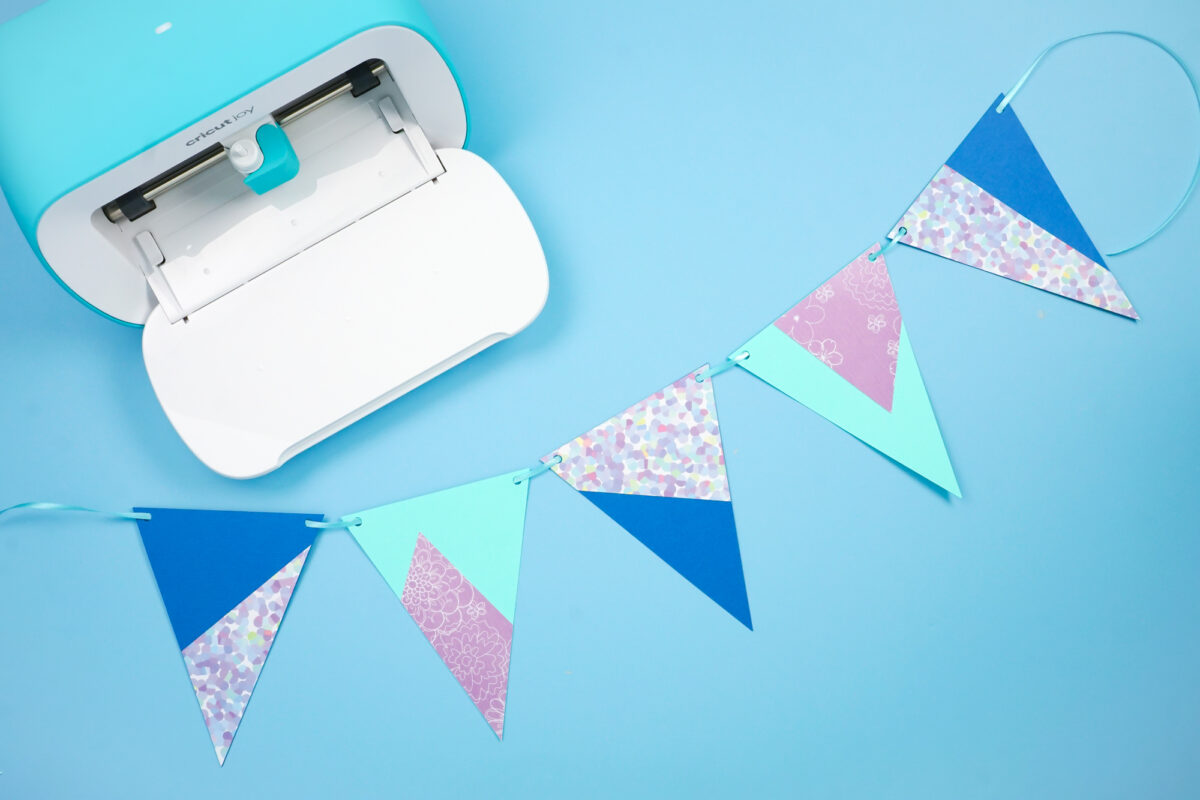 What will you make with this fun sticky-backed paper and your Cricut?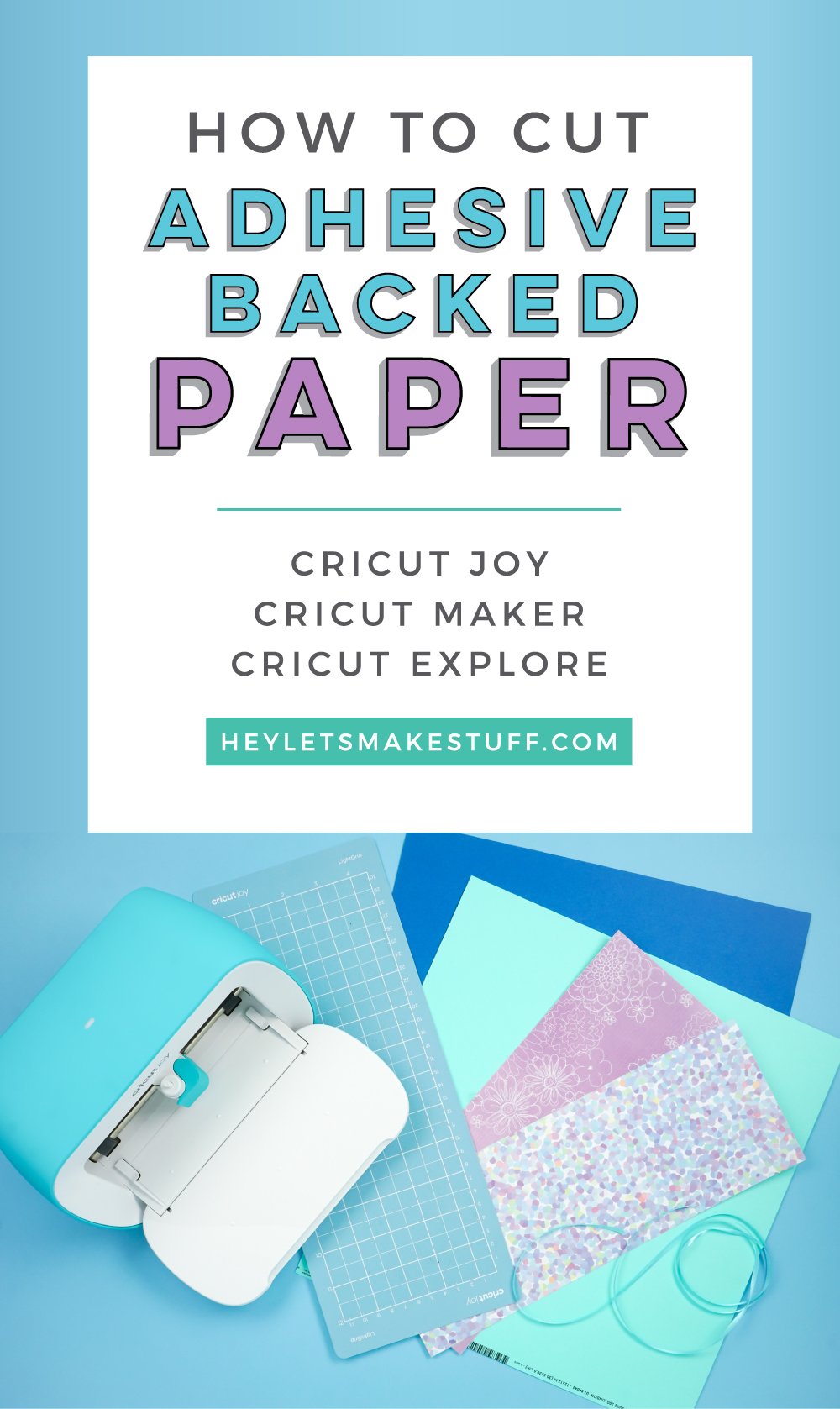 Get a Cricut Joy on Amazon