Gather with friends to celebrate Friendsgiving! Here are nine tips and ideas for throwing a cozy, outdoor thanksgiving with your closest friends.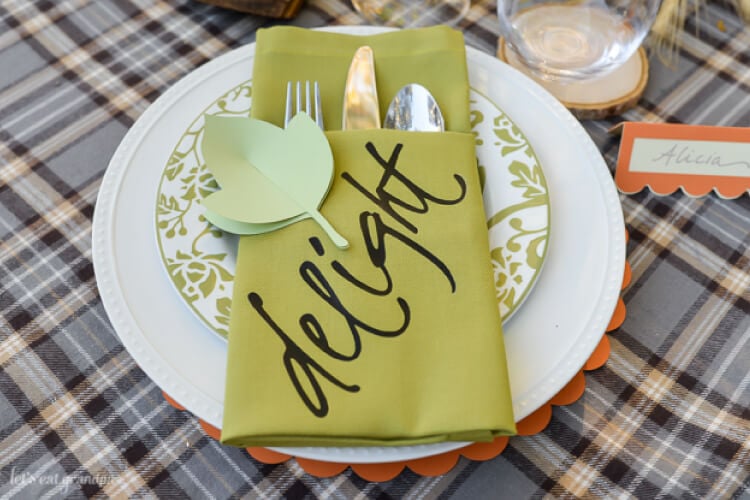 I love that we live in time that makes it possible to call our friends family. While I savor the goodness of gathering with my actual family on Thanksgiving, for several years Ryan and I have been part of a Friendsgiving — a Thanksgiving feast with our friends. It's one of my favorite meals of the year — catching up with friends over overflowing dishes and hot drinks, kids running around and conversation late into the night.
It's still warm enough to eat outside here in California (sorry, my Polar Vortex friends), so today I want to share some of my favorite tips for throwing a cozy, outdoor Friendsgiving. A time when you can get together with your best friends and celebrate the blessings in your lives.
1. Make it a Potluck
There's no reason to shoulder the food burden on your own. Have your friends each bring a dish to share. You can go the traditional Thanksgiving food route—turkey, stuffing, mashed potatoes, and green bean casserole—or you can try something a little different, like a hearty soup night, or, heck, even pizza if cooking isn't your thing. While the food is a fun element of your evening, it's really the company that counts.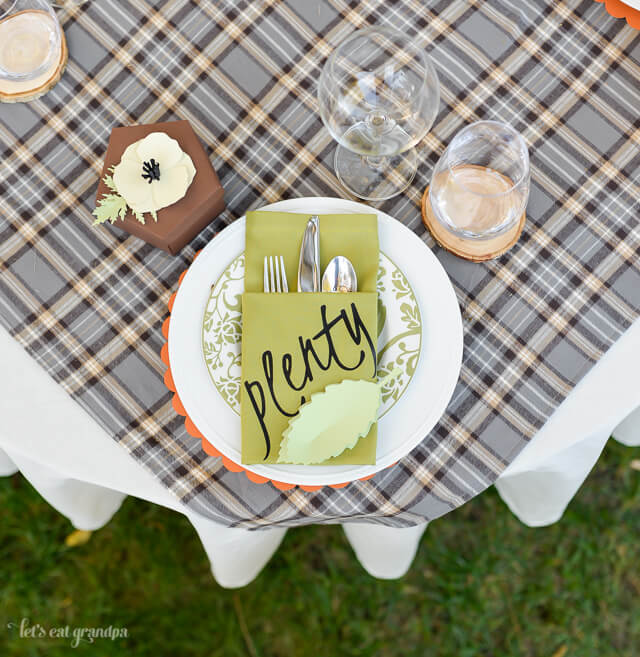 2. Throw in Non-Traditional Elements
While warm oranges, yellows, and browns—and turkeys, pumpkins, and cornucopias—are traditional on a Thanksgiving table, use this opportunity to think outside the box a bit.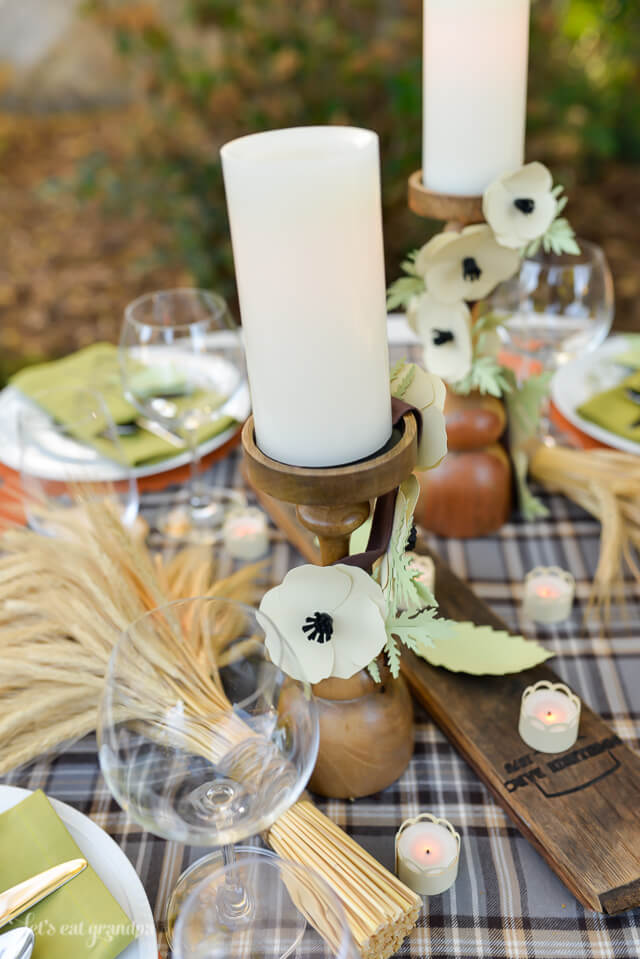 Paper poppies don't seem particularly fall-like, but when constructed in muted tones they feel nice and autumnal, especially when paired with more traditional elements.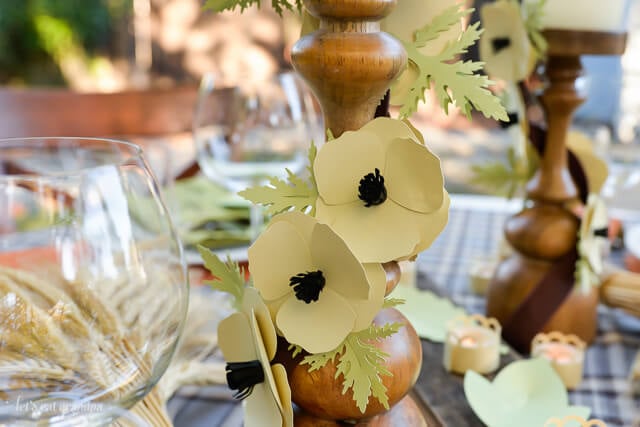 3. Channel "Cozy" in Your Decor
Instead of breaking out your fine china and candlesticks, use some cozier elements in your decorating. A piece of plaid flannel makes a comfortable background for your table arrangement.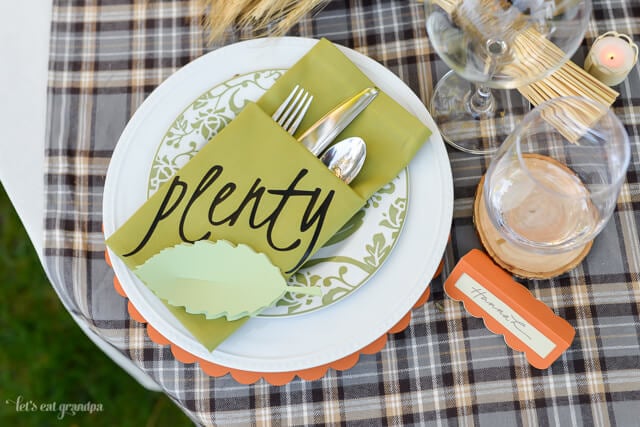 Wood, paper, and wheat also help tone down the formality of the table.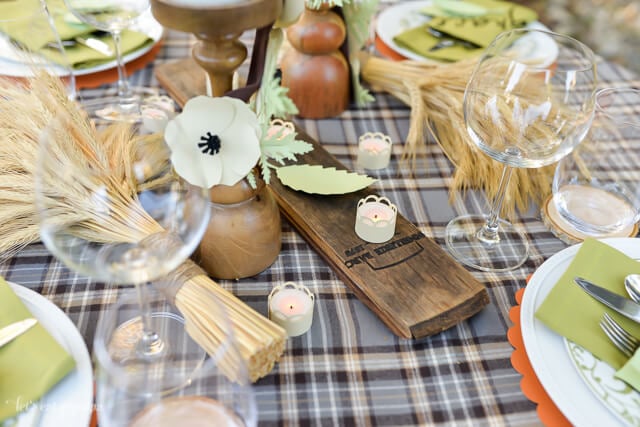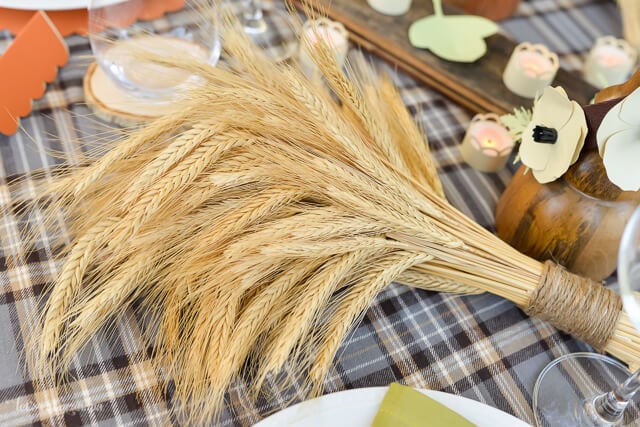 Of course candles also add intimacy—and are perfect for adding ambiance once the sun sets. Use flameless candles if you want to use paper wrappers or are afraid of dripping wax.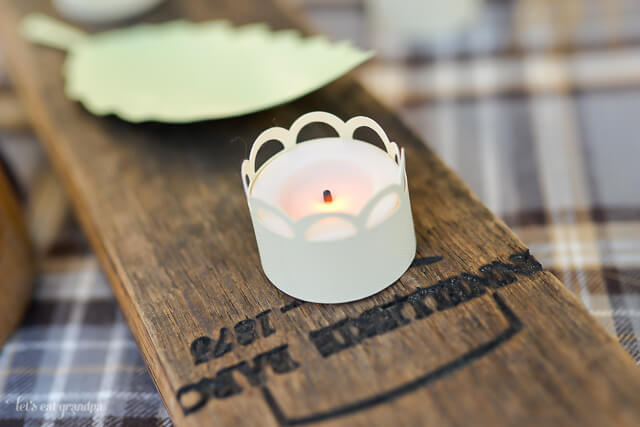 4. Try Inexpensive Alternatives
A lot of times, I think we feel the pressure to spend a lot of money when we entertain. But look for ways to cut costs in unexpected places. I love the look of a charger below a plate, but they tend to be pricey. Instead, a piece of 12″ x 12″ paper circle with a scalloped edge makes for a cute pop of color.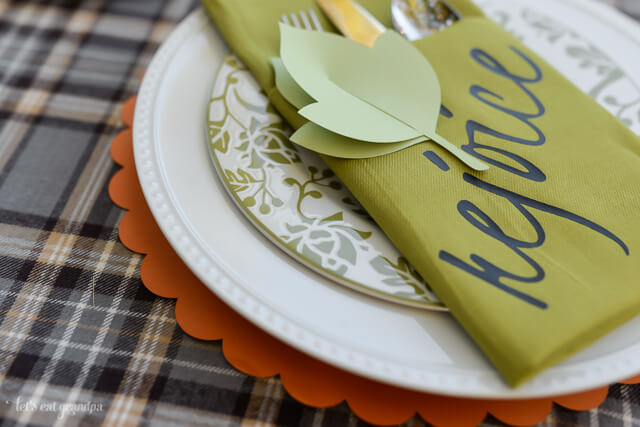 Same thing with the paper leaves on the place settings — a few pieces of paper = a beautiful effect.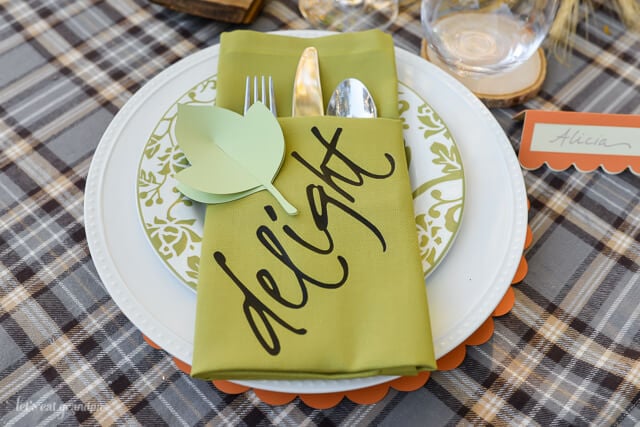 5. Personalize It
There's something about seeing your name in print that makes you feel extra special. Making place cards for your guests is the perfect way to show that you thought about each and every person around your table.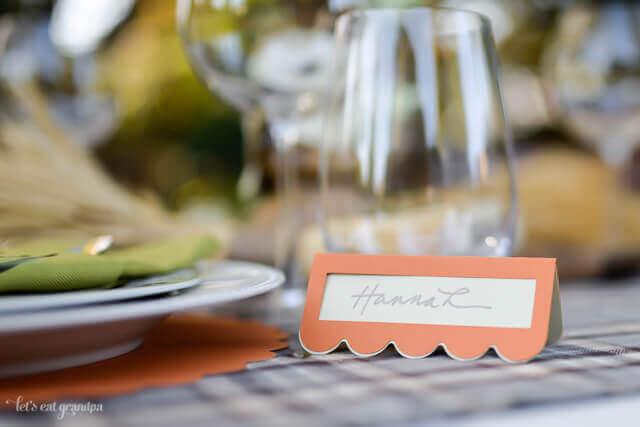 I also love the idea of text in unexpected ways, like on these personalized napkins. Having each place setting say something that reminds me of each of my friends is an extra personalized touch that I really love.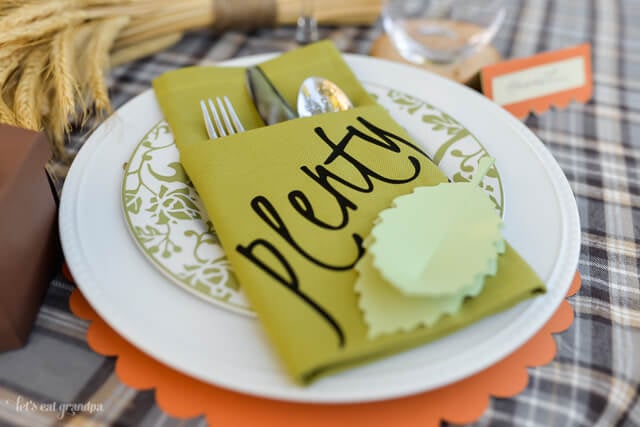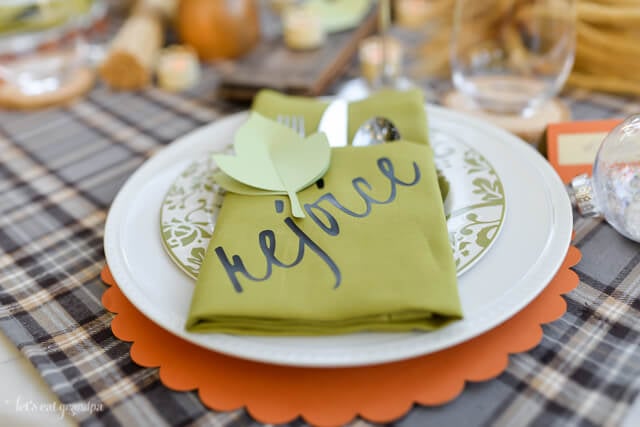 6. Warm Drinks are a Must
For a cozy Friendsgiving, there's nothing better than a steaming mug between your palms. Warm drink, warm heart! Have a selection of coffee, teas, hot chocolate, and cider for your friends to help fend off the chill. If you, too, are dining outside and it might get cold, a pile of warm blankets would also be nice!
7. Give a Little Gift
While Christmas is when we go all out with gift-giving, it's fun to have a little takeaway for your friends.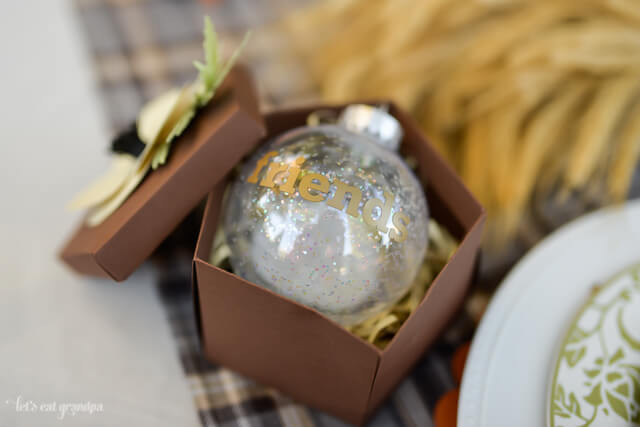 A personalized ornament is perfect—it won't be long before it's hanging on the tree, reminding them of that beautiful evening when they shared a meal with their favorite friends.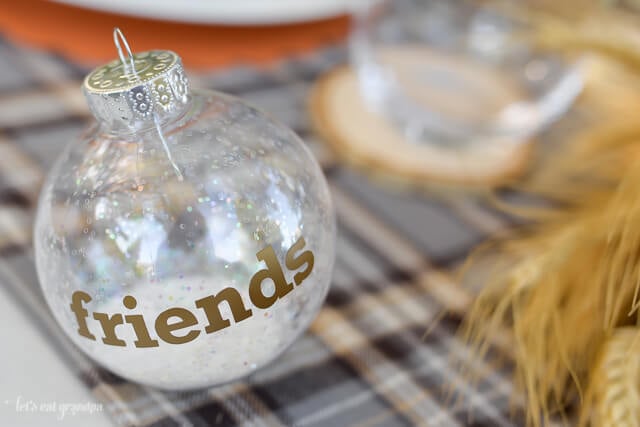 And maybe put it in the cutest little box ever? Yeah, you could do that.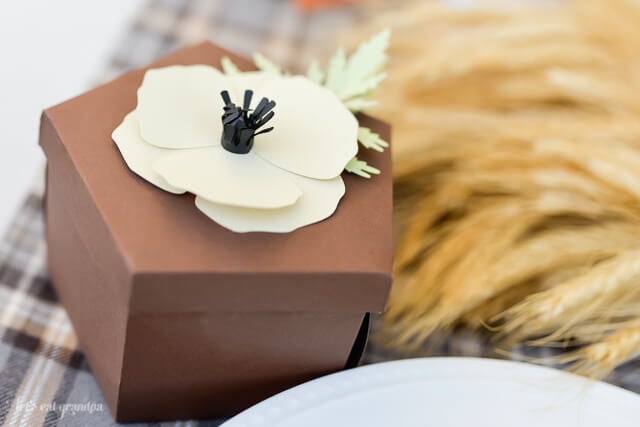 8. Leave with Leftovers
You don't want to be left with all of the extra food (or maybe you do. Please leave me all the stuffing.). If you're gathering with close friends, ask them to bring some Tupperware so they can take some yumminess to go! A cute gift bag is a fun way to package up leftovers as well.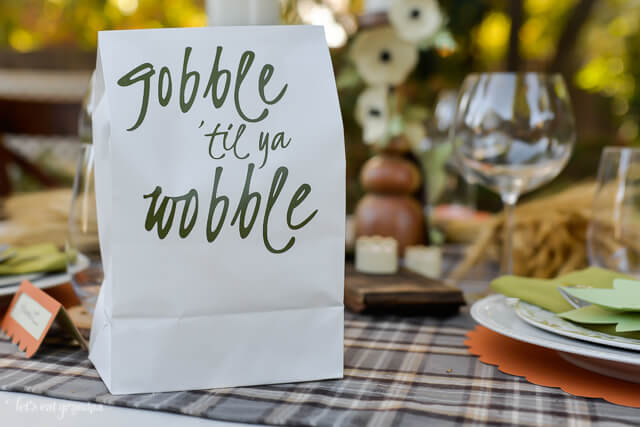 9. Host it at Sundown
I love the idea of hosting a dinner at just before sundown. The light is the prettiest and everything has a beautiful glow (including your decor!).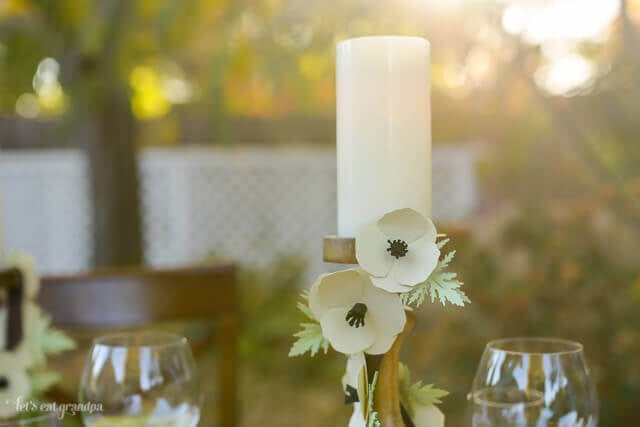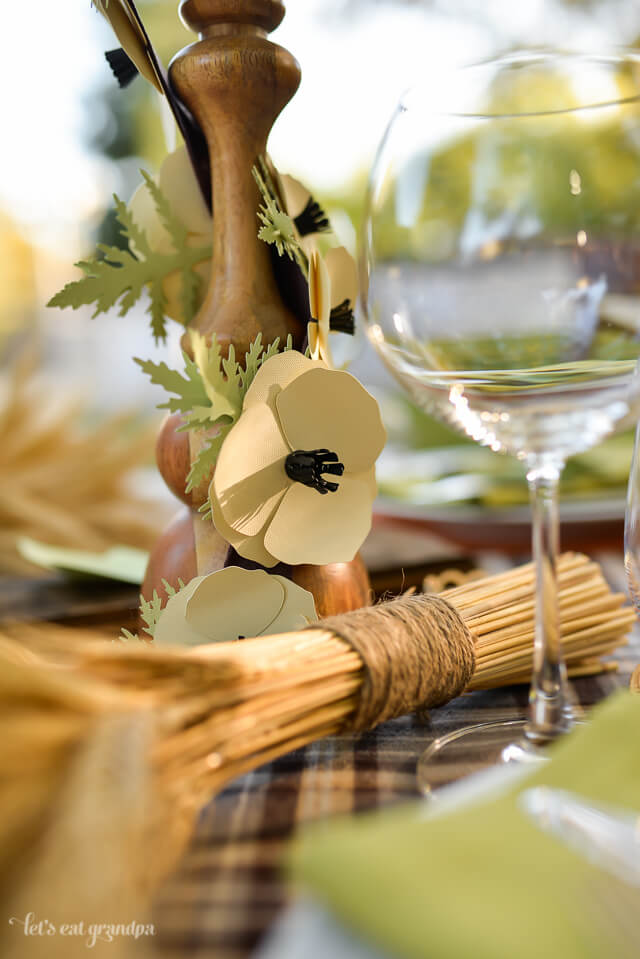 You're chatting as the golden sun sets and then it's just you and your friends in the intimate candlelight that's left. Heaven.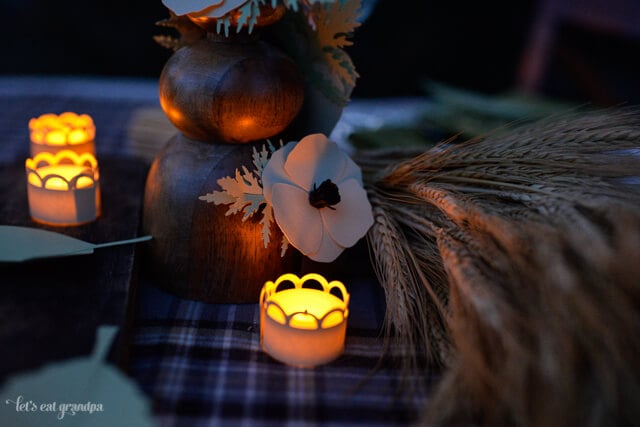 I hope you found some inspiration and ideas for an outdoor friendsgiving! If you're looking for more cozy inspiration, grab my Cozy SVG bundle!
Most of the projects on my table I made with my Cricut!
Stop pulling your hair out and start creating confidently with your Cricut! Finally understand how to use your Cricut with my Learn Your Cricut eBooks!