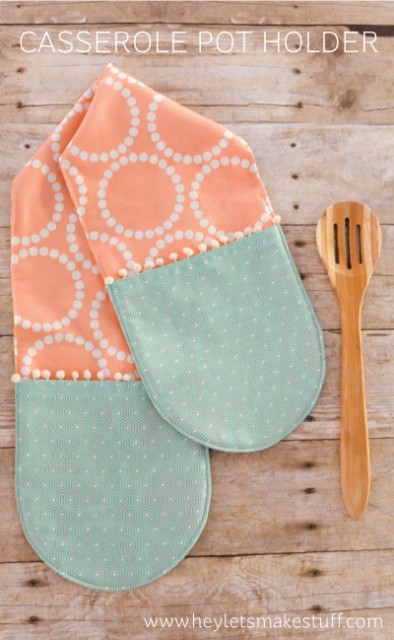 If you buy anything through the affiliate links in this post, I earn a small commission of the sale—with no price difference to you! This helps keep the blog up and running so we can make even more stuff!
Today I've teamed up with 29 incredibly talented and creative bloggers to share fun neighbor gift ideas. Make sure to check out all the ideas at the bottom of this post, and visit everyone's blogs for more details!
When we moved recently, we had to leave behind the best assets of our old house — our neighbor Denise and her daughter Heather. Denise and Heather had become family to us, always interested in what was going on in our lives, helping us with the dog when we didn't get home in time to feed him, and caring for our house when we were gone. It was so hard to move away, even if it was just a mile.
Denise was also particularly lovely in that she'd show up at our front door, casserole in hand. Almost always it was something she called Chicken Hearty Bake. There were others, but man, Chicken Hearty Bake is delicious. Creamy, saucy chicken, steaming hot veggies, and of course, cheese. Lots of cheese. I'll have to get the recipe for you all and post it soon. You'll love it.
Today I'm participating in a fun blog hop for Easy Neighbor Gifts. While not everyone can sew (and if you don't, you should learn!), this two-hand pot holder is a great project for beginners and makes a fabulous gift for the neighbor who always brings Chicken Hearty Bake, just when you need it. The pattern is loosely based on a pot holder I saw at a friend's house recently.
Supplies
1/2″ yard of Fabric A
2 scraps of Fabric B, at least 7″ x 7″ each
2 scraps of Insulbrite insulated batting
, at least 7″ x 7″ each
Trim (optional)
Coordinating thread

A "round something" that's about 7″ wide
to use as a template
Fabric Scissors

Rotary Cutter

Cutting Mat

Sewing Machine
Note: All seam allowances are 1/2″.
Directions
Cut the following pieces:
Fabric A: 7″ x 30″ (cut 2)
Fabric B: 7″ x 7″ (cut 2)
Insulbrite: 7″ x 7″ (cut 2)
Trim: 2 pieces, 7″ long (cut 2, optional)
Using an 7″ round-something (I used a plastic plate), cut a curved end on both ends of both pieces of Fabric A, and one end of each piece of Fabric B and the Insulbrite. You can either trace on the fabric and cut with regular scissors, or use your rotary cutter.
For Fabric B, hem the straight edge, using a 1/2″ hem. If you'd like, sew on some cute trim, like these pom poms.
Stack the fabrics as follows: 1 piece of Insulbrite on each end, first piece of Fabric A right side up, Fabric B right side up on each end, second piece of Fabric A, right side down. Pin everything together.
Sew all the way around the edge, leaving a 3″ gap for turning along the long edge of Fabric A.
Clip the curves so that they'll lie flat.
Turn the entire thing right-side out. Press the edges so that everything lies flat.
Topstitch 1/8″ around the edge, closing your turning gap within the topstitch.
And that's it! You have a fun neighborhood gift. Including a Hearty Chicken Bake or one of your favorite casseroles would be a nice touch as well. Bon Appétit!
Want to see more fun and fabulous neighbor gift ideas?
Our Thrifty Ideas – Soda Tags Neighbor Gift
Dessert Now Dinner Later – Muddy Buddy Popcorn
Pretty Providence – Treat Pops
Blooming Homestead – Cookie Decorating Kit
Yesterday on Tuesday – Cookie Mix
The Happy Scraps – Homemade Treat Packaging
Over The Big Moon – Pepper Jelly
Just Us Four – Paleo Pumpkin Granola w/ Tag
Wait Til Your Father Gets Home – Rudolph Ornament
Happiness Is Homemade – Holiday Cookie Dough Tag
Cupcake Diaries – Twizzlers Holiday Tag
One Artsy Mama – Crochet Gift Card Pouch
Reasons to Skip the Housework – Hot Cocoa Set
Made to Be a Mama – Dishes Gift Set
Let's Eat Grandpa – Neighbor Gift
Dukes and Duchesses – Home for the Holidays Cocoa Gift
See Vanessa Craft – Cinnamon Vanilla Sugar Scrub
Carissa Miss – For Your Mistletoes
Occasionally Crafty – Salsa Neighbor Gift
Simply Designing – Mulling Spices
Domestically Speaking – Cinnamon Crumble Apple Pie + Printable
Creations By Kara – Christmas Bread Wrapper
Frog Prince Paperie – Luminary Kit
Capturing Joy with Kristen Duke – The Gift of Dishes
Giggles Galore – Homemade Vanilla
One Krieger Chick – Playdough in a Jar
Food Folks and Fun – DIY Coasters Gift Set
My Craftily Ever After – Printable Neighbor Gift Bags
Rae Gun Ramblings – Neighbor Gift Treat
TODAY'S TOP TEN POSTS