This easy-sew casserole pot holder has two connected hot pads, perfect for carrying your favorite casserole to a potluck! This is a great beginner project and makes a great gift!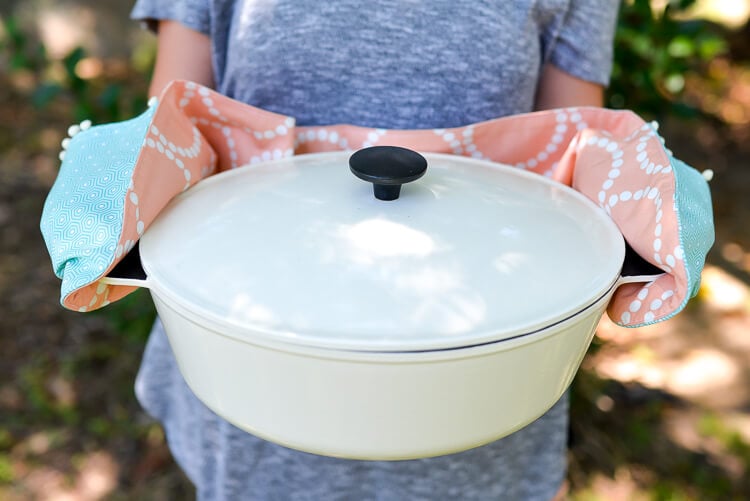 When we moved a few years ago, we had to leave behind the best assets of our old home — our wonderful neighbors Denise and her daughter Heather. Denise and Heather are family to us, always interested in what was going on in our lives, helping us with the dog when we didn't get home in time to feed him, and caring for our house when we were gone. It was so hard to move away, even if it was just a mile. Thankfully, we still see them often, but it's really not the same.
Denise is also particularly lovely in that she'd show up at our front door, casserole in hand. Almost always it was something she called Chicken Hearty Bake. There were others, but man, Chicken Hearty Bake is delicious. Creamy, saucy chicken, steaming hot veggies, and of course, cheese. Lots of cheese. I'll have to get the recipe for you all and post it soon. You'll love it.
This two-hand pot holder is a great sewing project for beginners and makes a fabulous gift for the neighbor who always brings Chicken Hearty Bake, just when you need it (like right after you have twins!). The pattern is loosely based on a pot holder I saw at a friend's house recently.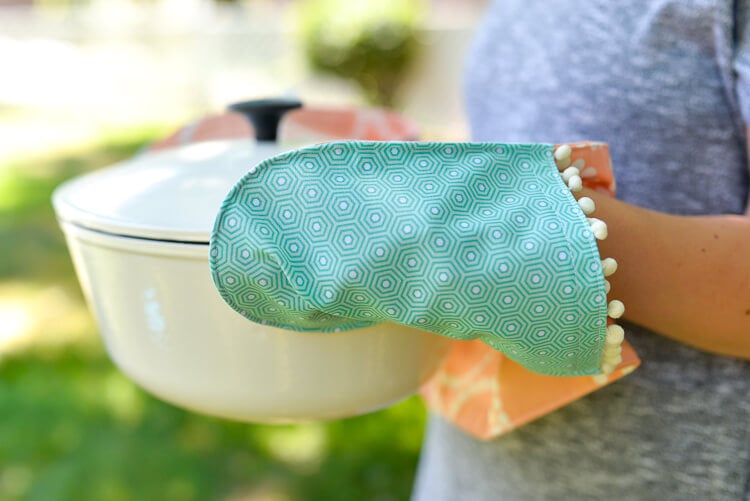 Easy Sew Casserole Pot Holder Supplies
1/2″ yard of Fabric A
2 scraps of Fabric B, at least 7″ x 7″ each
2 scraps of insulated batting
, at least 7″ x 7″ each
Trim (optional)
Coordinating thread

A "round something" that's about 7″ wide
to use as a template
Tools you'll also need:
Fabric Scissors

Rotary Cutter

Cutting Mat

Sewing Machine
Note: All seam allowances are 1/2″.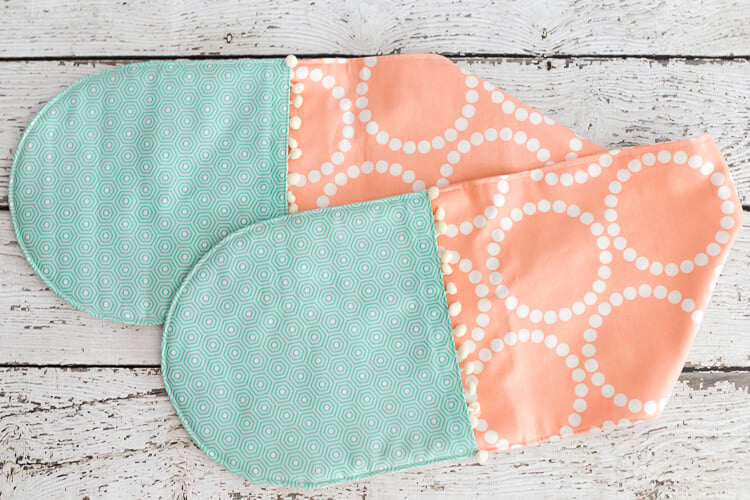 Directions
Cut the following pieces:
Fabric A: 7″ x 30″ (cut 2)
Fabric B: 7″ x 7″ (cut 2)
Insulbrite: 7″ x 7″ (cut 2)
Trim: 2 pieces, 7″ long (cut 2, optional)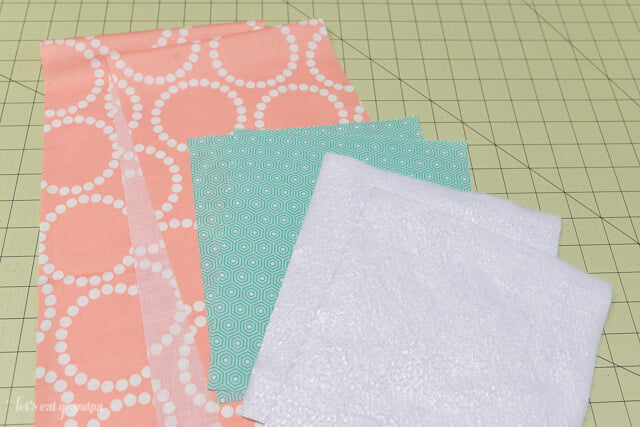 Using an 7″ round-something (I used a plastic plate), cut a curved end on both ends of both pieces of Fabric A, and one end of each piece of Fabric B and the Insulbrite. You can either trace on the fabric and cut with regular scissors, or use your rotary cutter.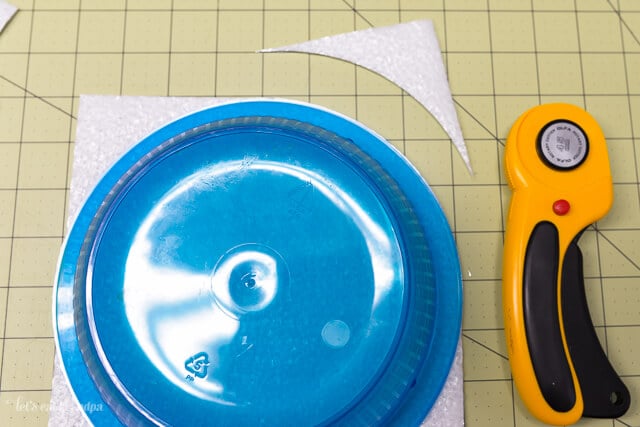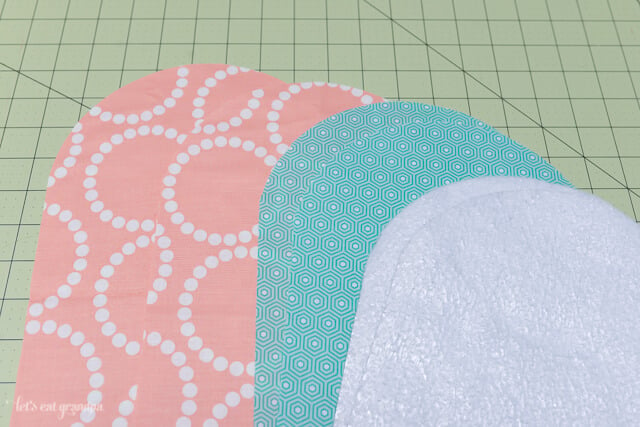 For Fabric B, hem the straight edge, using a 1/2″ hem. If you'd like, sew on some cute trim, like these pom poms.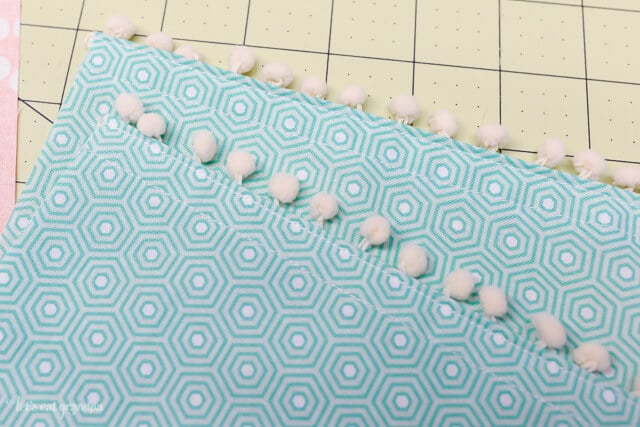 Stack the fabrics as follows: 1 piece of Insulbrite on each end, first piece of Fabric A right side up, Fabric B right side up on each end, second piece of Fabric A, right side down. Pin everything together.
Sew all the way around the edge, leaving a 3″ gap for turning along the long edge of Fabric A.
Clip the curves so that they'll lie flat.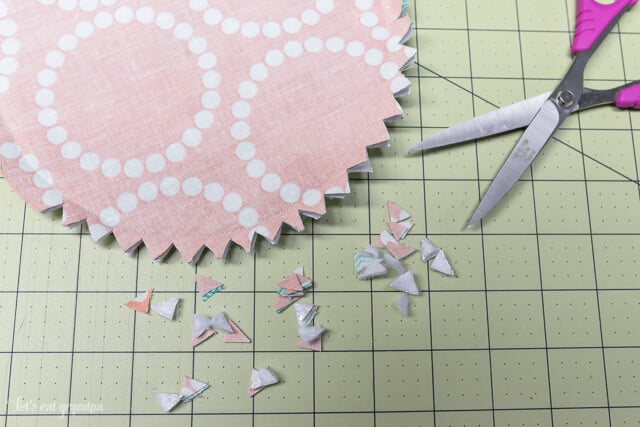 Turn the entire thing right-side out. Press the edges so that everything lies flat.
Topstitch 1/8″ around the edge, closing your turning gap within the topstitch.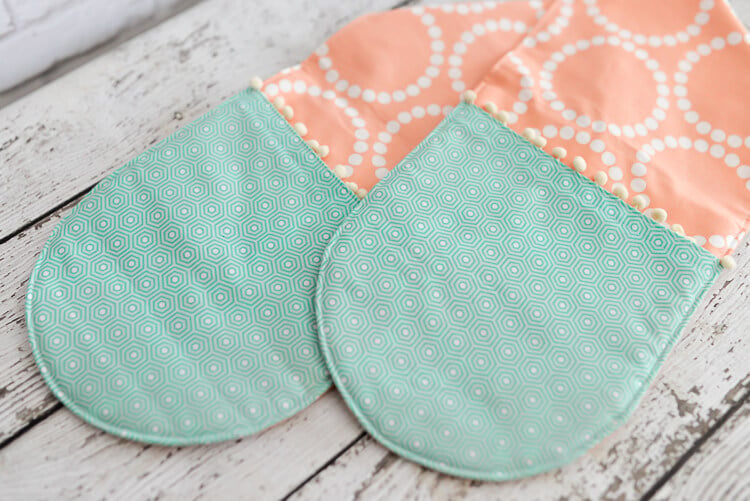 And that's it! You have a fun neighborhood gift. Including a Hearty Chicken Bake or one of your favorite casseroles would be a nice touch as well. Bon Appétit!