Create one-of-a-kind aprons using sublimation! Here are all of my tips and tricks to make sublimation aprons. They are a perfect project for beginners and make great gifts!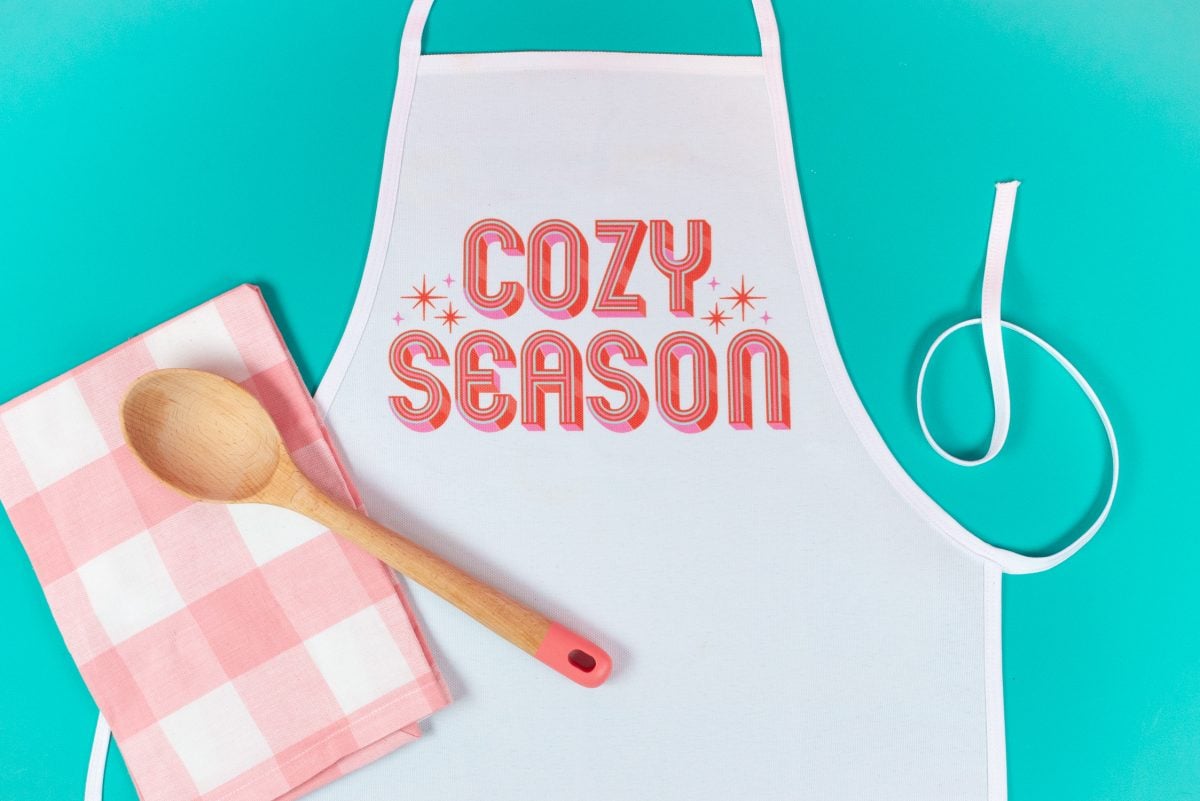 We're heading into the holiday baking season which means it's the perfect opportunity to make custom aprons using sublimation! Aprons are the perfect gift for your favorite chef, baker, or hostess, and they make lovely housewarming gifts. And aprons can be endlessly customized for any recipient using your sublimation printer!
This is a pretty straightforward project, so it's really good for beginners.
For these aprons, I am using my Sawgrass SG1000, my favorite sublimation printer, along with Sawgrass DesignMate. You can also make this project using a different sublimation printer using another type of software if that's what you have!
Additionally, for my press I'm using my WALApress. You can use a Cricut EasyPress, just make sure that you are using a firm mat under your project instead of the EasyPress mat and that you're using firm, even pressure.
If you are new to sublimation printing and need to review the basics, see my post The Ultimate Guide to Sublimation Printing & Crafting.
Watch the Sublimation Aprons Video
If you'd like to see this project in video form, just hit play below! For a written tutorial, keep reading.
Supplies to Make Sublimation Aprons
Get everything you need to make this project on my Amazon shopping list!
How to Make a Sublimation Apron
Print Your Image
For this project, I'm using Sawgrass DesignMate files from my fall 2023 collection, Sweater Weather! I love these files—there are both images and patterns that are perfect for a retro fall vibe.
Open DesignMate. Click on Open Custom Canvas at the bottom left of the screen.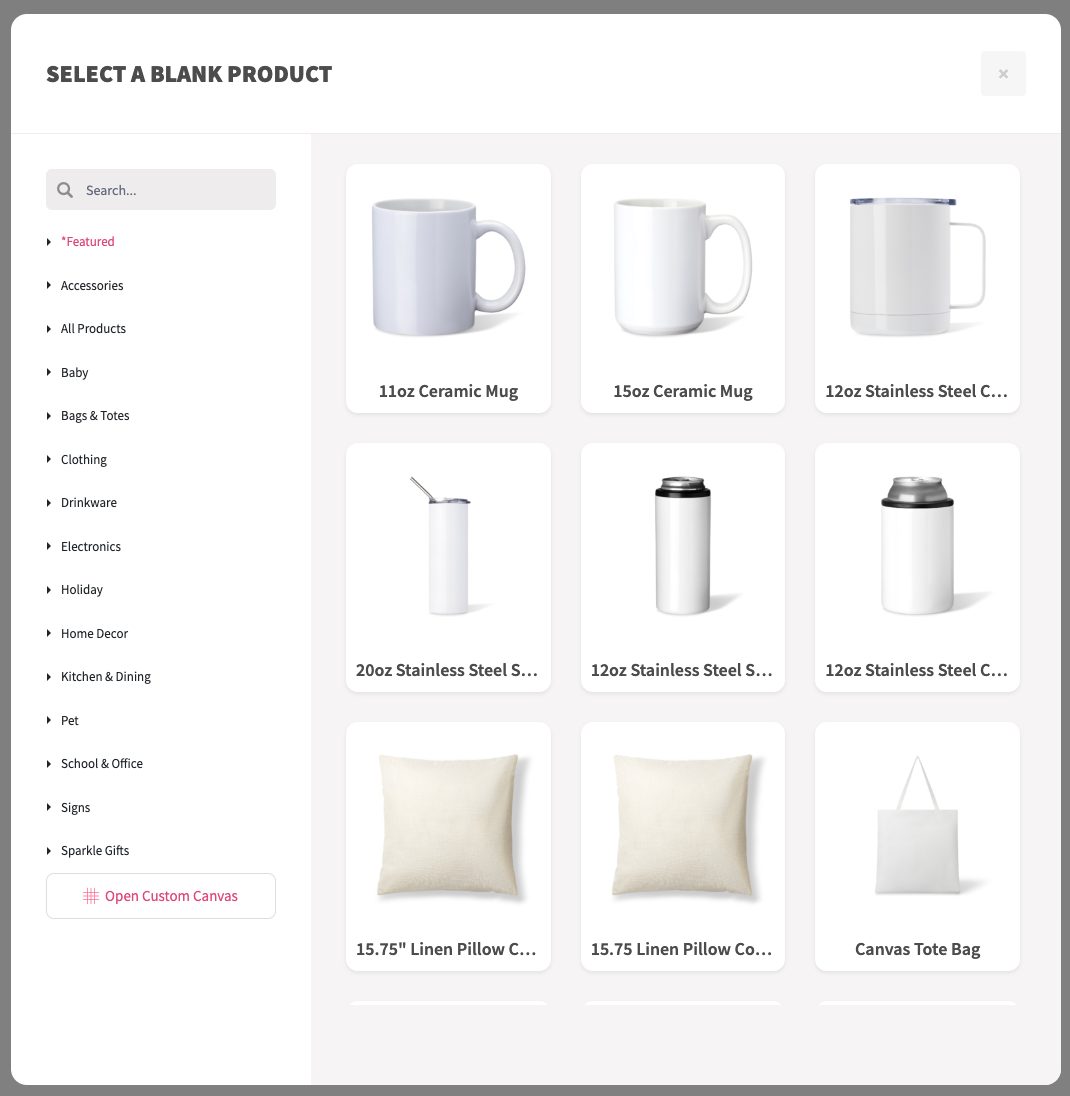 Measure your apron. For my apron, I am going to make my design 9″ across, but depending on your apron size and your image, you may want to choose a different size. Make your custom canvas the width of your image.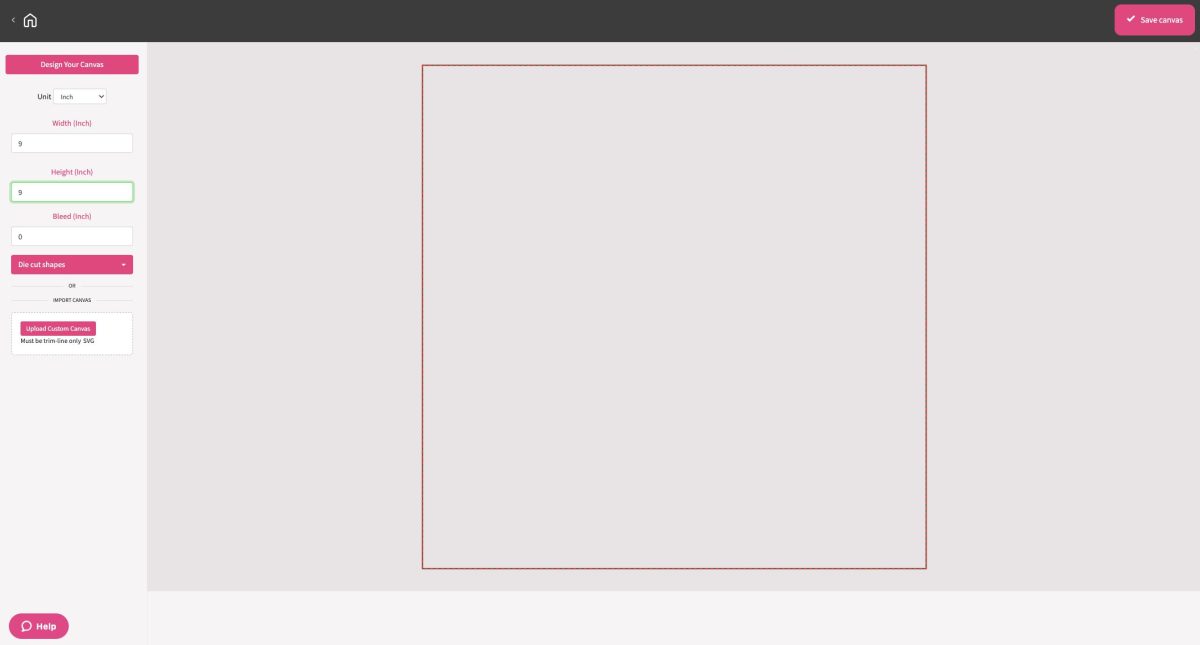 Click Design Your Canvas in the upper left. From here, you have some options. I am using the Cozy Season design from my Sweater Weather collection, which is under Designs. I worked with Sawgrass to create this fun retro bundle that is perfect for the holidays! These designs make me so happy.
To find my designs, just search Cori in the search bar and all of my designs for this collection will come up!

You can choose an image from my collection, choose a different image in Sawgrass DesignMate, or you can upload your own image. I chose the Cozy Season image for this apron. Reminds me of holiday baking.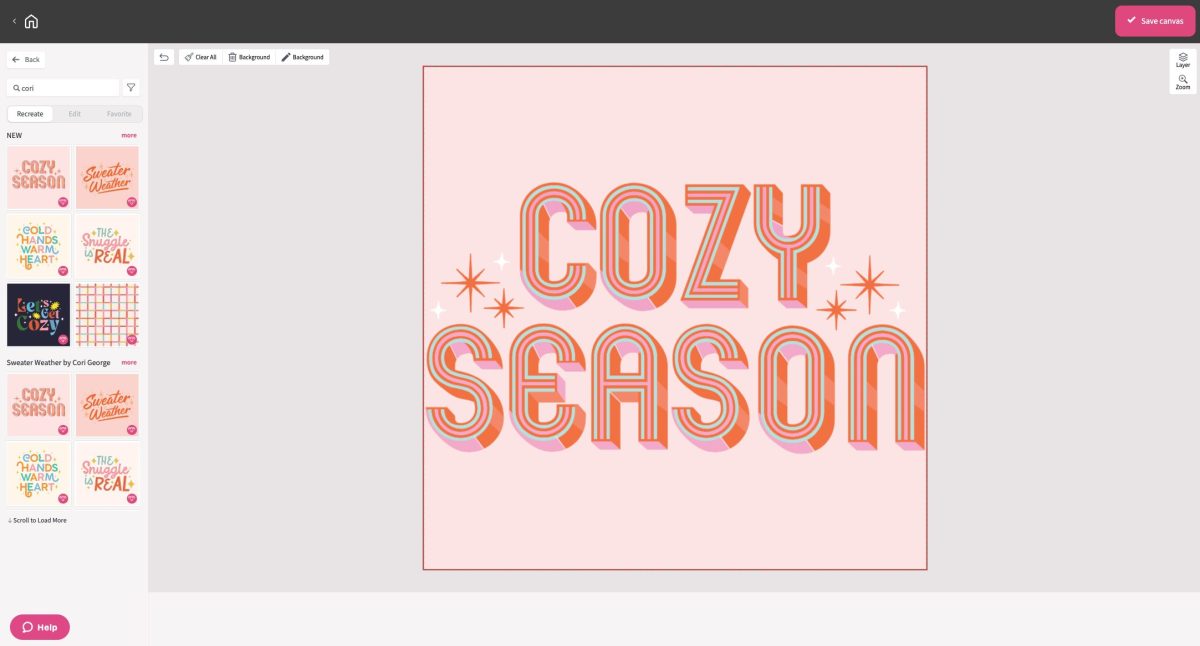 If you choose a Sawgrass image, you can edit it! This is such a great feature to be able to customize designs right in DesignMate. I removed the background for my design and changed the small stars from white to pink so they should show up on my apron.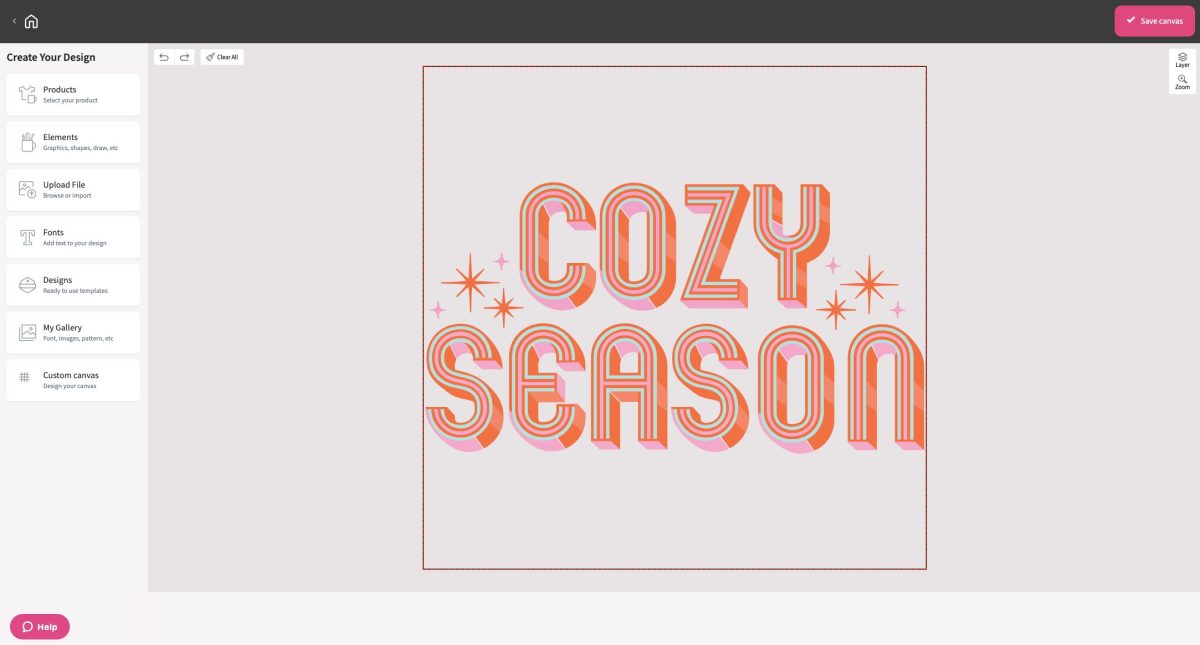 Click Save Custom Canvas in the upper right. Then give your design a name and description.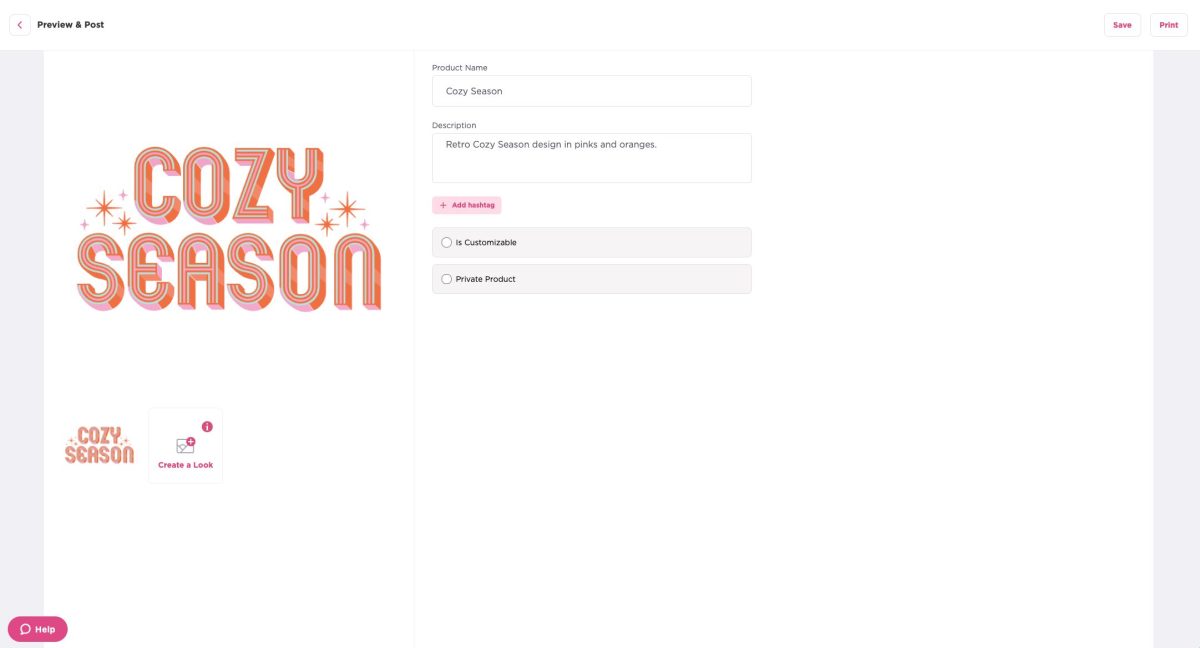 Then click Print. This will open up PrintMate. From here, I rotated my image 90° so it would fit on my page, centered my image on the page (you'll see why below), and I changed my material to polyester. Then click Print and your Sawgrass will print your image!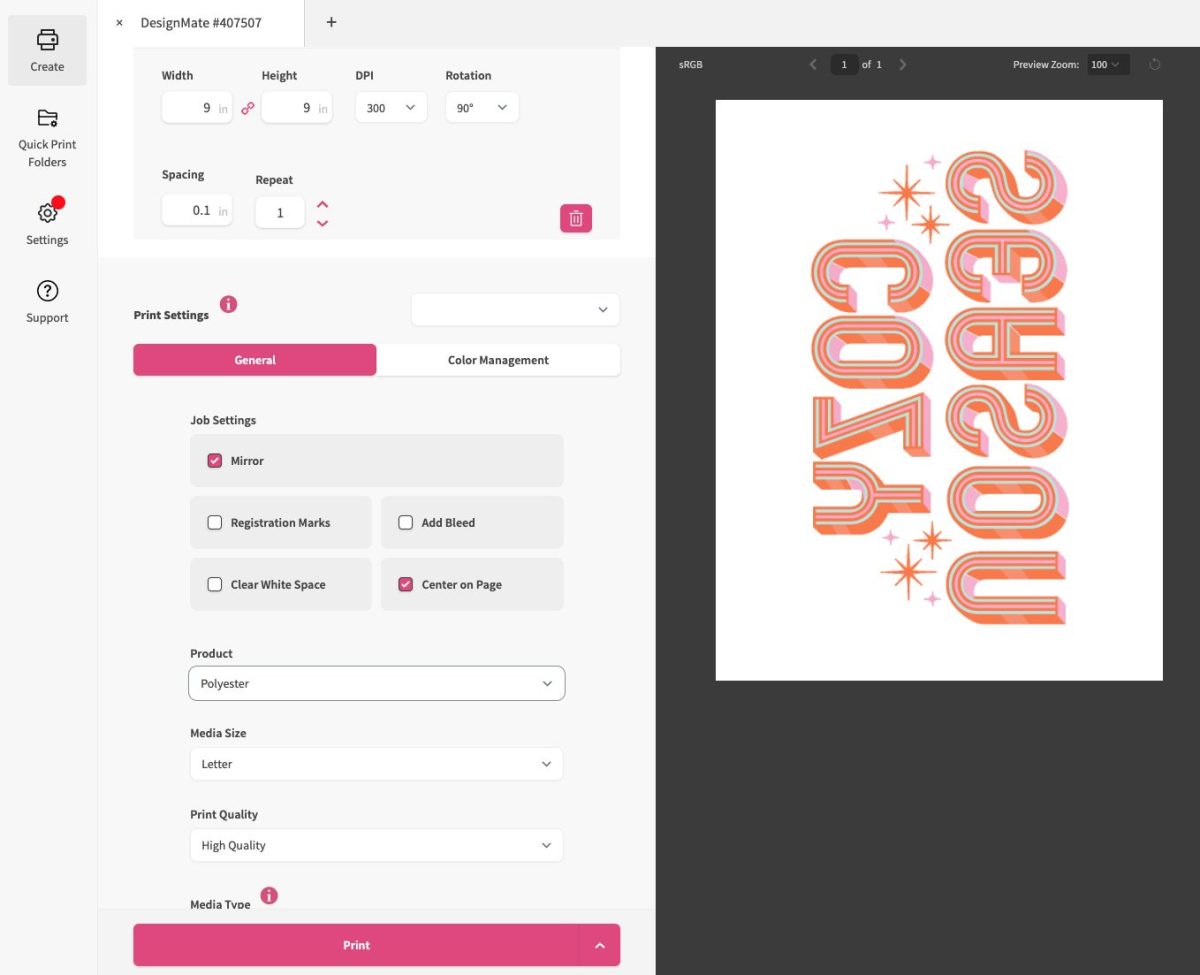 Prepare and Prepress Your Blank Apron
Check the manufacturer's instructions for the recommended settings for time, temperature, and pressure. For my apron, they were as follows:
Time: 60 seconds
Temperature: 400° F
Pressure: medium to firm
Set your heat press. If you are using a traditional heat press (rather than an EasyPress), test your pressure before it gets hot so you know it will be correct when you press your apron.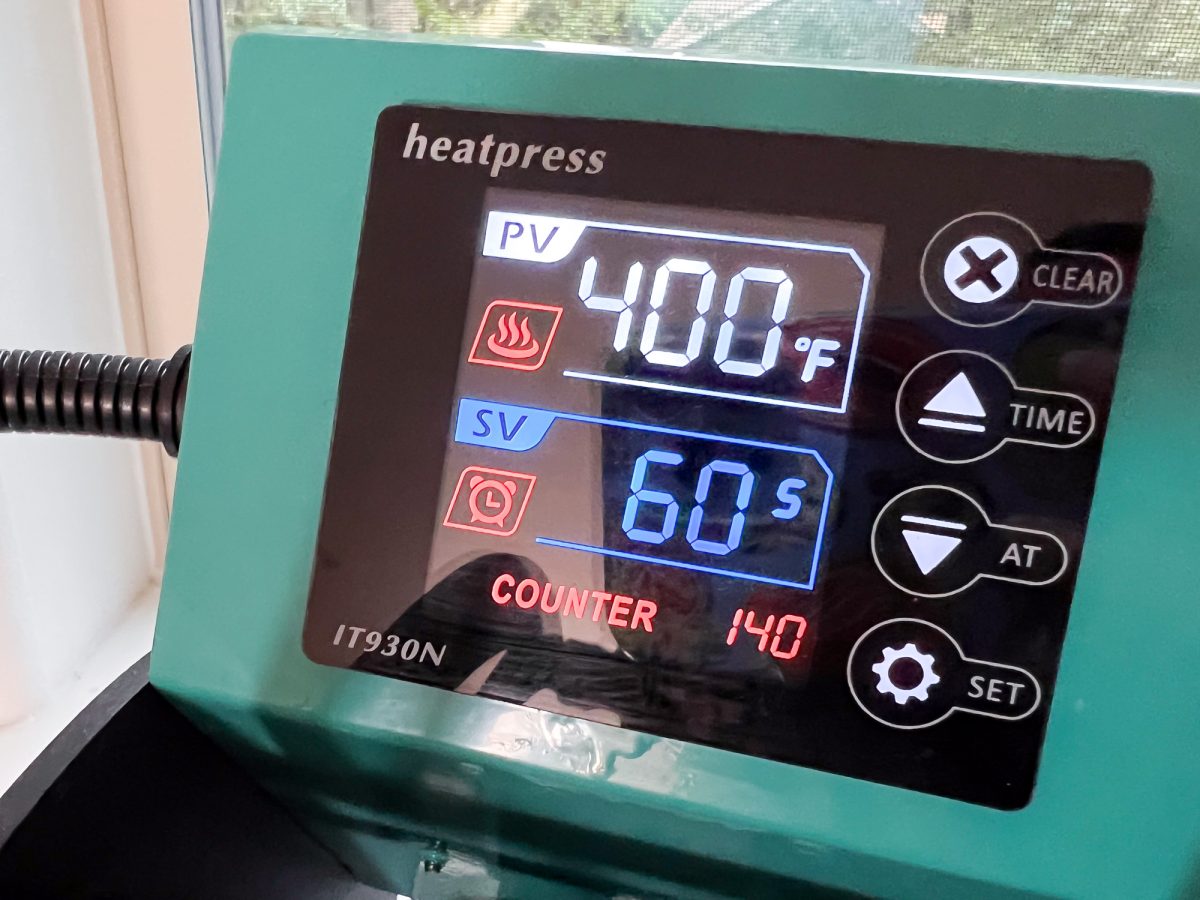 Lint roll your apron to remove any fibers, hair, or dust.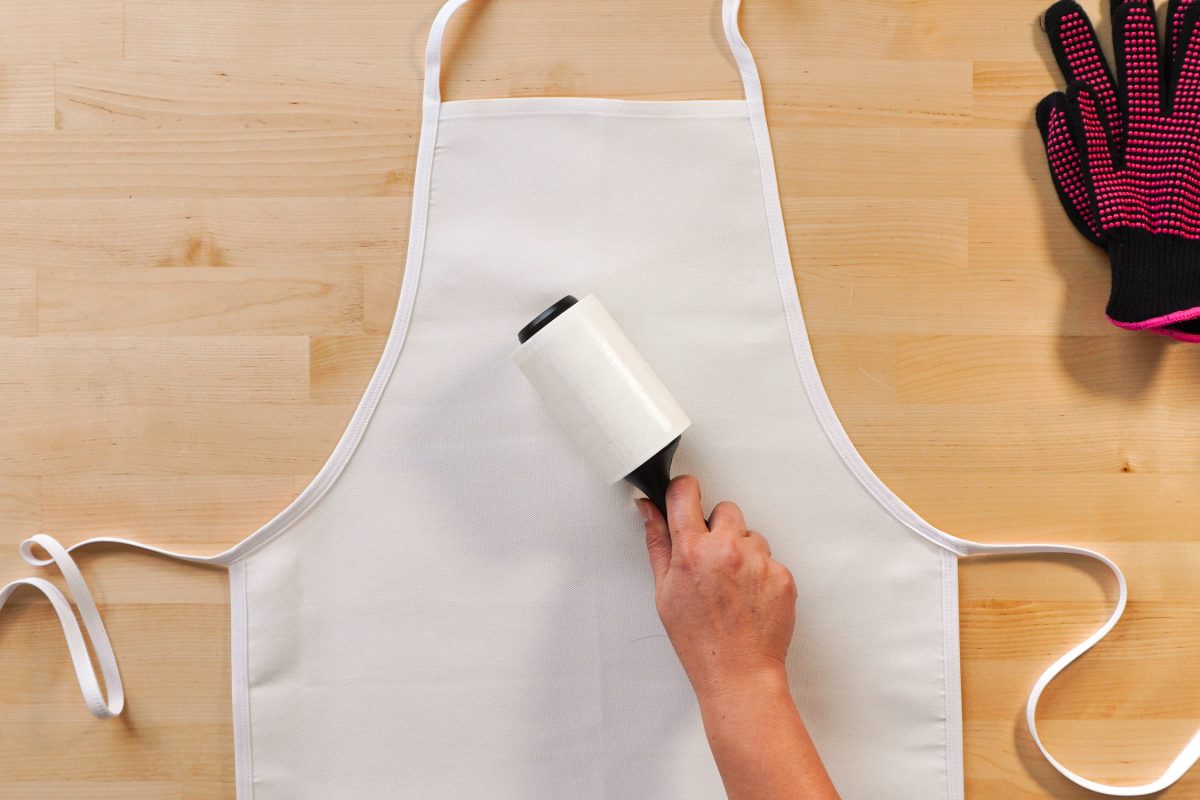 Pre-press your apron for 15 seconds to remove moisture and give you a flat pressing surface. I actually like to press my entire apron to remove all the wrinkles.
Tear around the edges of your transfer (this is why I like to center my transfer on the page). This will help reduce any pressing marks around the edge of your paper.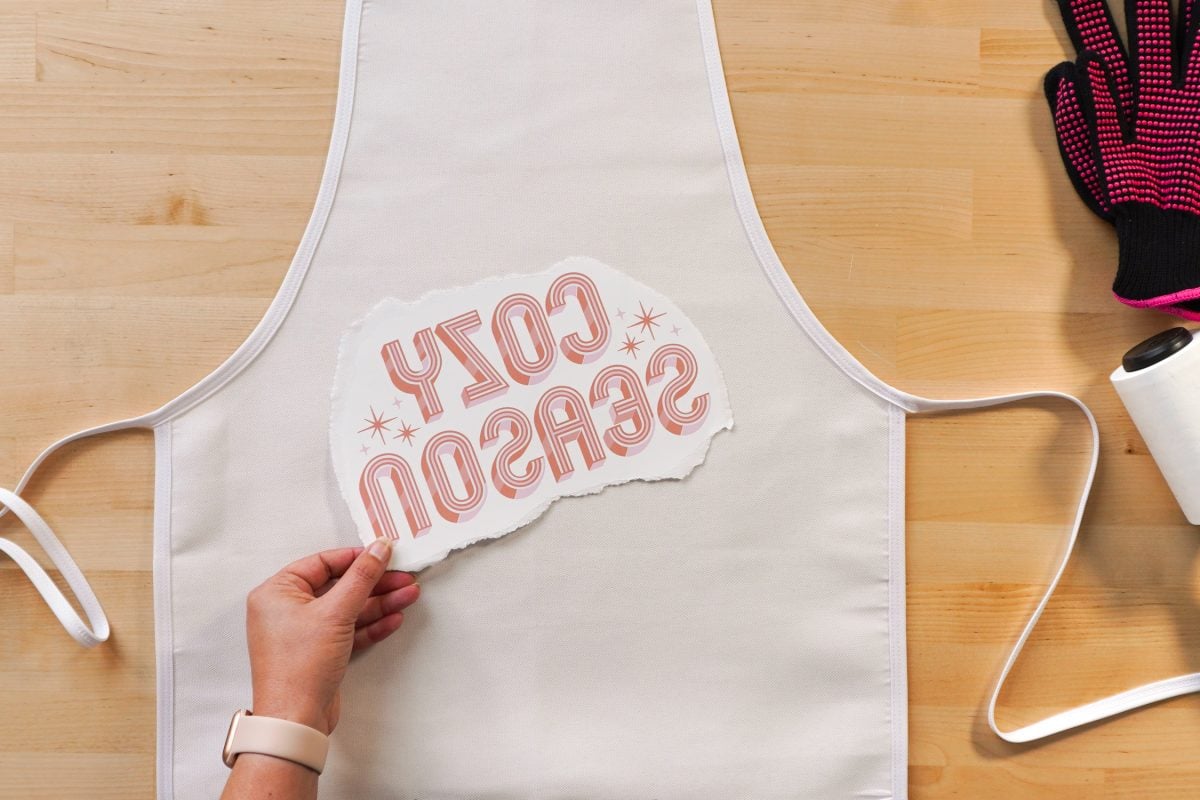 Use heat-resistant tape to secure your transfer face down on your apron.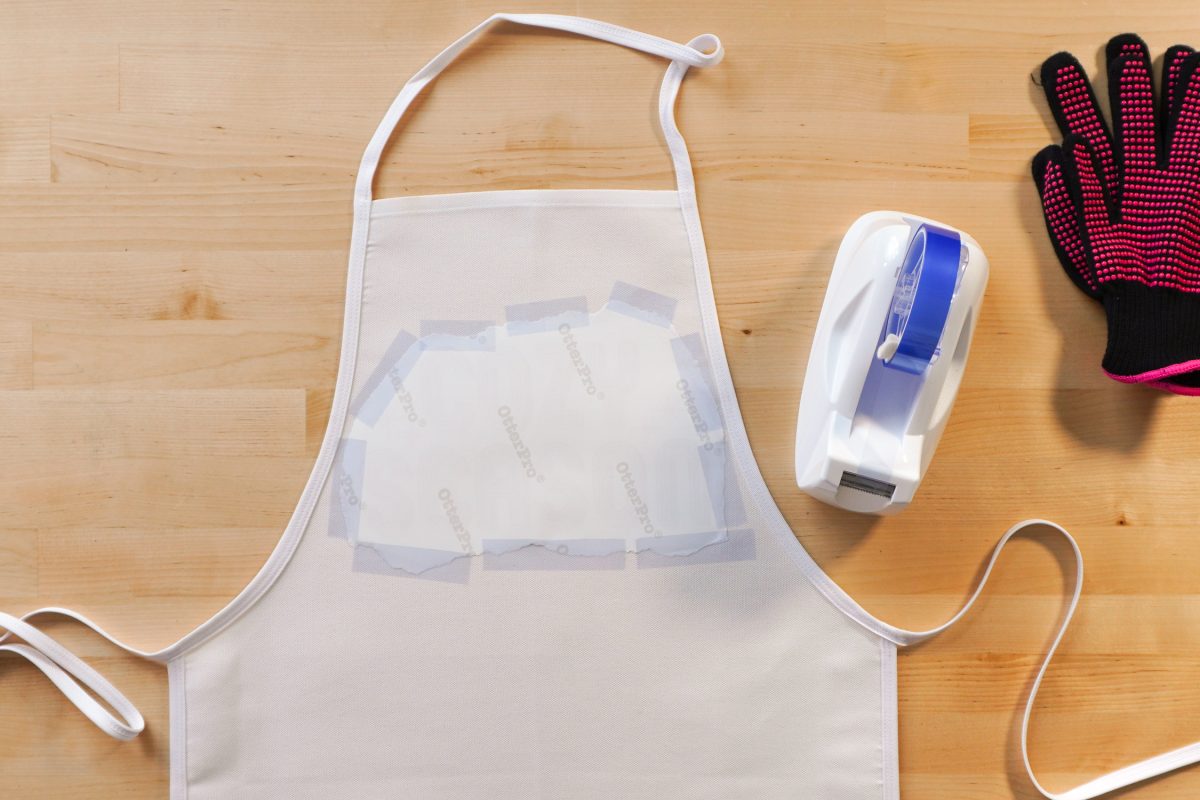 Place a piece of butcher paper on the bottom pad of your press. This will protect the pad of your heat press from any ink that goes through the apron.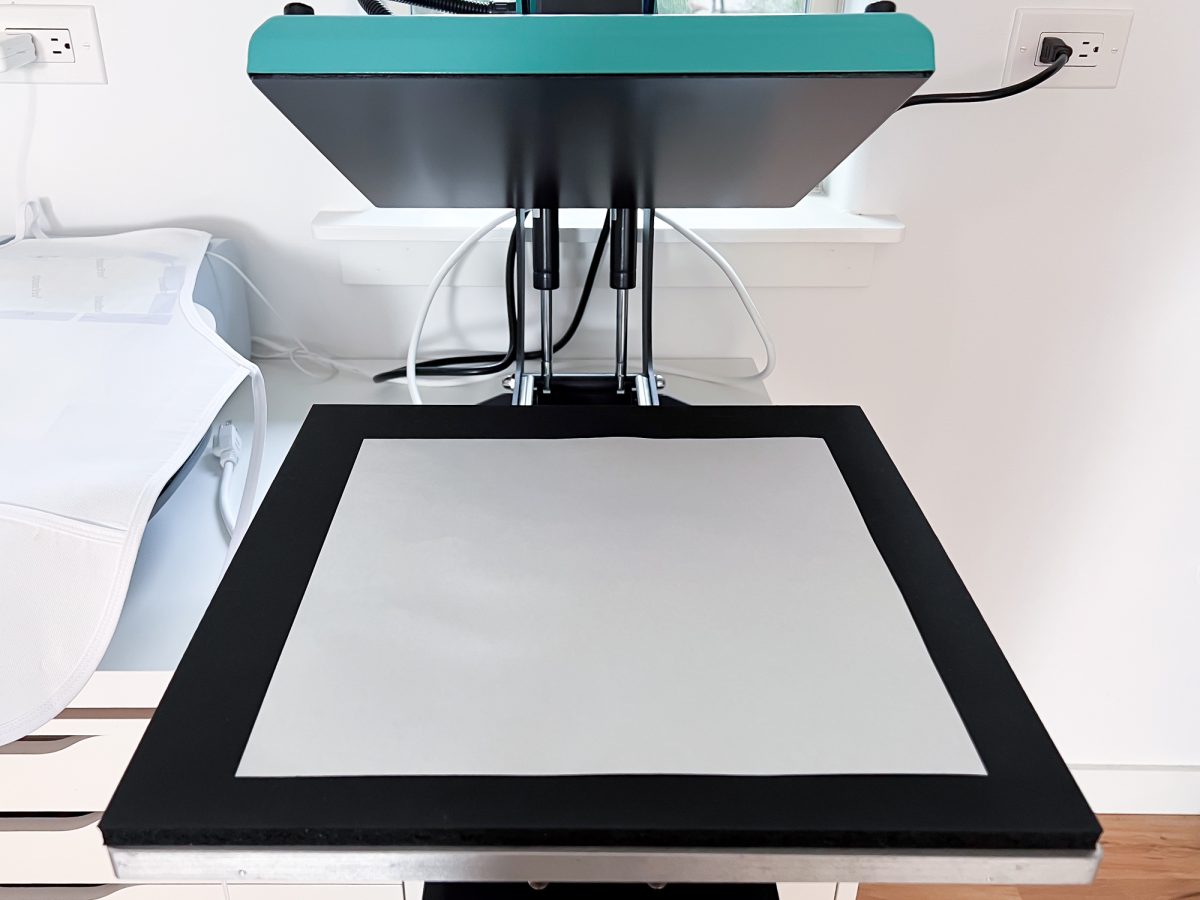 Put the apron with the transfer face down on top of the butcher paper.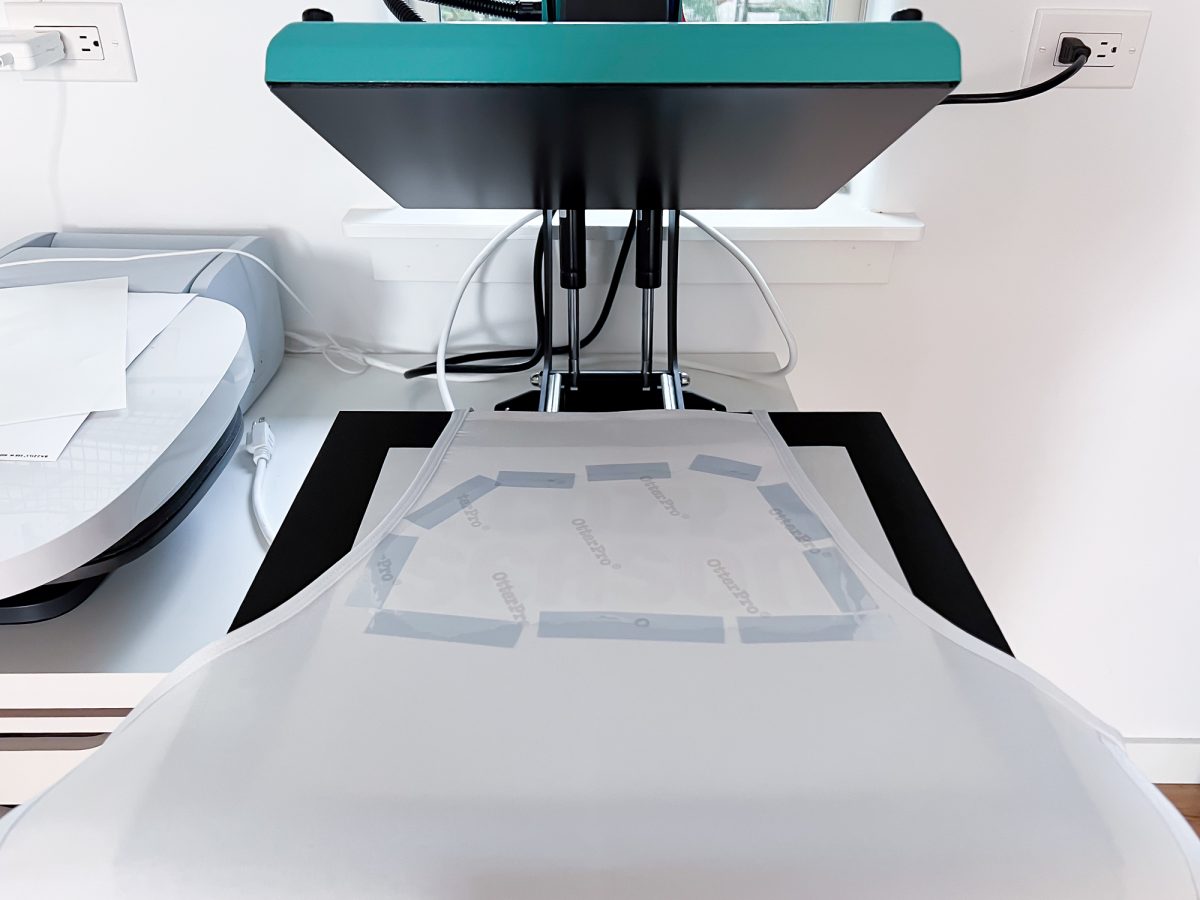 Add two more pieces of butcher paper on top of the transfer. This will protect your press plate from any ink that goes through the paper.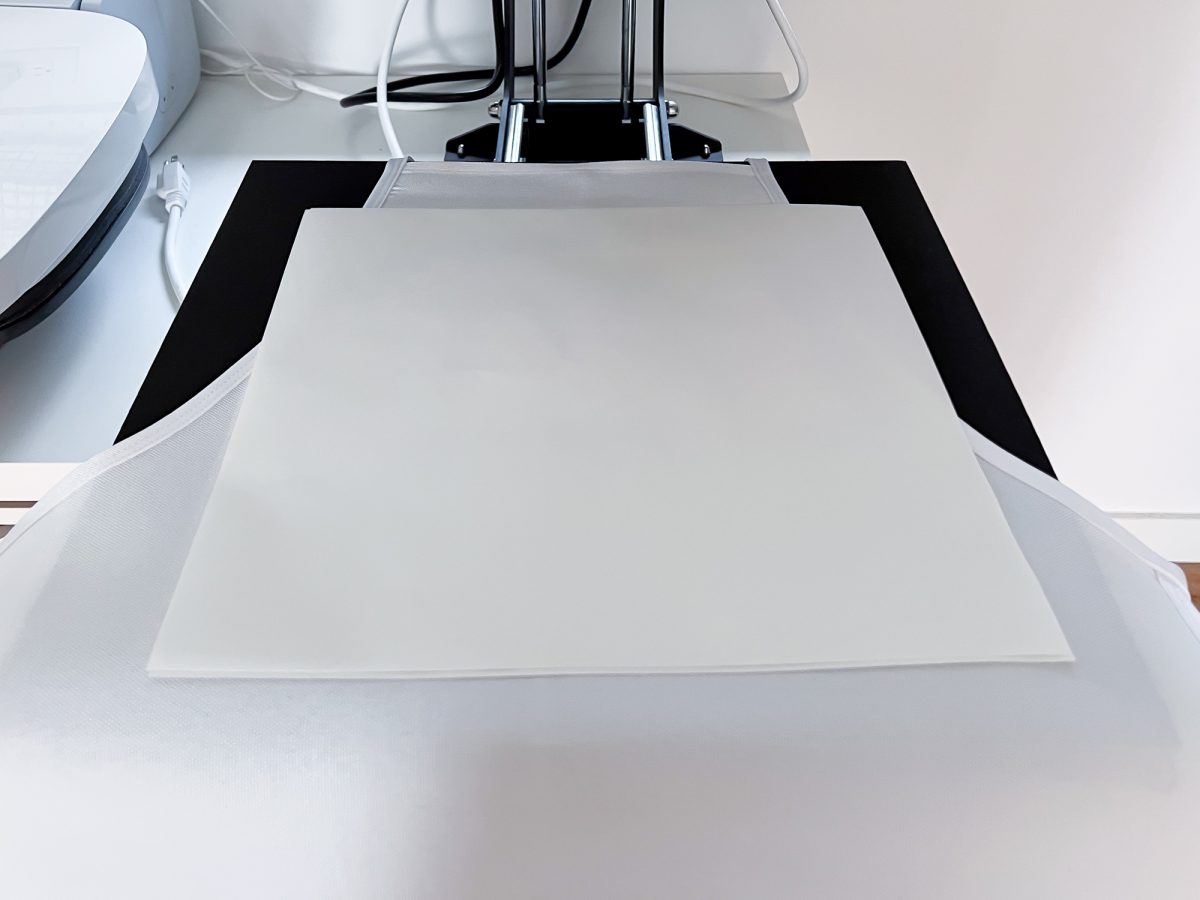 Press for the recommended time. When the time is up, slowly open your press so your image doesn't shift and you'll get the best results.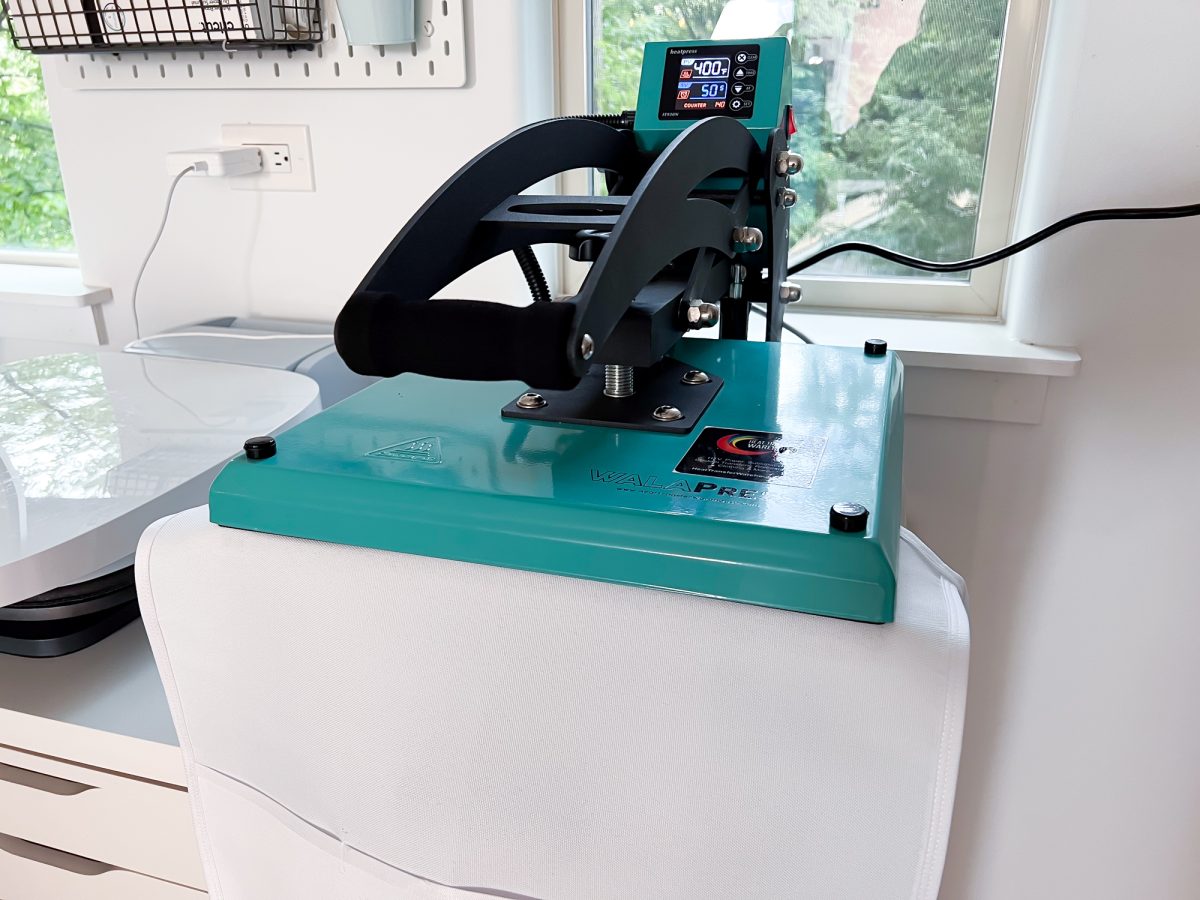 Let your image cool for a moment and then peel back the transfer to reveal your final image!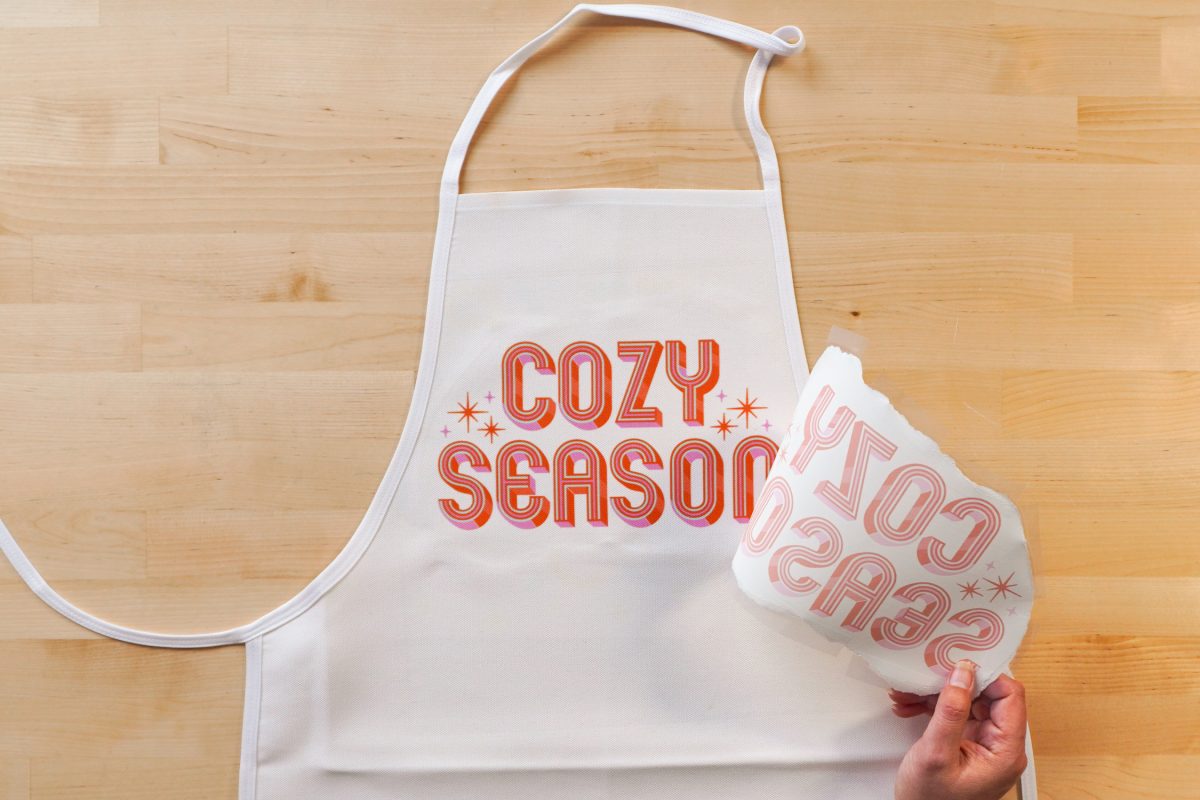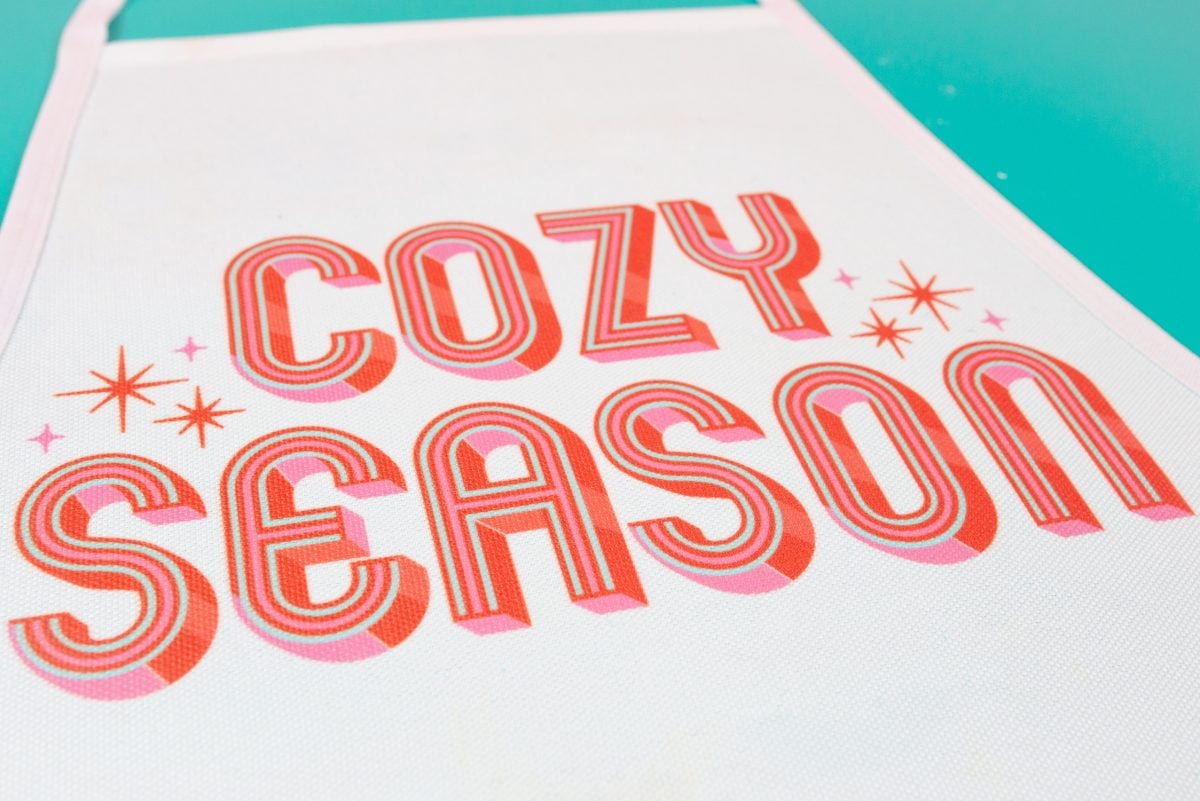 ---
And that's it! It's really easy to add any image to custom sublimation aprons!
Want a full overview of sublimation? Check out my helpful ebook, The Ultimate Guide to Sublimation!