If you're looking to learn how to make files for your Cricut using Illustrator, you're going to love these Skillshare classes! Specifically curated for Cricut users, these classes will help you take your Cricut designs to the next level.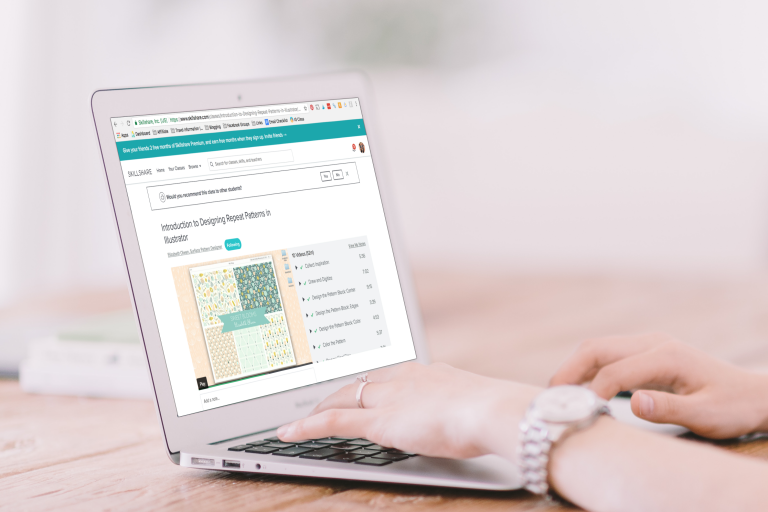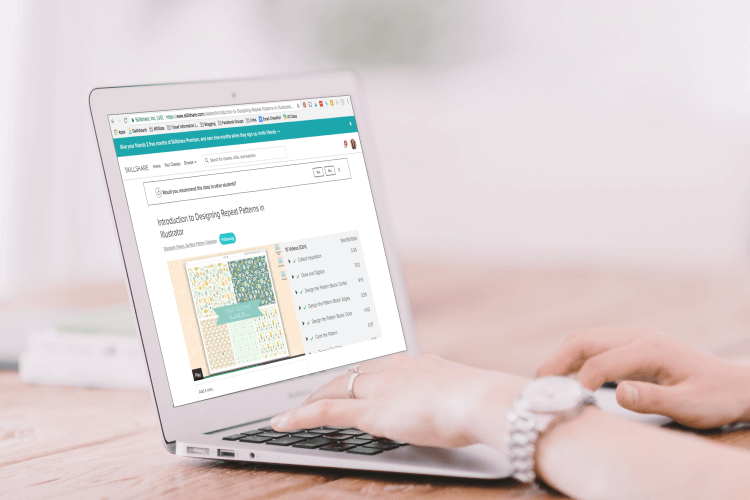 This post is in partnership with Skillshare. Thank you for supporting the amazing companies that support Hey, Let's Make Stuff!
Are you guys ready to take your Cricut designs and kick it up a notch? I recently wrote a post about making simple SVG files in Illustrator for using with the Cricut Explore, Cricut Maker, or other cutting machines. I had no idea if anyone would actually use that tutorial since Illustrator is a professional program and I wasn't sure if many people even have it.
Boy was I wrong! That post has helped so many of you create simple SVG files in Illustrator so that they can be cut on a cutting machine. I've received countless emails thanking me for that tutorial—apparently you all really are interested in creating your own files outside of the Cricut Design Space because you understand the power and flexibility Illustrator offers!
But Illustrator is a very complex program. I can be overwhelming to a beginner (I've been using Illustrator for more than ten years and I'm still learning new things all the time!). So today I want to share some Skillshare resources with you that will help you learn skills that will specifically help you create SVG files for the Cricut or other cutting machines.
New to Skillshare?
Skillshare is an online learning community for creative learners. You can take one of 17,000+ classes on all sorts of creative topics, like graphic design, photography, and even culinary arts. Even better, it starts at only $8.25 a month for unlimited classes. If I think about how much I pay for a class elsewhere online, this is a screaming deal!
And Skillshare has generously offered my readers a great perk! You can get two months of Skillshare Premium for FREE! Try it out, take as many classes as you want for those two months. If you're like me, you'll find yourself in an amazing rabbit hole of learning. One minute I was learning more about the Pathfinder tool in Illustrator, and a few hours and a few classes later I was practicing my new knife skills while making dinner.
Let's take a look at the Illustrator classes that I think will really take your Cricut designs to the next level
Skillshare Illustrator Tutorials for Cricut Users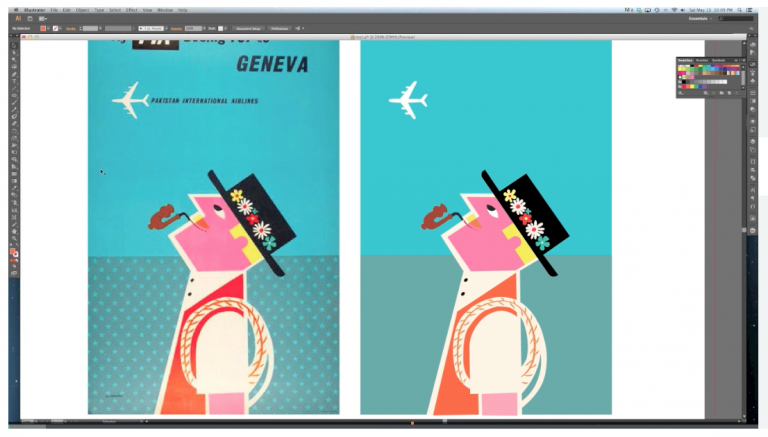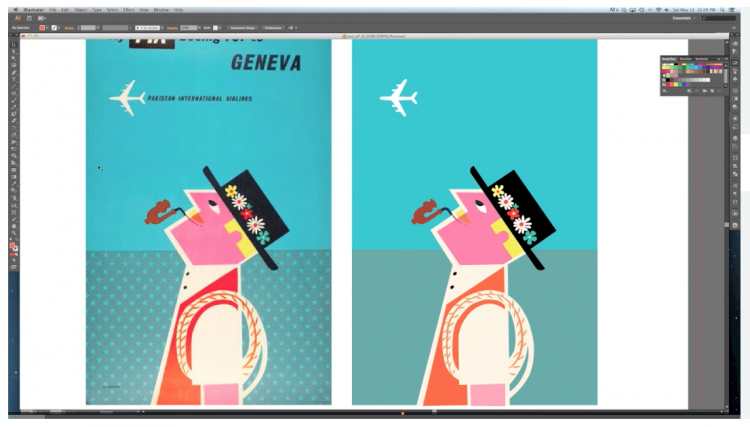 This is the first-ever Skillshare class I took, back in 2013. Yes, I've been a Skillshare fan for that long! Brad Woodard's class is the perfect introduction to Illustrator for newbies. It covers a lot of the basics of drawing simple shapes and putting them together in an illustration. You'll learn how to draw shapes freeform, combine pre-made shapes (like circles and squares) into complex shapes, and learn all about lines and strokes.
This class was a game-changer for me in that it taught me how to properly use the pen tool. In just a few short lessons, he had me working that pen tool like I'd known how to use it for years. The class project is to re-create an old magazine or travel ad. What I learned in this class made it possible for me to draw the ad on the left from scratch. Even as I was designing my version on the right, I couldn't believe I was able to do it.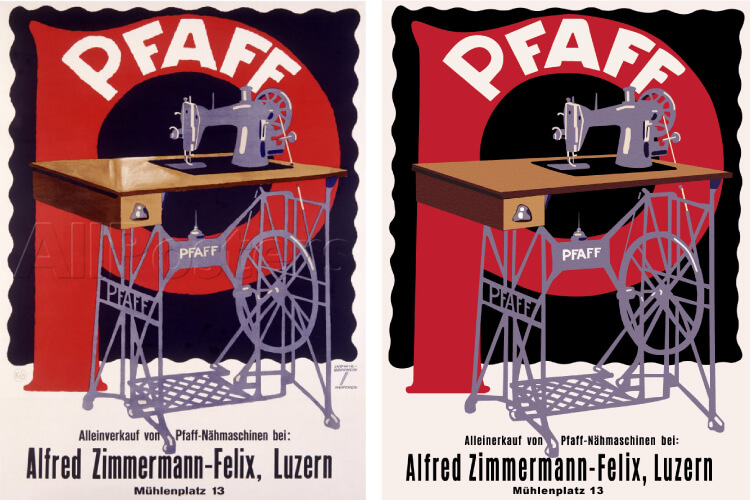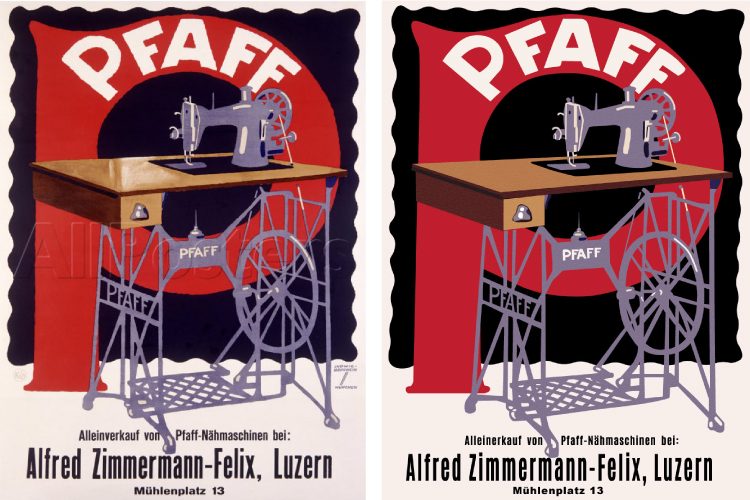 Four years later and I'm still impressed with myself. Ha! I use the pen tool all the time now in the files I design for the Cricut.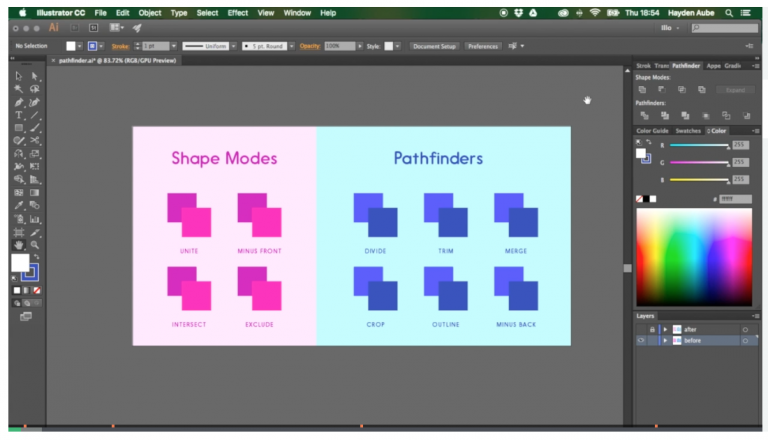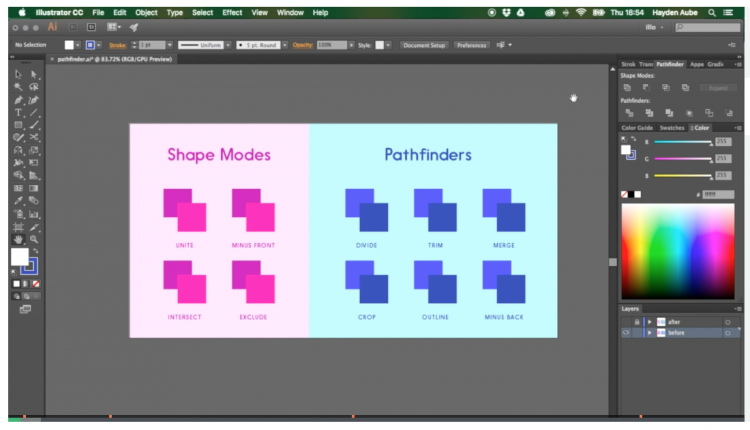 Many graphic designers would say that Illustrator's best function lies in that pen tool I described above. And while I've personally come to love it, it can often be one of the most frustrating tools to use for beginners.
So I took a look at Hayden Aube's class on creating illustrations without using the pen tool. He has so many amazing tips and tricks for using the Pathfinder toolset, live shapes and live corners, strokes, and different ways to distort and transform. I just took this class recently and I learned so much! The live corners in particular have helped me create interesting shapes for gift tags and cards this holiday season to cut on my Cricut.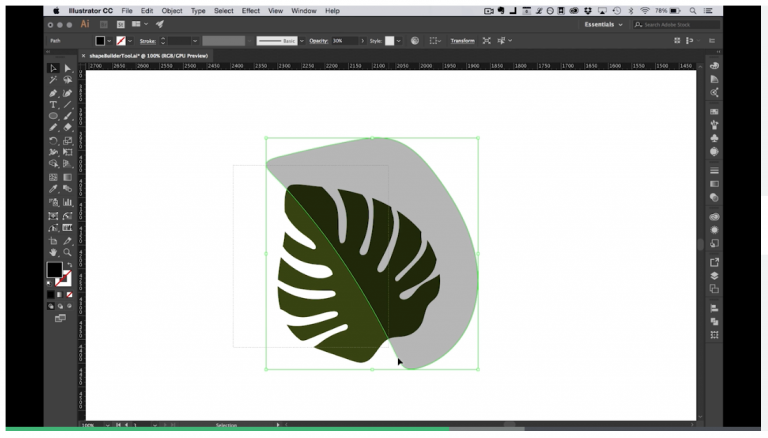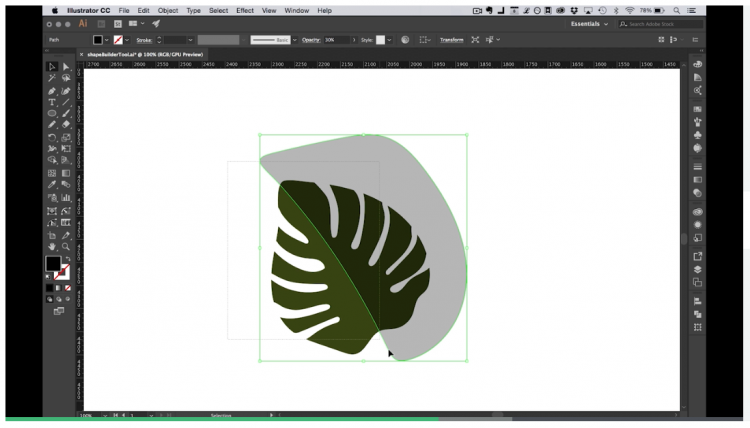 As I was researching Skillshare classes that I thought would be best for Cricut fans, I came across this class on the shape tool. Again, friends, I've been using Illustrator for ten years and I had no idea the shape tool was even a thing. And now that I know about it, I think it's one of the most powerful tools out there for creating shapes to cut on a Cricut. As Dylan Mierzwinski explains, the Shape Tool creates cleaner shapes than other methods—and cleaner shapes are easier for a cutting machine to use.
She also has a little trick toward the end of her class that was a huge revelation for me — how to use the rotate tool. It allowed me to create dozens of different snowflakes in just a matter of minutes for a recent project! I love finding these little nuggets of information in these classes.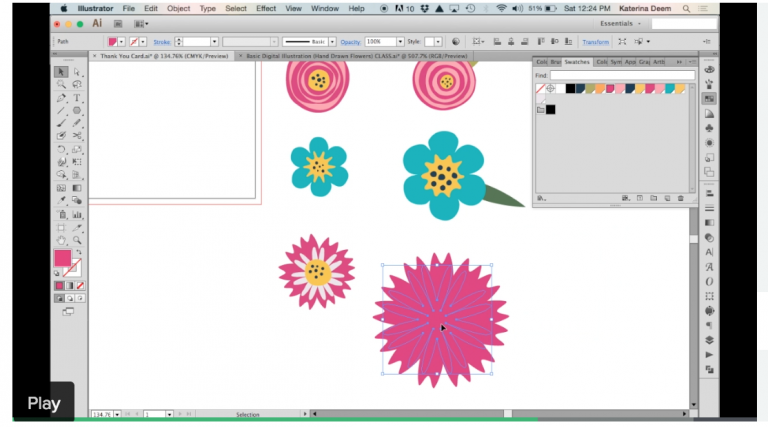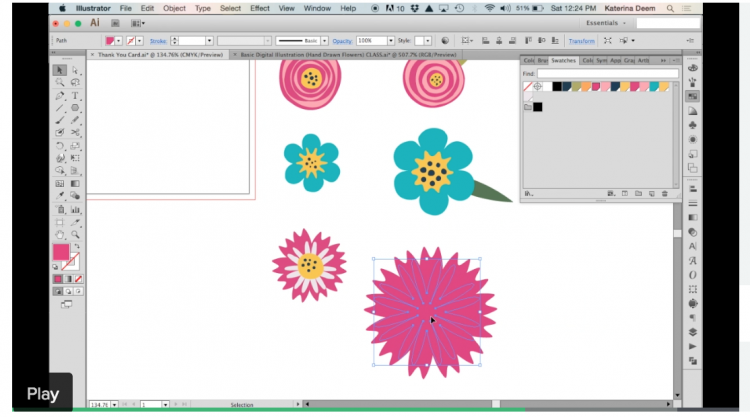 Some of the most popular shapes to cut with a Cricut are flowers. I love Katerina Deem's class for learning how to draw organic flower shapes that are still "mathematically simple," meaning the Cricut can cut them easily. She has lots of Illustrator basics in this class, as well as tips and tricks I'd never thought about to create shapes, like using the Pucker and Bloat option to create the petals of a flower. I can't wait to dive back into this one when spring rolls around and everyone is looking for flowery projects to make on the Cricut!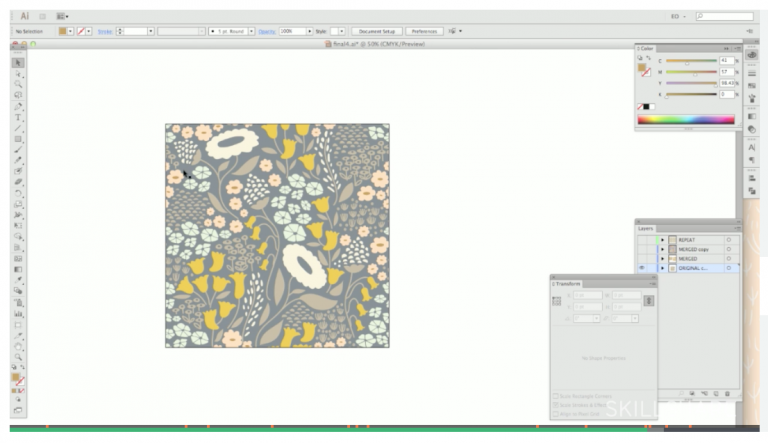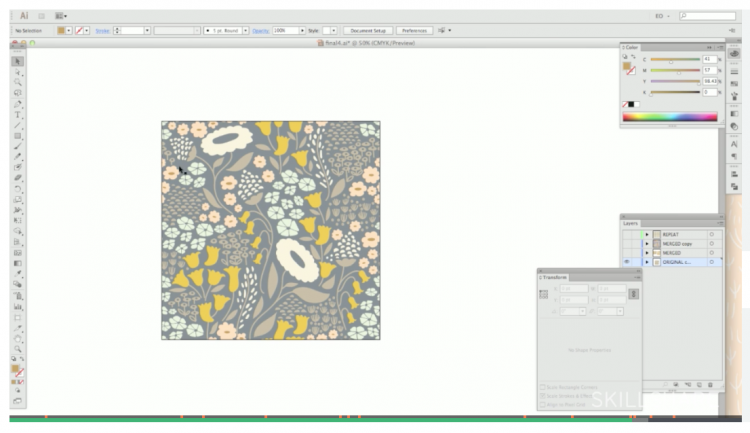 While this isn't a class, in particular, for making the types of files you would use to cut on a Cricut, I found it so helpful in other ways. First, the way Elizabeth Olwen talks about her creative process was really inspiring—I've started keeping a creative record of interesting shapes and patterns I come across and they are already seeping into the different files I'm designing.
Second, she has some good advice for bringing your hand-drawn files into Illustrator. If you do hand lettering or sketching in a notebook, this is a good method for getting your files into Illustrator so you can work on them digitally. I've been sketching on my iPad more and more lately because of her recommendations.
---
And remember that Skillshare is offering my readers two months of FREE classes! I'd love for you to sign up and tell me what you're learning in the comments!