Grab this free printable Halloween scavenger hunt to send your kids on a hunt to find candy all around your home! Let's make Halloween special this year with fun things we can do around the house!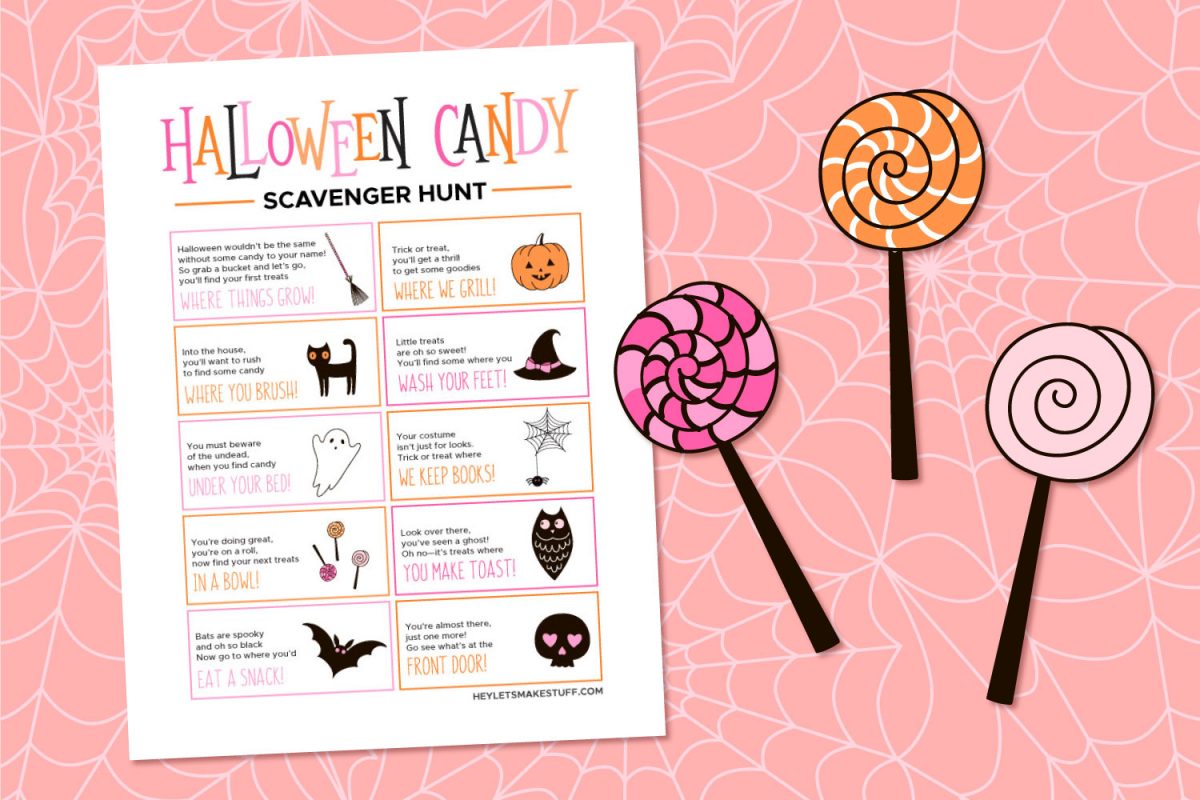 In any other year, this Halloween we'd find costumed children running from house to house collecting candy from their neighbors. Trick or treating is a favorite of so many kids, including my own boys!
But with many places still experiencing illness outbreaks, it makes us wonder if it's safe for kids to go house to house. Is trick or treating while wearing a face mask easy or even feasible for kids (particularly the little ones)? Is it safe for older adults to interact with so many kids?
Halloween in these times leaves a lot of questions and not a lot of answers.
What I do know is that, according to a recent Harris Poll, many parents still aren't comfortable sending their kids door to door this year. We're most likely not going to see many Halloween parties or trunk or treating events either.
So that got me thinking. What can we do instead? How can we make a memorable Halloween in our homes, in a way that keeps our families and communities safe?
One way is with a halloween candy scavenger hunt!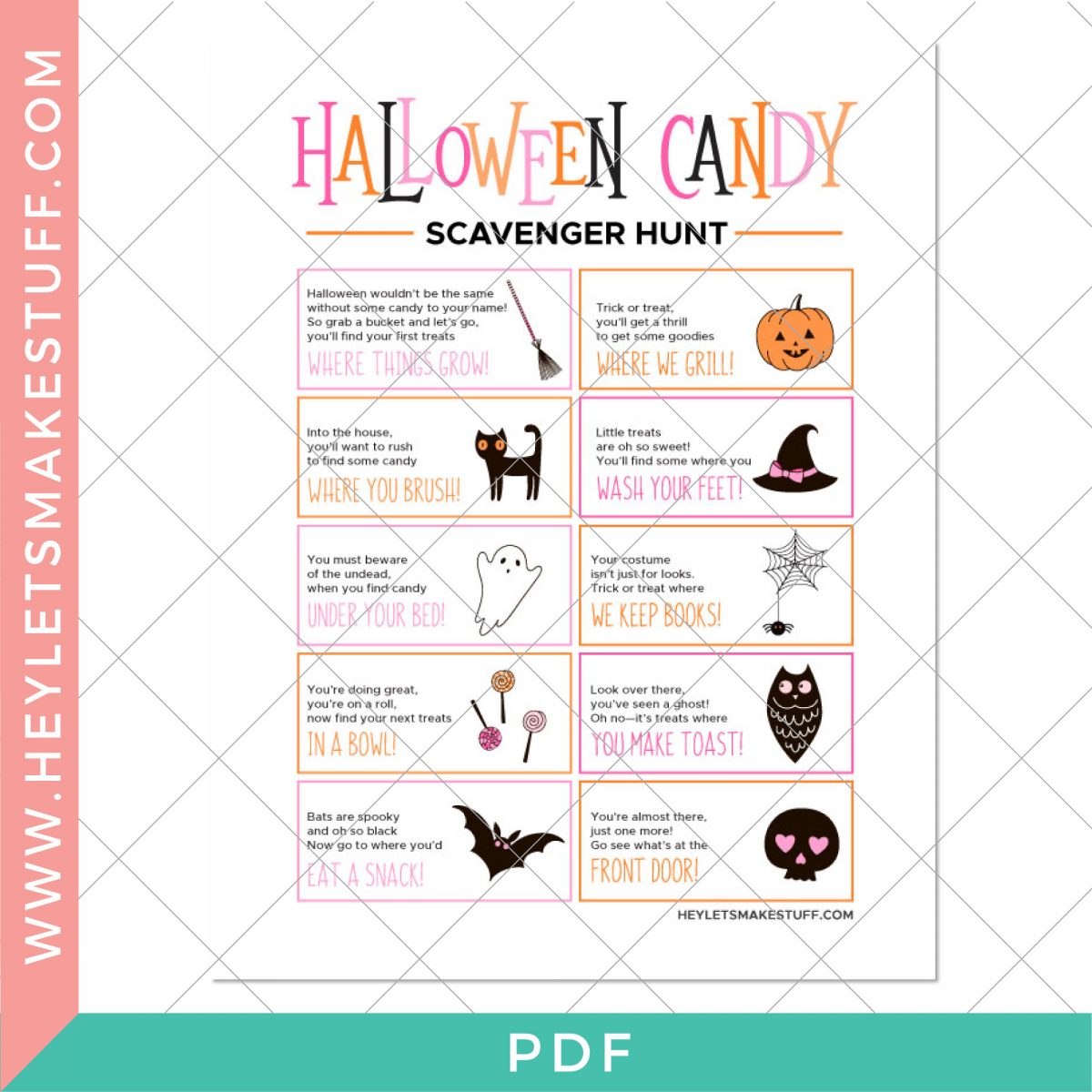 Let's be real. One of the best things about trick or treating is the candy! I remember coming home with a pillowcase of treats and dumping it all on the floor to trade with my brother. We had a great neighborhood for trick or treating so we always had a delicious selection of candy.
So let's re-create that candy fun at home with these fun Halloween scavenger hunt clues! These halloween-themed clues will take your kiddo around the house in search of candy! From the yard to the bedroom to the kitchen, kids can follow these Halloween clue cards to fill their buckets with Halloween candy and non-food Halloween items.
Download the Free Halloween Scavenger Hunt under PRINTABLES P82
This file can be found in my Free Craft Resource Library. The file number is: P82.
Want access to this free file? Join my FREE resource library! All you need is the password to get in, which you can get by filling out the form below!
Get the Whole Printable Halloween Games Bundle
Grab our exclusive Halloween Games printable game bundle in our shop, with this candy scavenger hunt, as well as five other candy-themed Halloween games!
How To Set Up And Play The Halloween Scavenger Hunt
Download our free printable Halloween candy scavenger hunt by clicking the box above.
Print the clue cards and cut them out.
Hide them throughout the house using the instructions below. We've told you where to hide each clue to make sure they find it!
Start with the first clue as the sun sets on October 31 and watch your kids as they find each clue and solve the riddles!
The final clue will take them to a jackpot of Halloween candy on the porch! Happy trick or treating!
Halloween Candy Scavenger Hunt Clues
Clue #1: hand directly to the kids
Halloween wouldn't be the same
Without some candy to your name!
So grab a bucket and let's go
You'll find your first treats where things grow!
Clue #2: in a garden bed, lawn, or flower pot
Trick or treat, you'll get a thrill
To get some goodies where we grill!
Clue #3: on the barbecue or grill
Into the house you'll want to rush
To find some candy where you brush!
Clue #4: bathroom near toothbrushes
Little treats are oh so sweet
You'll find some where you wash your feet!
Clue #5: in the shower or bathtub
You must beware of the undead,
When you find candy under your bed!
Clue #6: under the bed or pillow
Your costume isn't just for looks
Trick or treat where we keep books!
Clue #7: on a bookshelf or nightstand
You're doing great, you're on a roll,
Now find your next treats in a bowl!
Clue #8: in a bowl in the kitchen or on a table
Look over there, you've seen a ghost!
Oh no, it's treats where you make toast.
Clue #9: near the toaster
Bats are spooky and oh so black
Now go to where you'd eat a snack!
Clue #10: in the pantry or cupboard
You're almost there, just one more,
Go see what's at the front door!
Leave a fun candy treat on the porch! We recommend a full-size candy bar, caramel apple, or small Halloween-themed toy—a special treat for your kid!
Your kids will love going on a candy scavenger hunt! Have fun setting up this Halloween scavenger hunt and have a spooky Halloween!
Other Ideas for Halloween At Home
In addition to this fun Halloween scavenger hunt,
Printable games for Halloween, like a Halloween word search, Halloween coloring page, or Halloween bingo.
A virtual costume contest—get all the neighborhood kids together in their costumes on Zoom!
Go on a neighborhood Halloween scavenger hunt (coming soon!)
Leave a bucket of candy at the base of the driveway and wave to any trick or treaters from the front door.
Have a Halloween movie marathon, watching favorites like Hocus Pocus and It's the Great Pumpkin, Charlie Brown.
Get a Halloween piñata for another fun candy-filled option