This scrappy fabric heart wreath took me less than an hour to make! The perfect easy nap time project that's perfect for Valentine's Day or any time of the year.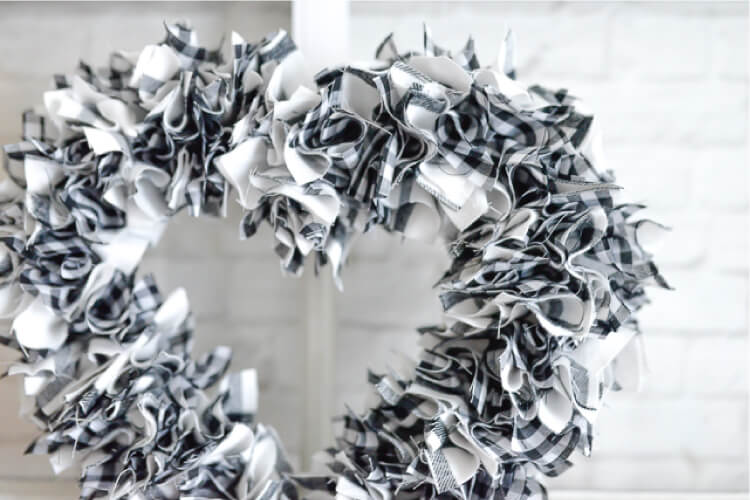 Here's how it usually goes for me:
"Hey, this project will take me no time at all!"
…five hours and one headache later.
But this project was exactly the opposite! I thought it would take me a considerable amount of time, but I finished it during one of the boys' naps. Less than an hour, including the time it took me to cut the fabric. That's what I call a win! See? I even took a photo of the monitor while I was working on it. Sleepy little guys!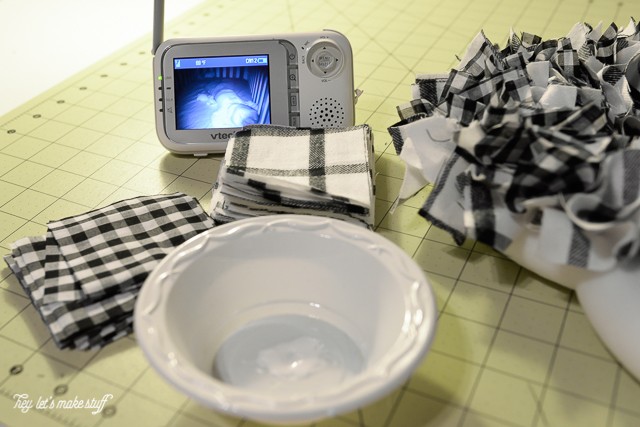 I wanted to have a heart wreath to hang on our door that would work for Valentine's Day but wasn't pink or red. That way, it would work throughout the rest of winter and into spring. I had these two fabrics picked out for another project I never did, so I thought they'd make a cute wreath with a bit of a country vibe.
I love LOVE how it turned out. Especially for only an hour of work!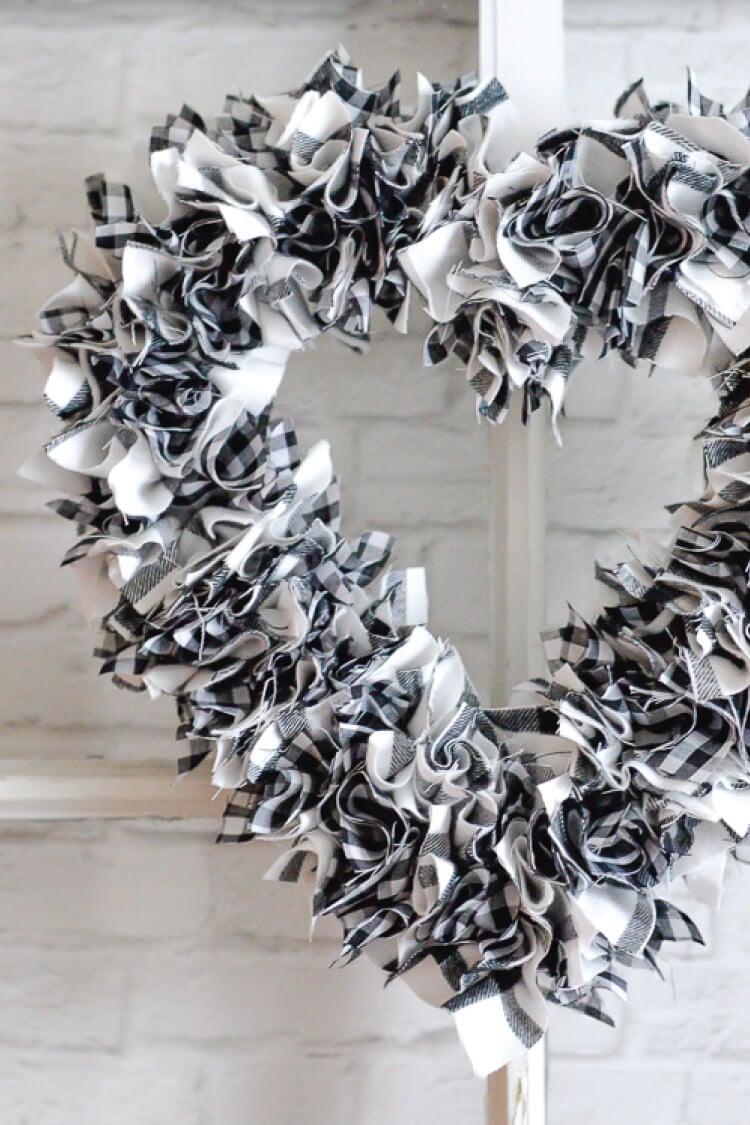 Heart Wreath Supplies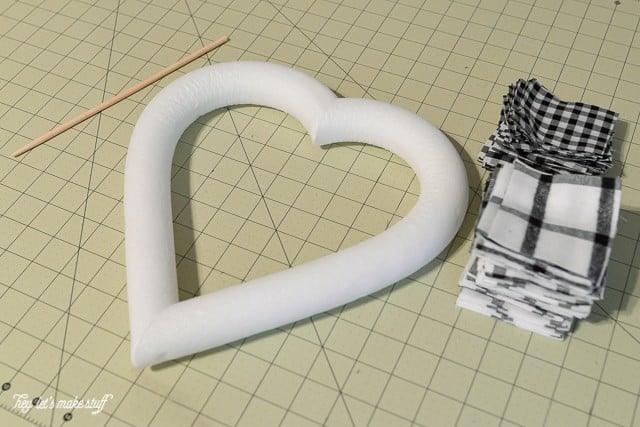 Heart Wreath Directions
I don't have any photos of this part, but I used my cutting mat, ruler, and rotary cutter to cut my fabric into long 3″ strips, and then stacked those strips and cut them into 3″ squares. (Even if you don't sew, I think every crafter needs a mat, ruler, and cutter! I use them all the time to cut fabric, paper, vinyl, felt, etc.)
I had two stacks of 3″ fabric squares. One of my fabrics was a thin cotton and the other was flannel, so the two piles aren't the same thickness — but they have roughly the same number of squares.
(Pardon the dark and dreary process photos — it's been so gray and rainy here! Not that I'm complaining, since we need it SO much here in California!)
Start by placing a piece of fabric around the end of your dowel.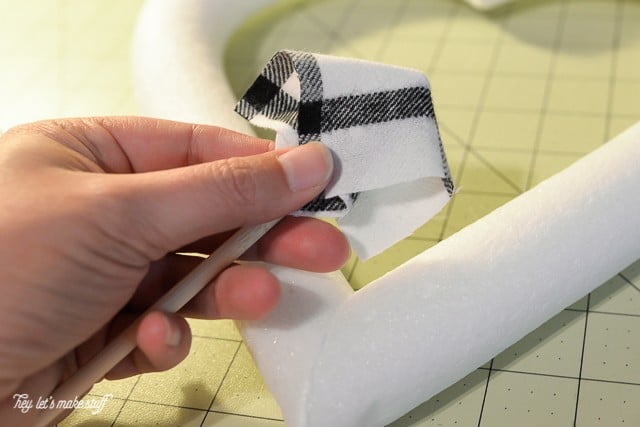 Dip the dowel and fabric into the glue…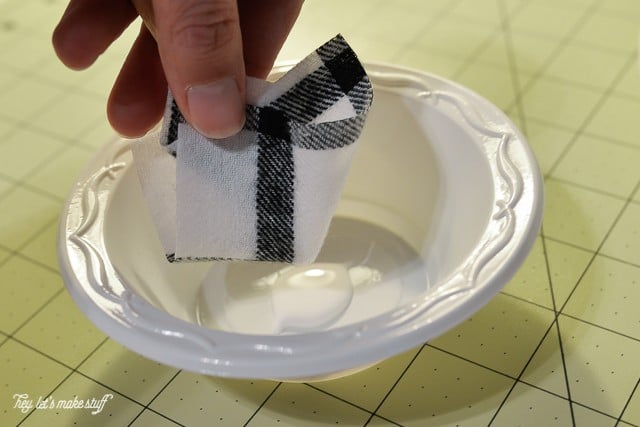 And stab into your foam. I found this oddly satisfying. It makes a nice little crunch.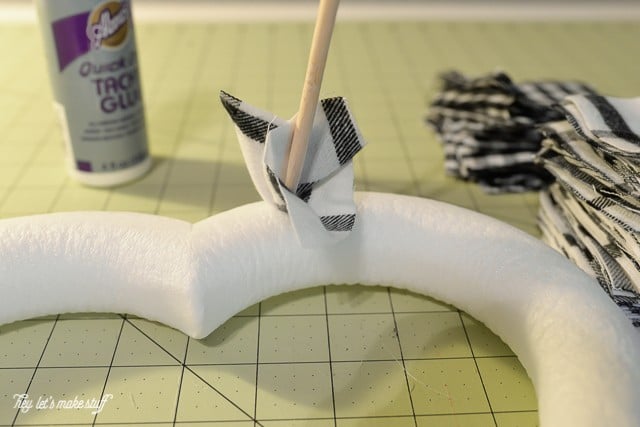 Then, repeat, repeat, repeat! It fills up a lot more quickly than you'd expect. My fabric pieces were about 1/2″ apart. I tried to distribute both kinds of fabric evenly and I think it worked out great! I did try and work the pieces at the bottom of the heart so that the point would be clearly visible.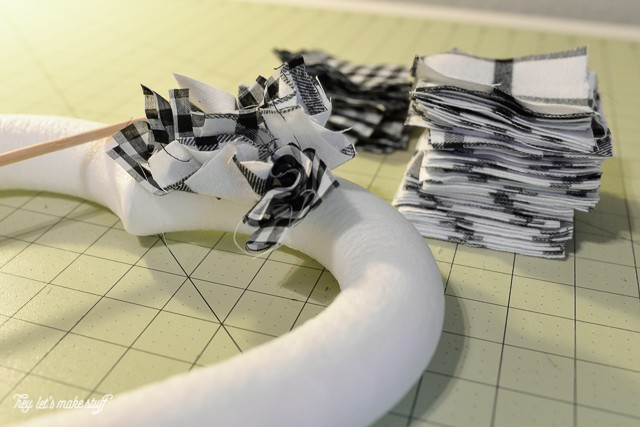 To hang it, I just pinned some white ribbon to the back of the wreath. You could also use tacks or hot glue.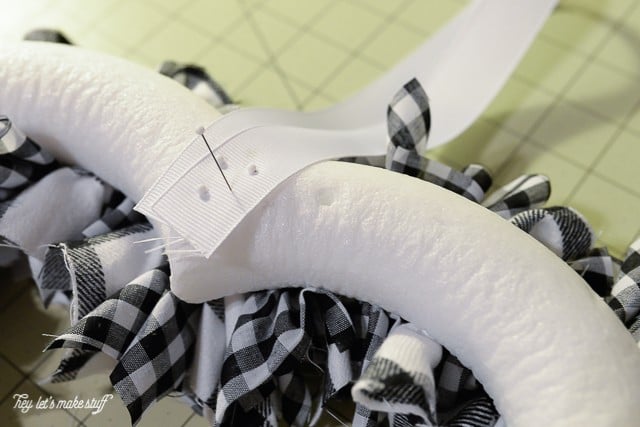 I hung it on my old window to photograph it, but I've already moved it to our front door (which badly needs a makeover…add it to the list!). It looks so beautiful out there. Update: This has held up so well. Two years later, and it's still my spring door decor!
You can also use a metal wreath frame, like I did for my DIY Ombre Rag Wreath!