Use your Cricut Maker or Cricut Explore to make a beautiful felt wreath! This is an easy felt wreath DIY—just cut the leaves on your cutting machine, pin or hot glue, and add felt balls! A felt bow finishes this easy Christmas wreath.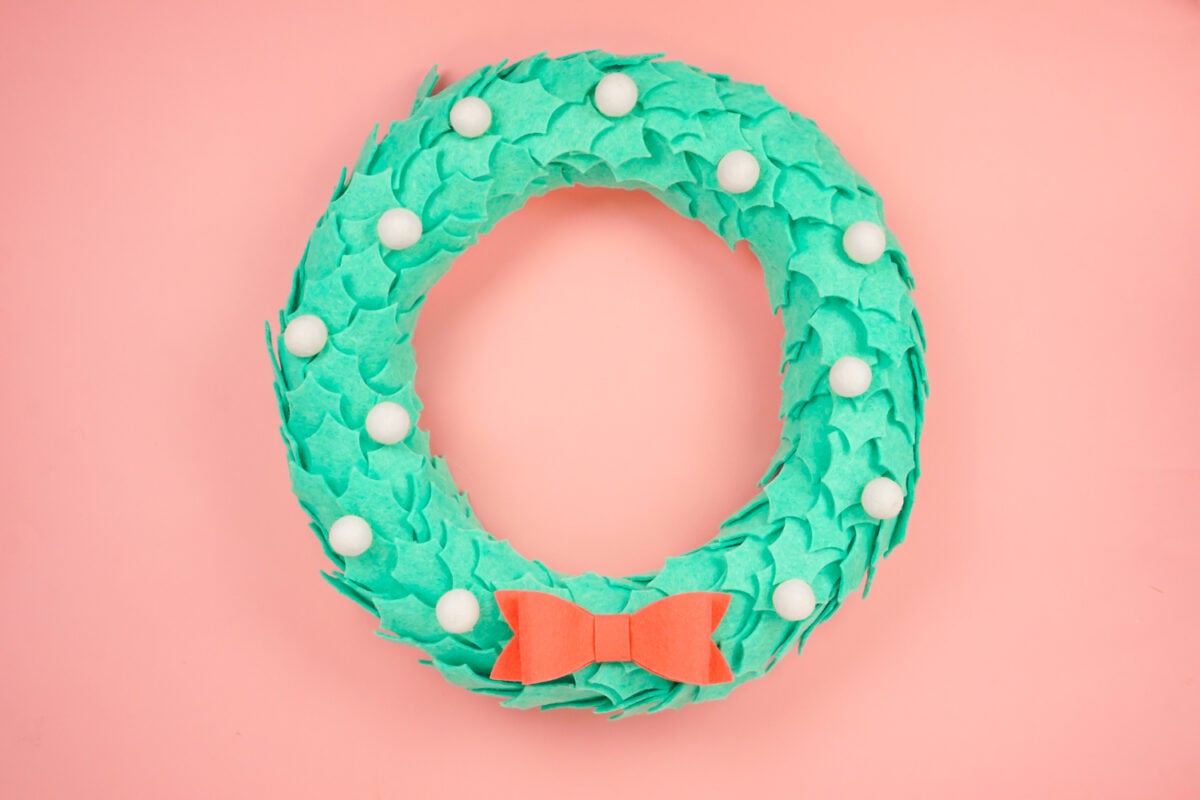 A big thank you to Benzie Design for the felt for this project!
Today I'm having fun with one of my favorite materials to cut on my Cricut—felt! I recently wrote a detailed post on cutting felt with the Cricut, including the different types of felt you might use, as well as which blades and mats work best. And now I'm putting all of that to use to make this easy felt wreath for Christmas!
Don't have a Cricut? Check out Benzie Design's Felt-Fetti! They have a leaf shape that is perfect for making a felt wreath without having to do the felt cutting yourself.
What type of felt is best for making a DIY felt wreath?
This project requires three 12″ x 24″ mats—that's a lot of felt! Your best bet is to grab a full yard (36″) of felt off the bolt.
My favorite felt shop is Benzie Design. For this wreath, I went with a retro palette of Julep teal and Coral, along with some small white felt poms. You can also shop your local craft store.
What Cricut blade and mat should I use to cut felt?
If you are using your Cricut Maker: Use the rotary blade with a large 12″ x 24″ StandardGrip mat (I generally save the old junky ones for felt!).
If you are using your Cricut Explore: The Explore is best at cutting Cricut-brand felt. Problem is, Cricut felt only comes in samplers, so buying six samplers to get enough of a single color of green to make this wreath is generally cost-prohibitive. Plus, it's not exactly soft and pretty. So I recommend sticking to a wool-blend for this project.
With the wool-blend, use the FinePoint blade with a 12″ x 24″ StrongGrip mat. The Cricut Explore cuts wool blend felt…medium good. You may find you need to finish the cut with a sharp pair of scissors. Make sure you're using a new blade and do a test cut to see if you need to increase the pressure settings while cutting.
DIY Felt Wreath Supplies
Enter your first name and email address in the box below for access to this freebie, along with other fun free files in our email newsletter! If you have already received a freebie from my site, just enter your information again—you won't be added to any additional lists.
This freebie is for personal use only. You can learn more about our commercial license.
Making Your Wreath in Cricut Design Space
Create a new project in Cricut Design Space. On the left, click Upload. Then navigate to the wreath file you downloaded above.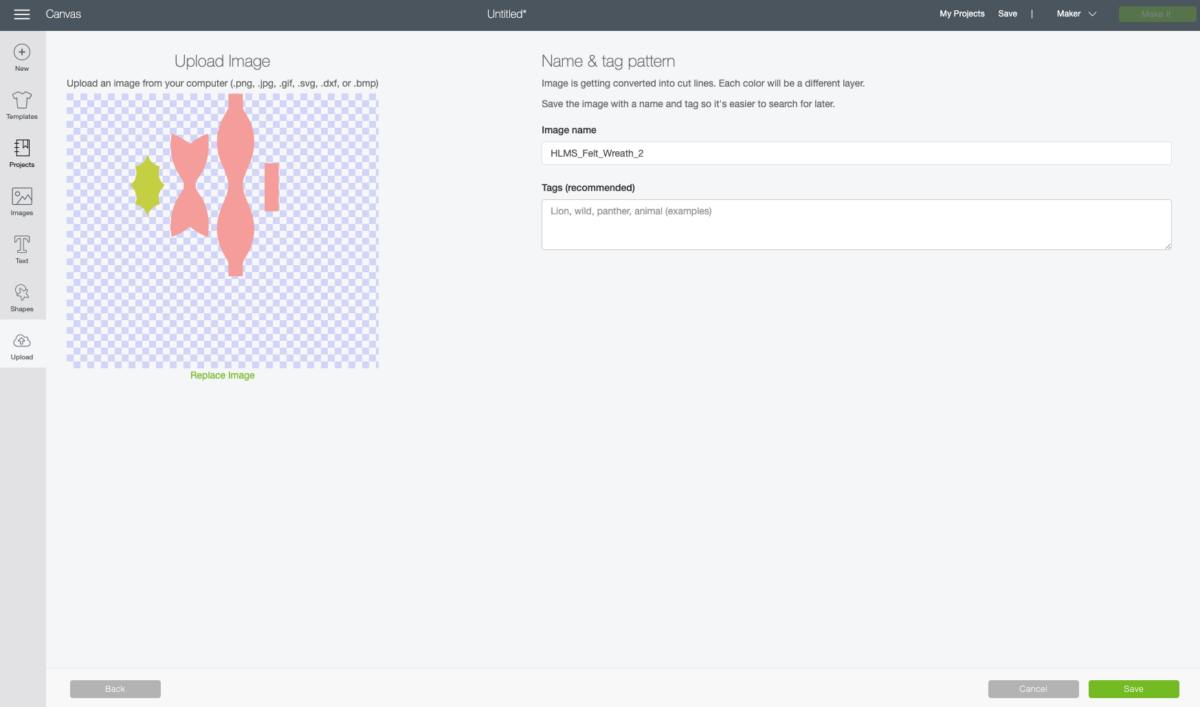 Click Save.
Then select the file you uploaded and click "Insert Images" to bring it onto your canvas.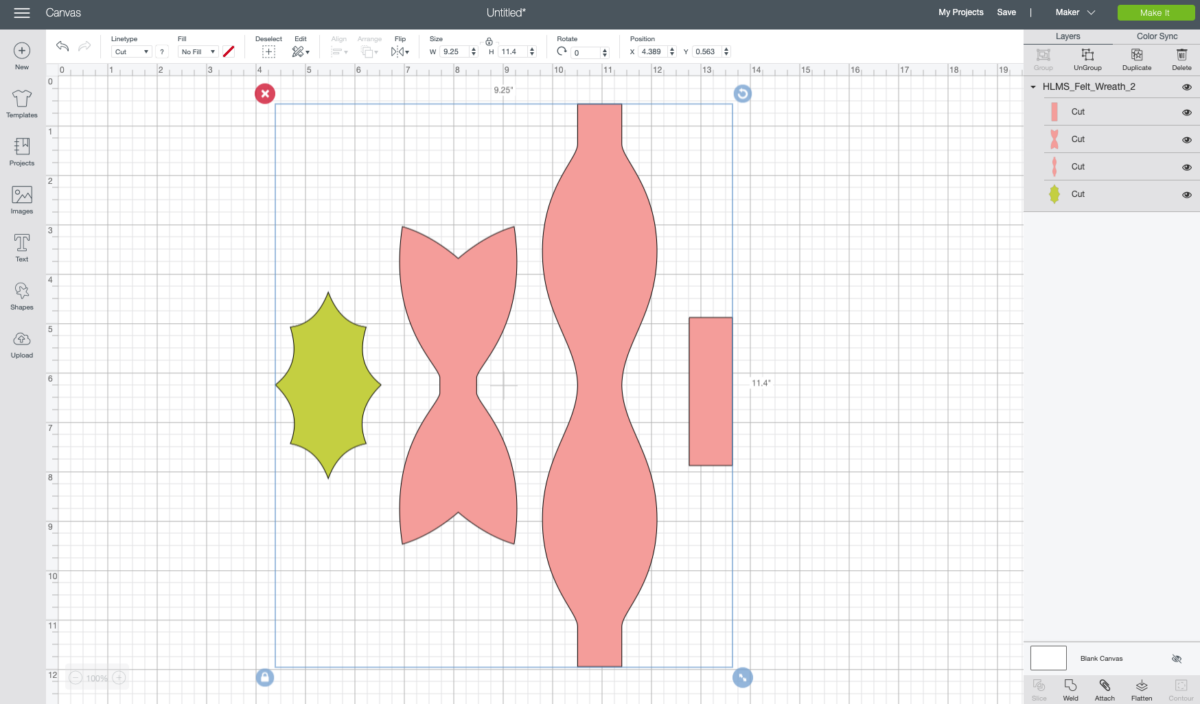 We're going to cut the two parts of this wreath separately, so click on the "eye" icon next to each pink bow piece in the layers panel to hide it.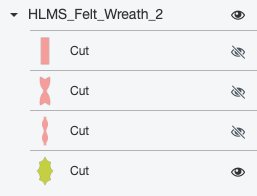 This leaves just the holly piece on your canvas. Click Make It in the upper right. In the upper right of the Prepare screen, change "Project Copies" to 120.

This will fill ten 12″ x 12″ mats. But if you change your mat size to 12″ x 24″ inch, it will perfectly fill four 12″ x 24″ mats.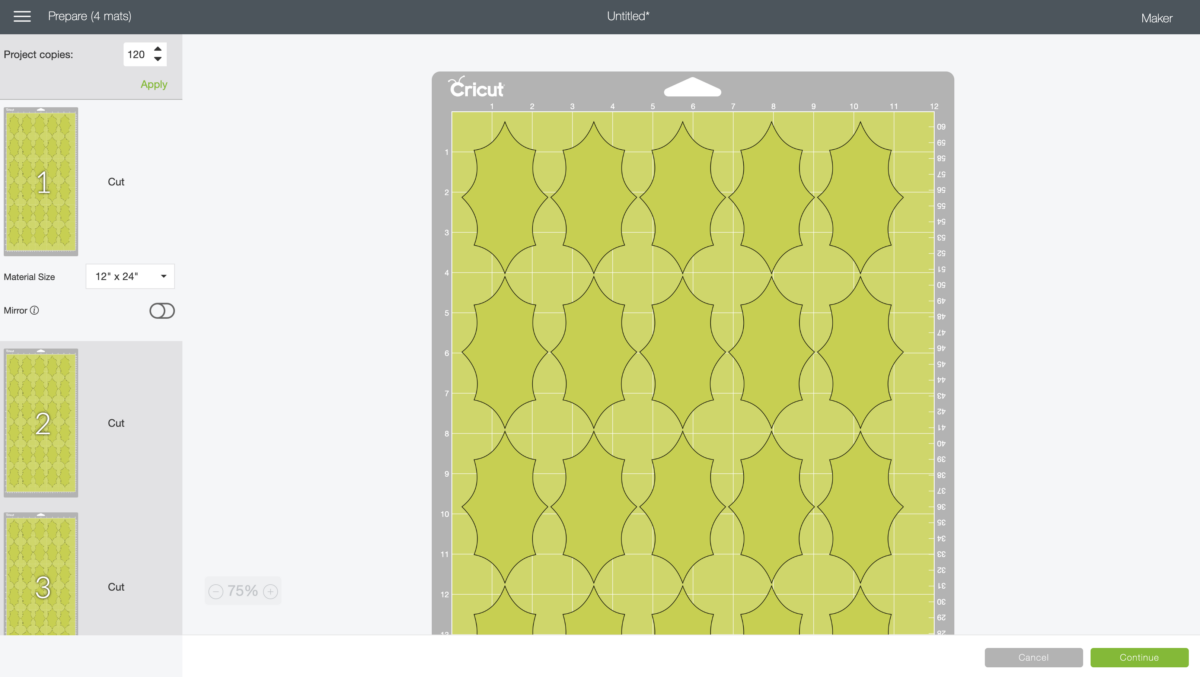 Click Continue to be taken to the Make Screen.
If you have a Cricut Explore, set your dial to Custom and choose felt as your material. Make sure you've done a test cut as mentioned at the beginning of this post to make sure your settings will cut all the way through your felt.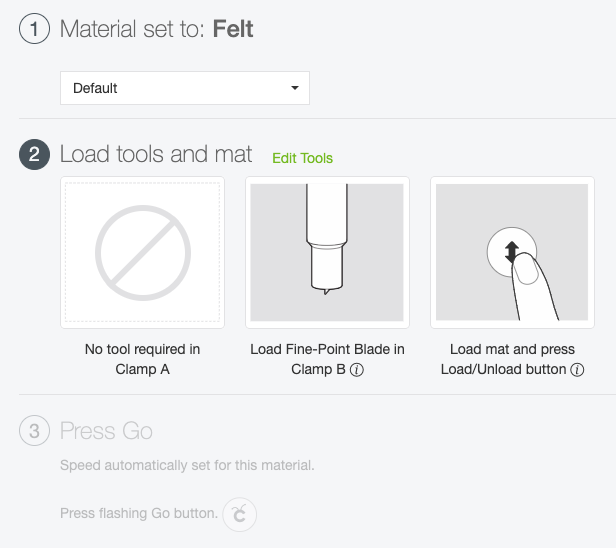 If you have a Cricut Maker, select felt as your material. Design Space will default to the FinePoint blade. Instead, click Edit Tools and select the rotary blade.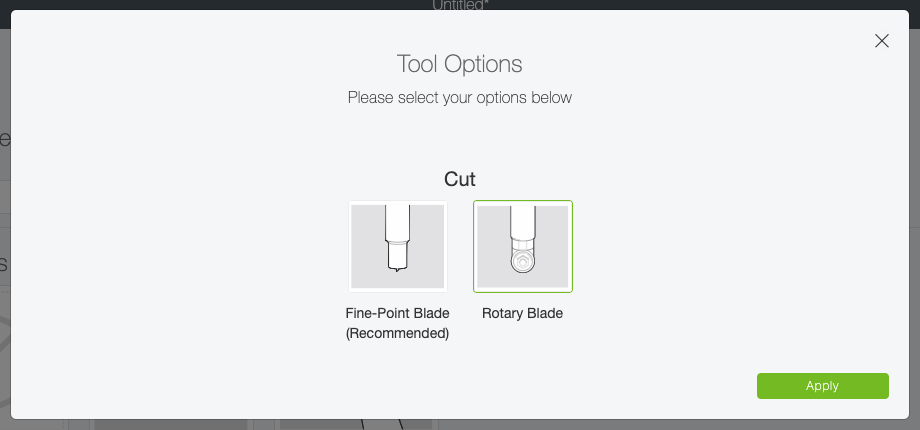 Now you're ready to cut and assemble your wreath!
DIY Felt Wreath Directions
Cut your yard of felt into three 12″ x 24″ pieces. Depending on the width of the bolt, you will probably have a strip leftover that you can use for future projects.
Press your felt to your 12″ x 24″ mat using the brayer or your hands. Place your mat under the guides and press the blinking arrow to insert your mat into your machine.
Press the blinking "C" and your Cricut will cut your felt!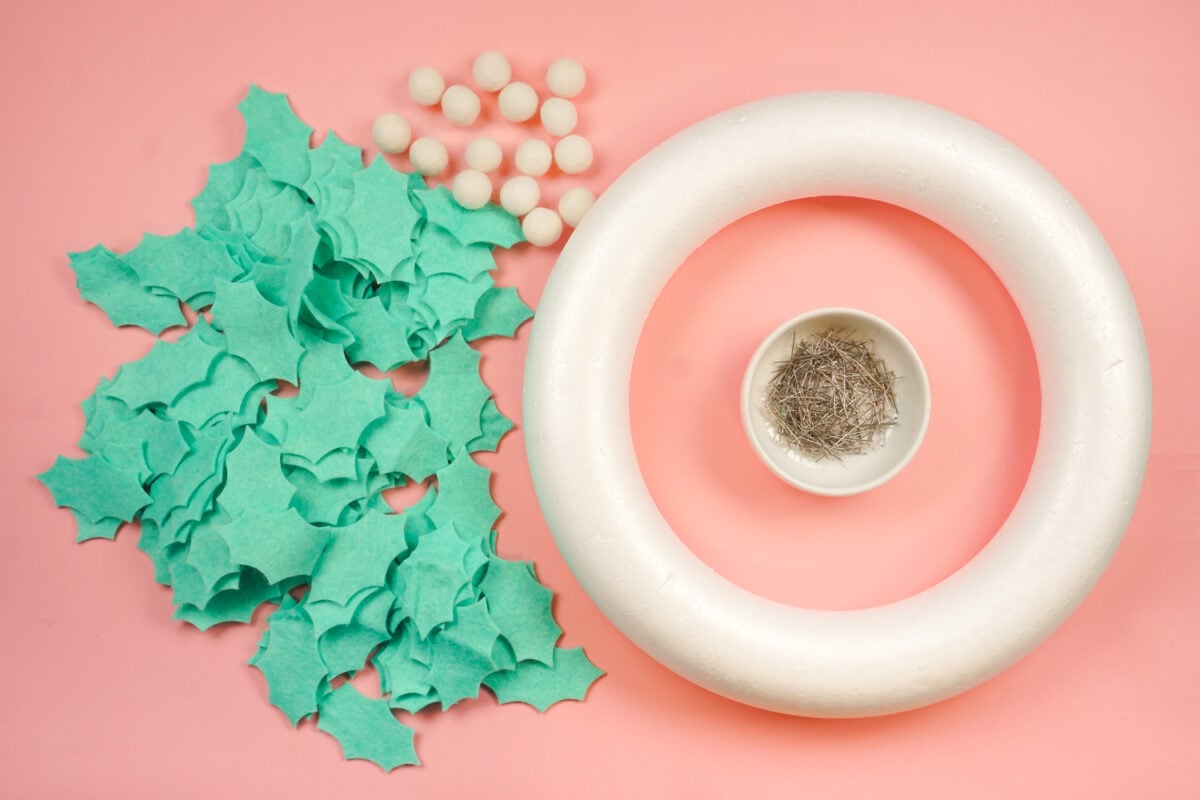 Once your pieces are cut, you have two options for attaching your leaves to the wreath form—pins or hot glue. I have done both and honestly I don't have a preference. Hot glue is a little faster but pinning allows you to move leaves if you don't love the placement.
Whichever method you choose, pin or glue from the bottom of the leaf and attach to the wreath form.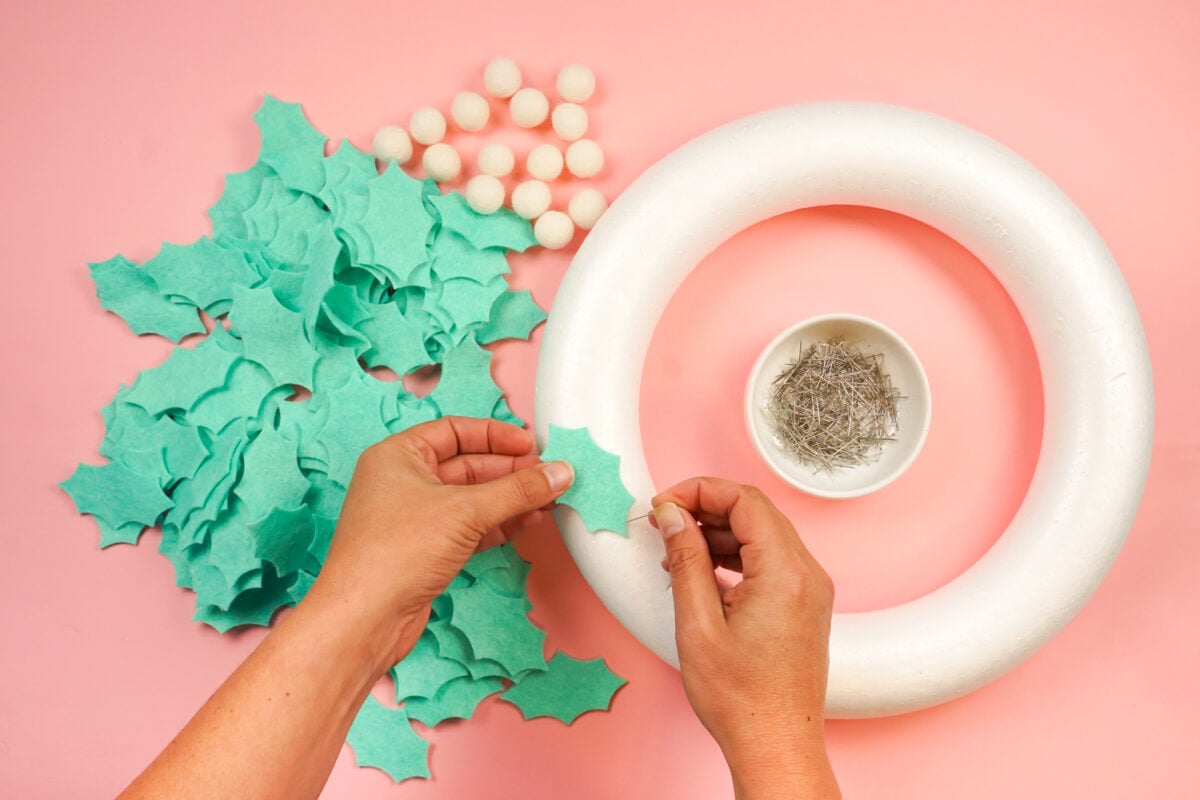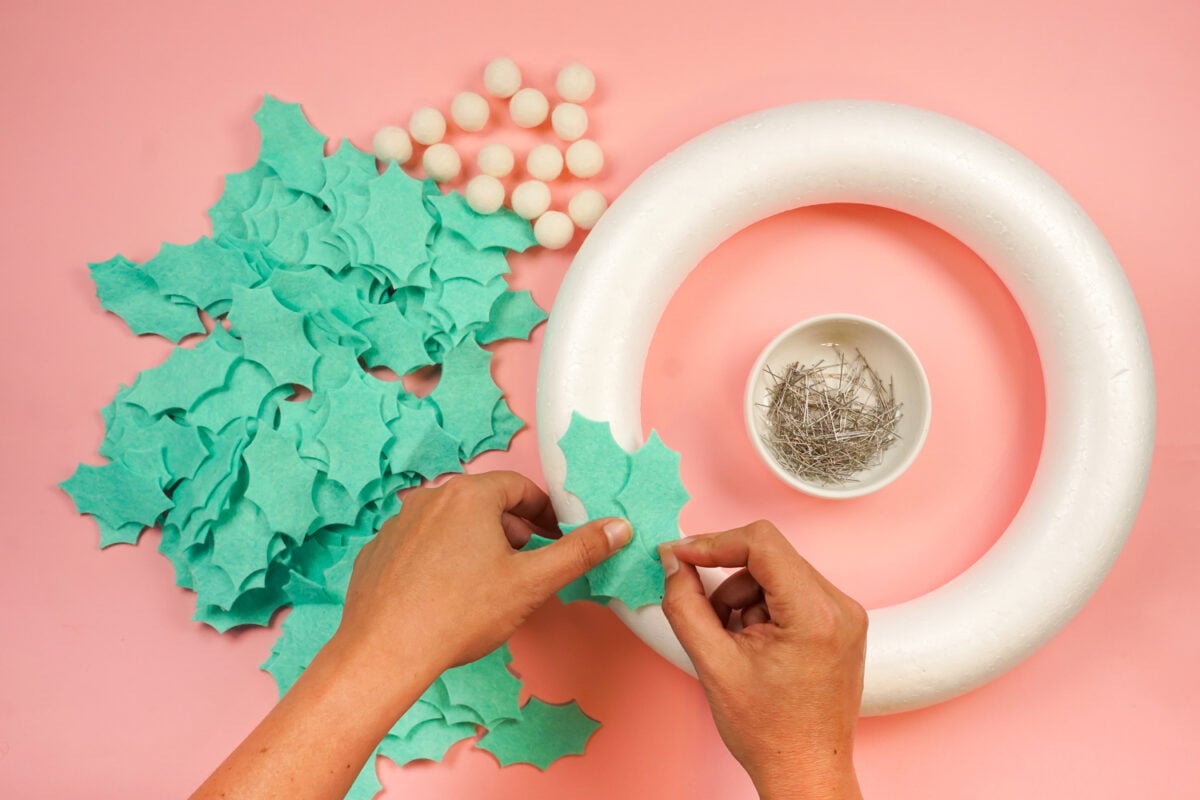 Continue this process around the entire wreath. Do the front and sides, but not the back—that will remain flat for hanging.
I suggest binging a show on Netflix while you're working on it—we're loving Jack Ryan right now. Nothing like making Christmas decorations while Jim-from-the-Office saves America.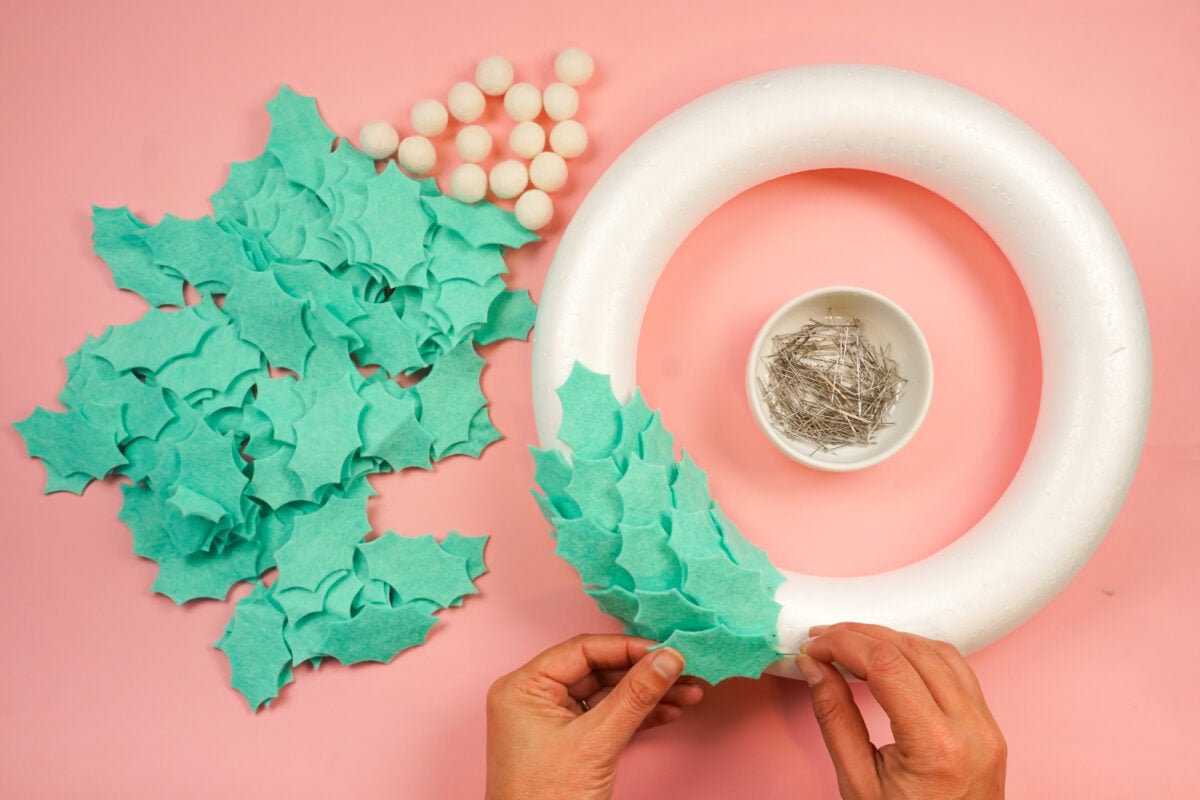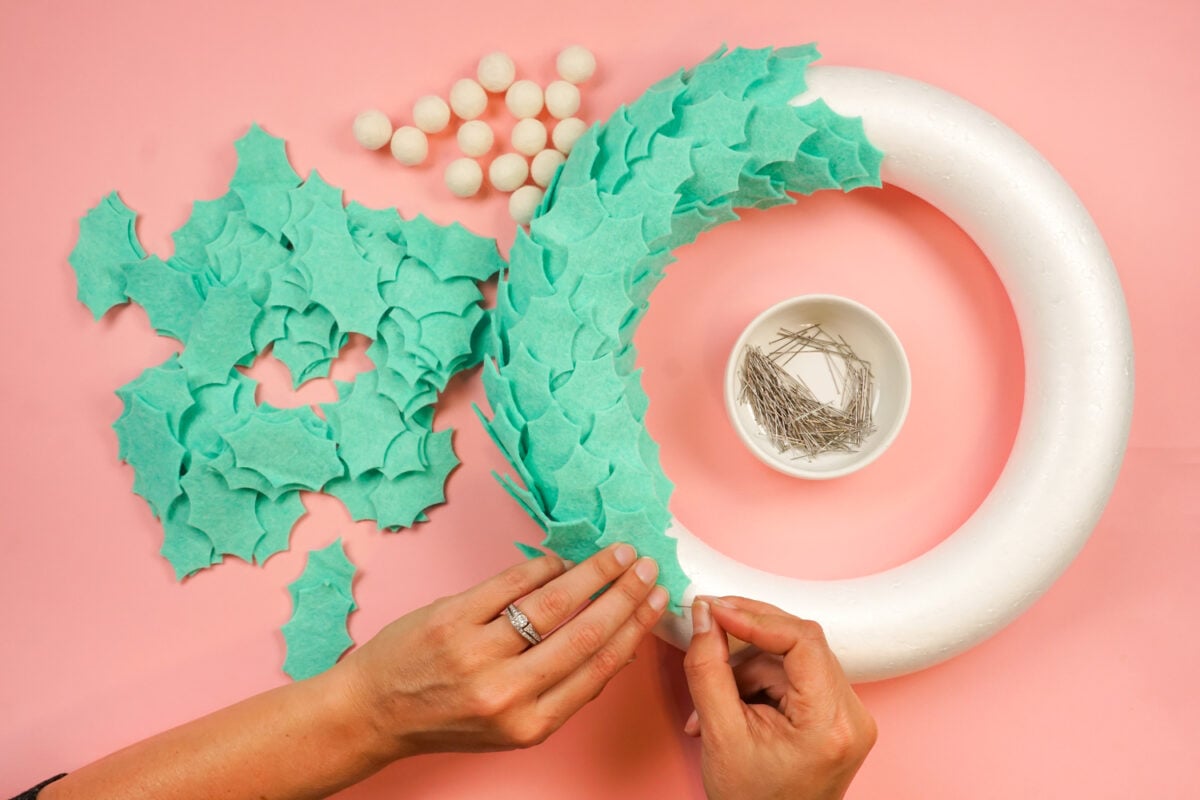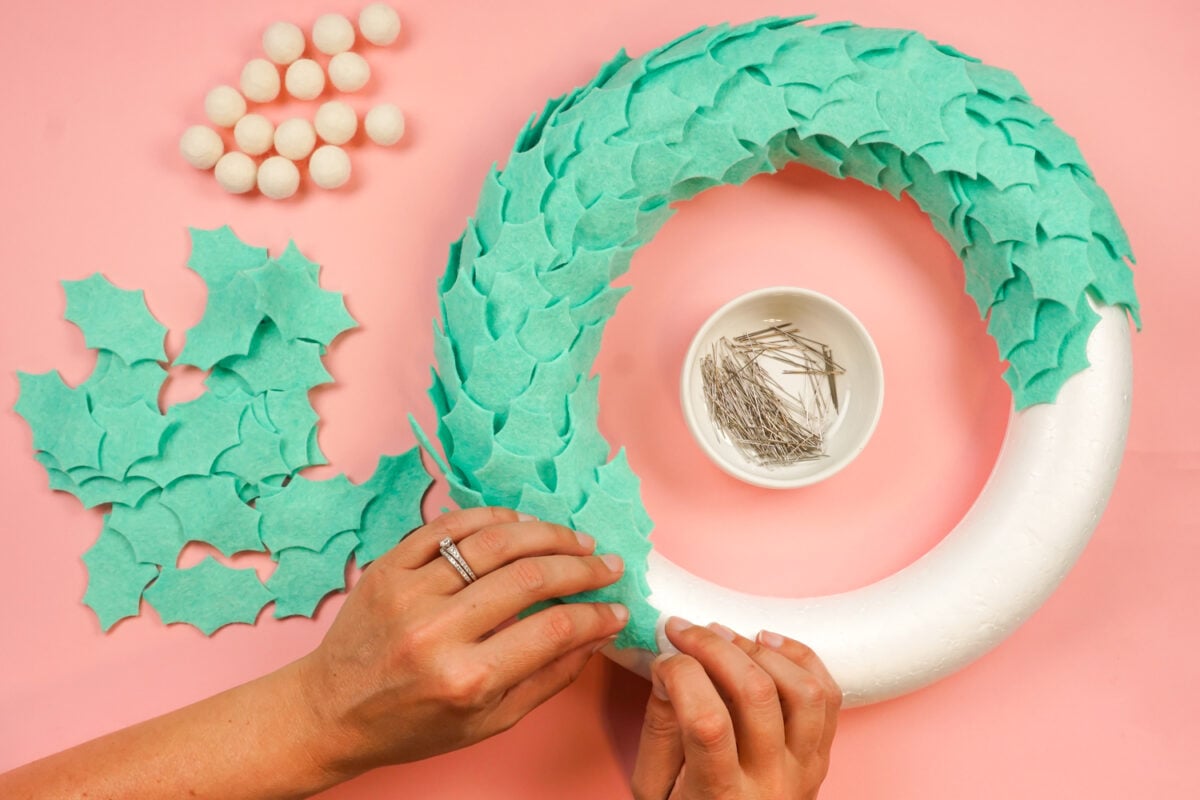 Once you have gone all the way around, give your wreath a little shake and add some support pins/glue if some of the leaves are not staying put.
Next, let's make our bow. Cut the bow pieces out using your Cricut in the same way you cut the leaves.
Take the longest bow piece and add a dot of hot glue in the center.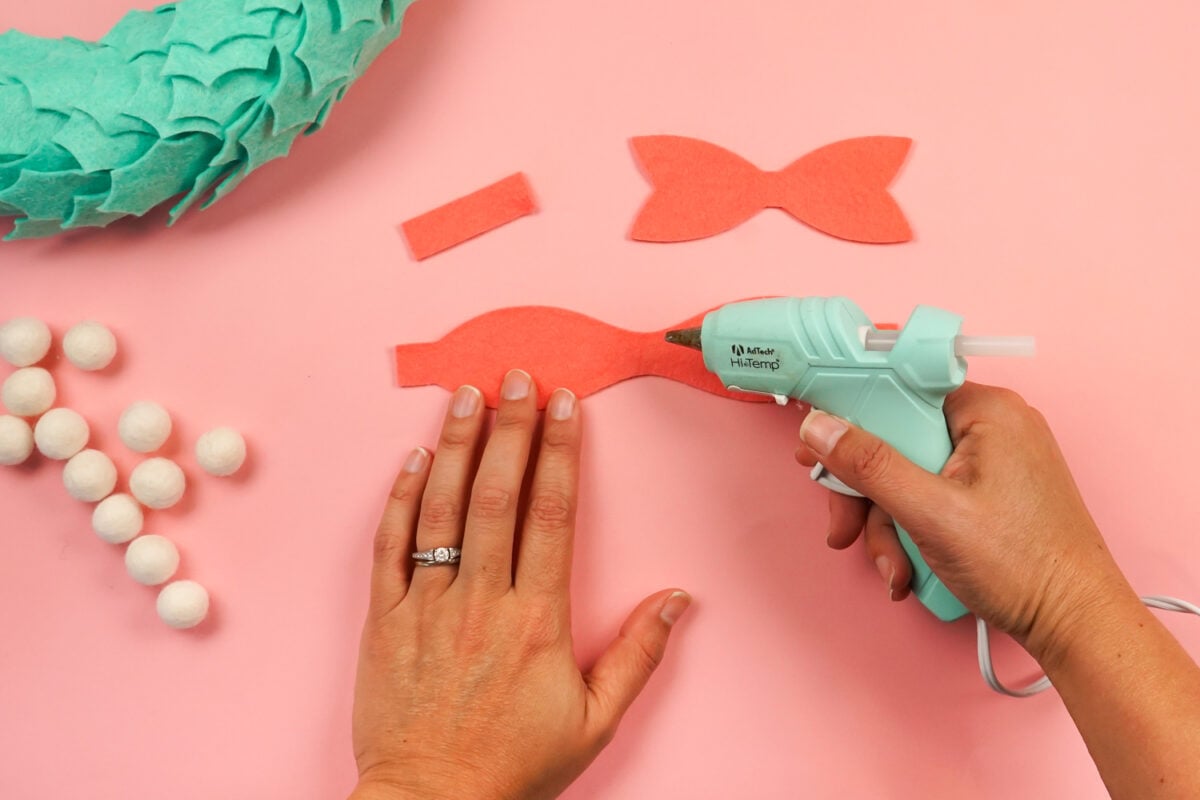 Then fold the ends to the center and press to adhere (be careful of the hot glue!).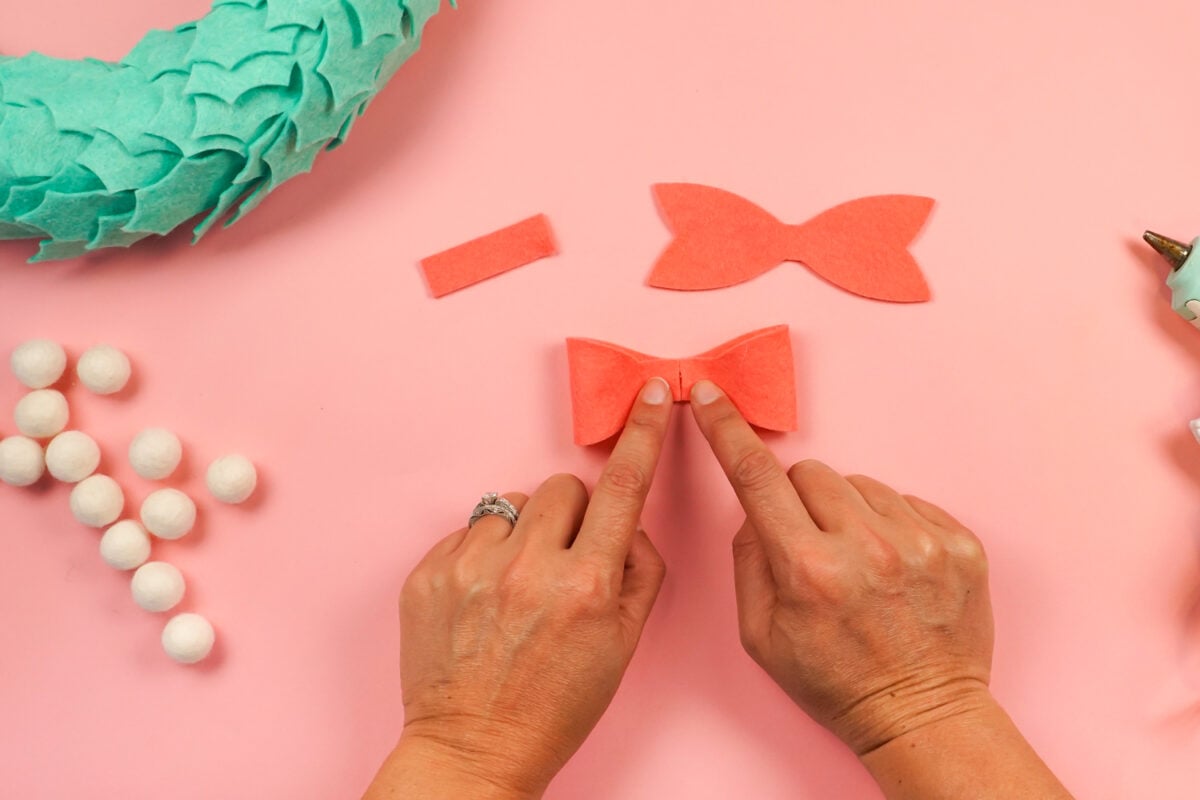 Then place another dot of hot glue in the center of the tail piece.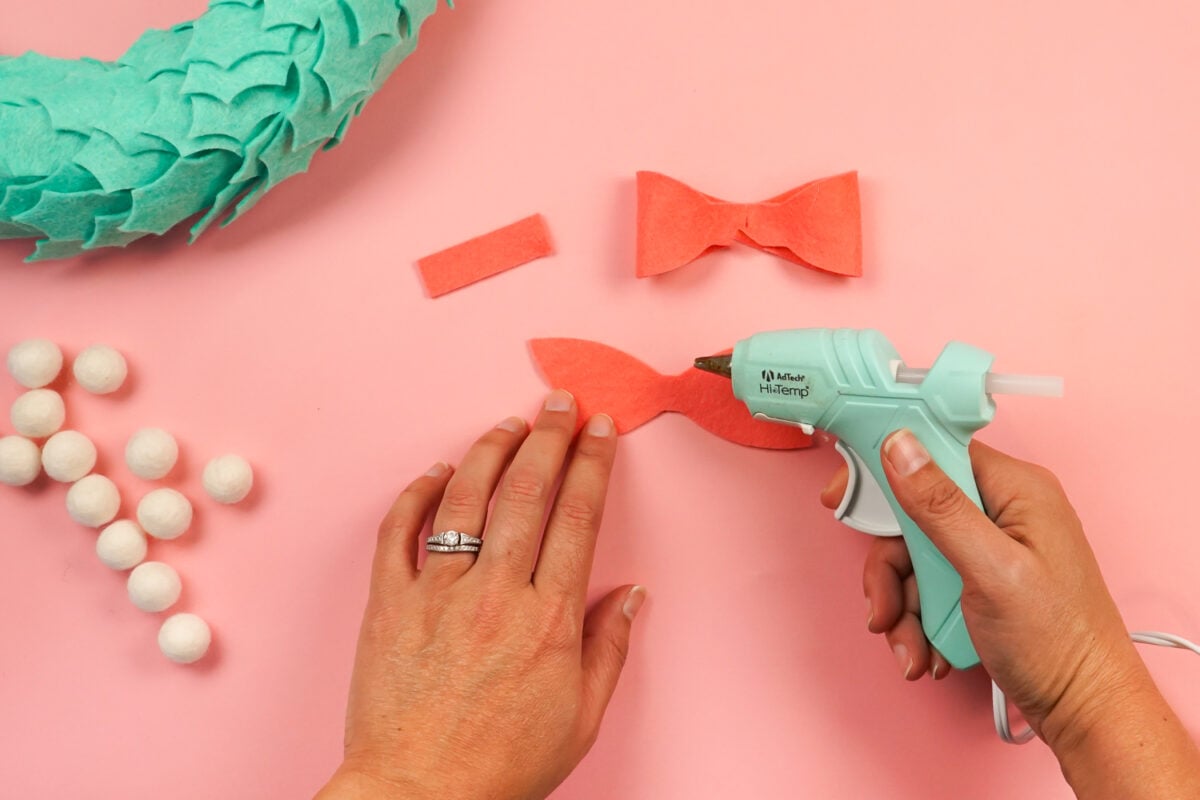 Flip the bow piece over and adhere to the tail piece.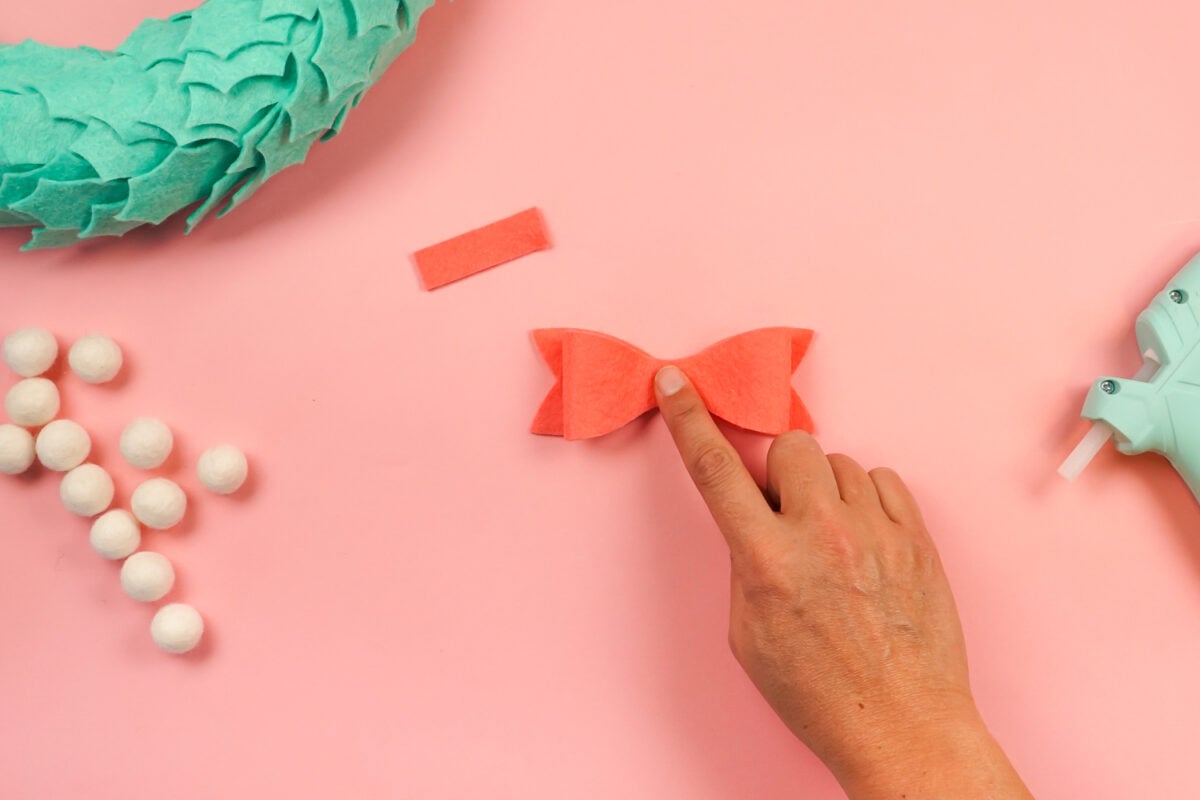 Wrap the final small piece around the bow and secure in the back with hot glue.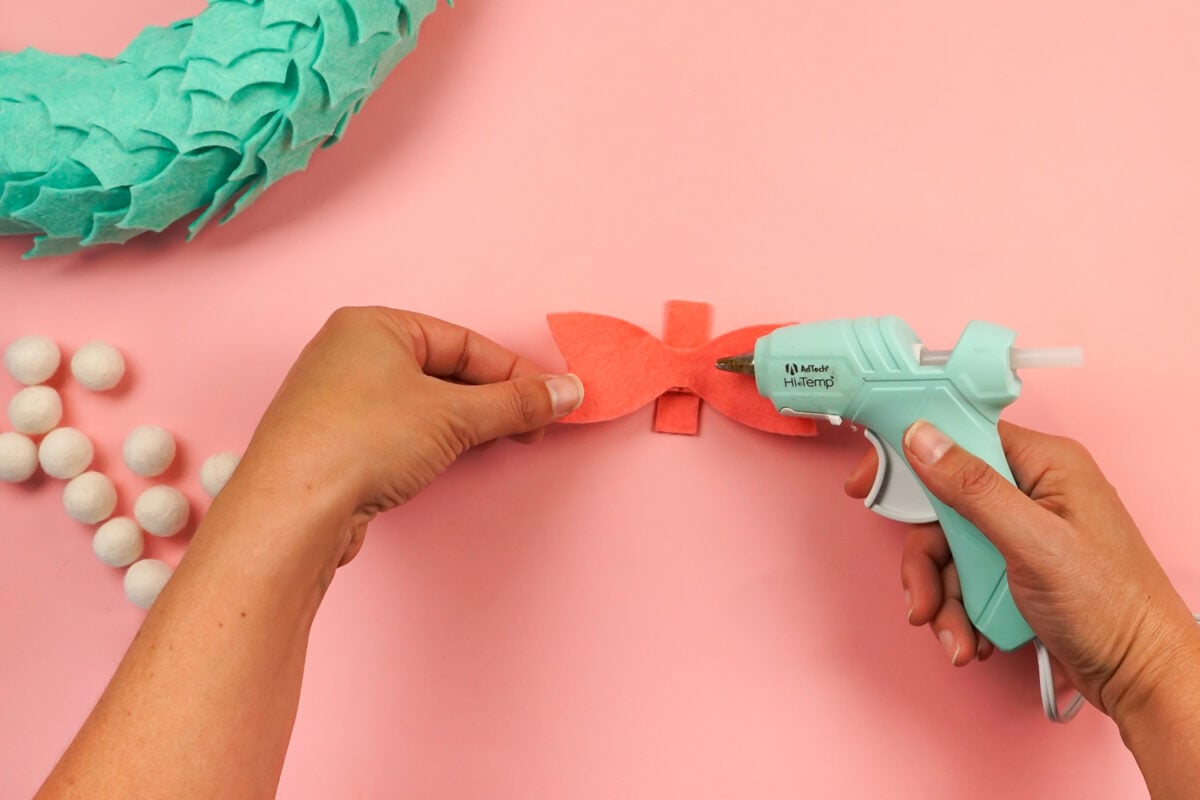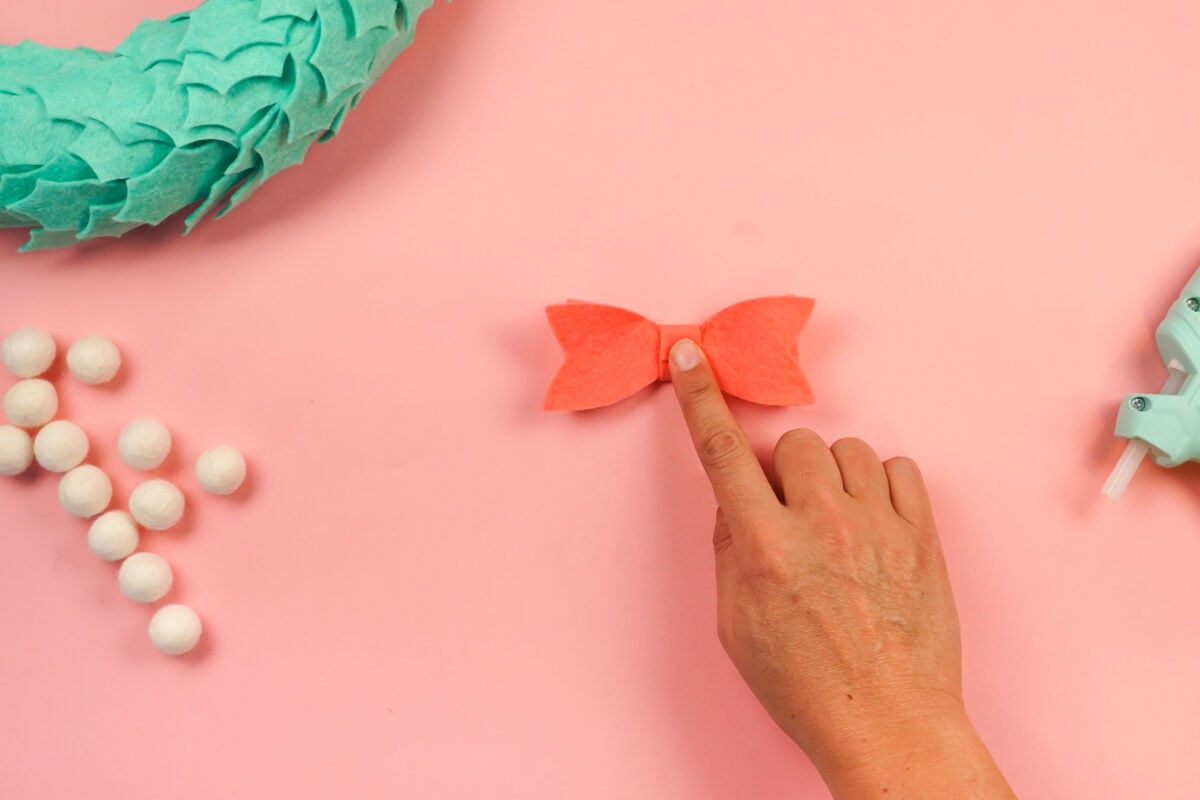 Then add your bow and your baubles (in my case white felt balls) to your wreath using hot glue.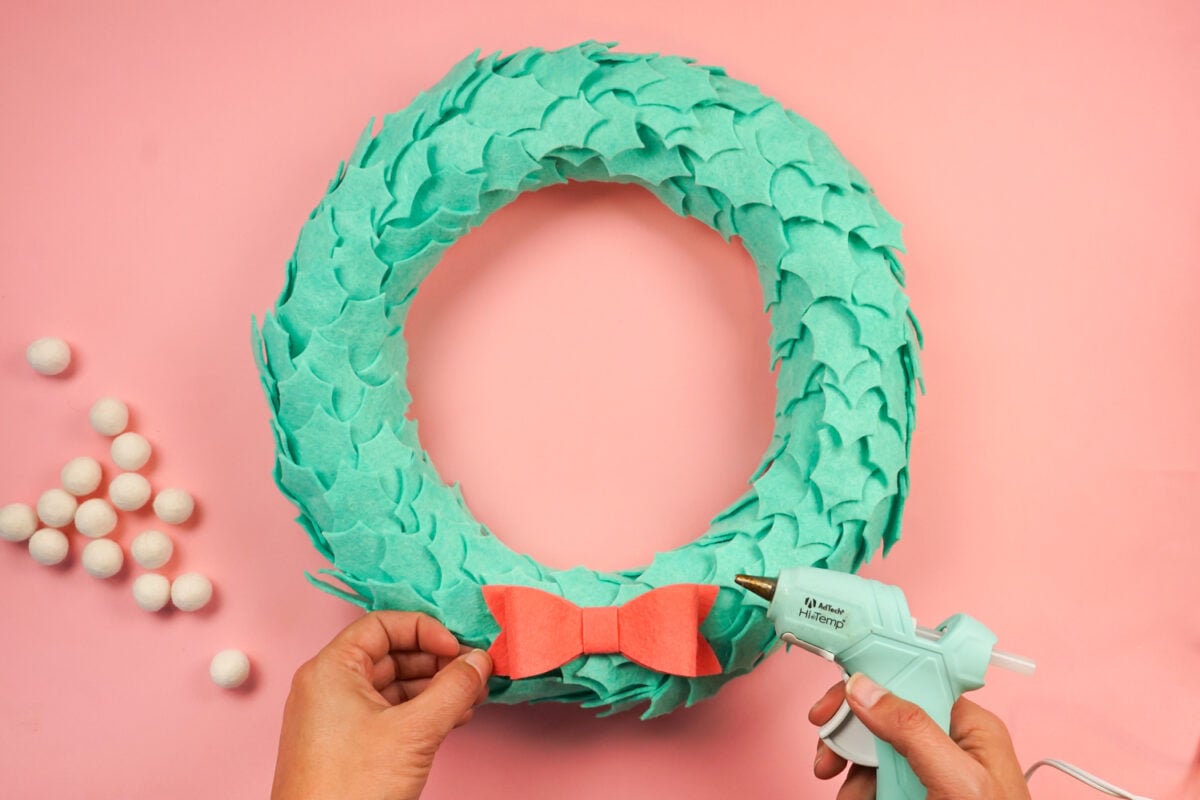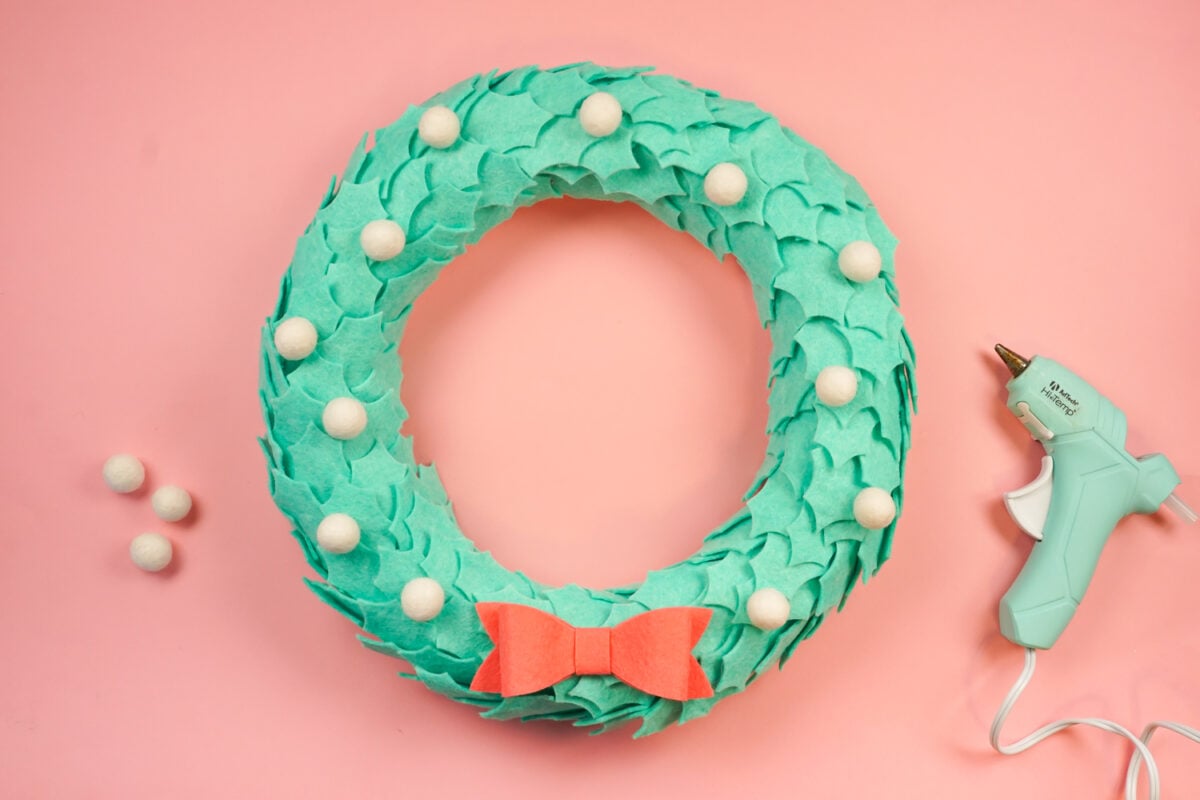 You can add a ribbon for hanging if you prefer. I hang mine on a nail, pressing it into the foam, instead of a ribbon—it's up to you!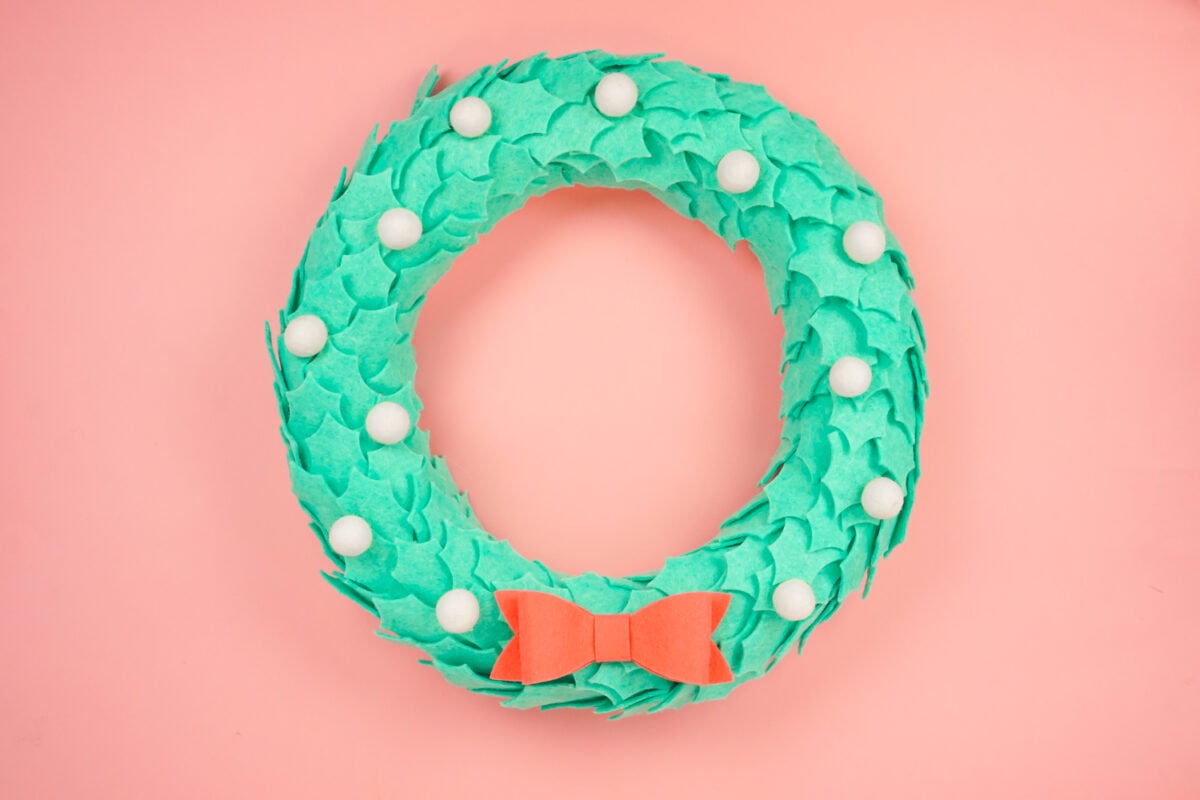 If you have any questions or need help troubleshooting cutting your felt, leave me a comment!