It's time to get crafty with your laser cutter for Valentine's Day! Here are projects I've made using my xTool laser and blade cutter, as well as a bunch of other files I've rounded up that will work with your machine!
Valentine's Day is one of my favorite holidays to craft for. I think it's because it's so bright and happy in the middle of the long gray winter. We all need a little hope and love in these dark months!
Today I'm sharing some Valentine's Day projects I've made with my xTool M1 laser and blade cutter. You can read my full Beginner's Guide to the xTool M1 Hybrid Laser / Blade Cutter to learn more! I've also shared some projects from some of my blogging besties, as well as some great cut files from different online marketplaces.
If you also have an xTool M1, don't forget to take advantage of the blade cutting as well! You could make projects like my DIY Valentine's Day Pajamas, these paper heart candy cards, or a Not Today Cupid shirt if you're feeling a bit snarky if you're not feeling the love.
You could also make any of the below laser projects using a Co2 laser or a different diode laser. Just make sure you're testing your materials before cutting and engraving to make sure your settings are correct for your machine and material!
Laser crafts are great for gift ideas, cards, kids' valentines, decor, frames, and more! This is just a small sampling of the unending number of projects you can make with an xTool laser and blade cutter.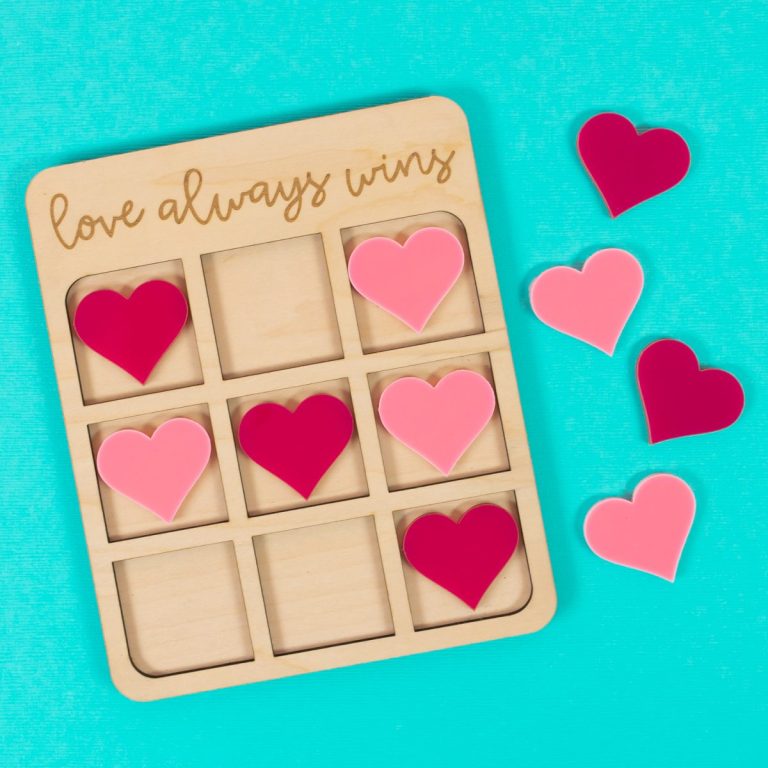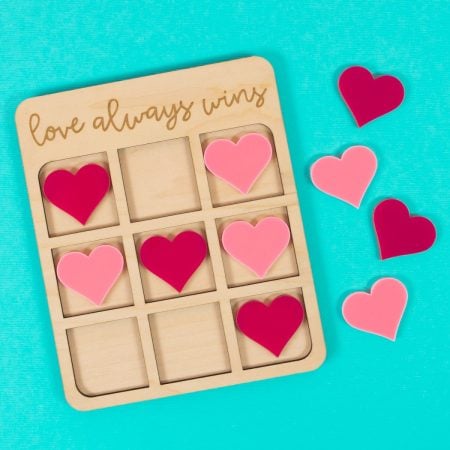 This cute laser-cut Valentine's Day tic tac toe game proves that love always wins! Cut both the wood frame and acrylic pieces using your laser cutter.
See the full tutorial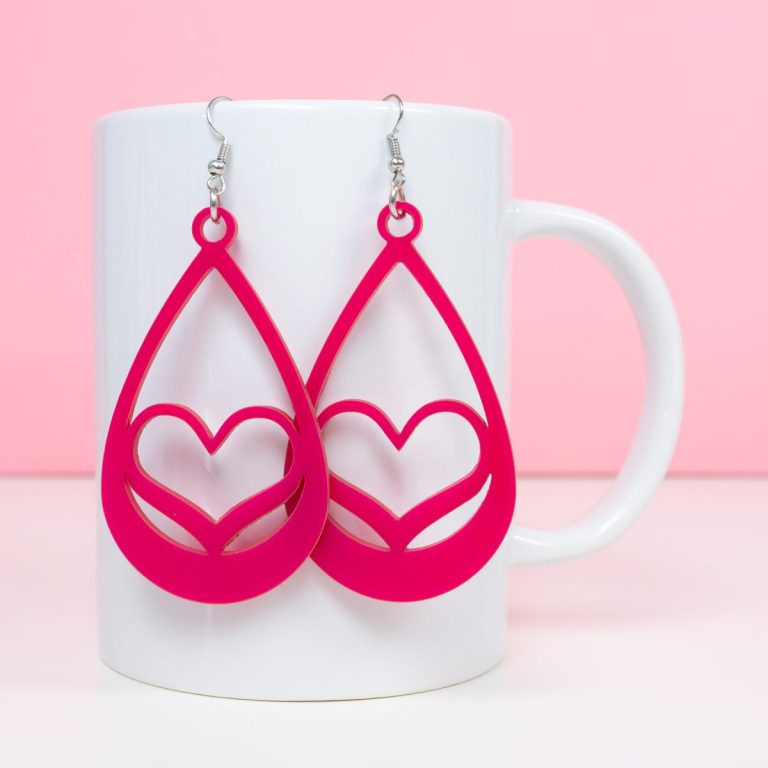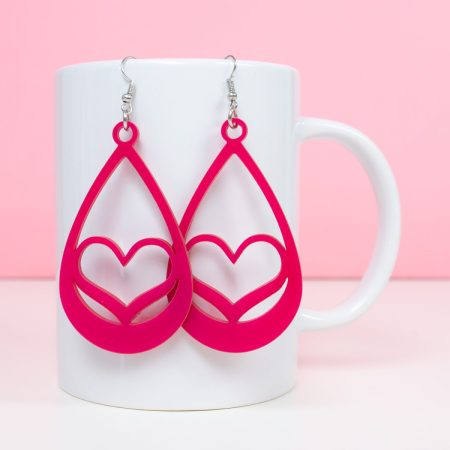 Make these cute heart earrings using your xTool, Glowforge, or other laser cutter! Perfect for Valentine's Day, date night, or any other day when you're feeling the love!
See the Full Tutorial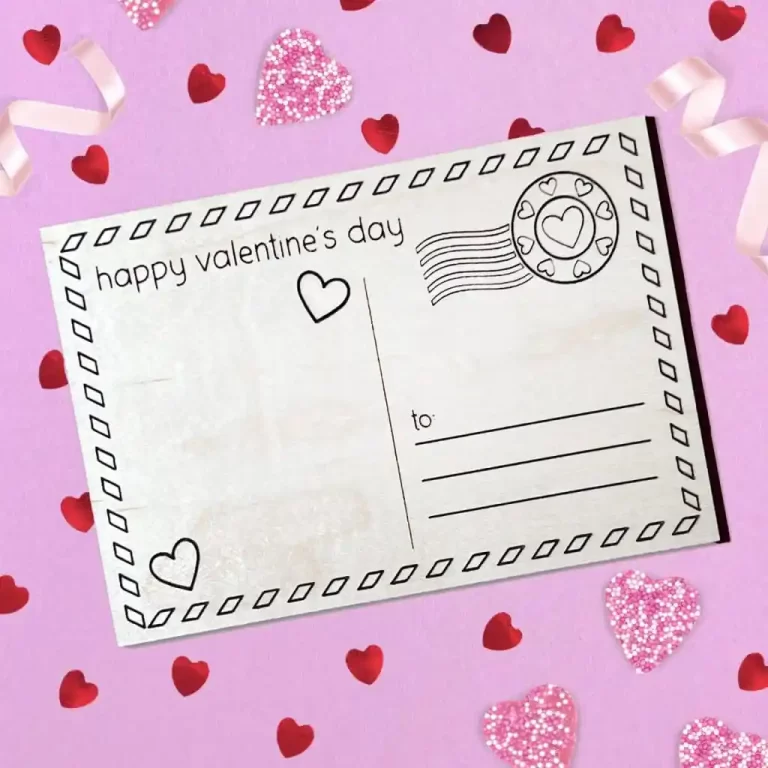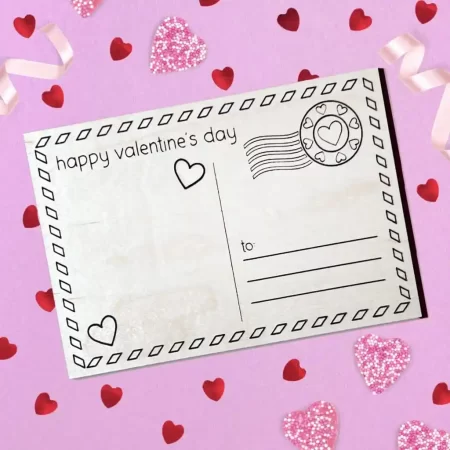 Add your own text to this super sweet Valentine's Day post card! You can also engrave and cut it out, and then write your message with a pen. Great for grandparents, teachers, and other loved ones.
SEE THE FULL TUTORIAL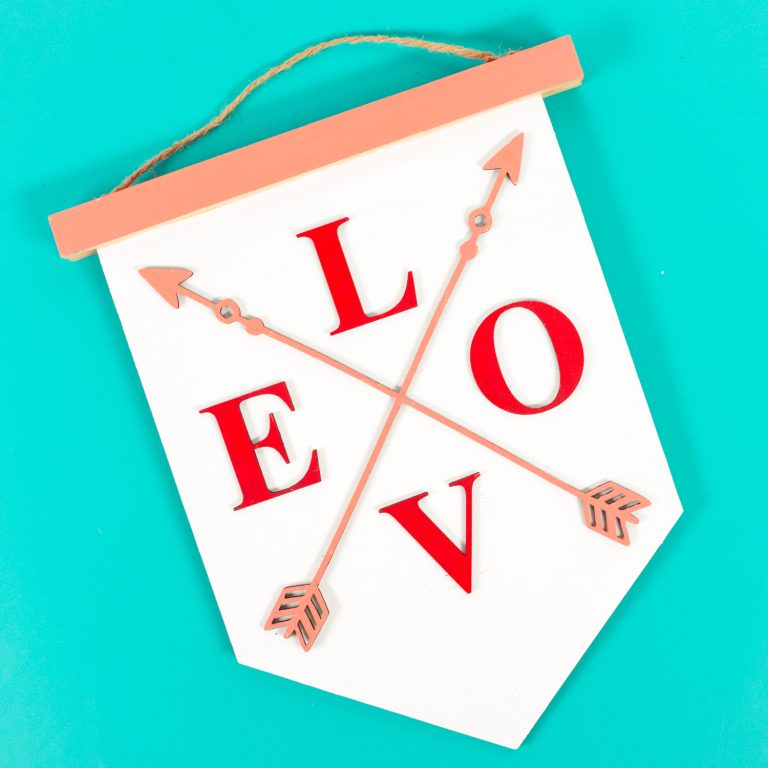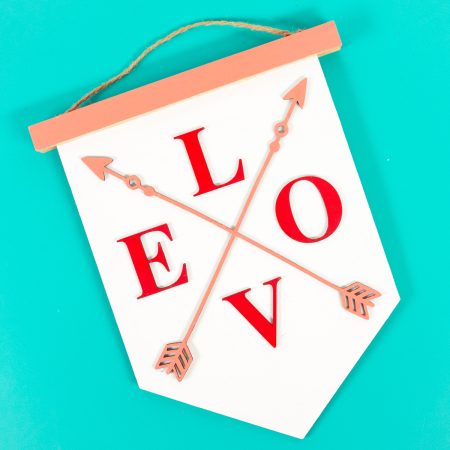 Use your laser cutter or blade cutter to make this sweet LOVE artwork for Valentine's Day! Cut from wood, acrylic, vinyl, or iron on and adhere to a frame. A cute way to make your house ready for Cupid's favorite day!
See the full tutorial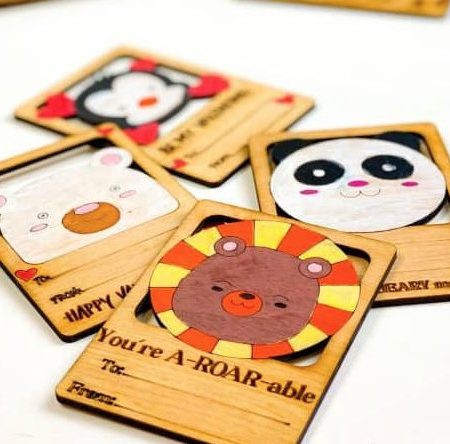 This is such a great project for kids—set them up with pens and let them color these fun valentines!
SEE THE FULL TUTORIAL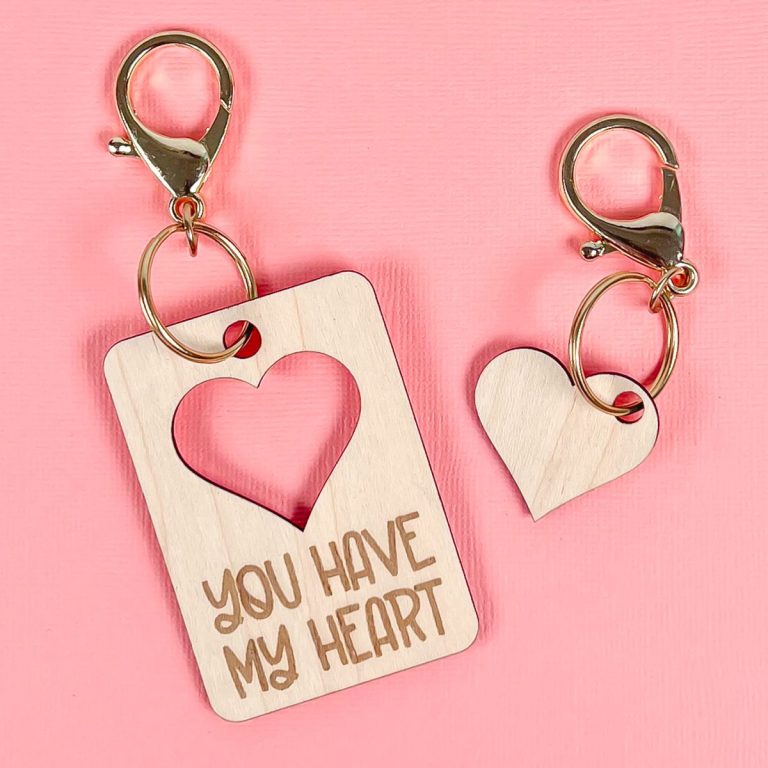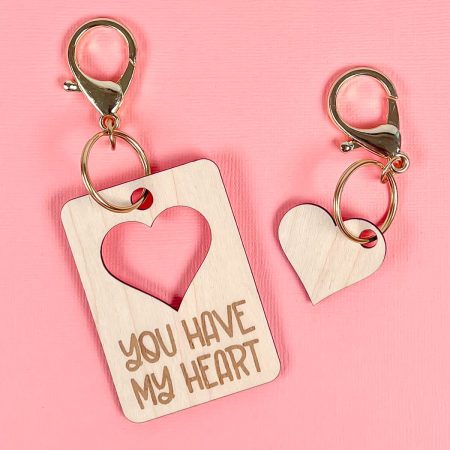 This sweet keychain is perfect for couples. You can even add a name to the heart! Also a sweet mother/child gift for Valentine's Day.
GET THE FILE IN MY SHOP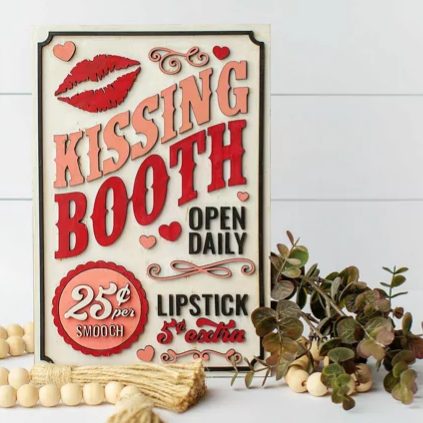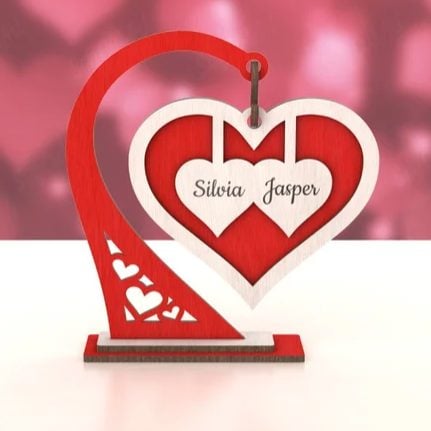 Add your two names to make this sweet little hanging heart stand! A great gift idea for her.
GET THE FILE FROM ETSY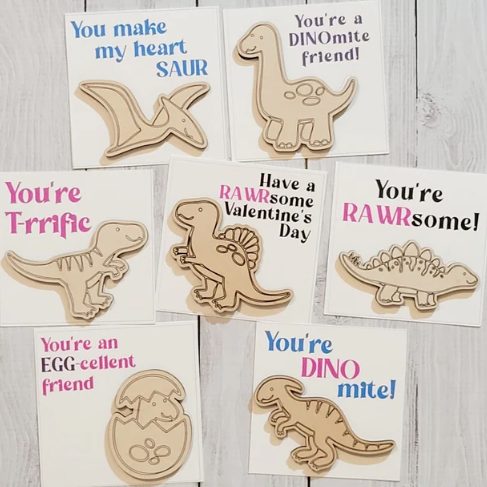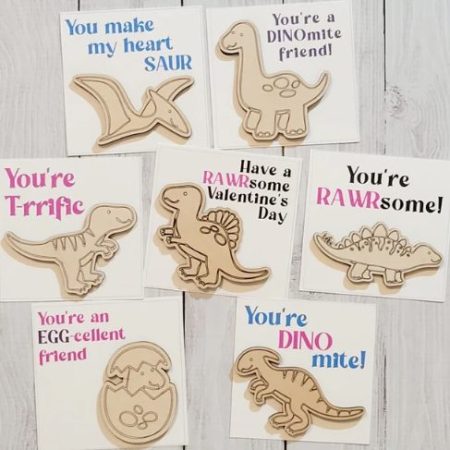 These "dino-mite" valentines are perfect for your child's classroom exchange! These pocket pals are sure to delight any kiddo.
GET THE FILE FROM ETSY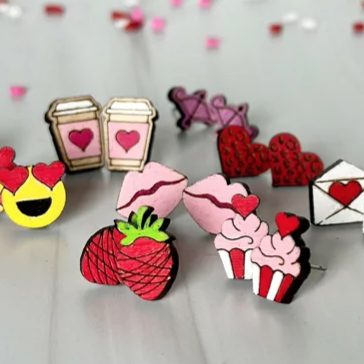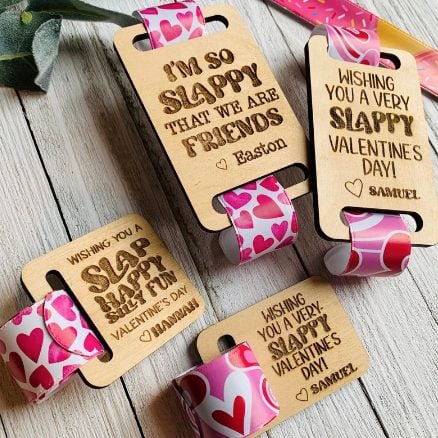 Slap bracelets are back in a big way—make these punny valentines to go along with them!
GET THE FILE ON ETSY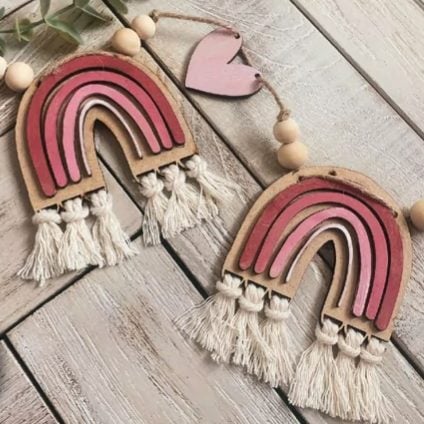 Combine your laser cutter with some easy macrame to make these sweet rainbow earrings! Use shades of pink for Valentine's Day or a larger rainbow for the rest of the year.
GET THE FILE FROM DESIGN BUNDLES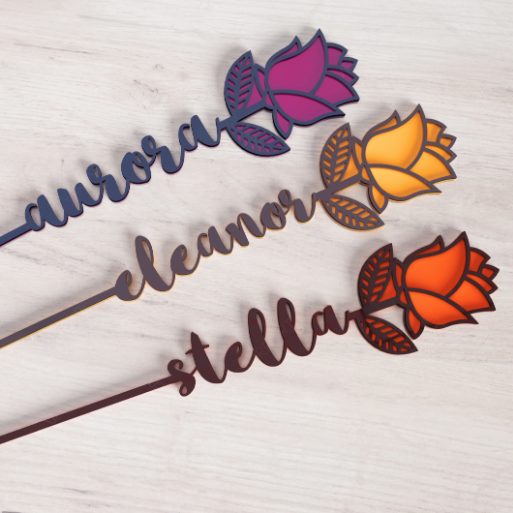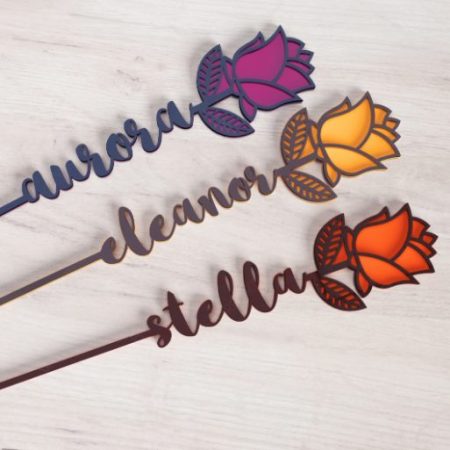 This editable SVG file allows you to swap out the name of the recipient easily! Then cut and layer for the perfect Valentine's Day gift.
GET THE FILE FROM VECTOR PORT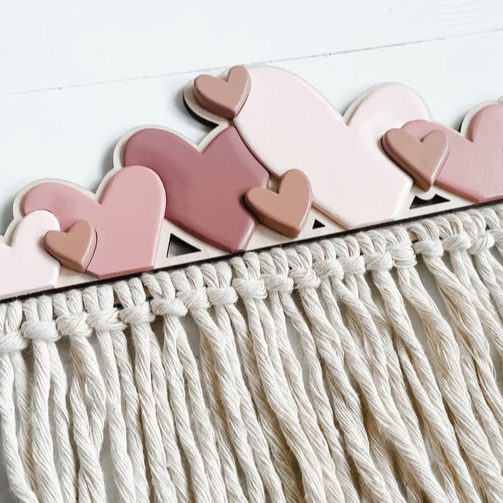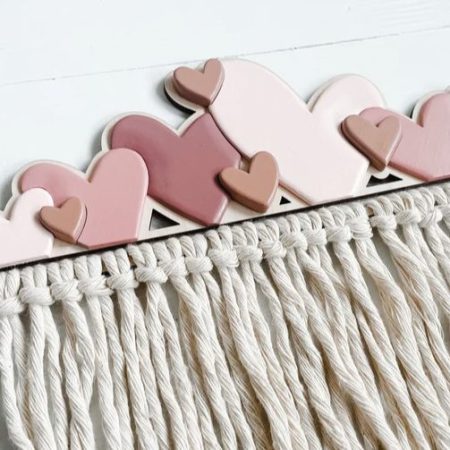 This cute set of hearts is designed for yarn art below! Whether you macrame or just do some simple ribbons, it's a great decoration for the holiday.
GET THE FILE FROM ETSY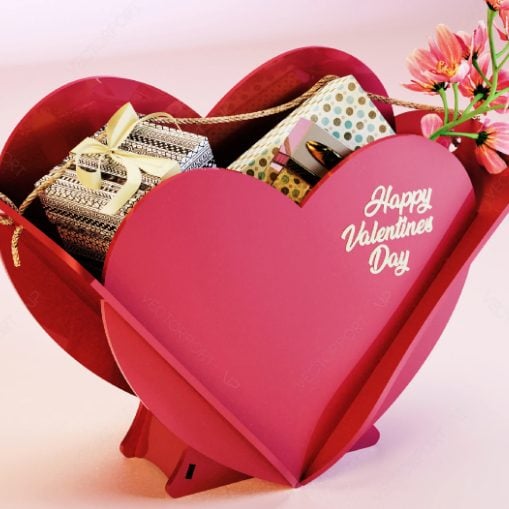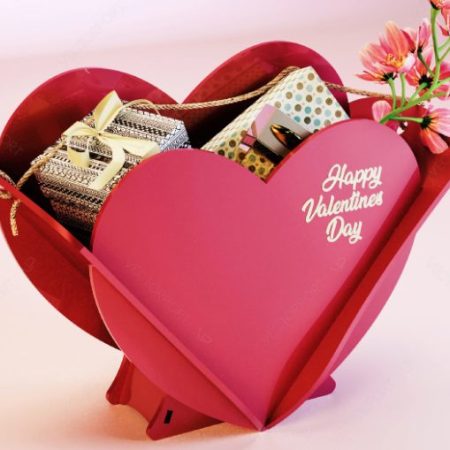 Feeling inspired by these projects? I hope you break out your laser and make something for someone you love this Valentine's Day season!