Make these cute heart earrings using your xTool, Glowforge, or other laser cutter! These acrylic earrings are super easy to make. Just cut, add earring findings, and wear. Perfect for Valentine's Day, date night, or any other day when you're feeling the love!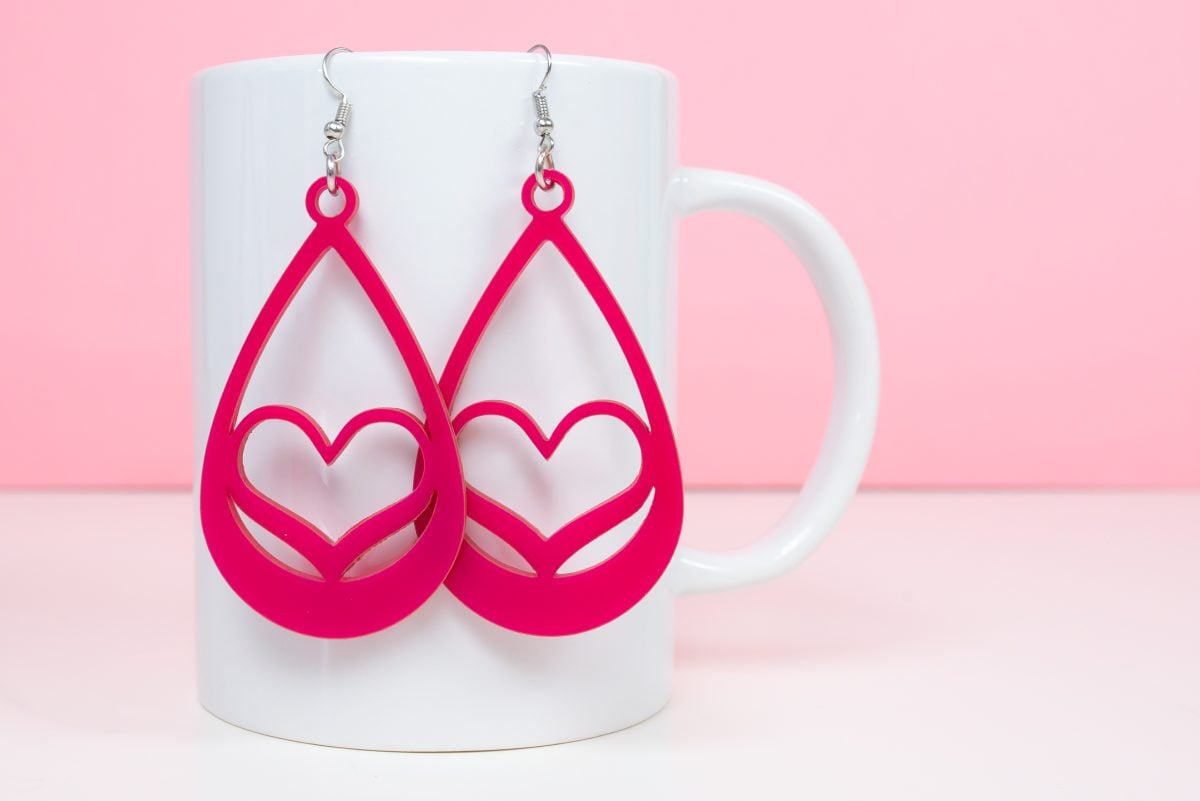 Want to save this post to reference in the future? Enter your email below and we'll send it right to your inbox!
If you're new to the laser cutting world, acrylic earrings are a great place to start. Earrings don't require a ton of material and they are faster to cut than many other projects and don't require a lot of assembly. Which means if you mess up, you're not out a lot of time or money. Everyone, not just beginners, loves that!
Today I'm sharing a pair of heart earrings that may look familiar if you've been around here a while. I also have a pair of Valentine's Day earrings cut in suede, using a blade cutting machine. This is the same file, but I've added a set of circles at the top so you can use a jump ring to connect the earring findings vs. piercing a hole through the suede. You can download this SVG file for free below.
I used my xTool 10W M1 for these earrings (check out my full review of the xTool M1 here). Cutting acrylic with a diode laser like the M1 can be a bit tricky. There are some colors that it flat out won't cut, like blue and clear (though I have seen some hacks—stay tuned for a testing tutorial soon!). But pinks and reds are generally possible to cut if you play around with the settings.
For this project, I ended up with the following settings for my dark pink acrylic in xTool Creative Space:
Power: 100
Speed: 3
Pass: 4
Because you are doing so more than one pass, you want to be extra careful not to bump or jostle the machine or table while it's cutting.
If you are cutting with a CO2 laser, you shouldn't have any problem and should be able to cut these earrings in a single pass.
Laser-Cut Heart Earrings Supplies
Note about earring findings: a lot of earring finding kits come with jump rings, but I have found that they are usually too small to fit around the depth of the cut acrylic. So you may need to buy larger jump rings separately.
Laser-Cut Get the Free Heart Earring File
Enter your email address below to get this free file! If you're having trouble, make sure your pop-up blocker is turned off. Still having problems? Check out our Downloads FAQ.
Heart Earrings Tutorial
These instructions are for the xTool M1 laser and xTool Creative Space, but again you can use whatever software and laser you have.
Start by uploading your laser-cut heart earrings file to the cutting software. Then change your settings to cut acrylic. For the xTool M1, I chose User Sets Parameters and then choose 100/3/4 as my power/speed/pass. Remember to do a test cut before you cut your final project to make sure your settings will work. I find a 1″ circle works well as a test.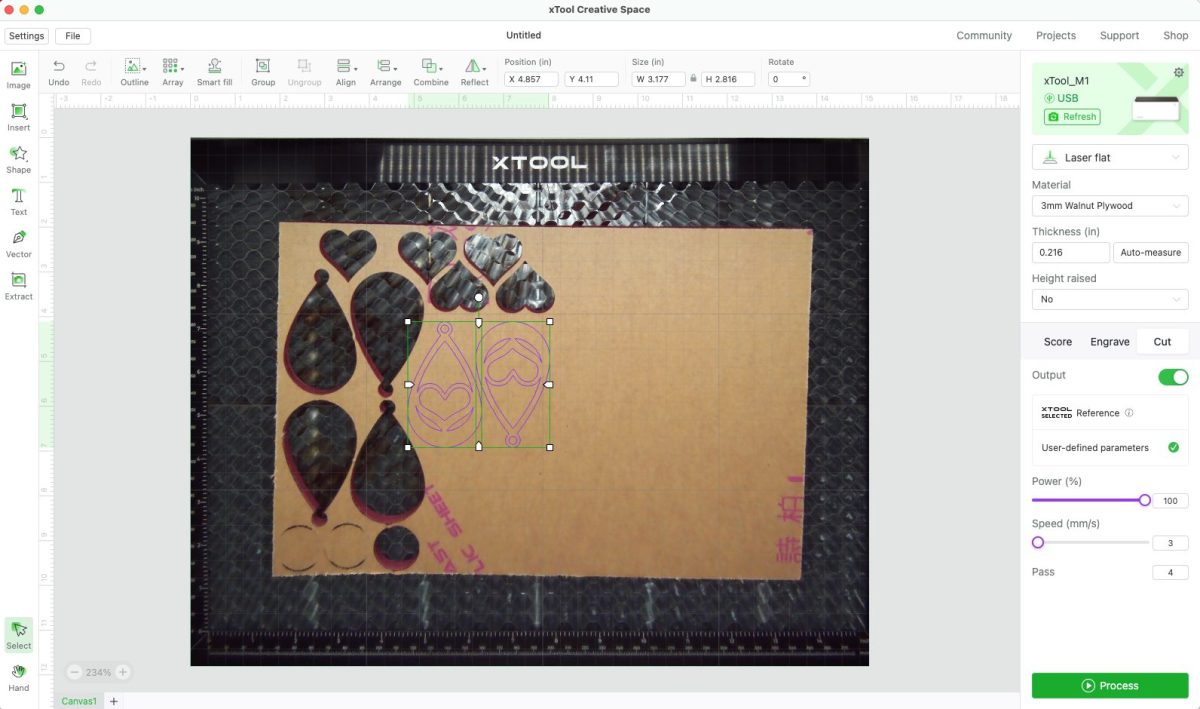 Adjust your settings if necessary until you get a clean cut. If it's not cutting all the way through, slow down your speed (preferred) or increase your passes. You may have to do both depending on your material.
Place your acrylic in the bed of your laser. For the xTool, I haven't found it necessary to mask my material, but this particular material comes pre-masked so I left it.
Cut your project using your laser cutter. Remember not to leave your laser unattended when it's cutting.
Remove any masking from your project. I love my plastic razor blade for this—so much better than trying to use my fingernails!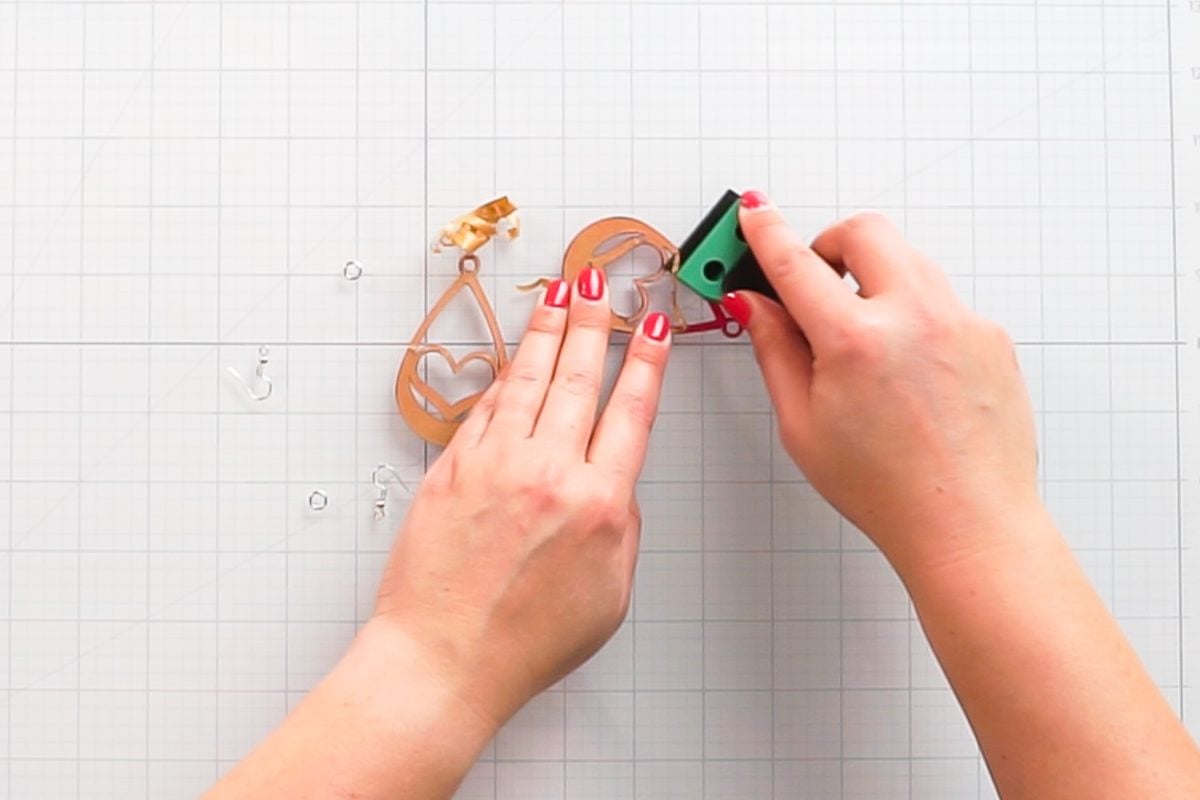 Then add your earring findings. I find it easiest to open the jump ring using two pairs of pliers, then sliding on the earring and the fishhook earring finding, and then closing the jump ring.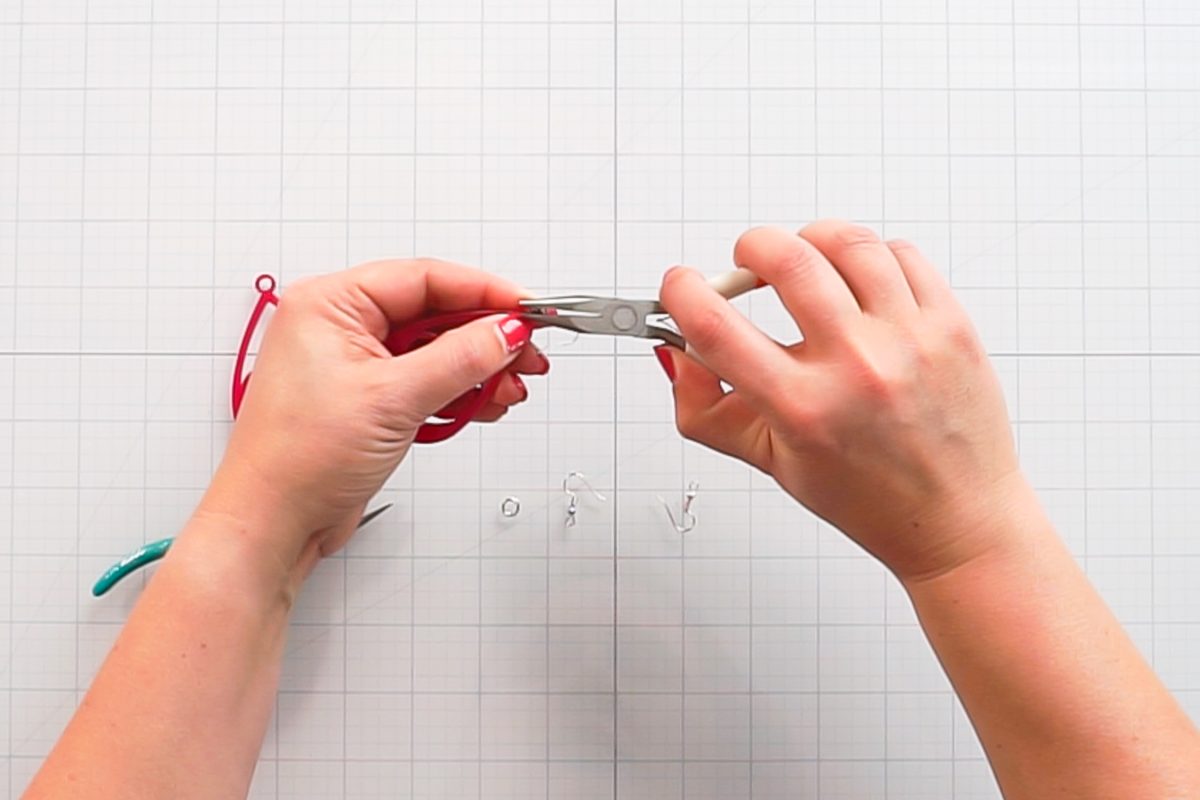 And that's it! You have the cutest laser-cut heart earrings. You could also cut these out of a different color of acrylic or wood! And if you're using an xTool M1, you could also cut them out of leather or suede with the blade.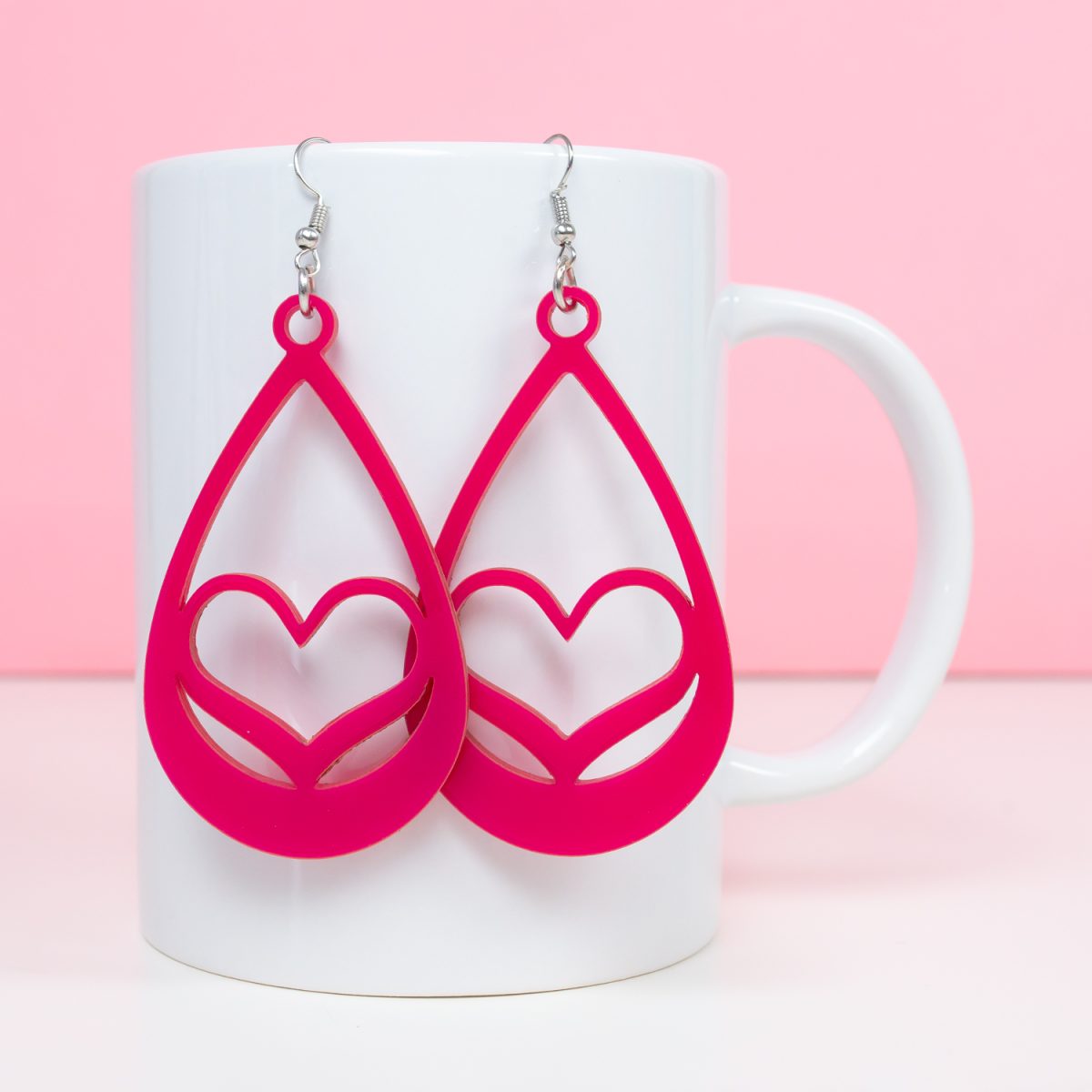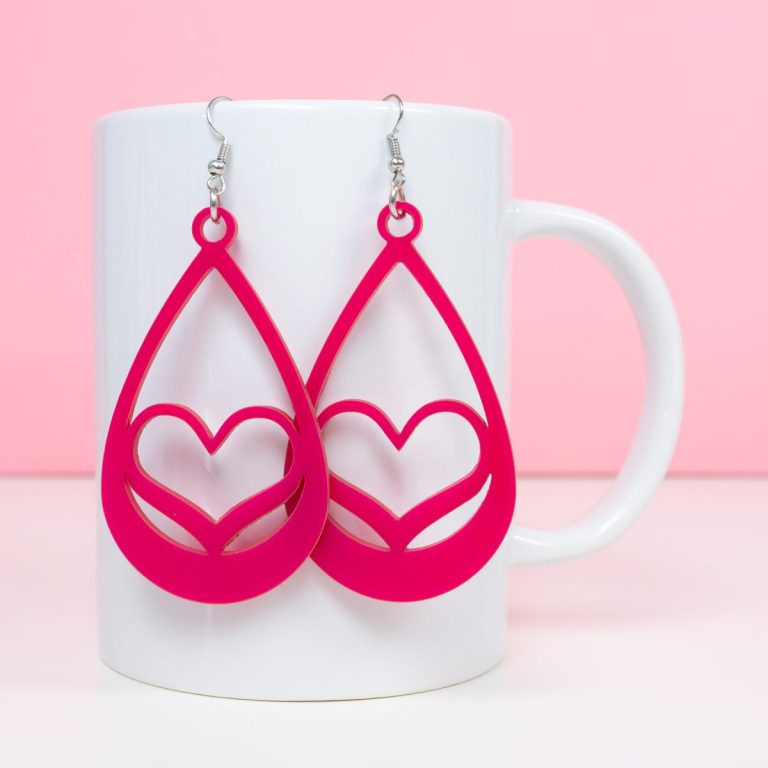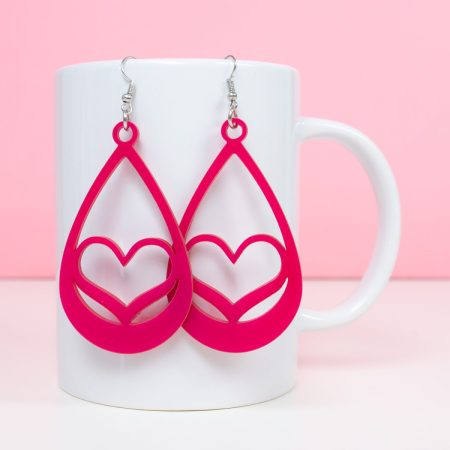 Make these cute heart earrings using your xTool, Glowforge, or other laser cutter! Perfect for Valentine's Day, date night, or any other day when you're feeling the love!
Equipment
Laser Cutter xTool, Glowforge, or other

Plastic Razor Blade optional

2 Pairs of Flat-Nosed Pliers
Supplies
Dark Pink Acrylic

see notes for cutting acrylic

2

Medium Jump Rings

2

Fishhook Earring Findings
Instructions
Upload the earring SVG file to your software and change settings as needed.

Cut your earrings using your laser cutter.

Add the jump rings and earring findings.
Notes
Cutting acrylic can be difficult with lower-powered diode lasers, like the xTool laser. You will want to do cut some test circles to make sure your laser can cut your particular acrylic before you begin this project.
Did you create this?
Share it with me on Instagram and make sure to follow me on Pinterest for more stuff!