This year has been all about Glam Halloween! My Halloween mantel is a sophisticated mix of black, white, and gold spider-inspired decor! Also get individual tutorials for all the projects seen here.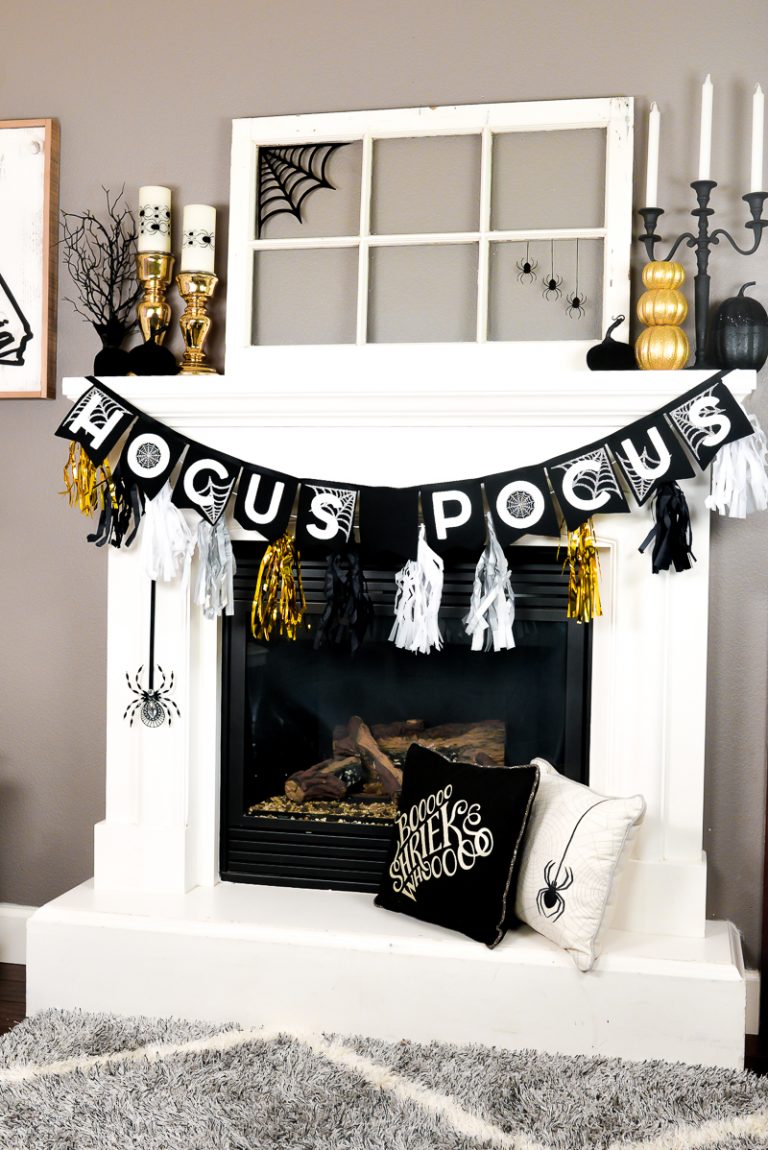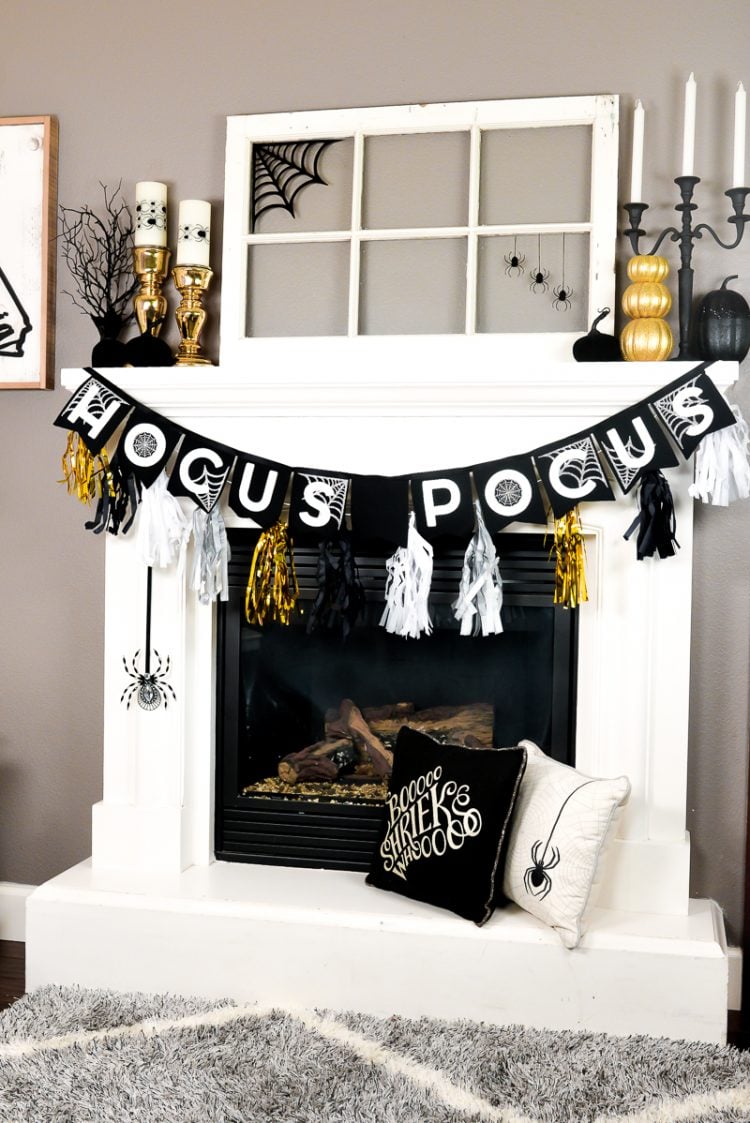 A big thank you to Oriental Trading Company for providing many of the decor pieces you see in this post! This post may contain affiliate links.
This year, I've had so much fun designing projects for my Halloween mantel. I went with a glam / spider theme, and I'm absolutely thrilled with how it's all turned out. It's the perfect mix of spooky and sophisticated!
The mantel ledge is grounded with a large antique window, which I've bedecked with Spider Web window clings. These are a super easy project to cut on your Cricut or other cutting machine, and can be used on any glass surface.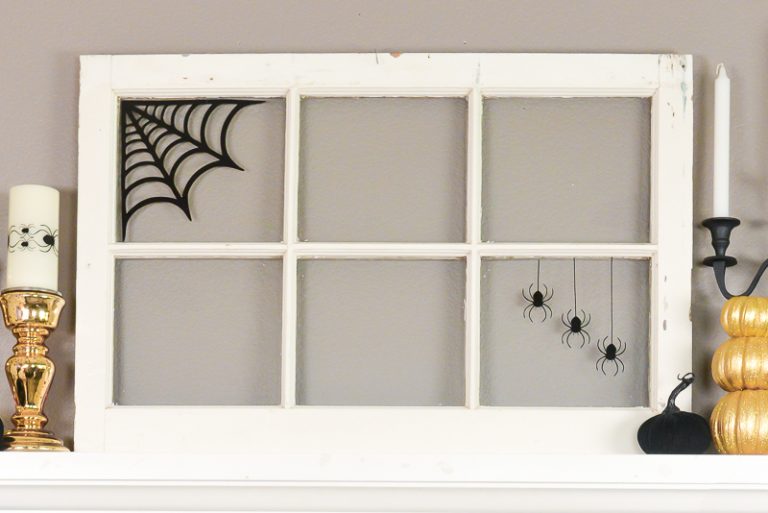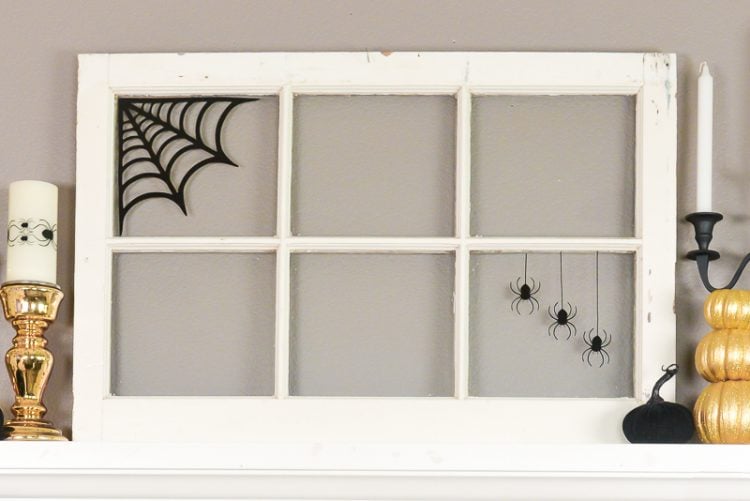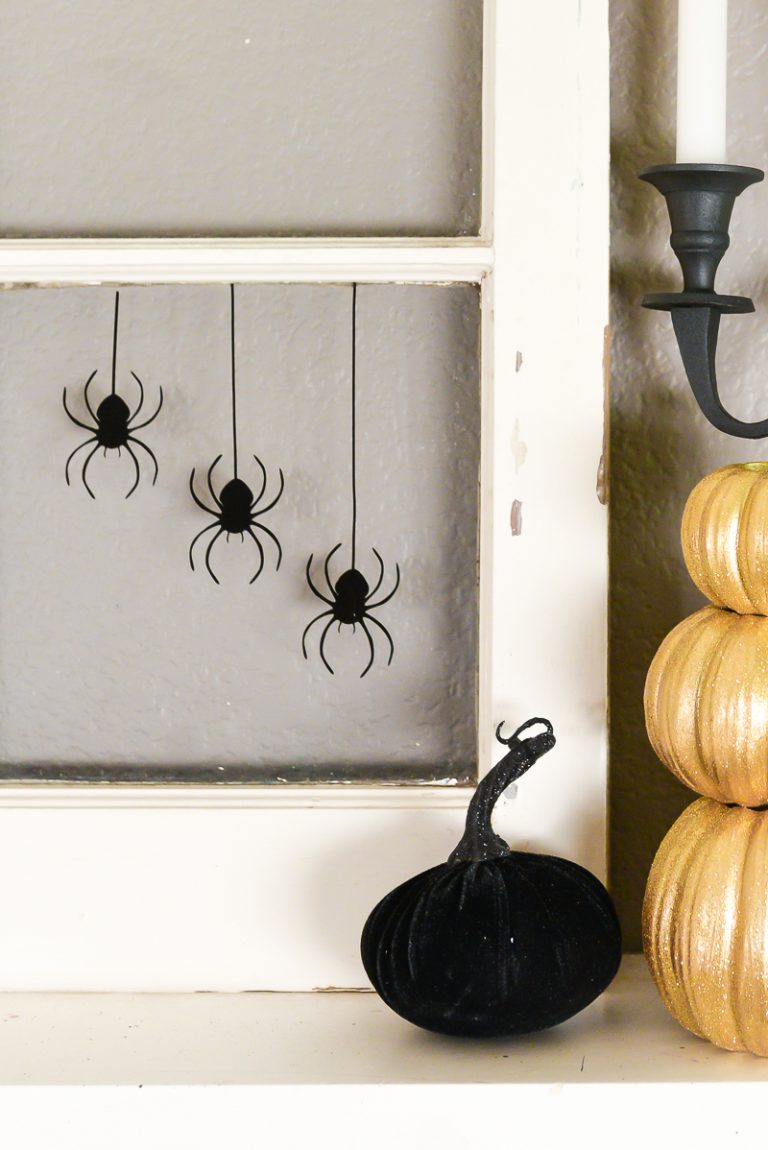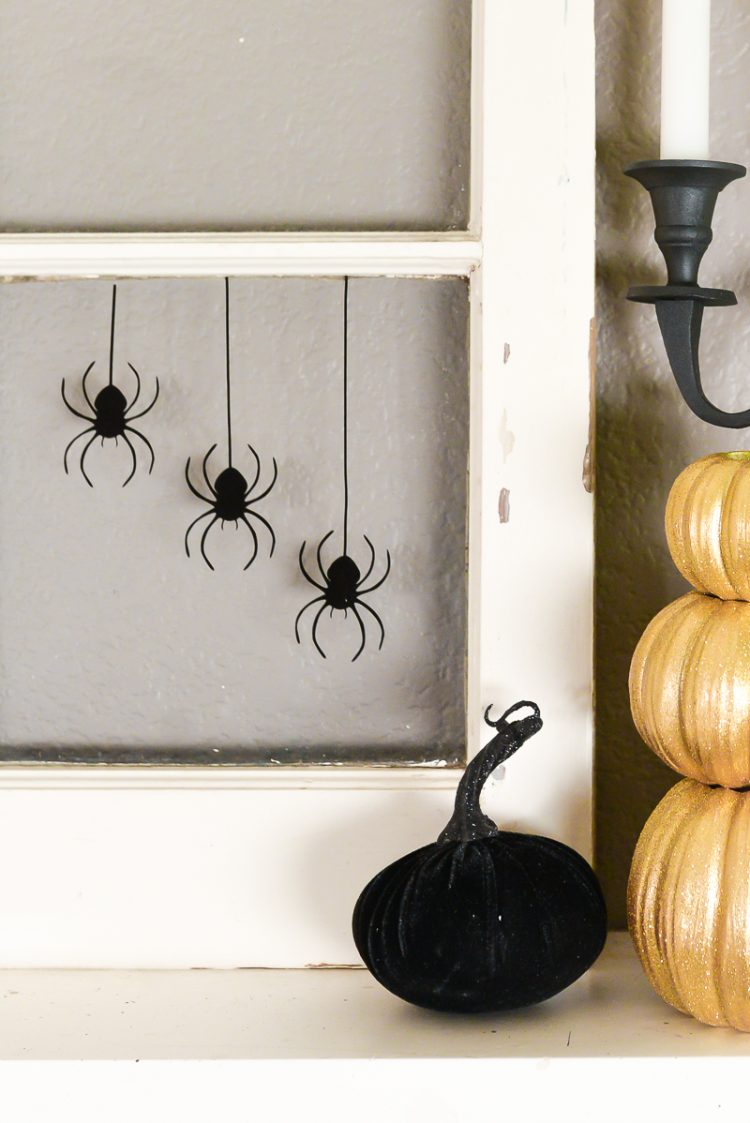 On either side of the window, I've placed several faux pumpkins, including these gorgeous gold pumpkin votive holders. I had them stacked in my craft room when I was staging everything — and liked it so much that I decided to use them stacked on the mantel. The heavy gold mercury candlesticks on the other side of the mantel help bring balance to the colors on the mantel.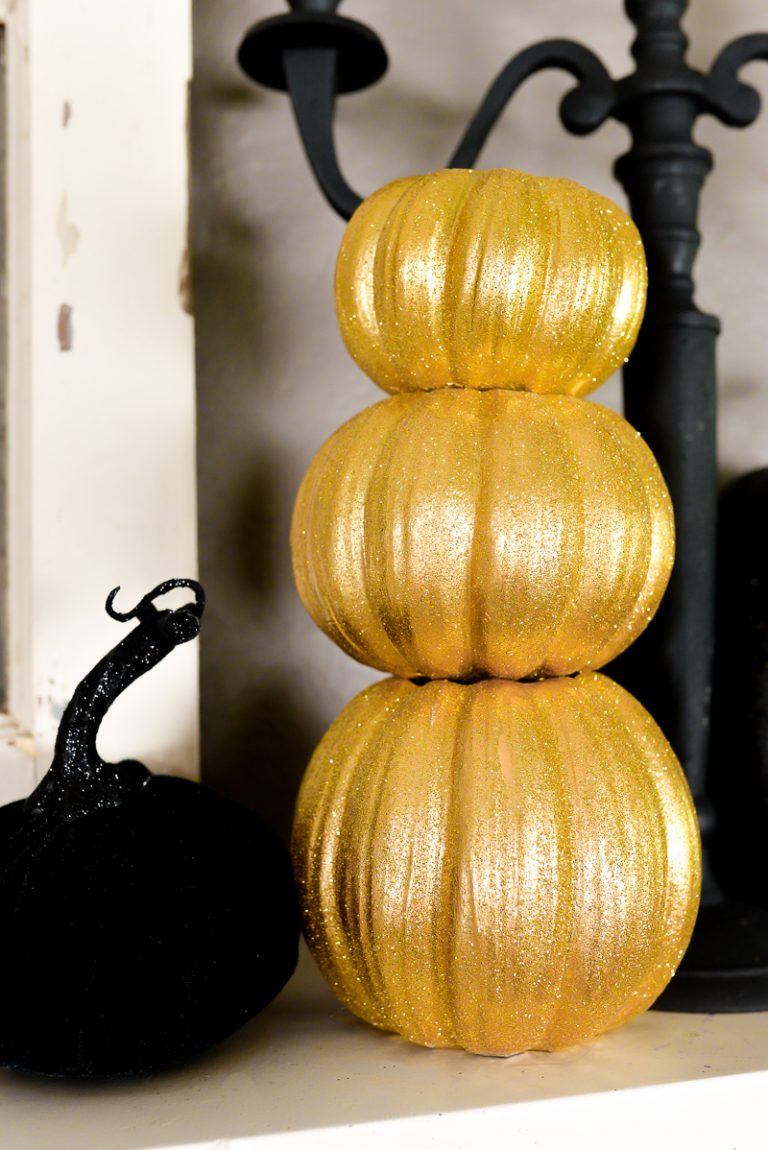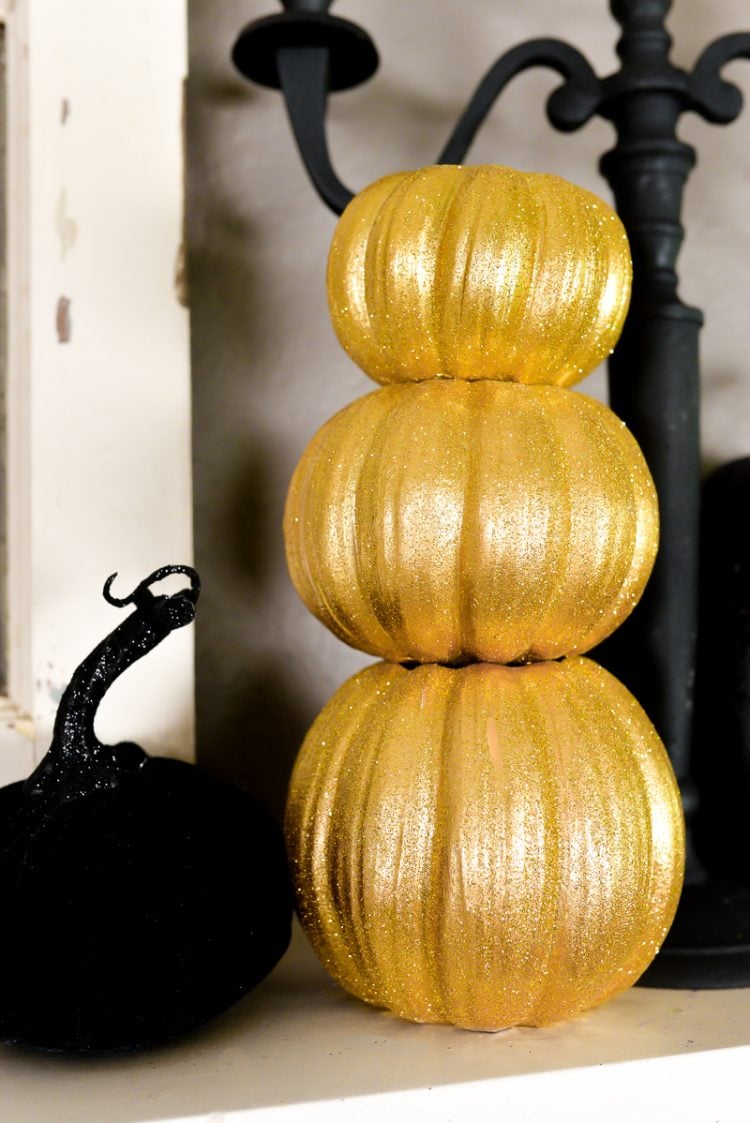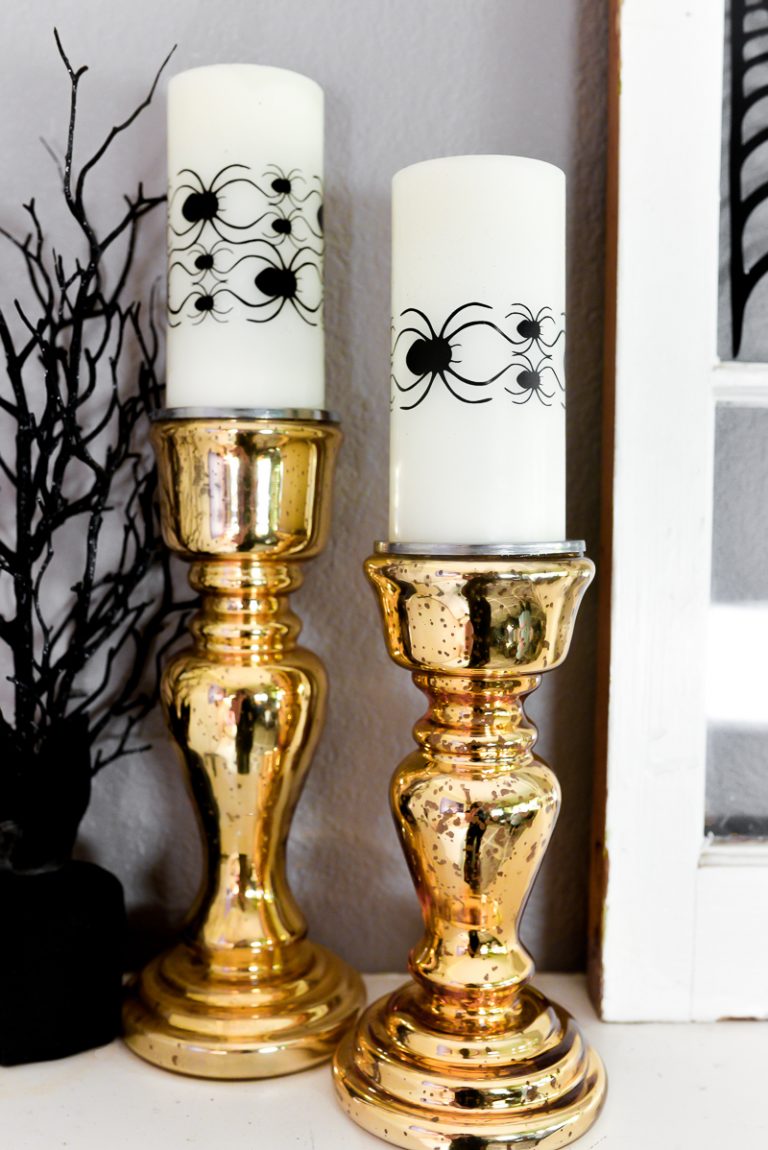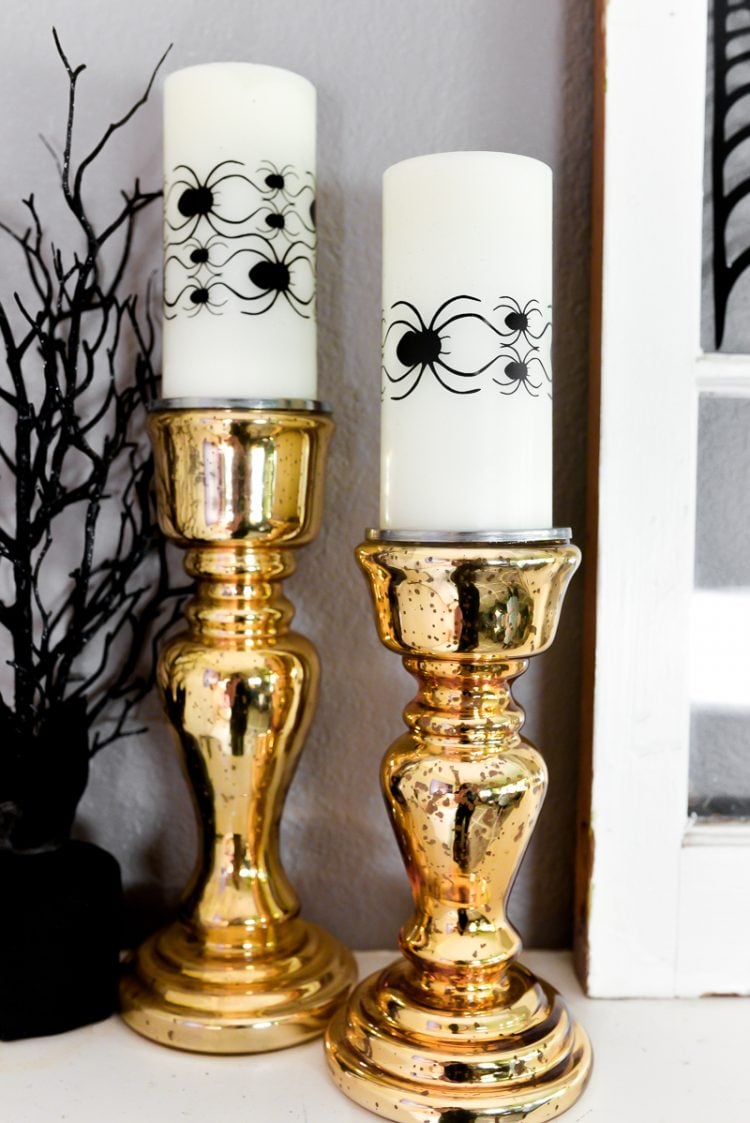 Speaking of those gold candle holders, how amazing are the candle wraps I designed? They are one of the most delicate things I've ever cut using my Cricut and I am thrilled with how they turned out. There's a tutorial coming this week — I'll come back and link it! I also used a creepy black tree and black iron candelabra from past Halloween decorating.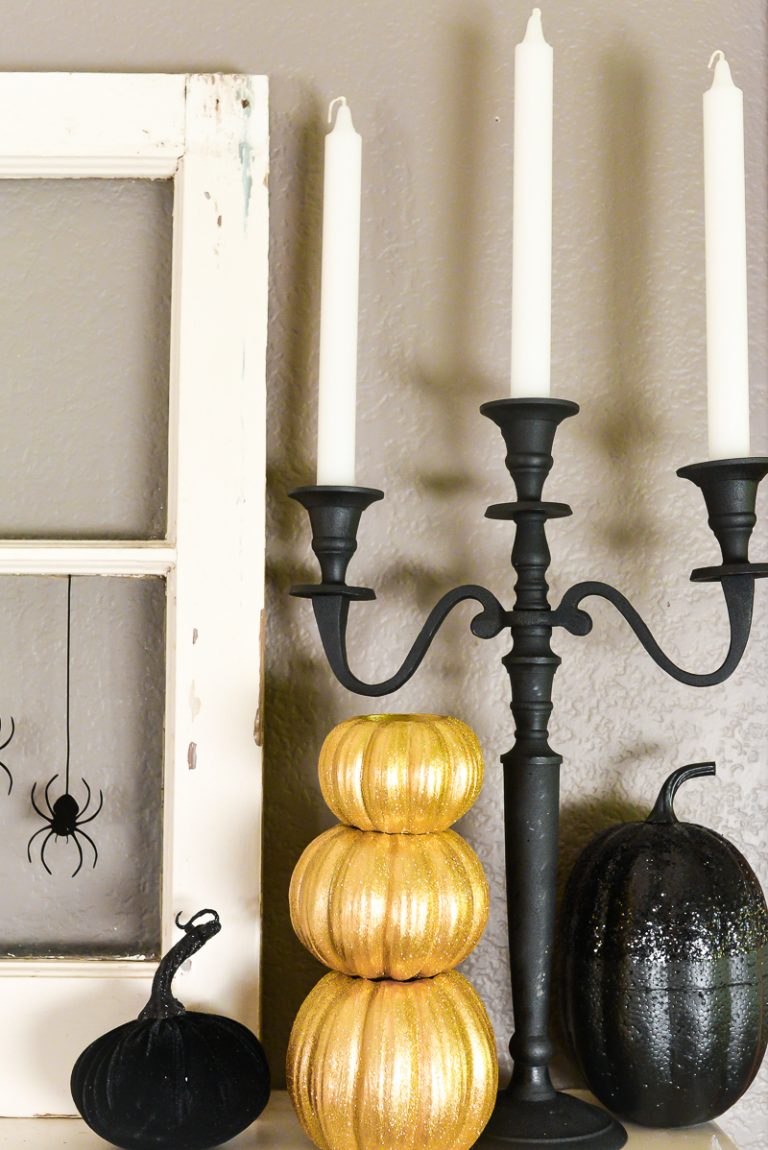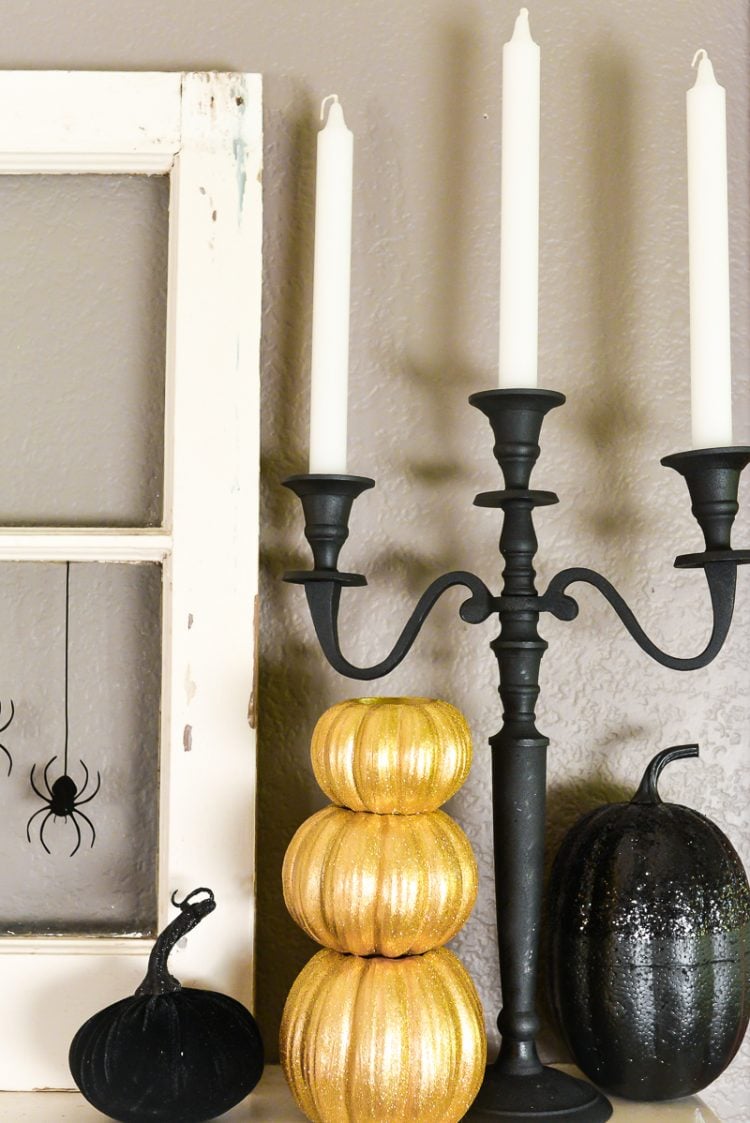 Across the mantel is strung my Hocus Pocus banner, which was such a treat to make. You can get the entire tutorial for it here. Behind it, I hung a tissue paper tassel garland, another fun find from Oriental Trading Company. I like that it adds a light weight and depth to the banner, and the gold highlights are perfect with the overall glam style.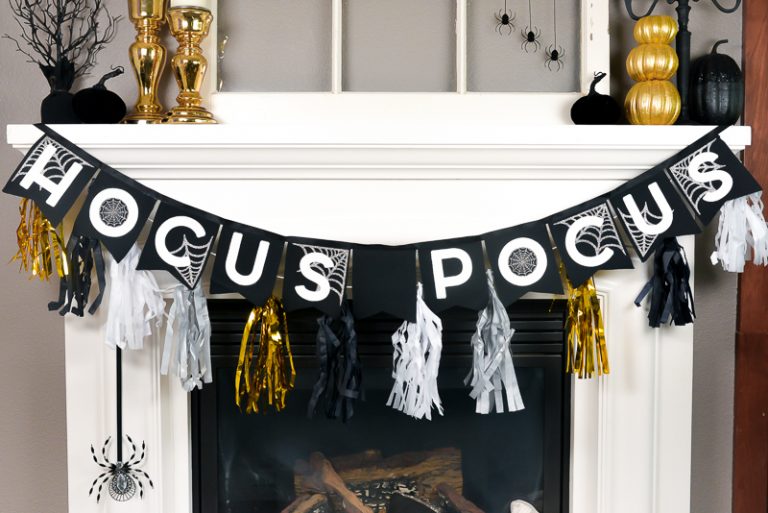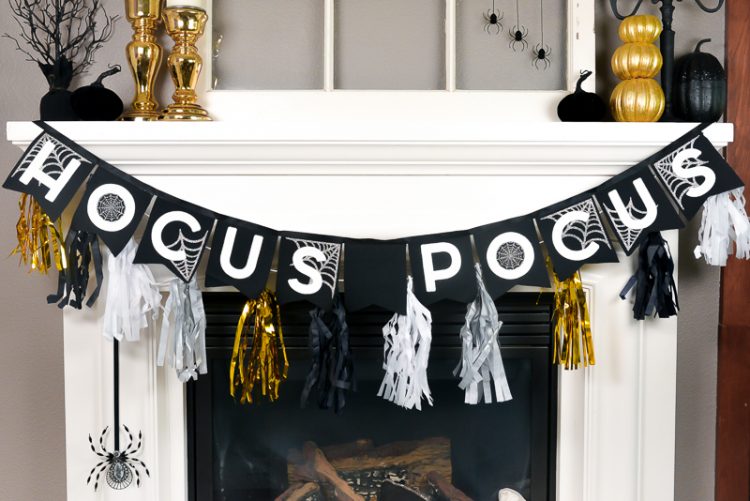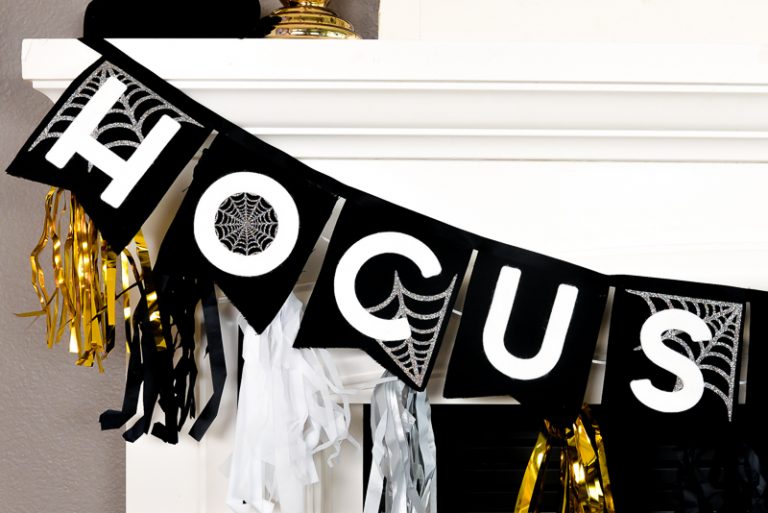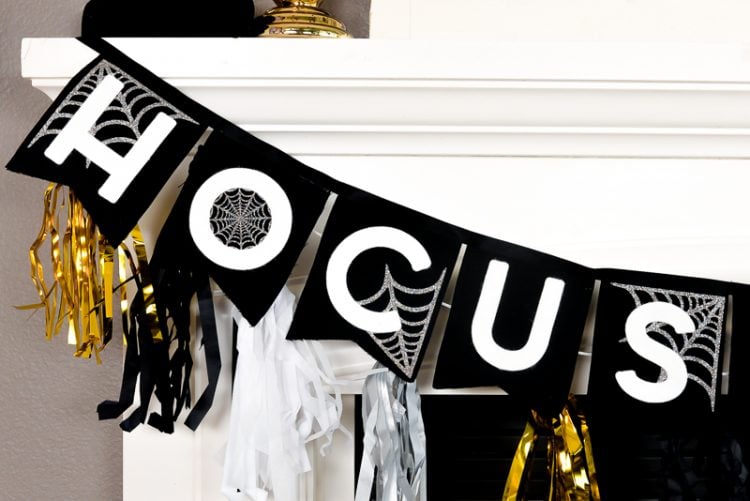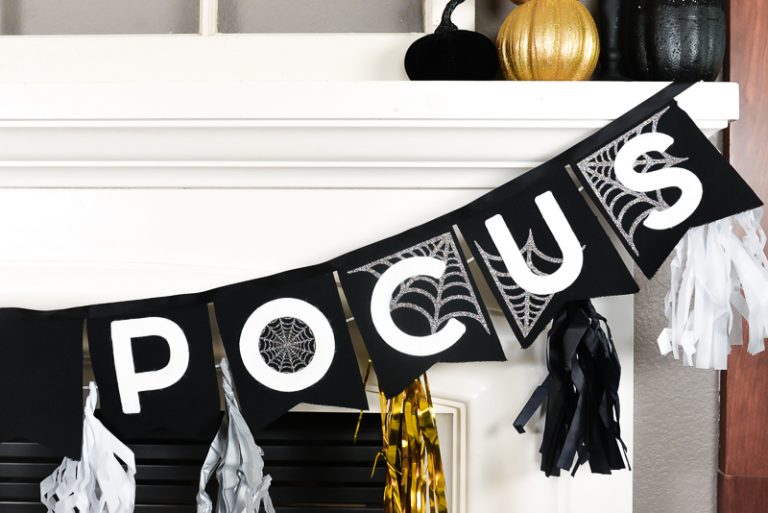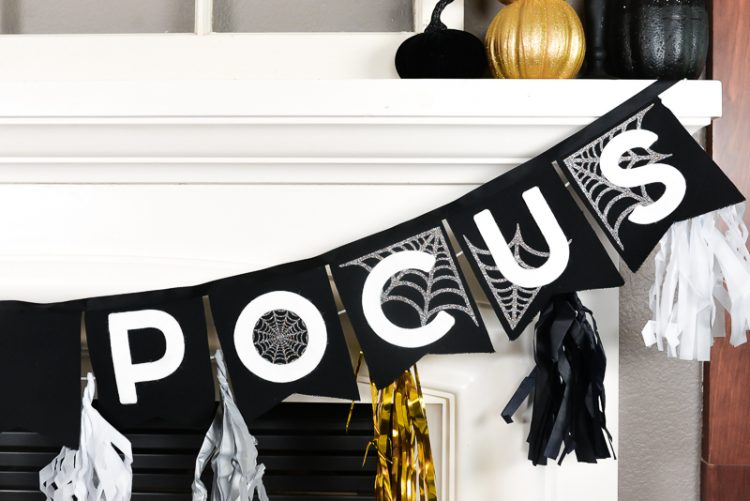 On hearth I set a couple matching Halloween pillows I've had for ages, and hung a glitzy black crystal spider for some balance on the other side of the fireplace. I love how that big crystal really says spooky glam to me!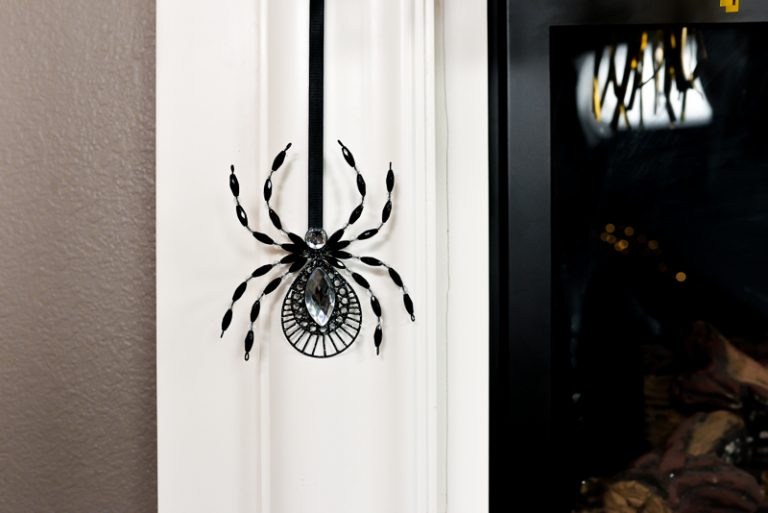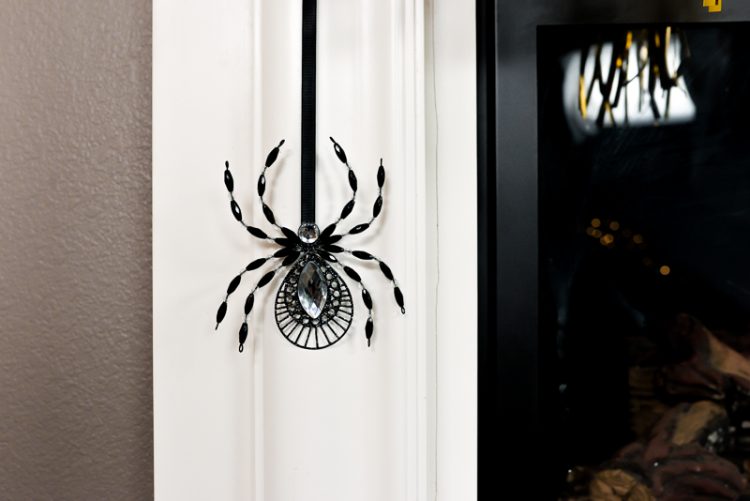 Do you guys love it as much as I do? I hope so! If you found this post inspiration for your decorating this year, let me know in the comments!