Make your Christmas gifts merry and bright with these Christmas carol gift tags! Use Therm O Web's Deco Foil to dress up these gift tags, and you'll be sure to have a holly jolly Christmas this year!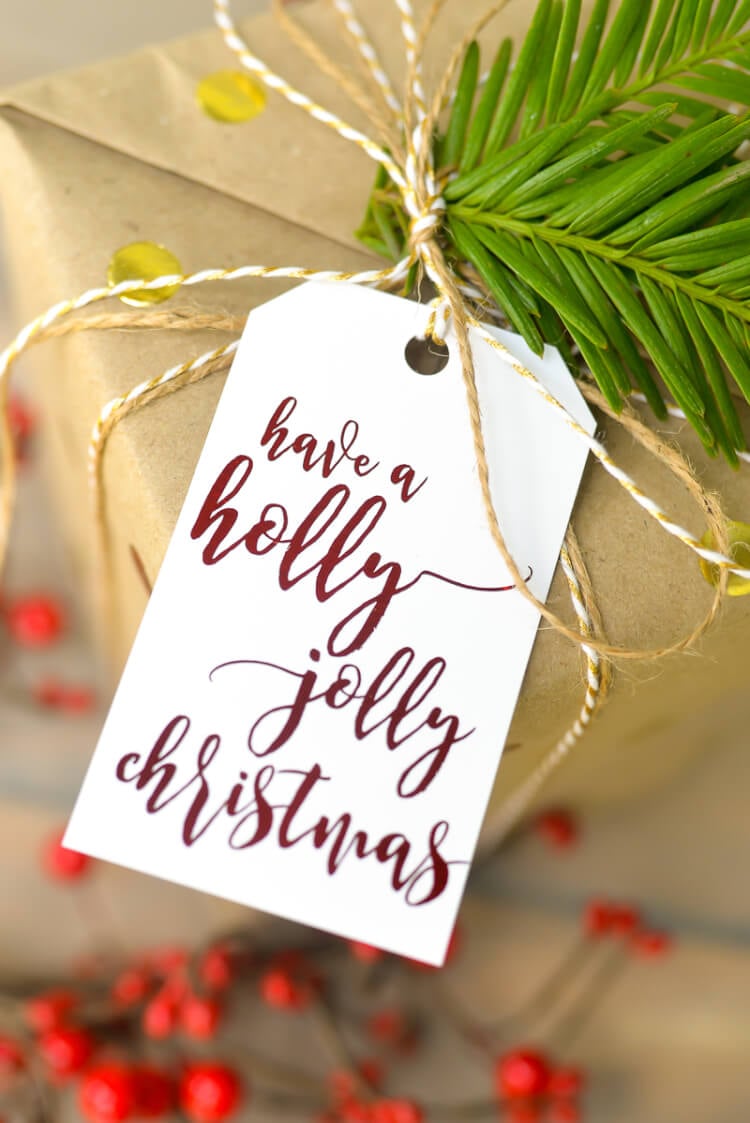 This post was sponsored by Therm O Web. Thank you for supporting the brands that support Hey Let's Make Stuff!
As a mom to littles, I'm constantly singing songs. Kids songs, silly made-up songs, and now that it's almost December, Christmas carols! I love having a bunch of Christmas songs to sing to my boys (because I can only sing The Wheels on the Bus so many times before going slightly mad!), and I've had several rolling around in my head for a while now. So I decided to take the words from some of my favorite tunes and design these adorable foiled Christmas carol gift tags for you today!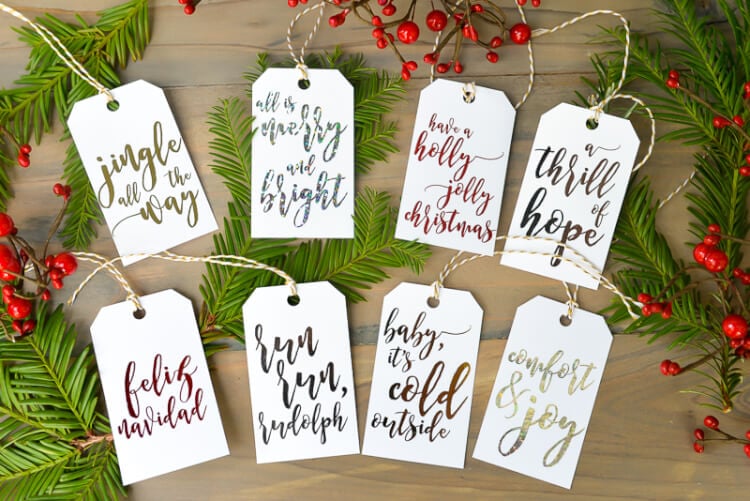 Gift Tags Supplies
Enter your first name and email address in the box below for access to this freebie, along with other fun free files in our email newsletter! If you have already received a freebie from my site, just enter your information again—you won't be added to any additional lists.
This freebie is for personal use only. You can learn more about our commercial license.
Gift Tags Directions
Yes, this project requires some specialty equipment. But I've been using the Minc with Deco Foil more and more — foiling things is so much fun! If you want, you can just print the tags and use them in black and white—but what's the fun in that?
The thing about using Deco Foil is that you need a laser printer for it to work and most at-home printers are inkjet. I have a FedEx Office not far from my house, so I just have them laser print my files for me on white card stock. If you have access to a laser printer at home or work, you can print the file yourself.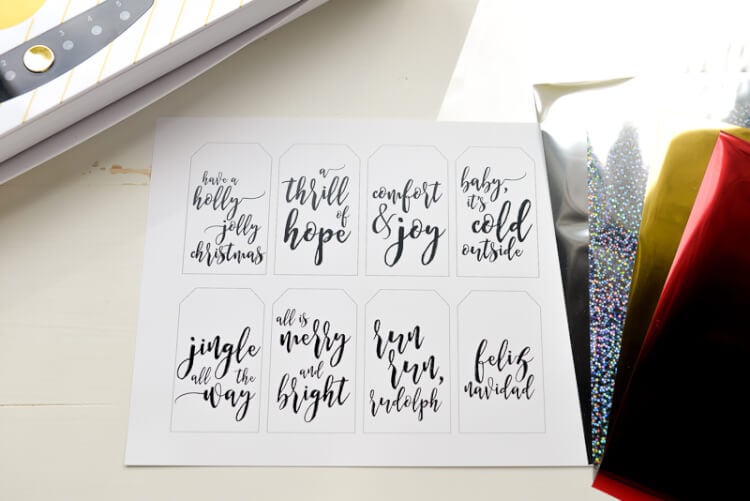 Once you have your printed file, then comes the fun part. Set your laminator or Minc to warm up. I use its highest setting — I find it sets the foil best that way. Then cut pieces of Deco Foil slightly larger than the area that you want to foil. You get five sheets in a package of Deco Foil and I find it goes a long way!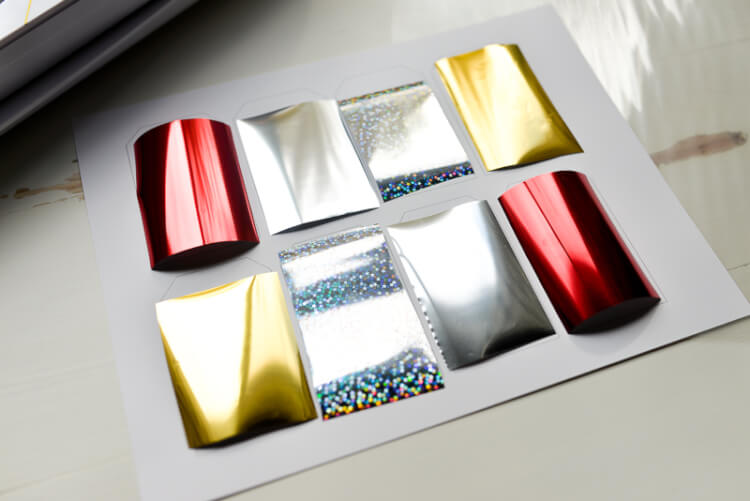 Then place it in the transfer folder and run it through the Minc or laminator. The heat of the machine sets the foil. When it's done, peel off the foil and voila! It looks like it came from a professional print shop. The Deco Foil is absolutely beautiful! I love the silver stars version, and how all of the colors catch the light.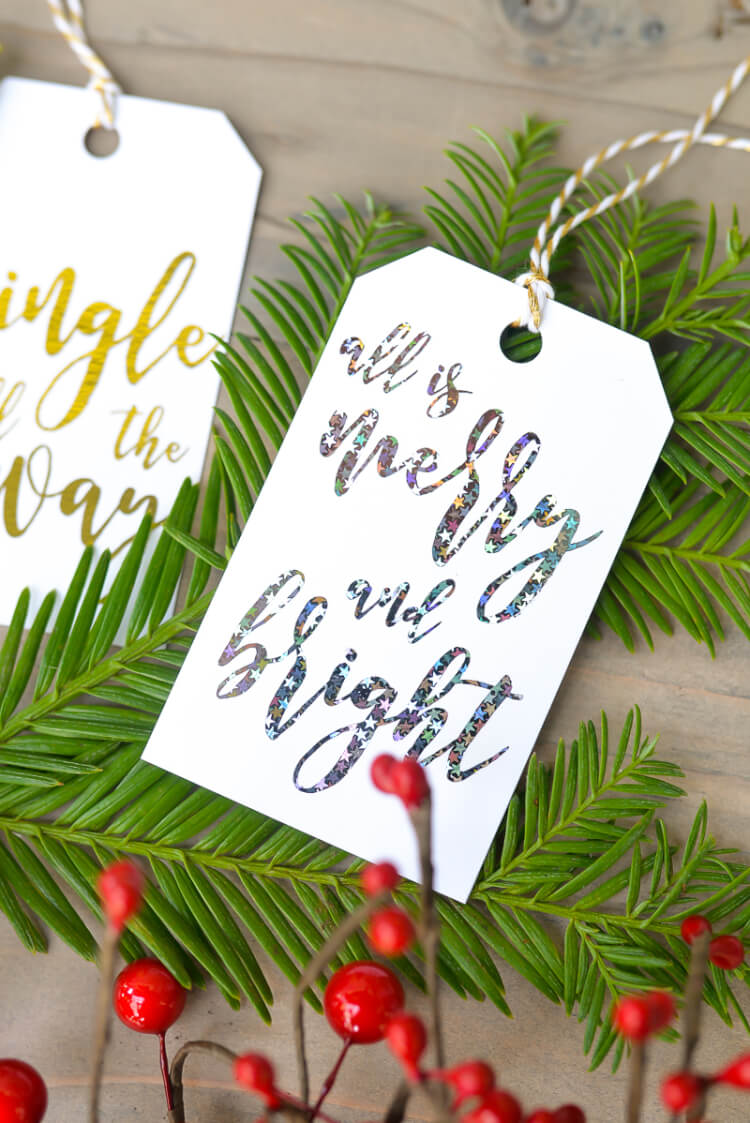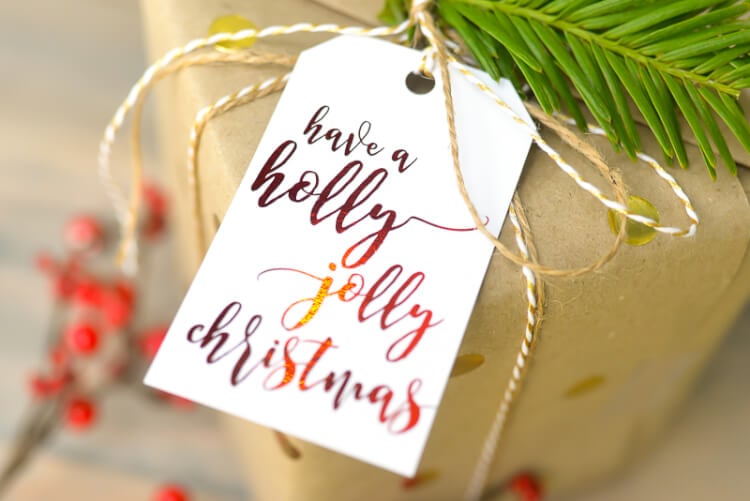 To cut the tags, I like using my rotary cutter, cutting mat, and quilting ruler — I get such clean, straight cuts. But you can also use a pair of scissors. Punch a hole and attach a bit of string and you're ready to attach these adorable Christmas carol gift tags to every present you're giving this holiday season!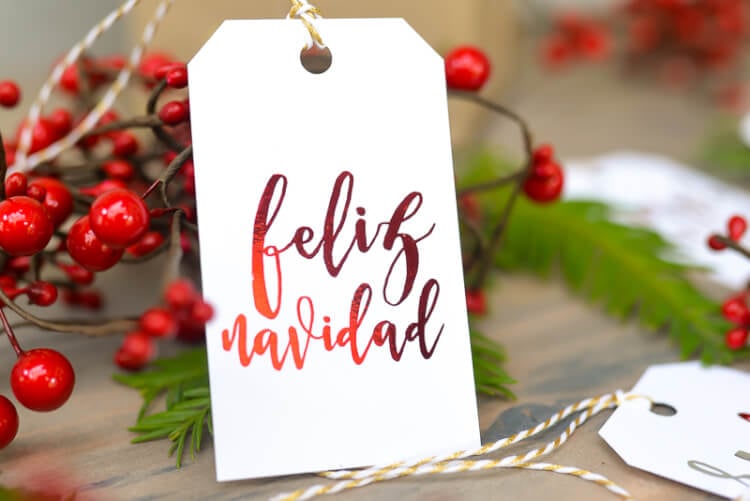 I also have the cutest bundle of Christmas Song SVGs for cutting with your Cricut or other electronic cutting machine!