Take your newborn's hospital footprints and turn them into a foiled footprint art keepsake. So sweet in a nursery or for a Father's Day or Mother's Day gift.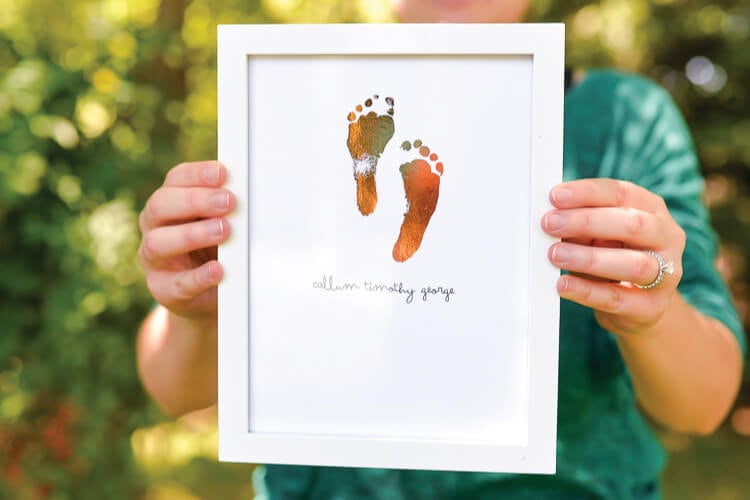 When our boys were born at 32+5 weeks nearly a year ago, one of the things that struck me the most was how small their little hands and feet were. Our nurse took their footprints and the were less than 2.5″ tall. So teeny tiny! You can see how itsy bitsy Callum (3 lbs 14 oz) was in this photo — that's Ryan's wedding band in his hand.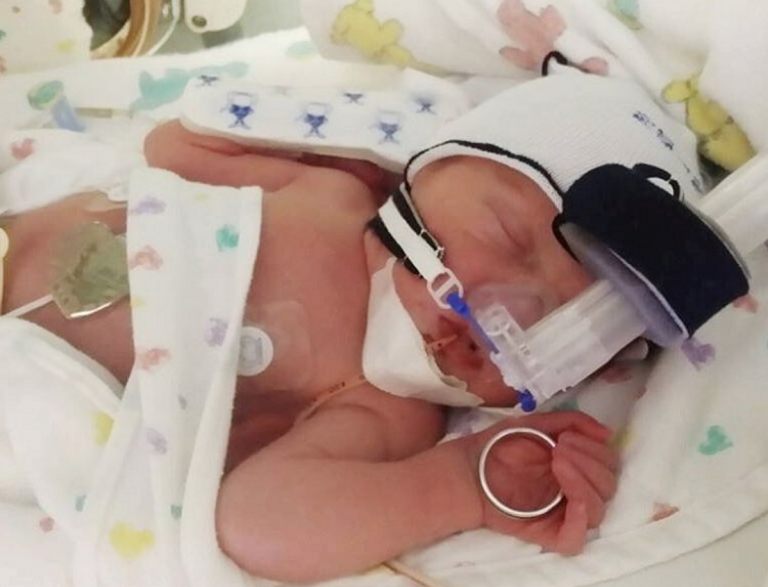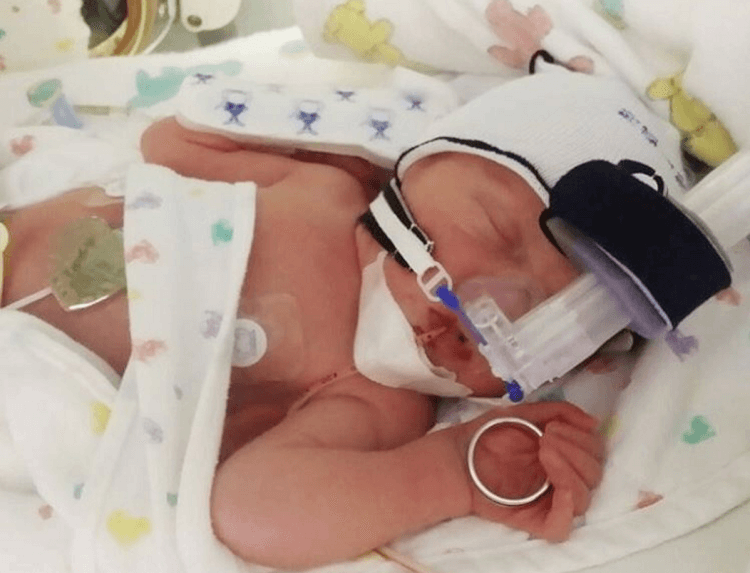 I've wanted to do a project using their tiny footprints for a long time, and today I have a quick project that I'm doing for Ryan for Father's Day this year (I gave them to him early, so he would still be surprised!).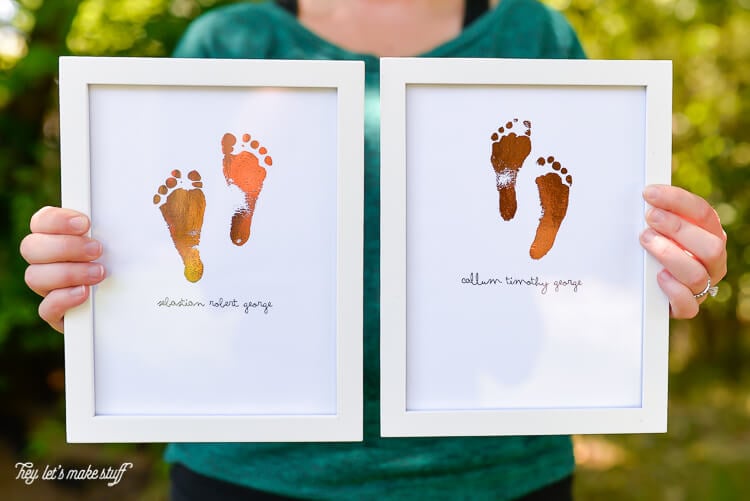 This project is one of those projects that is super easy (it'll take you less than 15 minutes total) but you really need the right tools. The biggest, a Heidi Swapp Minc foiling machine. You'll also need a laser printer (or access to one, like at a FedEx Office) and some sort of graphics program, like Photoshop or Illustrator.
Foiled Footprints Supplies
Original footprints
Scanner or camera phone
Laser printer (I went to my local FedEx Office)
Foil (I used Therm-o-web's Deco Foil in Copper)
Foiled Footprints Directions
Start by either scanning or taking a photo of your footprints. I just snapped a photo using my iPhone and Air Dropped it to my computer: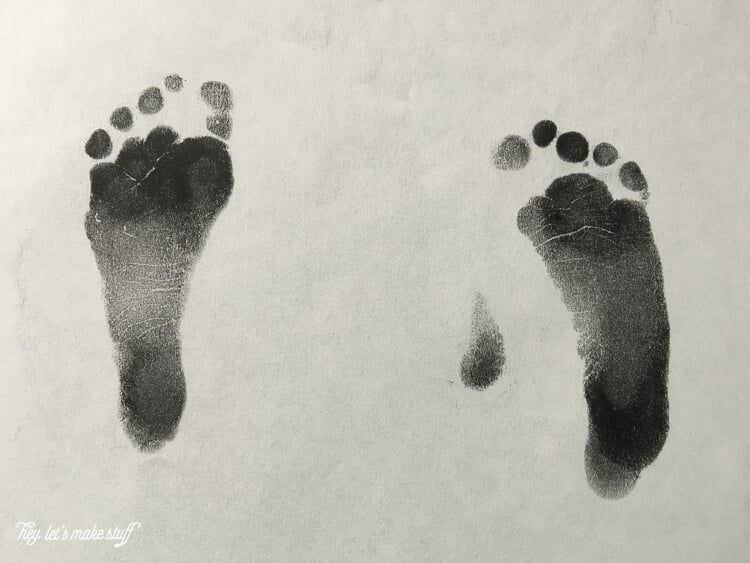 To turn it into a black and white file I could print and foil, I used the Trace function in Adobe Illustrator to turn the footprints into black and white vector files, making sure to size them at their actual size.
I cleaned them up a bit and moved them closer together. You can get the same effect by using the brightness and contrast sliders in Photoshop, and maybe even PicMonkey (not sure, but it's worth a shot). You could also try using different Photoshop Effects, especially those in the "Sketch" menu.
I also added each boy's name below their footprints. I used the font Aresenale White.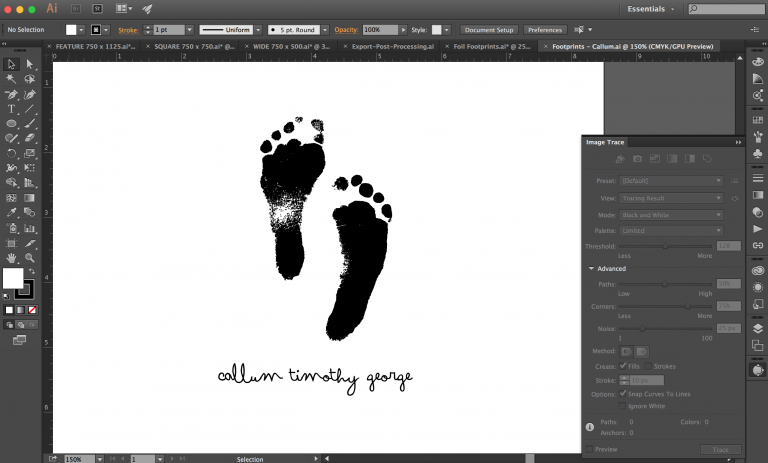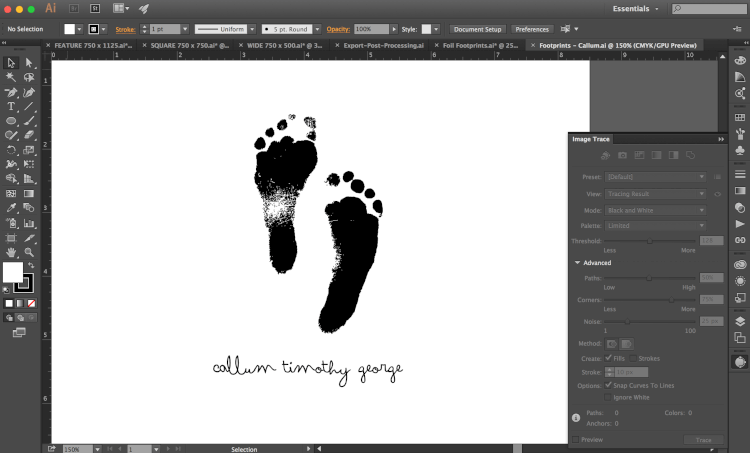 I turned them each into a PDF and went to my local FedEx Office and printed five copies of each on a laser printer (you must have a laser printer, not an inkjet). I hadn't used the Minc before, and I wanted to have extras just in case it took me a while to figure it out.
The Minc works like a laminator. You layer your print and foil (I used Therm-o-Web's Deco Foil in Copper and loved the results! They have a TON of colors so you could easily match a nursery for this project) and put it in the clear transfer envelope.
Then you just turn the Minc on, set a heat setting, and run them through! It took a little trial and error (glad I had a few extra copies!) before I got it right. I ended up setting it on Level 5, with two pieces of card stock below my print (without the card stock, my paper wrinkled a bit). I used another small piece of paper to cover up the boys names, so they wouldn't get foiled.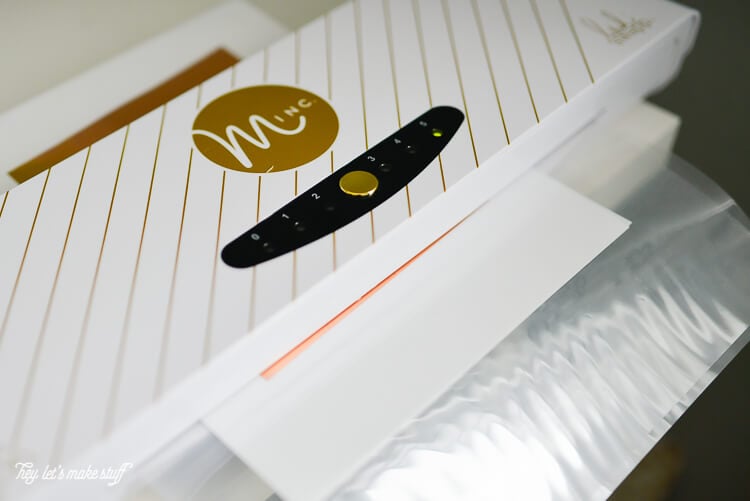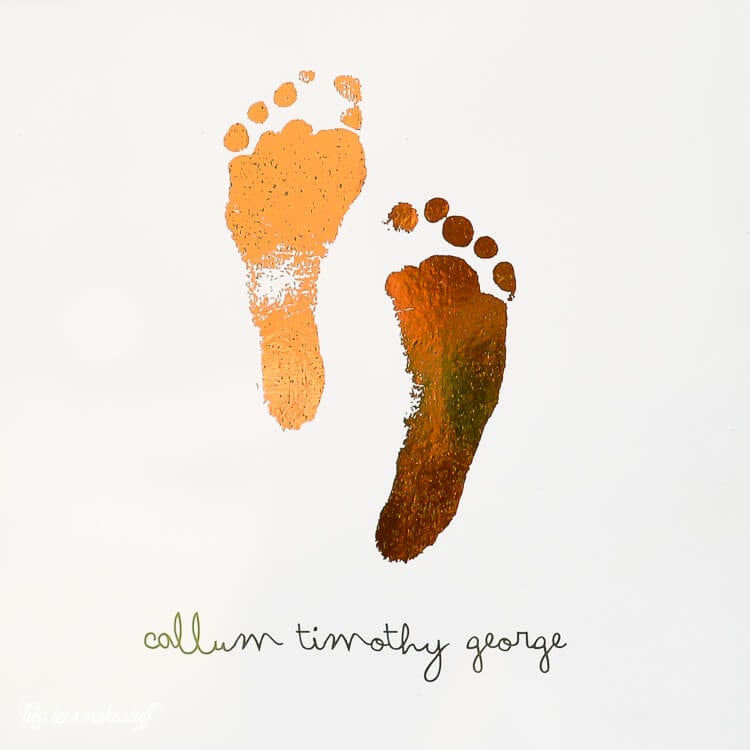 Then I trimmed each print and framed them. So simple!
I love how the Deco Foil copper foil looks — it transferred so well, too. From straight on, it is almost black, but when the light hits it, the colors come alive. You can see another use of this foil in my Foiled Champagne Labels!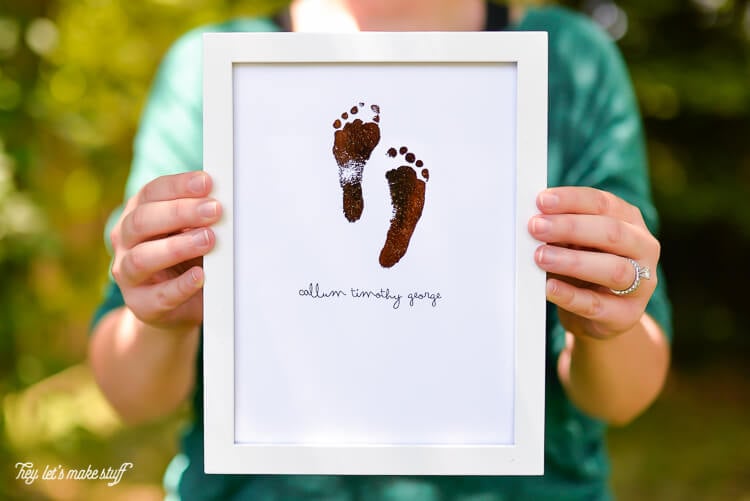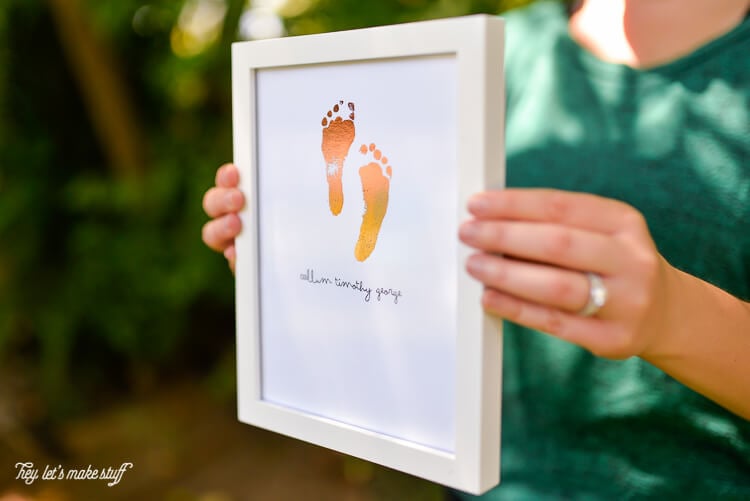 I'm not a particularly sentimental person, but this project really got to my heart (maybe I cried. A little. A lot. FINE. A lot a lot.). My boys turn one in nine days and I am absolutely flabbergasted that the year has gone this quickly.
From my tiny NICU babies to thriving, crawling, eating (and eating and eating), laughing one-year-olds, it has been quite the year. I wouldn't change any of it for the world! I love my baby-nuggets so much.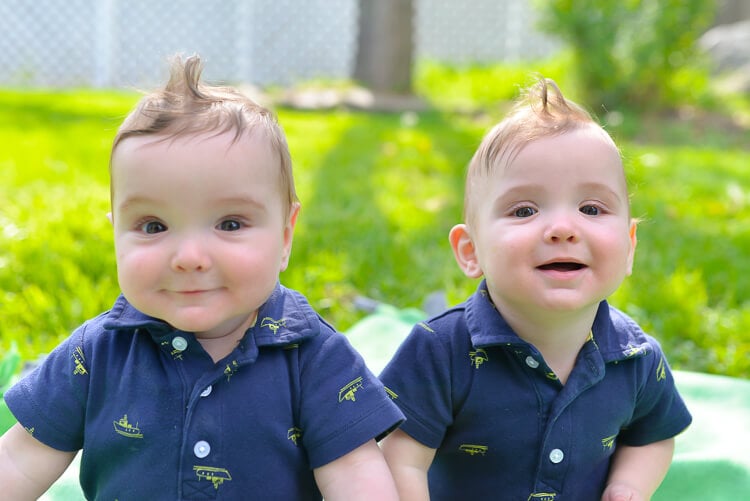 And seriously. That hair. I can't even.