Track your child's height with this fun DIY height ruler! Learn how to use Cricut Smart Vinyl without a mat so you can make larger than life projects on your Cricut Maker 3 or Cricut Explore 3.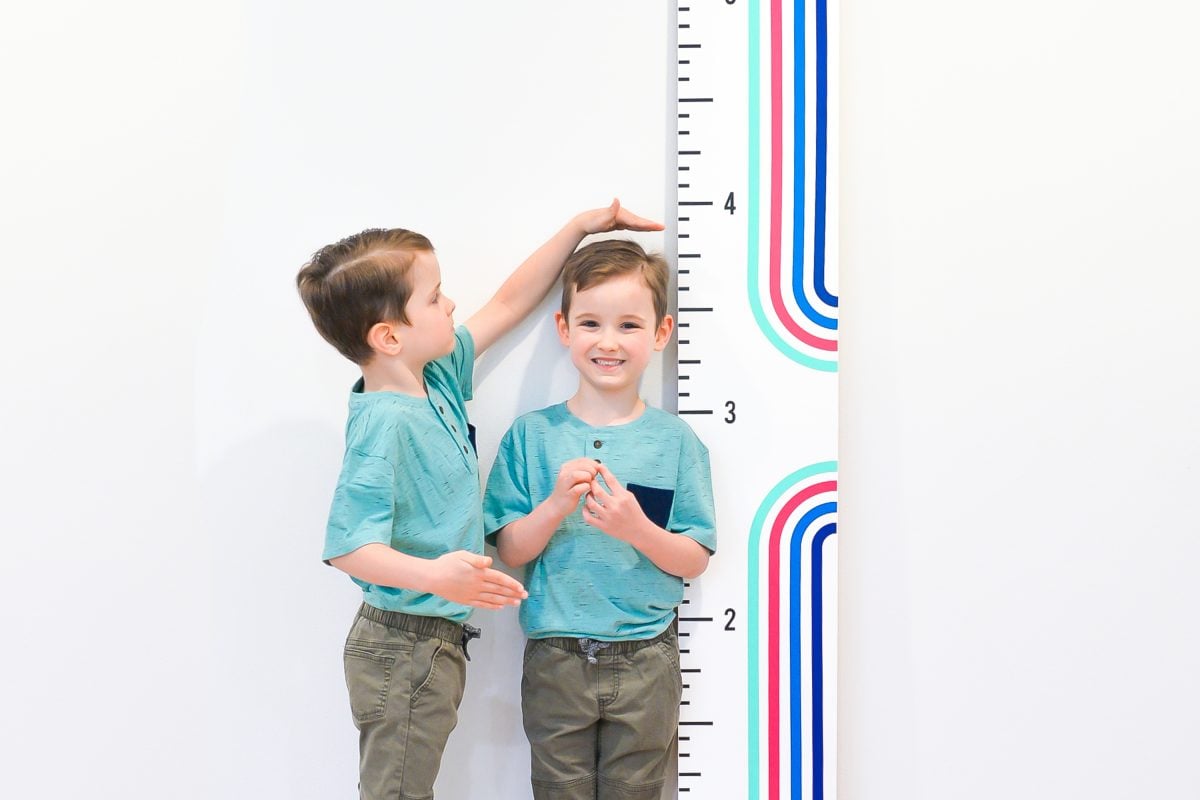 This post is sponsored by my favorite craft store, JOANN!
Today is the day! The Cricut Maker 3 and Cricut Explore 3 machines are available to purchase online! If you haven't heard about the newest machines in the Cricut lineup, make sure to check out my The Ultimate Guide to Cricut Maker 3 and The Ultimate Guide to Cricut Explore 3!
I wanted to share more about the matless cutting possibilities with these machines, so I'm making a project I've had on my list forever—a DIY height ruler! Using Cricut Smart Vinyl, I was able to cut this project super easily without any "piecing" together smaller sheets of vinyl. A big thanks to JOANN for sending me the Cricut Maker 3 and supplies I used to make this project!
My style is more modern and bright than yours might be, but the SVG I designed would be so classic cut in white and adhered to a wood sign, or super modern cut in all black and adhered to a sign you've painted a bright color!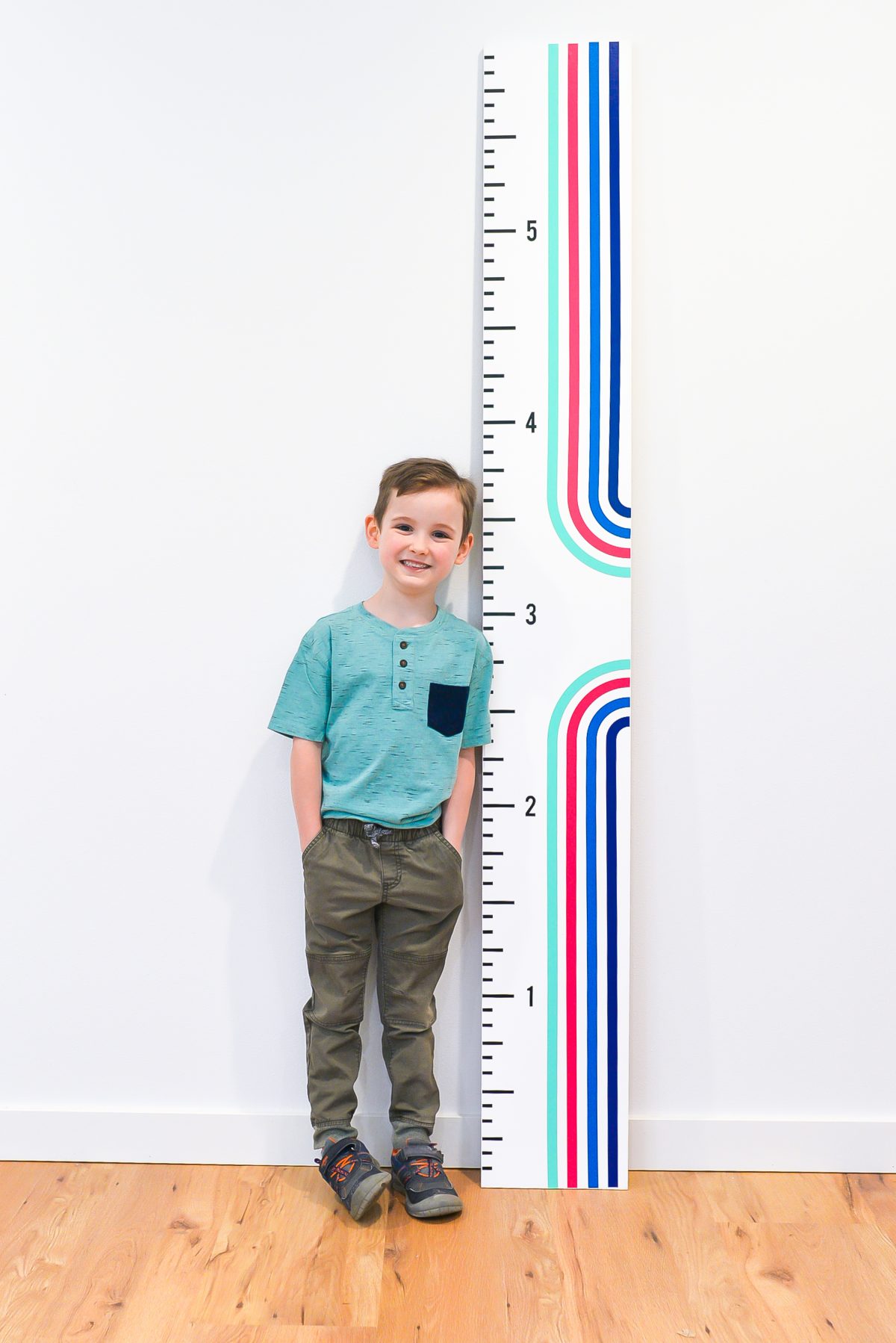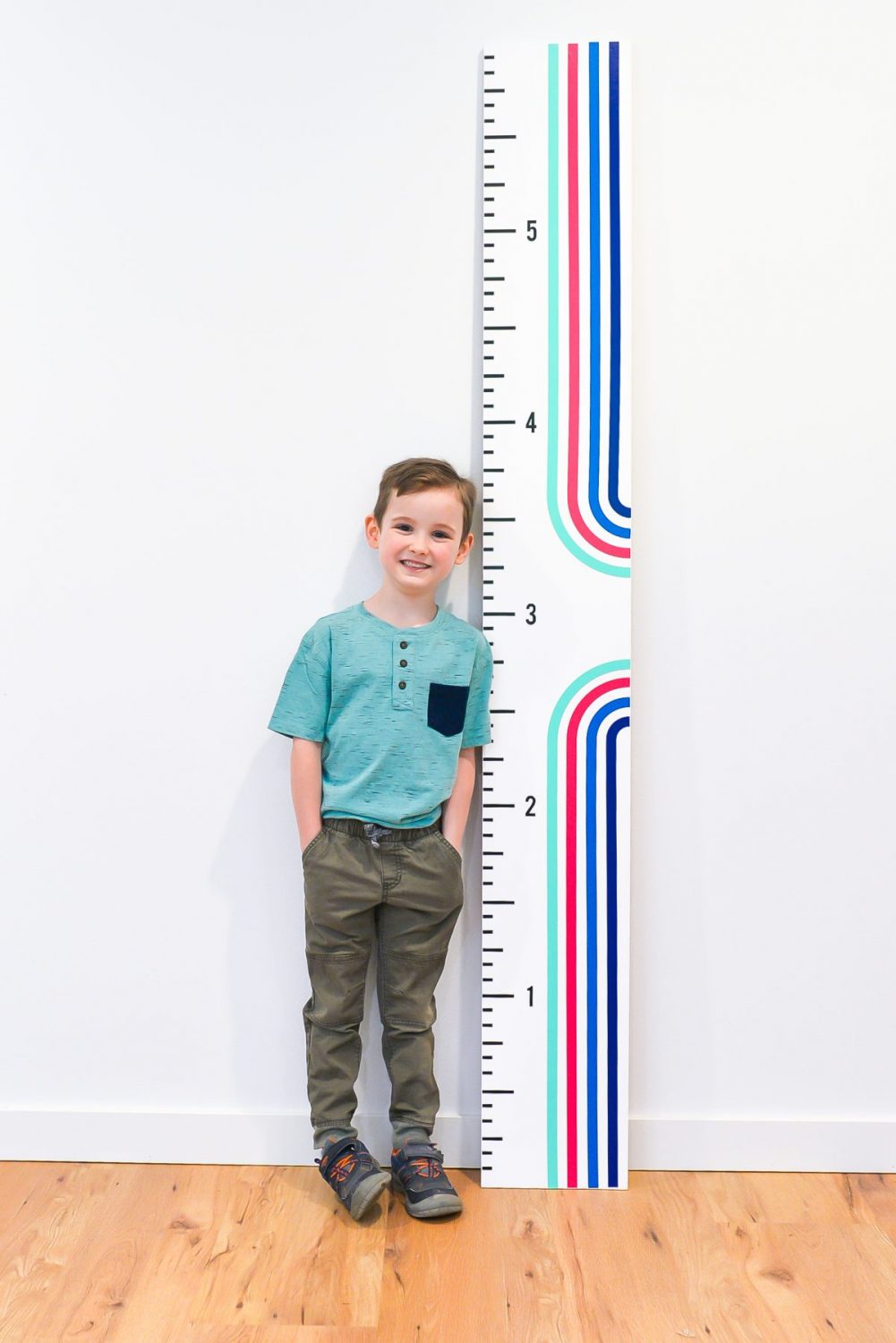 Supplies for the DIY Height Ruler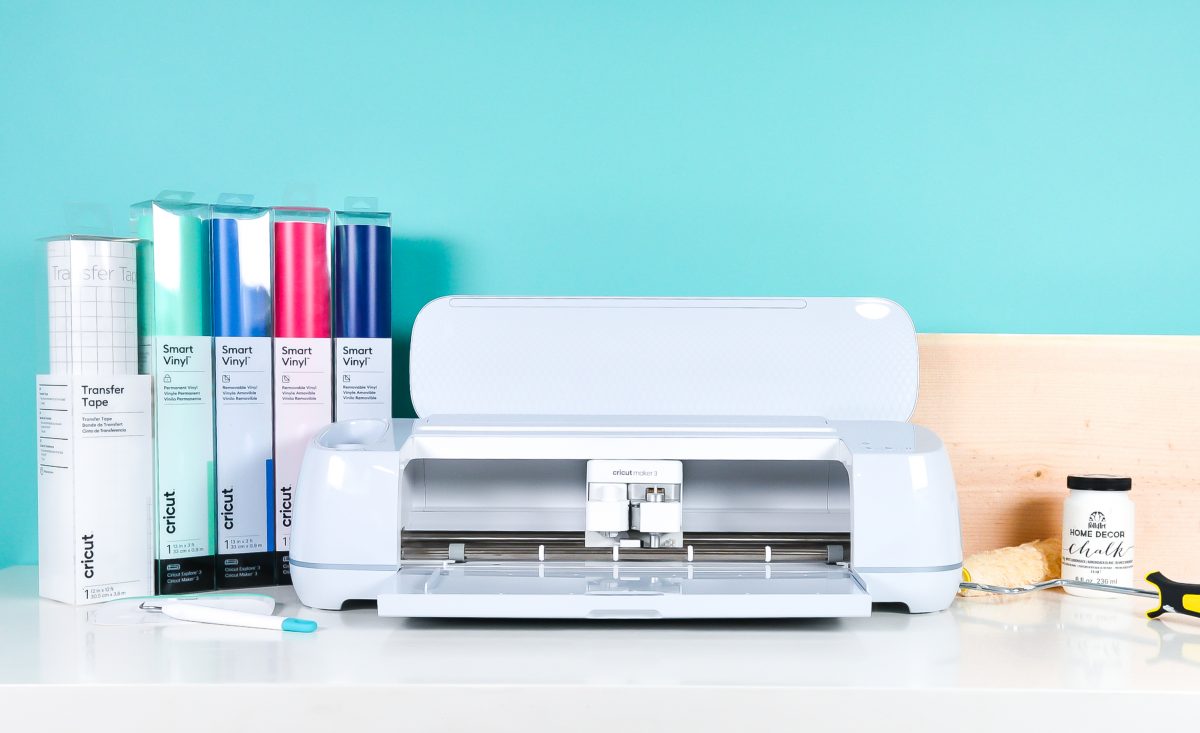 Fine Point Blade
6′ x 10″ wood board
Paint & roller/brush
SVG file (download below)
[adthrive-in-post-video-player video-id="4Zv0ymXX" upload-date="2022-05-29T19:48:00.000Z" name="Adhesive Vinyl Projects to Make with a Cricut" description="Make all sorts of amazing adhesive vinyl projects using your Cricut, including tumblers, signs, mugs, ornaments, and more. " player-type="default" override-embed="default"]
Directions for Making the DIY Height Ruler
Paint the Board
If desired, start by painting your wood board. I went with a white chalk paint and it took two coats to cover my board.
Cut the Height Ruler SVG on your Cricut
Start by uploading the SVG to Cricut Design Space. Learn more about How to Upload SVG Files to Cricut Design Space. It will come in very large! If you'd like to change the colors, you can do so before hitting Make It in the upper right.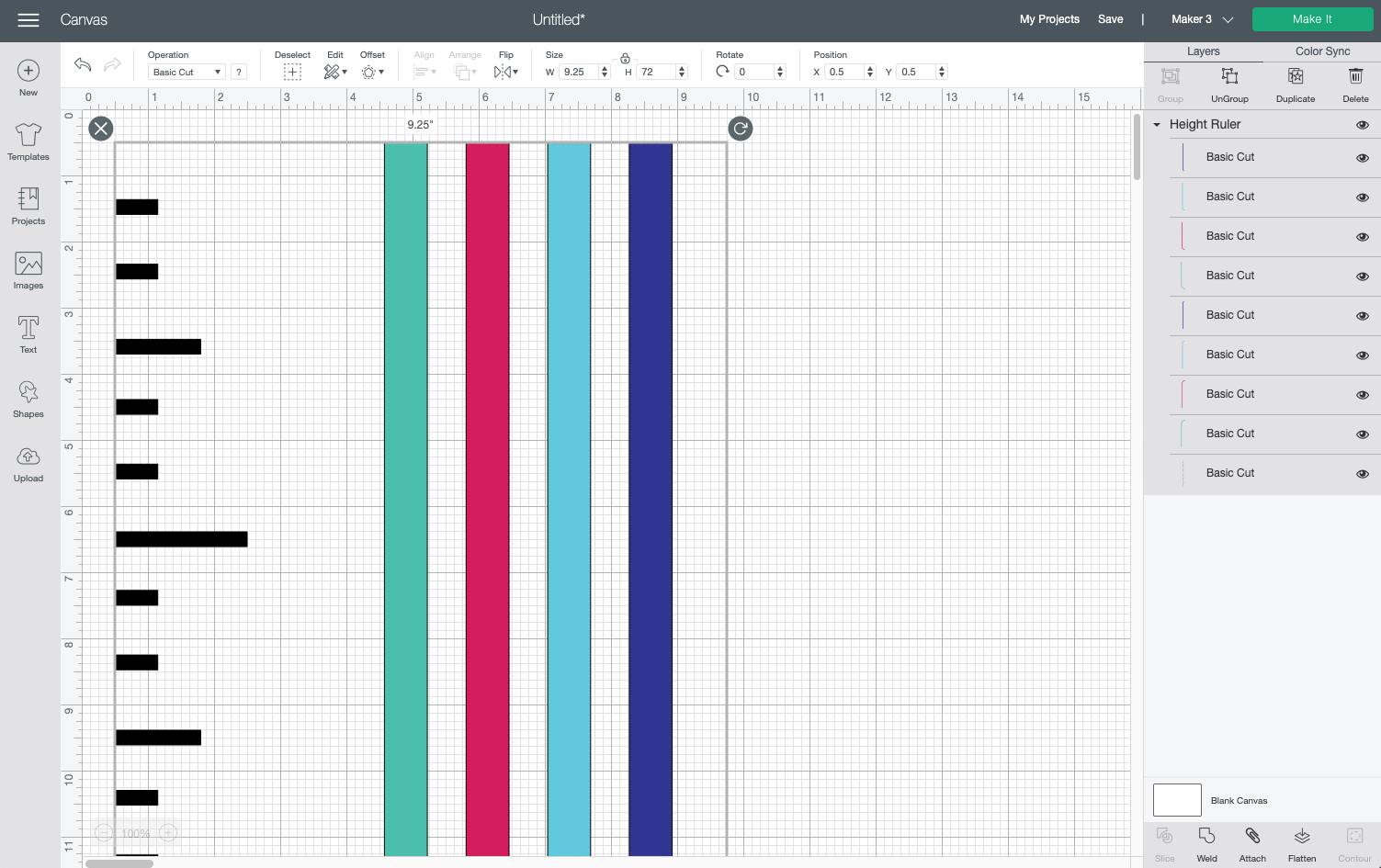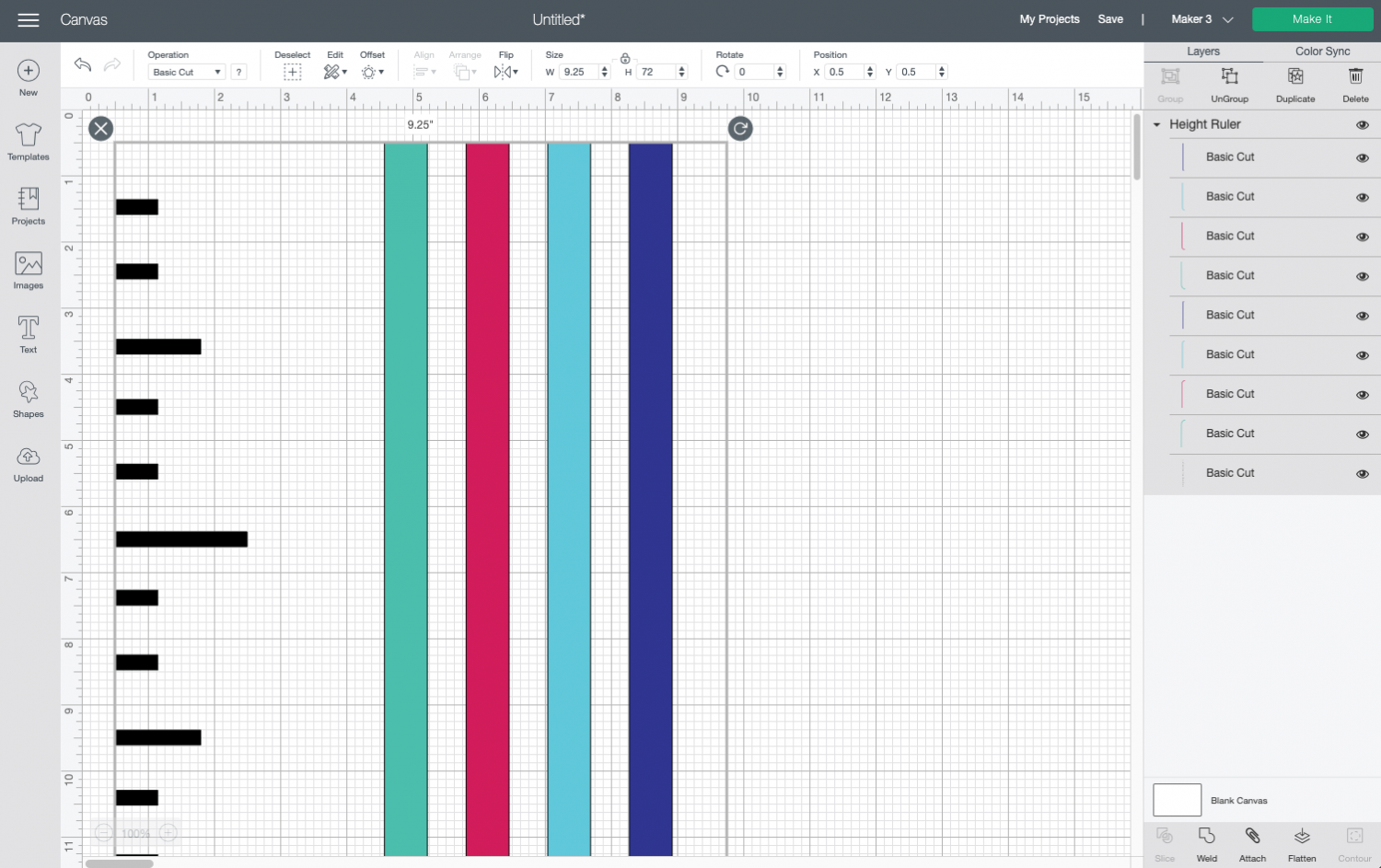 Before hitting the Prepare Screen, a pop-up will ask you how you want to cut your project. I'm using Cricut Smart Vinyl for this project, so I selected Without Mat.
In the Prepare Screen, you'll see all of your materials on the left. You'll see that you'll need 72.25″ of Smart Vinyl for your longest cut (the black ruler layer), and then you can scroll down to see how much you'll need for the other cuts. This is helpful for making sure you have the right amount of material for your project BEFORE you cut it.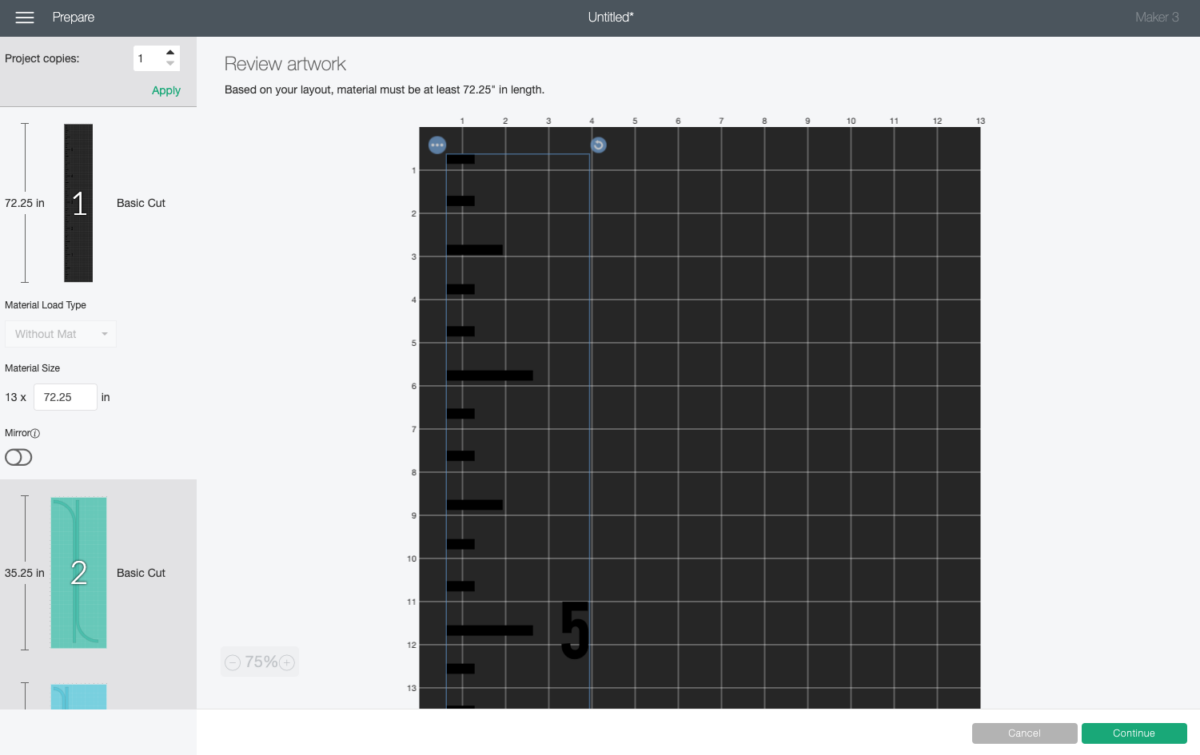 I didn't love how Cricut Design Space ways laying out the rainbow pieces on the mat, so I used the Move and Rotate tools (see my post How to Fit More on a Cricut Mat and Save Material!) to move my pieces to the edge. That way I'll be able to use the center of those sheets of Smart Vinyl for other projects in the future.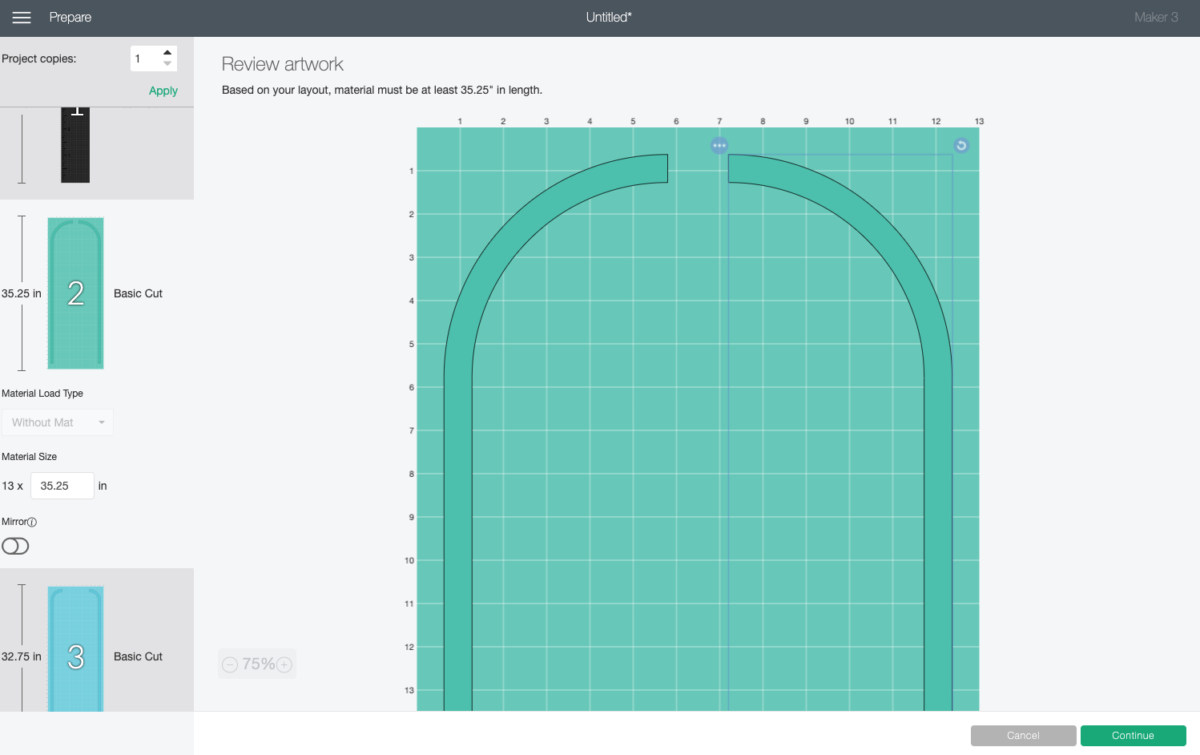 I did that for all of my rainbow layers. Then hit Continue. In the Make Screen, you'll choose your material. Select Smart Vinyl – Permanent (or Removable, depending on what you're using).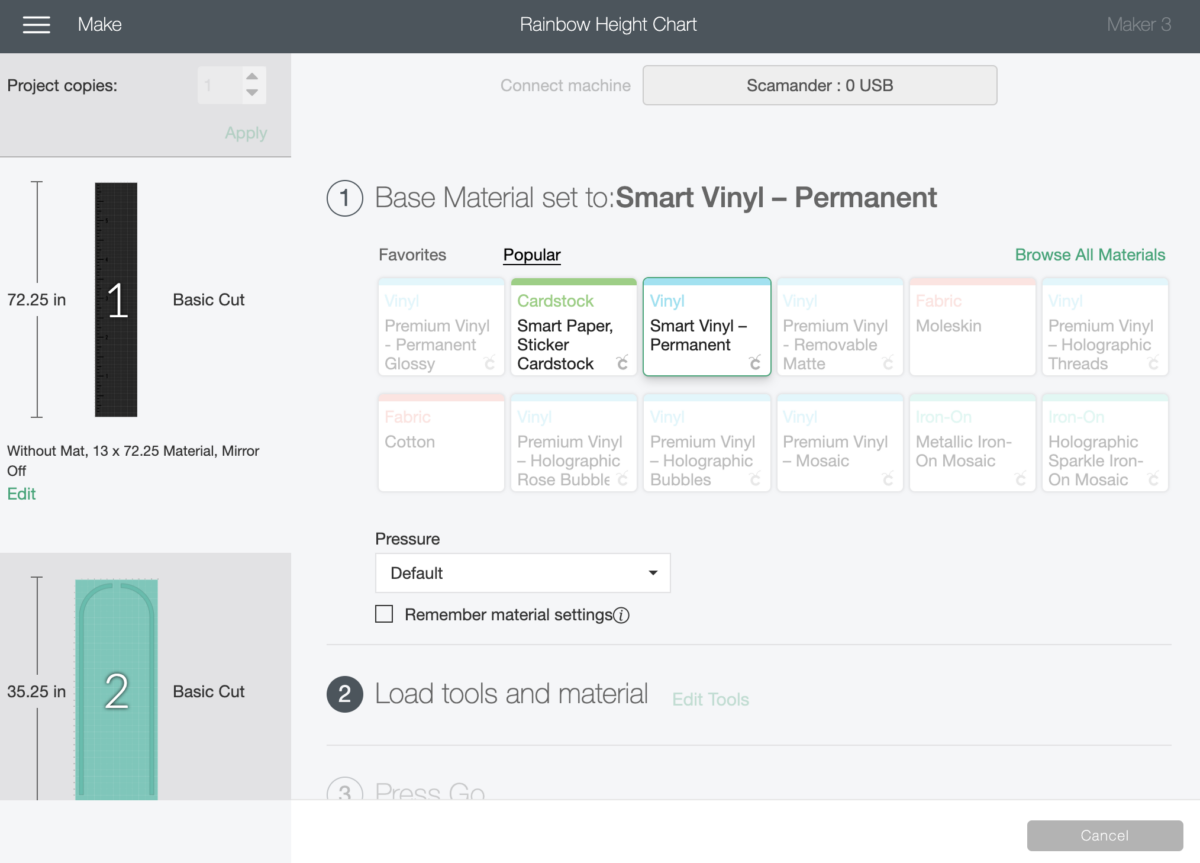 Then insert your Cricut Smart Vinyl into your machine. Your Cricut Maker 3 or Cricut Explore 3 will pull the material all the way through to double check you have the correct length you need for your project. Make sure there's space behind your machine for it to do this. I ended up pulling my desk away from the wall just a bit and it ran the vinyl all the way to the floor.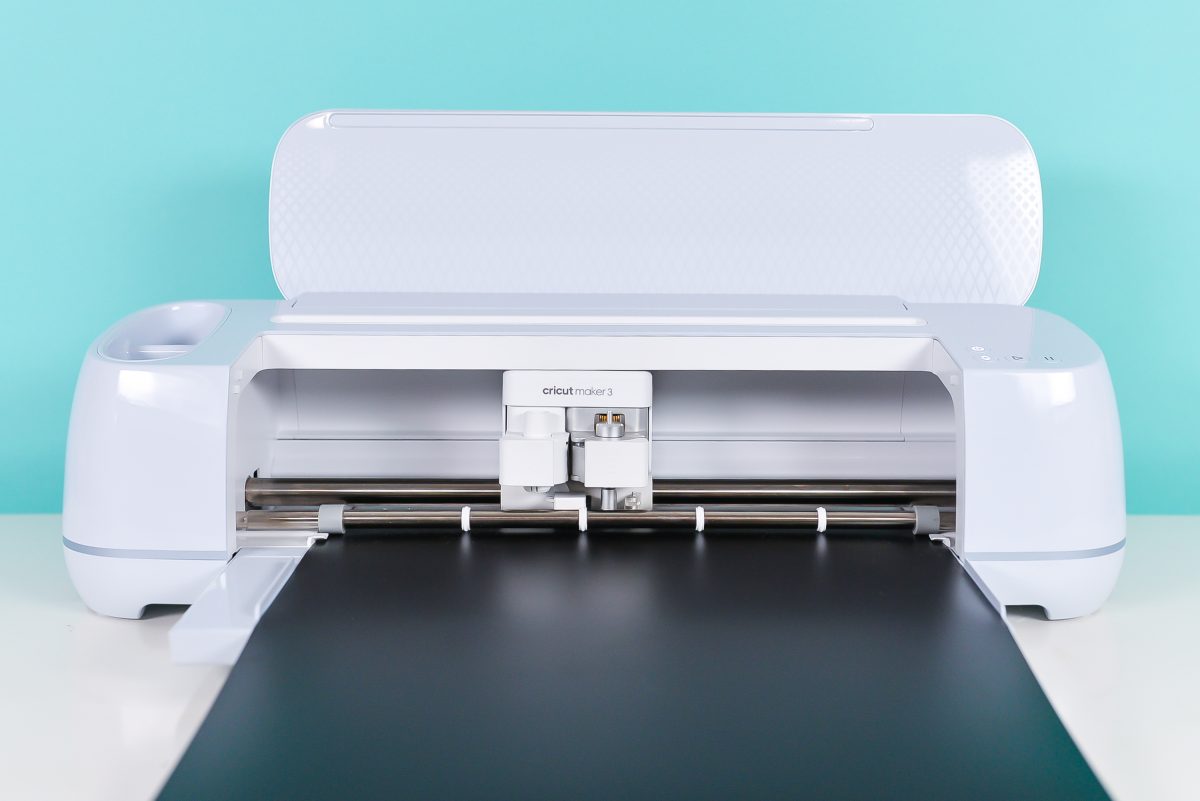 Then click the blinking Play / Go button and your Cricut will cut your vinyl. The Cricut Maker 3 and Cricut Explore 3 can cut Cricut Smart Materials up to 2x faster than the Cricut Maker and Cricut Explore Air 2. You can watch my Cricut Cutting Speed Comparison to see the difference!
After the black layer was cut, I trimmed all the way down the center of my vinyl, the long way, so that my cut image was one one side, and usable uncut vinyl was on the other. I won't be able to cut it without a mat, but I can still put it on a mat and cut it like I would cut regular adhesive vinyl in the future. Check out my post How to Use Adhesive Vinyl with a Cricut for more information on that.
Adhere the Smart Vinyl to Your Board
Then I weeded the ruler part of my vinyl. It comes off in one giant piece, except for the little pieces inside the 4 and 6—make sure you get those as well.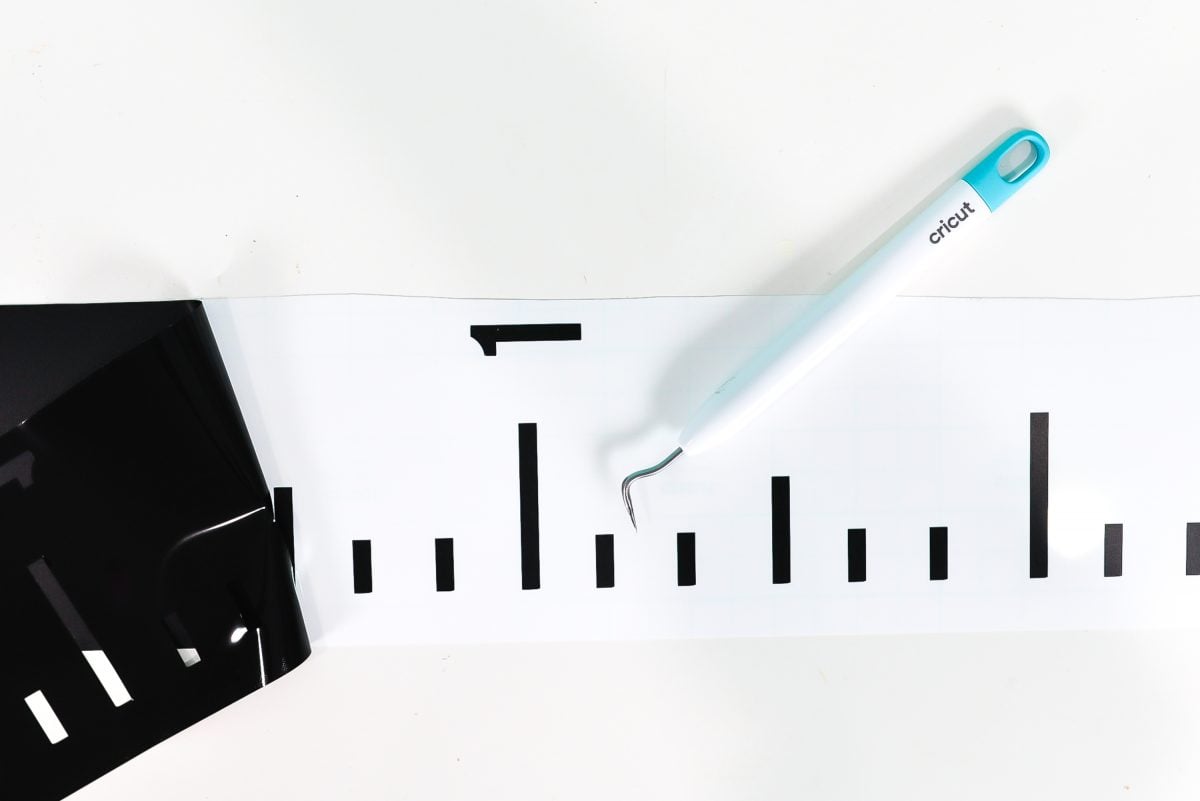 Next we need to get the ruler image onto the board and to do that we're going to use transfer tape. I cut a long piece of transfer tape straight down the middle so I had two long narrow pieces. To apply, peel the transfer tape off the backing on one end and start to press the sticky side of the transfer tape on top of your image. I found that this method worked really well—I just peeled and worked my way down the entire image. I had to use two pieces of transfer tape, so I just overlapped them a bit so I could transfer the decal all in one go.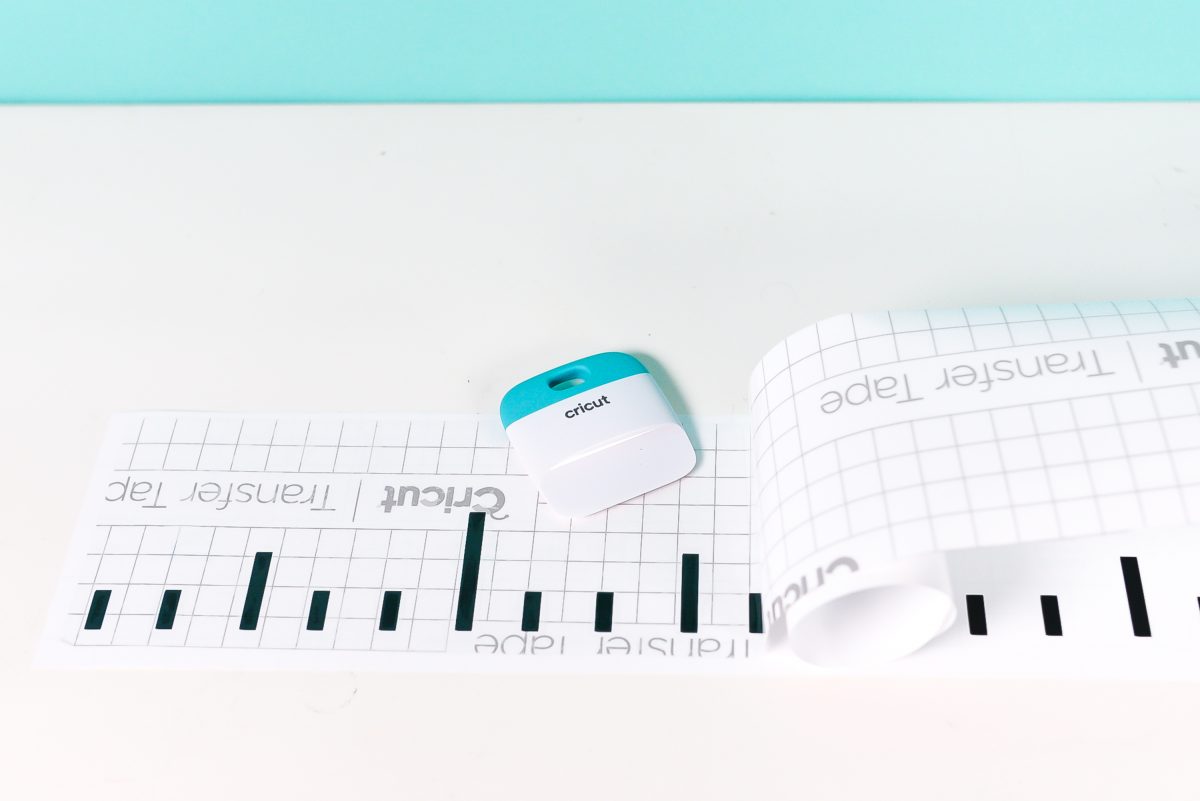 Then carefully peel the backing paper away from the transfer tape with the decal. If you need, use your fingernail to make sure each piece of vinyl sticks to the transfer tape.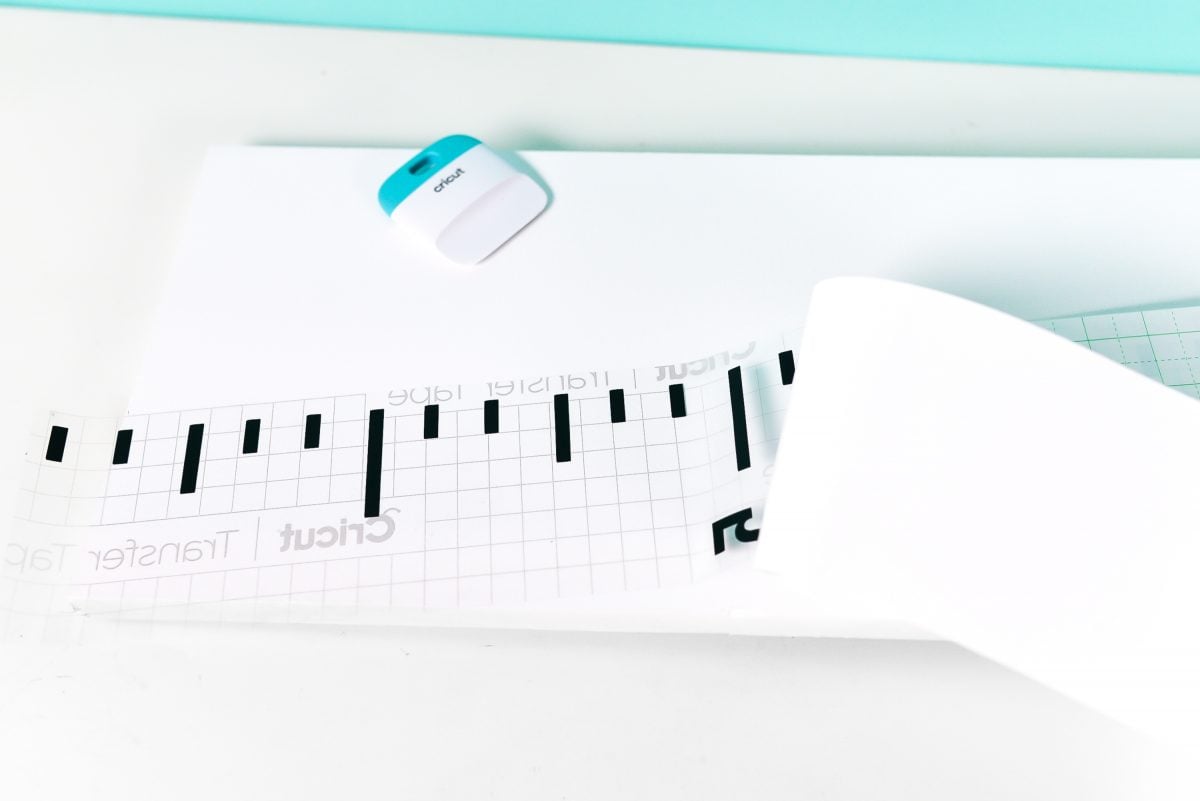 Then flip the entire thing over (yes, it's a six-foot piece of sticky transfer tape but I managed to do it in one go pretty easily!) and place it on your board. Before you press down, make sure you have it placed exactly where you want it, with the hash marks right at the edge of your board. Then use your scraper to burnish the transfer tape onto your board.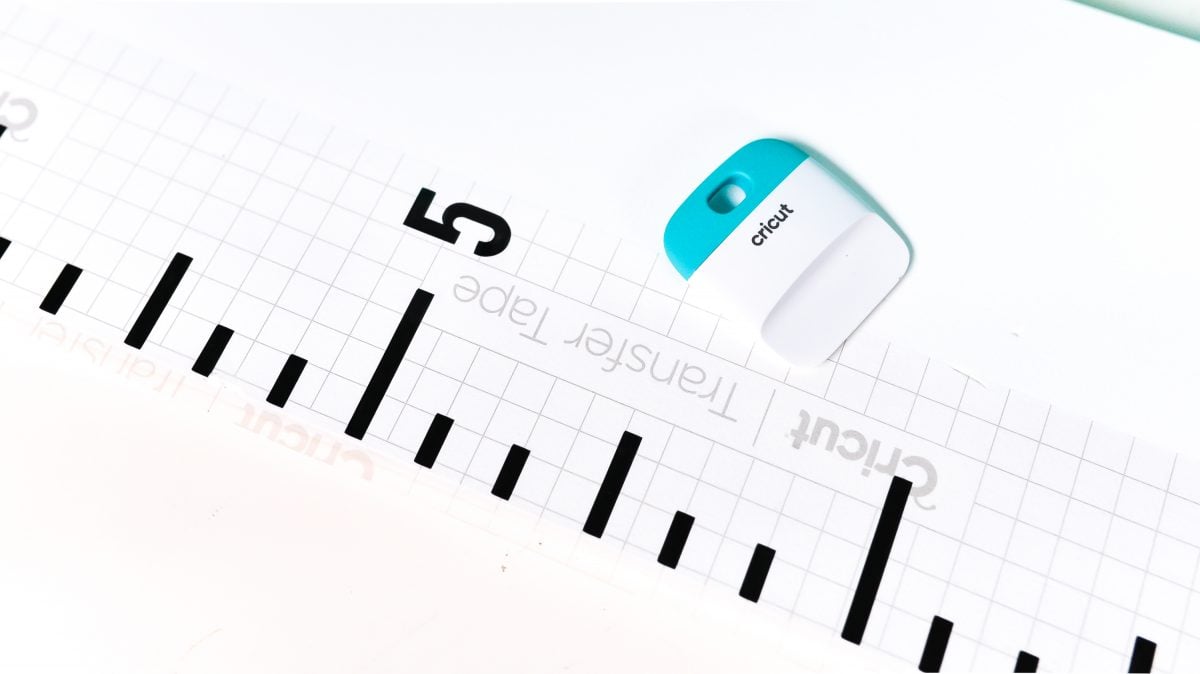 Then peel back the transfer tape, leaving the decal attached to the board. If you are struggling, check out my post Using Vinyl on Painted Wood for tips and tricks.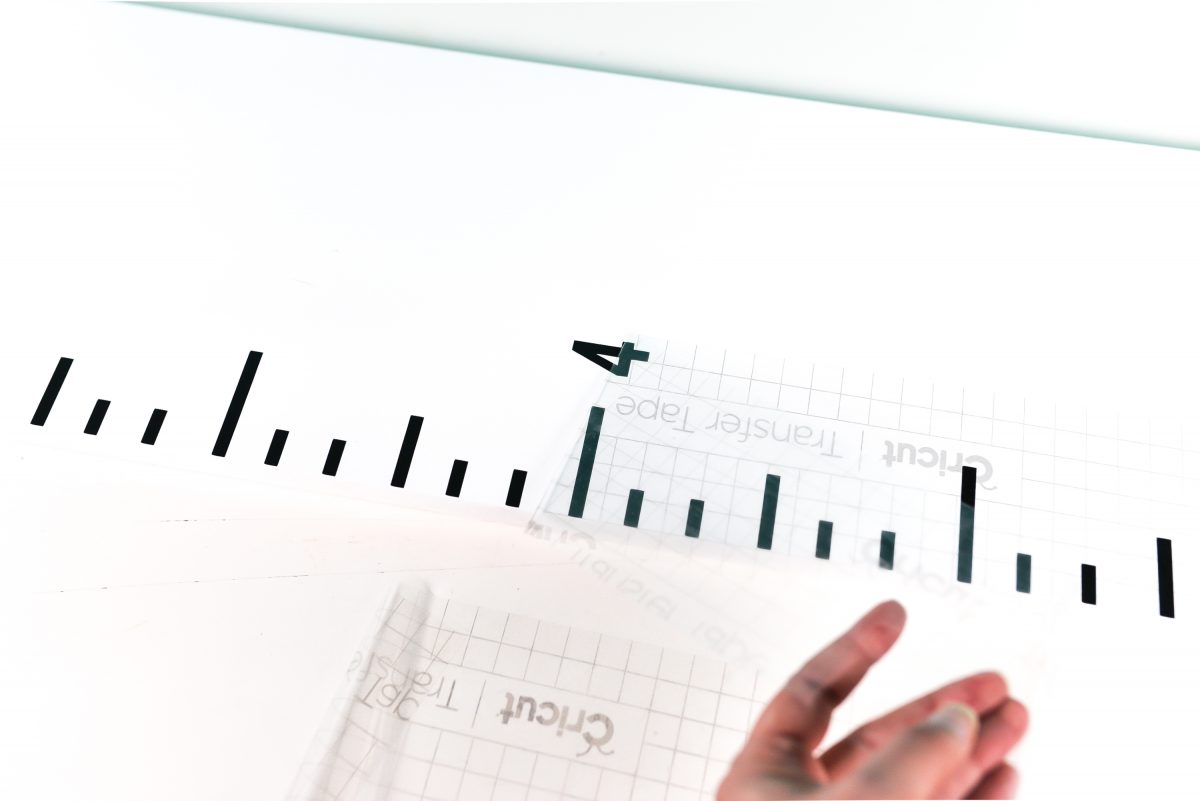 For the rainbow pieces, I decided not to mess with the transfer tape since they were basically just giant stickers. I peeled each one off from the backing sheet and applied it by hand to the board.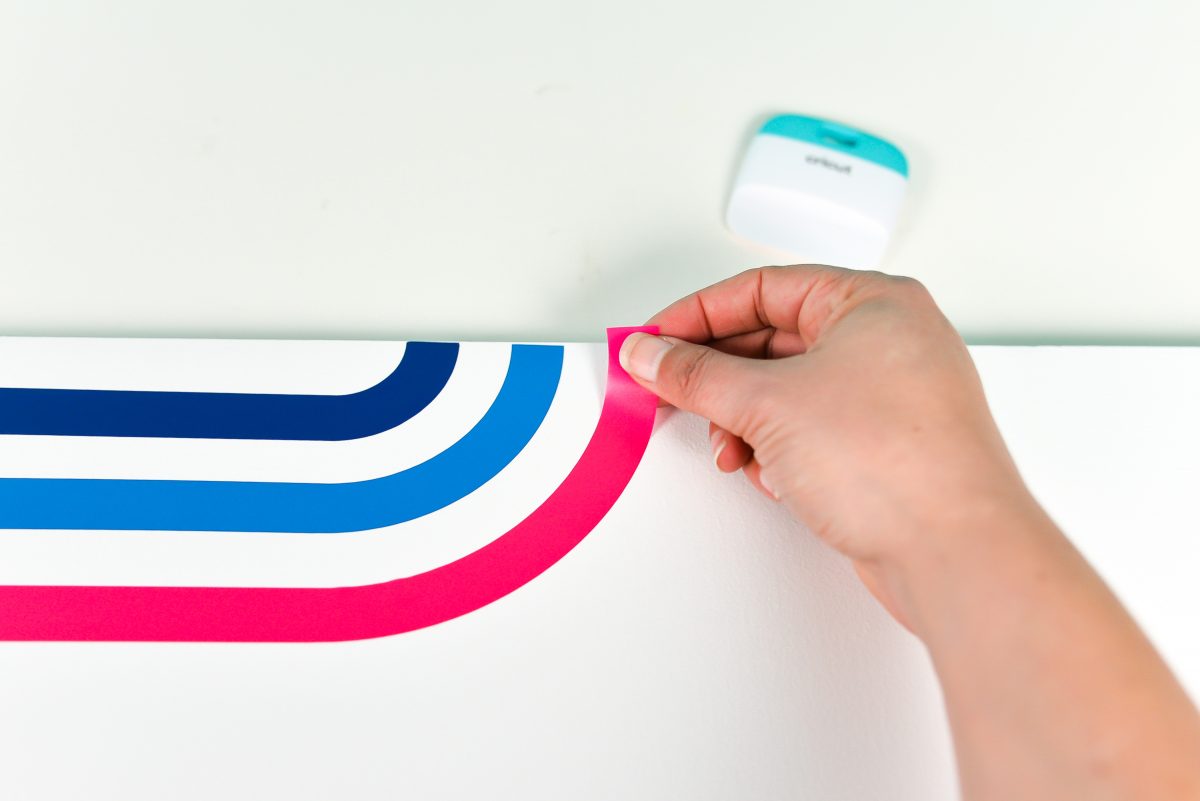 That's it! This DIY height ruler is a project I've had on my list for a long time, but because it was going to involve a lot of piecing, I kept putting it on the back burner. But with Cricut Smart Materials, it was so much easier to make this project using the matless long-cutting feature!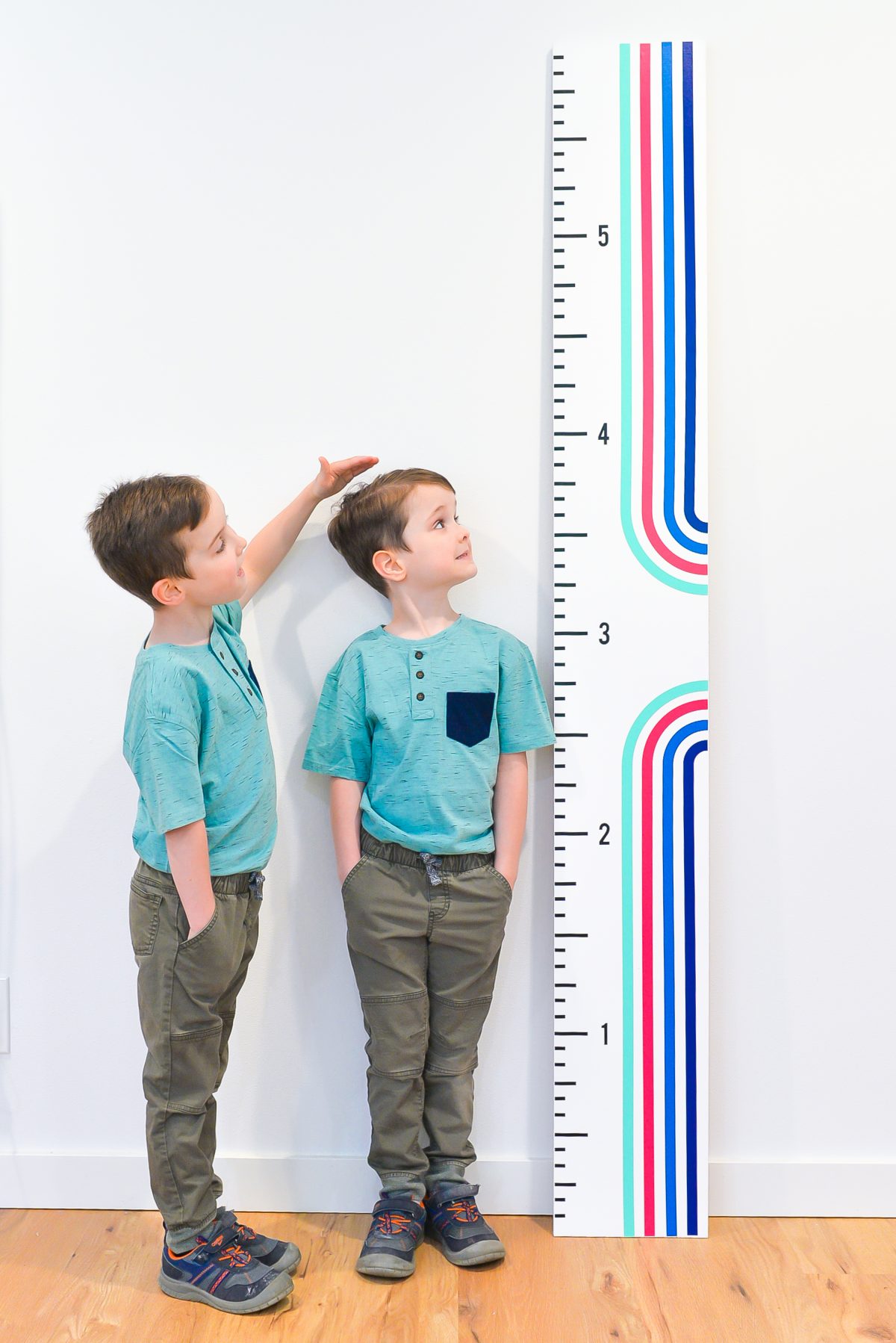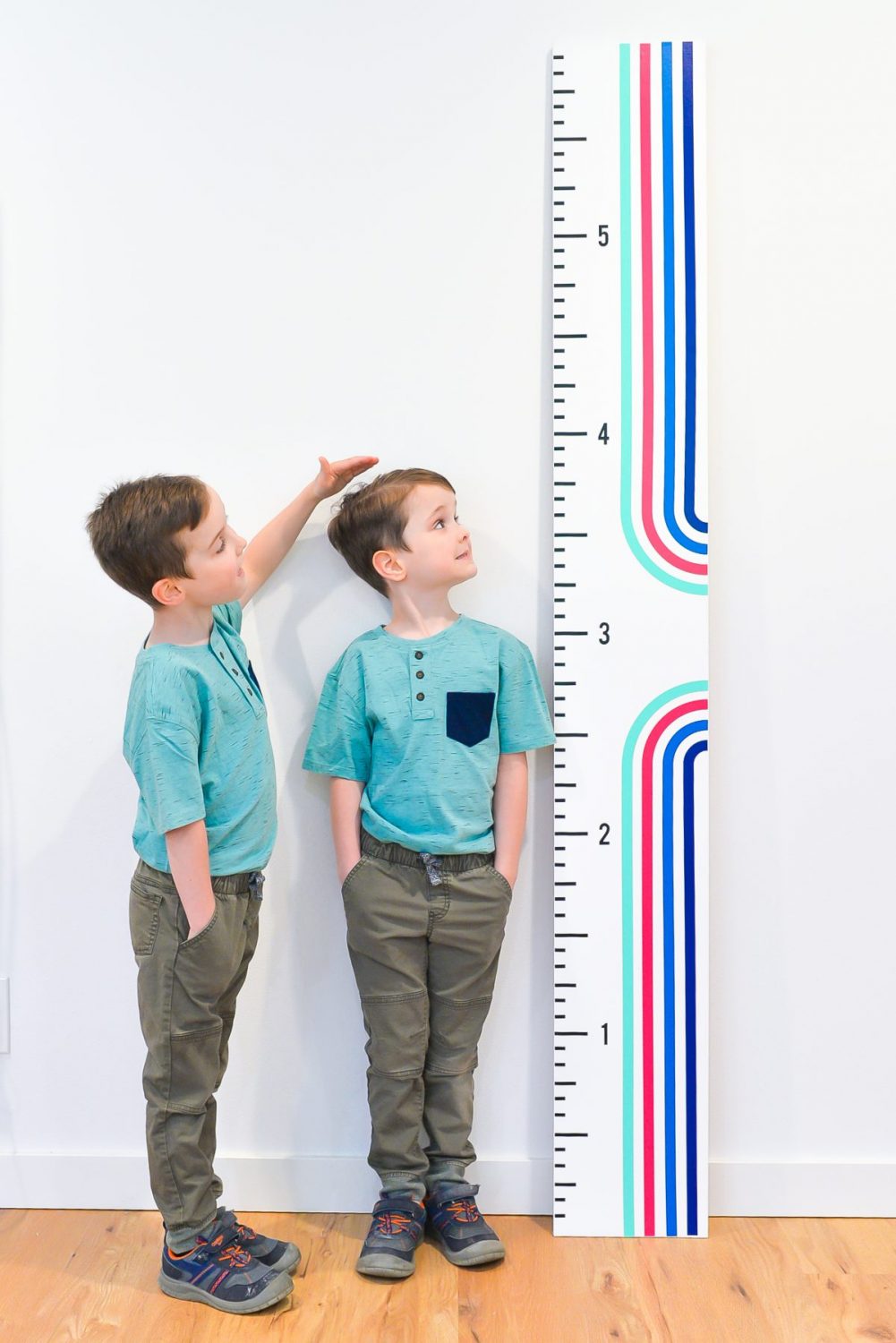 Head to JOANN.com to grab the Cricut Maker 3 and Cricut Explore 3 online, as well as all the supplies you need to make this fun, easy project!