Show your bridesmaids how much you appreciate them with these personalized bridesmaid gift ideas! Get the free SVG files to make these bridesmaid shirts and peekaboo wine glasses!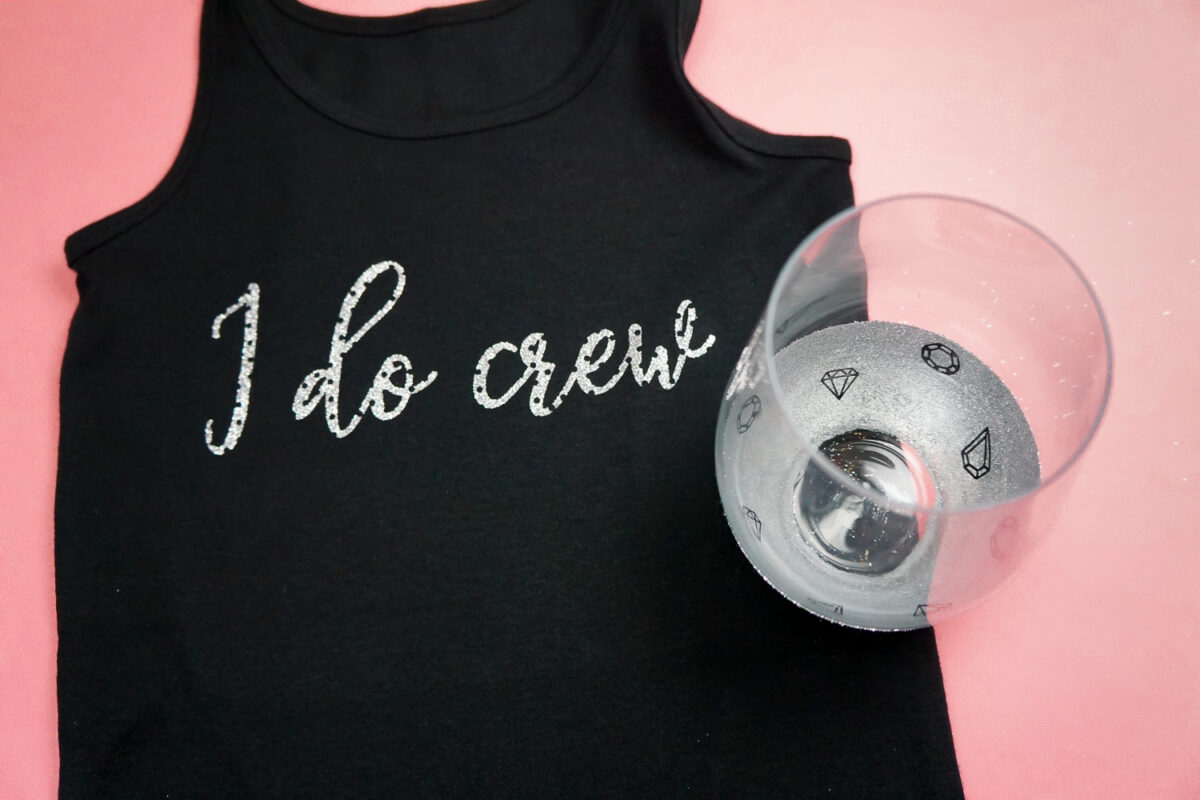 When I got married almost six years ago, I was so blessed to have four of my closest friends stand by my side. If you're getting married and want to shower your love on your besties, I have two DIY bridesmaid gift ideas for you! Head to your local JOANN store or online and grab all the supplies you need to make these cute bridesmaid shirts and peekaboo wine glasses.
If you have a wedding in your future, I totally recommend getting a Cricut if you don't have one already. You'll save so much money over purchasing ready-made bridal party gifts, bridal shower ideas, and wedding decor, even with the cost of the machine. And once your big day is over, you'll still be able to use it to craft and create!
DIY Bridesmaid Shirts
Let's start with these glittery bridesmaid shirts! Shirts are perfect gifts for your friends. They are easy to make—all you really need is your Cricut Explore or Maker, some glittery iron-on vinyl, and an EasyPress or iron!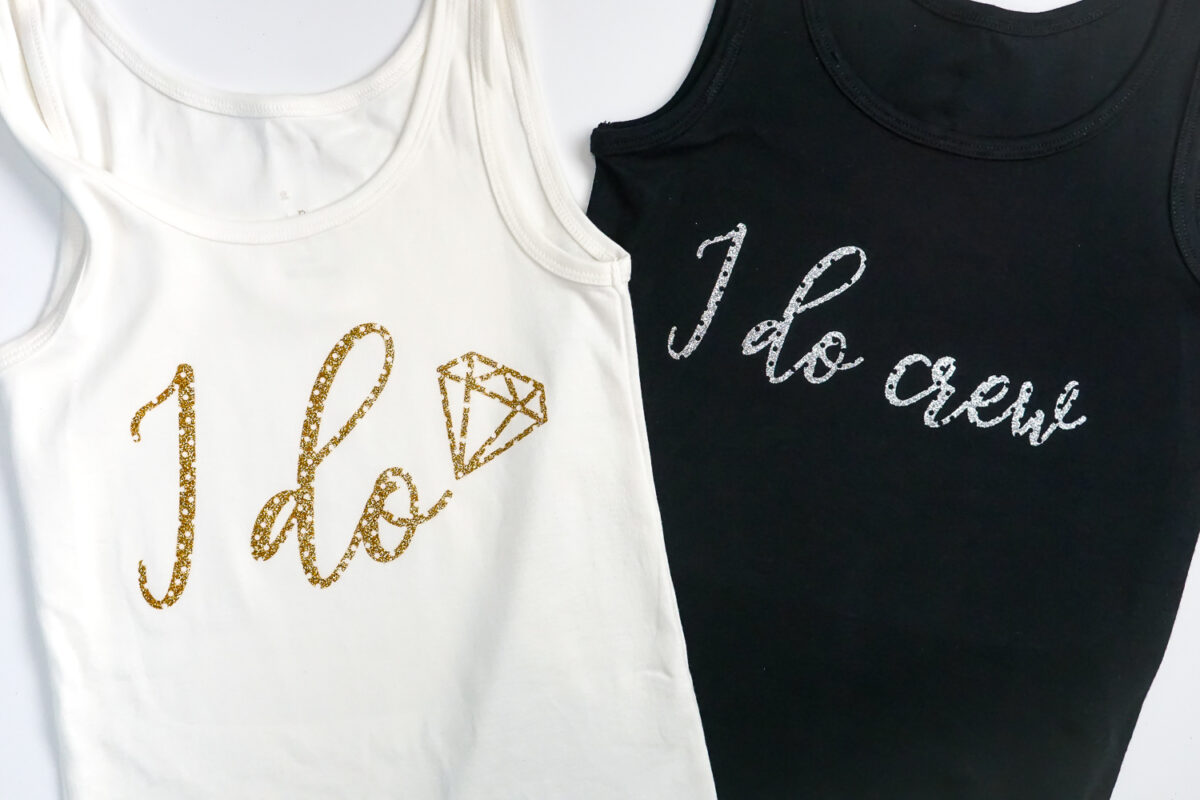 You can give these shirts to your girls when you ask them to be in your wedding party, or break them out during a fun bachelorette weekend on the town or during your bridal shower. You could even wear them while you're out shopping for the perfect dress! I've given you an "I do" SVG file for the bride, and then use the "I do crew" SVG for all of the bridesmaids!
Supplies
Download the Free I Do Crew File under SVGs C218
This file can be found in my Free Craft Resource Library. The file number is: C218.
Want access to this free file? Join my FREE resource library! All you need is the password to get in, which you can get by filling out the form below!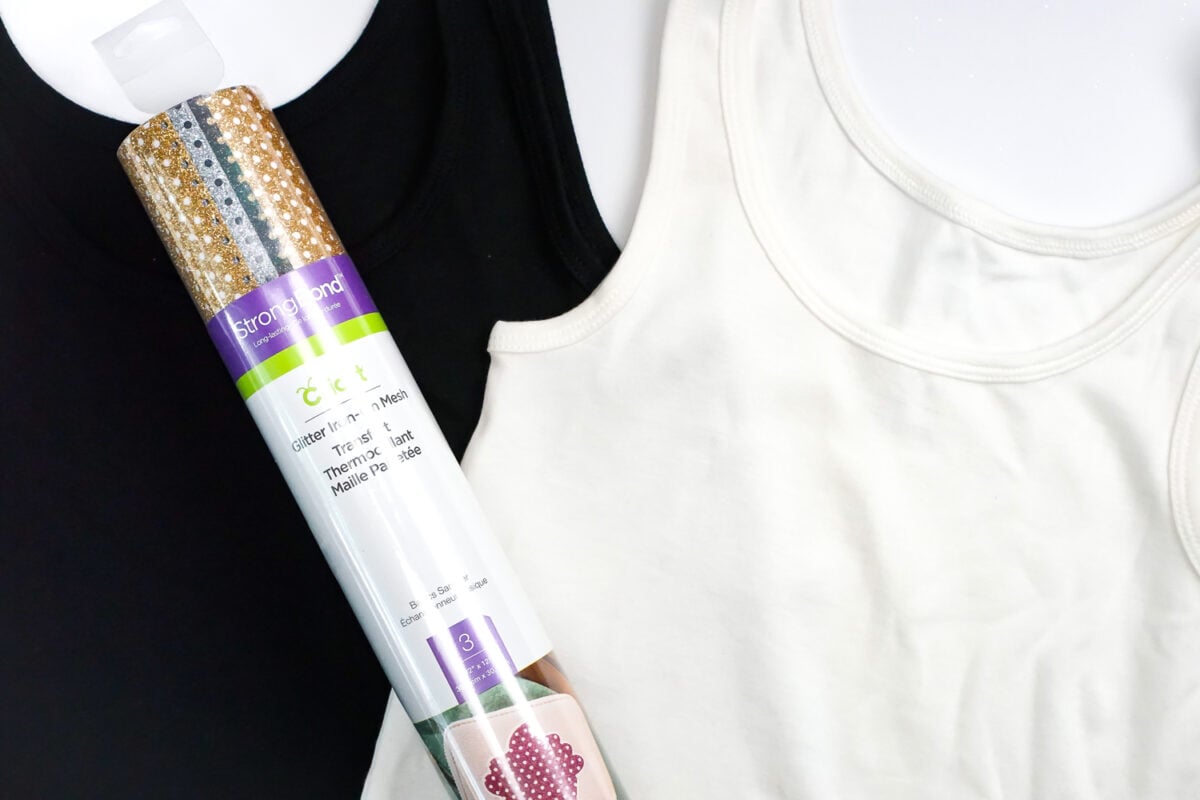 Directions
Start by uploading the SVG you downloaded to Cricut Design Space. Need help uploading a file to Design Space? I've got you covered. Measure your shirts and resize your images accordingly. The size of your image may change depending on the size of each of your shirts.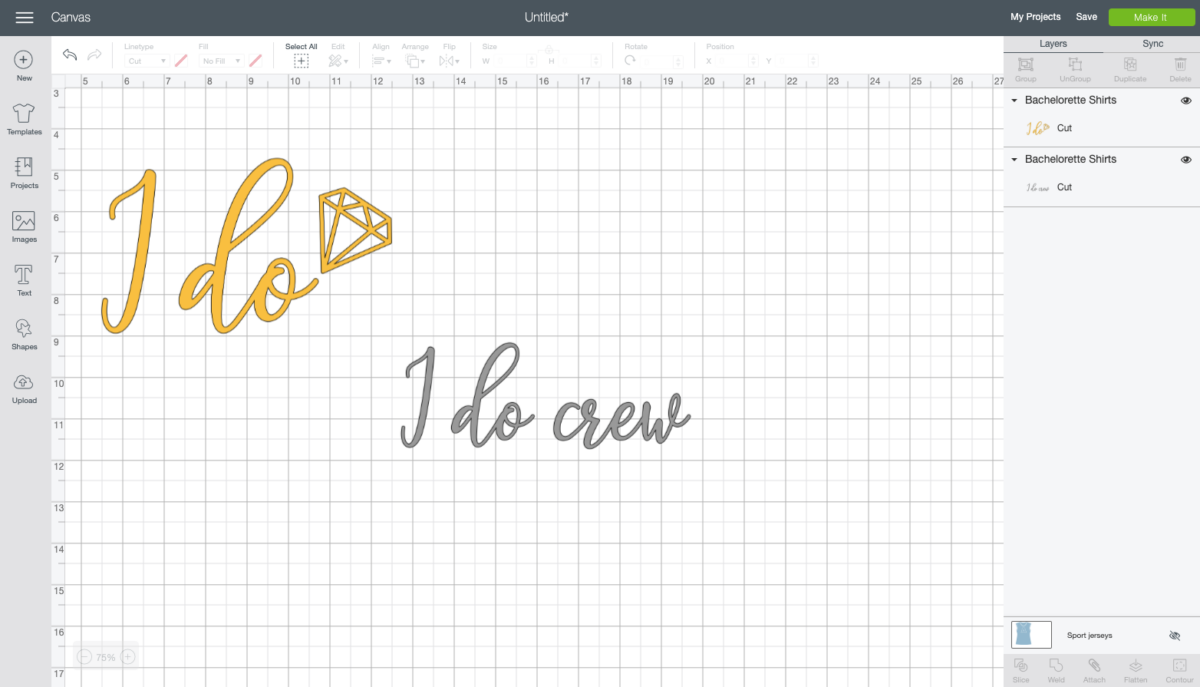 Once you're happy with the size of your images, click "Make It" in the upper right. You'll be taken to the Prepare screen. Here you need to mirror your iron on vinyl using the slider on the left. If you do not do this, your words will be backward! Click continue.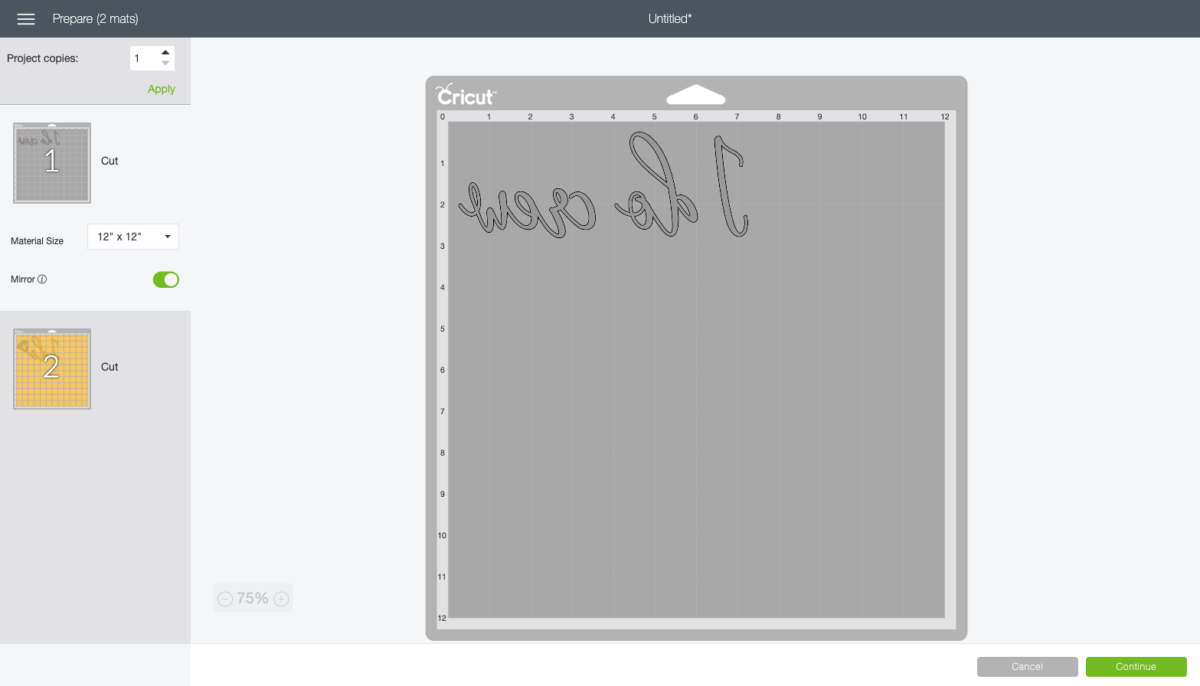 Then place your iron on vinyl shiny-side down on your mat and select the correct material in Cricut Design Space. I'm using the new mesh glitter iron on vinyl, which has its own setting in Design Space.

Insert your mat into your machine and press the blinking C to cut your material!
Once your Cricut is done cutting, use a weeding tool to remove the excess vinyl. Check out my Weeding Iron On Vinyl post for my best tips and tricks for making it easier.
Then turn your iron on vinyl image over and center it on your shirt. Using your Cricut EasyPress (this beautiful Rose version is exclusive to JOANN!), heat press, or household iron, apply your image to your shirt. Check out Cricut's Heat Guide for the best temperature and time settings for your particular material. The glitter mesh iron on vinyl is 330° for 30 seconds.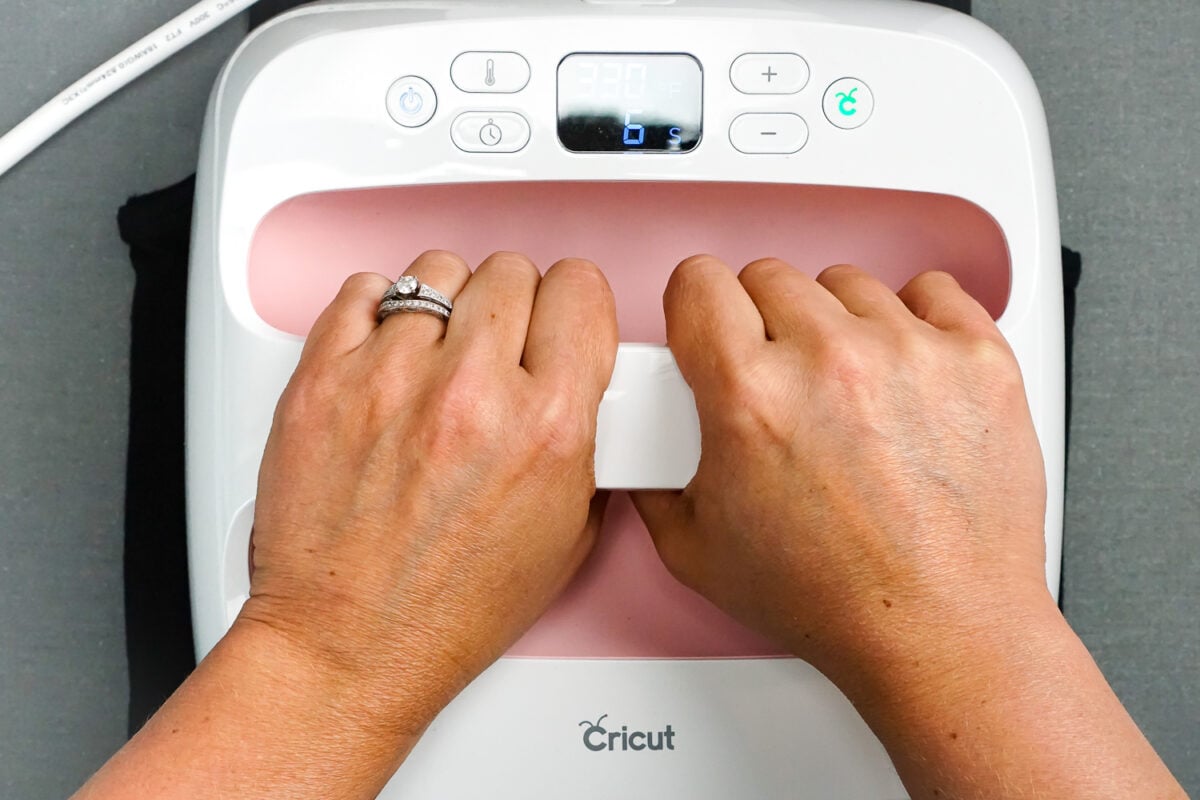 Once you're done pressing, return your EasyPress to the base. Let your vinyl cool for about 30 seconds, and then peel the backing plastic off to finish your shirt!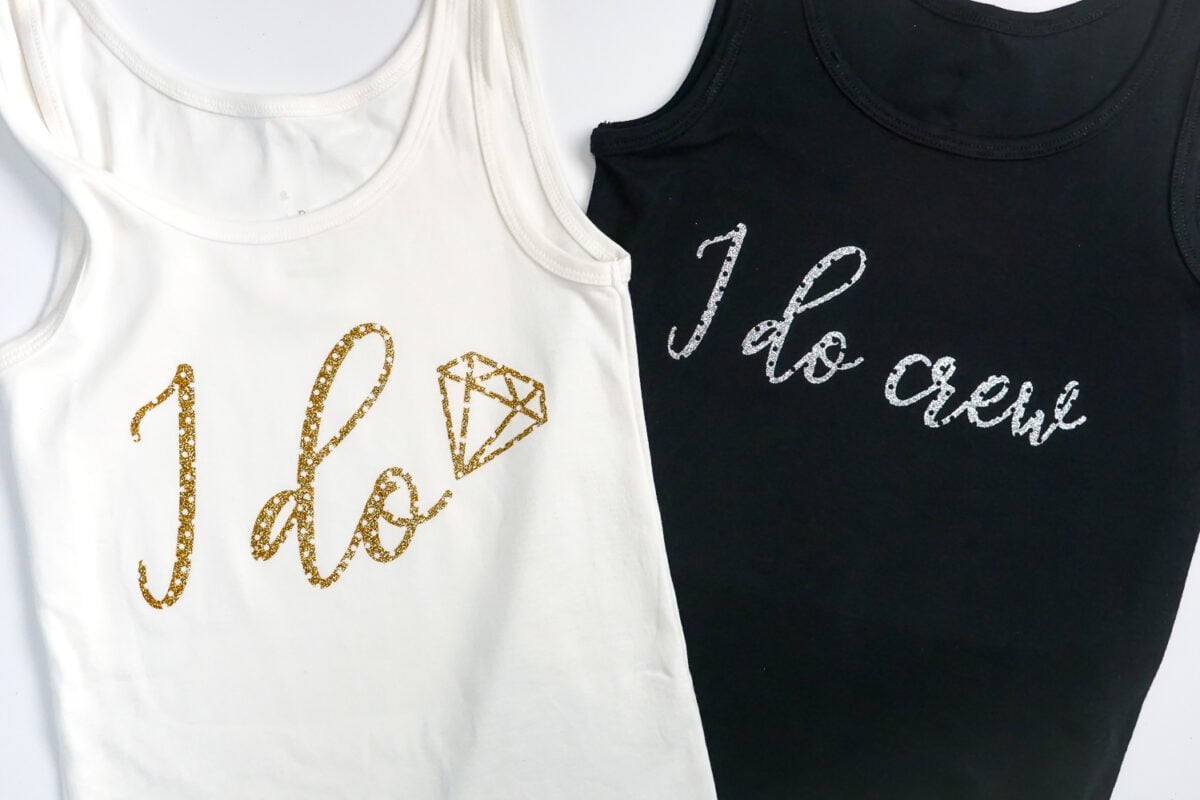 DIY Peekaboo Wine Glasses
I love hanging out in Cricut groups online, and I've seen quite a few of these DIY peekaboo wine glasses lately. They are cute and clever—the design can only be seen from inside the glass. From the outside it looks like a wine glass with glitter—inside are diamonds! If you wanted, you could also add the names of your bridesmaids to the glasses in adhesive vinyl.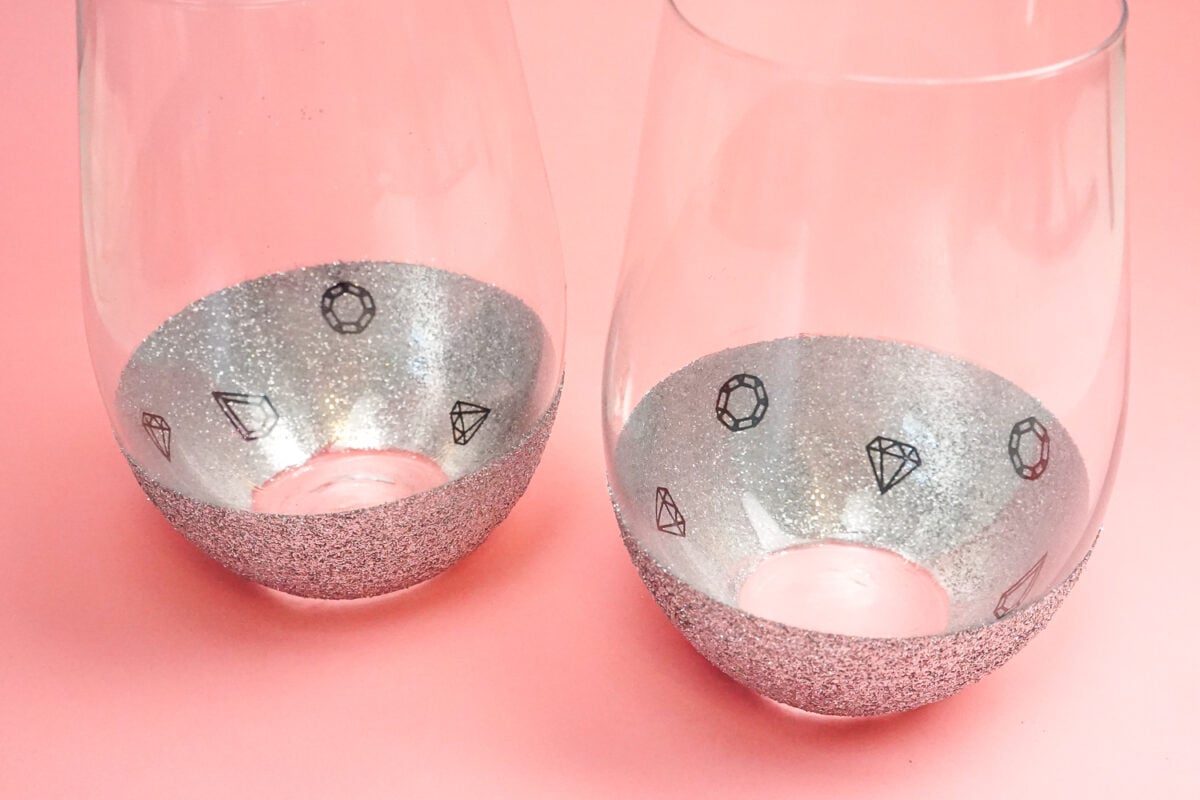 Supplies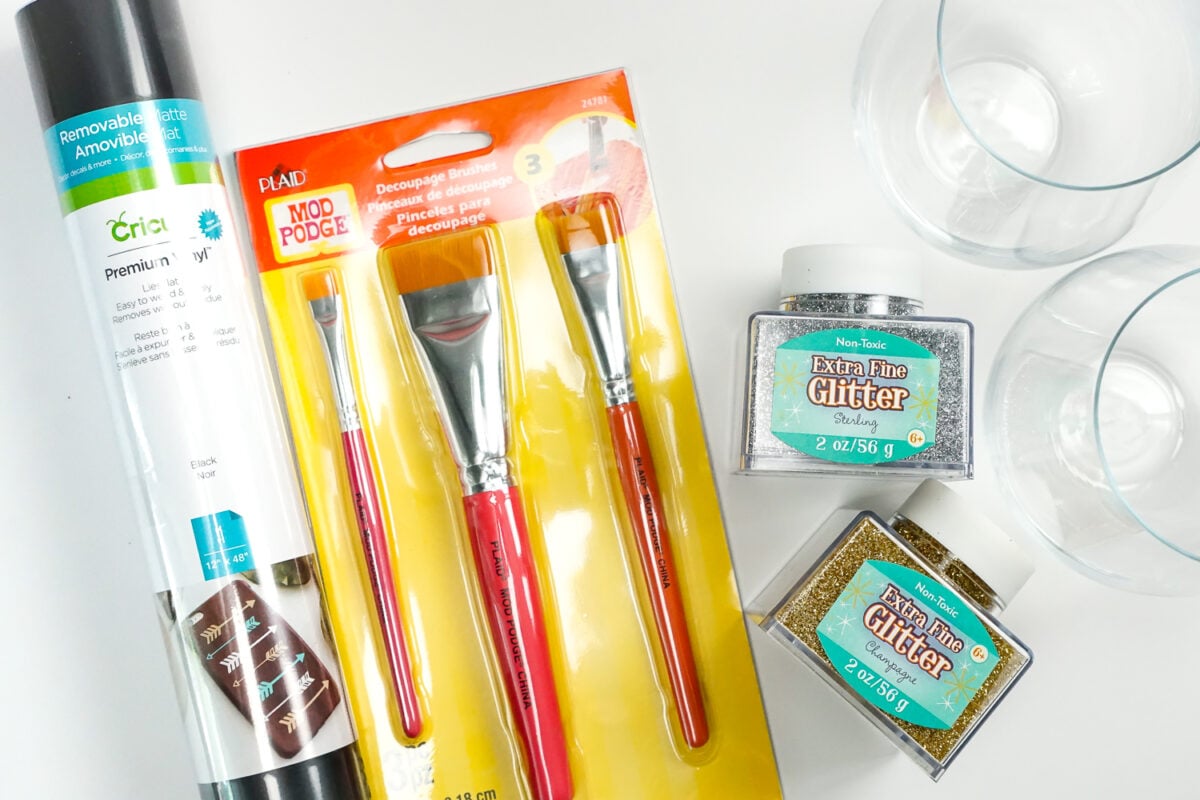 Directions
I've worked on several ways to get the best, most even line around the glass and this is the method that worked best for me. Start by finding an object that is about as tall as you'd like your glitter to be. I used a roll of painter's tape. Then tape a dry-erase marker to the object. Then you can set the glass against the pen, spin the glass, and the pen draw a perfect line all the way around your glass.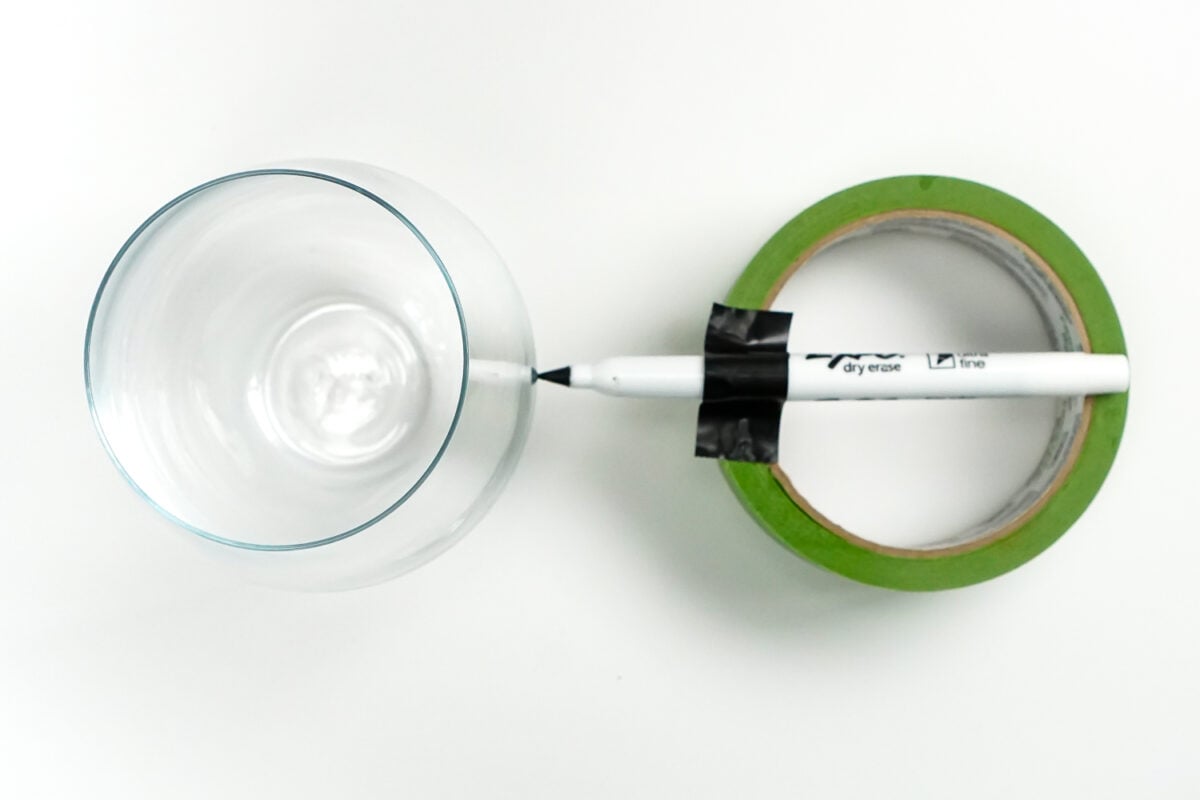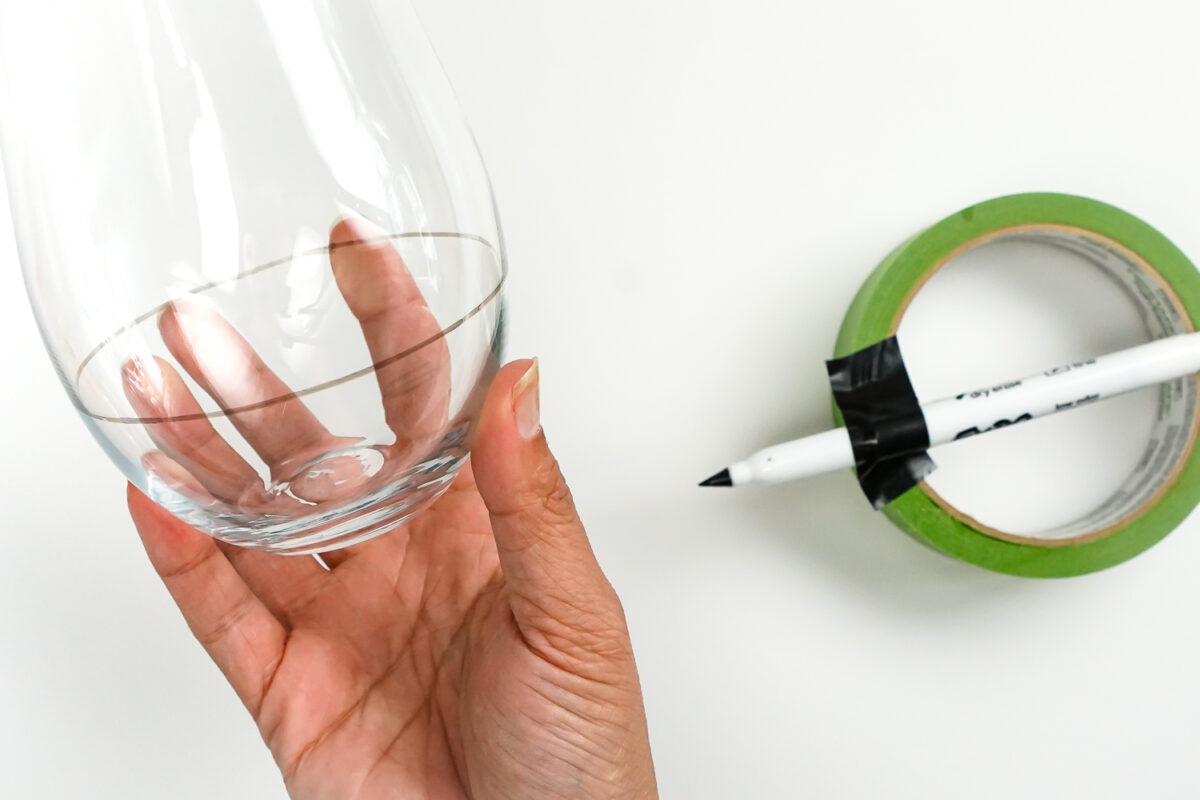 You'll see a lot of people using masking tape for the line, but I highly recommend electrical tape. It's stretchy, which makes it easy to place around the glass, and it peels off very cleanly.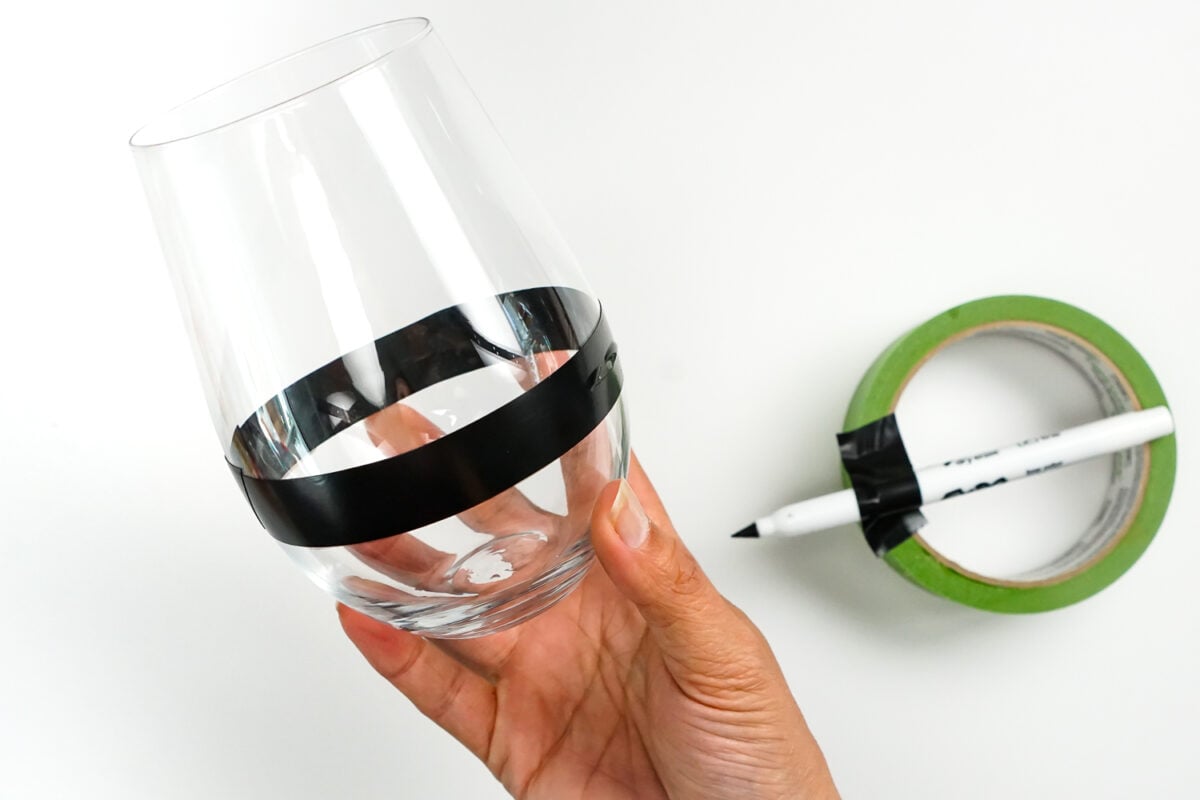 Next cut out the small gemstones on your Cricut Explore or Maker out of black adhesive vinyl. I found that I didn't need to actually weed the gemstones—I was able to just pick them up off the sheet of vinyl like a sticker. That saved a lot of time and frustration weeding such small shapes.
Place the gemstones on the outside of the glass below your line of tape.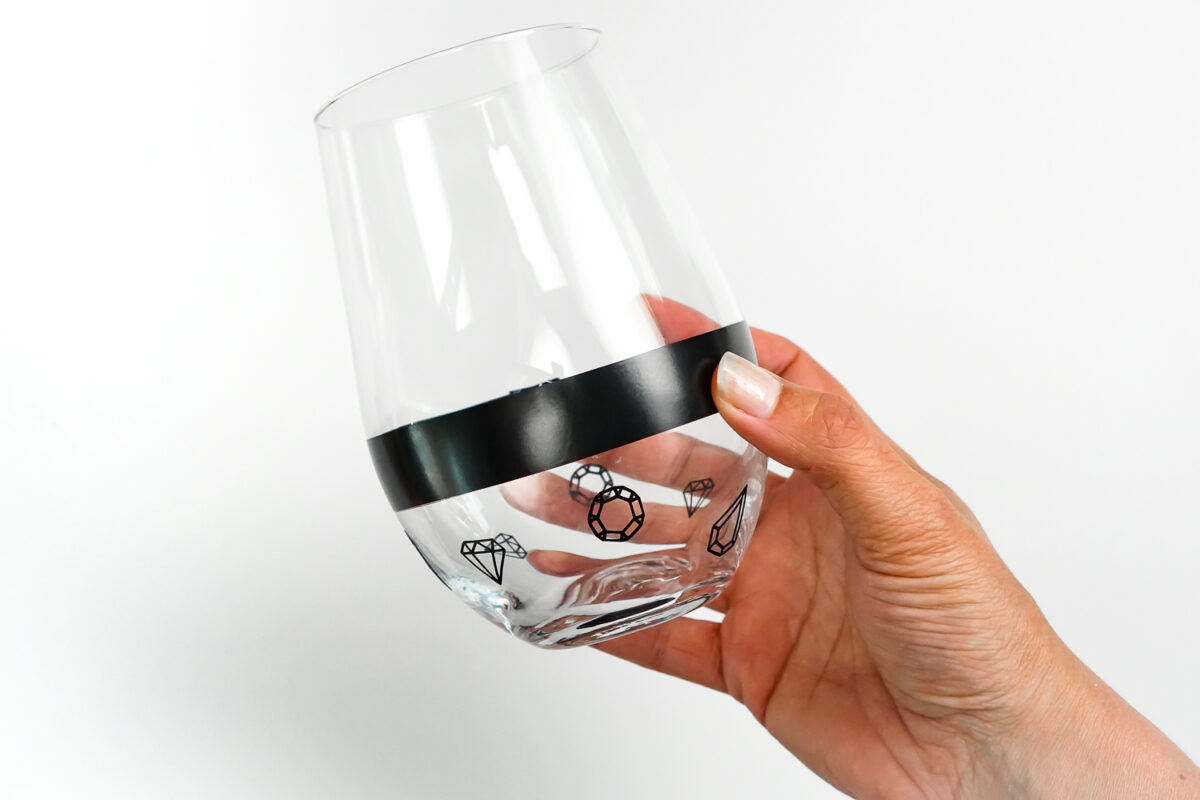 Before you start on the Mod Podge step, pour your fine glitter into a bowl. You want to be ready to go!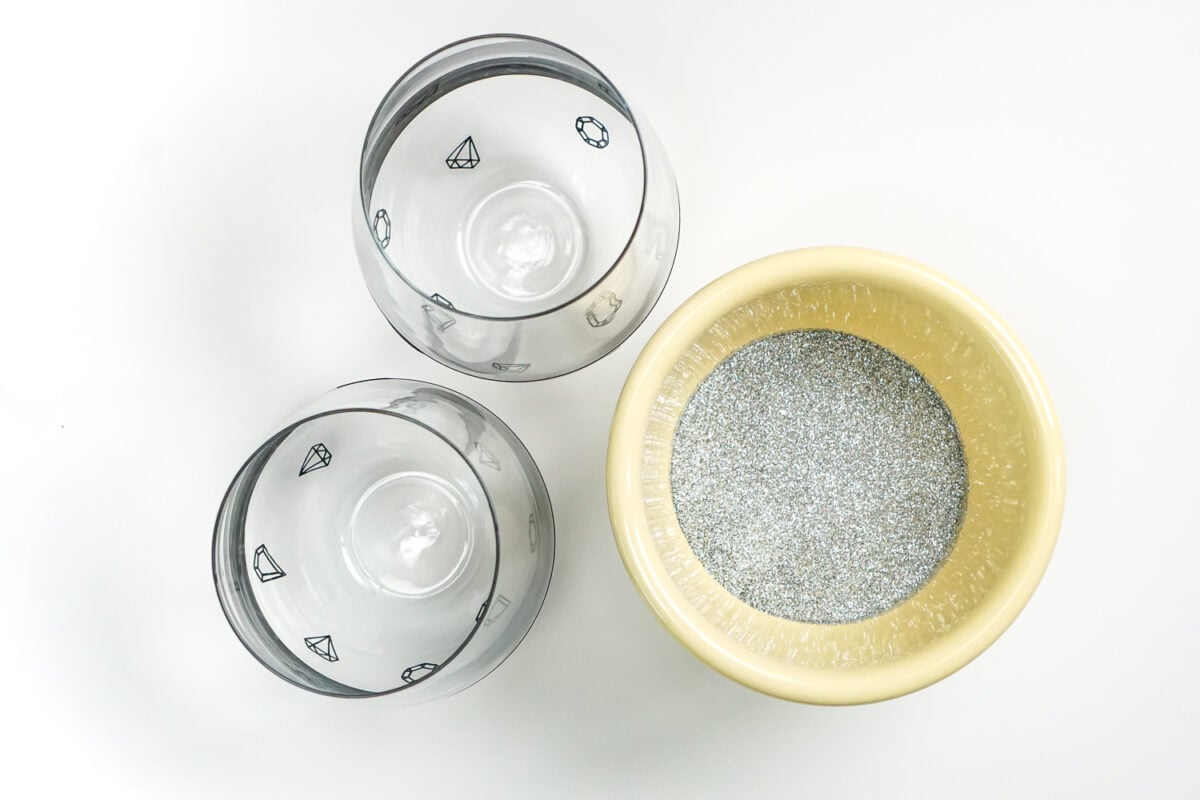 Then paint a thin coat of Mod Podge onto the glass using the brush. Try to get it as even as possible—any globs will show.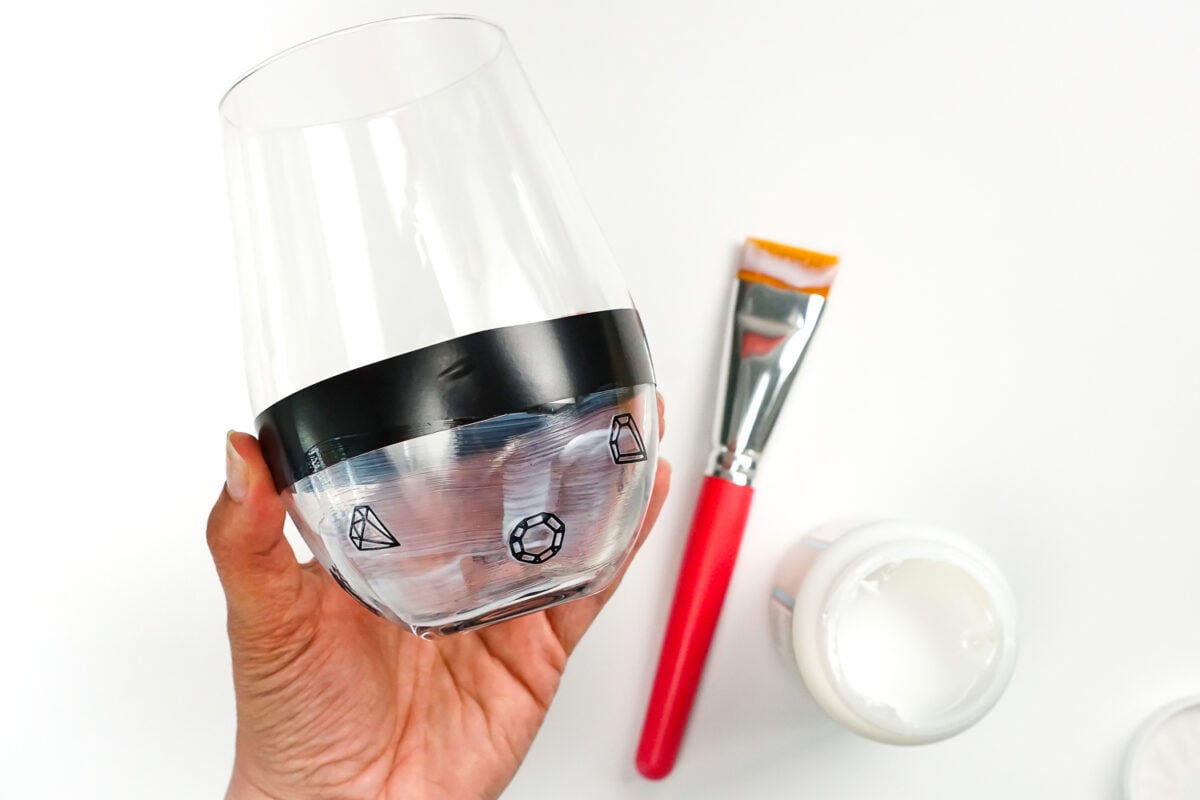 Immediately dip the glass into the glitter to give it a good coat.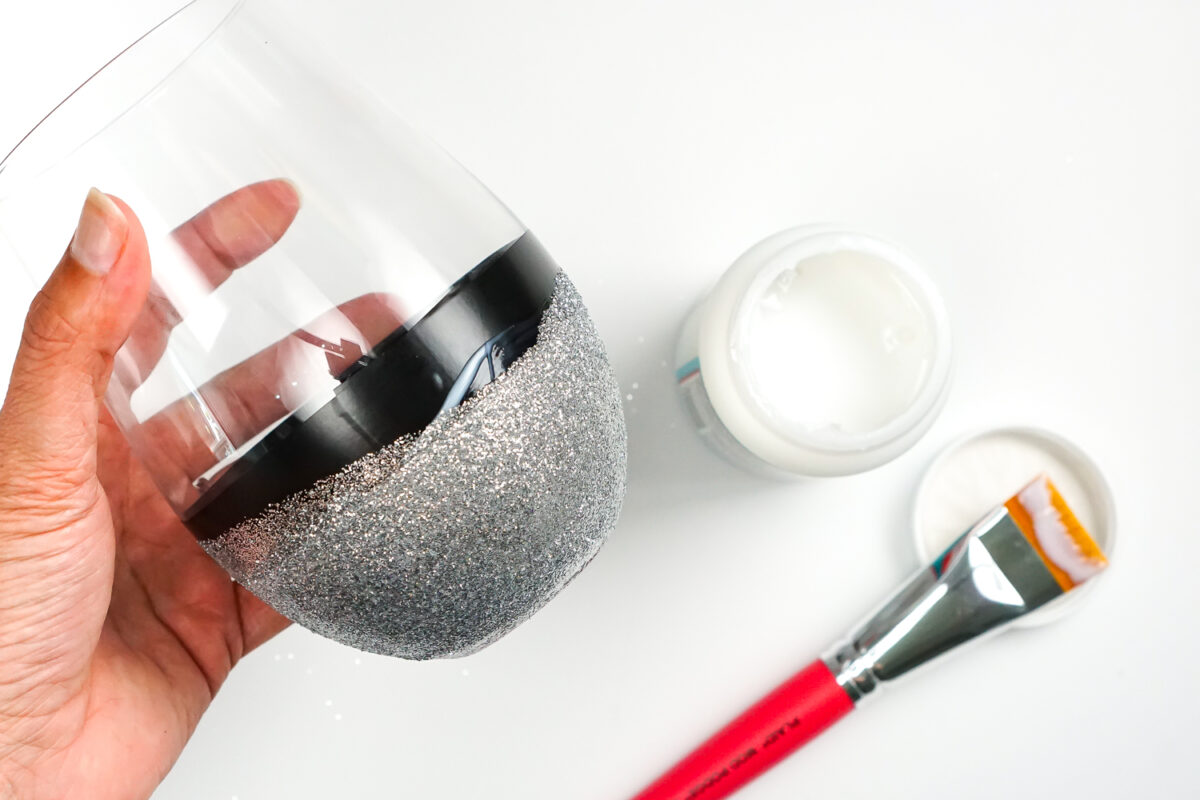 Let it dry for about an hour.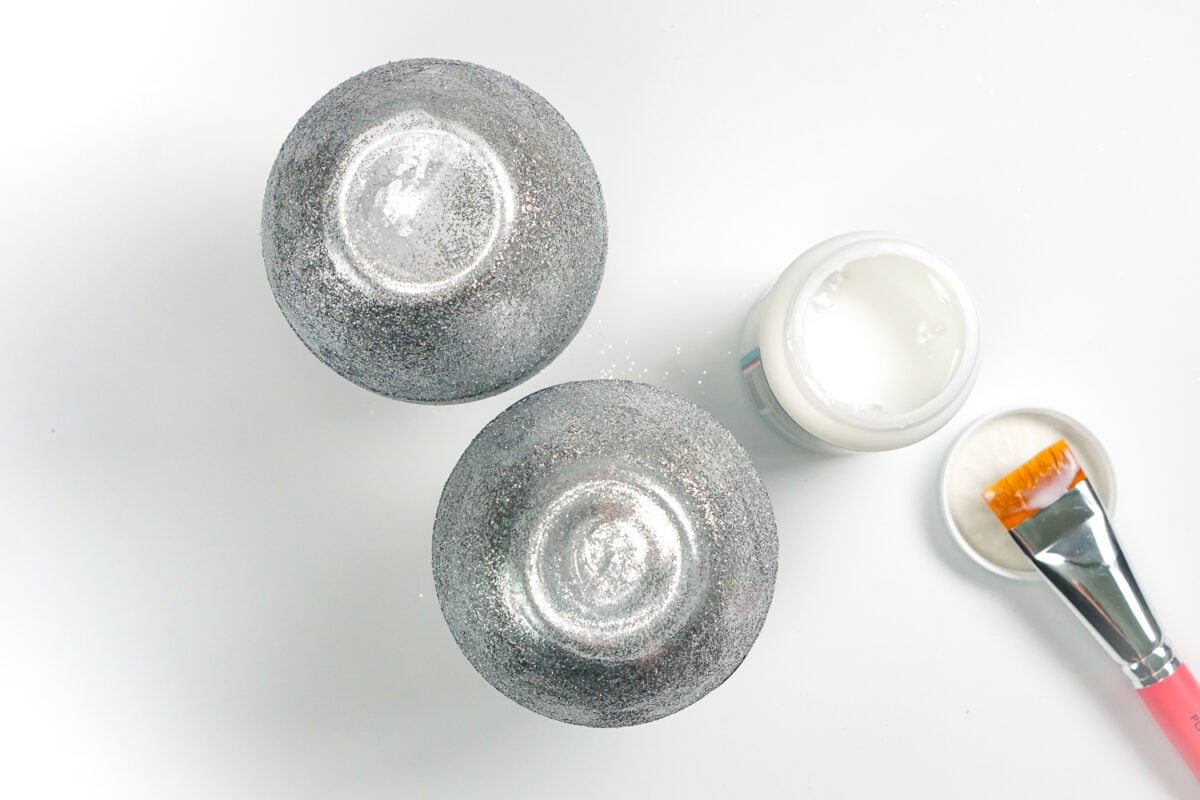 Then do another coat of Mod Podge right on top of that first coat and dip again. Before it dries, peel off the electrical tape.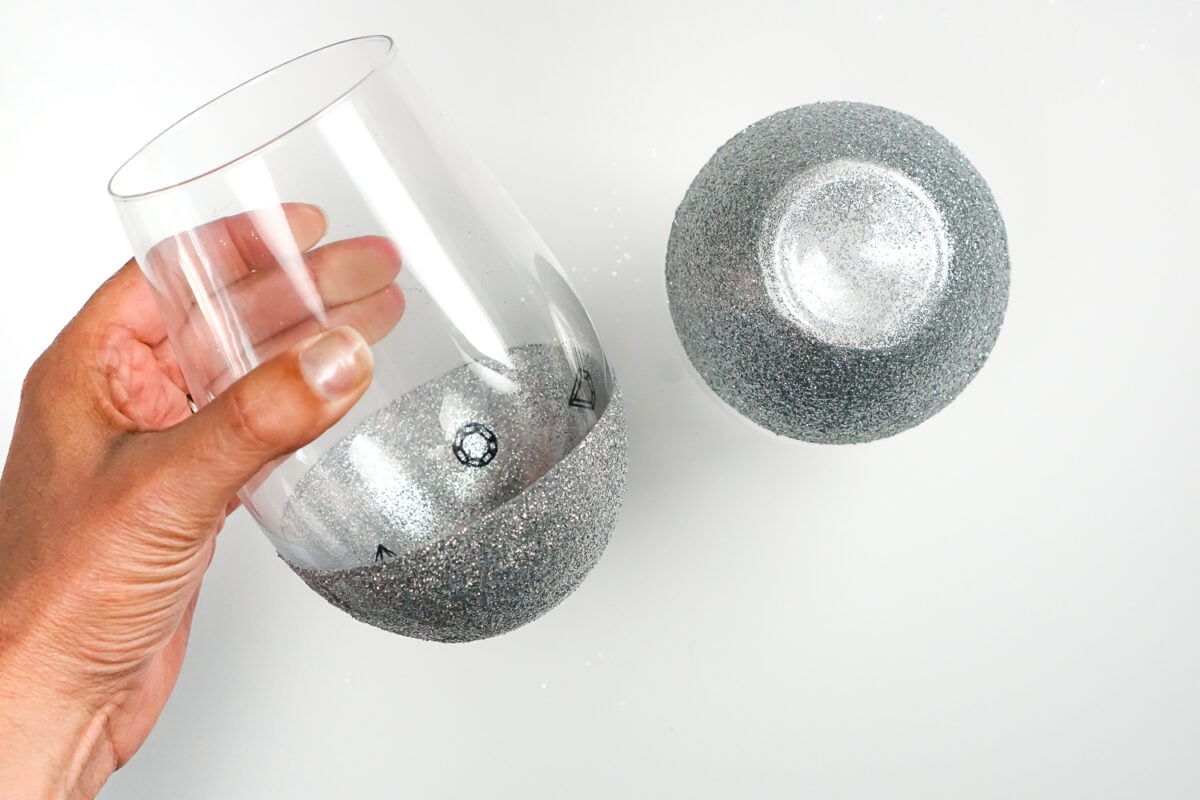 Allow to dry overnight. Then do one final coat of Modpodge over the glitter to seal it. When the glass is full of wine…it just looks like a glittered wine glass—but finish off your bubbly and there's a glittery surprise inside!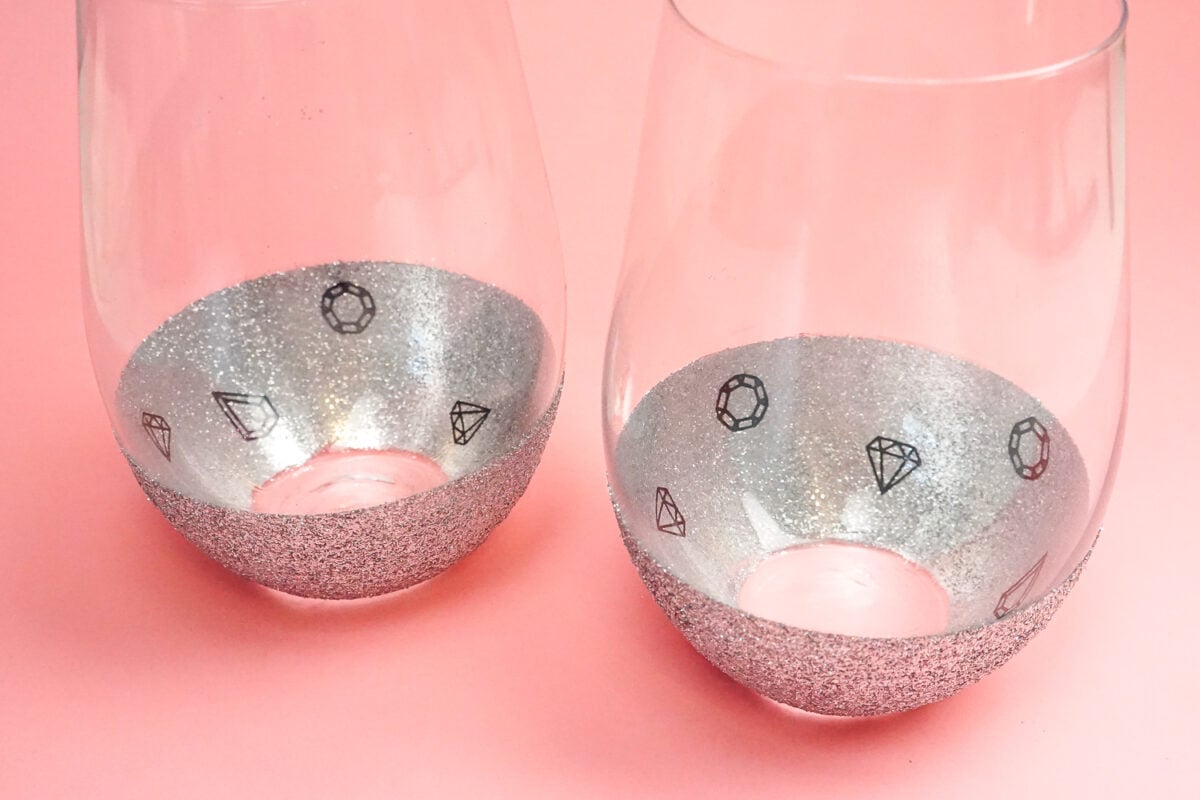 Hand wash the glasses and they'll last longer!
I'd love to hear more of your DIY bridesmaid gift ideas in the comments! I'd love to hear what you've made for your friends. And make sure to head to your local JOANN for the supplies to make these projects!