Gather your best friends and get ready for the big day! Add the bling, the glam, the fun, and all sorts of special touches with these DIY bridal shower ideas with the Cricut.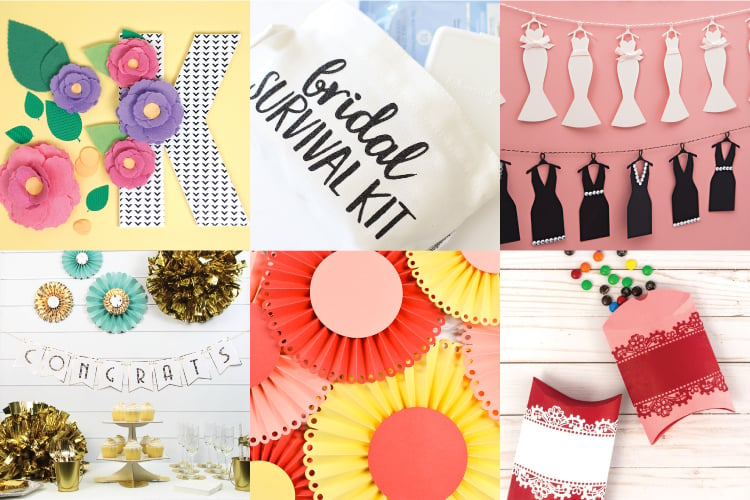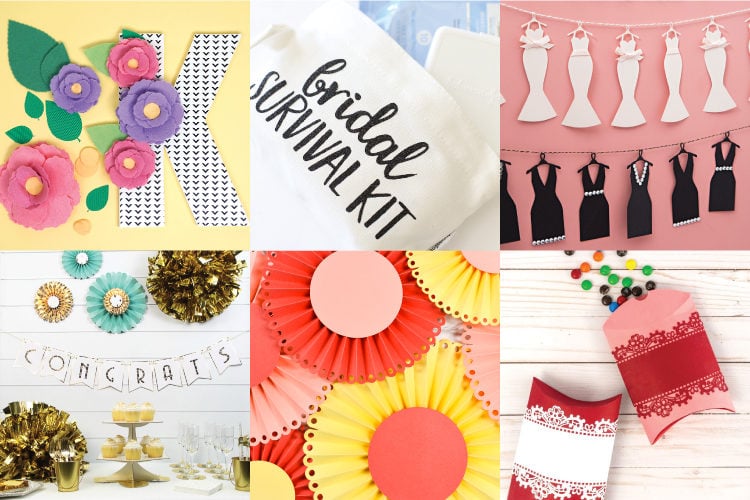 Sometimes I wish I could get married all over again (to the same awesome guy, of course) just so I can have another bridal shower! I loved my bridal shower—it was travel-themed, with cute airline ticket invitations, globes and maps, and adorable airplanes. We were off on a 26-day tour of Europe for our honeymoon, so it felt so fitting!
It think it's so fun celebrating an upcoming wedding—I mean, it's one party to prepare for another party, what's better than that? There are so many cute, hip, and chic bridal shower trends it's hard to keep track of them all. If you are planning a modern bridal shower, there are ideas galore. If your theme is more rustic, you'll have plenty of inspiration. If glam and glitz is your thing, don't worry, there's bling everywhere. You can craft for any bridal shower trend!
If you're looking for creative, stylish, and beautiful ways to design a bridal shower, check out these DIY bridal shower ideas with the Cricut. The Cricut can do so much and it makes crafting so much easier! Want to know more about using your machine? I've got a FREE class for that!
Please pin from original sources.
DIY Bridal Shower Ideas with the Cricut
Make these beautiful Paper Rosettes from heyletsmakestuff.com using your Cricut! Pick your favorite colors and add some bridal shower pop.
Lovecreatecelebrate.com shows us how to use our Cricut to make Beautiful Bridal Shower Decorations for any theme.
Dress up the bridal shower tables with these Mason Jar Centerpieces from thecountrychiccottage.net
Make these elegant, lace-accented Pillow Boxes from practicallyfunctional.com and fill them with special treats for all your bridal shower guests.
Dress up this DIY Floral Monogram Letter and it makes the perfect bridal shower gift. happinessishomemade.net shows us how to create a customized gift celebrating the bride's new last name.
number-2-pencil.com shows us how to make a DIY Wedding Day Countdown Chalkboard Sign, the perfect addition to any bridal shower. Use your Cricut to create the beautiful lettering and 3D flowers.
If bling is your thing then grab your Cricut and these great Glam Gold Engagement Party Decoration ideas from lydioutloud.com and create a golden bridal shower.
This Bachelorette Party Confetti from makelifelovely.com is perfect for any bridal shower. It's easy to make using your Cricut and fun to sprinkle on tabletops and centerpieces.
Make sure you or that bride-to-be has everything she needs for the big day. This Wedding Day Bridal Survival Kit with Cricut Glitter Vinyl is adorable, check out seevanessacraft.com for all the details.
Give the gift of sweets with this DIY Cake Mix Pot Holder Favor from somethingturquoise.com.
If you're planning a co-ed wedding shower, this BBQ Couples Wedding Shower theme from michellespartyplanit.com is the way to go. Use your Cricut to make everything you need.
Point the soon-to-be happy couple in the right direction with this chic and trendy feather and arrow bridal shower decoration from printablecrush.com.
Your bridesmaids will absolutely love their presents when you add these glam-inspired SVGs! I'm personally loving these Iron-On Leggings from liagriffith.com.
These Paper Leaves Chandelier will for sure be the centerpiece of any bridal shower. Apeaceofcreativity.com shows us how to use our Cricut to create this almost magical bridal shower decoration.
Fill vases with the bride's favorite flowers and wrap them with these DIY Leather Vase Wraps from dukesandduchesses.com, add the bride's new last name or the couples' first names for a special touch.
Oh my! How perfect is this Mini-Wedding Dress Bunting from somethingturquoise.com!! Quickly and easily cut out as much as you need with your Cricut.
Is it even a bridal shower if there are no unicorns? Heyweddinglady.com combines fantasy and style into magical DIY Unicorn Bridal Shower themed decor and accessories.
Coffee makes everything better, even a bridal shower. Tidewaterandtulle.com knows what's important, check out these DIY Fall Bridal Shower Coffee Cozies, they make a great shower favor.
Plan the perfect bridal shower tea party! Royallacebridal.com has created a DIY Bridal Shower Tea Party Invitation that is fit for a queen!