If you're new to the Cricut, here are a few helpful tips and tricks for creating your own custom project in the Cricut Design Space.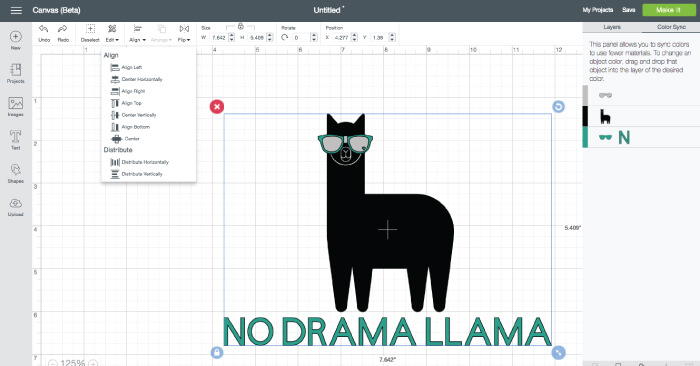 In my last post in this Cricut Series, I talked about the basics for creating a Cricut "Make It How" project. But what if the Cricut "Make It Now" library doesn't have the project you're looking for? I often create projects in Adobe Illustrator, but I wanted to share how easy it is to create projects within in the Cricut Design Space.
Stop pulling your hair out and start creating confidently with your Cricut! Finally understand how to use your Cricut with my Learn Your Cricut eBooks!
I'm a little obsessed with llamas these days — whenever I'm feeling blue I Google "llama memes" and I immediately feel better. So I decided to make this No Drama Llama cut file. Here's how I did it, plus a few tips and tricks that will help you in getting started creating a custom project in the Cricut Design Space.
This project is Cricut images and text cobbled together in a cute llama cut file. I think I'll put it on a t-shirt for whenever I'm feeling super chill. Start by creating a new project in the Cricut Design Space. I clicked on "Images" in the left-hand menu and searched for "llama." Two adorable llamas popped up (seriously, love llamas) and I chose the one on the right and inserted him onto my canvas.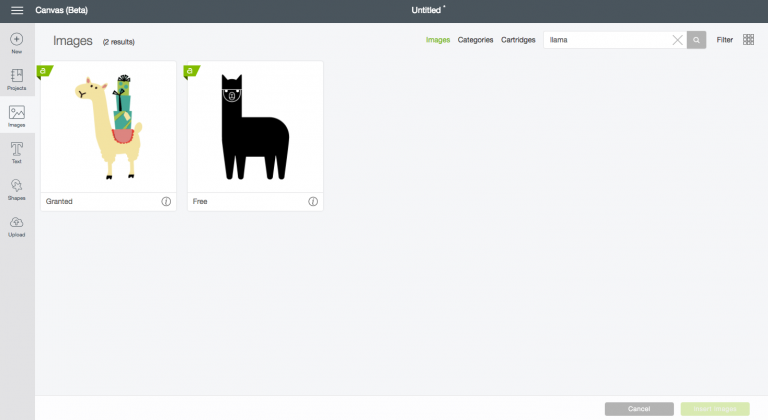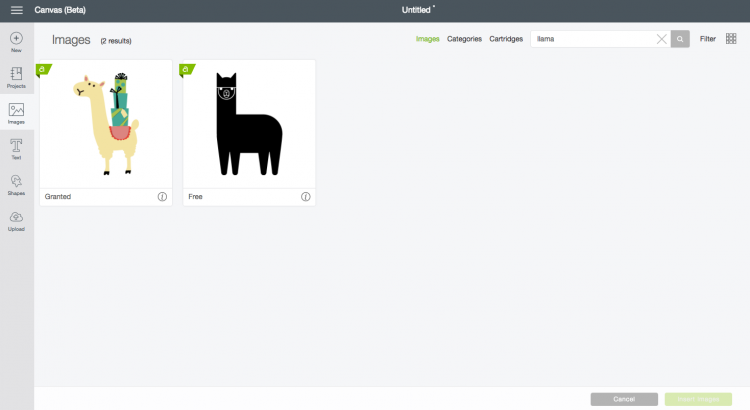 I then clicked on the text tool in the left-hand panel and typed "NO DRAMA LLAMA." Seriously. This llama is having none of your drama. The font I used was Cricut Sans because it's, well, undramatic. I resized it and moved it below my llama.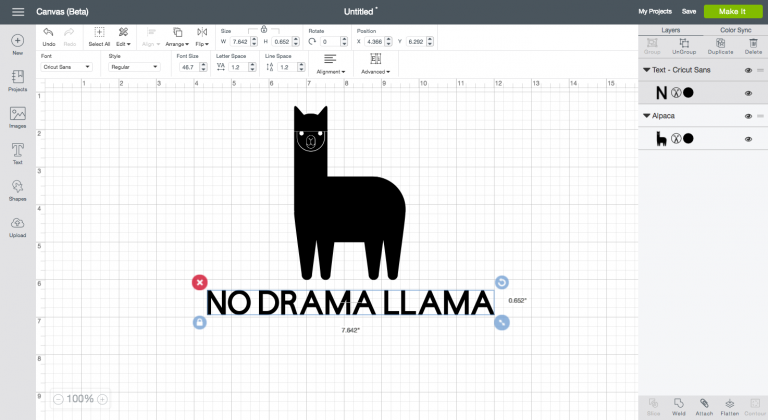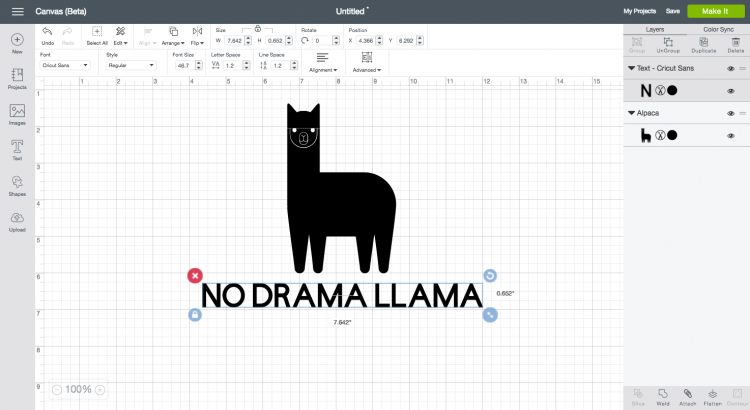 I thought about leaving the llama as-is, but decided he wasn't chill enough. He definitely needed sunglasses. Back to the Images search, and I found a ton of great options and chose this teal pair with a heart. When I imported them into the canvas, they were enormous, so I resized them and dragged them onto my llama's face. Much better. Totally chill. No drama llama.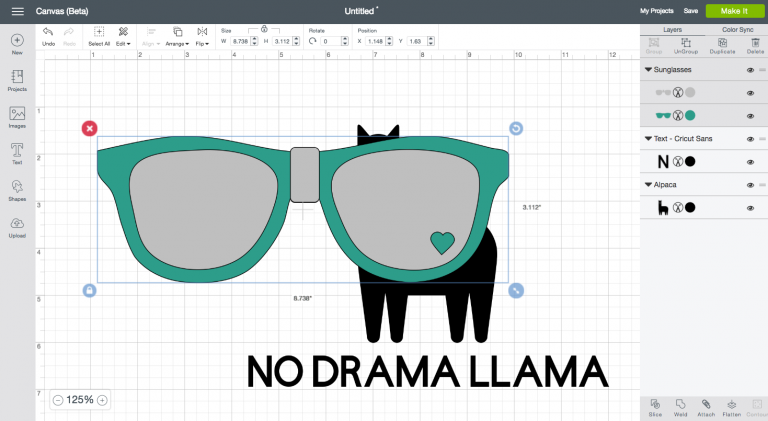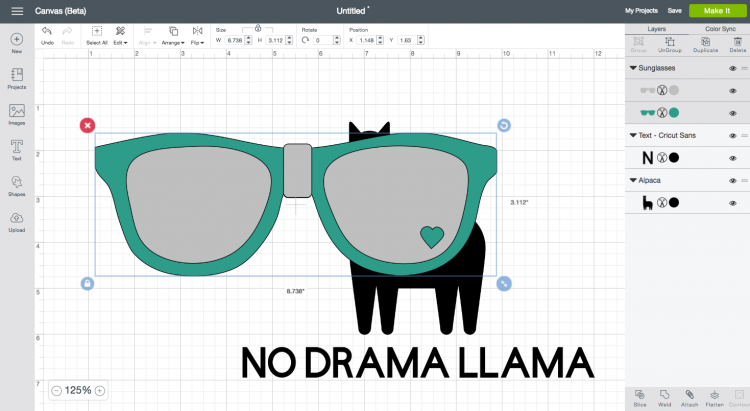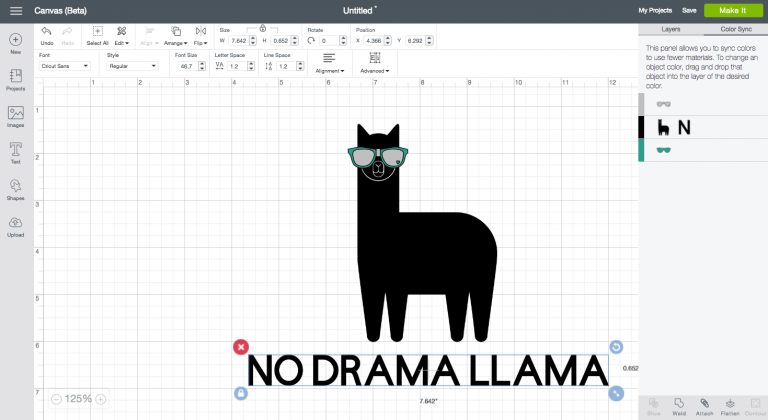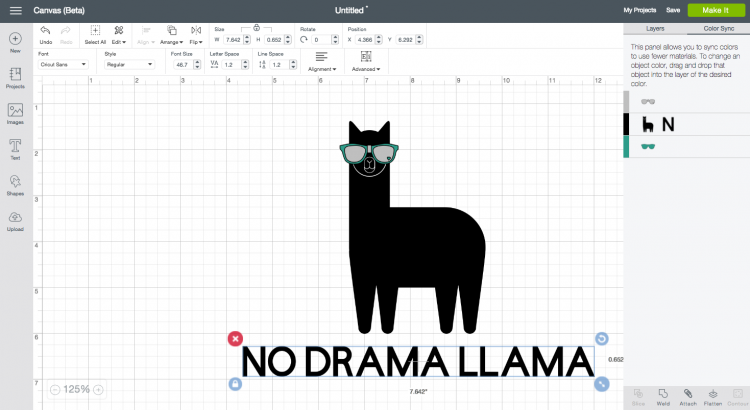 I'm a huge fan of the color teal, so I decided to change the text color to the same teal in the sunglasses. In the right-hand panel, click on the tab for "Color Sync." In that panel, I dragged the "N" (which represents the text box) from the black layer to the teal layer, quickly changing the text to teal (I LOVE this new feature of the Cricut Design Space v3!)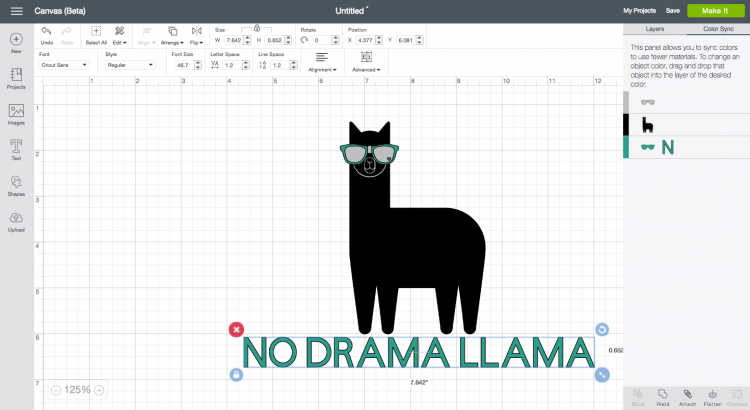 I was almost finished, but I wanted to make sure that everything was aligned, so I selected the text and the llama and used the "Align" menu in the top toolbar to align them. I had to move the sunglasses back to the right position on his face afterward.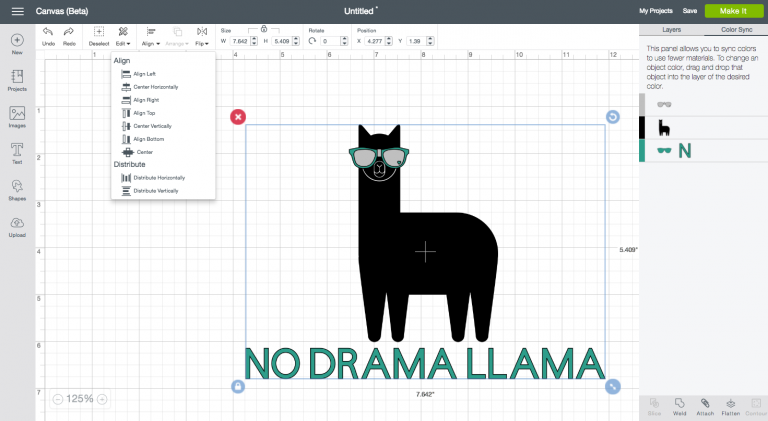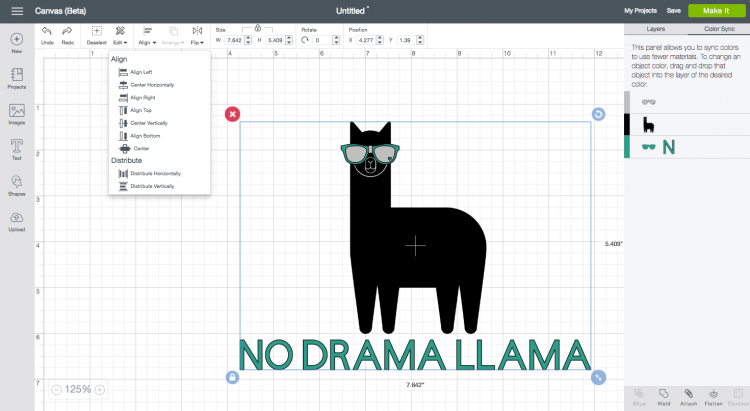 Done! This no drama llama is ready to be turned into a t-shirt, card, or other fun project! What are you going to make in the Cricut Design Space?