As of January 29, 2020, desktop Cricut Design Space moves from being a web-based program to being an app on your computer! Here's everything you need to know about making the switch.
If you are a desktop user (both Mac and PC) of Design Space, listen up! On January 29, 2020, Cricut Design Space will no longer be accessible through design.cricut.com.
So where are you going to find Cricut Design Space? Instead of accessing at that web address, you will be directed to download desktop app version of the software. Basically, instead of accessing it through a website, it will now reside on your computer as a program. You will download the desktop app from the link above, and then follow the on-screen steps to install it on either your Mac or PC. Get instructions for that here.
The beta version of this app actually launched more than four months ago—you may have seen prompts to download it and you may already have it on your computer. As of writing this post, there are almost no differences between the web app and the desktop app when it's connected to the internet—you just now access Cricut Design Space via your computer instead of a website.
Why is Cricut Design Space moving to a desktop app?
Cricut has talked about a few benefits of moving from a website to an app:
Automatic updates that don't require you to update your plug in (this alone makes it worth it!)
Faster connection between your computer and your Cricut
Internet quality will generally not affect using the Design Space app like it can with the website
Design and cut offline more easily (not sure about this one; see below)
Updated search capabilities
What are the Differences?
There are very few differences between the web version of Design Space and the app when connected to the internet (see below for offline information). Everything looks the same and all of your tools and features are in the same place.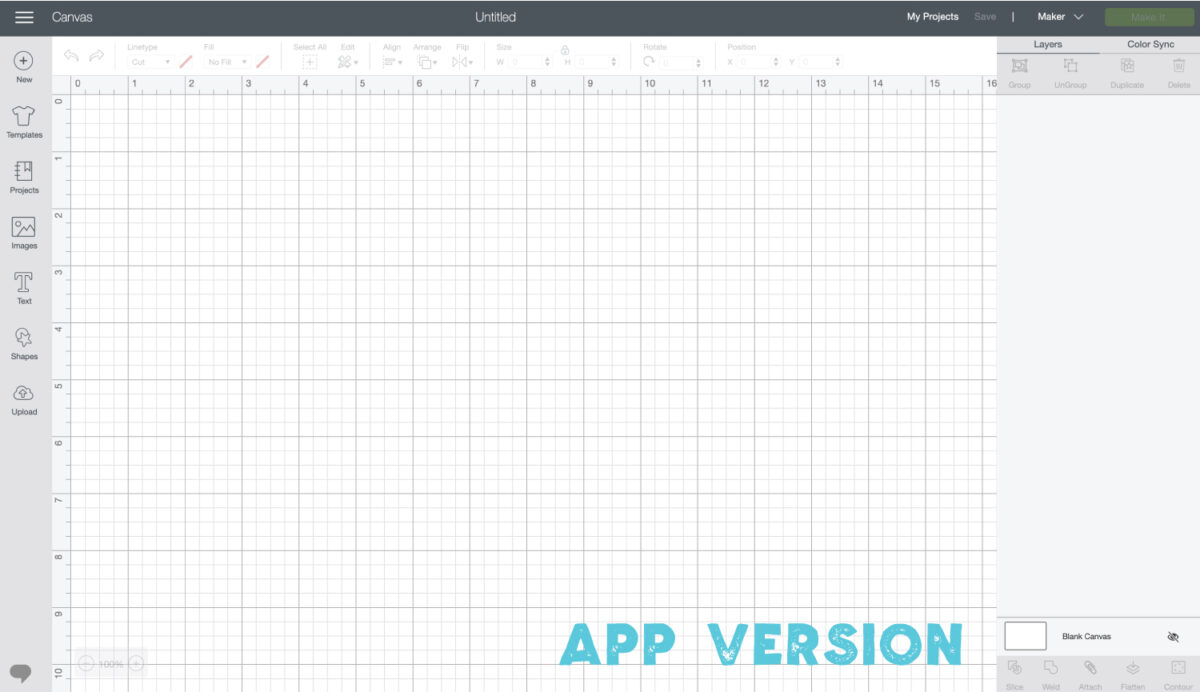 The only difference in the Canvas is that the app version has a feedback button in the lower left. You can click on this to report glitches and anything else you may come across that may be a problem. I haven't run into anything yet, but I'm sure as with any new program, there may be issues when the full roll out begins on January 29.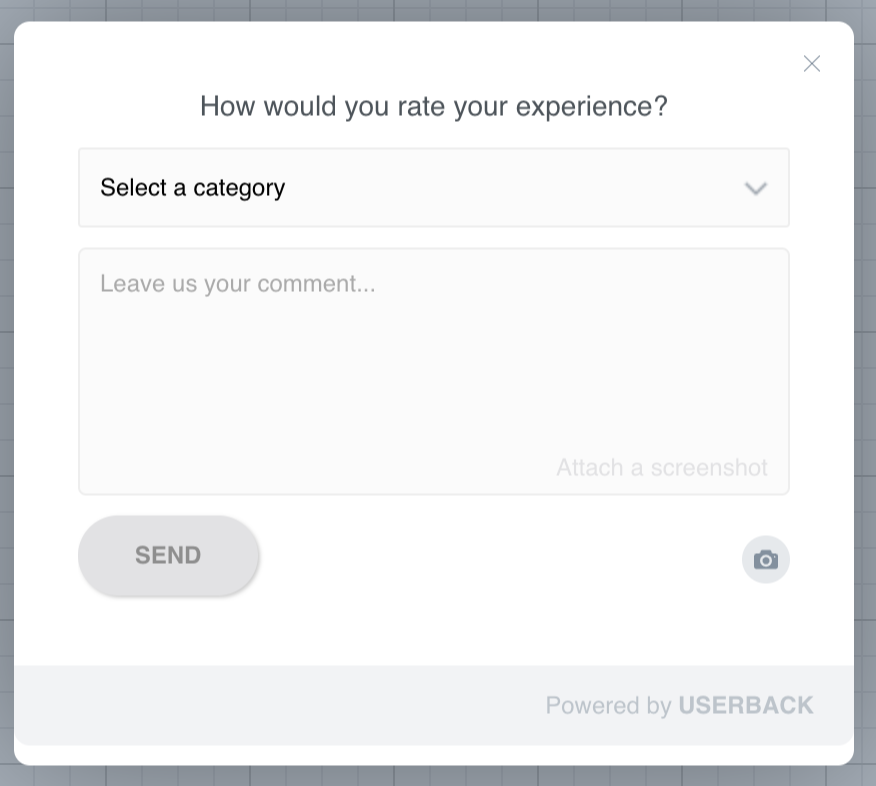 Offline Cricut Design Space

I have always found working with offline Cricut Design Space to be a little clunky—and the new desktop app is not really any different, at least for the way I work. I am one of those crafters that works on the fly—I'm never quite sure which images and fonts I'm going to want, so making sure I have them saved before I go offline is difficult for me.
That being said, it is possible to use Design Space offline. Before we get into saving projects, images, and fonts to use offline, here are a few limitations to working offline in Design Space:
You cannot upload your own files to Design Space while offline
You cannot use templates while offline
You will only see projects, images, and fonts that you have saved before going offline.
You MUST have an internet connect to save things for offline use—you need to be online before going offline. If you want to upload images before going offline, see How to Upload Images to a Cricut.
Saving a Project for Offline Use
There are two ways to save a whole project to cut offline. The first is when you save your project. Design your project and click "Save" in the upper right. You will give your project a name, and in the next screen you can decide if you want to save it for offline use: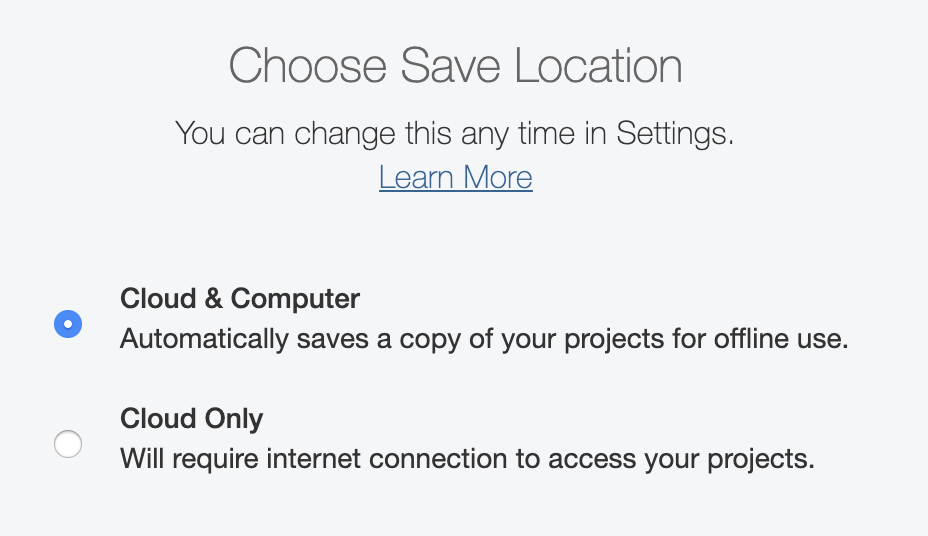 If you have a project that you have saved previously, go to My Projects in the upper right, click on the project and click "Save for Offline"—you'll be able to access it the next time you're in Design Space without internet.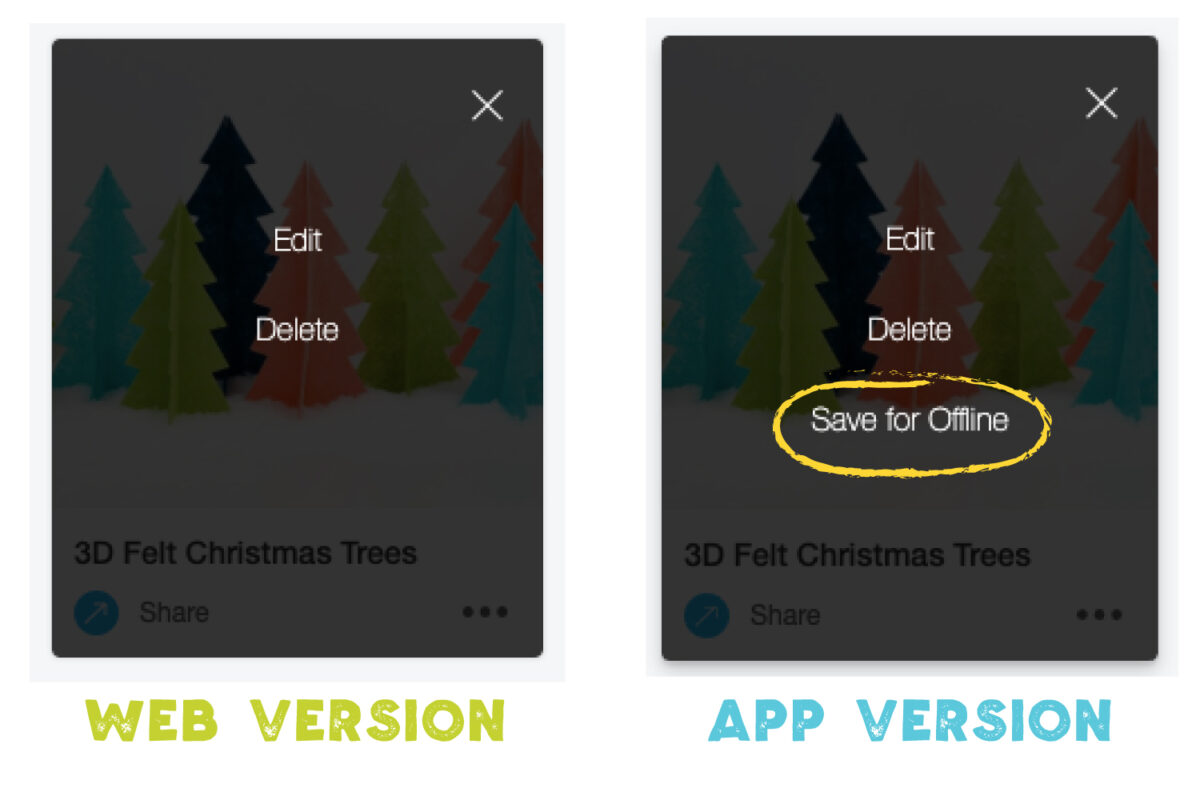 Saving an Image for Offline Use
Saving an image for offline use has been interesting so far in the app. I have found that any image I have put on my canvas so far in the app has automatically saved as an image i can use offline. I have no idea if this will continue.
To purposefully save an image to use offline, search for the image in the Cricut Image Library (by clicking Images on the left-hand side of your canvas), select the image, and click "download" in the lower left. This will save your image for offline use.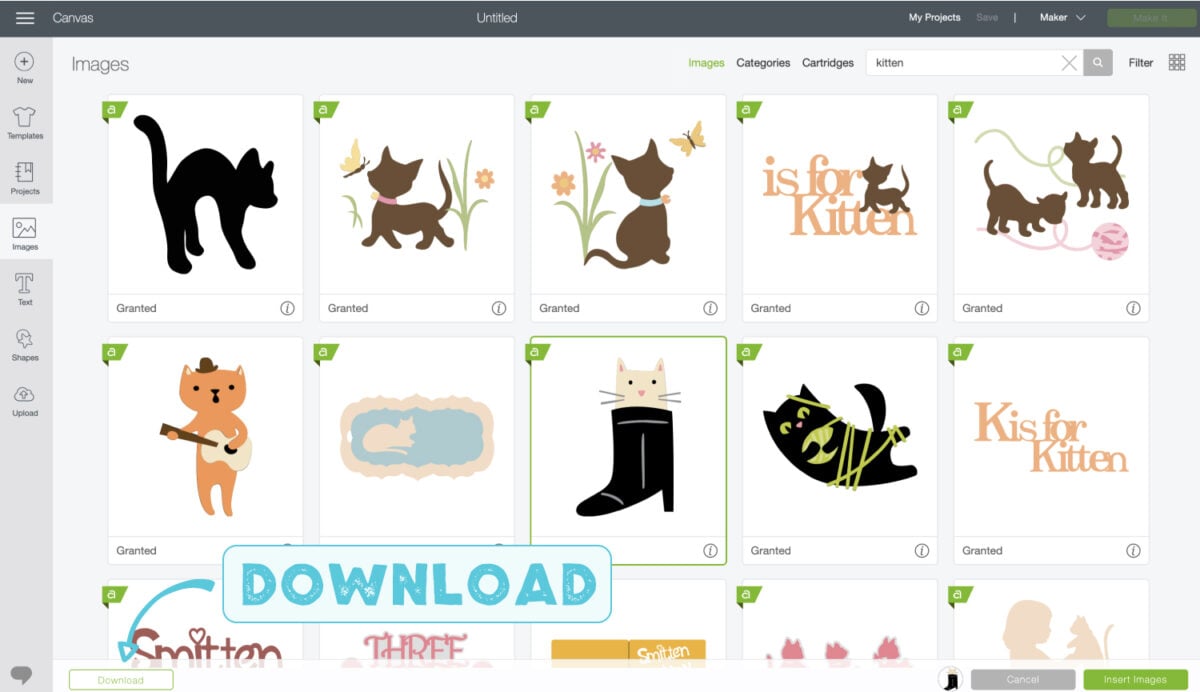 Saving a Font for Offline Use
To save a Cricut font for offline use, create a text box using the Text feature on the left side of the Canvas. In the dropdown, use the filter to select just Cricut fonts. From here, you can choose a font that you want to save offline. There will be a "download" button to the right. Click it and your font will be saved for offline use.

Note—you can use your system fonts offline without saving them for offline use. Because they already exist on your computer, there is no need to save them.
Will All My Saved Projects Transfer?
Yes, when you download the desktop app and sign in using your Cricut ID, all of your saved projects will populate and you will be able to make them using the app.
Can I Cut with Multiple Machines?
One concern I've heard is that people are afraid they will lose the ability to cut using more than one machine by having more than on instance of Design Space open in different browsers.
Super-users, no need to be worried! You can just go up to File > New Window and a second instance of the Cricut Design Space app will open so you can still cut with multiple machines at the same time!

Is Anything Changing with the Mobile Apps?
Nope! Both the iOS and Android apps will continue to function as usual.
As with all changes to Cricut Design Space, there are bound to be kinks in the system. Thankfully, Cricut has had the beta released for months, so many of the major problems have already been solved. If you're having issues, your best bet is to contact Cricut Support!
Want to see a lot of this information in video form? Check out my friend Angie's walk-through of the new app!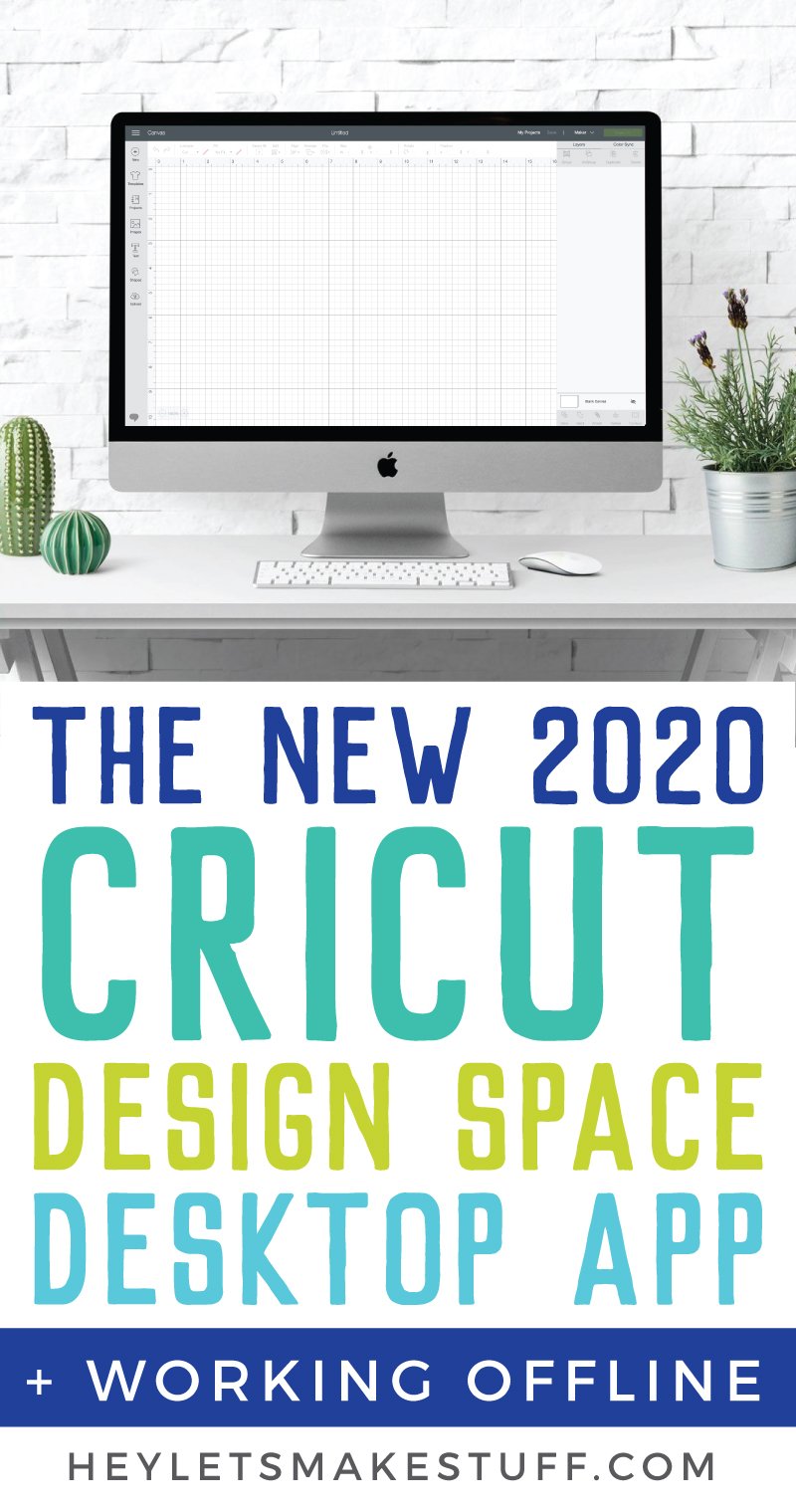 Get a Cricut!