Immortalize those first day of school photos with these three school-themed frames, cut on your Cricut! These back to school frames are perfect for scrapbooks, teacher projects, refrigerators and more!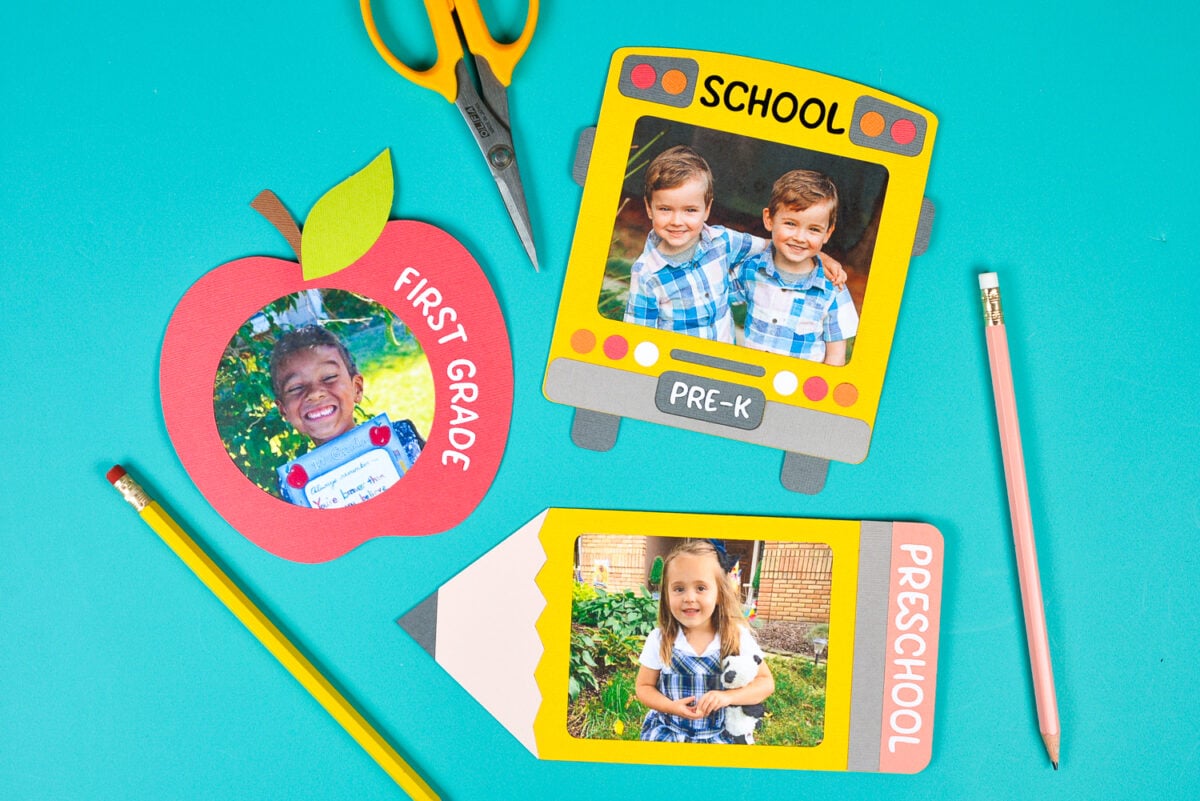 It may still be the middle of summer, but I know there are parents out there just waiting for the day their kiddos head back to school! Today I'm partnering with my favorite craft store JOANN to bring you these adorable first day of school frames, using my Wild Rose Cricut Explore Air 2! This gorgeous Cricut is exclusive to JOANN stores. Read about why I love it here!
Seeing photos of kids on their first day of school is literally one of my favorite things on the entire internet. I love seeing their fresh faces, ready to learn (or, sometimes, pouty faces, not ready to leave summer behind!). These back to school frames are designed so that you can get those photos off the internet and into your real life!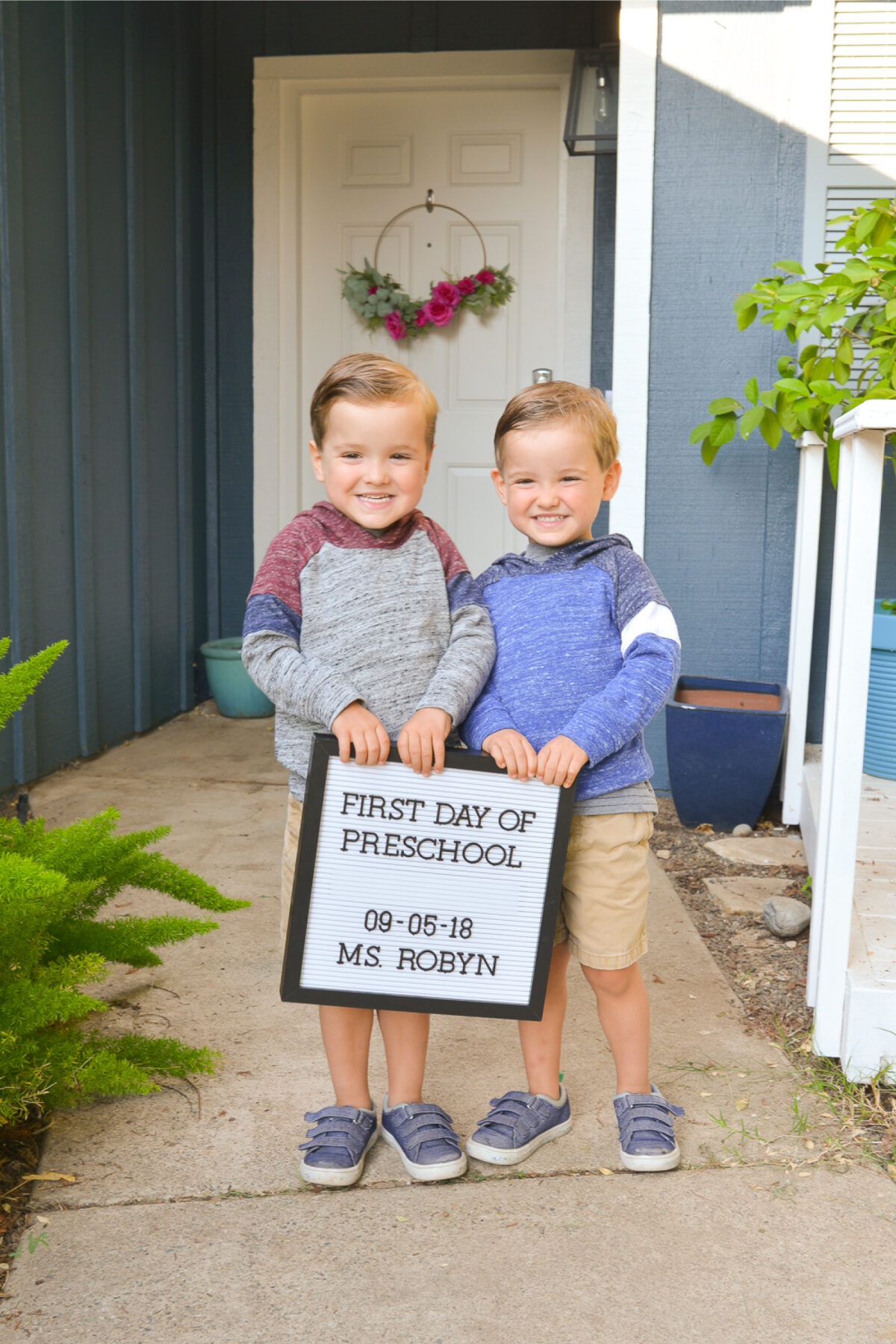 I mean, seriously.
These frames are perfect for scrapbook pages, for hanging on the refrigerator, and are the perfect back to school idea for teachers looking for a craft to make with their students. You can pick up all the supplies you need in store at your local JOANN or in their online marketplace!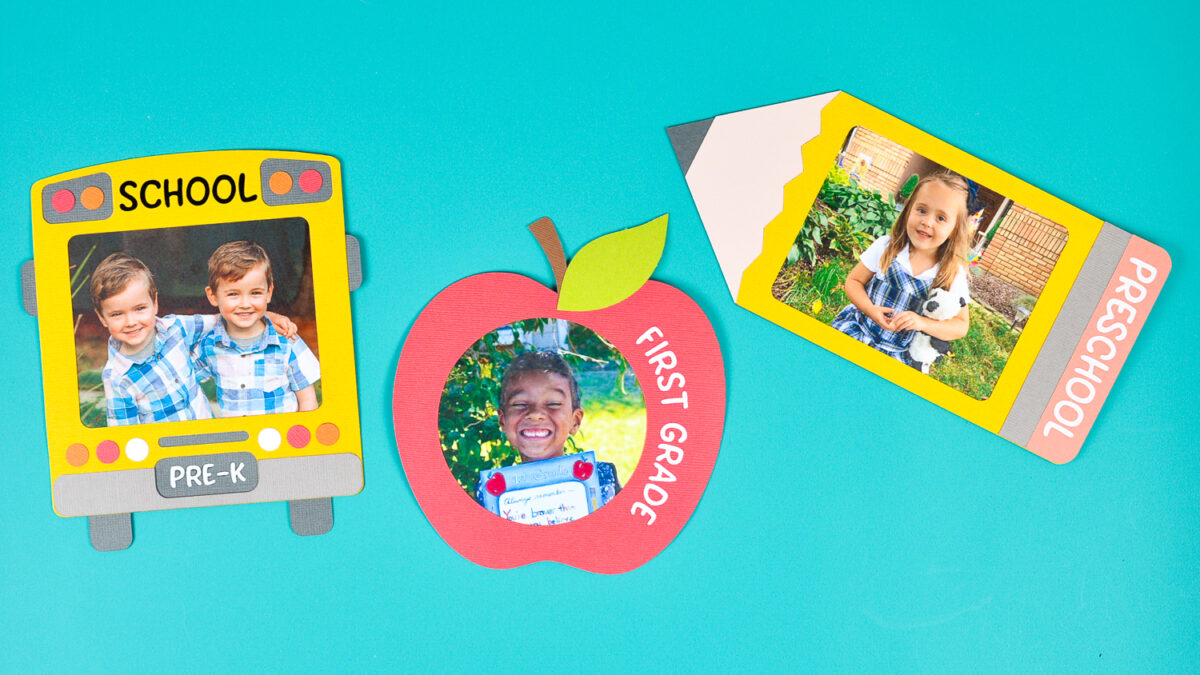 Back to School Frames: Supplies
Enter your first name and email address in the box below for access to this freebie, along with other fun free files in our email newsletter! If you have already received a freebie from my site, just enter your information again—you won't be added to any additional lists.
This freebie is for personal use only. You can learn more about our commercial license.
Back to School Frames: Cricut Design Space + Cutting
Start by uploading the downloaded SVG file to Cricut Design Space. If you need help uploading your file, see this post. I've included a separate file for each grade, preschool through 8th!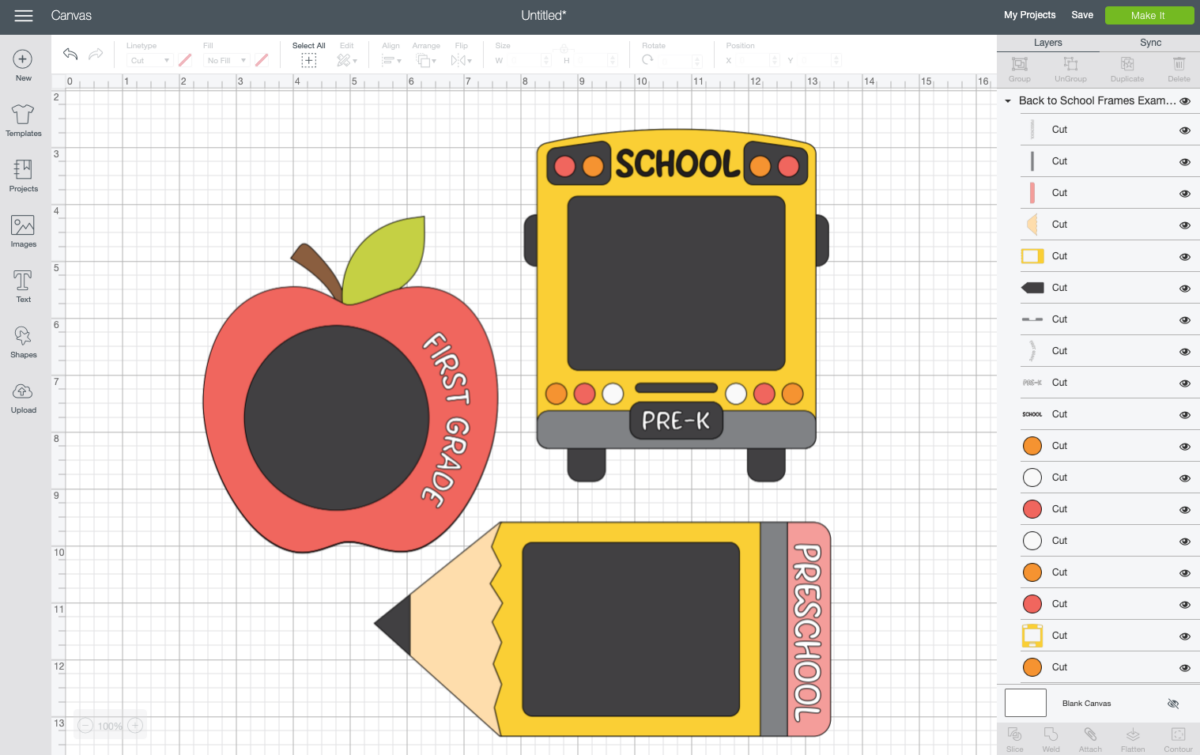 For the text (both the word SCHOOL on the bus and the grade levels, you can choose whether you want to cut these out of cardstock like the rest of the project, or if you want to use iron on vinyl. I find that smaller pieces like this are so much easier to cut and iron on vs. trying to piece in cardstock.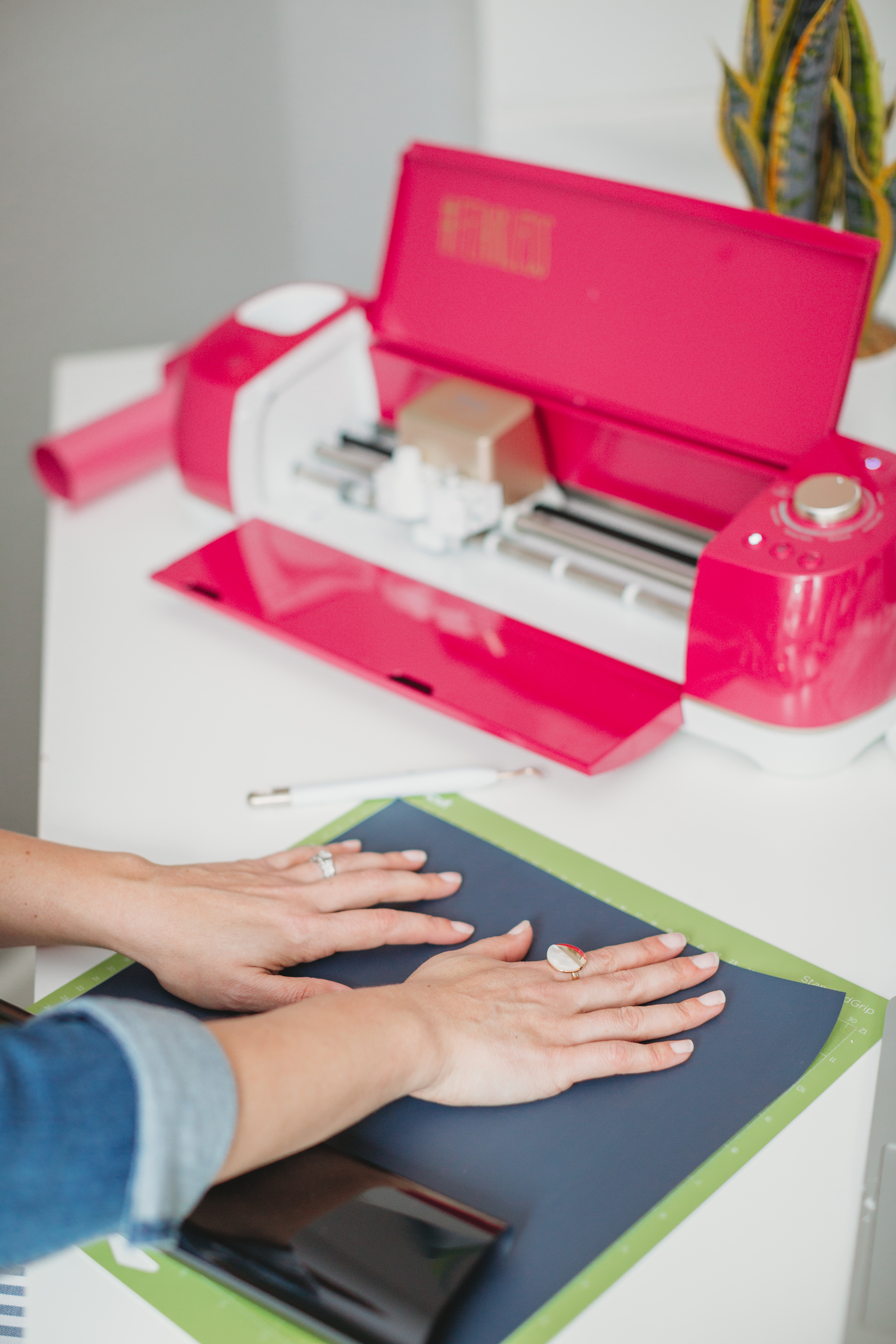 Once you have all of your pieces cut, it's time to assemble your frames! The bottom piece for each frame is cut in black—you can piece the rest of your frame, including the photo of your child, on top of that bottom piece. Save the cutouts in the middle of the apple, bus, and pencil to help you cut your school photos to the correct size.
Back to School Frames: Cricut Design Space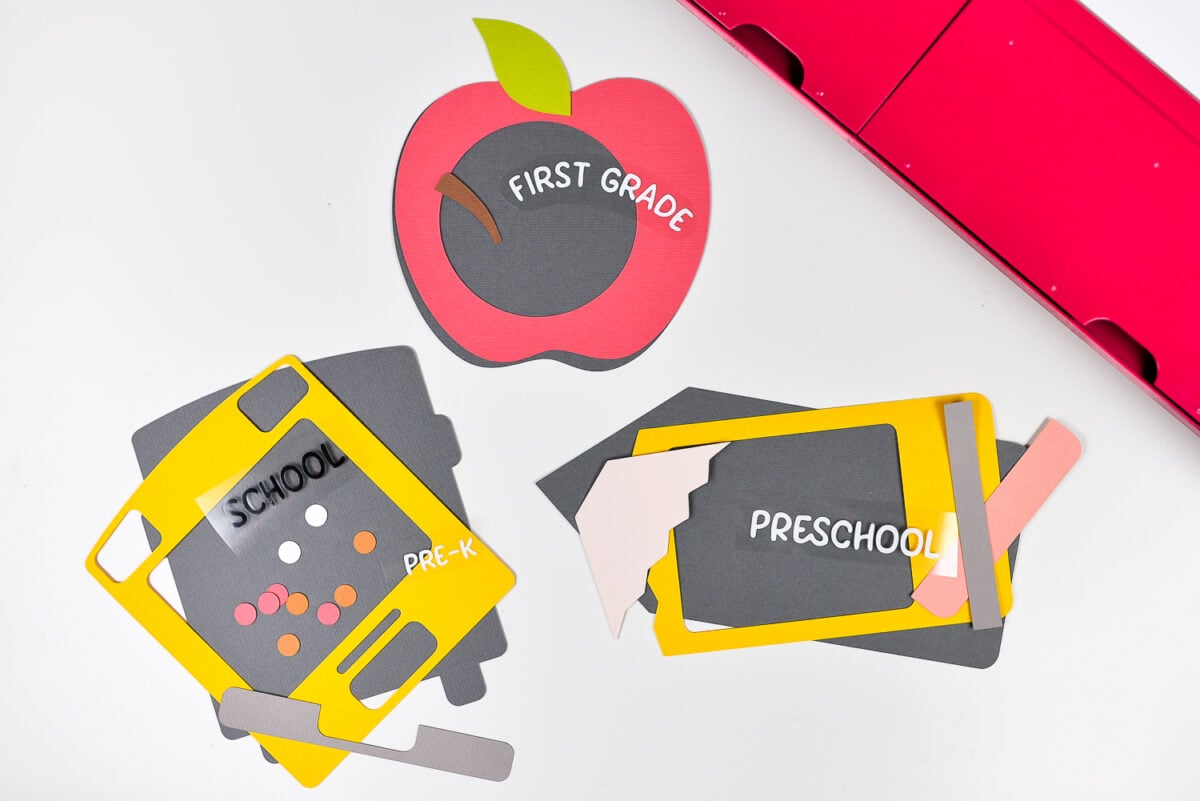 I like using my Xyron Creative Station—it's basically a sticker maker! You can run all of the pieces through and it will add an adhesive layer to the back.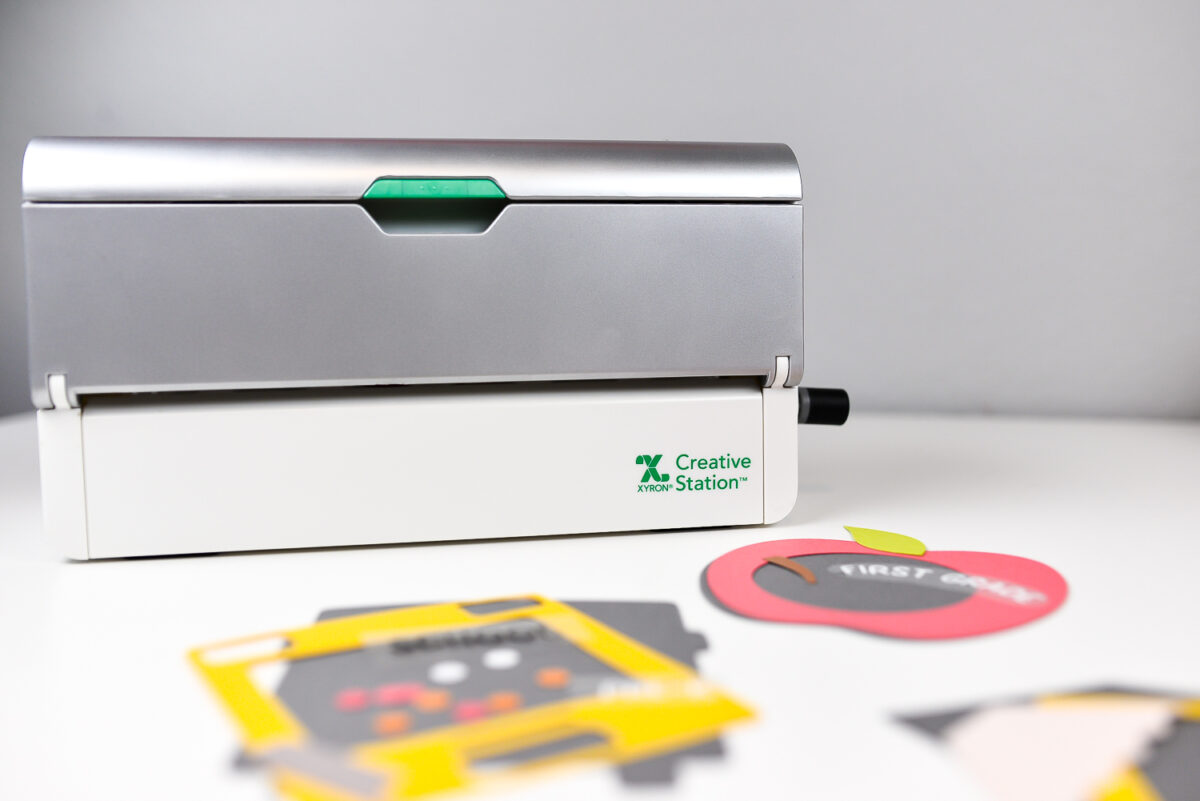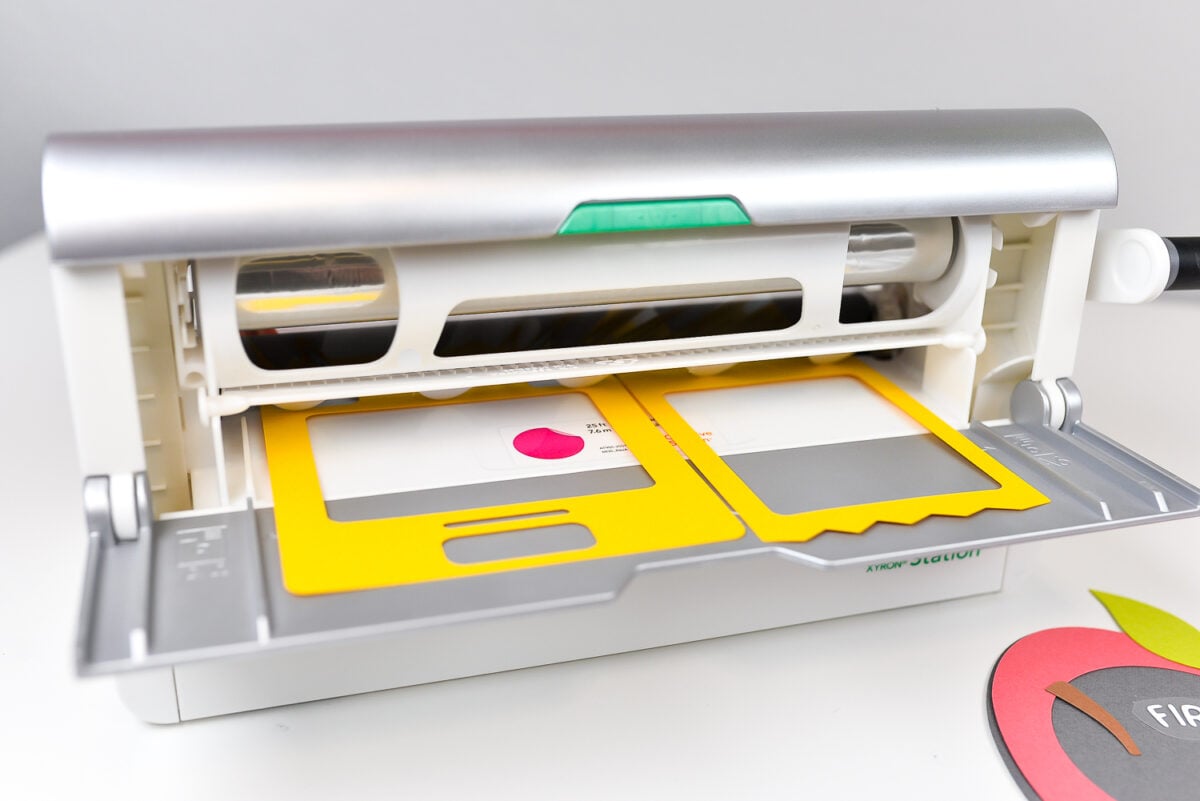 I also have the mini version of the Xyron Sticker Maker for the smaller pieces.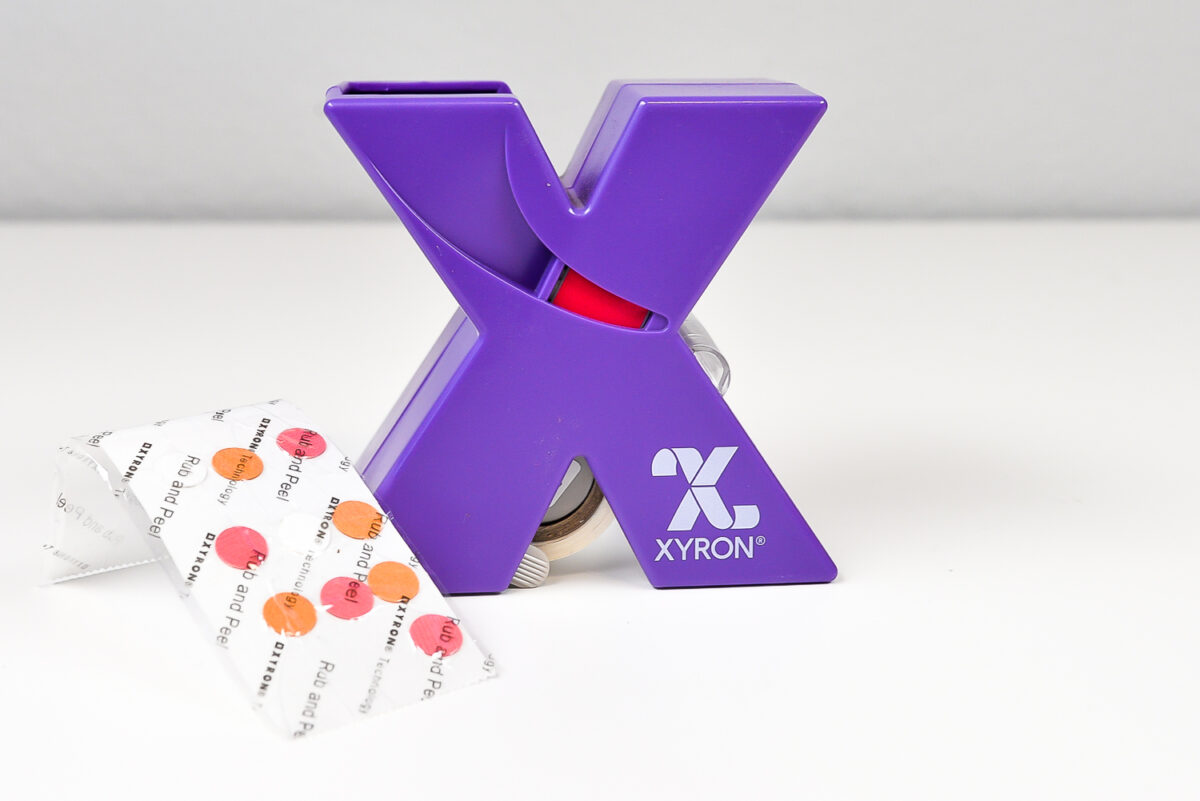 Once you've run your cardstock pieces through the Xyron, rub the plastic coating on top—this helps keep it from "webbing" (you'll know it when you see it!). I also find that my brayer does a great job of helping the webbing problem.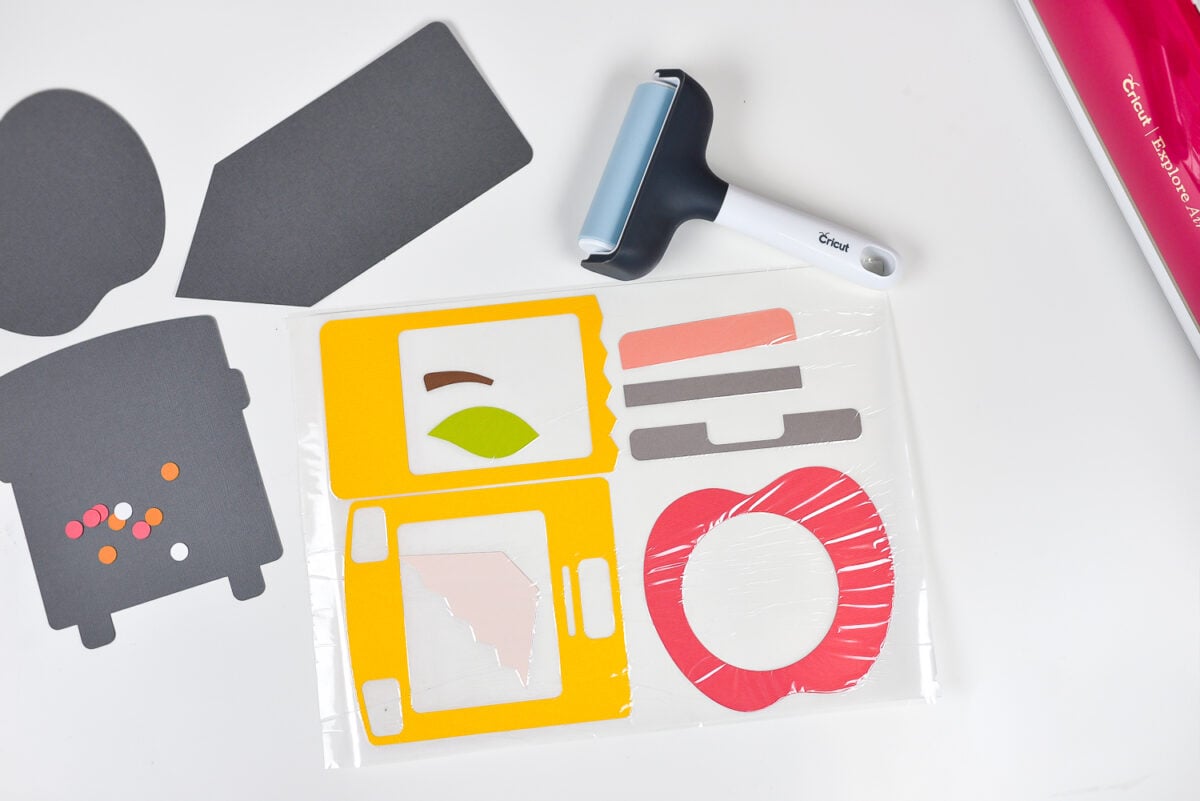 Once you have all of your stickers made, it's time to assemble! Carefully peel the largest piece (the bus, pencil, and apple) and place your photo behind the frame. Then place onto the bottom gray piece. Then add all of the decorative pieces.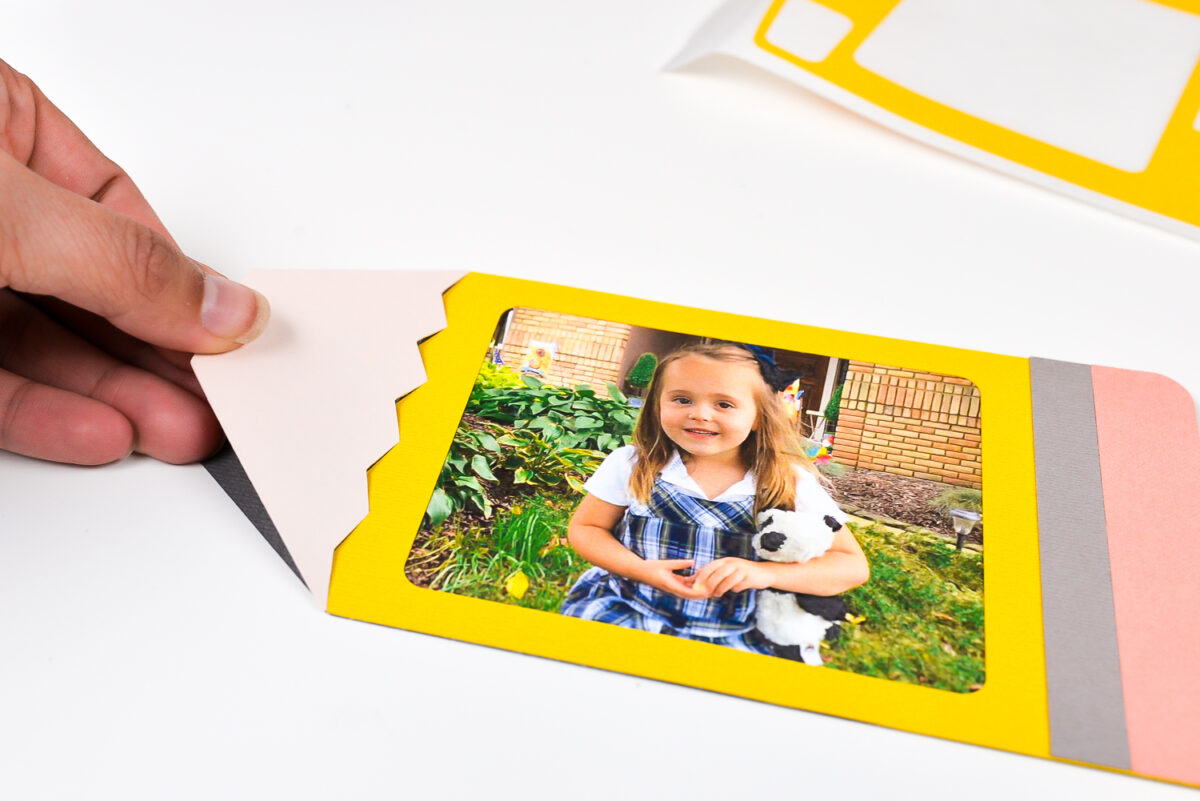 For the text, I am using my Cricut EasyPress, though an iron works as well. Carefully lay your weeded iron on vinyl onto your project. I set my EasyPress at 290° and tried not to get the actual photo under the heat plate. 20 seconds is usually enough to get it to adhere to cardstock. If you're having trouble getting it to adhere, try pressing from the back.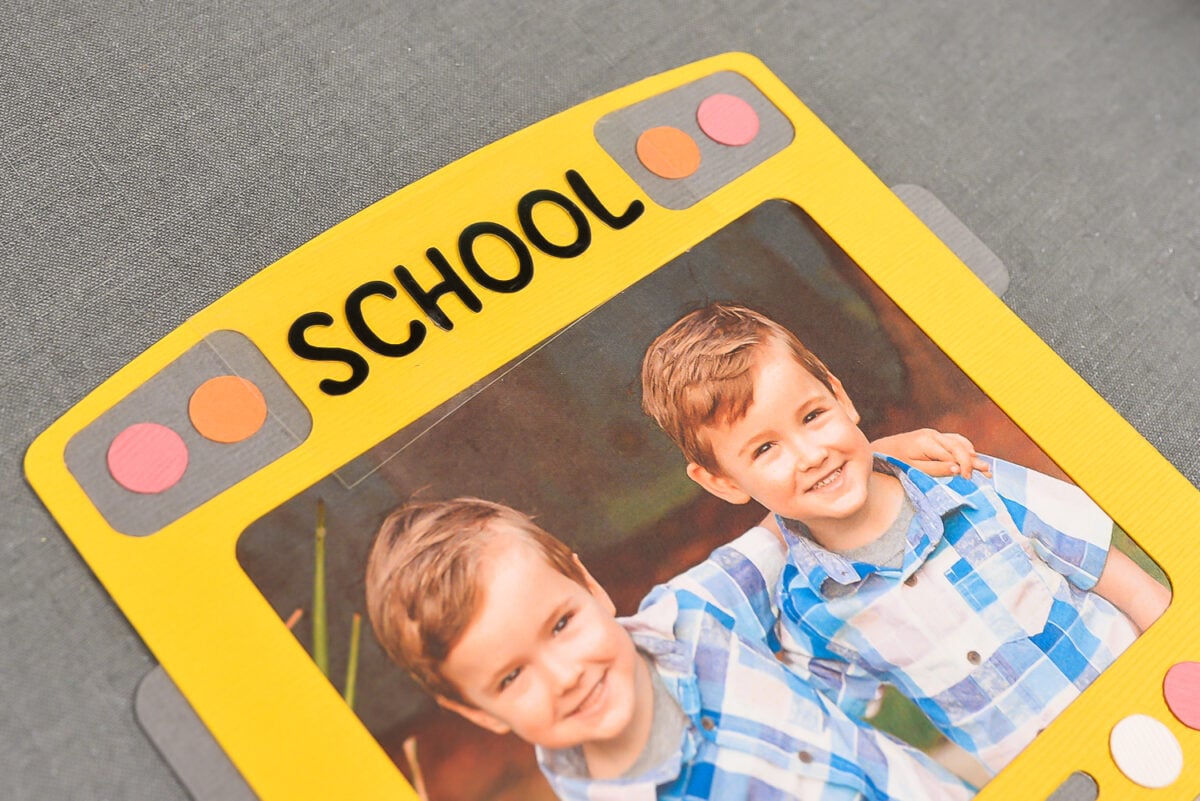 Once you've adhered your iron on vinyl pieces, you're done! This is a fun back to school project that's made easy with your Cricut and supplies from JOANN!
Love this Cricut project? Check out my Back to School Memory Book and First Day of School Chalkboard!