Have you ever asked, "Why are my SVGs showing up as the wrong icons on my PC?" or "How can I view SVG thumbnails instead of icons?" This post will show you three better ways to view SVG files on a PC!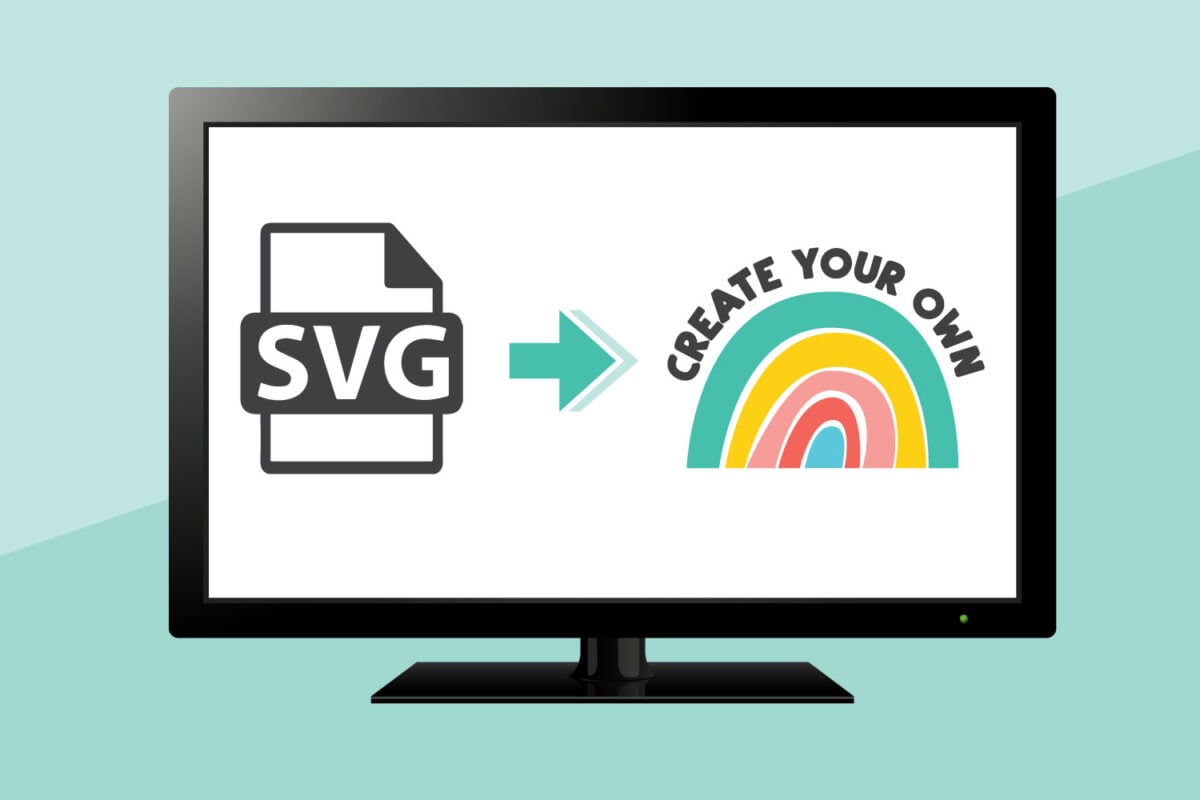 After launching my newest e-course, Cut File Clean Up, I had a rash of emails about problems viewing SVG files on a PC. As a Mac user, I've never encountered this because my computer natively shows SVG thumbnails.
So I started to do some research on how to view SVG files on a PC in File Explorer, and let me tell you—it was not straightforward on my husband's Windows 10 PC. So you're not alone in your frustration!
I thought I'd write a post about what I've found out and how you, too, can view your SVG files as thumbnails on a PC. This makes it so much easier to know what files you have without opening them. I have listed several options, so hopefully one will work for you!
Here's what this post will cover:
How Windows Natively Handles SVG Files
When people download a file from me, either as a freebie here on my blog or a file they've purchased in my shop, I sometimes get an email back that "this zip doesn't have an SVG."
Based on the icons that show up on a PC for an SVG, I can see why PC users would think that. Depending on the computer, Windows will often assign the Microsoft Explorer or Microsoft Edge icon, a Firefox or Chrome icon, or in some cases an XML icon. As you can see below, the PC I was working on thought these SVGs were Microsoft Edge files: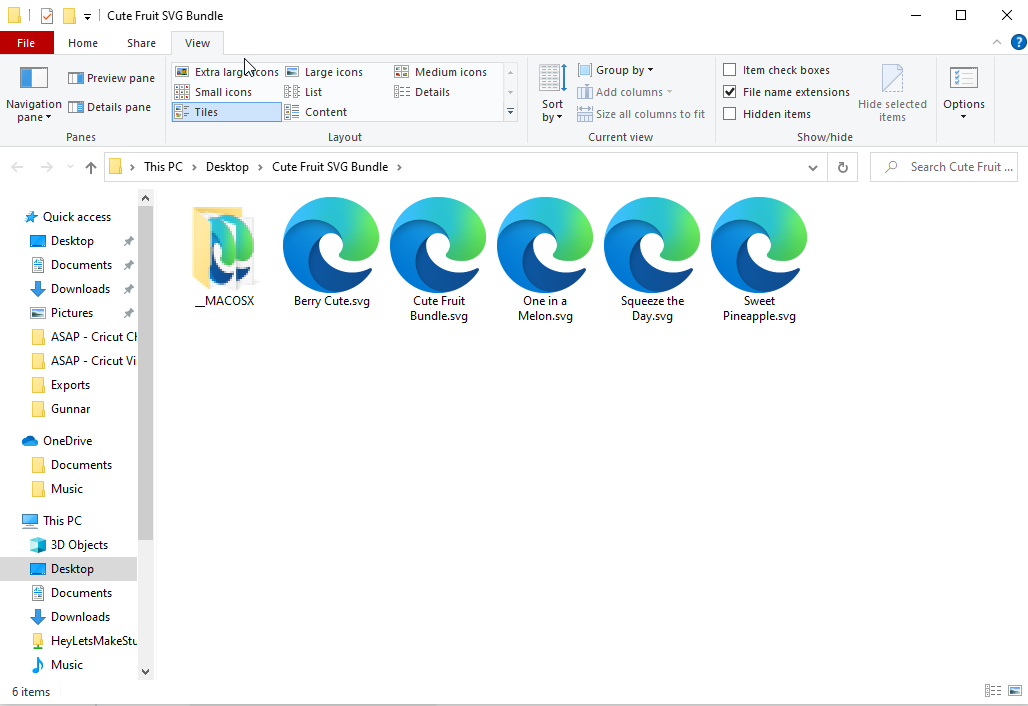 This is because Windows wants to assign each file type to a specific program. Because SVGs were originally web code, Windows thinks, "Hey! I can open this as a web page!"
Not helpful for Cricut and Silhouette crafters, Microsoft.
Opening SVG Files in Cricut Design Space or Silhouette Studio
You CAN upload these SVG files to Cricut Design Space or Silhouette Studio (or other programs that can read SVG files) even though it has the wrong icon. As long as it has the extension ".svg" you should be good to go. You can just stop here if you don't mind the icon being wrong!
Need help? Learn more about How to Upload SVG Files to Cricut Design Space.
Viewing File Extensions
If you aren't able to see the ".svg" or other extensions, you'll need to change your settings. Navigate to the File pane and you'll see a tick box for "File Name Extensions." Make sure that's ticked.

This will allow you to see which file is the SVG, even if the icon is wrong.
Assigning the Correct Program to View SVG Files on a PC
There's a way to reassign the SVG icon to Silhouette Studio, InkScape or Illustrator, as shown by Missy Meyer. Feel free to follow her instructions if you'd like to do that. But really, I think it's better overall to actually view the image as a thumbnail so that you can actually see what the file in File Explorer vs. just the icon.
Note you cannot assign them as Cricut Design Space files because of the way that Cricut Design Space handles files. There's no way to double click on a file and have it launch Cricut Design Space automatically, like you would other programs.
Using Folder Options to View SVG Thumbnails
From my research online, a handful of people had luck by opening a File Explorer window and clicking File > Folder Options > View Tab > Always show icons, never thumbnails. If you untick that box, you may be able to see the thumbnails for your files.
This didn't work for me, but it's definitely worth giving a shot since it's an easy fix!
Using a File Explorer SVG Viewer Extension to View SVG Thumbnails
There's an extension that many crafters and other sites recommend, which you can easily find at the links here in this Tech Junkie article. The links themselves live here at Github, but I found Tech Junkie's links to be less intimidating and I think you will too.
Unfortunately, I was not able to install this extension because of an error "Unable to register the DLL/OCX: RegSvr32 failed with exit code 0x3." Whatever that means. I am not the only one who got this error and it looks like the issue thread is fairly recent, so I'm crossing my fingers this will work soon. I will check it weekly and update this post when it's working again.
You can always give it a shot—it may work for you!
This was the only reputable SVG extension I was able to find, so for those of us unable to install it, we're a bit out of luck right now. Maybe I can convince my husband, who writes PC software, to figure this one out for us, eh?
Using Adobe Bridge to View SVG Thumbnails
One final option is to install Adobe Bridge on your computer. You'll need to create an Adobe account if you don't have one already, but it's free! Make sure to check the system requirements as well.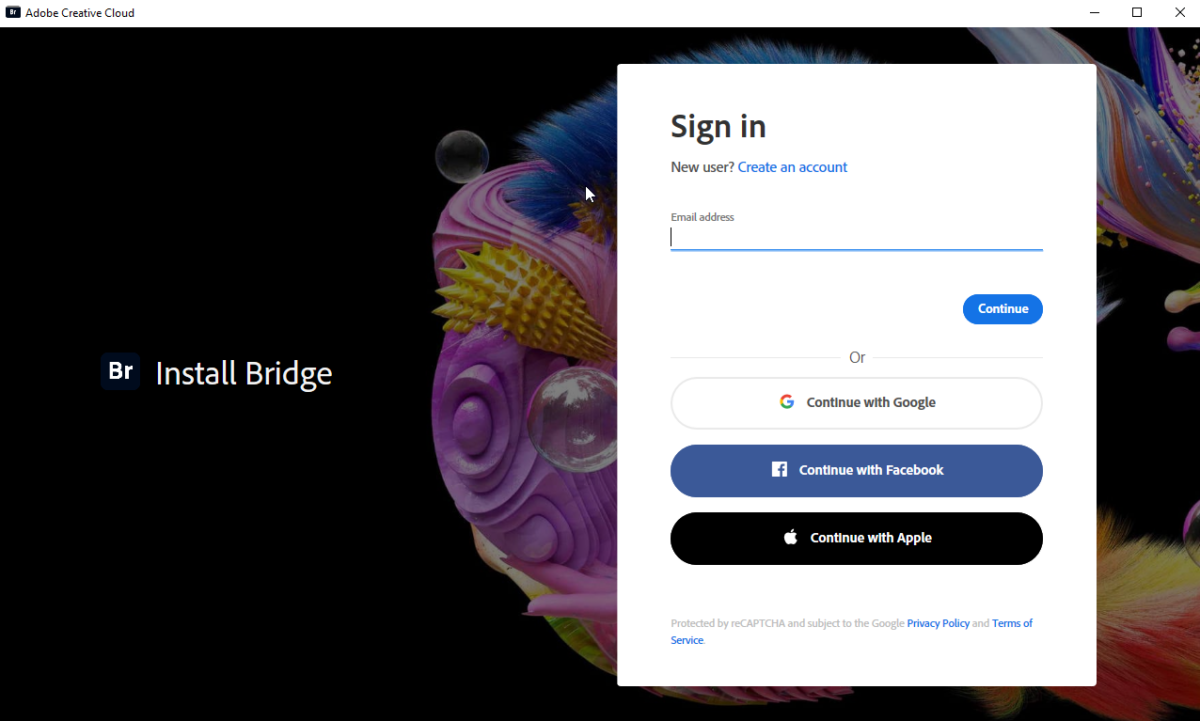 Adobe Bridge is much more than a file viewing software—it connects all of the Adobe programs together and allows you to edit metadata and export files. But really, all we need it for is to view our thumbnails.
Download the Adobe Bridge software and follow the onscreen instructions to install it. It will automatically prompt you to also install Adobe Creative Cloud (Adobe products live within the Creative Cloud).
I ran into yet ANOTHER roadblock when doing this: a "code execution cannot proceed because vcruntime140.dll was not found" error (truly, I wanted to throw my computer out the window at this point!). Thankfully, this video gave me the solution and I was able to install Adobe Creative Cloud and Adobe Bridge.
Once you install Adobe Bridge, you can use the panel on the left to navigate to the location of your SVG files. You can see below that the five fruit-themed SVGs that were Microsoft Edge icons in my File Explorer window are now thumbnails! This makes it so much easier to know what files you have without opening them.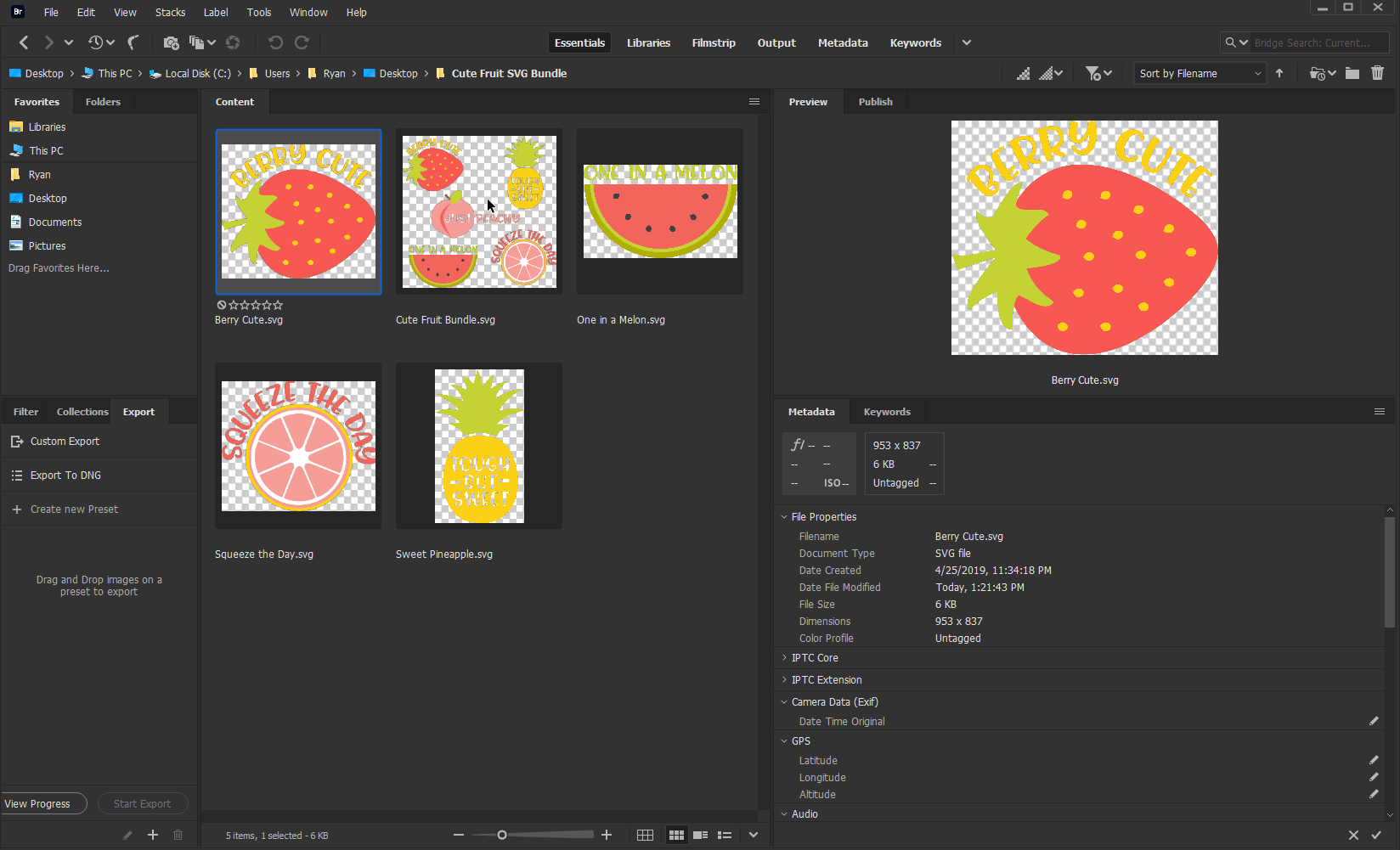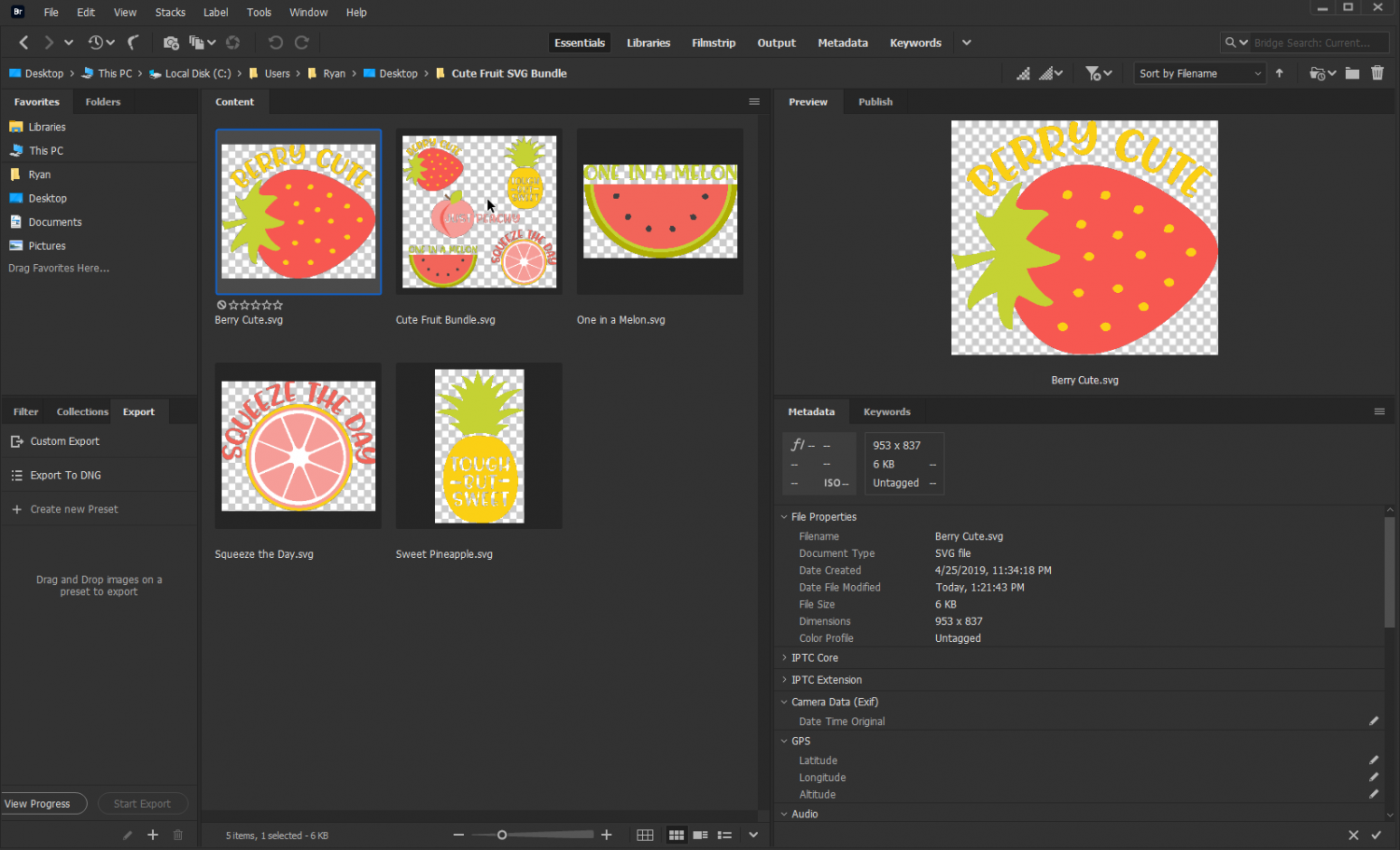 You can use the tools at the bottom of the screen to resize your images. A reader, Joan, recently installed Adobe Bridge and her response: "I just installed Adobe Bridge and I LOVE IT!! If I can get all of my files sorted like you suggest [in Cut File Clean Up], this is the way I would want to view them!!"
So I know that these aren't the perfect solutions, and I ran into more than my fair share of roadblocks and errors along the way. I will continue to check the SVG Viewer extension to see if it's working, and update this post when I get it installed!