This Hollywood Walk of Fame Swag Bag is the perfect party favor for an Oscar party! Fill with all sorts of fun goodies for your guests and make them feel like a star! Includes an updated tutorial for making your own personalized star in Cricut Design Space.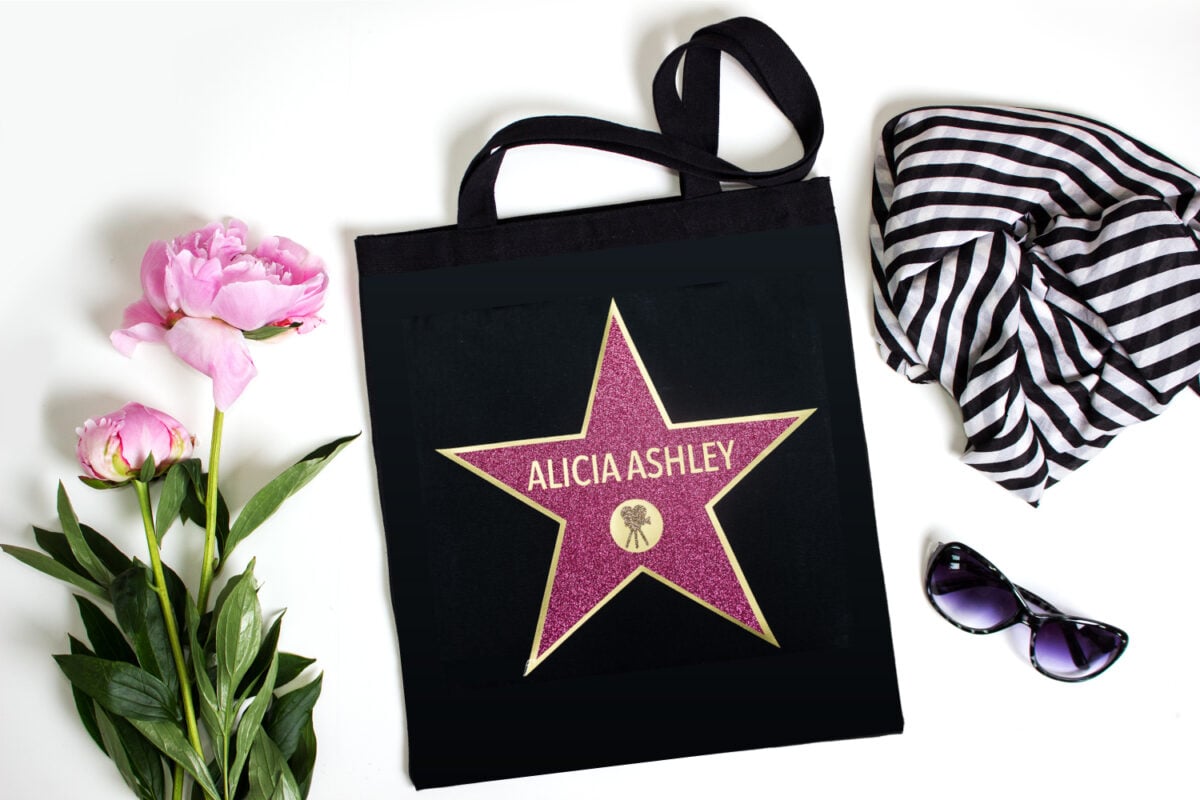 Happy awards season, my friends! This year I thought I'd take this old post and give it a fresh update. The original post included an SVG file that says "Leading Lady," but now I am also giving you a blank star so that you can create your own personalized Walk of Fame star using Cricut Design Space, using the tutorial in this post!
These bags are perfect for a Girls' Night at the Oscars, filled with a few goodies to take home—just like the real stars (except with less diamond-encrusted Cristal and more cheap chocolate).
Download the Free Walk of Fame File under SVGs C169
This file can be found in my Free Craft Resource Library. The file number is: C169.
Want access to this free file? Join my FREE resource library! All you need is the password to get in, which you can get by filling out the form below!
Walk of Fame Swag Bag—Personalization Instructions

To personalize, upload the blank SVG to Cricut Design Space (learn about uploading SVGs to Cricut Design Space).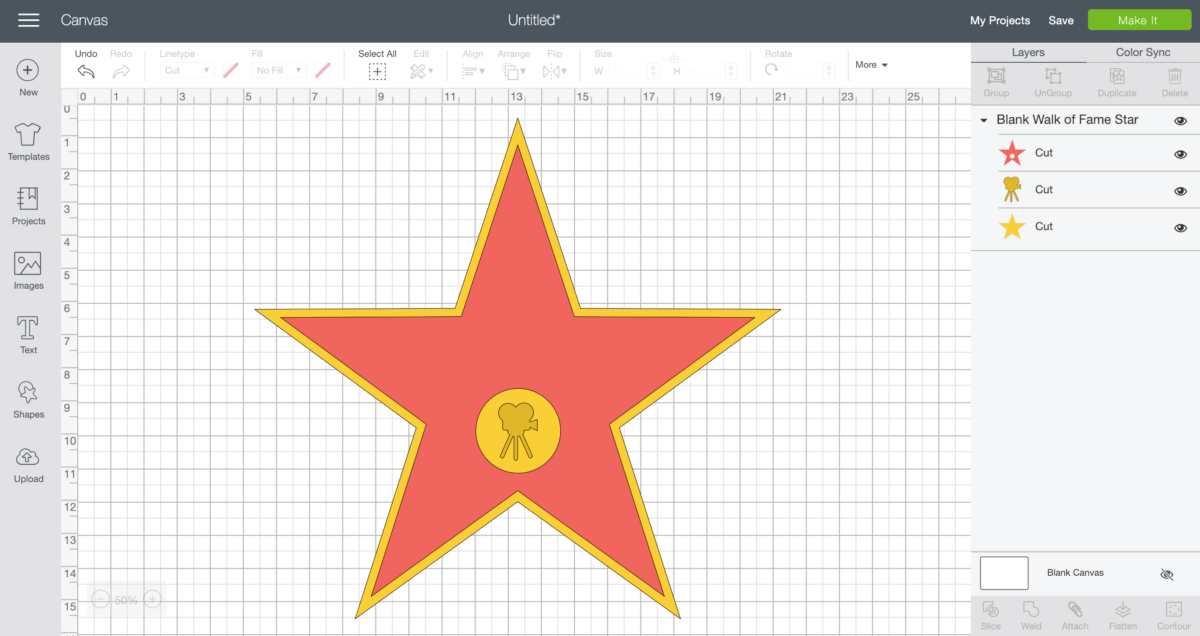 Ungroup the three layers, using the "Ungroup" tool at the top of the Layers Panel on the left. Then hide the yellow star and the dark yellow camera.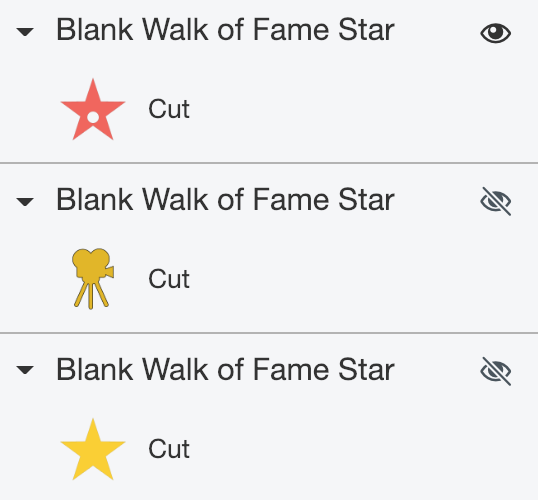 Using the text tool, insert your name. You can also change the font. I used Avenir Next Condensed, which came installed on my Mac. But any narrow, san-serif font will work.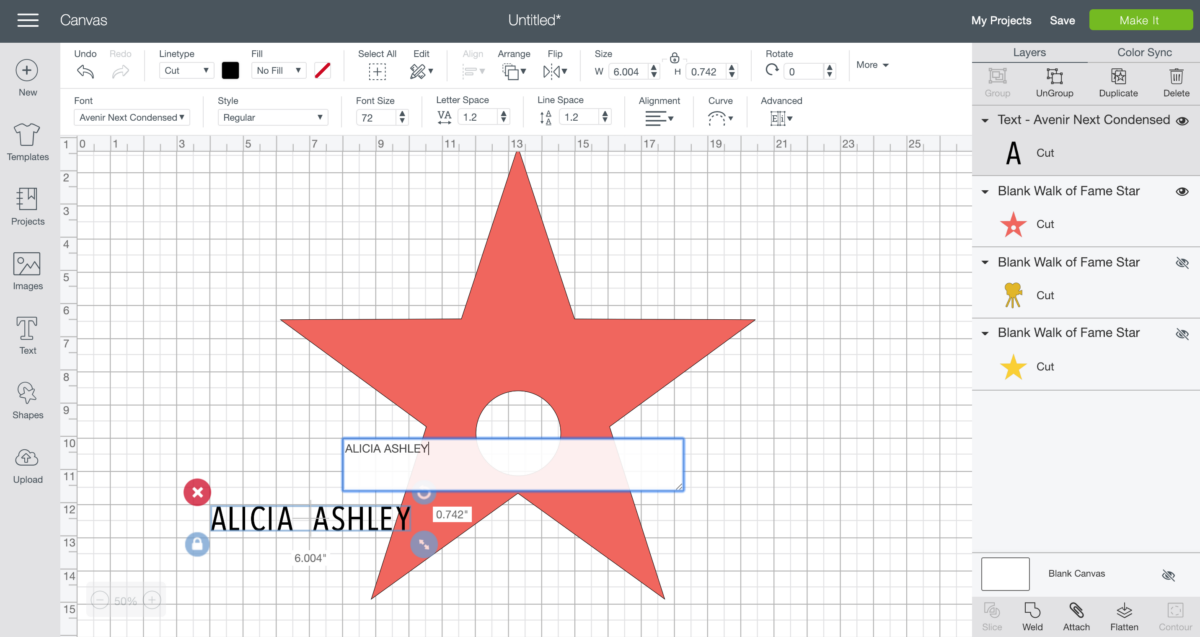 Resize and place over your pink star.
Select both the name and the pink star and click Slice at the bottom of the Layers Panel on the left. You'll end up with three pieces—the star, the black text, and pink text. Delete the black and pink text so you just have the sliced star with the name cutout.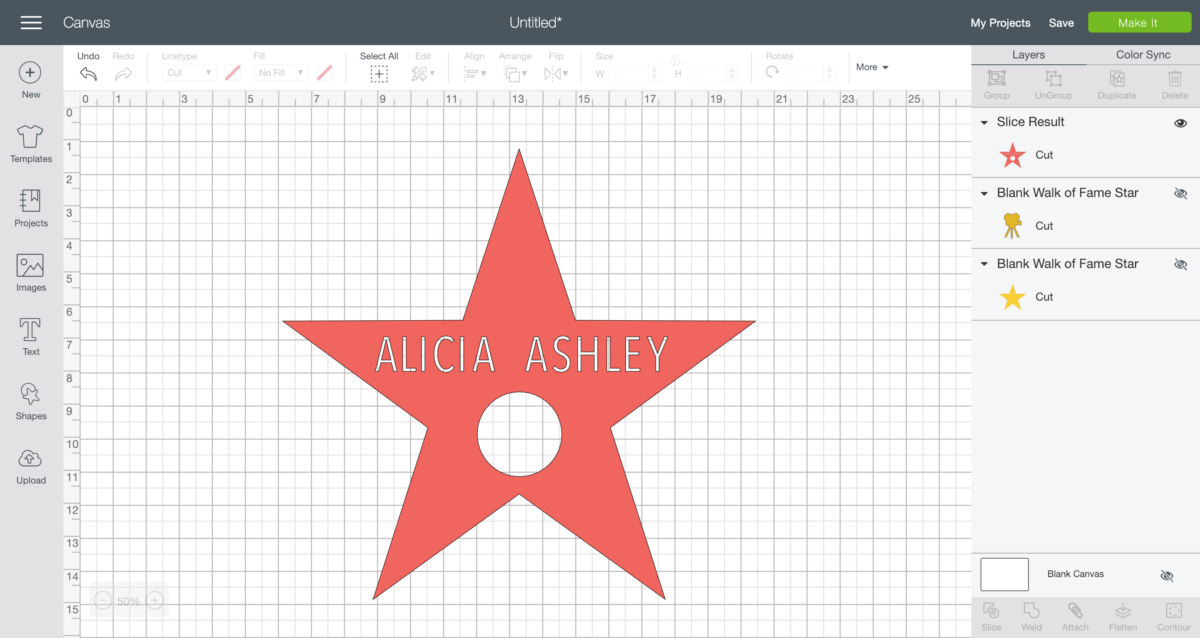 Then, using the "eyes" in the Layers Panel, unhide the yellow star and dark yellow camera.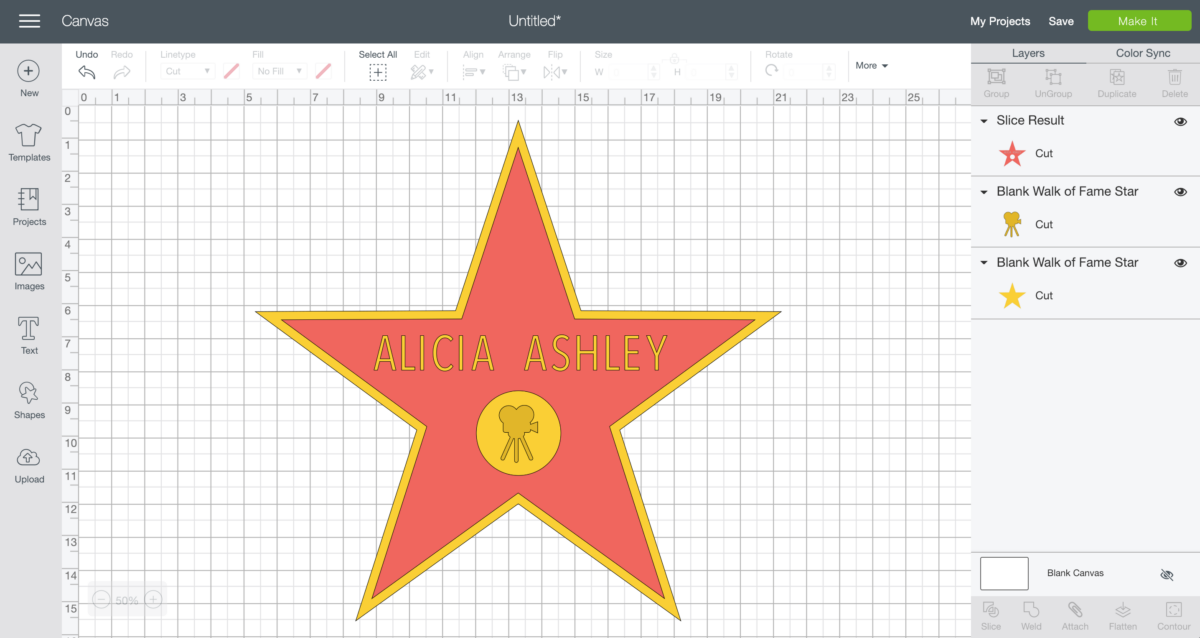 You're ready to make your bag!
Walk of Fame Swag Bag Supplies
Walk of Fame Swag Bag Directions
Cut out all three colors using your Cricut or other cutting machine—the big gold star, the pink glitter star with cutouts, and the small gold glitter camera. Weed out the negative material using these tips.
Set your EasyPress to 315° and iron the gold star to your tote bag. Allow to cool. Get more tips for using iron on vinyl here.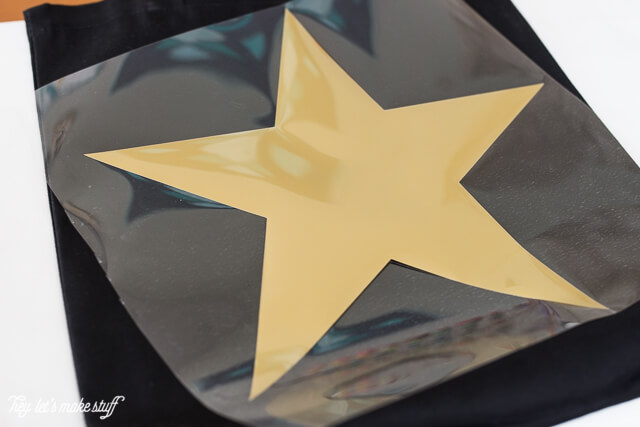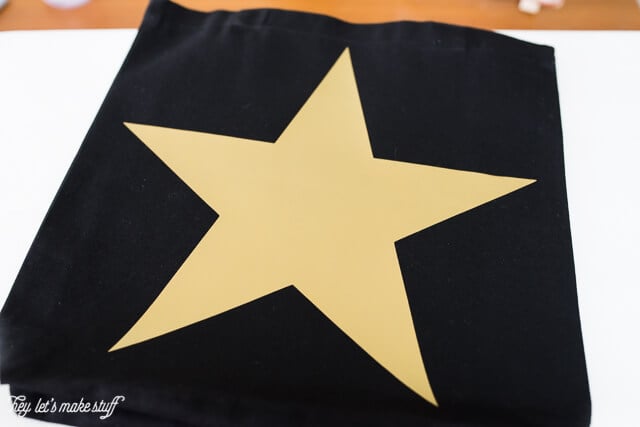 Then iron on your pink glitter star. I used a bit of painters tape to help secure it in the middle of the gold star. I also used a pressing cloth between my EasyPress and the material—I always do this when layering vinyl. Once pressed, allow to cool.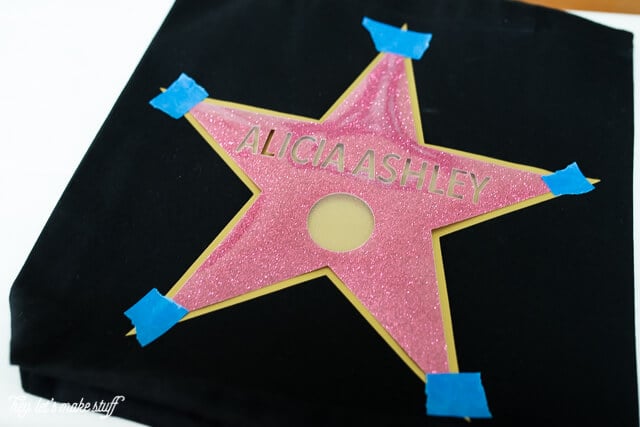 Finally iron on the glitter movie projector in the circle cut out, using that pressing cloth once again.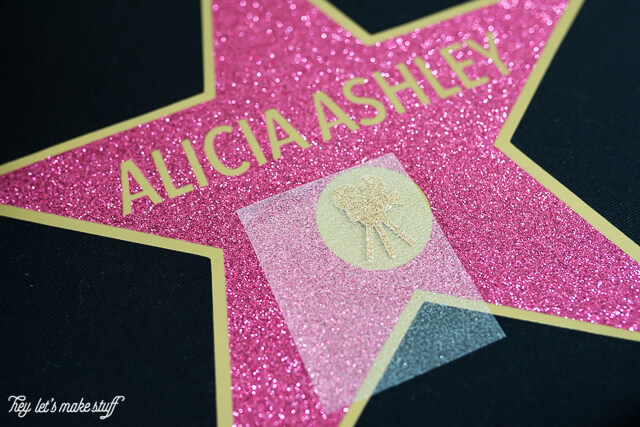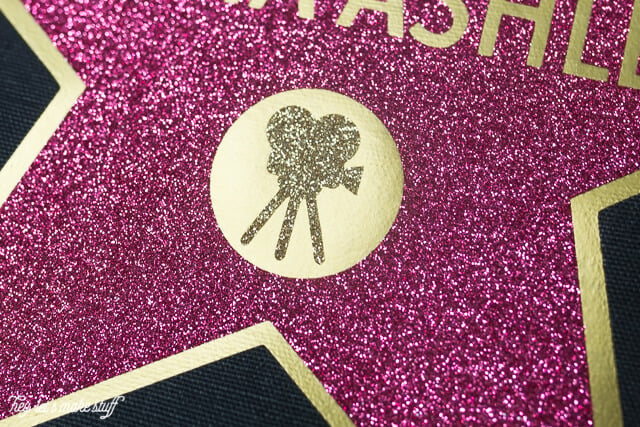 You're done! I love how it turned out, and the pink glitter iron-on vinyl is a particularly excellent match to the pink marble of the actual Walk of Fame stars.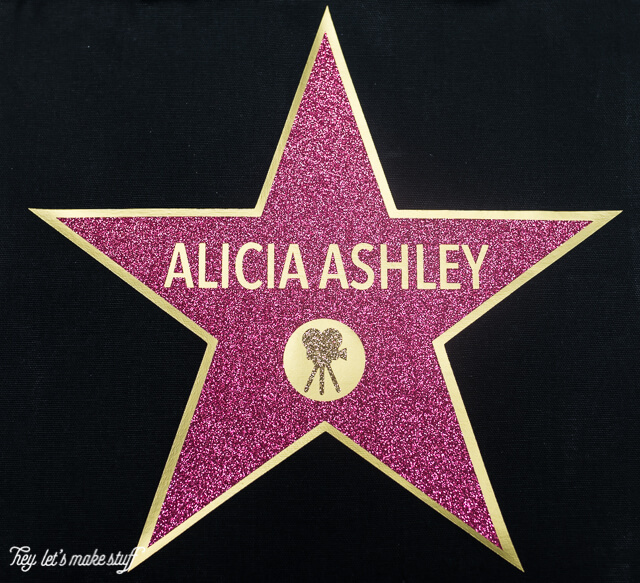 Love this tutorial and want to learn how to do even MORE in Cricut Design Space? Check out my Learn Your Cricut eBooks!
Swag for the Bag
So what do you put in a swag bag for a Girls' Night at the Oscars? I themed everything gold and pink to match the Walk of Fame star. I picked up everything at my local World Market.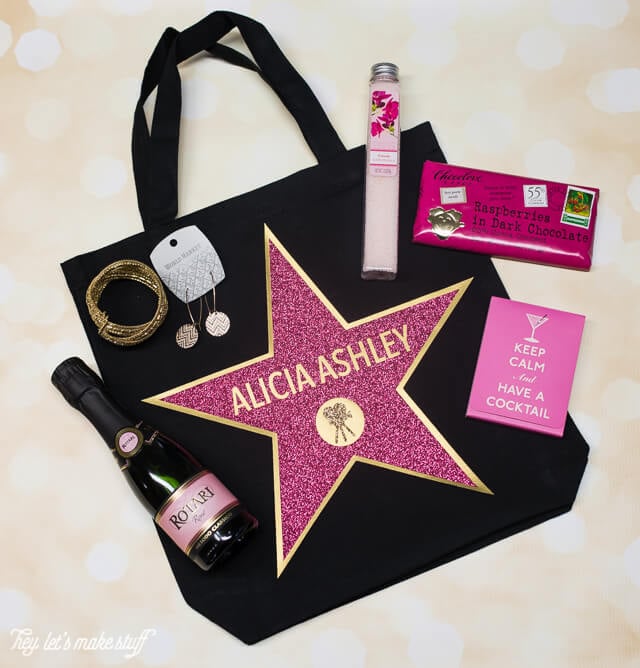 Of course, you need a little bling — earrings and a bracelet are fun.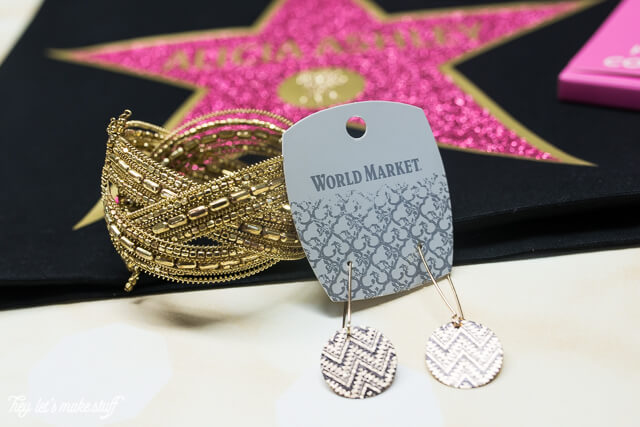 A little notepad for when Ryan Gosling passes you his digits.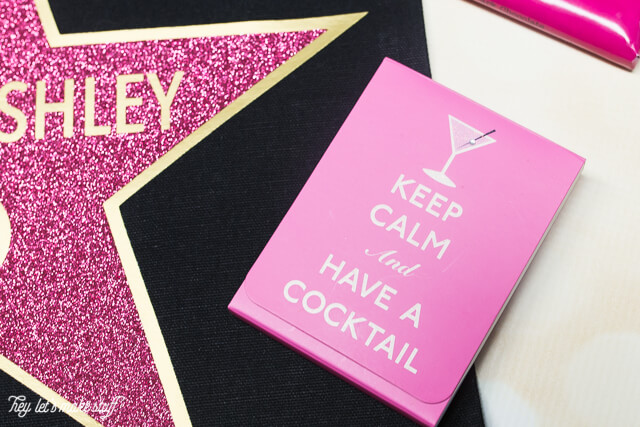 Some bath salts for soaking your feet after hours wearing your Manolos, and some chocolate to eat to indulge in while you soak.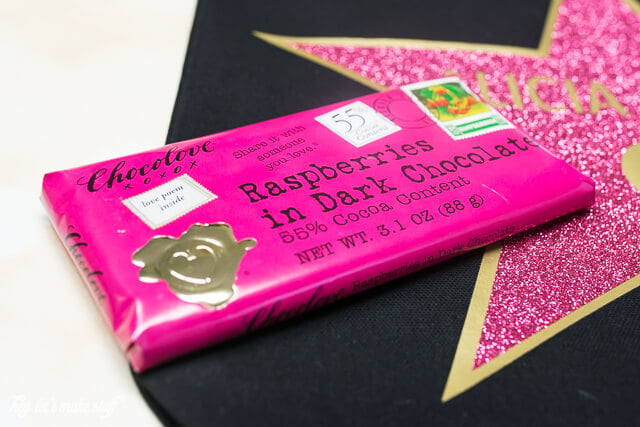 And of course a small bottle of rose brut, to help you get through the evening!
Other ideas include nail polish, a scented candle, lip balm, popcorn mix, flip flops (for when the heels become too much!), bottled water, and maybe a copy of People so you can catch up on all the celebrity gossip!