If you have a Glowforge or are planning on getting one, you'll need a sturdy table or workbench for your machine. Here are five Glowforge table ideas that will work perfectly in your crafting space.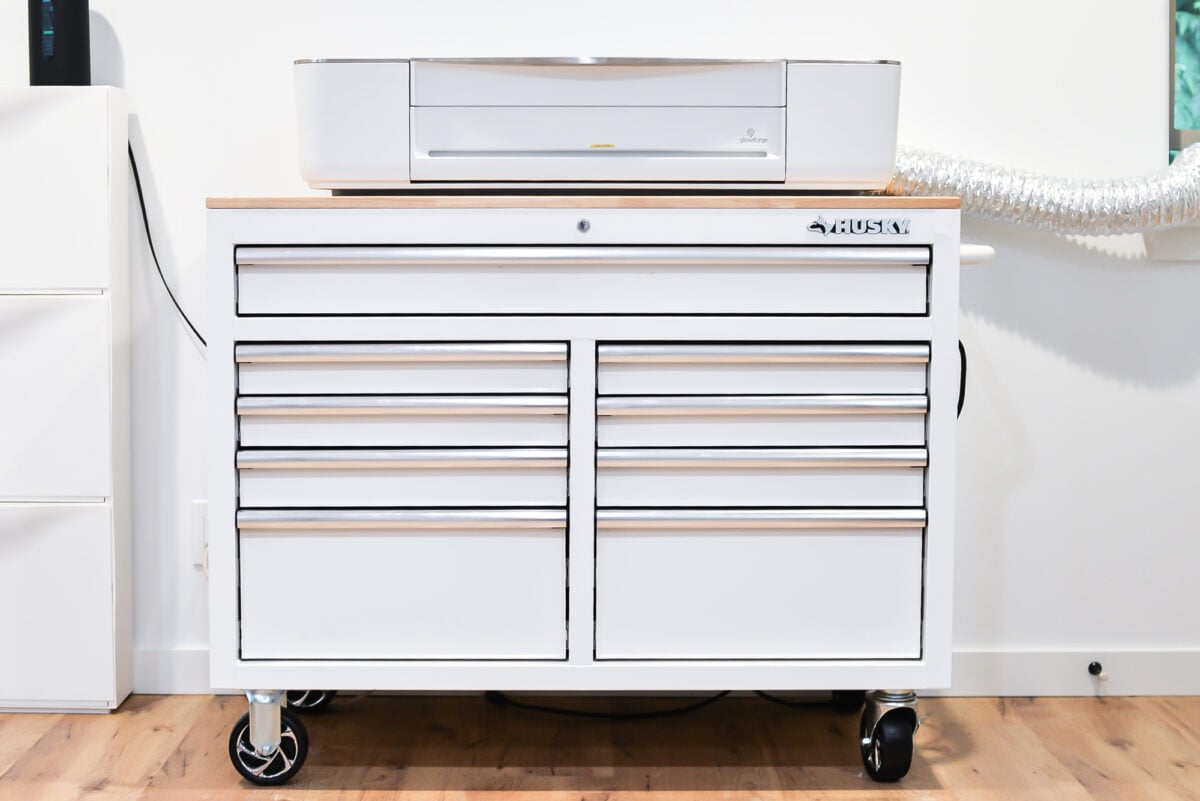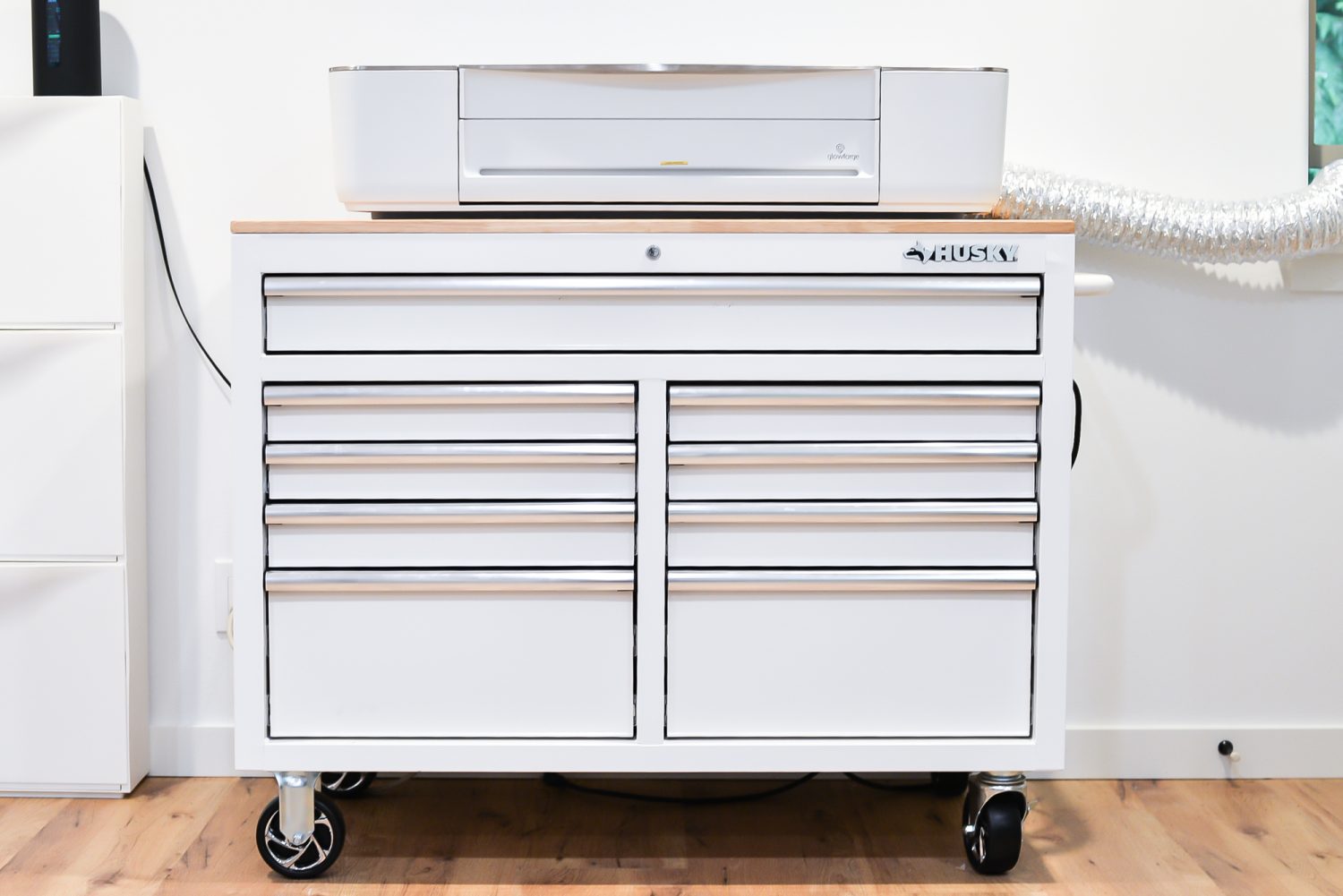 When I got a Glowforge at the end of 2020, I had absolutely nowhere to put it. Every table I owned was not quite big or strong enough. So I went on the hunt to find the perfect Glowforge table for my craft space.
Not sure what a Glowforge is? I wrote all about it in my Glowforge Overview: What to Know Before You Buy! You can also save up to $500 on a machine in that post!
Whenever I share about my Glowforge on social media, I get questions about the workbench I am using under my Glowforge. I'll get to the one I use in just a minute, but these questions made me realize that folks are trying to figure out where to put their Glowforge or other laser machines! So I thought I'd round up five awesome Glowforge tables and work benches so you see some of the options for your machine.
How Much Does a Glowforge Weigh?
A Glowforge model weighs about 55lbs (it's the same whether you have a Glowforge Pro, Glowforge Plus, or Glowforge Basic) so you'll want to find a solid worktop—the last thing you want is your Glowforge breaking a flimsy table and crashing to the floor!
What Size Table Do I Need For a Glowforge?
A Glowforge measures 38″ x 20.75″, so make sure your table can accommodate this size.
You may also want to look for a worktop with drawers or shelves so you can store all of your materials.
Additionally, if you use the Glowforge air filter, you'll want room for that.
If you have a different laser cutter, make sure you check the weight and size of your particular machine to make sure the table you choose will fit your machine.
Now let's get on to some of my favorite Glowforge tables!
The Best Glowforge Table and Work Bench Ideas
Husky Work Bench
I absolutely love my Husky work bench for my Glowforge machine. It's incredibly sturdy and has a ton of storage. I have the 46″ x 24.5″ version, but there are also larger 56″ x 24.5″ and 72″ x 24.5″ versions. These also come in several colors, including white, red, black, and blue. You may also find them in store at your local Home Depot.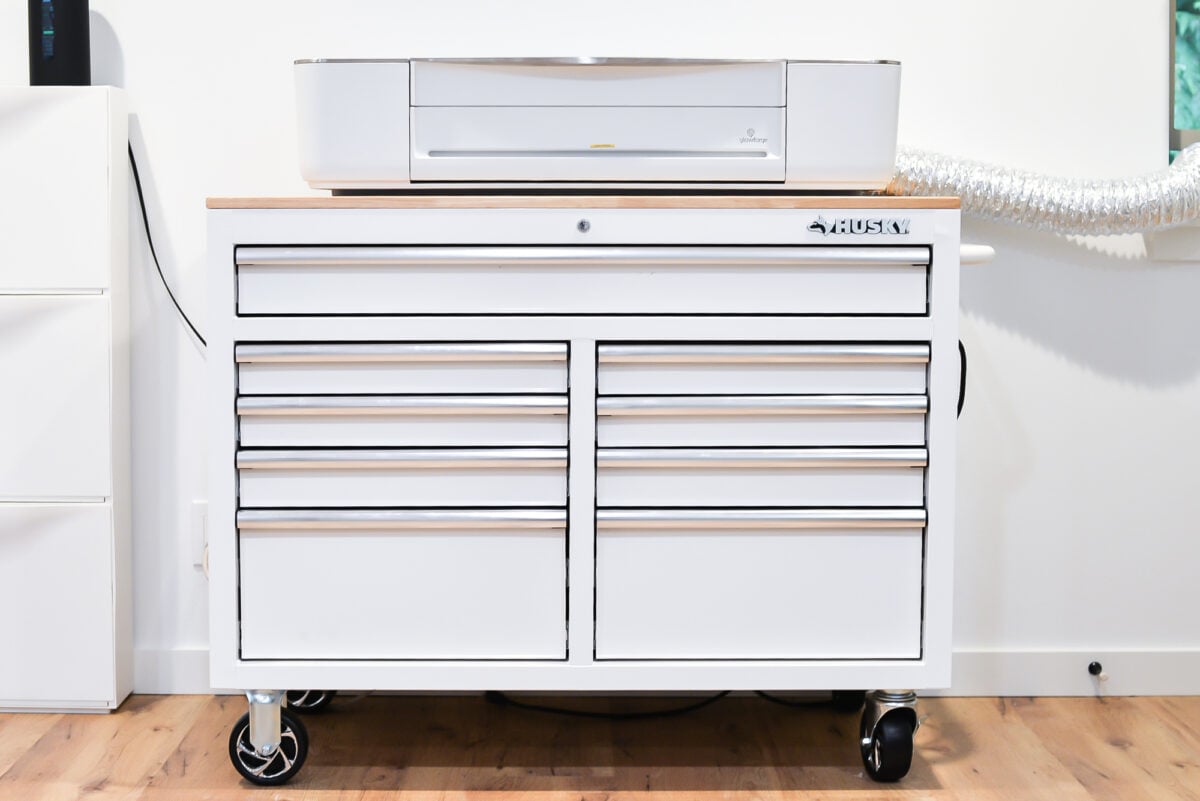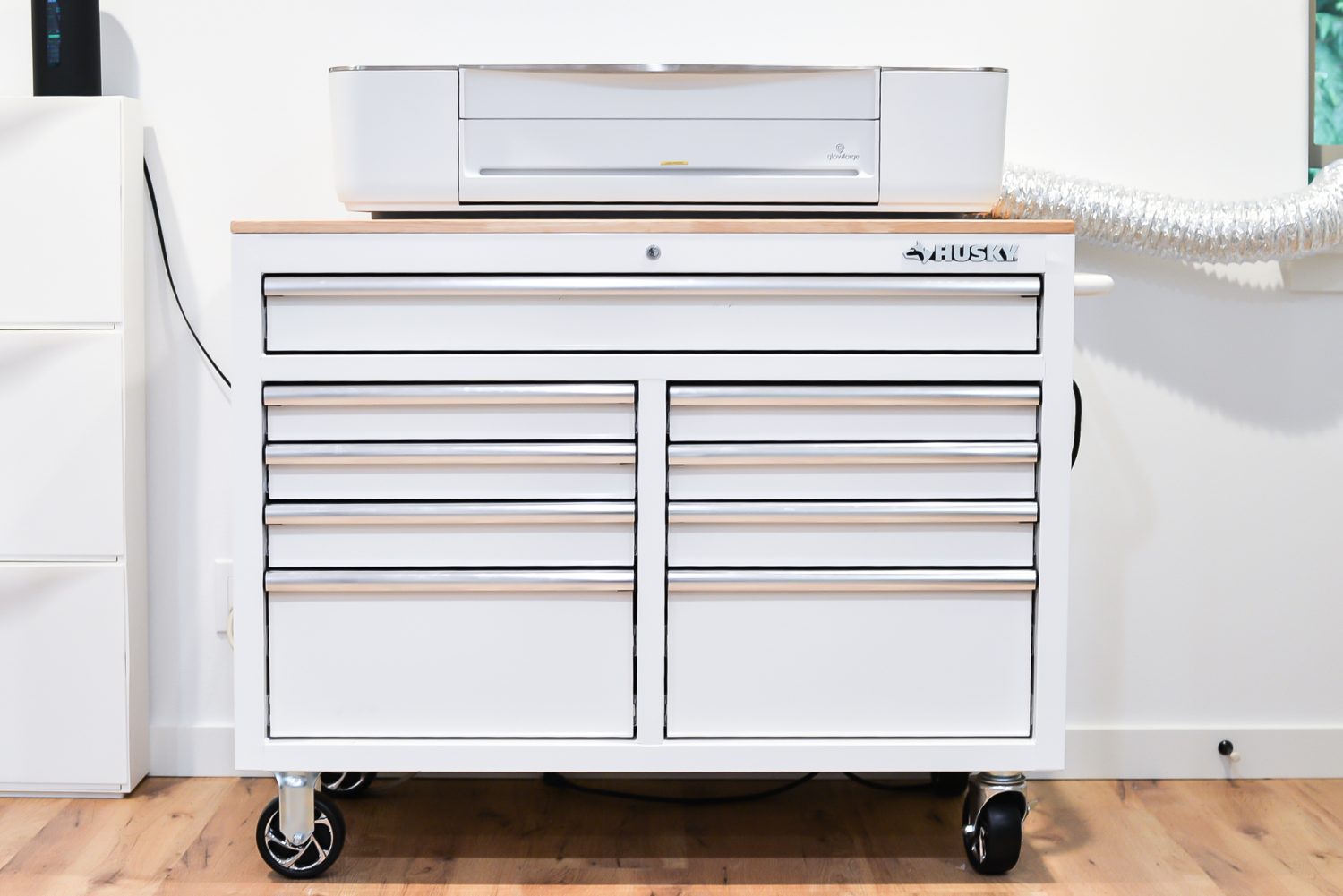 On the side there is a power bar. I plug my Glowforge straight into the wall, but I use that power bar for other things, like charging my handheld vacuum I use to clean out my crumb tray.
The drawers are also large enough to accommodate Glowforge's proofgrade materials, like acrylic, draft board, and wood. I often use proofgrade materials because they are basically foolproof, and having drawers that easily fit these materials is a good fit for the way I craft. Other material brands often sell their materials in these same sizes, so they fit well.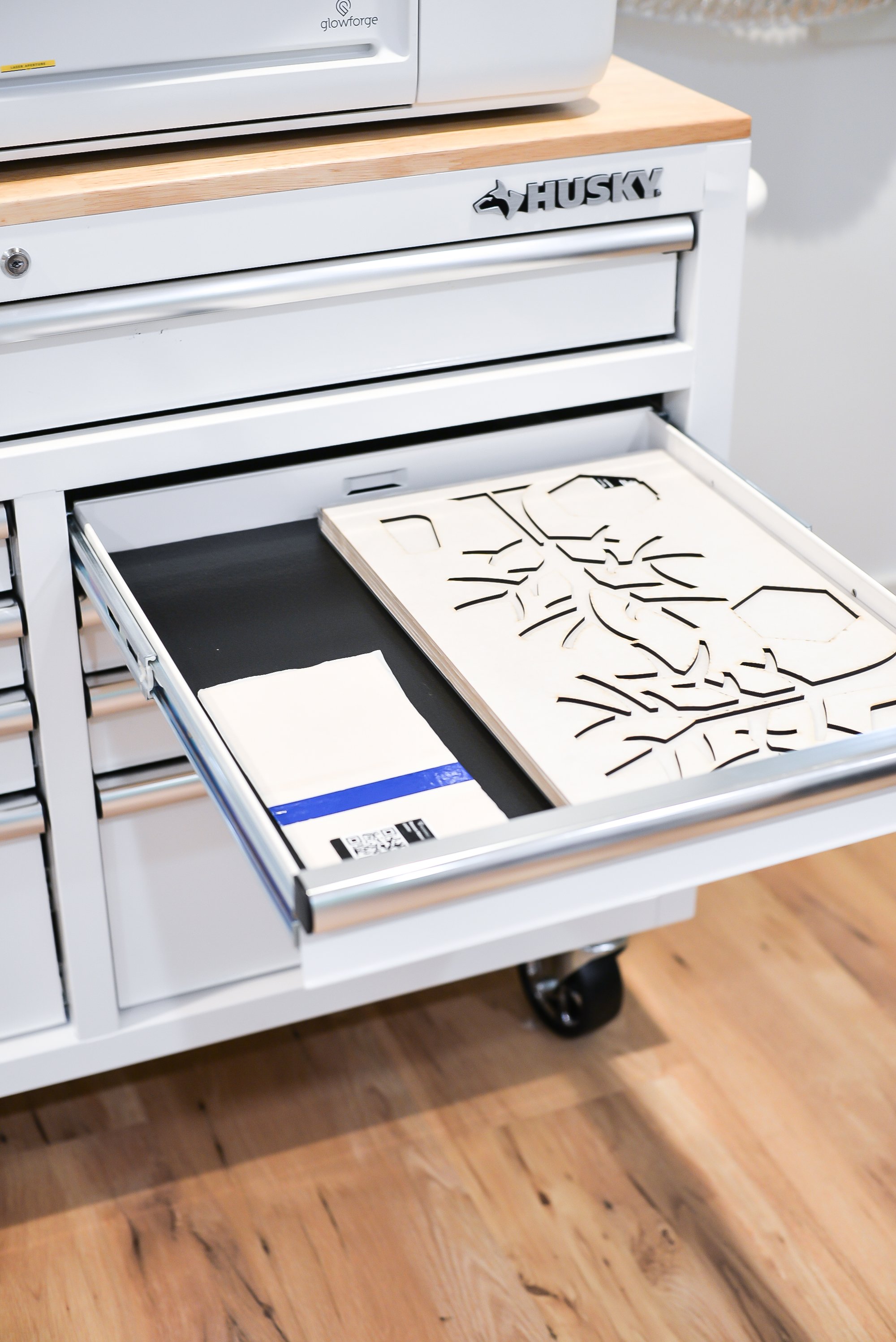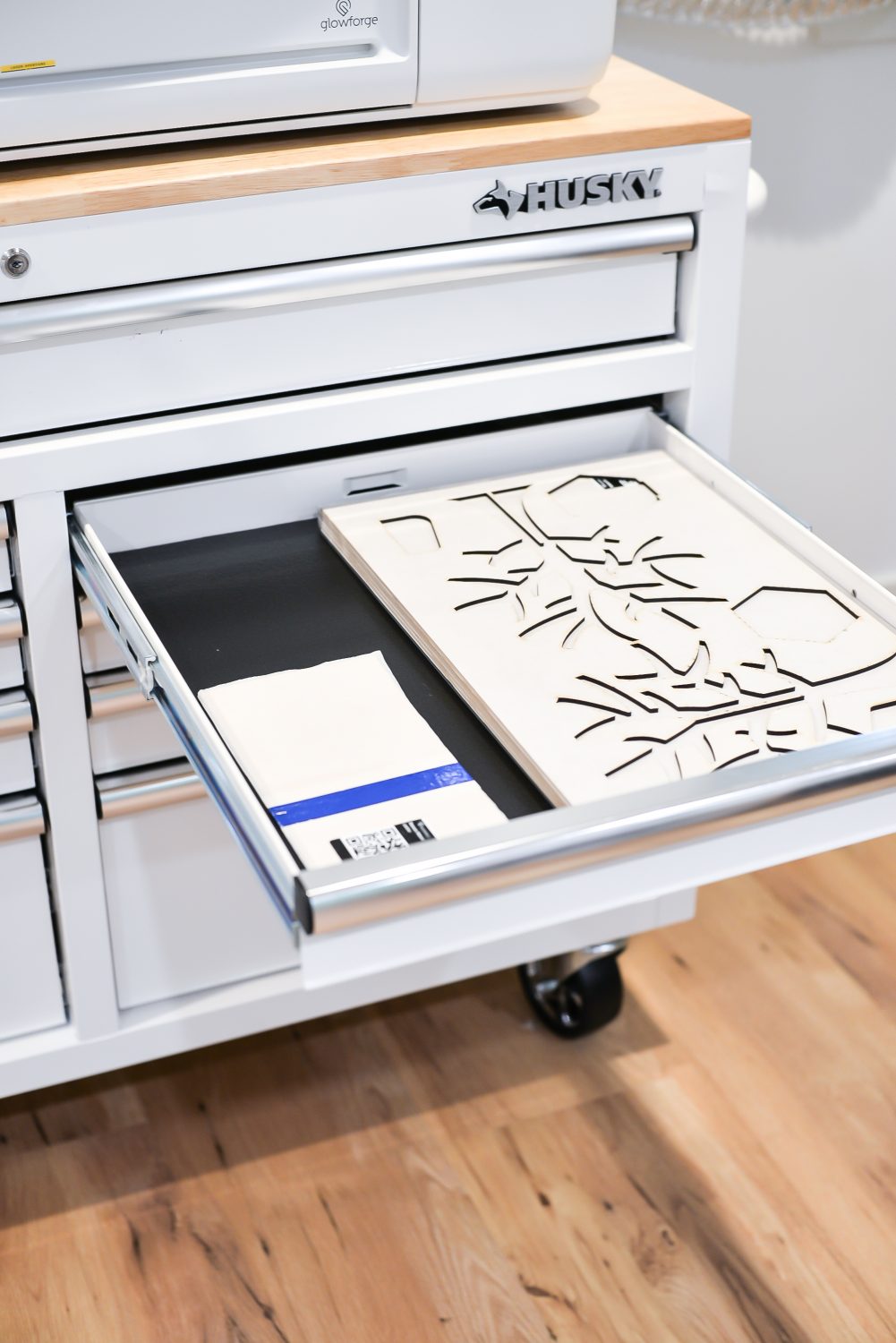 I also like that the Husky work bench is on wheels—sometimes I need a big white wall for photography, and I can just push my table out of the way and use the wall behind my machine. Not something that everyone needs, but it's handy for me.
Gladiator Work Bench
In my craft room, I also have two Gladiator work benches. I don't use either for my Glowforge, but I LOVE them and they would work perfectly for holding a Glowforge if you're less worried about material storage or have other options for your materials. These work benches come in a range of sizes—mine is 72″ x 24.5″. It could easily fit a Glowforge on one end with additional workspace next to it.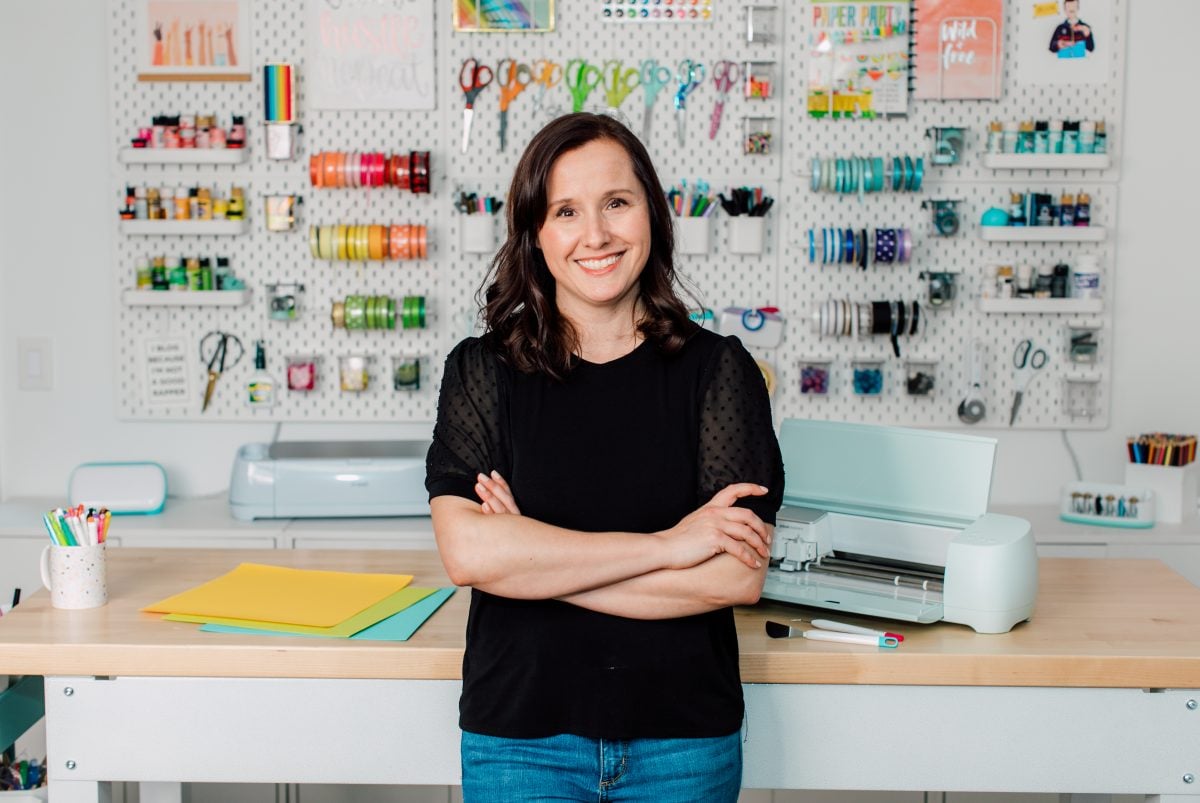 One of my favorite things about these Gladiator work benches are the adjustable legs. You can make it the exact height that works for you—really great if you're particularly short or tall.
You could easily put other storage options under the work bench if you need more storage as well, like a shallower version of the riser table later in this post.
Amazon also has a version of this adjustable workbench.
IKEA Alex Drawers + Linnmon Table Top
Another more budget-friendly option is the ubiquitous craft room IKEA setup with Alex drawers and a Linnmon table top. Of course, you need to live close enough to an IKEA to pick one up!
Here's a photo from user @samspendlove on the Glowforge forums—$90 for each set of drawers and $20 for the table top.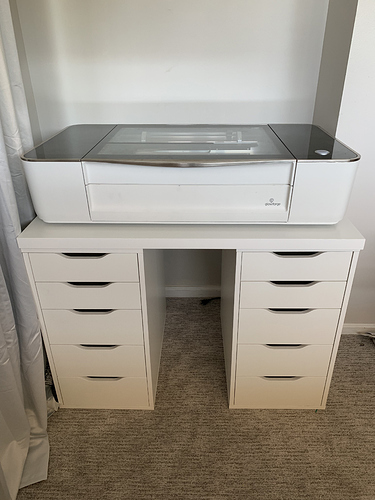 You could use a slightly longer tabletop as well if you want. I would definitely use the space between the two sets of drawers for storing larger pieces of material!
The downside to using these Alex drawers is that laser materials often come in a 20″ x 12″ size…and the interior dimensions of the drawers is only 11.5″ x 19.5″. I have four of these sets of drawers in my craft studio and it drives me crazy that the couldn't be half an inch larger to fit all of the crafting materials that come in a 12″ width! *throws glitter at whoever invented these drawers*
IKEA Pipe Riser Glowforge Table
Another IKEA option is this great pipe riser table from MichaelMikkelson on Instructables. The great thing about this table is that it solves the "the drawers aren't big enough" problem by creating a series of shelves below your Glowforge for materials. That being said, you'll have to dust shelves more than you would drawers.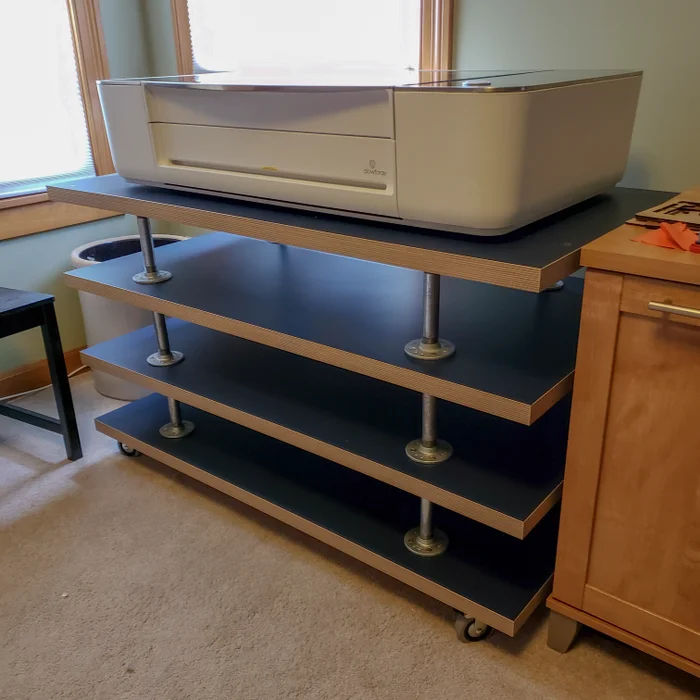 I like that this DIYer put wheels on the cart, so it can be moved if needed. You could also put it on regular feet.
For this project, you'll need the same Linnmon table tops (you could also use plywood), as well as galvanized pipes and flanges, caster wheels, and screws—along with some tools and supplies like a drill and wood glue. Get all the instructions for making it here!
Kitchen Island
Yes, you heard me right—a kitchen island! Many companies, like IKEA, Wayfair, and Overstock sell standalone kitchen islands. These are generally sturdier than simple tables because they are designed for the hustle and bustle of a kitchen, with all the chopping and prep work. And many of them come with shelving below.
I like the IKEA Vadholma, though it's best if you can access this one from both sides to make use of storage on both sides.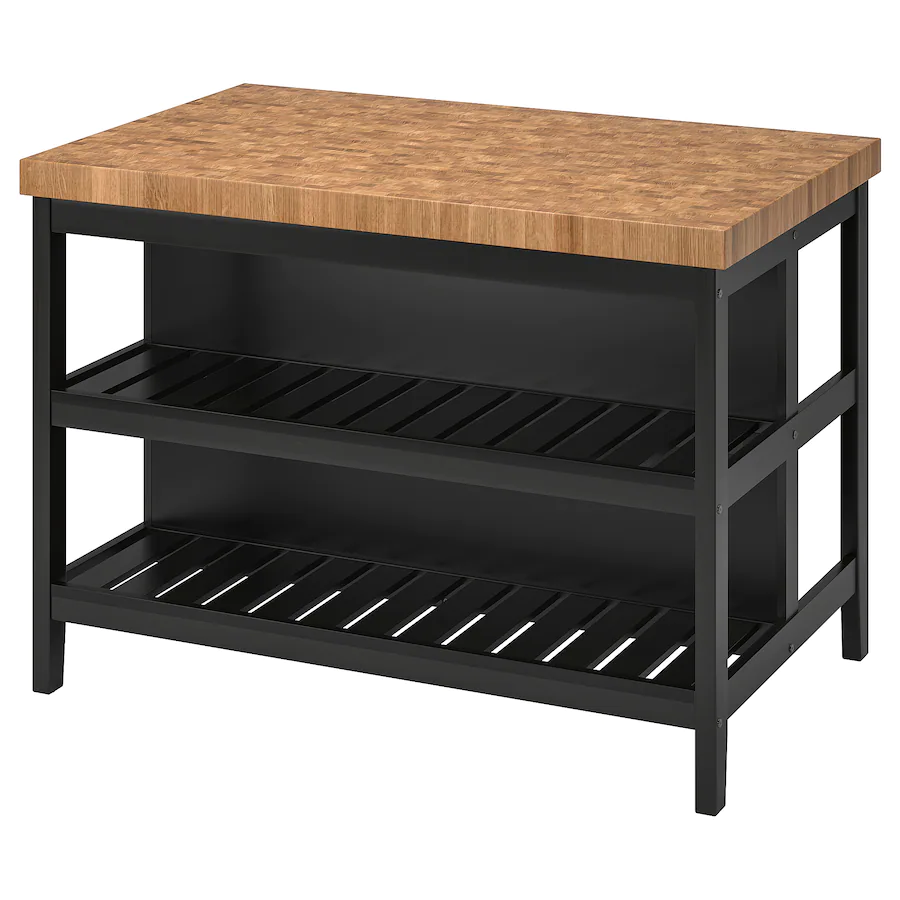 Make sure to read the reviews and double check sizes, but there are a lot of kitchen island options out there for your Glowforge!
DIY Glowforge Table
If you're handy enough to craft one yourself, I love this Glowforge cabinet from Shanty 2 Chic! This is great for a small footprint—it's not much wider or deeper than the Glowforge itself.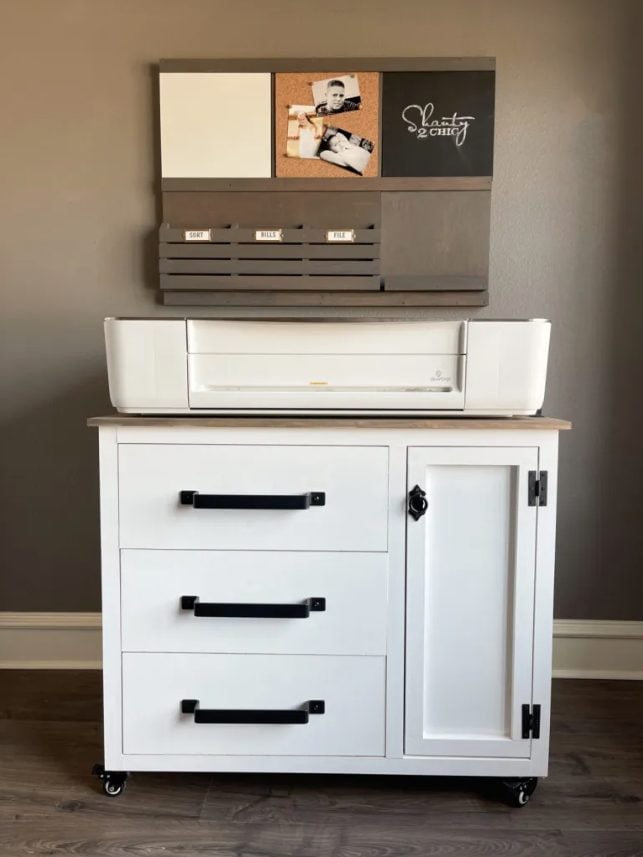 And even better—it houses the Glowforge air filter behind the door on the right! This is such a great solution for smaller spaces or for folks who rely on the filter. If you don't need the air filter, you can use that for upright storage for materials.
Hope you found this post helpful when deciding how to store your Glowforge laser cutter! Have an option not listed here? I'd love to hear about it in the comments!