Add some boo to your Halloween decor and gear with this spookily adorable Ghost SVG Bundle!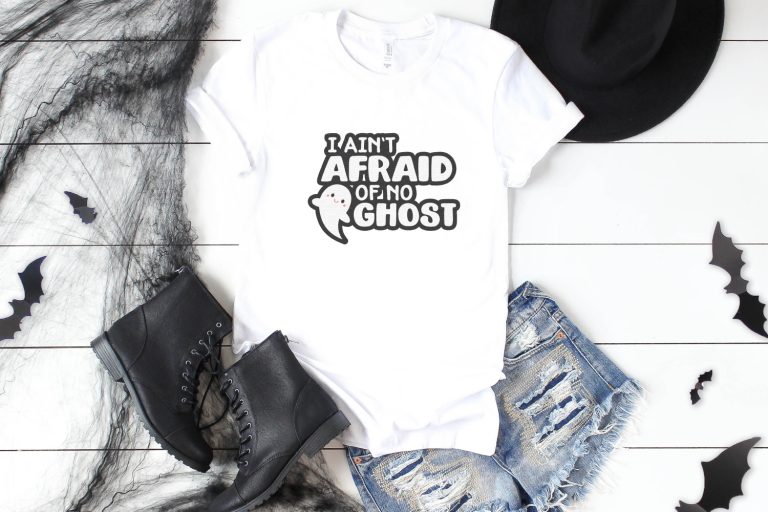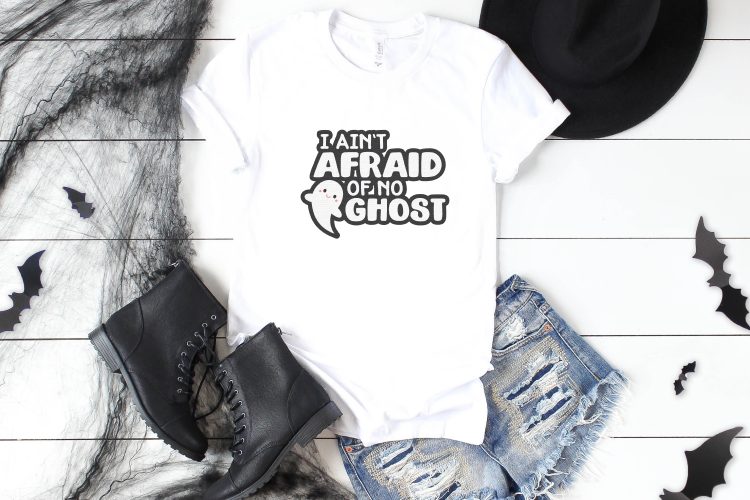 Want to save this post to reference in the future? Enter your email below and we'll send it right to your inbox!
What's your favorite iconic Halloween character? Halloween certainly has a plethora of spooky, ghoulish, ghastly, and scary representatives. Think about it—you've got Frankenstein, zombies, witches, goblins, all types of green monsters, evil clowns, blood-sucking vampires, and of course, ghosts!
I'm a fan of the Halloween ghost but not the haunty, torment-you-through-walls-and-doors kind of ghosts, but more along the lines of Casper. Friendly ghosts are my favorite ghosts. These are the types of ghosts that are more interested in being your buddy and less likely to cause you to run screaming from your home in the middle of the night. Cute, adorable and friendly ghosts—that's what Halloween should be about!
I don't think I've ever been too keen on the super scary side of Halloween and now, with two small children in tow, the less scary the better. I mean, who has time to deal with nightmares and monsters in closets? Not this mom! I need my sleep. I try my best to make Halloween as fun, colorful, humorous and cute as possible. Actually, I think I take this approach with just about everything I do. If you scroll down a little bit more, you can check out some more of my Halloween crafts, projects and SVGs—not a lot of spooky going on, but tons of creative inspiration.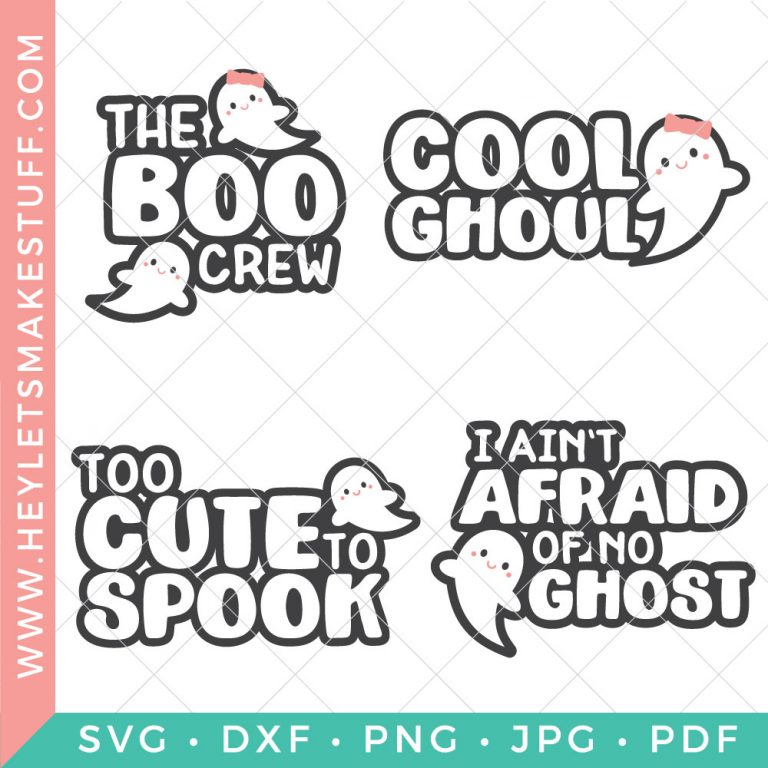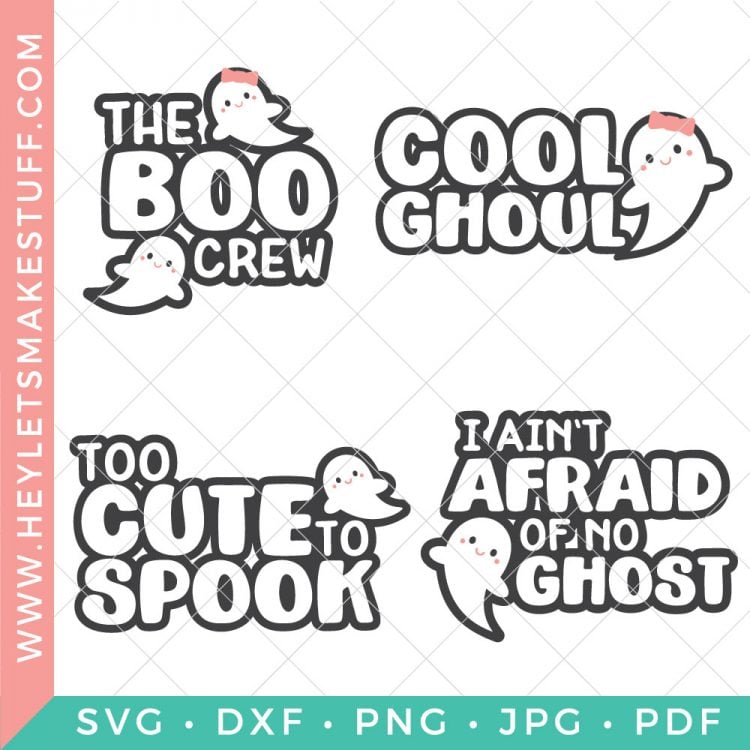 I took my idea of Halloween ghosts and turned it into four not-so-spooky but very silly cut files. My Ghost SVG Bundle has the supernatural character but with an adorable and somewhat cheeky twist. I took some of my favorite ghost inspired catch phrases and paired them up with my smiley, ghostly friends. Any and all of these SVGs would look great on trick or treat bags, Halloween party tees and decorations, invitations, printables and any other craft or creation you can think of.
Grab these Ghost SVG Bundle today and start adding some fun and silly spookiness to your Halloween crafts and projects! Want more ghost projects? Check out my ghost luminarias and cute haunted house coloring page!
Get the Ghost SVG Here
Enter your email address below to get this free file! If you're having trouble, make sure your pop-up blocker is turned off. Still having problems? Check out our Downloads FAQ.
Buy the Ghost SVG Bundle Here
Get the bundle of four files below, or join the Hey, Let's Make Stuff Club and get access to ALL of the SVG files, printables, sublimation files, and more in my shop for one low price!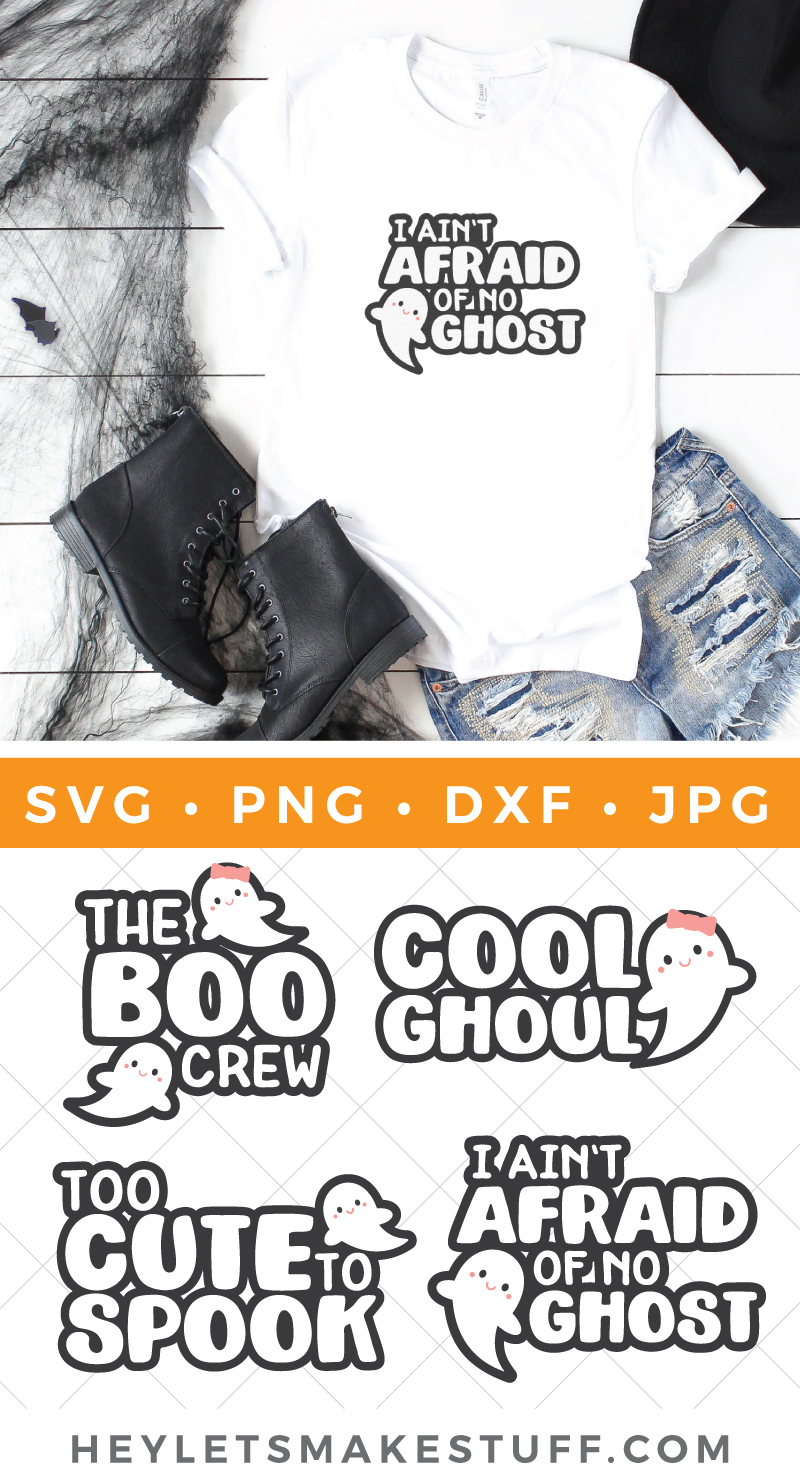 Let's Get Spooky!