Use your Cricut Maker to cut and mark sewing patterns! Then sew this handy fabric tablet case for your iPad, Kindle, or other tablet — with an easy wrap-around zipper and exterior pocket for your earbuds or other accessories.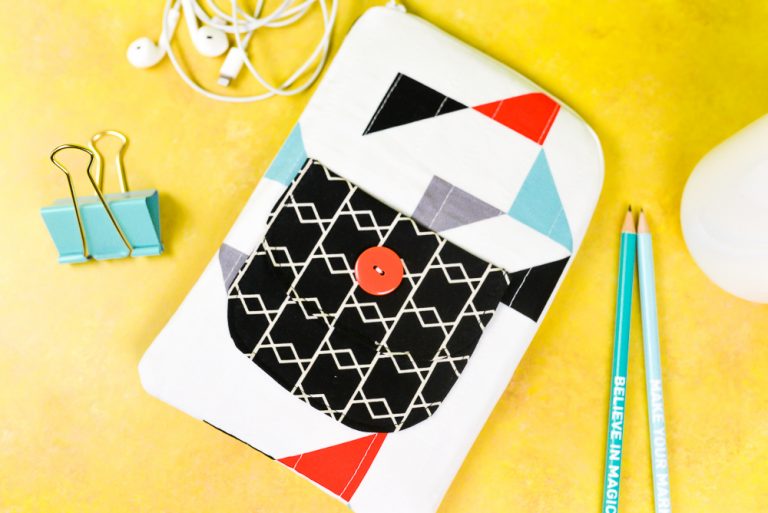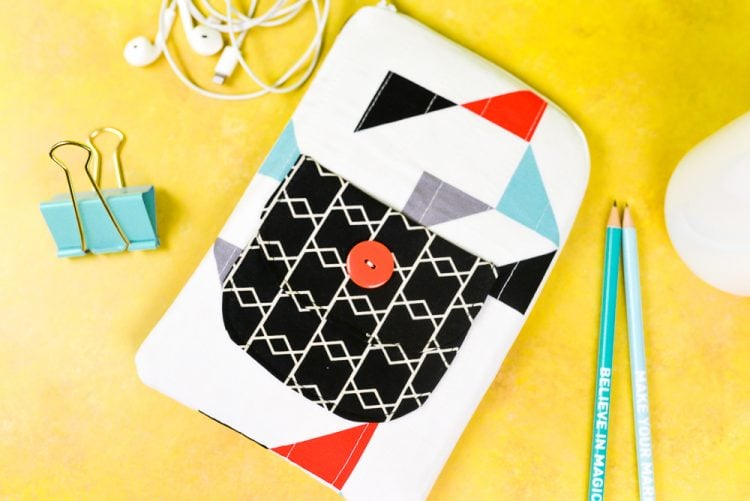 I am one of those people. A phone-dropper. A tablet-dropper. A, well, everything-dropper. So I've come to rely on cases for my different tech. And why use a boring store-bought case when I could make one myself and get to play around with the new Cricut Maker's ability to cut fabric! To put this together, I used a selection of Cricut Fabrics.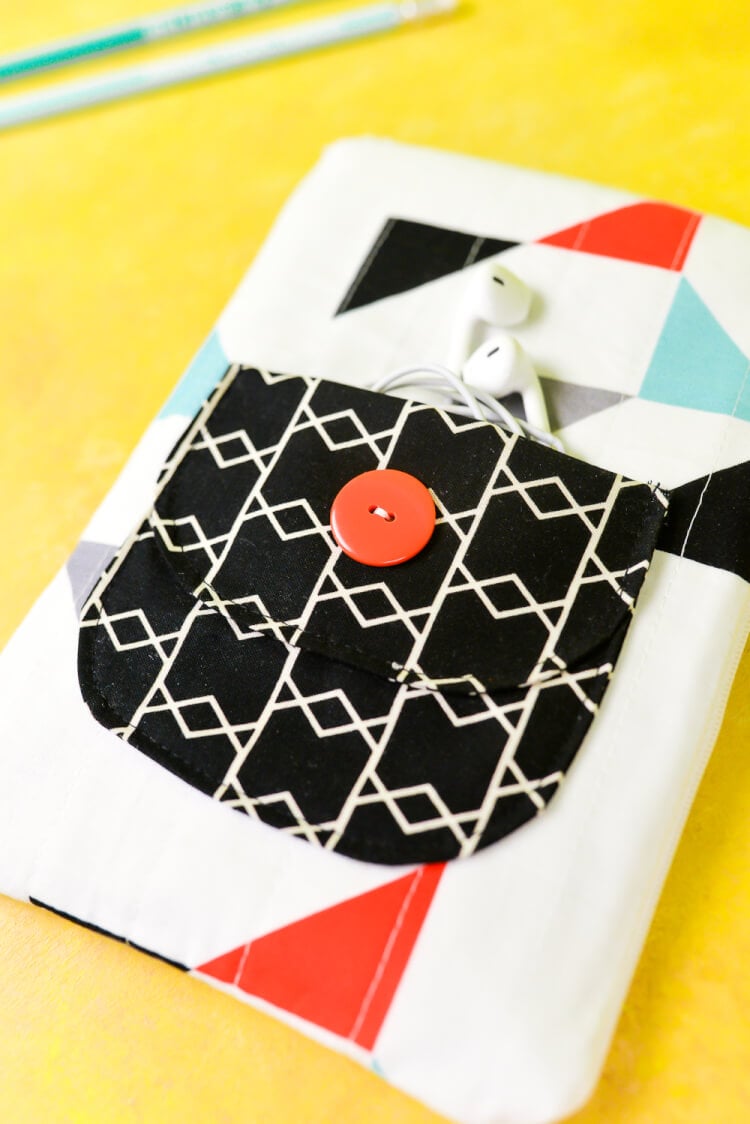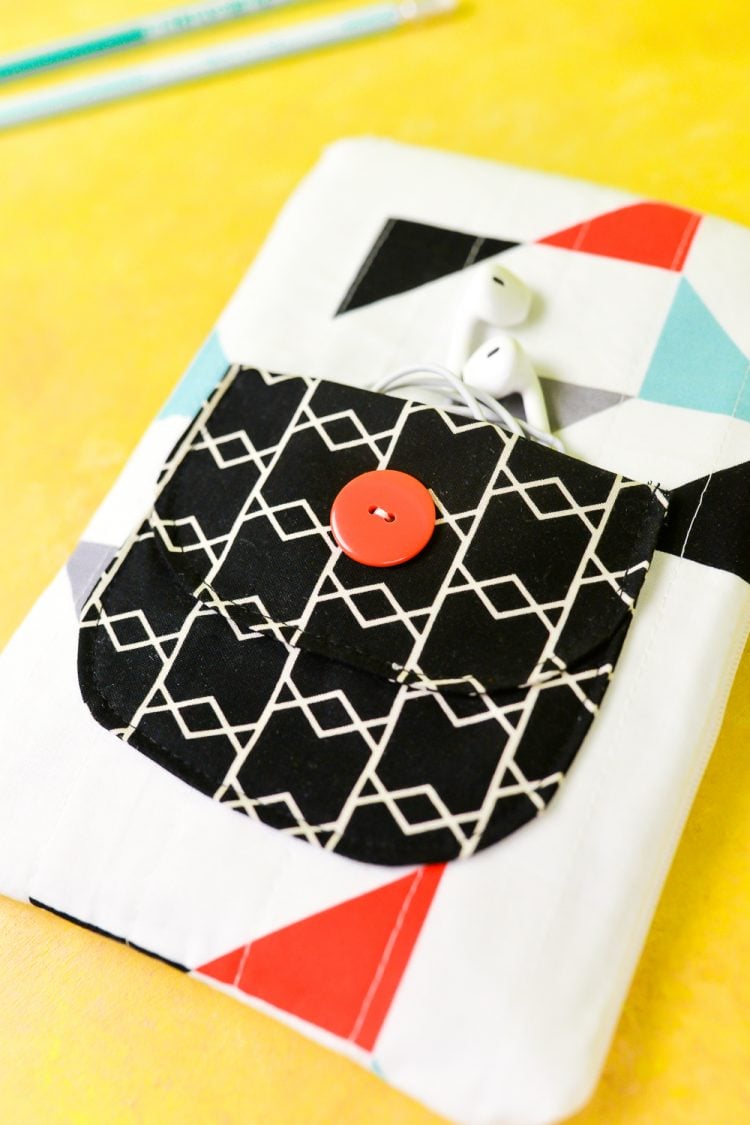 This project is one of the 50 free projects that comes with Cricut Access when you buy a Cricut Maker. Nearly 50 other bloggers and I decided to make them all so that you could get a great visual of what it's like to make each project. The other day, I made an easy customized leather luggage tag and today I'm tackling this tablet case.
But first, a giveaway!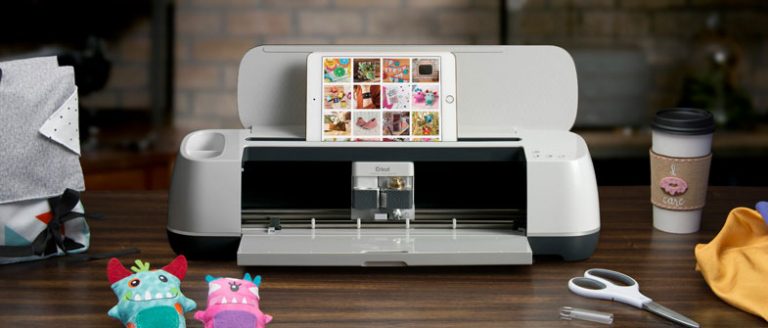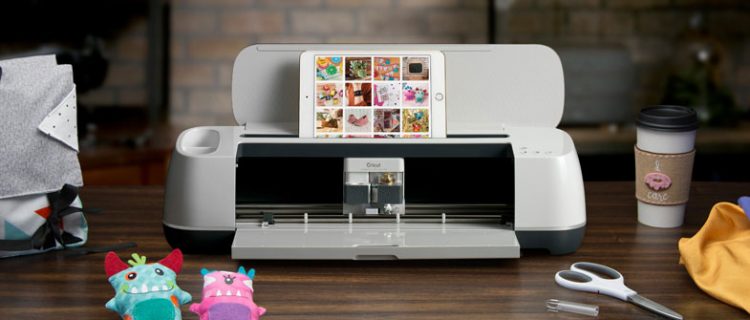 We're giving away a value-added HSN Cricut Maker bundle! Head toward the bottom of this post to enter! The bundle includes the following:
Cricut Maker
Rotary Blade + Drive Housing
Premium Fine-Point Blade +Housing
Fine-Point Pen
FabricGrip Mat 12" x 12"
LightGrip Mat 12" x 12"
Welcome Book
USB Cable & Power Adaptor
Cricut Access™ Standard trial membership
50 ready-to-make projects, including 25 sewing patterns
Materials for your first project
HSN Added Value Offer Contents:
Cricut Bonded Fabric Point Blade Housing
Cricut Scoring Stylus
Cricut Washable Pen
Cricut 12×12 StrongGrip Cutting Mat
Cricut Digital Pattern Content
Cricut Consumable Sampler

(1) 12×26 Fabric Sheet, Red
(2) 12×12 Glitter Iron-on Sheets (Pink and Gold)
(6) 12×12 Vinyl Sheets (Black and White)
(1) 12×12 Kraftboard Sampler, 30pc (black, white, natural)
Uh, get on that friends. What a fun giveaway!
Quilted Fabric Tablet Case
Start by printing out all of your instructions — you can do this from the Make It Now screen, right below the main project photo. I find having the printed instructions to refer to was really helpful!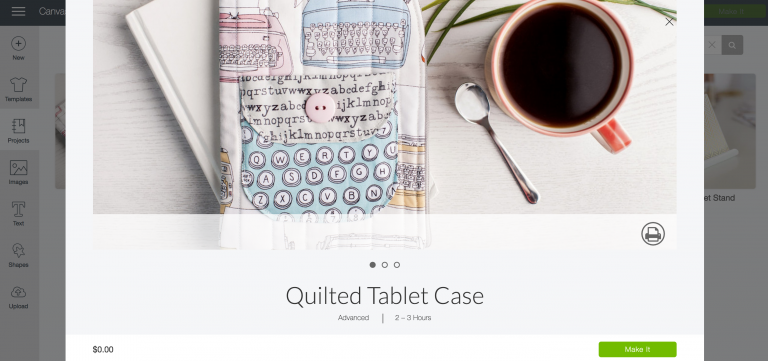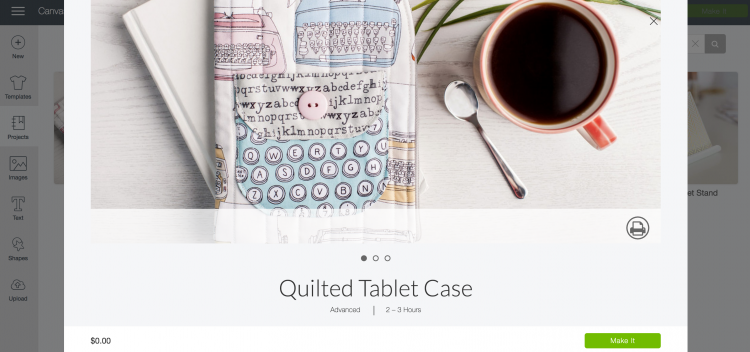 Cutting out fabric on the Cricut Maker is awesome. I have a whole post on how to cut fabric on the Cricut Maker, and this was no different. Following the printed directions, I cut the fabric for the batting (I used fusible fleece), the front and lining fabrics, and the pocket fabrics. I also needed a zipper, single-fold bias tape, and a cute button.
I'm not going to go into how to sew this together since all of the instructions are within the project. I had one issue with the pattern that I thought I'd elaborate here. I've been in touch with the Cricut team, so hopefully it'll be updated soon!
The issue I had was that if you are using fusible fleece or Heat N Bond for the interfacing, it never tells you to actually quilt your project (it does if you make a traditional quilt sandwich). I did figure out they missed that step, but I just quilted my top piece of my fabric to the batting, forgetting to put the interior backing piece on (I blame years of quilt-as-you-go for this). It was an easy fix — I just used a little fusible web to adhere the pieces together (you'll see no quilting lines in the interior of my case!). So just remember that no matter the interfacing you use, make sure to make the complete quilt sandwich — exterior, batting, interior — and quilt it all together.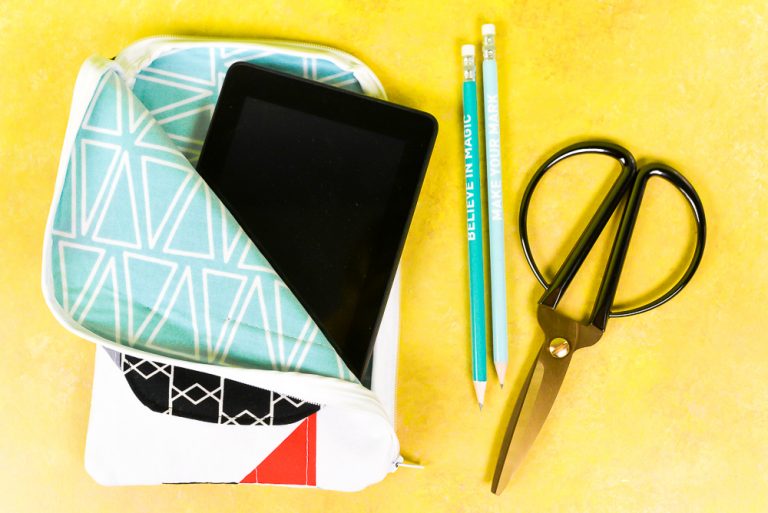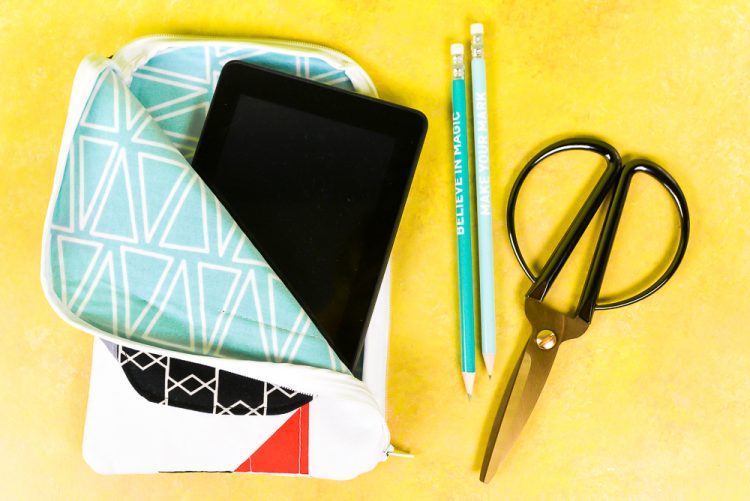 One new technique I learned doing this project is how to use bias tape to finish raw edges inside my case. I don't sew a lot of projects like this, so it was a new technique to me. I thought it created a really clean interior of the case and I'm definitely going to use this technique in future projects I make!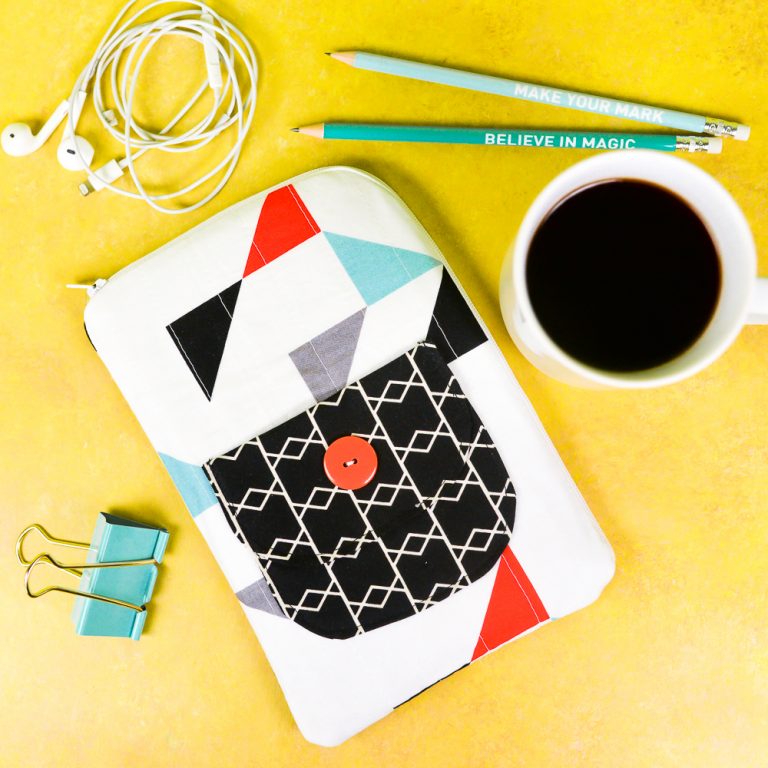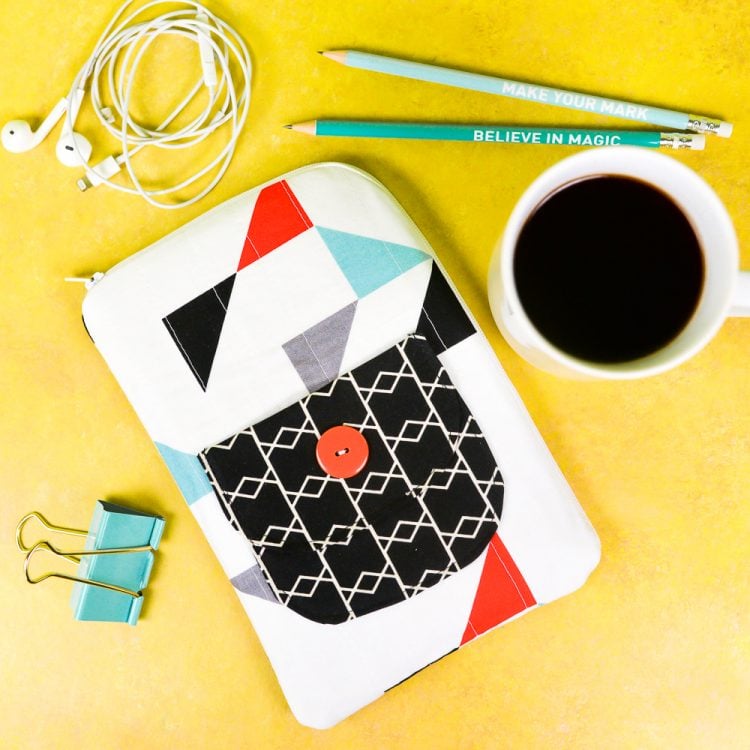 My favorite thing about this project was how neatly it all came together because my pieces of fabric and fusible fleece were cut absolutely perfectly. It really does make a difference in your sewing if your starting pieces are the exact size you need them to be!