Making tea towel curtains couldn't be more simple! Just two straight lines of sewing per curtain and you have curtains that help you maintain privacy and help block sunlight in a totally cute way.
One of my favorite spots in our house is our kitchen. We recently did a budget makeover and I absolutely love the results! One of the the changes we made before the full remodel was to take out the aging black garden window and replace it with a bright double-hung window. It lets so much more light into our kitchen and I love that.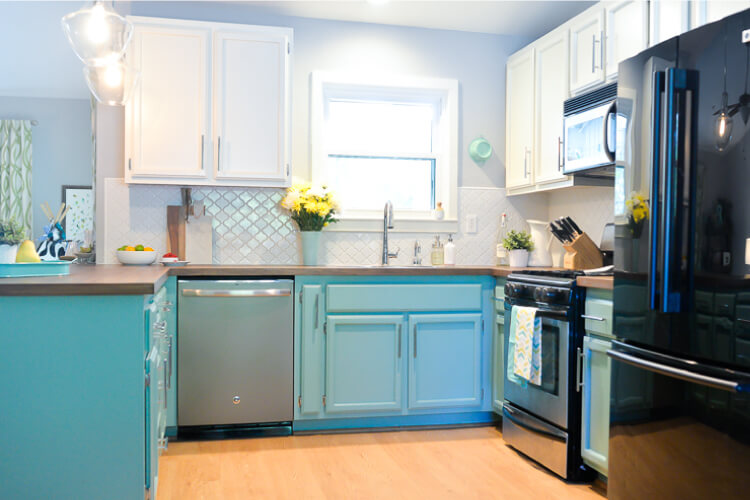 Except that for a one or two months out of the year, the sun comes directly through this window and tries to blind my entire family and the dog. Doing dishes during this time is utterly impossible. I actually find myself wearing sunglasses while I cook!
So I needed a quick fix. I decided on a set of tea towel curtains. This solution works really well since I hung them on a tension rod instead of a traditional cafe curtain rod. During the times of the year when the sun streams into the window, I can hang them up. And when it passes higher overhead, I can put them away in our linen closet and let the natural light (but not direct sunlight) brighten the kitchen.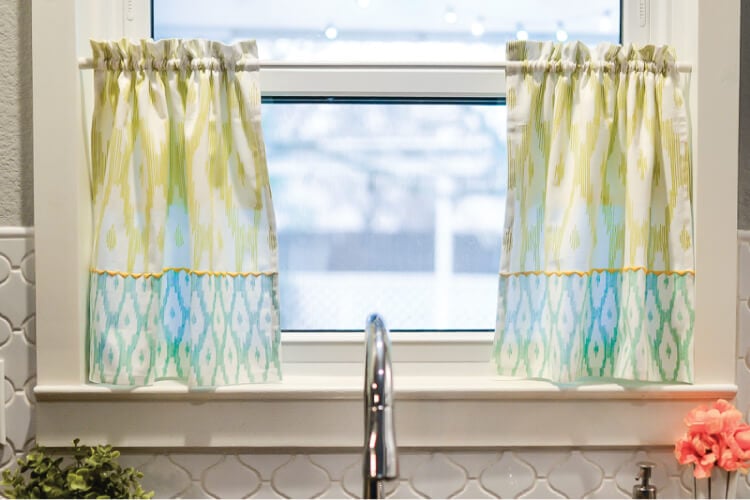 I love using tea towels in particular because of the embellishments — I particularly love the decorative yellow stitching on this pair from World Market.
Tea towel curtains are SO easy to make. Each curtain requires just two straight-ish lines of sewing. That's it. I didn't even cut my curtains to hem them — I just let the extra fold over in the back. Should I ever want to turn these back into tea towels, I would just need to rip out the stitches and boom, they are totally usable tea towels once again.
I originally thought I'd use four towels (two on each side) for my 3′ window, but two ended up being sufficient. If you have a larger window, you might need four total.
Tea Towel Curtains Supplies
Tea Towels (two or four, depending on the size of your window). Sadly the ones I used from World Market are no longer in stock.
Other sewing tools needed or helpful for this project:
Tea Towel Curtains Directions
Seriously, sewing these could not be easier. Decide where on the window you want your tension rod. Measure from the top of the bar to the window sill and add 1″.
Fold your curtain over to that length and pin. I had quite a bit extra behind my curtain, as you can see (it's face-down on the table). You could choose to trim and hem this, or leave it as is.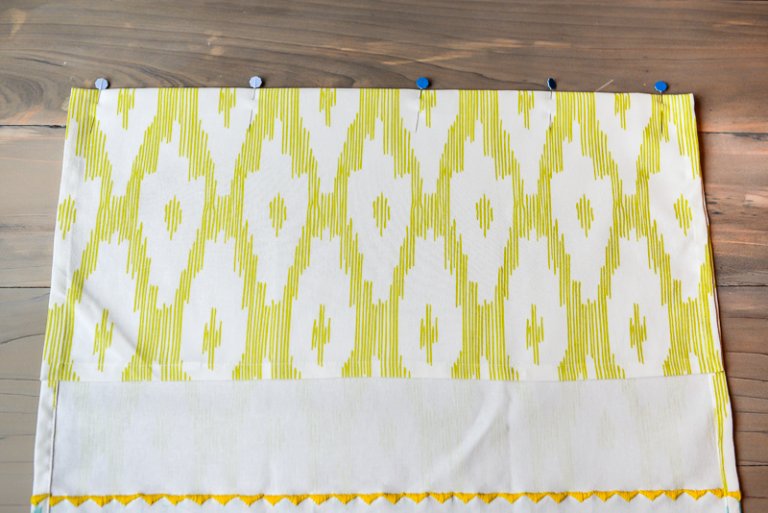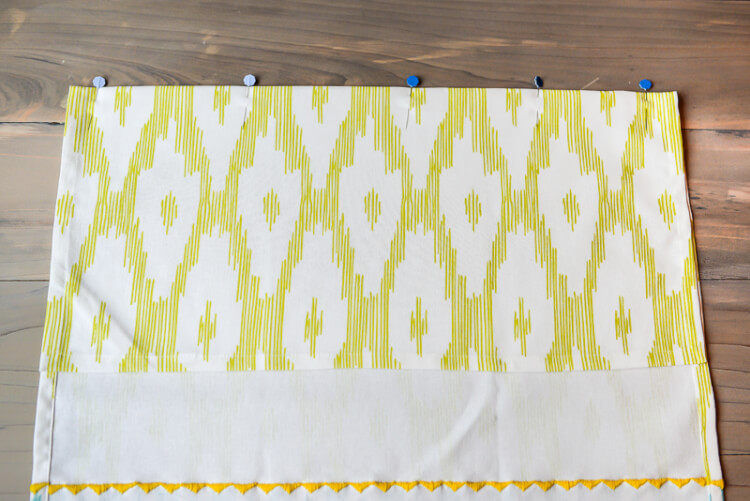 Sew a line of stitching one inch from your fold. I find using a piece of tape on my sewing machine helps me sew straight. This line of stitching creates the simple "ruffle" at the top.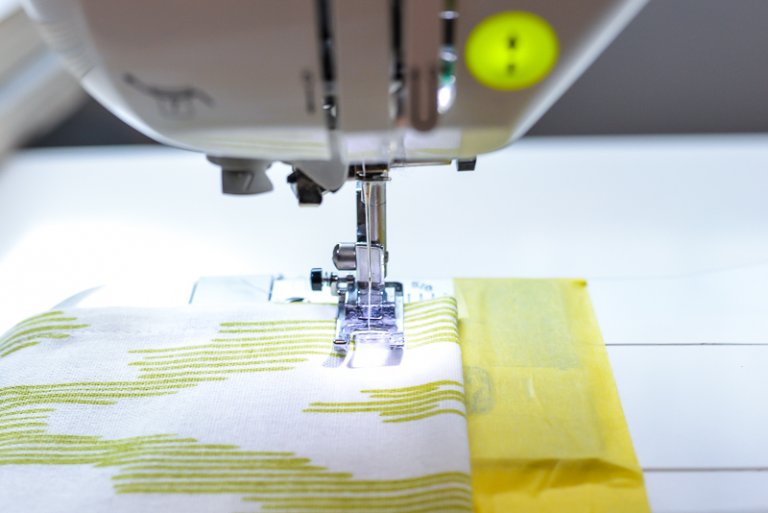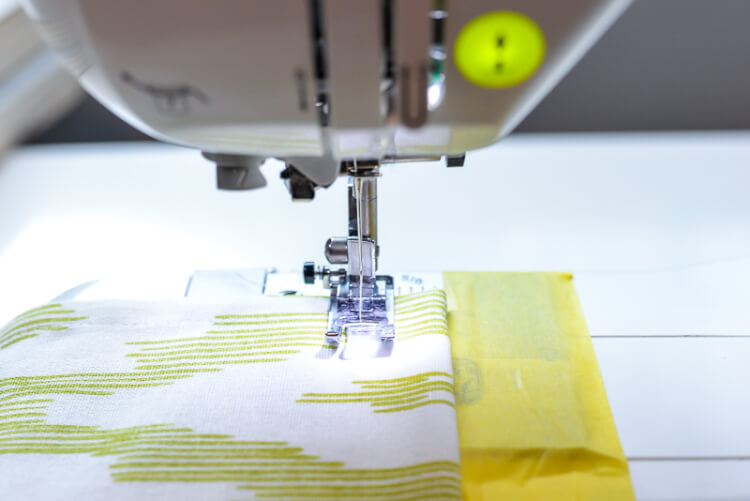 To create the rod's pocket, sew another line of stitching one inch from the first line of stitching. I only did 3/4″ and it was tiiiiight so I'd recommend a full inch. If you are using a thicker rod, you may need to adjust the size of the size of the pocket. I moved my tape to the right to create a new guide.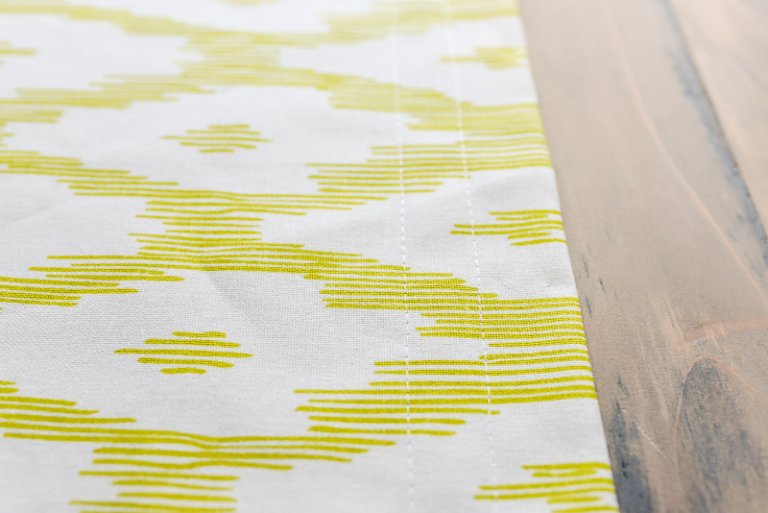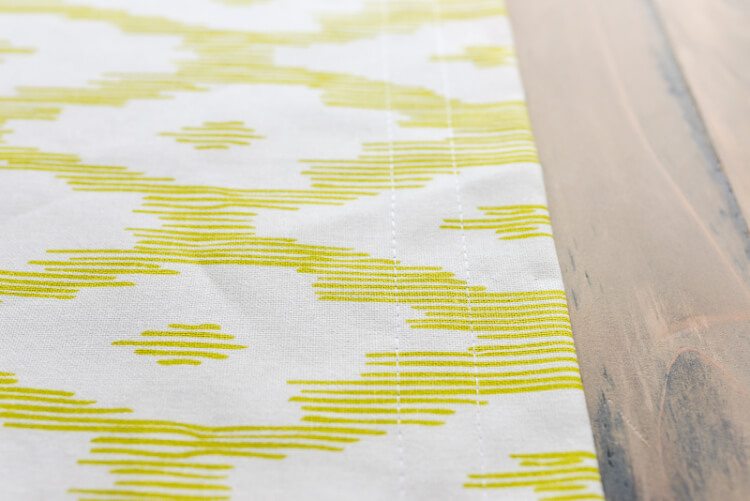 Then thread the tension rod through the two lines of stitching (not between the fold and the first line) and hang!