Print this free printable Easter scavenger hunt to send your kids on a hunt to find their Easter basket! Your kids will love searching around the house to find their Easter treats!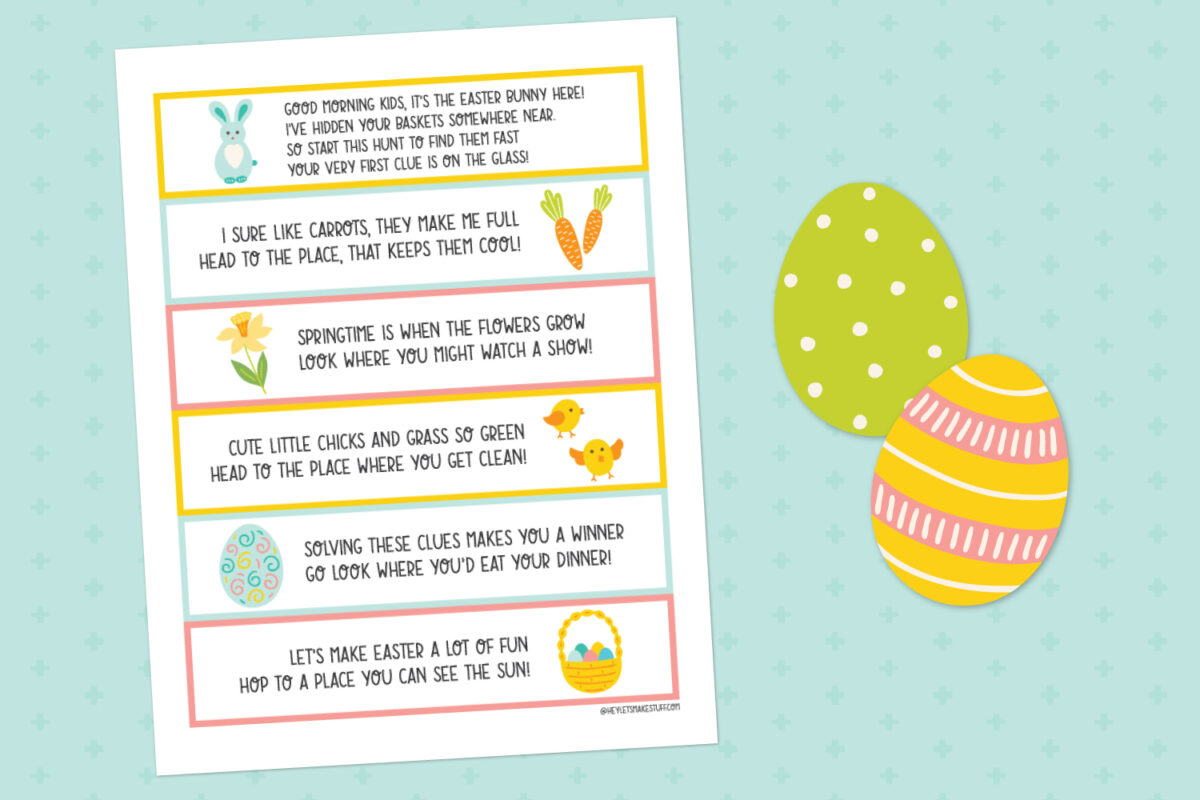 Want to make Easter morning extra special? Try this printable scavenger hunt! I usually just put our Easter baskets out on our kitchen table and let the boys see them in the morning, but this year I thought it would be fun to send them on an Easter scavenger hunt around the house to find their baskets! Of course they'll be wearing Easter egg hunt shirts, too!
This is basically like a treasure hunt. Following the directions below, print out the six clue cards to send your kids on the hunt! One clue leads to the next clue and is perfect for both older kids and younger kids (with reading help!). They'll be so excited to find their Easter baskets by the front door full of fun prizes, plastic easter eggs, candy, treats, goodies, and more!
You can download and print my Easter scavenger hunt clues to send kids of all ages to different locations on a fun Easter basket hunt!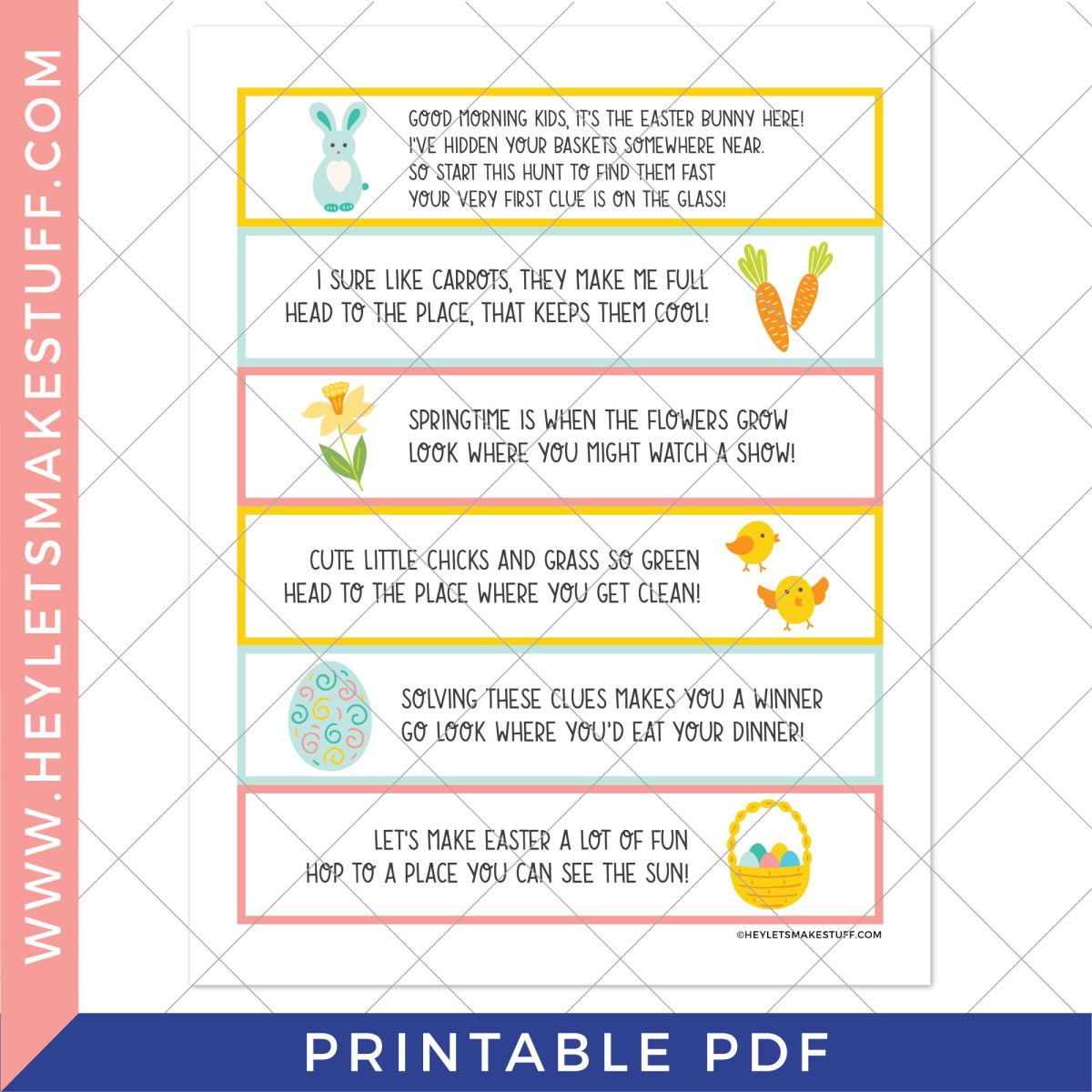 Download the Free Easter Scavenger Hunt under PRINTABLES P107
This file can be found in my Free Craft Resource Library. The file number is: P107.
Want access to this free file? Join my FREE resource library! All you need is the password to get in, which you can get by filling out the form below!
Grab the Easter Games Printable
Download six Easter games that you can print and play at home! So much fun for everyone in this bundle. You'll get the Easter Scavenger Hunt, an Easter Word Scramble, Easter Bingo, an Easter Word Search, and Easter Egg Tracing Sheet, and an Easter This or That. These fun ideas will keep everyone entertained until the egg hunt begins!
How to Set Up and Play the Easter Scavenger Hunt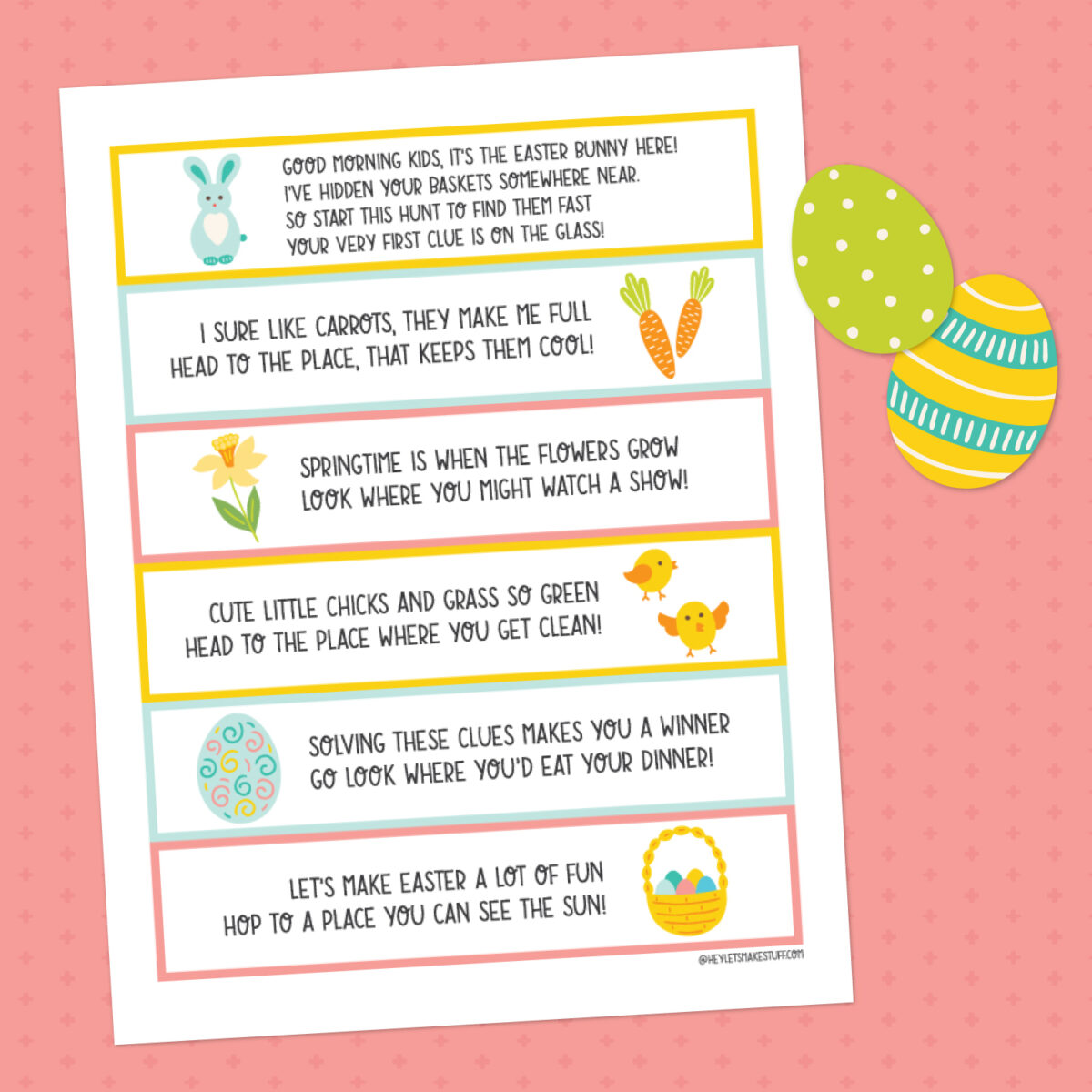 Download our free Easter scavenger hunt by entering your information in the box above. You will receive the download in your email inbox.
Print the clues and cut them out. I suggest good quality copy paper or card stock.
Hide them throughout the house using the instructions below. We've told you where to hide each clue to make sure they find it!
Start with the first clue on Easter morning and watch your kids as they find each clue and solve the riddles! Toddlers and preschoolers might need a bit of help.
The last clue will take them to their Easter basket outside! Happy hunting!
Easter Scavenger Hunt Clues
We've included all the clues here as well, if you need them for reference on where to hide them!
Clue #1 – Somewhere they will easily see it
Good Morning kids, it's the Easter Bunny here!
I've hidden your baskets somewhere near
So start this hunt to find them fast
Your very first clue is on the glass!
Clue #2 – Clue on a glass door or window
I sure like carrots
They make me full
Head to the place
That keeps them cool!
Clue #3 – Clue in the refrigerator
Springtime is when
The flowers grow
Look where you might
Watch a show!
Clue #4 – Clue on the TV
Cute little chicks
And grass so green
Head to the place
Where you get clean!
Clue #5 – Clue in the bathtub/shower
Solving these clues
Makes you a winner
Go look at where
You'd eat your dinner
Clue #6 – Hide on/under the kitchen table
Let's make Easter
A lot of fun
Hop to a place
You can see the sun!
Baskets hidden outside!
Your kids will love going on an Easter scavenger hunt and finding their basket at the end! Have fun setting up this Easter scavenger hunt and Happy Easter!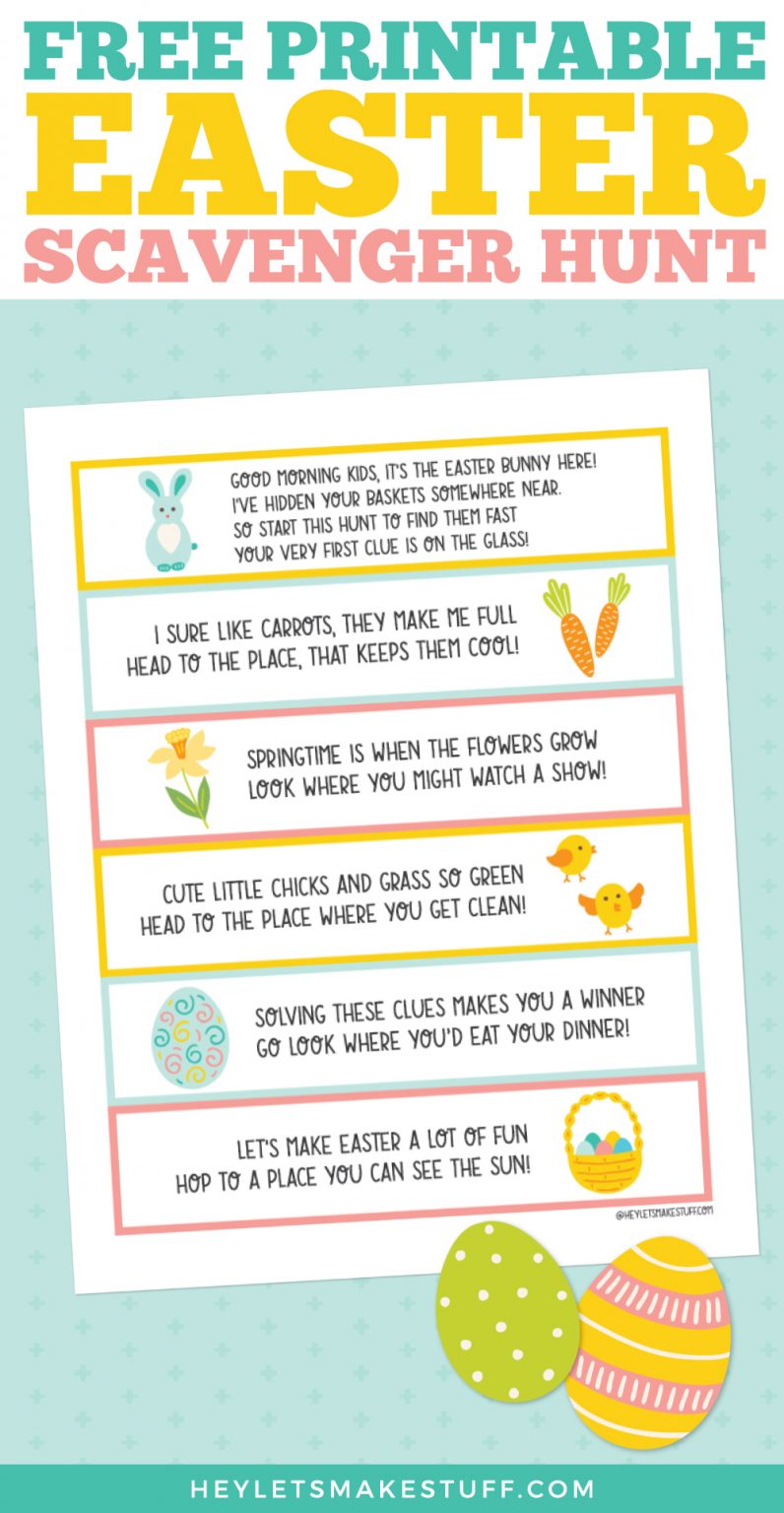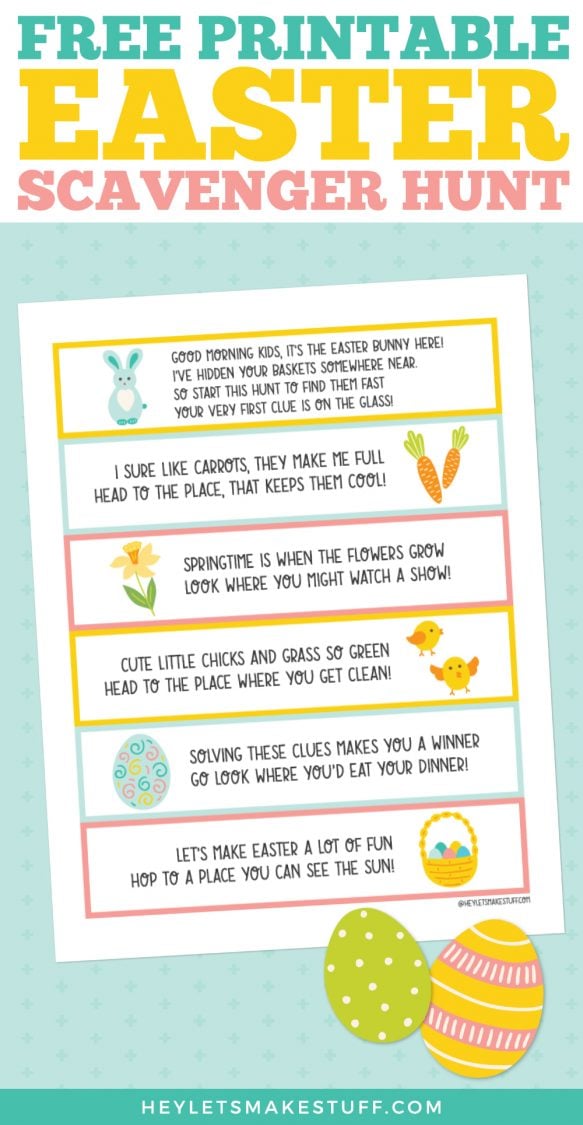 Easter Basket Filler Ideas