Add a handmade element to your tree with this gorgeous (but easy to make!) paper angel Christmas tree topper! Cut using your Cricut and assemble in less than 15 minutes!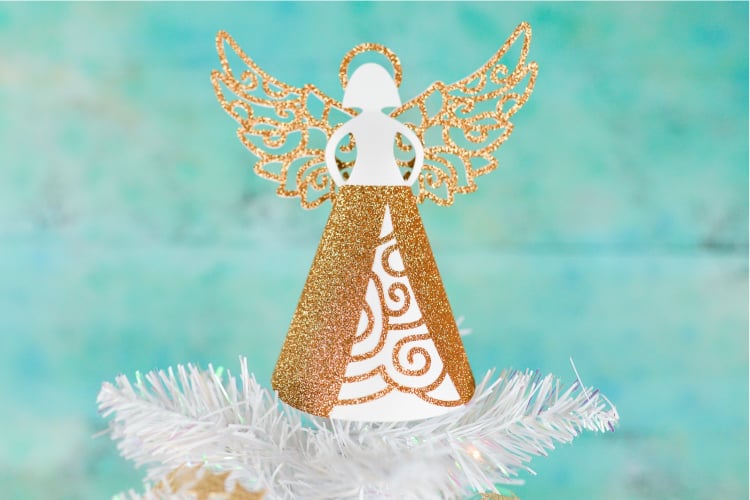 A few years ago, we had The Great Christmas Tree Topple of 2015. In the middle of the night, our tree stand had finally had enough, and our beautiful tree came crashing to the floor. We lost a handful of glass ornaments and our star tree topper shattered.
(Totally unrelated, the battery in our smoke detector started chirping its terrible low-battery chirp that night. It was also the first night our twin boys slept through the night. I don't understand babies at all.)
All that is to say that we haven't had a tree topper on our tree the last few years. I was looking online this year to try and find a replacement when it occurred to me that, hey, I'm crafty, I should just make one.
Of course I wanted to start with my favorite material, cardstock. I went with a simple Bazzill cardstock, which is one of my favorites to work with. But I wanted my angel to sparkle a bit, so I added a few elements in gold iron-on vinyl—her dress overlay, halo, and wings. This SVG file is totally customizable—if you want a more plain angel, leave off iron on layers. Cut her in different colors. Draw her face. Use "mixed metals" paper—gold, silver, copper, rose gold, platinum.
Stop pulling your hair out and start creating confidently with your Cricut! Finally understand how to use your Cricut with my Learn Your Cricut eBooks!
Paper Angel Christmas Tree Topper Supplies
Download the Free Paper Angel Tree Topper File under SVGs C154
This file can be found in my Free Craft Resource Library. The file number is: C154.
Want access to this free file? Join my FREE resource library! All you need is the password to get in, which you can get by filling out the form below!
Paper Angel Christmas Tree Topper Instructions
The wonderful thing about this paper angel is how quickly she comes together! Start by uploading the angel SVG (download using the box above) to Cricut Design Space. You can change the size, if you'd like—smaller for a small tree, as large as 15″ wide on a 12″ x 24″ mat! Remember you'll need larger cardstock if you choose to make her that big. Learn more about uploading SVGs to Cricut Design Space.
Cut out the pieces in cardstock and iron on. Remember to mirror your iron-on layer!
Next, weed your iron on vinyl. The cut lines in glitter iron on can be a bit of a pain to see—I always break out my Cricut BrightPad. If you "curl" the iron on a bit, it really helps you see the intricate cut lines in this file. Learn more about weeding iron on vinyl.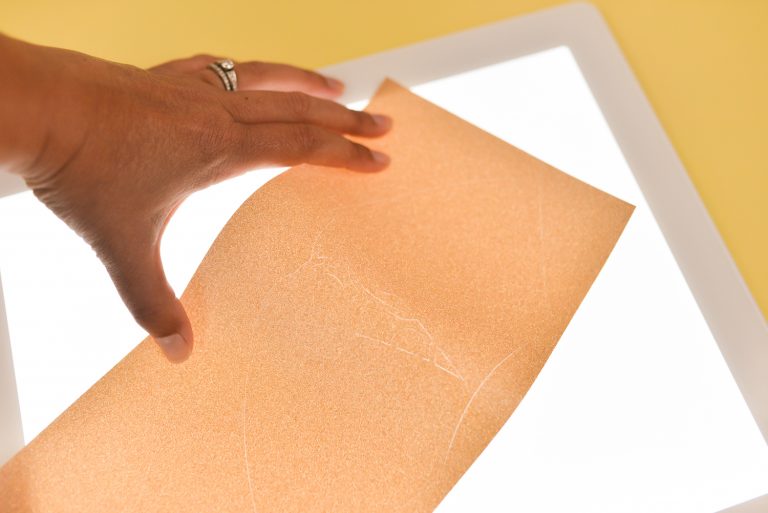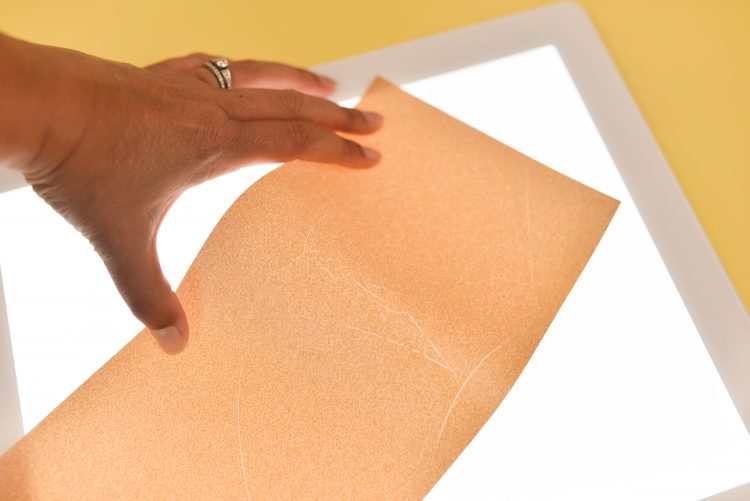 Then use your EasyPress or iron and adhere the iron on vinyl to the cardstock. If you find it hard to line up, use a bit of washi tape to keep everything in place.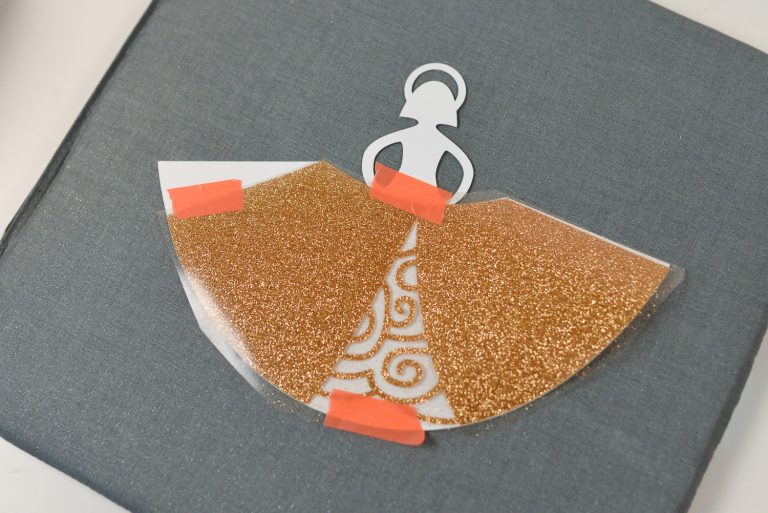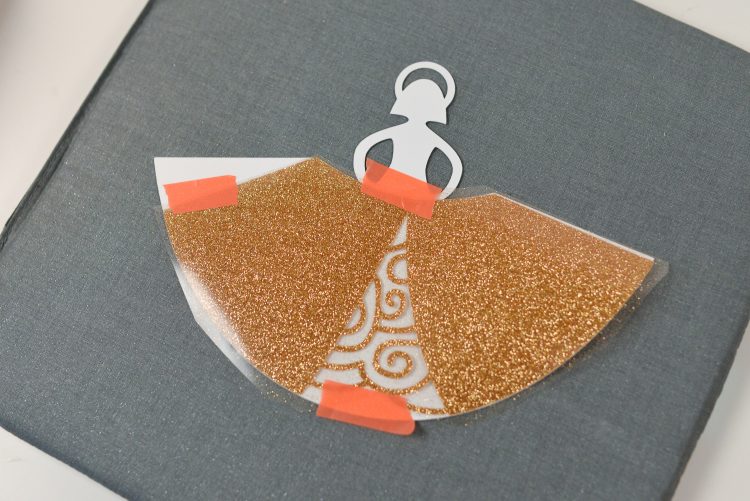 To adhere, I used a lower heat setting: 295° for 30 seconds. It worked perfectly!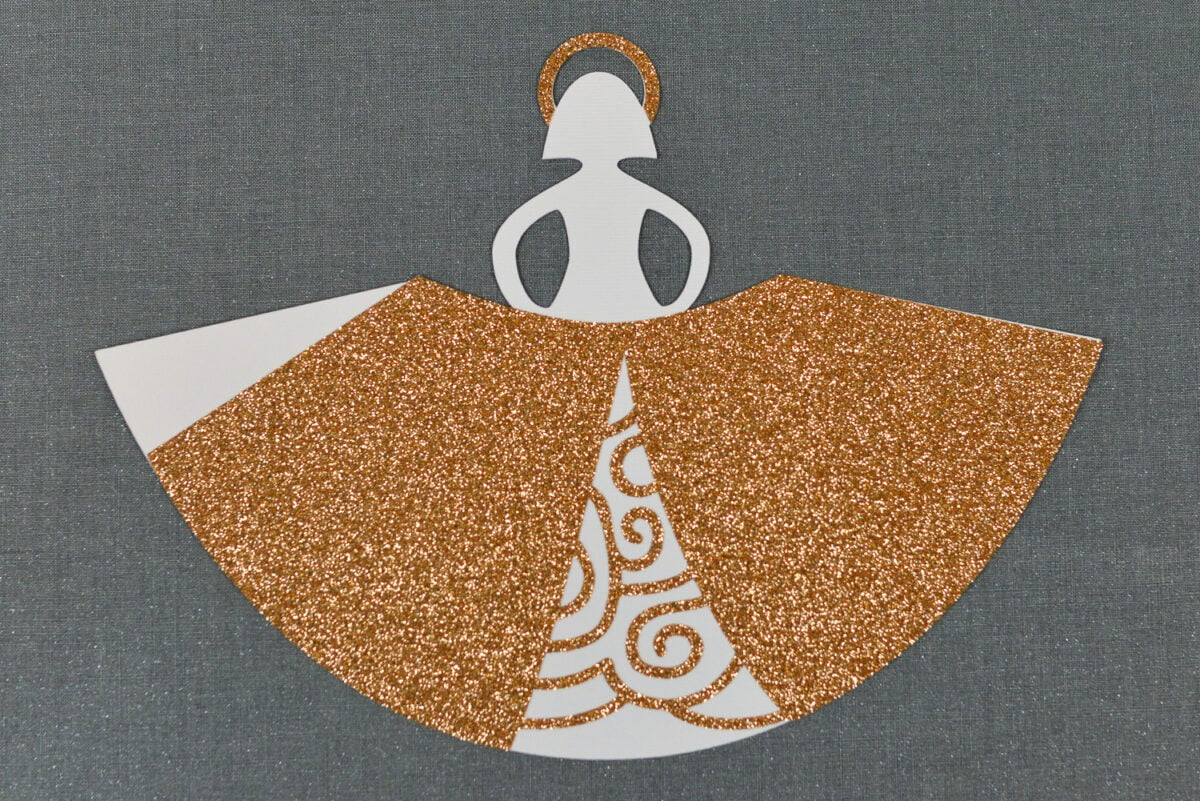 Do the same with her halo and wings. For the wings, I found it easier to flip it over and put the cardstock on the top and the iron on vinyl on the bottom.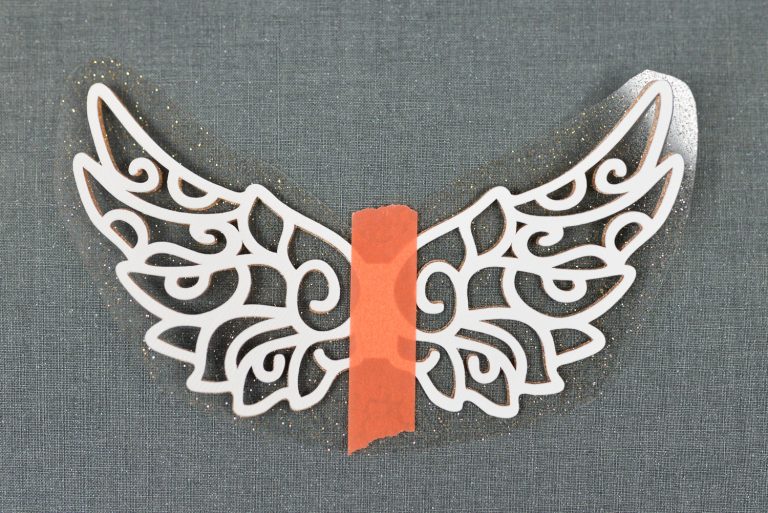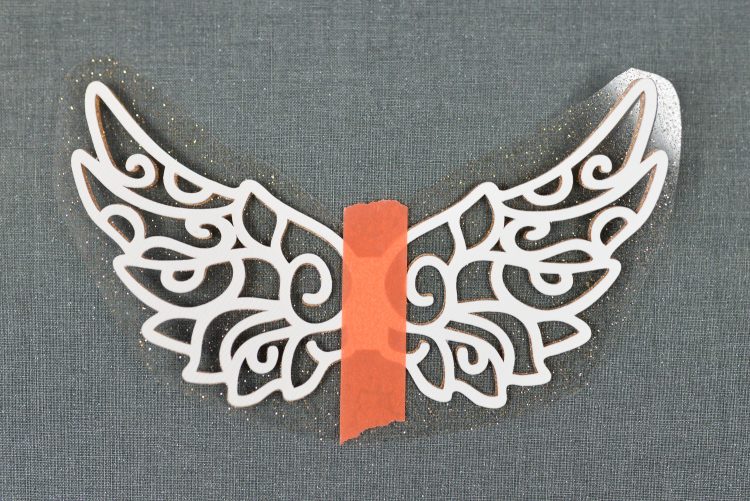 Then create a cone with the angel's skirt, using hot glue to adhere the blank white piece of the skirt under the other side (it is designed to create a perfect cone, like any traditional Christmas tree topper. Then use a dot of hot glue to adhere the wings between her shoulders and she's done!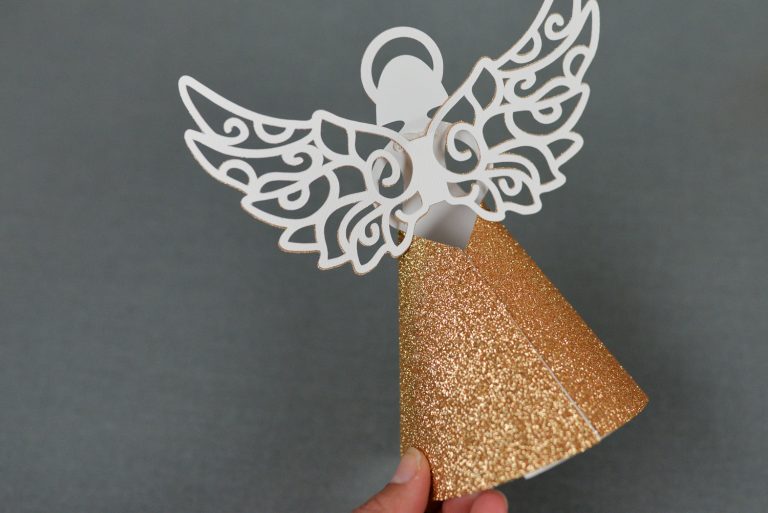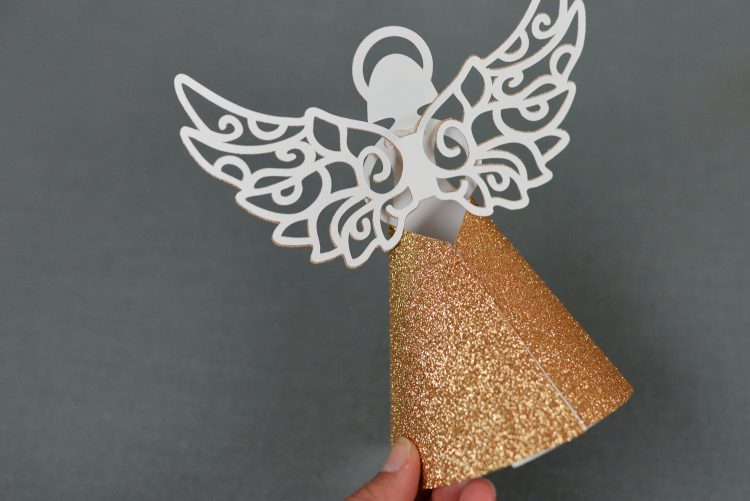 I love her sitting on a white christmas tree because it reminds me of a cloud.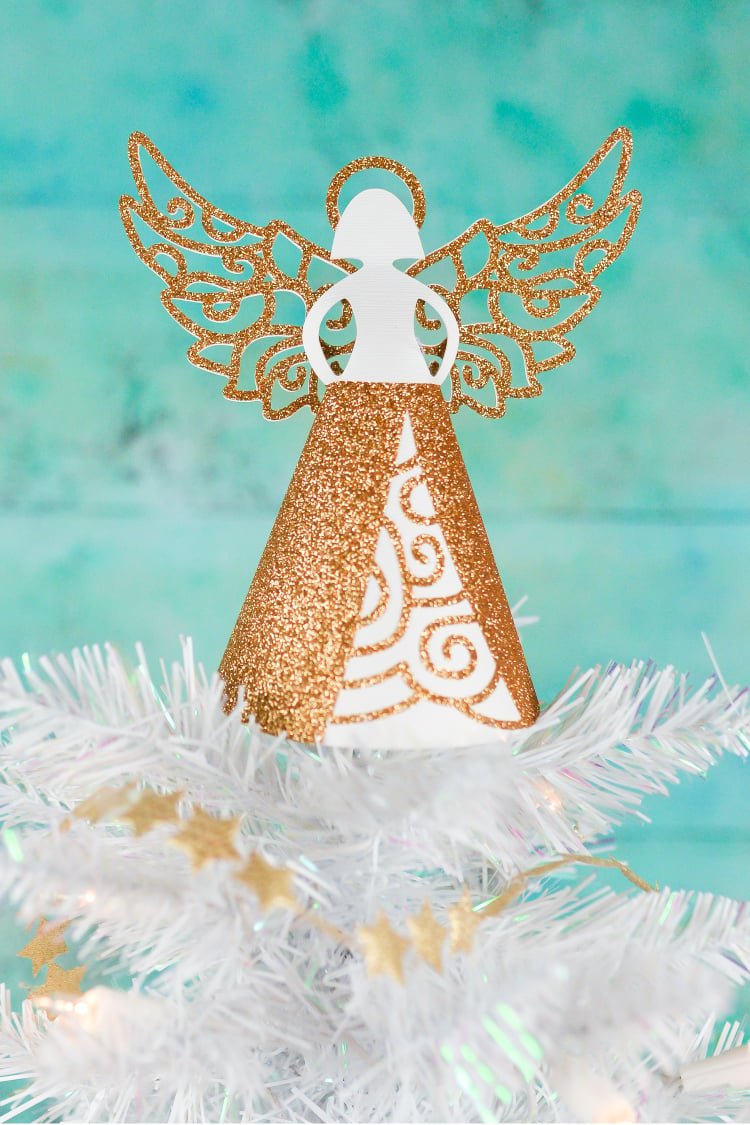 Get the Glitter Vinyl for this Project