There are so many ways to make a Cricut stencil! This tutorial shows you how to make a reusable stencil with your Cricut using a stencil blank—cut once, and use as many times as you want!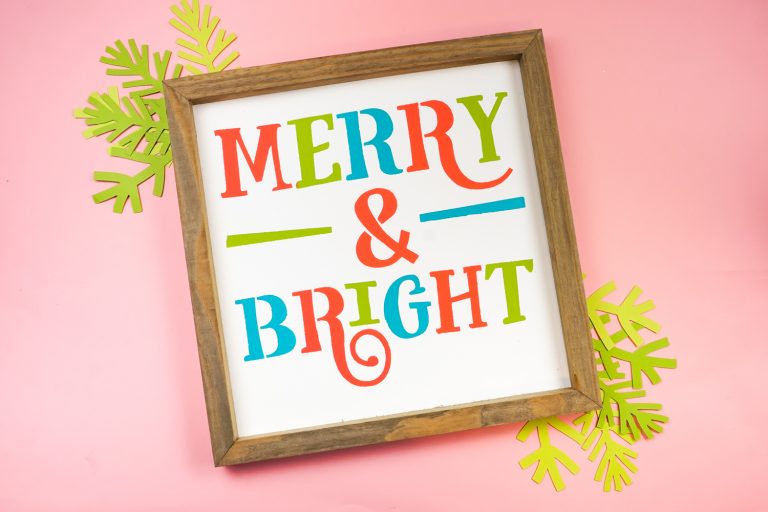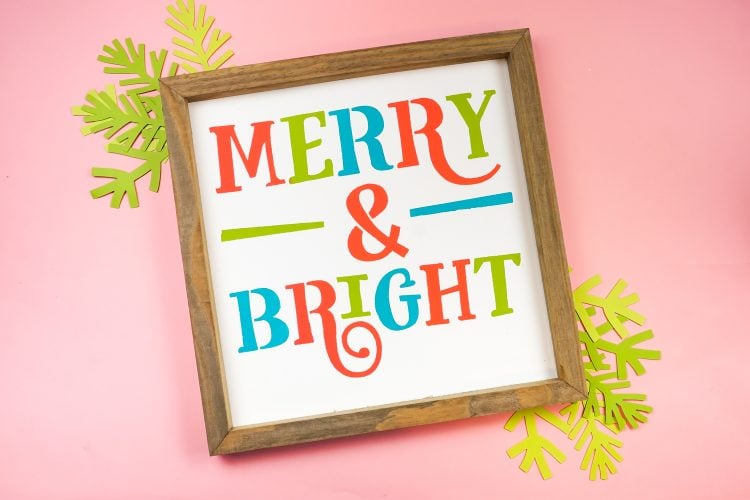 This post is sponsored by JOANN.
When it comes to specific craft tutorials, I get SO many requests for making home decor signs using the Cricut. There are so many ways to do this—today I'm sharing how to cut a stencil blank and use paint. In the coming weeks, I'll also be sharing how to create a Cricut stencil with:
Cricut Stencil Vinyl
Cricut Adhesive Vinyl
Freezer Paper
You can also use iron on vinyl on wood, which is my preference—no mess!
But let's get cracking with this first method—using stencil vinyl to make a stencil with your Cricut Explore or Cricut Maker. You can find everything you need to make this project at your local JOANN or online! I am particular to shopping online this time of year—I'd rather have the nice mail carrier bring me my supplies than head out into the wet weather!
Cricut Stencil Supplies
Craft paint in a variety of colors including white
Merry & Bright SVG
Download the Free Merry & Bright File under SVGs C251
This file can be found in my Free Craft Resource Library. The file number is: C251.
Want access to this free file? Join my FREE resource library! All you need is the password to get in, which you can get by filling out the form below!
My sign came painted with a white backing board. If yours does not, you can mask off the frame and paint the backing board white (or another color if you prefer). You can stencil directly on the raw wood, but you can't really fix bleeds in raw wood. You can, however, use paint to touch up any bleeds on a painted sign. It's up to you!
Cricut Stencil Directions
Making the Stencil in Cricut Design Space
Create a new project in Cricut Design Space. On the left, click Upload. Then navigate to the file you downloaded above.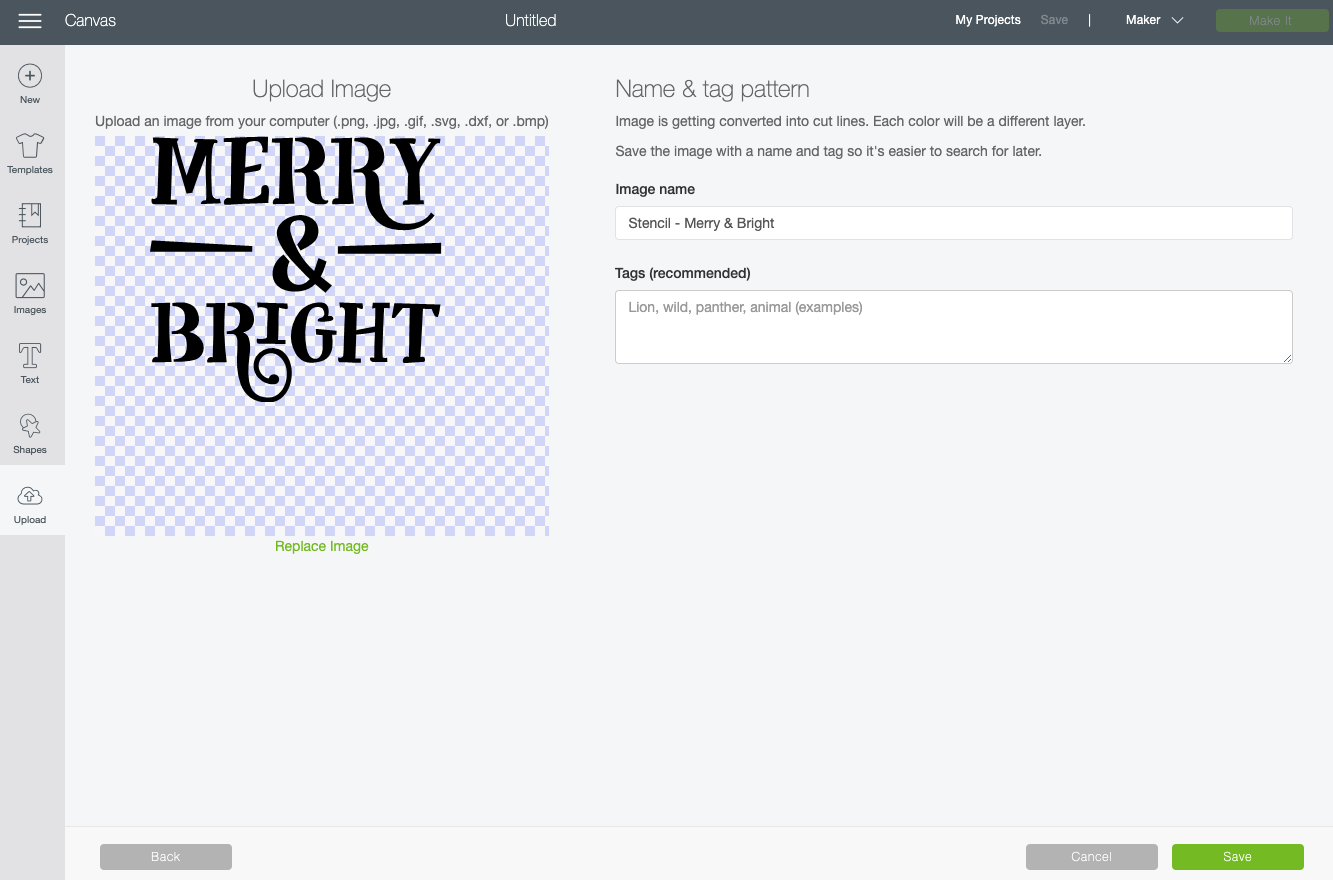 Click Save.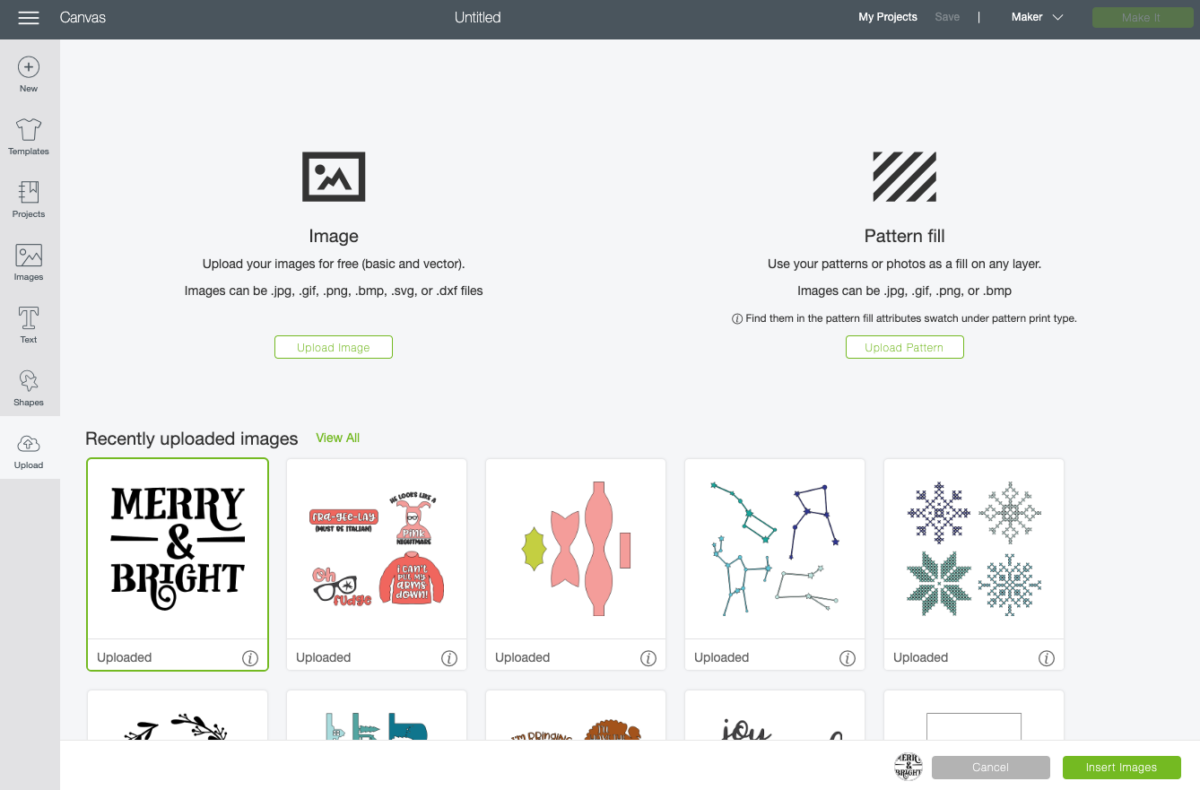 Then select the file you uploaded and click "Insert Images" to bring it onto your canvas.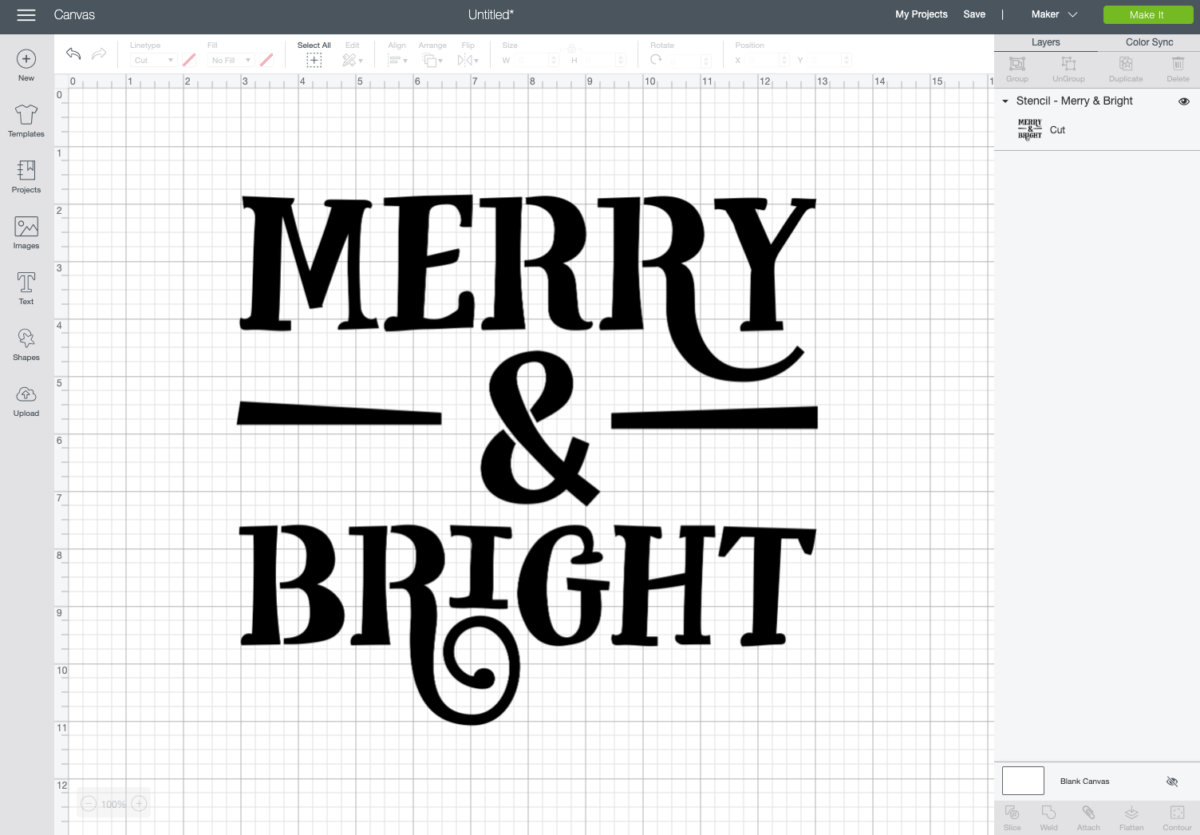 Now I could have given you an actual stencil file, but I wanted to make sure you learned the process for turning a regular cut file into a stencil. Note that you will want to use a stencil font so that the interior of your letters stay connected to your stencil.
Start by clicking on Shapes in the left-hand Design Panel and selecting a square.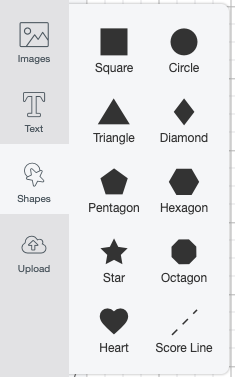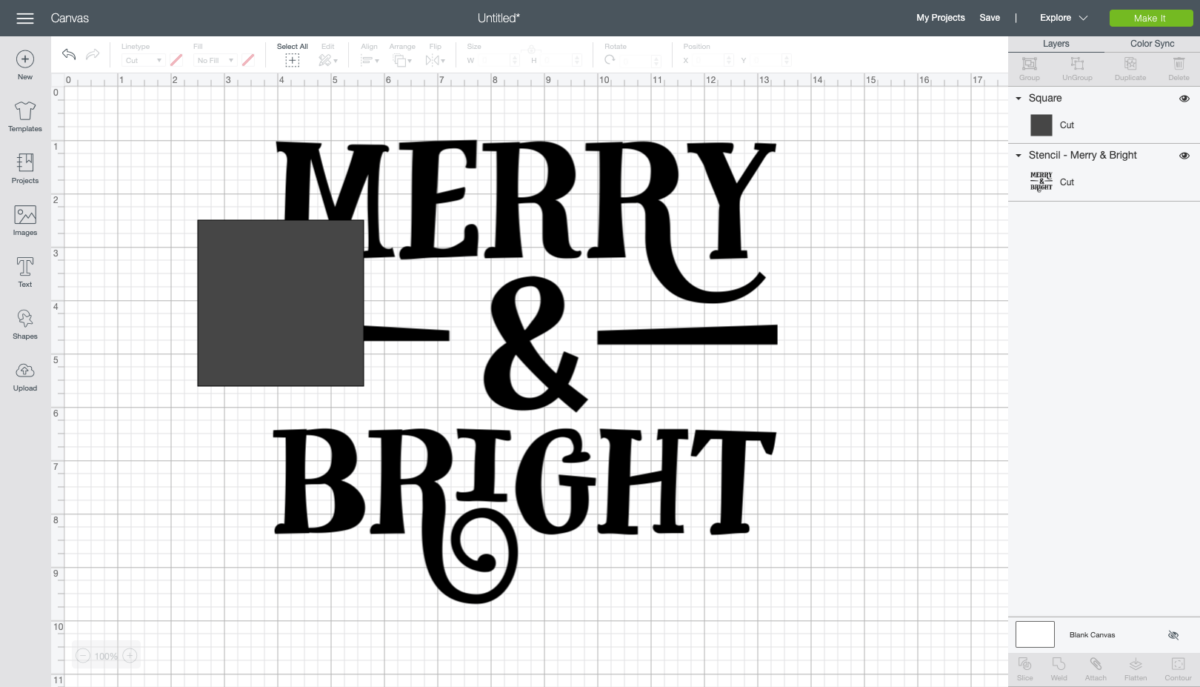 Then change the size of your square to fit within your frame. I like to make it about 1/2″ smaller than my frame, so that I have room to tape it to the backing board so it won't shift. In this case, I made my square 10″ x 10″ because my backing board is about 10.25″ x 10.25″.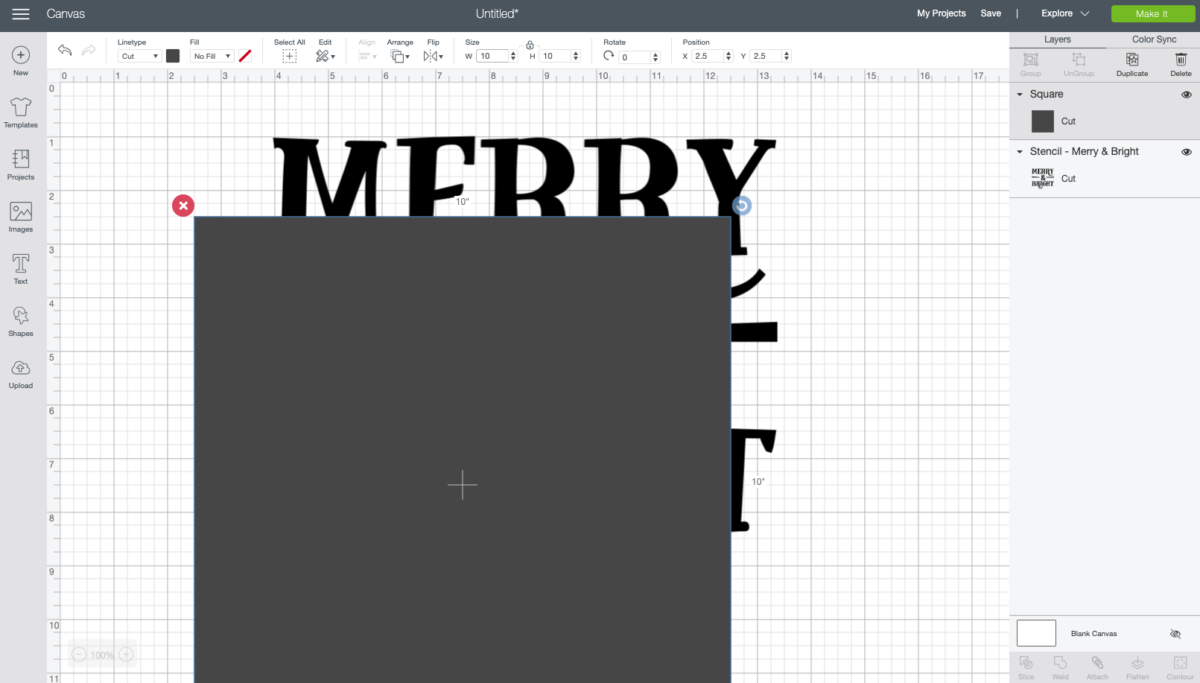 So you can line up your square and your image properly, select the square by clicking on it and send it to back using the Arrange menu in the top Edit toolbar.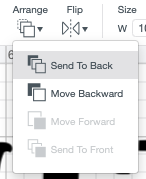 Now you can line up your image and the square. If you'd like, use the Align tools in the Edit toolbar to make sure everything is centered properly.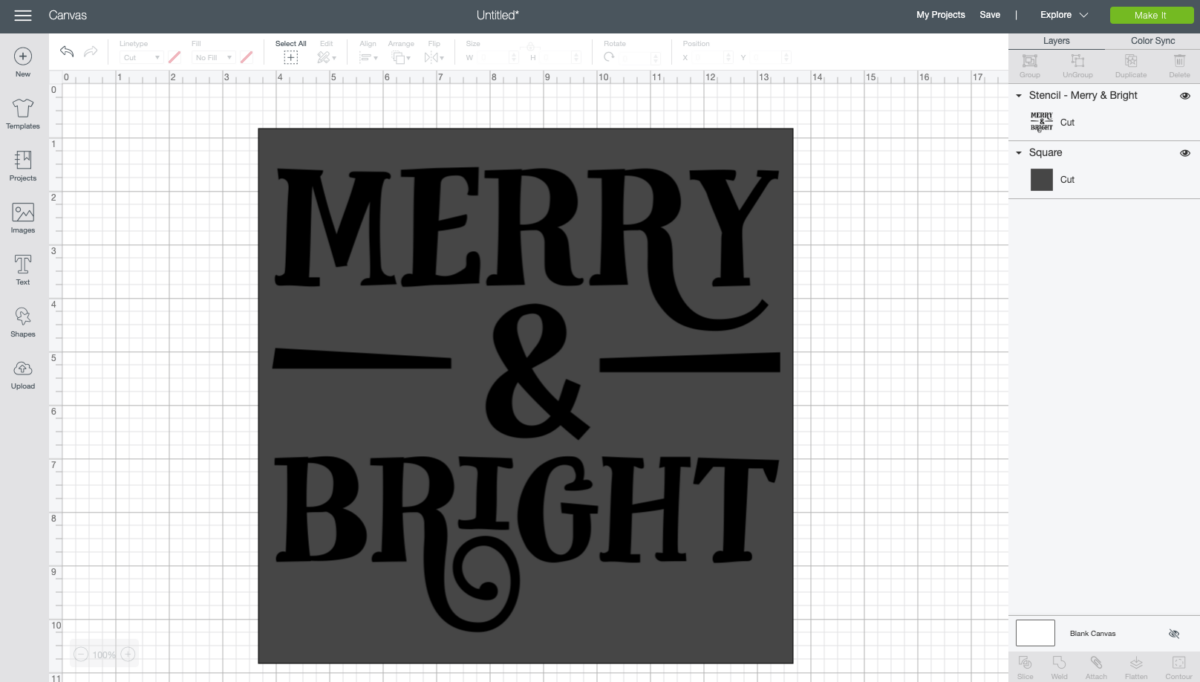 Now we're going to Slice! Slicing can be confusing to new Cricut users. There are two main rules: 1) you can only slice two items at a time (in this case, the image and the square) and, 2) you'll have a lot of leftover pieces when you're done, as you'll see.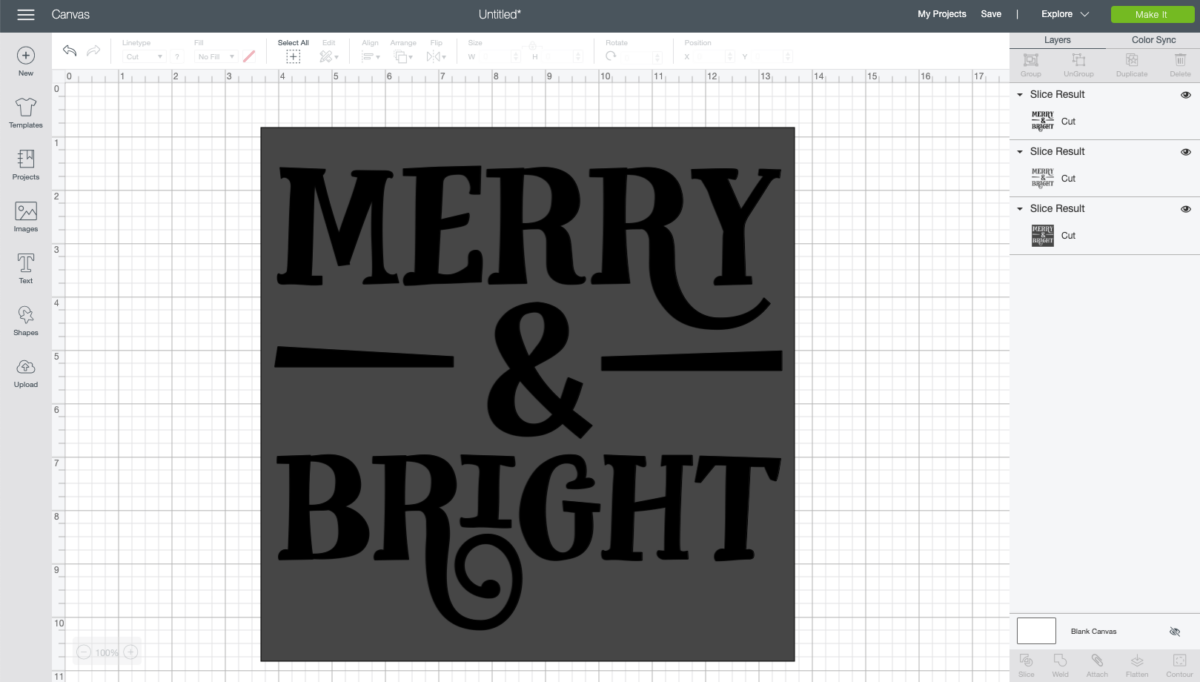 Click on both the square and the image, and then click Slice at the bottom of the Layers Panel on the right.
You'll see your Layers Panel now has three "Slice Results"—a black Merry & Bright, a gray Merry & bright, and a stencil piece. Delete the first two layers so you are just left with your stencil piece.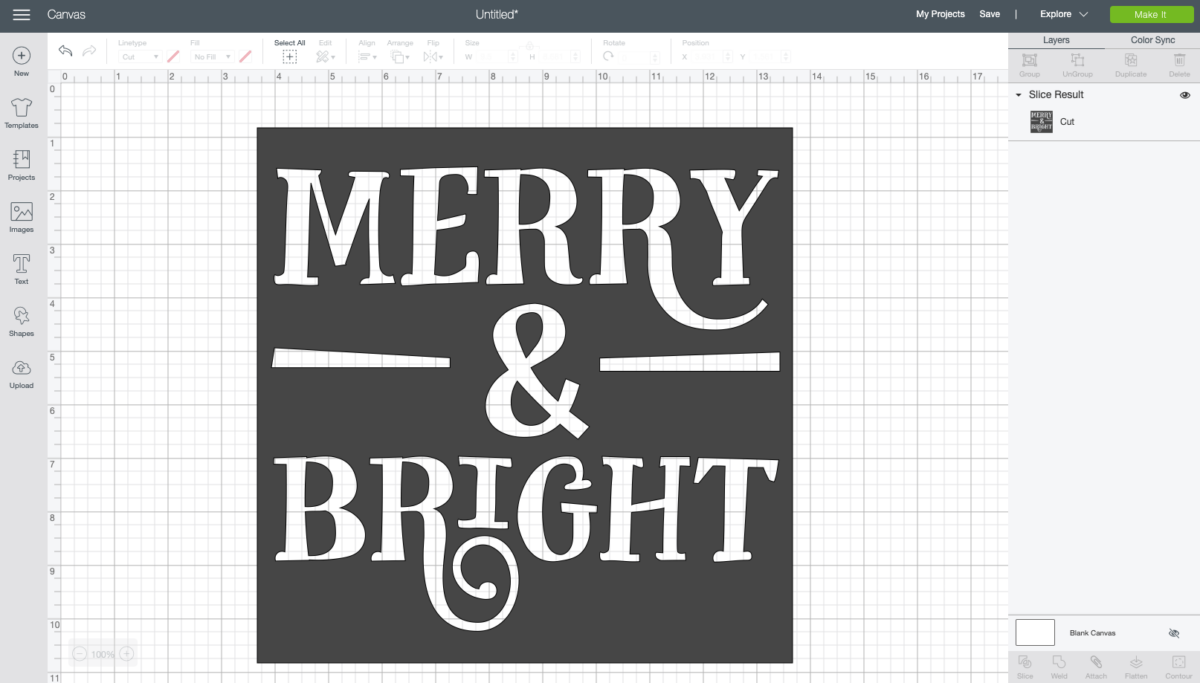 Now you're ready to cut your stencil! You will DEFINITELY want to do some test cutting with your blanks. I went through three stencil blanks (Folk Art brand) before I got a setting that actually worked for me. You can try my setting, but definitely make sure it's working before you cut your whole stencil!
Cutting the Stencil
Click Make It in the upper right of your Canvas.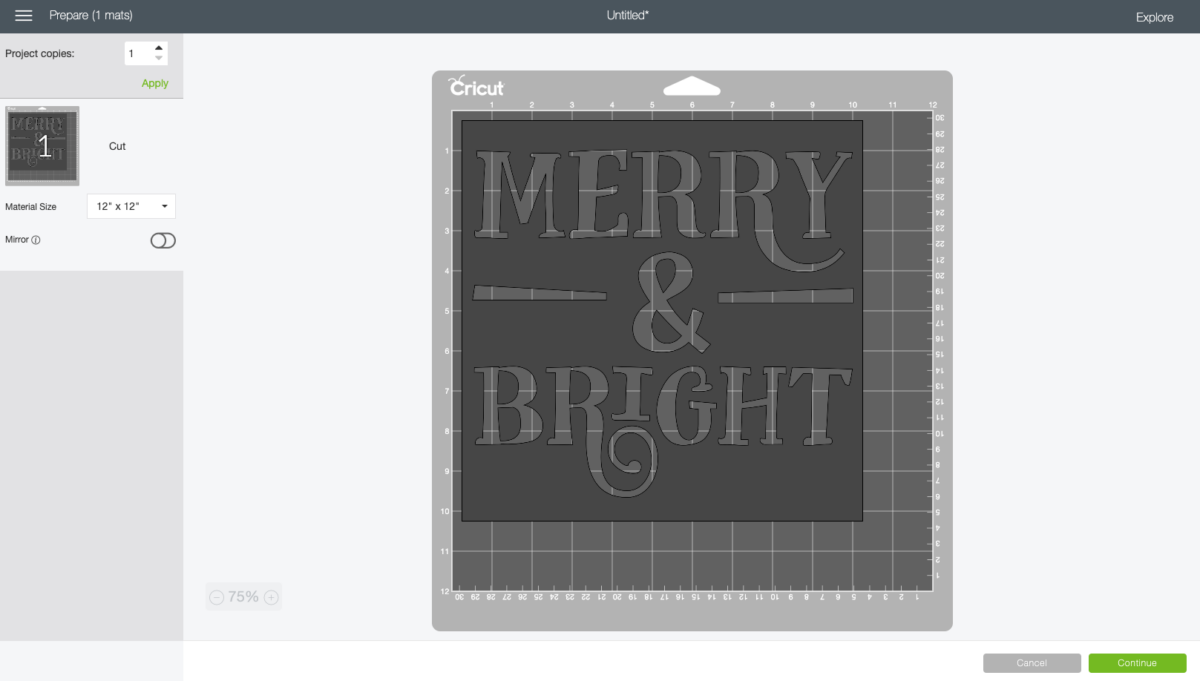 There is nothing extra to do in the Prepare Screen, so click Continue.
If you have a Cricut, set your dial to custom.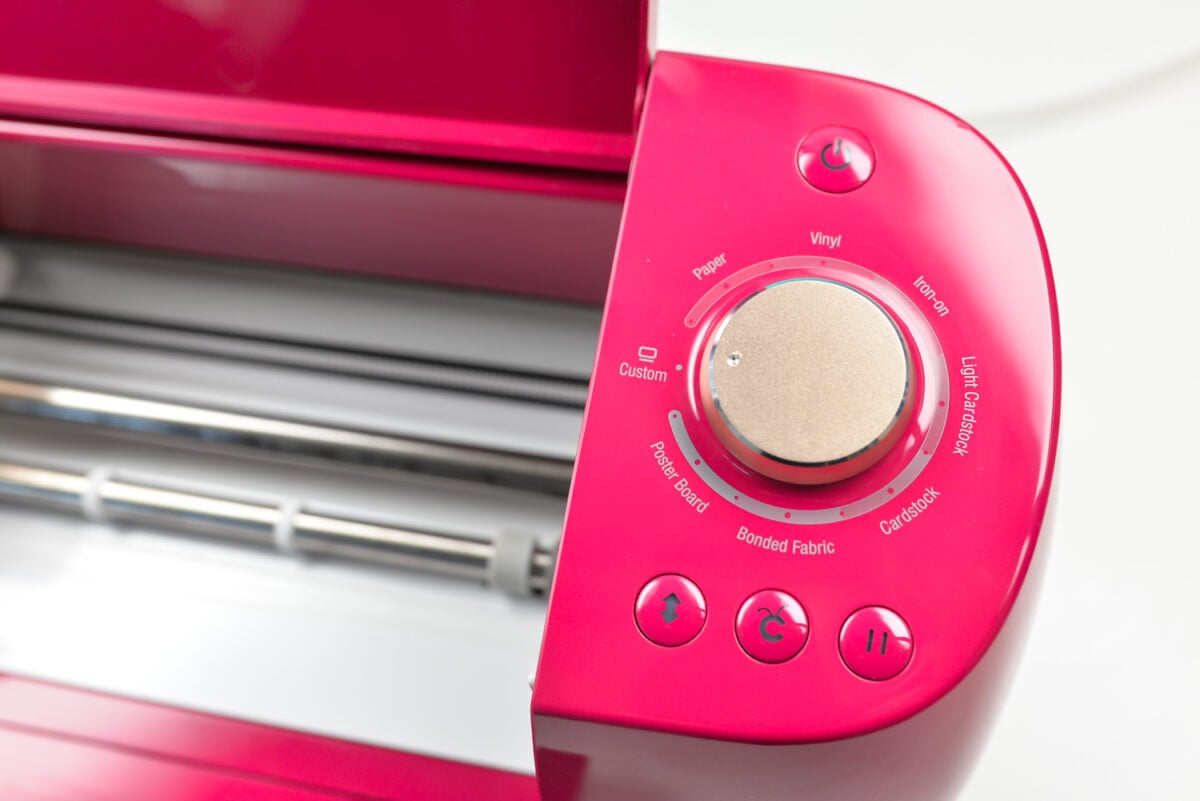 In the Make Screen, for both the Explore or the Maker, click Browse All Materials and search for Stencil.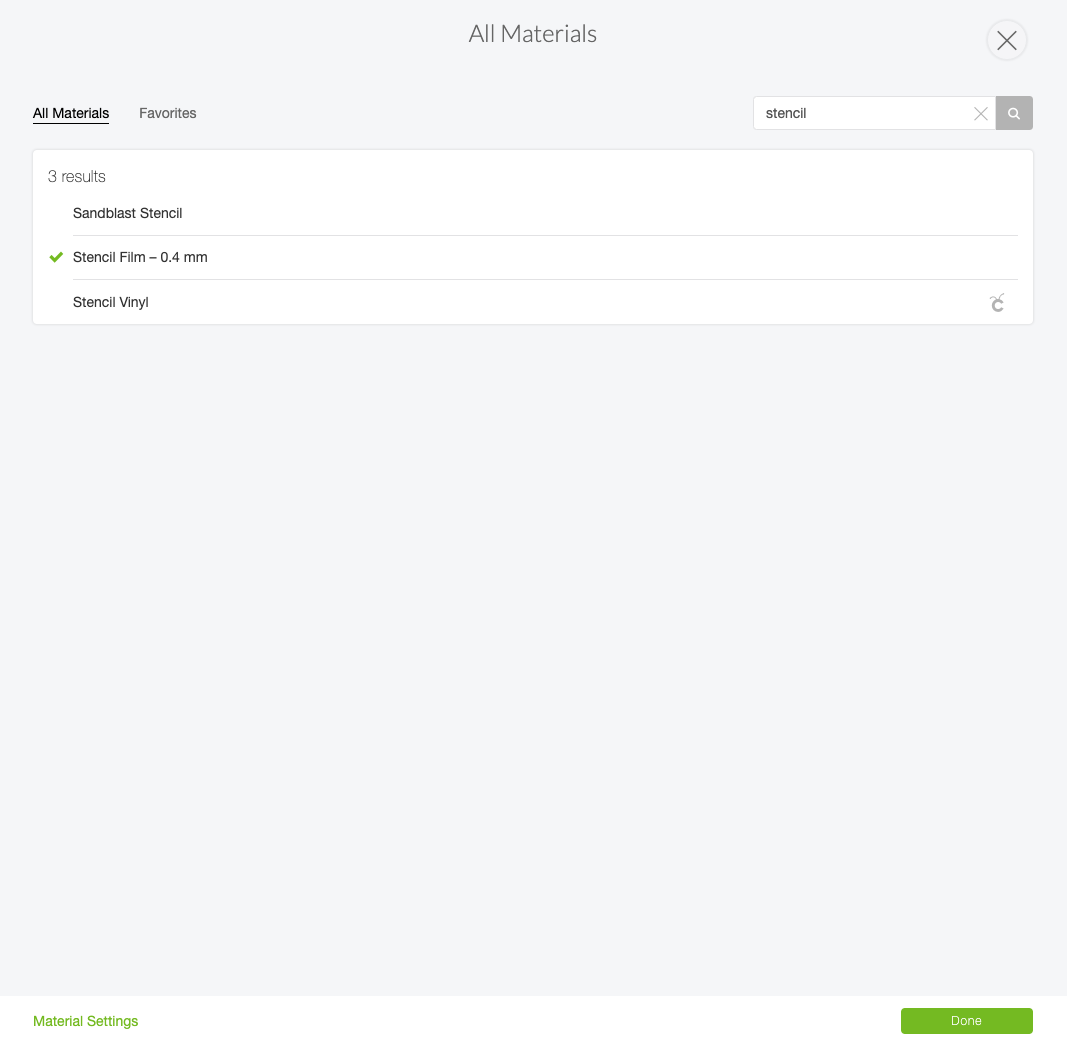 At the bottom, you'll see a green link for Material Settings. This allows you to fine-tune all of your settings. Scroll down to Stencil Film and change it to the following settings: 350 pressure and 3x multi-cut.
Then click Save. You will need to go back into Browse All Materials and select Stencil Film as your material.

Place your stencil film onto your mat. Place your mat under the guides and press the blinking arrow to insert your mat into your machine.
Press the blinking "C" and your Cricut will cut your stencil film. IMPORTANT: Before you eject the mat out of your machine after the cut, test to make sure it has cut all the way through. If NOT, press the "C" one more time and it will cut again. You can't do this if you take the mat out of the machine, though, so make sure to check the cut with the mat still in the Cricut.
Stenciling a Home Decor Sign
Now we can stencil our sign! Start by taping your stencil to the inside of your frame. You don't want it shifting around!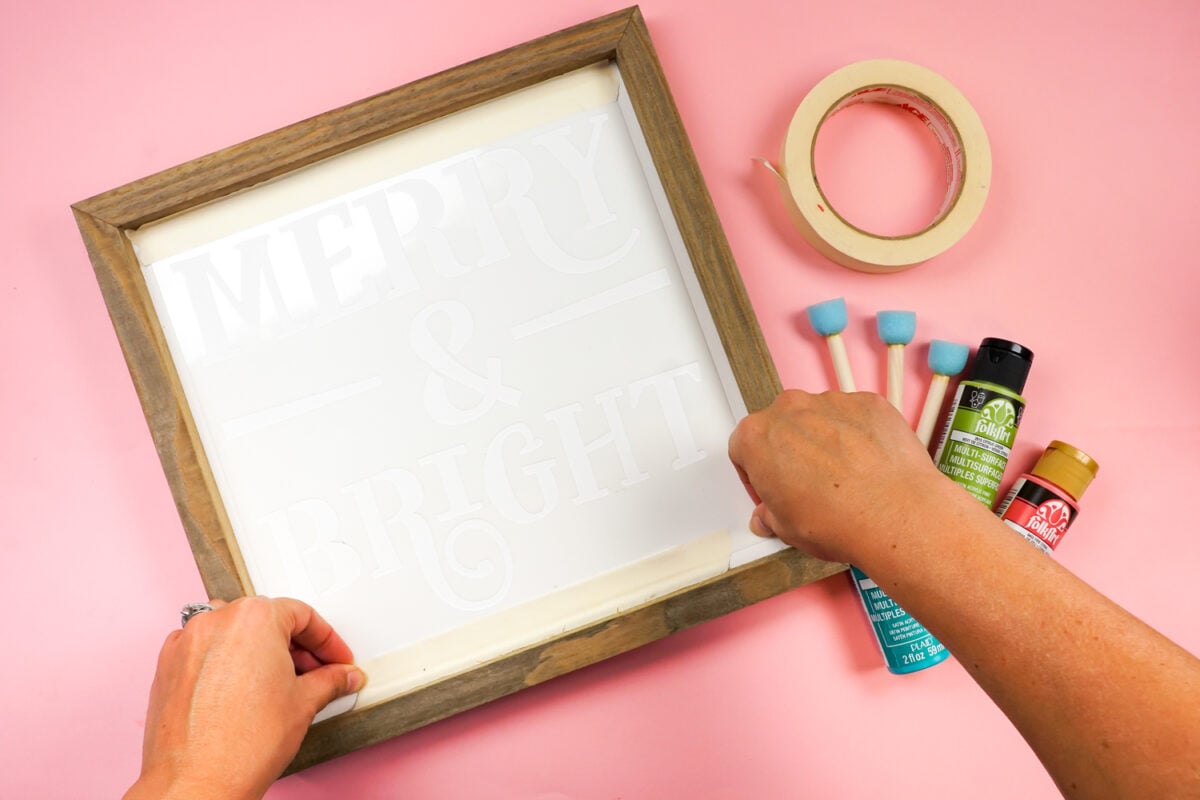 There are a couple options here, though I have not found either of these work that well for me.
You can dab a layer of white paint over your stencil. The theory is that the white paint will bleed giving you a crisper line. This is true, except I have found that having two coats of paint (the white and the color) can sometimes make my stencil peel when I pull it up. Not always, but it's a risk.
The second is dabbing a layer of Mod Podge on your stencil. Same theory, but I often see the same result, with my paint actually pulling up as I lift up the stencil. You can play around and see if any of these options work for you!
For me, I like to go straight to the paint. Using sponge daubers, get a small amount of paint on the sponge, dab it on some scratch paper, and then paint the stencil. You want to use very little paint and use a dabbing motion instead of brushing. This will help prevent bleeding.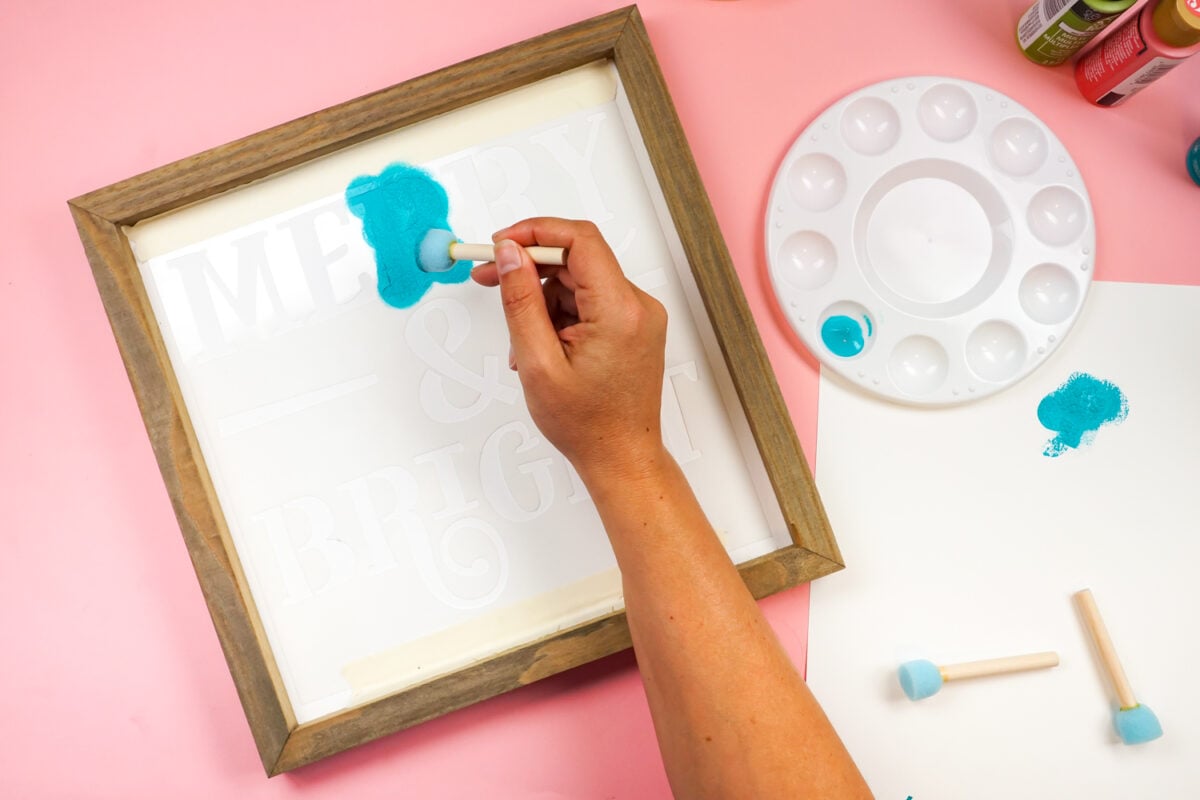 Continue with this method for the rest of the sign using the other colors.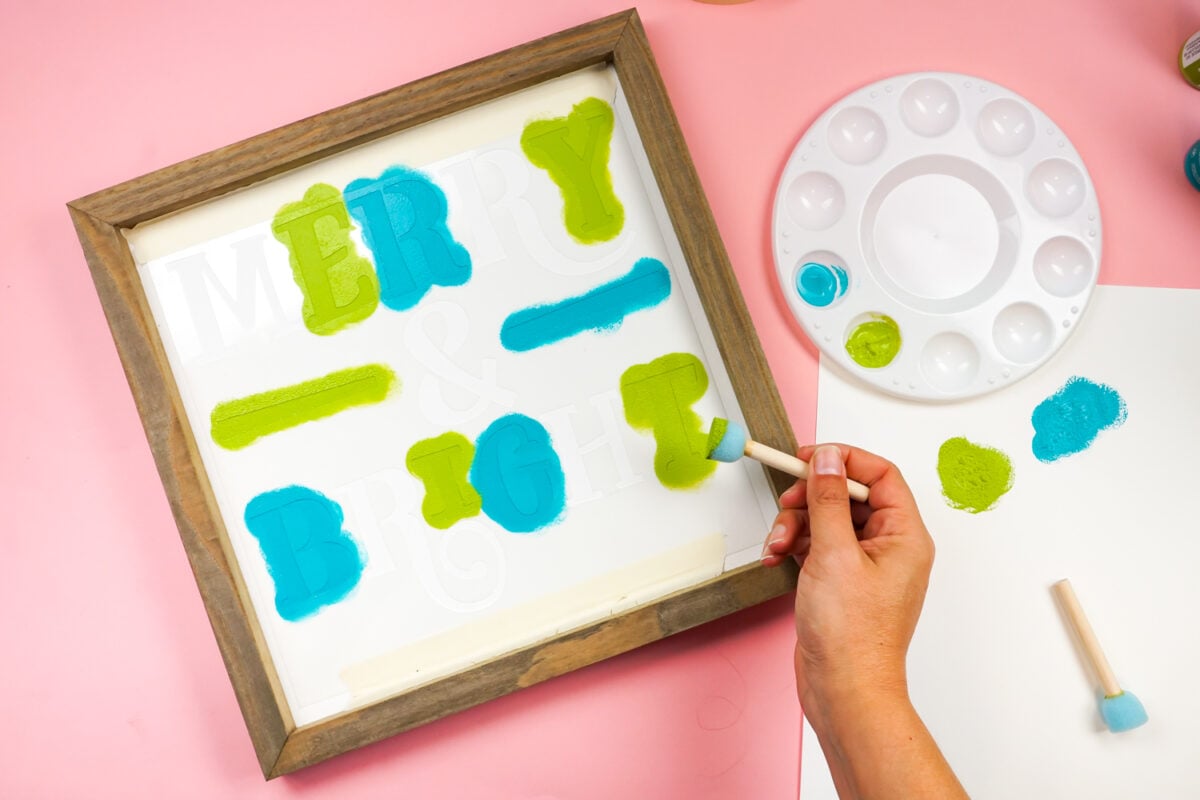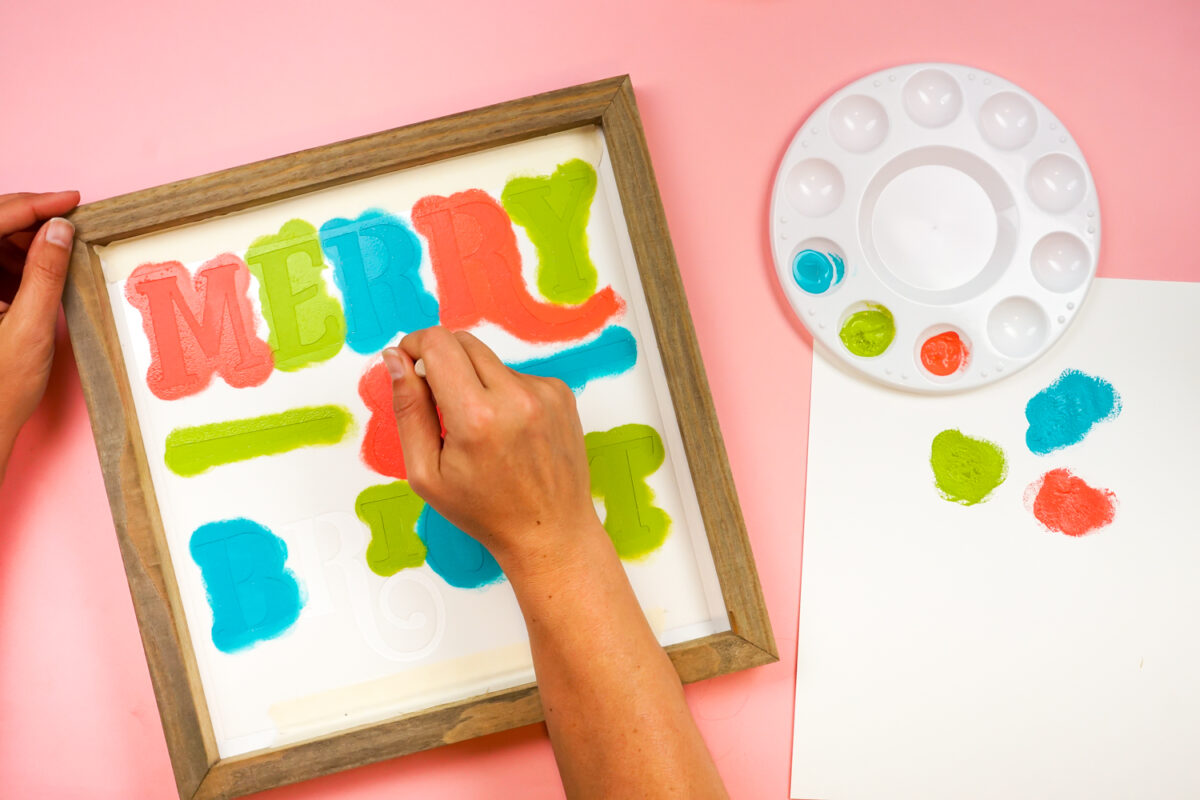 Before the paint is really set, peel back the tape and carefully lift the stencil (this will help keep your paint from sticking and pulling up).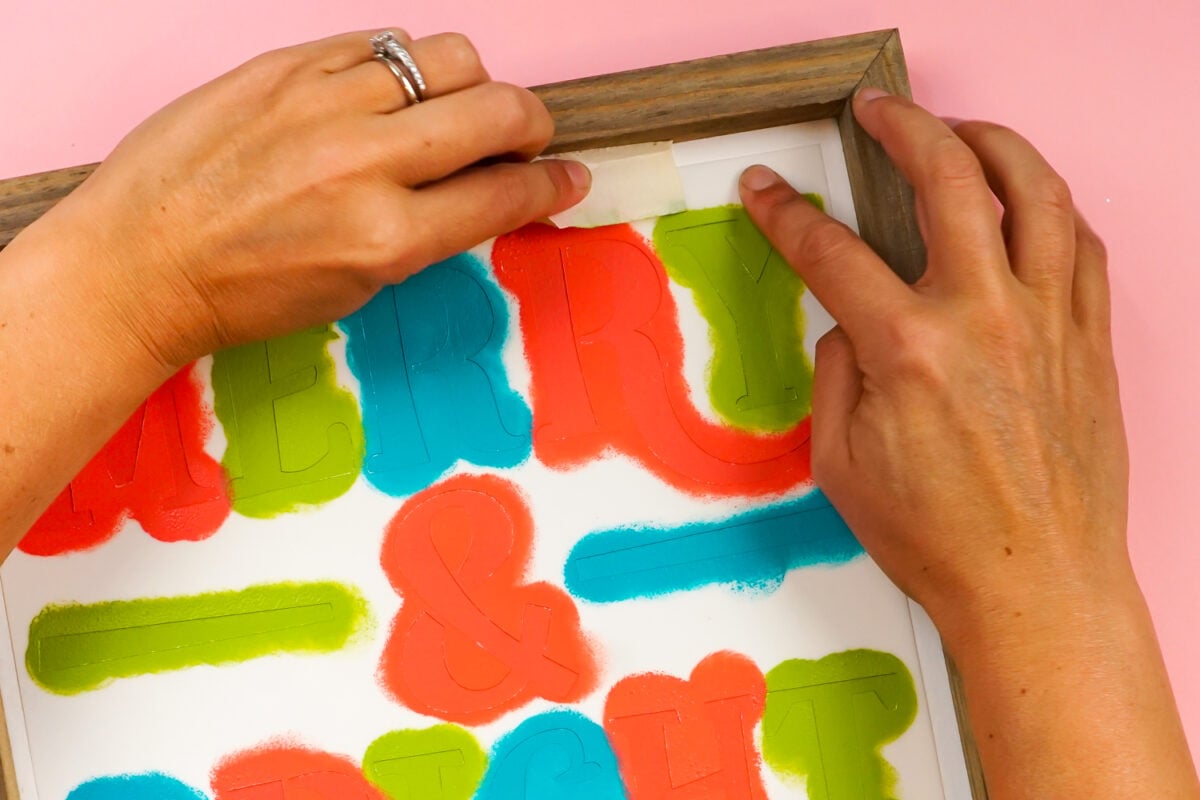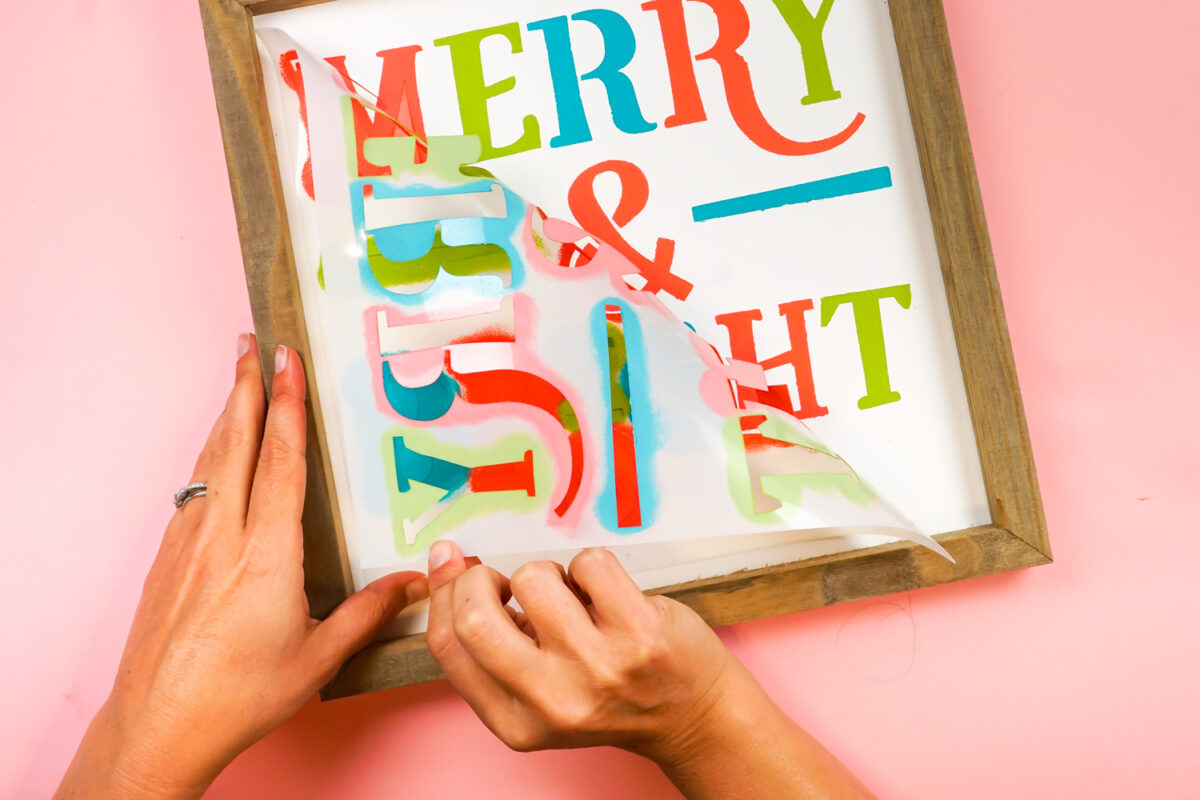 There's a good chance you will still have a small amount of bleeding. You can see a bit of mine in the bottom "R" below.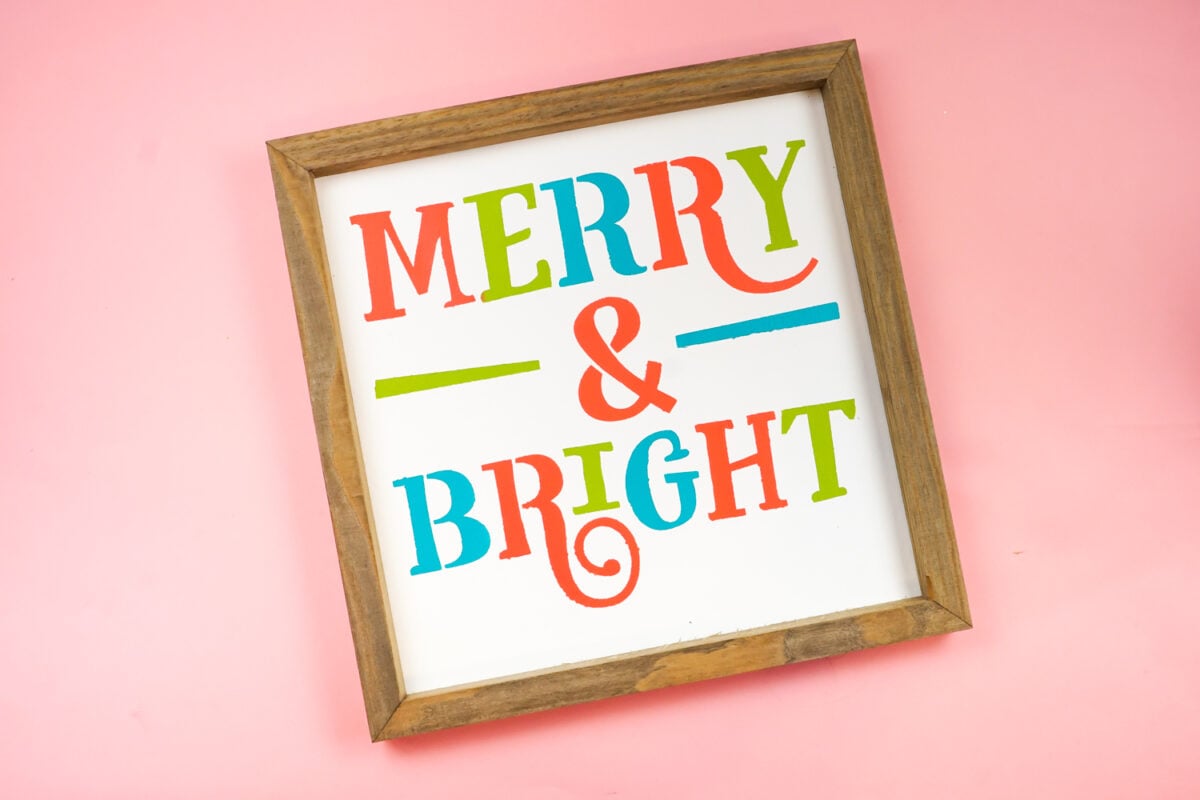 If you use a small amount of paint and use a dabbing motion, it should be kept to a minimum. Use white paint and a small stiff paint brush to touch up any areas that need it.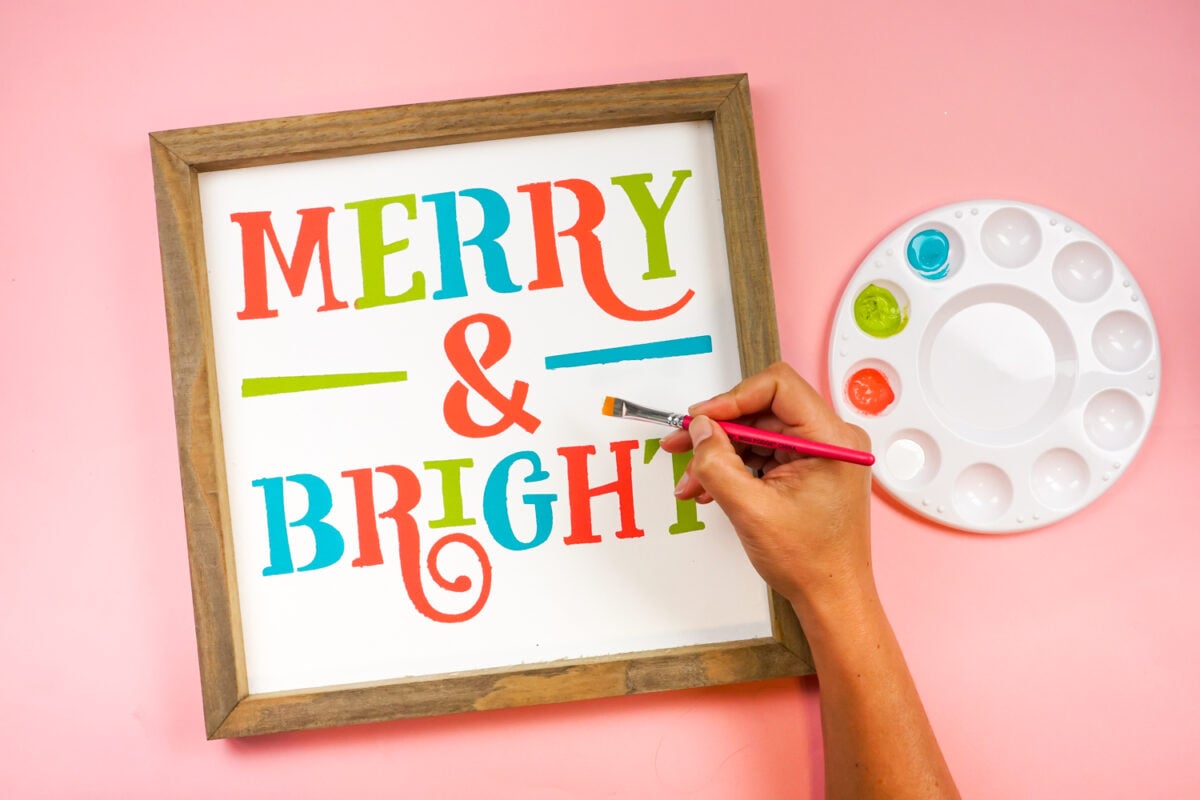 Once dry, you can seal the artwork with a bit of poly coating if you'd like—but if it's for indoor use, I usually skip that step.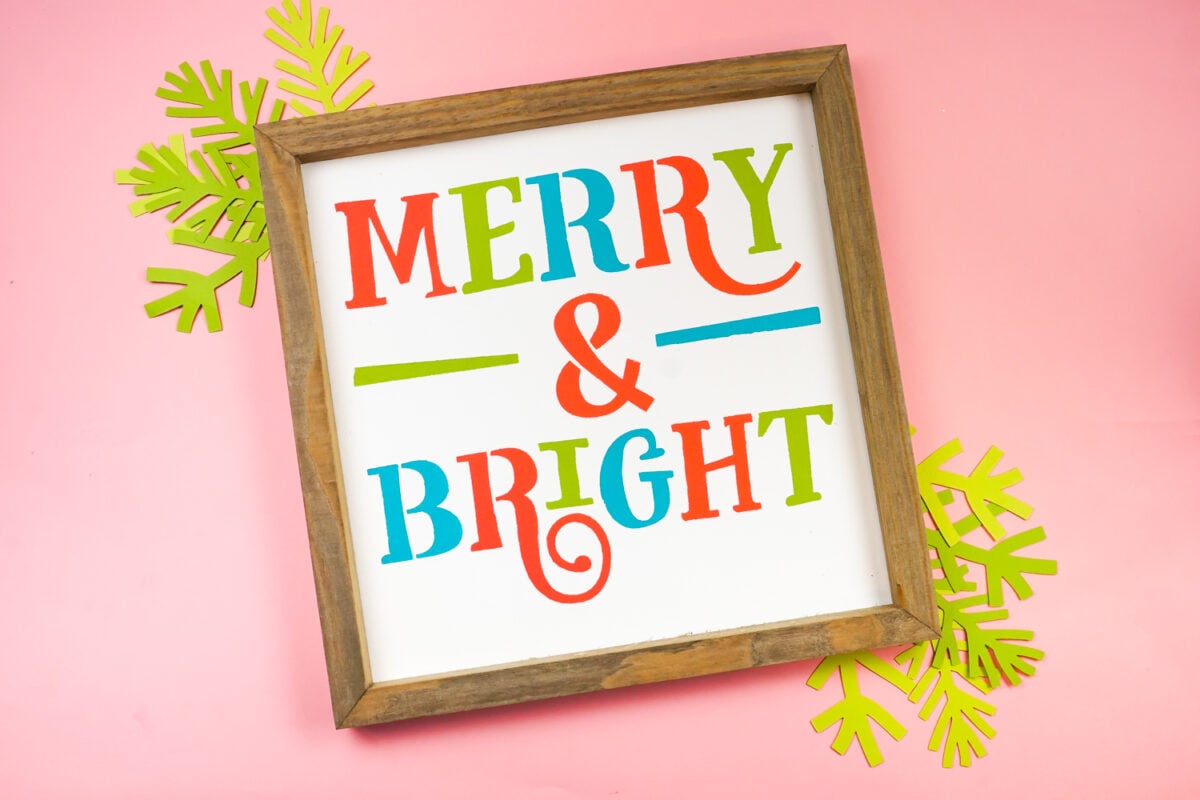 You can use this technique to make all sorts of stenciled signs! This Merry & Bright sign would be so cute in a traditional palette of reds and greens, or even with white chalk on a chalkboard!
Head to your JOANN (or, if you're like me, order online!) and grab all your supplies and then get crafting!