A lot of people want to know — does the Cricut Explore require cartridges? For years, you could only use the Cricut to cut the designs on the cartridges you owned. Is the Cricut Explore any different?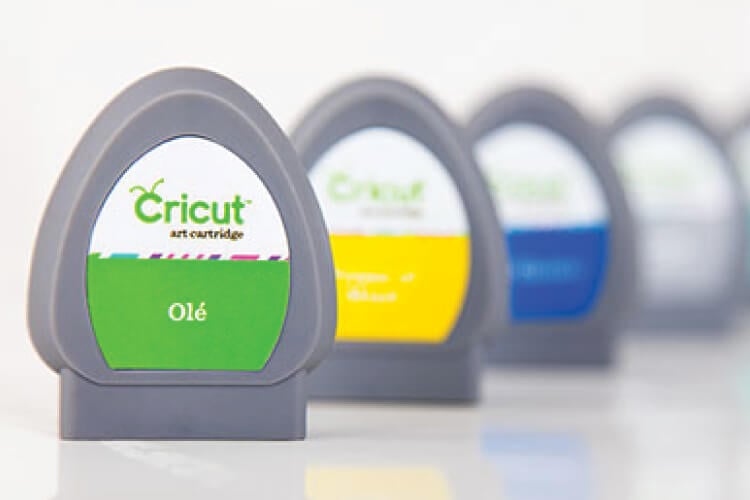 We're getting to know the Cricut Explore Air 2 better through a series of posts I've been doing since the beginning of the year! Check out these great posts, and then follow along today and learn about the Cricut Explore's cartridges.
Stop pulling your hair out and start creating confidently with your Cricut! Finally understand how to use your Cricut with my Learn Your Cricut eBooks!
Before I was ever introduced to a Cricut Explore in person, I had a few misconceptions. The first was that it was pronounced "Cry-cut" or "Circuit."
Nope. It's "cricket." The logo is a cricket, guys. Cricket.
The second was that it was a machine just for scrapbookers and that it required you to buy cartridges to get all the cut files you might want. It seemed like a lot of hassle for not a lot of return and I was never really sure how I'd use one if I didn't scrapbook (boy, was I wrong!)
Then I was shown a demo of the first Cricut Explore machine and it blew. my. mind.
No longer did you need cartridges to use the Cricut Explore. Instead, the Explore was designed to work with the Cricut Design Space and Cricut Access — it gives you access to thousands of cut files for less than $10 month. Instead of spending $30 on one cartridge, you have access to a gobzillion files in Cricut Access for a third of the cost. Just look at this basic search for the word "flower" — these are just a few of the 3,750 flower files that are available in the Cricut Design Space. That's three thousand seven hundred and fifty flowers. I can't even.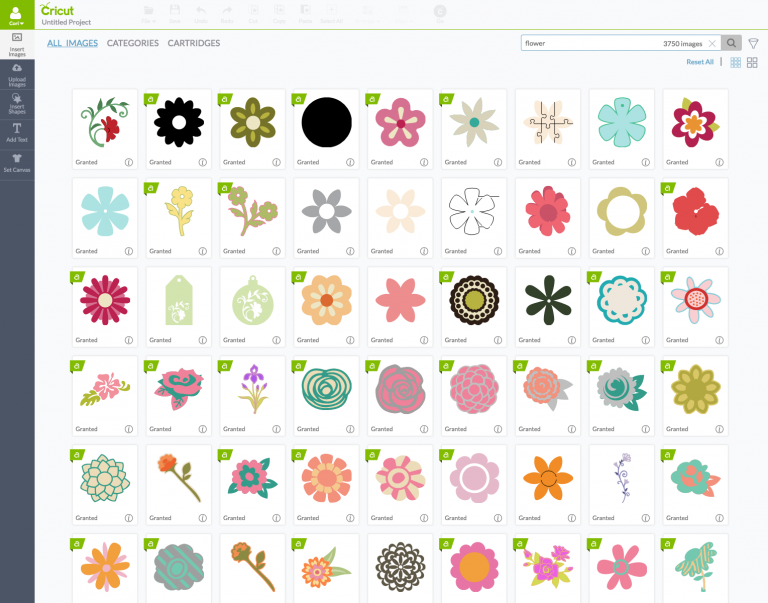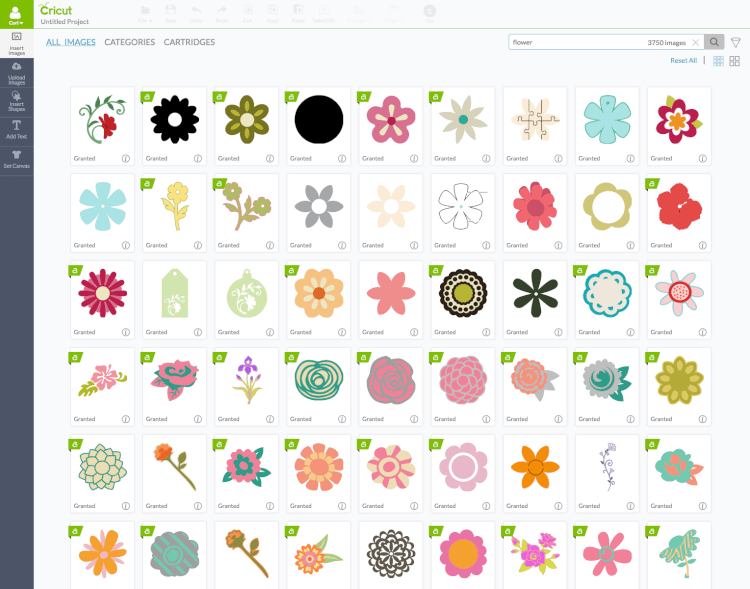 AND, if that wasn't enough, you can upload your own designs to the Cricut Design Space! So if you're skilled at Illustrator (my personal favorite), photoshop, Corel Draw, or heck, even Microsoft Paint, you can make your own designs and upload them to the Cricut Design Space and cut them yourself. I'm going to go over this a lot more in a future post, but trust me, this is a game changer if you have an graphic design skills.
But if you're a long-time Cricut user and you're wondering what to do with your old cartridges, you're in luck. You can use the cartridge port on the Cricut Explore machine to link your existing cartridges to your Cricut Design Space account. Just use the dropdown in the upper left-hand corner and link them under Account Settings.
If you have all the files you want already on cartridges, you don't need to pay for Cricut Access (but did I mention 3,750 flower files? That $10 a month will take you so much farther!).
I would recommend keeping your old cartridges. If for some reason there is a problem with the link to your cartridges, you need to prove you own them to Cricut. They will require to you send a photo of the front and back of the cartridges you own. Also note that it is illegal to sell them — this is part of the agreement that comes with the cartridges.
Hope that helps clear up the misconception that the Cricut Explore requires cartridges. Now get on the Cricut Design Space and happy crafting!