Looking for an easy (if a bit messy) and totally creepy Halloween decoration? These bloody handprint window clings are just craft glue and food coloring!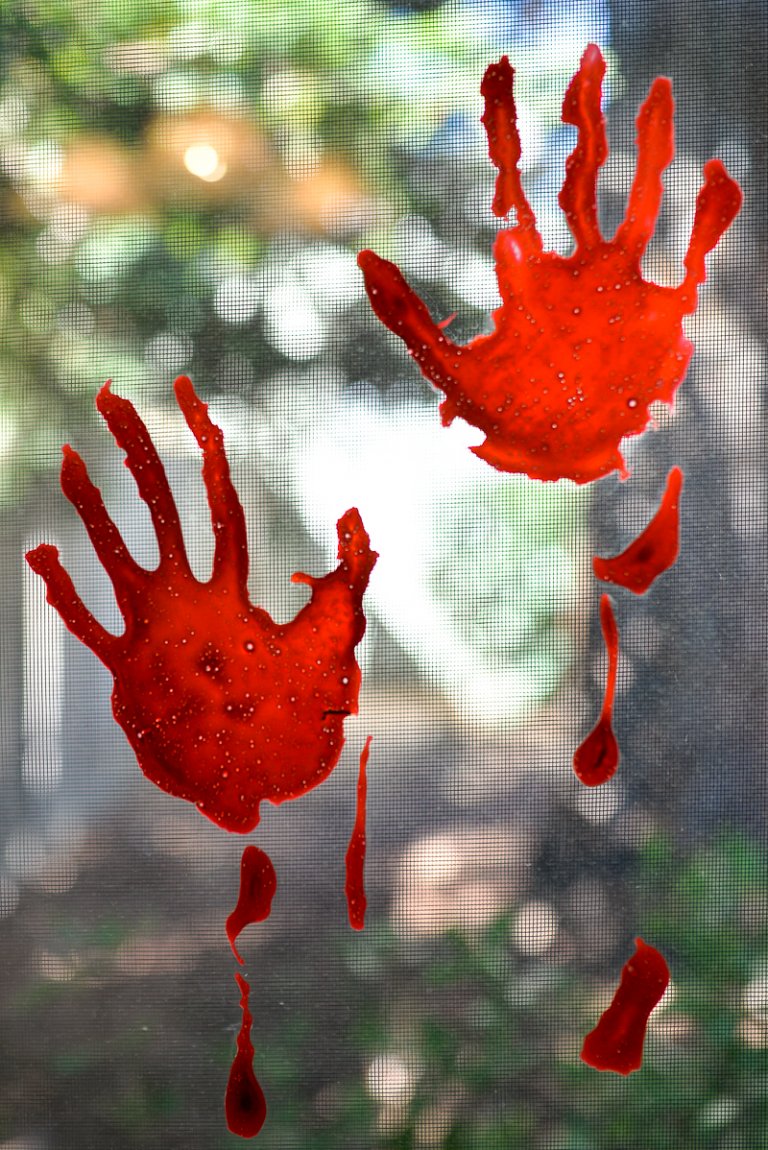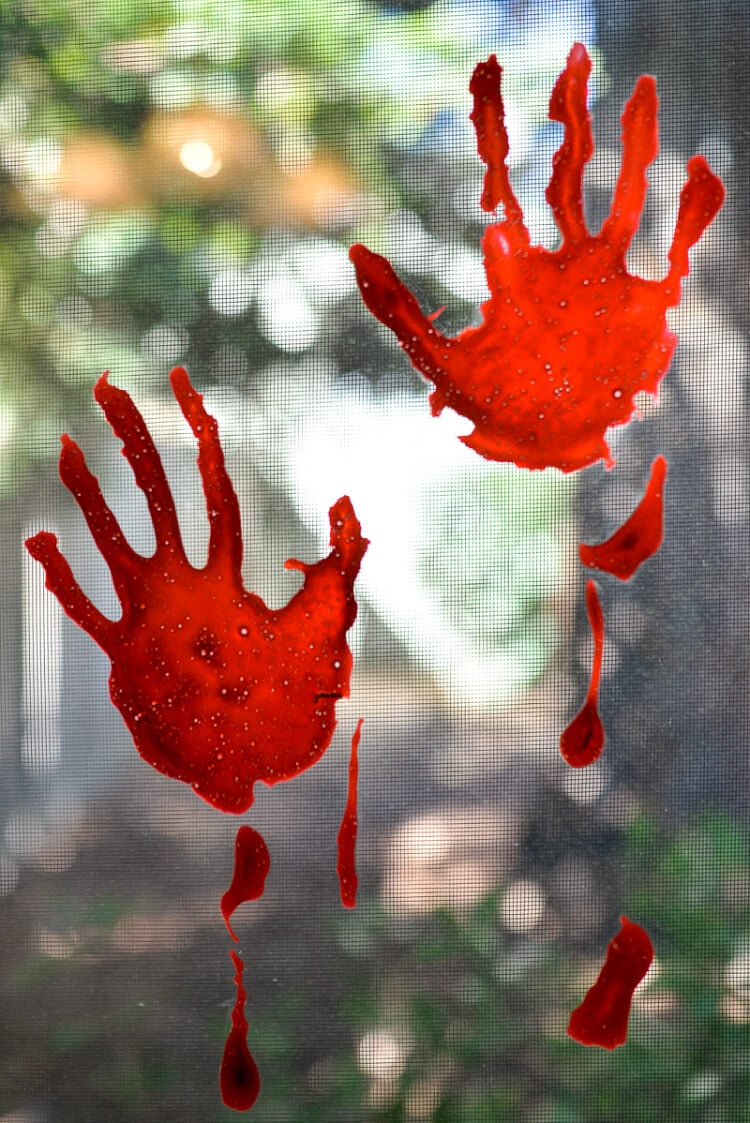 Today I'm linking up with a few blogging friends for a Walking Dead blog hop!
So here's my confession—I've never seen TWD. I know, I know! I don't watch a lot of TV these days and when I do I'm more of a Parks & Rec kind of girl, instead of a zombies-eating-your-brains. But it's on my someday list. In the meantime, I knew that I could easily join my friends in their love of TWD by making these creepy bloody handprints—evidence of your final struggle before you become a Walker.

Supplies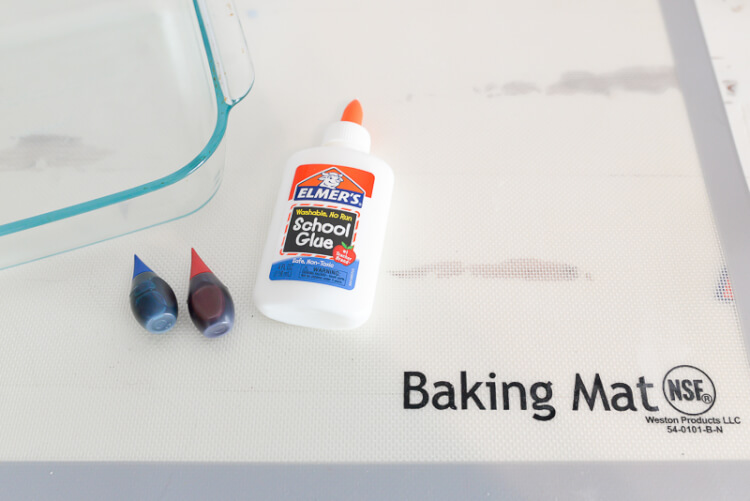 Note: you'll want to do this outside wearing clothes you don't mind getting stained — that red food coloring doesn't like to come out! The baking mat, you'll be happy to know, remained unstained.
Directions
This is such an easy project. Start by mixing up your "blood" by pouring your glue into a glass container and adding your food coloring. I used A LOT of food coloring because I didn't want my handprints to be pink — I think I used about 50 drops. I also added two drops of blue to deepen the color a bit. I didn't want it to be too orangey. Thankfully, the glue dries a lot darker than it looks on the mat, and I got a nice deep blood red color once it was dried.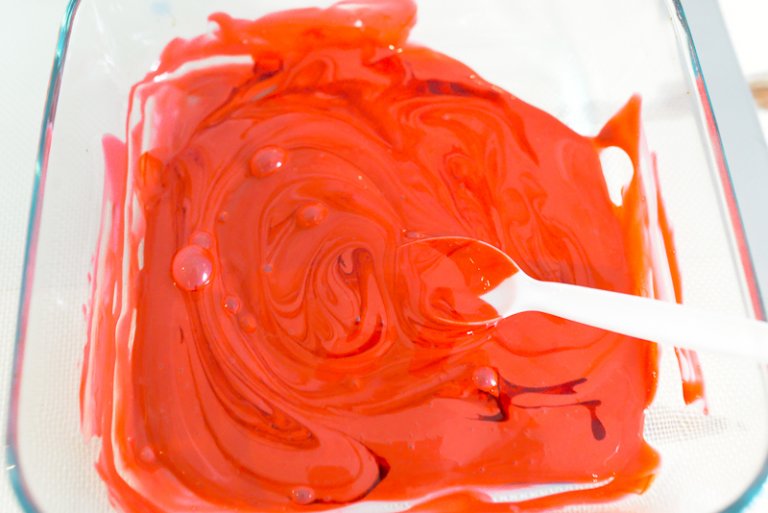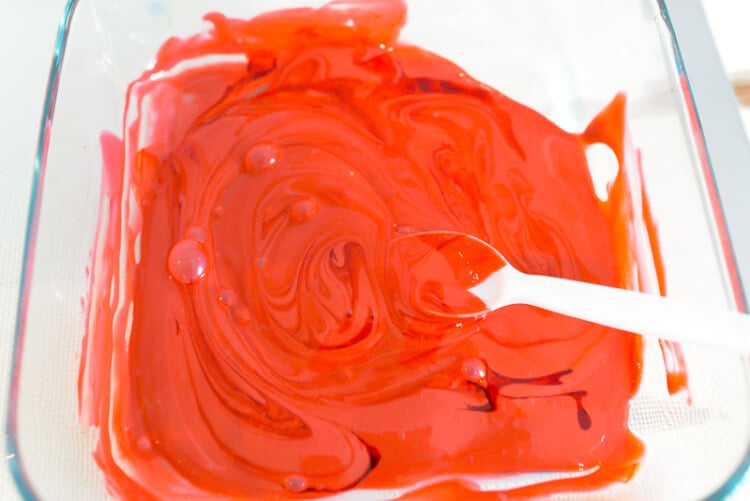 Mix mix mix, then mix some more.
Then dip your hand into the glue mixture (it will stain your hands a little red, but that redness was gone less than 24 hours later — you could also use latex gloves) and make hand prints on the silicone mat.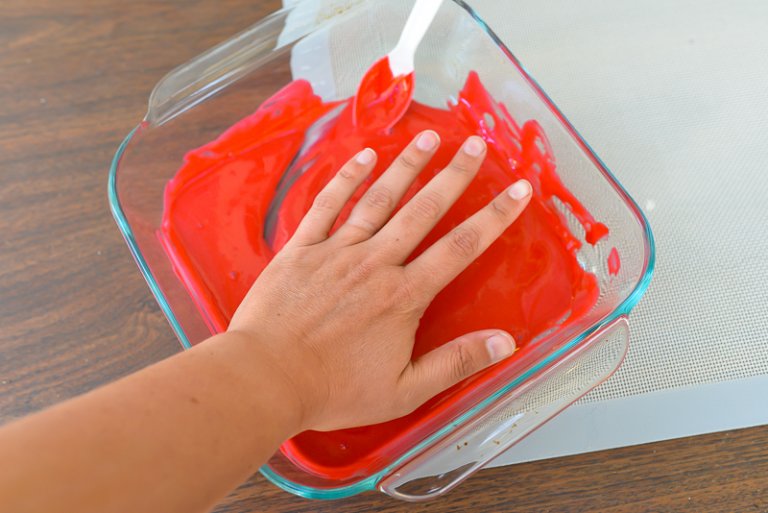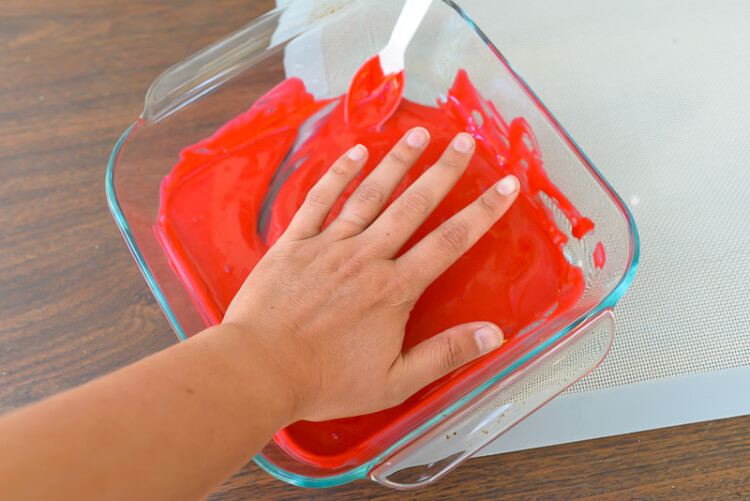 You'll notice that because, like, NOTHING sticks to silicone, the glue will start to bead—I just used a spoon to spread it out a few times over the course of the next 20 minutes and as it started to harden the hand shape stayed. Using your spoon, you'll want to add more glue in the palm and anywhere else it's looking a little thin.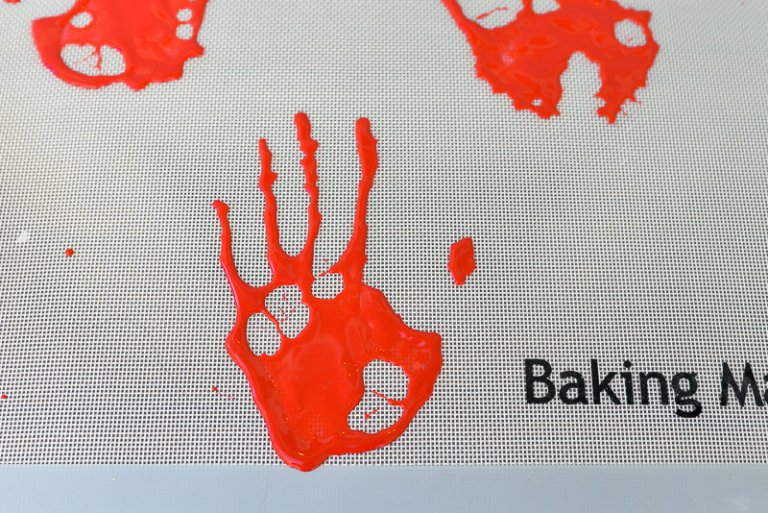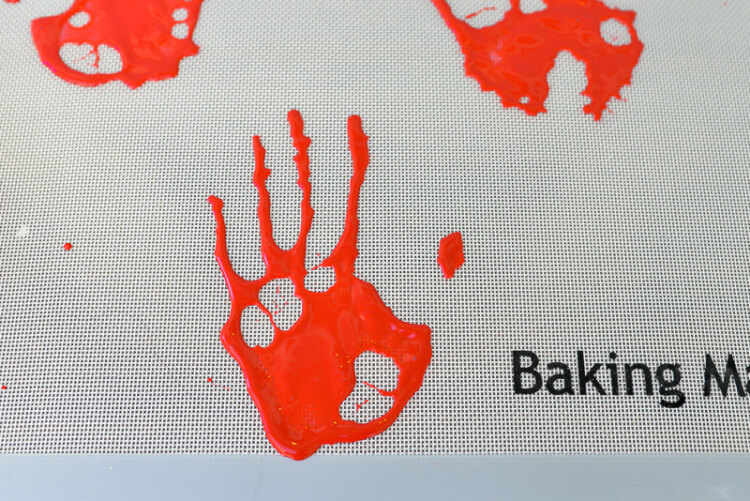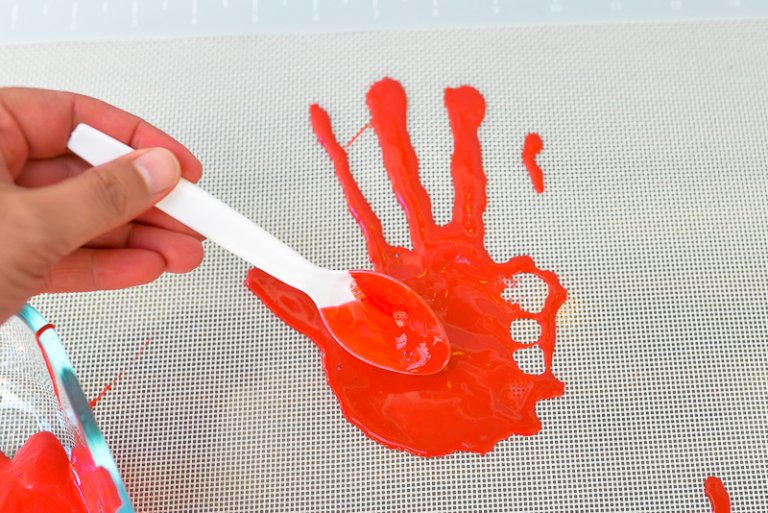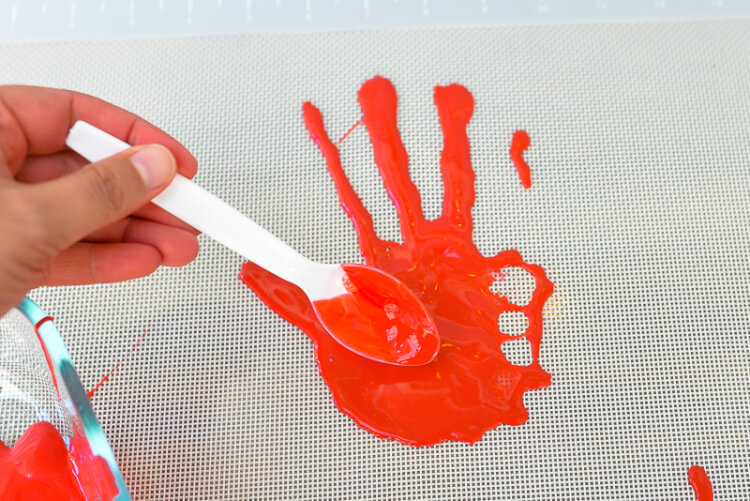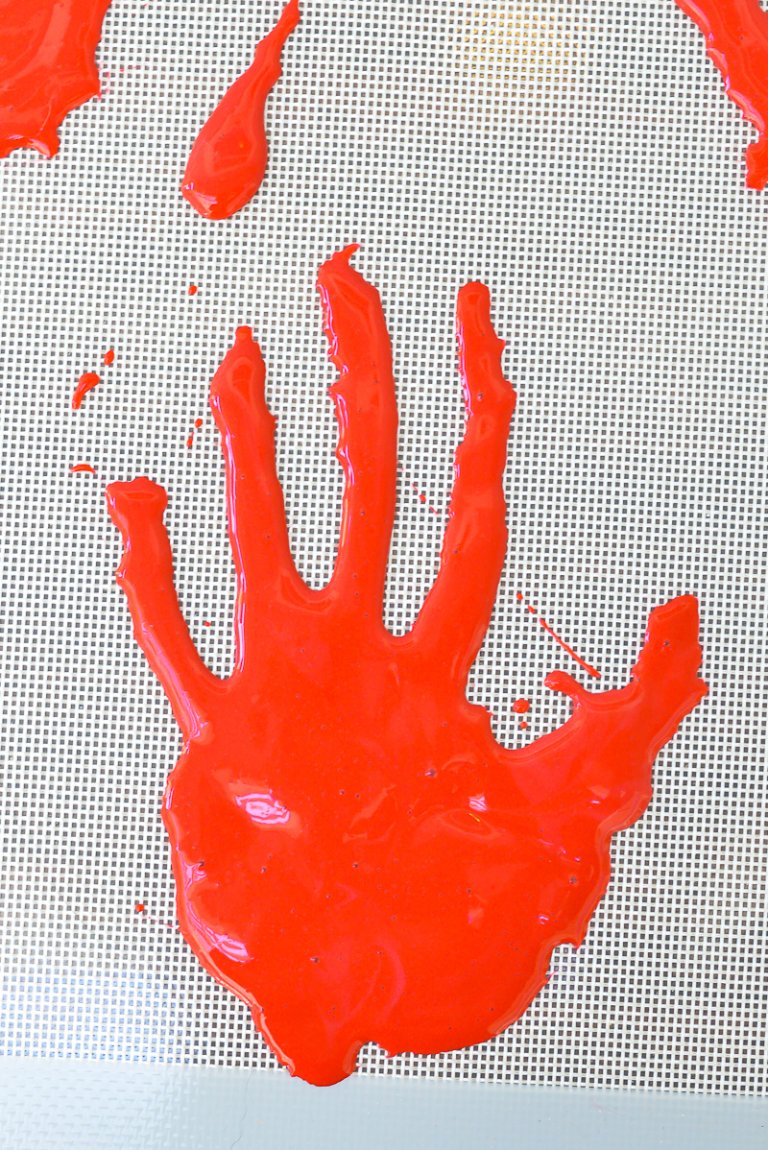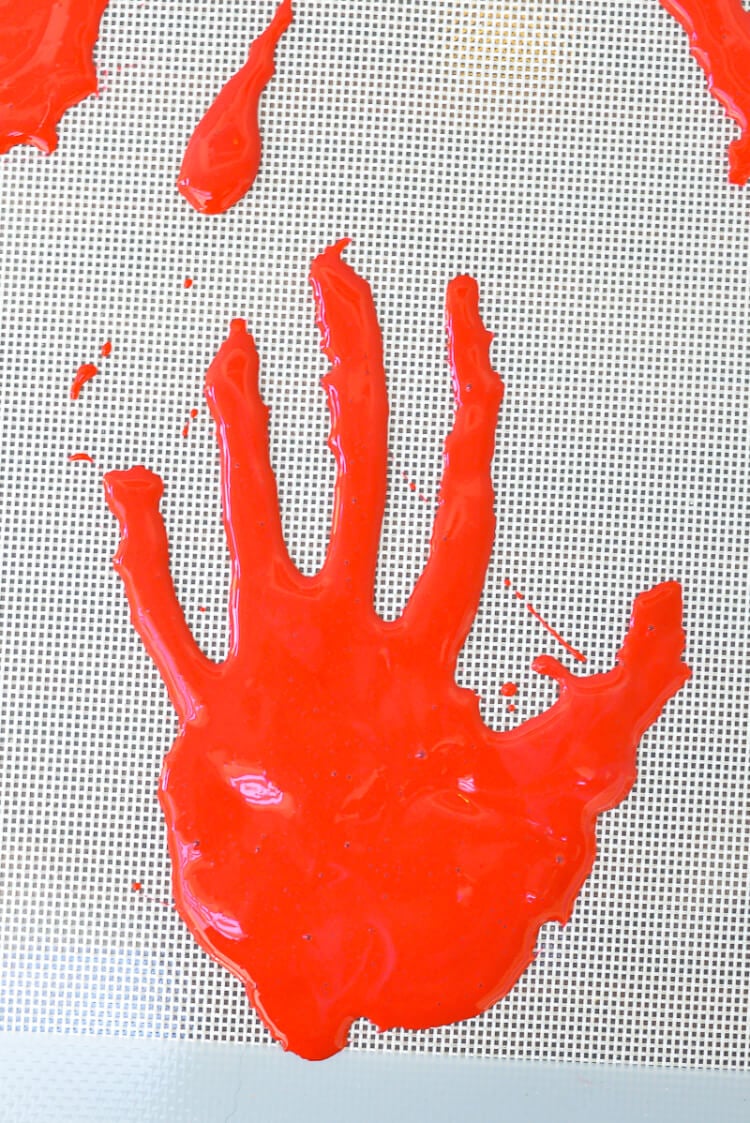 You can also spatter glue randomly onto the mat to make different blood smear shapes.
Then leave it to dry! Mine dried overnight and I still had to set it out in the sun in the morning to help the thickest parts fully dry.
Once completely dry, peel off the mat and stick to the window! You can dampen the back with a sponge if you're having fingers that don't stick well. Make sure to put them directly on the window from the mat — if they sit too long, they may curl a bit and then sticking them is much more difficult.
I love how it has the bubbles in it—somehow that's extra creepy to me.