Celebrate the 100th Day of School with this cute printable! This free printable 100 Days of School certificate comes in a full-color version as well as a coloring page version. Perfect for teachers and schools.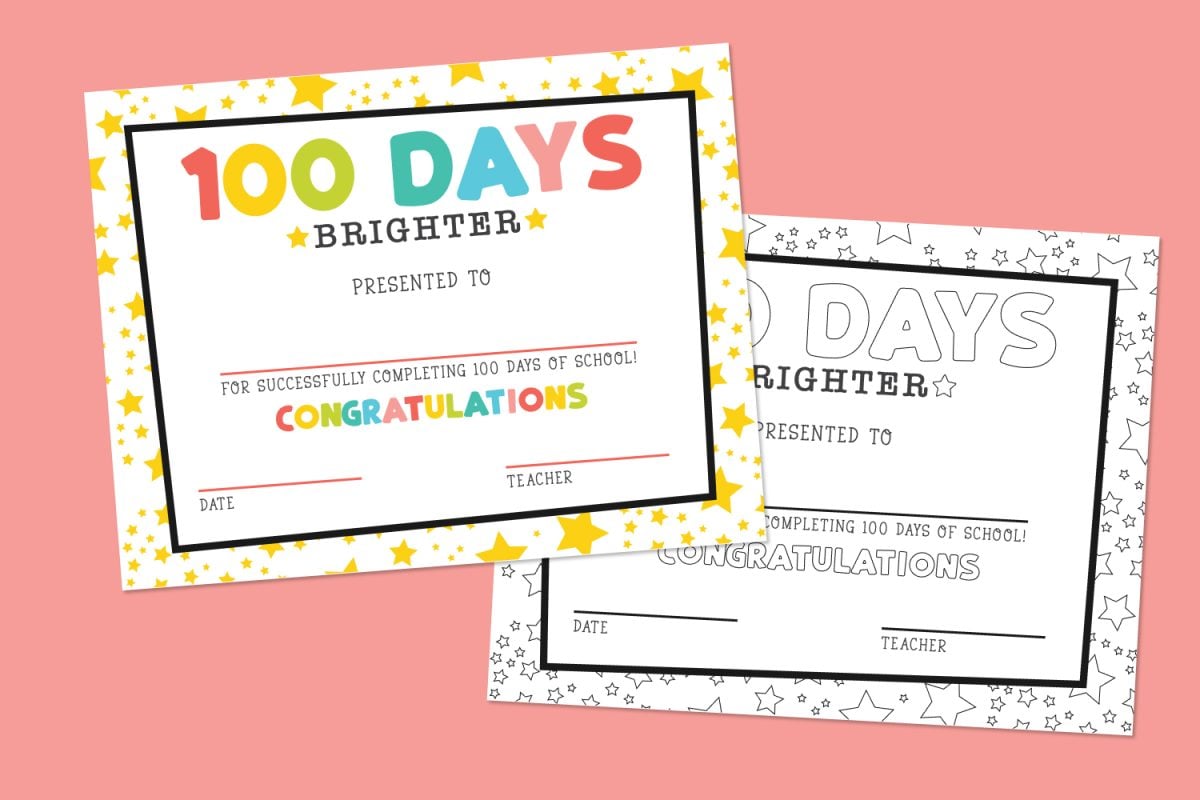 Want to save this post to reference in the future? Enter your email below and we'll send it right to your inbox!
While it varies by school, the 100th Day of School usually falls in February each year. This is a fun little celebration for elementary aged kids. 100 is such a big number and now they've completed that many days of school!
100 days of math! 100 days of science! 100 days of reading and writing! It's time to celebrate—you're 100 days smarter and 100 days brighter!
Today I've joined with a bunch of blogging friends to bring you a bunch of free 100 Days of School printables! From games to coloring pages to worksheets to 100th day activities, there's so many awesome things to print and celebrate the 100th Day of School!
No matter what grade your elementary student is in, these creative ideas are a great way to celebrate with the whole class.
My PDF is a printable 100 Days of School certificate! Perfect for marking the passage of time for your gradeschooler. There are two versions—a full color printable that's ready to go, and a coloring page version that kids can color themselves. Fill in the students' names, the teacher's name, and the date and this makes a sweet school keepsake.
Have a Cricut or Silhouette? Also check out my 100 Days of School SVG Bundle and free 100 Days of School SVG files!
Get the Free Printable 100 Days of School Certificate Here
Enter your email address below to get this free file! If you're having trouble, make sure your pop-up blocker is turned off. Still having problems? Check out our Downloads FAQ.
More Free 100 Days of School Printables
Want more 100 Days of School fun? Check out these free printables from my friends! Print out your favorites and then celebrate—100 days of the school year are done!