If New Year's resolutions aren't your thing, you may want to try just picking one Word of the Year. Here are a few tips for choosing one, and what to do with it once you have it picked! Plus get a hand-lettered download of my word of the year—WORTH.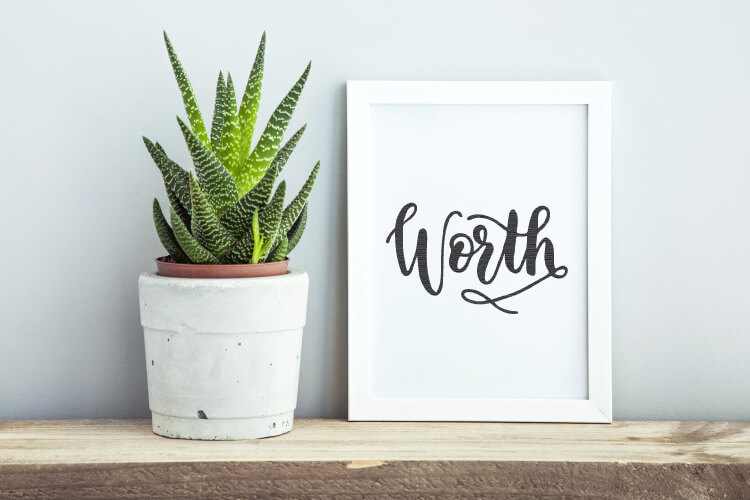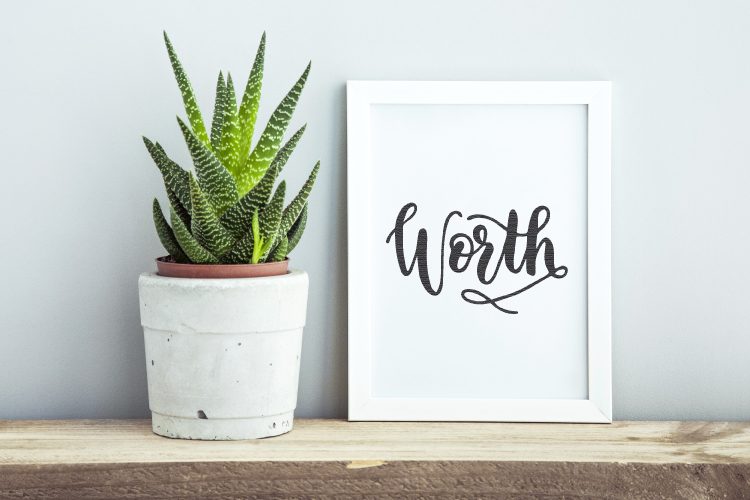 It's just about the end of the year and I wanted to do something a little more personal for Freebie Friday this week. I wanted to talk about my Word of the Year a bit. Each year I choose a different word that I carry with me throughout the year. I usually write it where I can see it often and remember it when I'm feeling stuck. Past words have included "peace," "breathe," and "focus" (#momoftoddlers, am I right?).
This year, I have chosen the word "worth." Worth has several meanings to me, and might have even more for you.
First, I want to make sure the things I am doing are worth it. Is this opportunity worth sacrificing some time with my family? Is this partnership worth the effort I will have to put into it? Is this item worth the space it is taking up in our home? Is this activity adding worth to our lives or the lives of others?
Second, I have also struggled with my own worth, especially since my boys were born. Postpartum depression and anxiety have nagged me the past two and a half years, and although my mental health has improved significantly since we brought the boys home from the NICU, I still feel dogged by these postpartum issues occasionally. Most often, it manifests itself in how I look at my own worth. I am not a worthy mom for these boys. I am not a worthy wife for my husband. I don't deserve to have a successful and profitable blog. I don't deserve to be healthy. I am just not worthy of any of it.
I know it's not true or healthy, but that's where my mind goes when I am struggling.
This year I want the word worth to not only remind me to do, buy, and keep only the things that are truly worthy, but that I am also worthy. Psalm 139:14 tells me that I am fearfully and wonderfully made. If God tells me I am worthy, I should probably believe that I am.
To remind myself, I have this hand-lettered printable sitting on a shelf beside my desk. I've designed it in four colors—black, pink, teal, and glittery gold—so you can pick the one that you find the most worthy of your space. There is also SVG and DXF cut files, as well as colored PNG and JPG files in this download, so you can make all sorts of projects with this file. I might use some iron-on vinyl to make a throw pillow, too!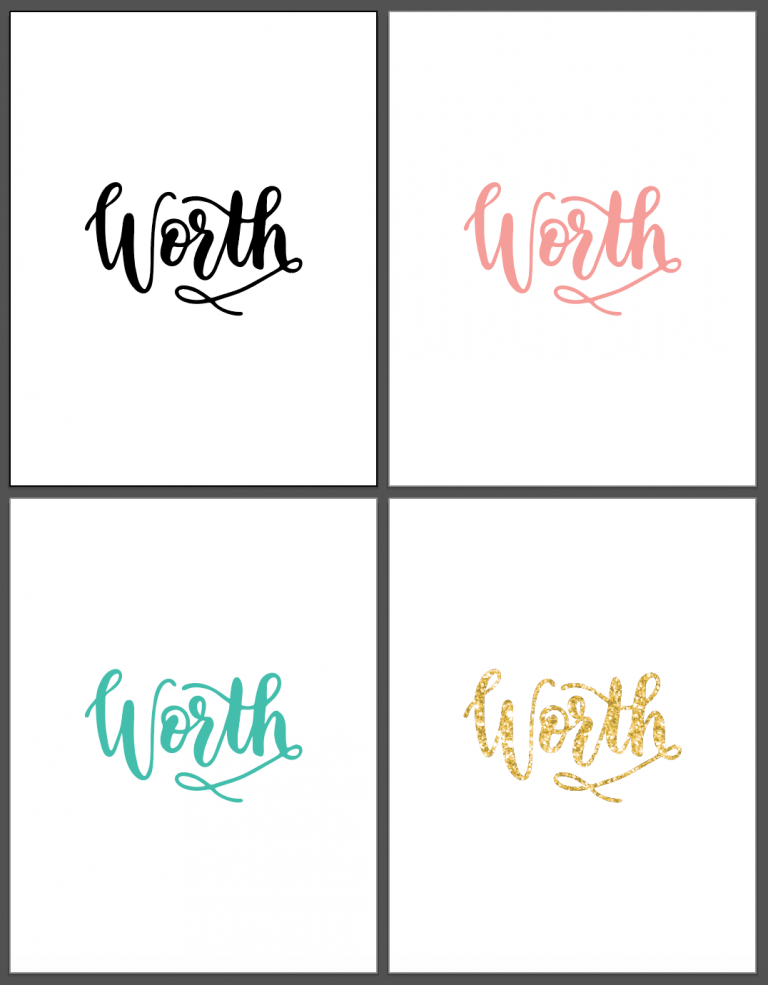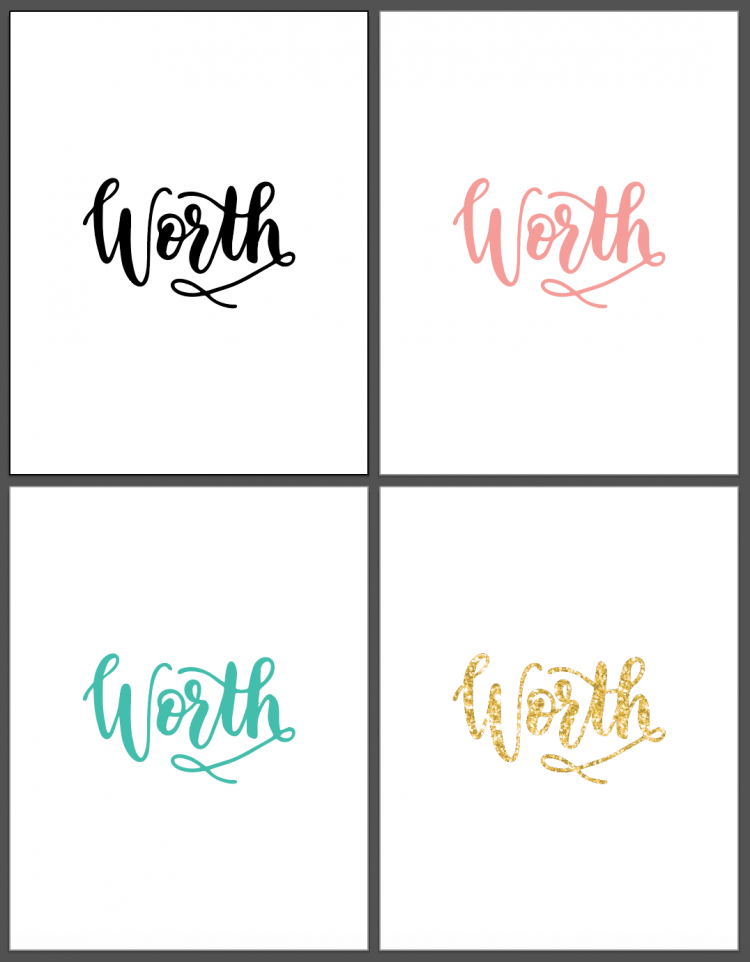 Download the Free Word of the Year File under SVGs C83
This file can be found in my Free Craft Resource Library. The file number is: C83.
Want access to this free file? Join my FREE resource library! All you need is the password to get in, which you can get by filling out the form below!
If you want to be notified of flash freebies, join our mailing list!
Also check out my 2018 word of the year—Deliberate!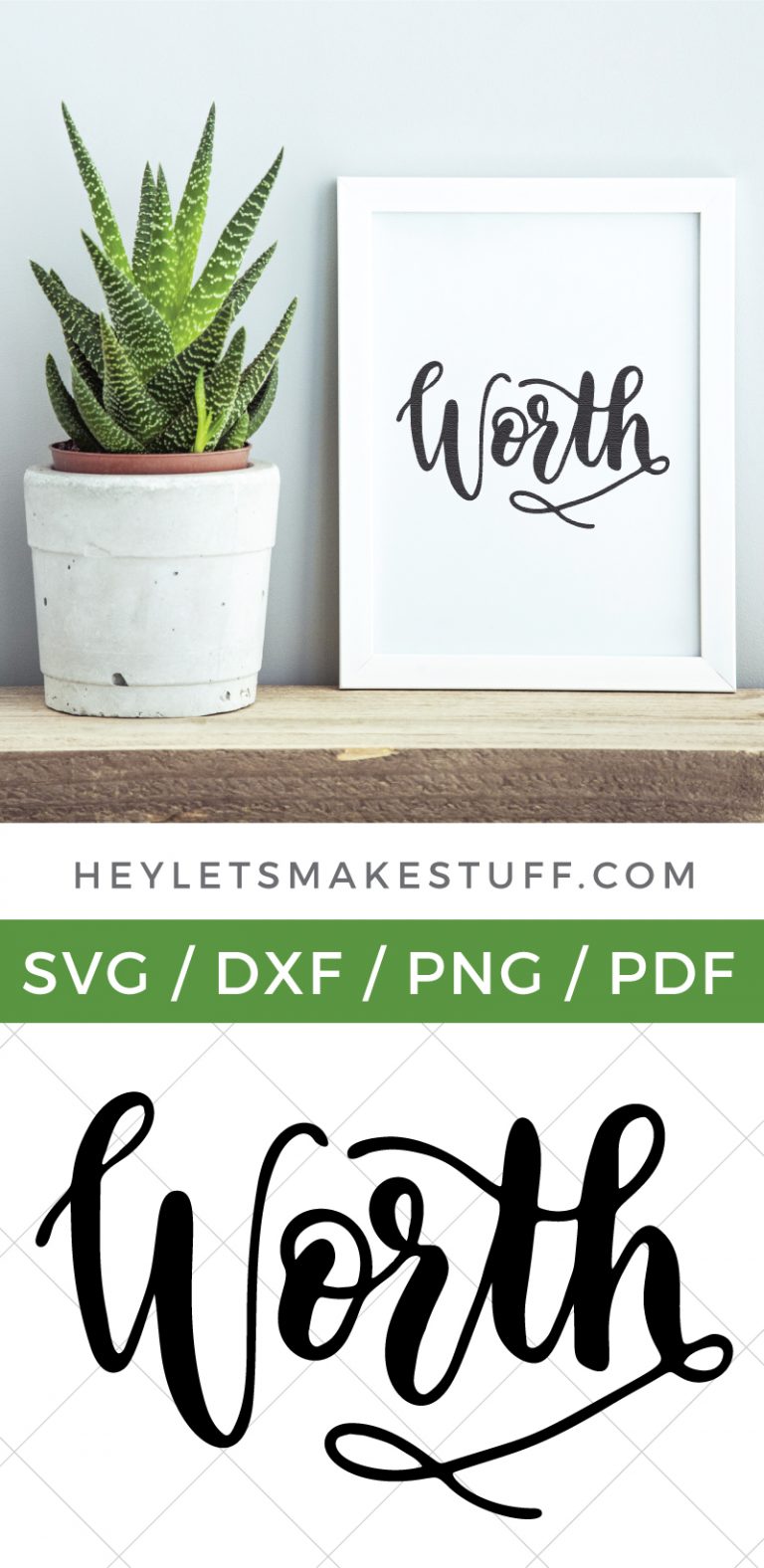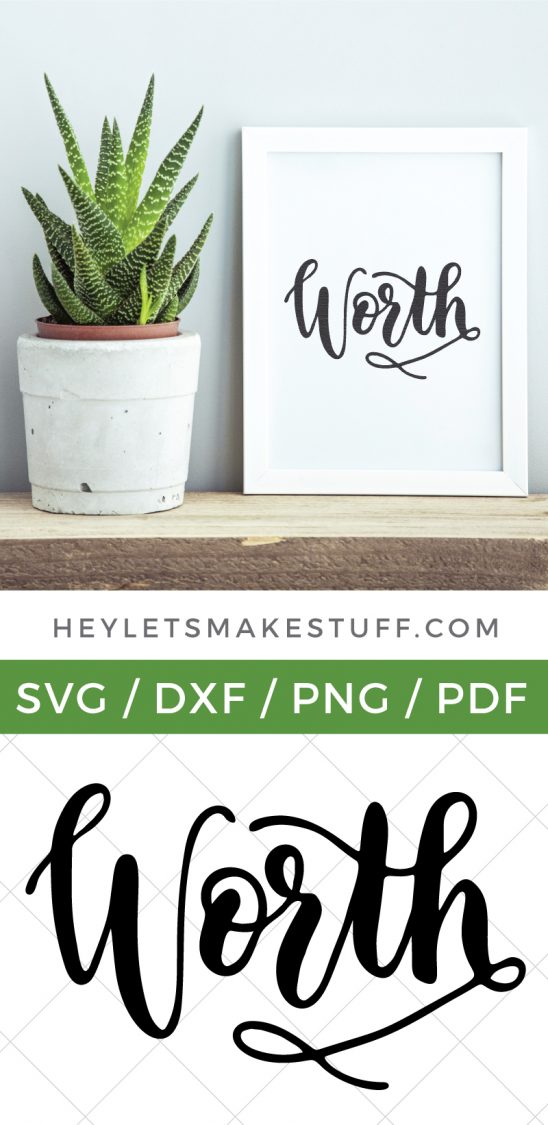 Choosing your own Word of the Year
Choosing your own word of the year might feel a bit daunting. I mean, of all the words in the world, which one will shape an entire spin around the sun? But sally forth, my friend. If you want to choose your own word of the year, here are a few ideas.
Is there a word or phrase you keep coming back to? I have talked a lot about "return on investment" with my blogging friends this year. What is ROI if not another term for worth?
Head on over to my friend Heidi's One Little Word list. She has more than 150 inspirational words to choose from!
Do a brain dump. Just start writing down a bunch of words that might work…or not!
Search for a common thread among your brain dump. Notice you have courage, brave, and fearless on your list? That pattern might be leading you choose something from that thread.
Use a thesaurus. If you feel like you're on the right track, crack open a thesaurus (or, if you're born in this century, head to thesaurus.com!) and see if there are any synonyms that resonate with you.
Write it down. Make it visible. I am going to set my morning alarm label to read "You Are Worthy" this year instead of "Wake Up." You want your word to start to permeate your consciousness, so when you need to make a tough decision or you're feeling particularly stressed, it immediately comes to mind.
Really start to own it. If you chose brave, do some new brave things! If you chose peace, let go of some things that are stressing you out. If you chose hustle, make a to-do list and get cracking. Live your word of the year in everything you do!
If you've chosen a word of the year, what did you pick? I love hearing what people choose each year—it always inspires me!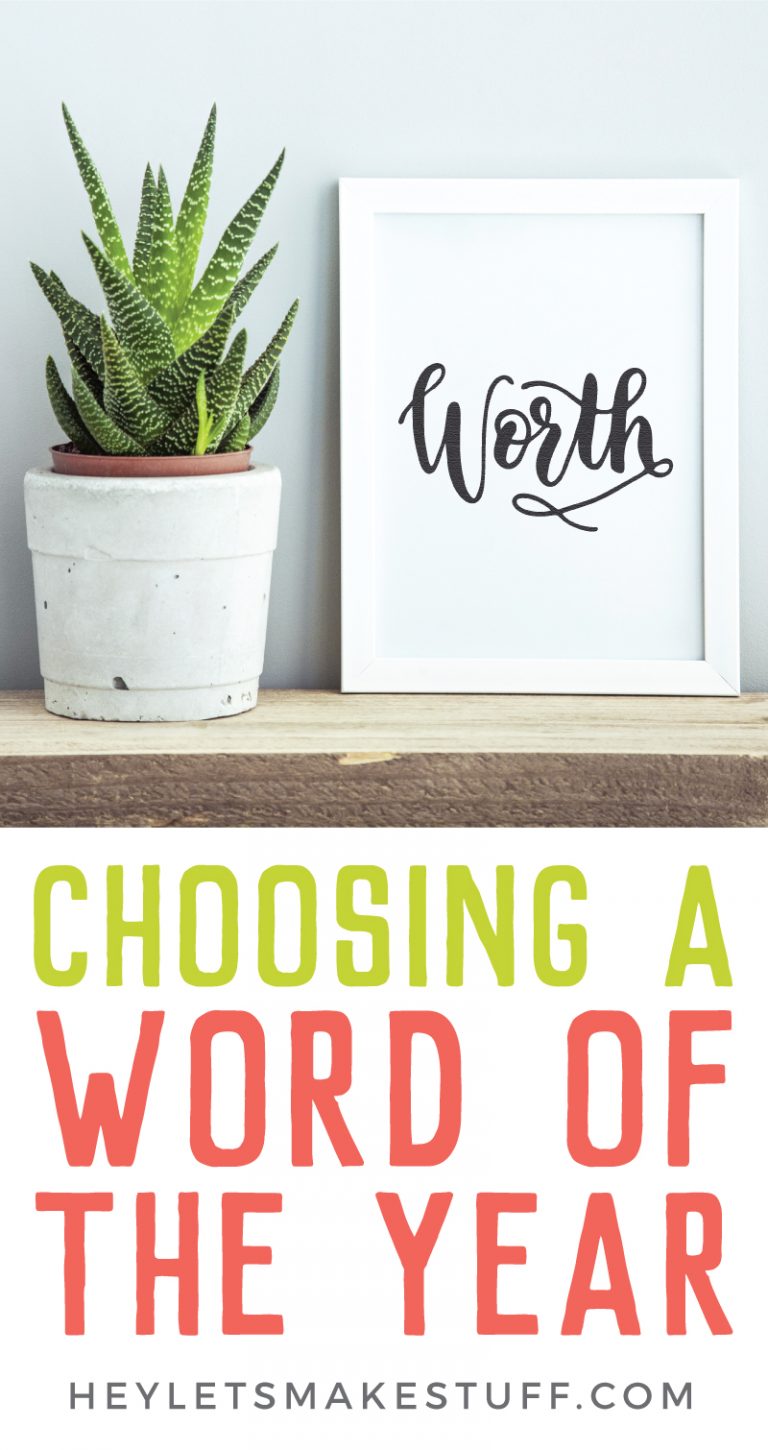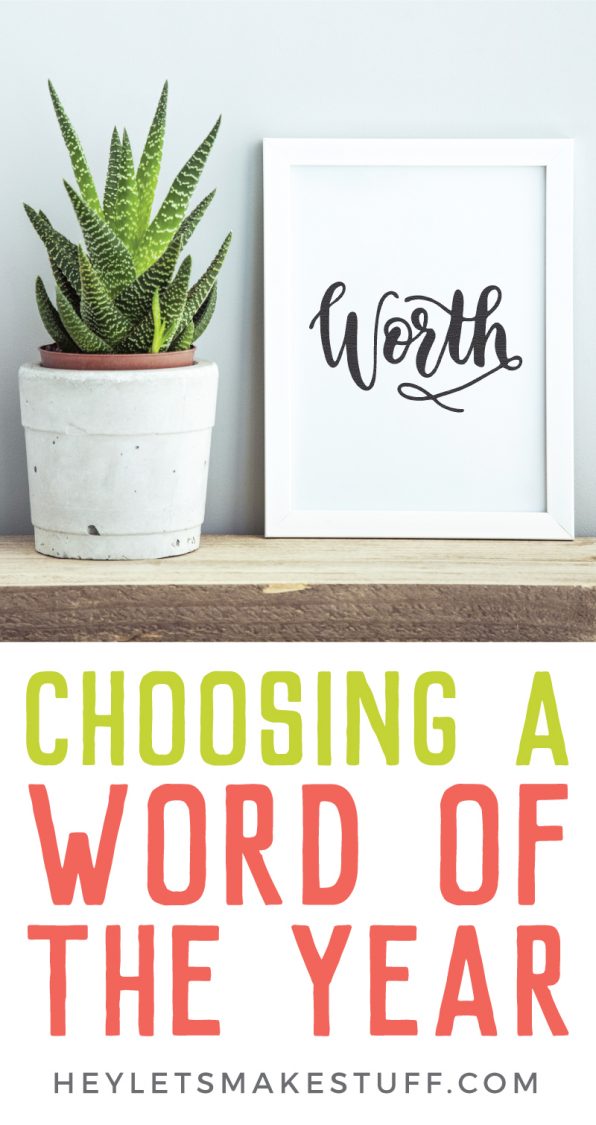 Frame Your Artwork